So, I totally get it. You're on vacation and you've been sightseeing or shopping all day. Early afternoon rolls around and you want a refreshing beverage. Maybe you were up super early because you're jet-lagged, decided to beat the crowds at the Meiji-Jingu shrine in Yoyogi Park in Harajuku, then went shopping on Cat Street or Meiji Dori. It's 3pm and you want a drink in the Harajuku, Omotesando, Shibuya area. Where do you go?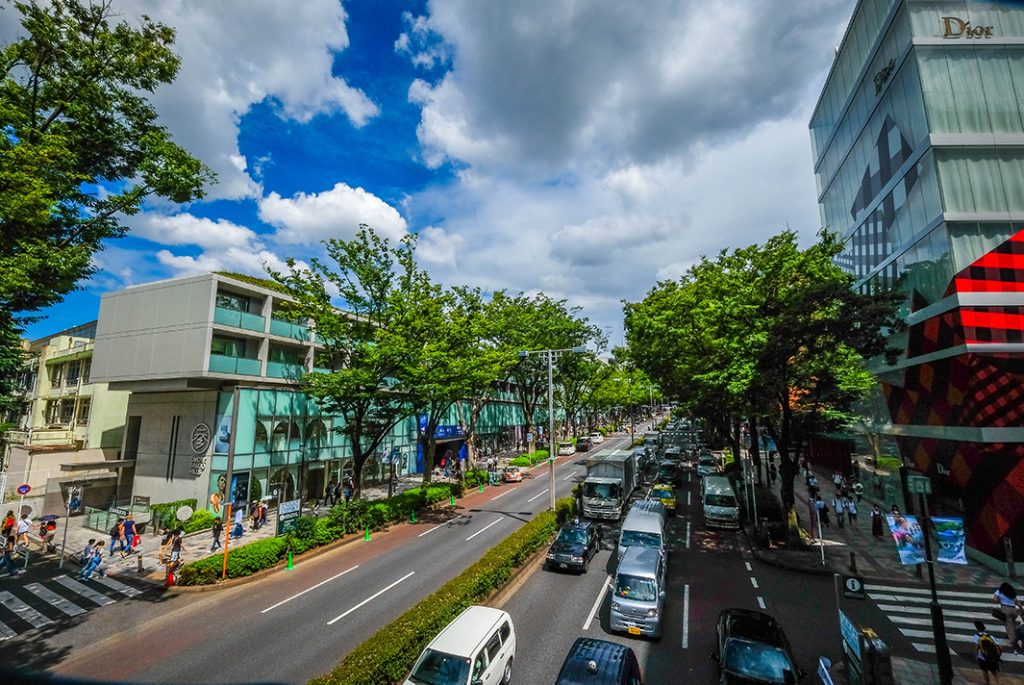 For a city that never sleeps where bars and izakayas stay open till 7am, getting an afternoon drink in Tokyo is a surprisingly brain wrecking task. A lot of bars don't open 'til 7 or 8pm. And most bars/restaurants that are open for lunch will close for a few hours between 3pm and 6pm.

You're in luck though, I've done the hard work for you. If you're the Omotesando neighborhood near Shibuya (that's in Tokyo), you can definitely get an afternoon drink at the following spots.
Omotesando / Aoyama
A note before we get started. If you don't live in Tokyo, it would be helpful to know Aoyama and Omotesando are pretty much the same area. They are used to describe the neighborhoods right around the Omotesando Tokyo Metro stop. Much in the same way that Kabukicho and Shinjuku Sanchome both describe the area east of Shinjuku station.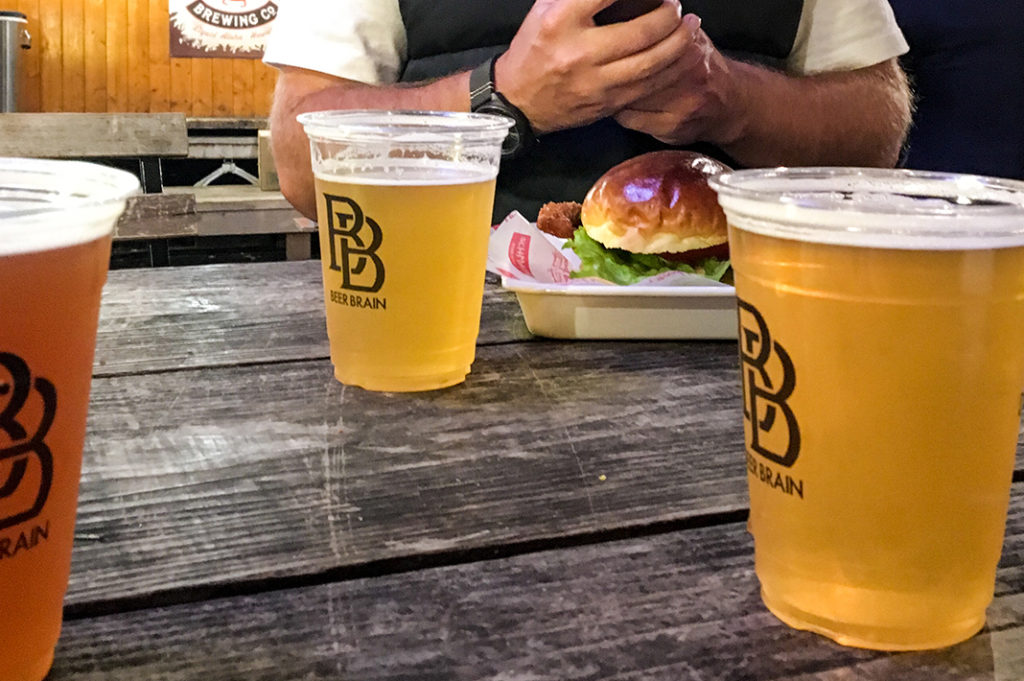 Commune 2nd
Commune 2nd, just around the corner from the Omotesando Tokyo Metro station on the Ginza, Hanzomon and Chiyoda lines. Basically, it's a food truck park modelled after the food cart pods of Portland Oregon. Open from 11am to 10pm, there is always something open and willing to serve you alcohol. It's the perfect place for an afternoon drink. As for the drinks, each stand/food truck has it's own specialty, so walk around and window shop a little before making any decisions. The centrepiece (quite literally) of Commune 2nd, is Schmatz's German Sausages. Now with multiple locations throughout Tokyo, this was the original. They have a variety of German beer on tap, as well as their own special "Kanda Brew".
Yona Yona Beer Works Aoyama
In between Commune and Omote-Sando station is Yona Yona Beer Works. Yona Yona is the brewpub of the Yoho brewing company from Nagano Japan (in the mountains west of Tokyo, site of the 1998 Winter Olympics). Yona Yona is arguably one of the most famous, widely distributed craft beer makers in Japan. Their colorfully illustrated cans can be found at 7-11s and konbinis throughout Japan. At Yona Yona Beer works you can get it straight from the source.
Note: Yona Yona Beer Works opens at 4pm. Earlier than most places but still not an early afternoon drink option.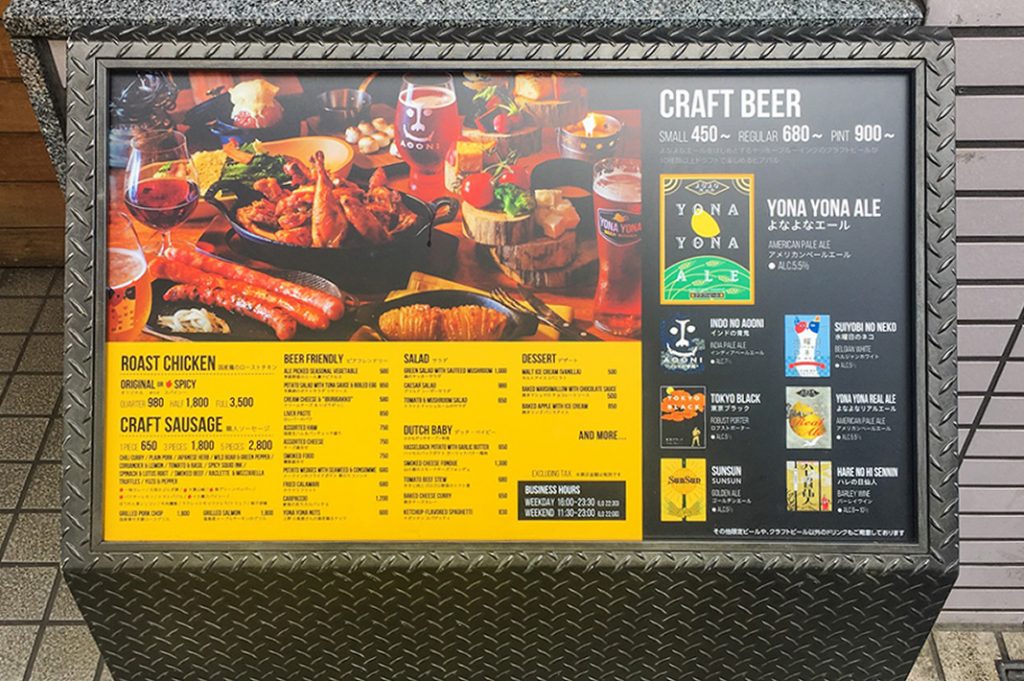 Pioneers in Craft Beer
Yona Yona's beer styles range from an "American style IPA" to a Belgian White to a porter. They even have an "Umami IPA" fermented with Katsuobushi, or bonito flakes. Most of their "regular size" beers on tap go for around ¥700 with "pints" going for ¥900-950. Oddly, they state their pints to be 550ml, which are larger than a US pint, but smaller than an "Imperial" pint…go figure. Either way, it's a pretty good deal for a nice large beer.
If you're hungry, their food menu features a selection of bar food such as "assorted cheese", fried calamari and mussels steamed in beer. They also serve a selection of 12 different flavors of grilled sausage. The spicy squid ink and yuzu & pepper are especially good.
Pizza Slice 2
What is it with places in Omotesanso with the number 2 in their name? I don't know. I do know that after their Dakainyama shop, this is the second location of NYC style pizza shop Pizza Slice, so that could explain it. However, their third shop in Roppongi isn't called Pizza Slice 3. Go figure.
Pizza Slice 2 is a two minute walk from Omotesando station on the Tokyo Metro Chiyoda, Ginza and Hanzomon lines. Therefore, It's right around the corner from the Stella McCartney store and one block down the road from hip coffee brand, and tote bag purveyor, Cafe Kitsune.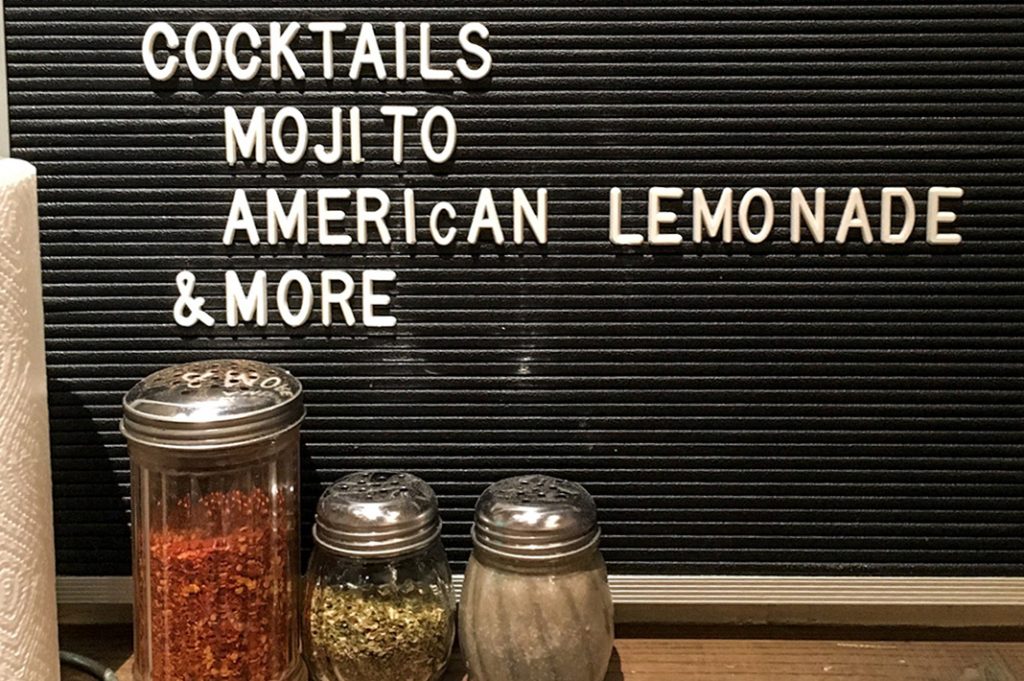 Pizza slice 2 is a little more upscale than a typical NYC pizza slice joint, but the taste is spot on. Basically, they make big NYC pizza pies, covered in shredded mozzarella and cooked in a gas oven. For the most part, just like "Ray" used to make in NYC. They too stay open all day, from 11:30AM to 11 pm. They have draft beer on tap for ¥600 and ¥650 "cocktails" (think spirit + mixer, like, Southern Comfort and Coke… and yes, they have Southern Comfort). I usually drink Campari on the rocks because it's bitter and Italian, just like me (that's not true… I'm only 25% Italian).
NYC authenticity
Last time I was there, the lock on the men's room door was broken but they let me use it anyway, with a warning written on the door. It made me think they might be taking this "Authentic New York City" thing a little too far…
Commune 2nd
Address: 3 Chome-13 Minamiaoyama, Minato City, Tokyo 107-0062
Hours: 11:30 – 20:30, 7 days a week
Website: http://commune2nd.com/
Yona Yona Beer Works Aoyama
Address: 〒107-0062 Tokyo, Minato City, Minamiaoyama, 3 Chome−18−20 南青山 松本ビル B1
Hours: 16:00 – 23:30 Mon – Fri, 11:30 – 23:00 Sat – Sun
Website: http://yonayonabeerworks.com/aoyama/
Pizza Slice 2
Address: 3 Chome-14-17 Minamiaoyama, 港区 Minato City, Tokyo 107-0062
Hours: 11:30 – 23:00 7 days a week
Website:http://www.h-beautyandyouth.com/pizza/
Post by Japan Journeys