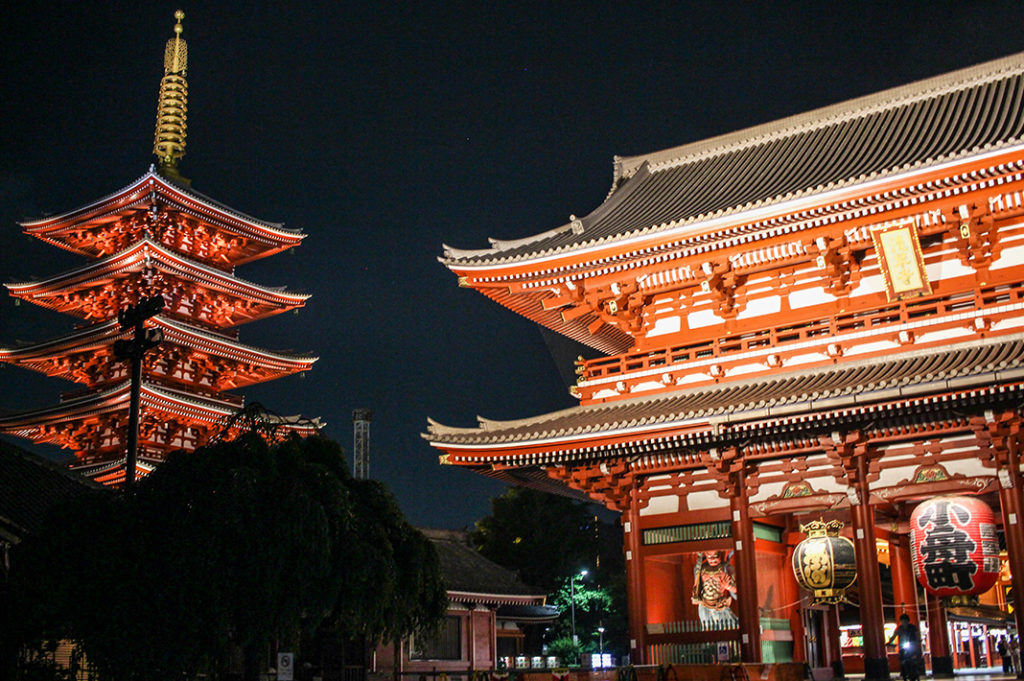 Founded in 645, Senso-ji is the oldest temple in Tokyo—and with 30 million visitors per year, it's also one of the busiest. What is meant to be a spiritual exercise can quickly become one of trying to find your companions in the shuffling herd. That's not to say you shouldn't visit; Sensoji is a fantastic attraction. But if you've had enough of crowds and souvenir shopping for one day, you could always visit Sensoji at night.  
Even though the temple grounds are open 24 hours, Sensoji technically closes at 5:00 pm. On the adjoining Nakamise street (one of the oldest shopping streets in Japan), the stalls wind down their trade and lower their roller doors at around 7:00 pm. As the sun sets, directional spotlights illuminate the intricacies of the architecture, creating a dramatic, romantic atmosphere. This, coupled with the lack of crowds, transforms Sensoji into a different place entirely.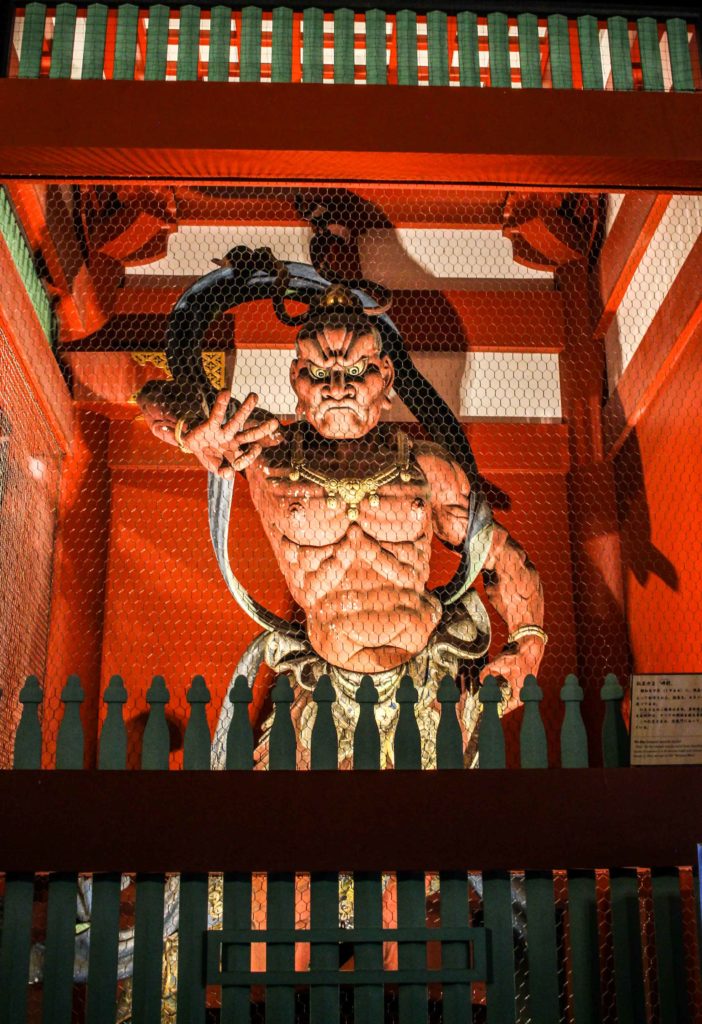 The surrounding streets all seem to converge at the temple complex. And because there are no gated walls surrounding it, people are free to stroll through the grounds at any time.
Dramatic Lighting
The vermillion buildings of Sensoji are impressive during the day, but there's something powerful about seeing them against an inky sky. With no crowds, you can get up close to study the detail and can take photos from any angle or position you can think of. You can even get that selfie under the lantern with no one else in it. That's not to say you'll be alone. There are always a few people around, walking or biking through or hanging out on the nearby seats with friends. It's a calm and peaceful evening oasis.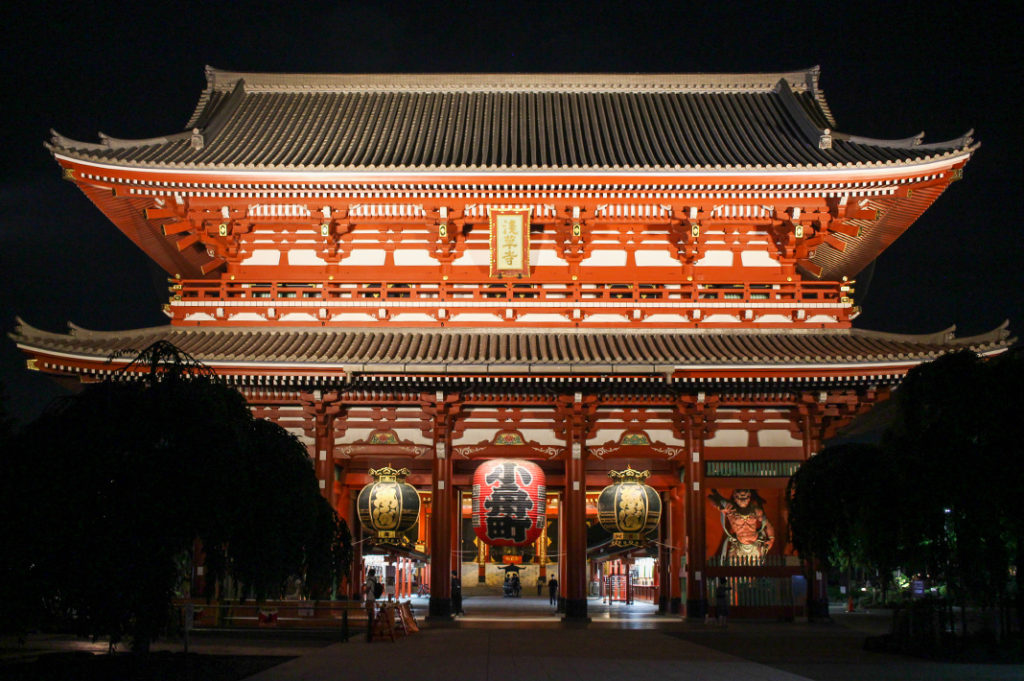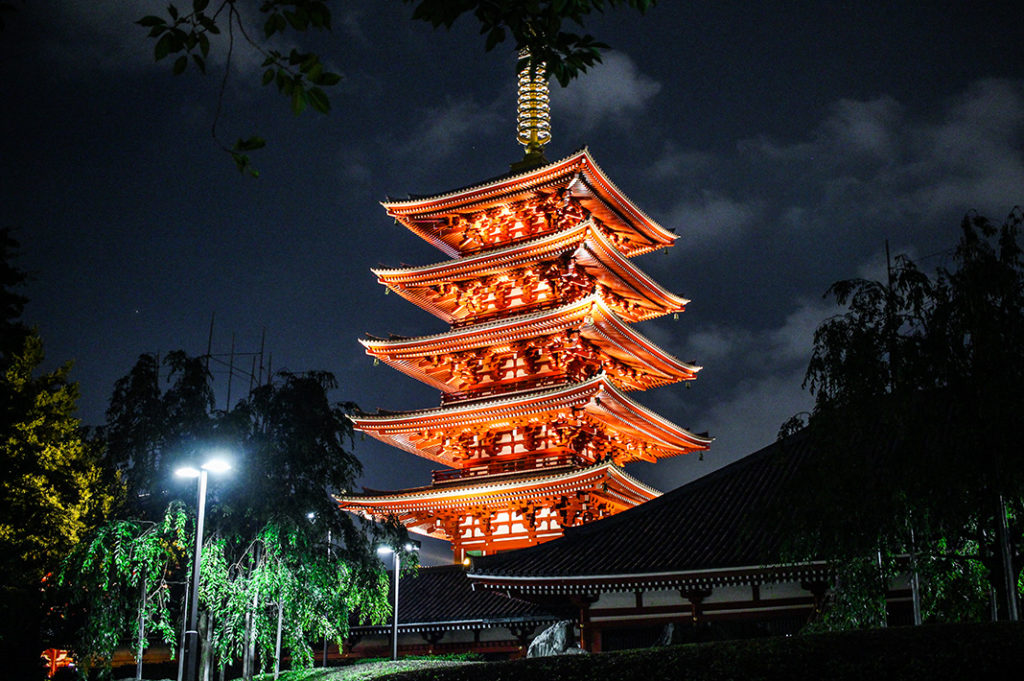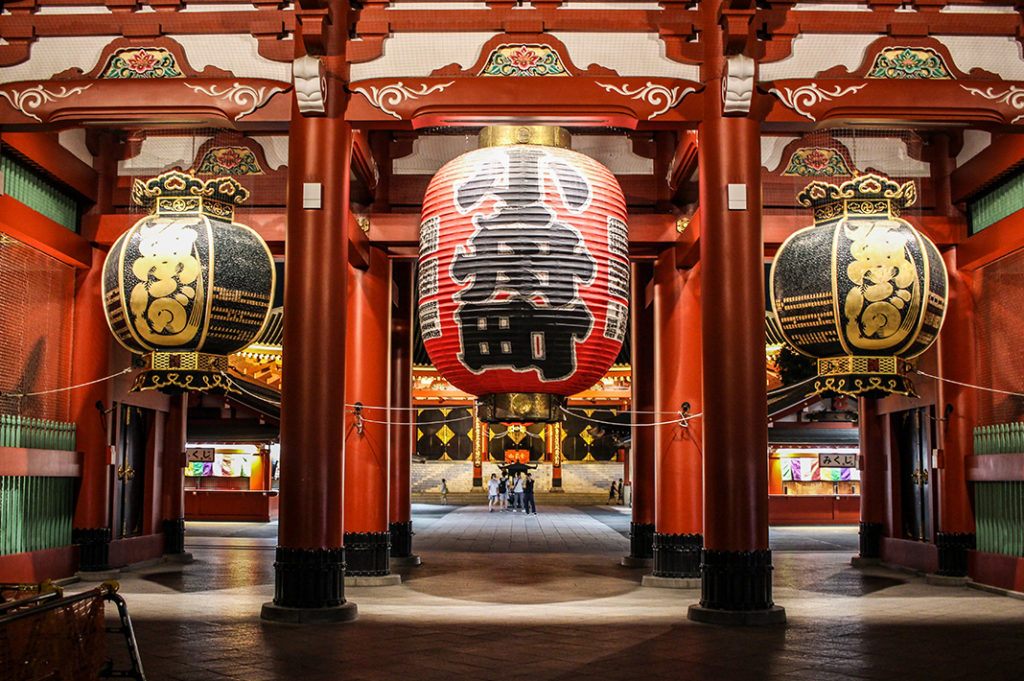 Even though Nakamise Street is closed, you can still stroll along its length; the painted roller doors of the shops provide some additional eye-candy.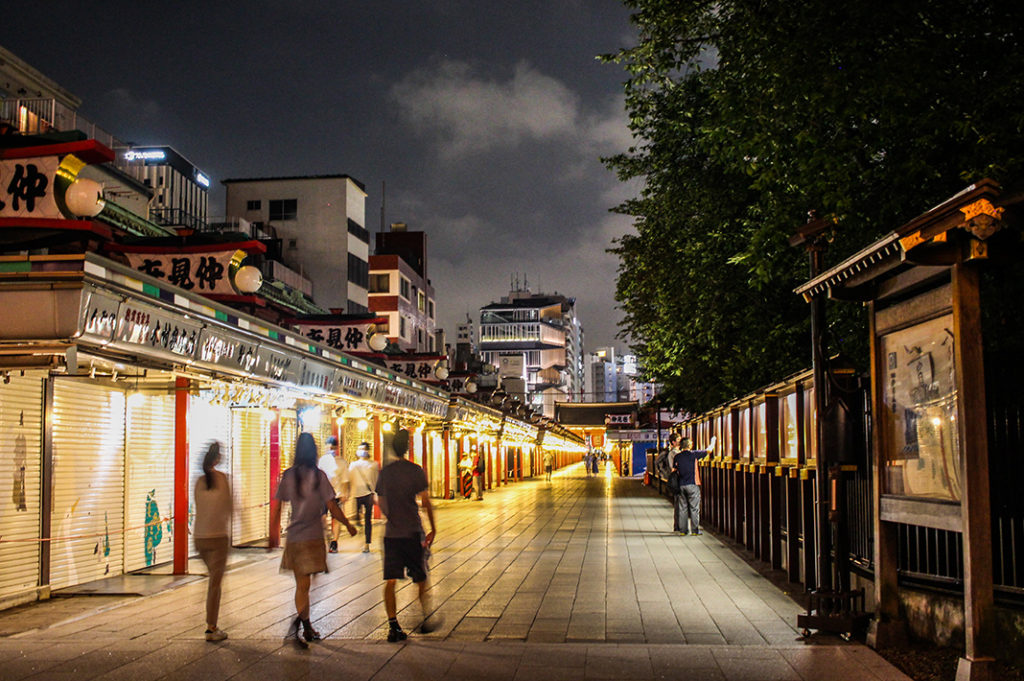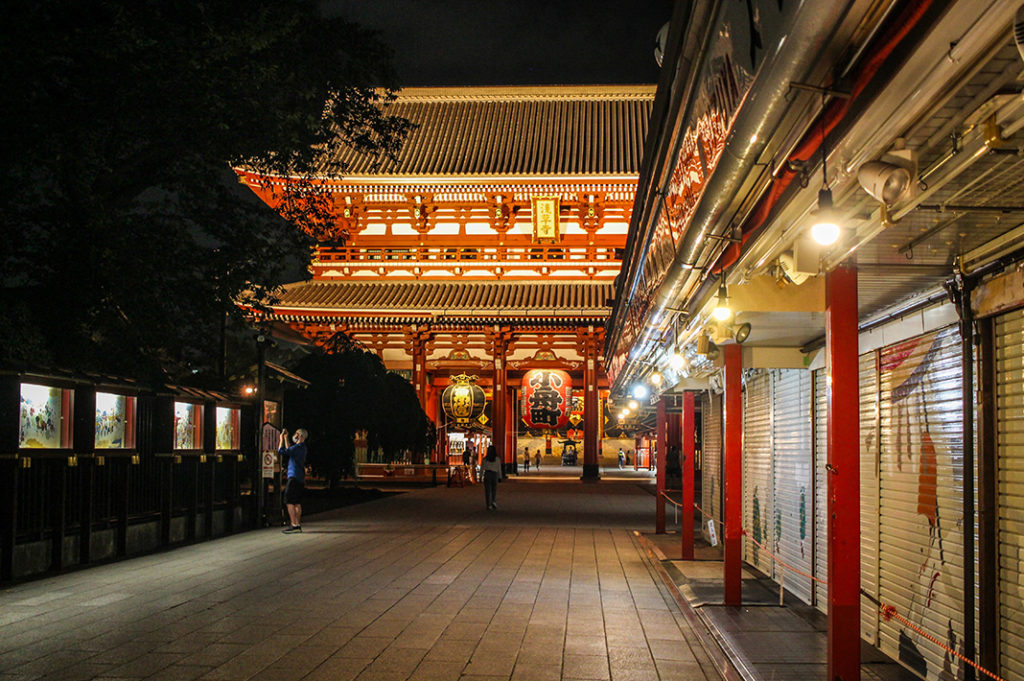 If you want a quiet atmosphere but also want the shopping, a weekday morning may be the time for you. Unfortunately, this means you'll miss out on the gorgeous romantic lighting and magical ambience. Perhaps you'll just have to come back again?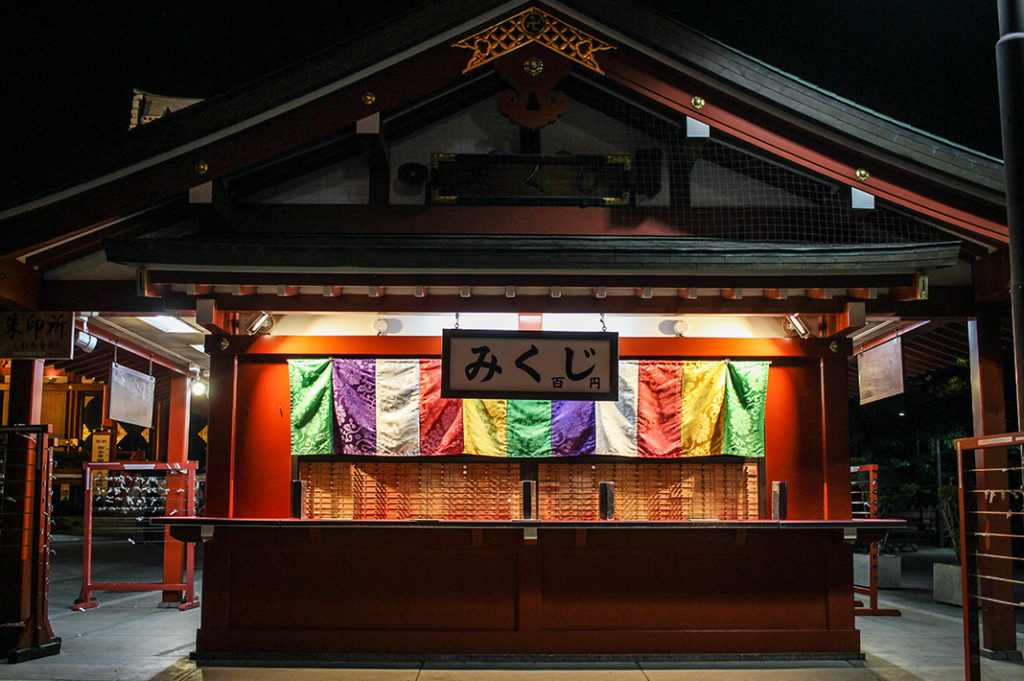 Fortune favours the bold
Even though the temple is closed, you can still get an o-mikuji, or fortune. And with so few people around, the quiet atmosphere is perfect for such a contemplative activity. Head to one of the 'mikuji' counters and drop 100 yen into the coin slot. Next, pick up one of the silver metal canisters (mikuji-bo) and shake it until a stick pops out of the small opening. You'll see a character written on the end of the stick; this is your lucky—hopefully—number! Match the number to the corresponding wooden drawer and take out your fortune. Tip: the numbers start at the top right and move down the columns, i.e  一 (1),  二 (2),  三 (3) etc.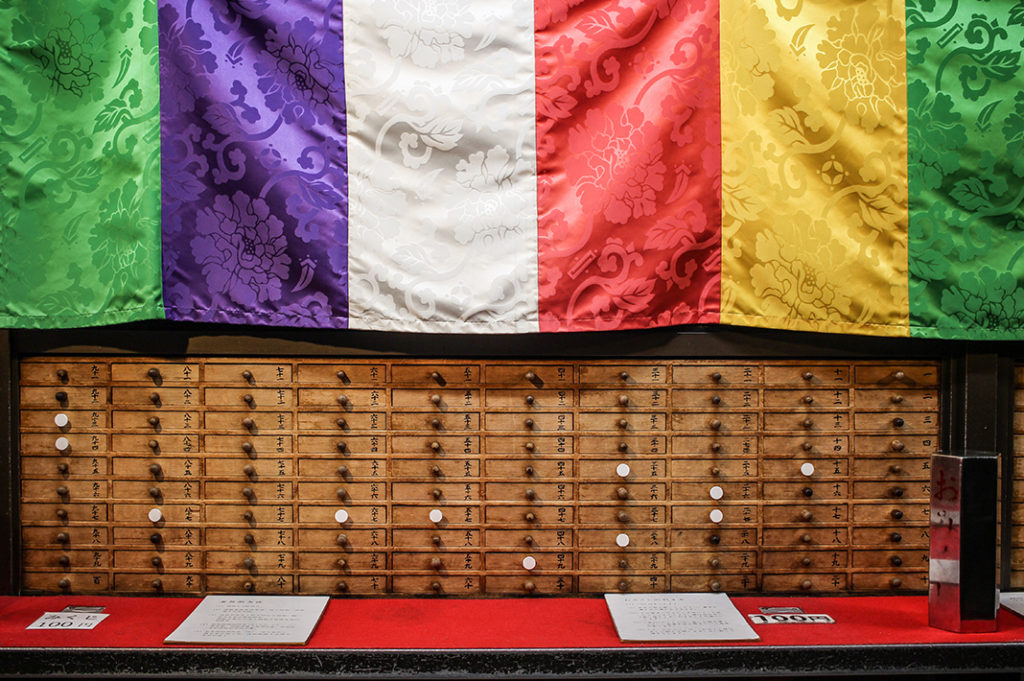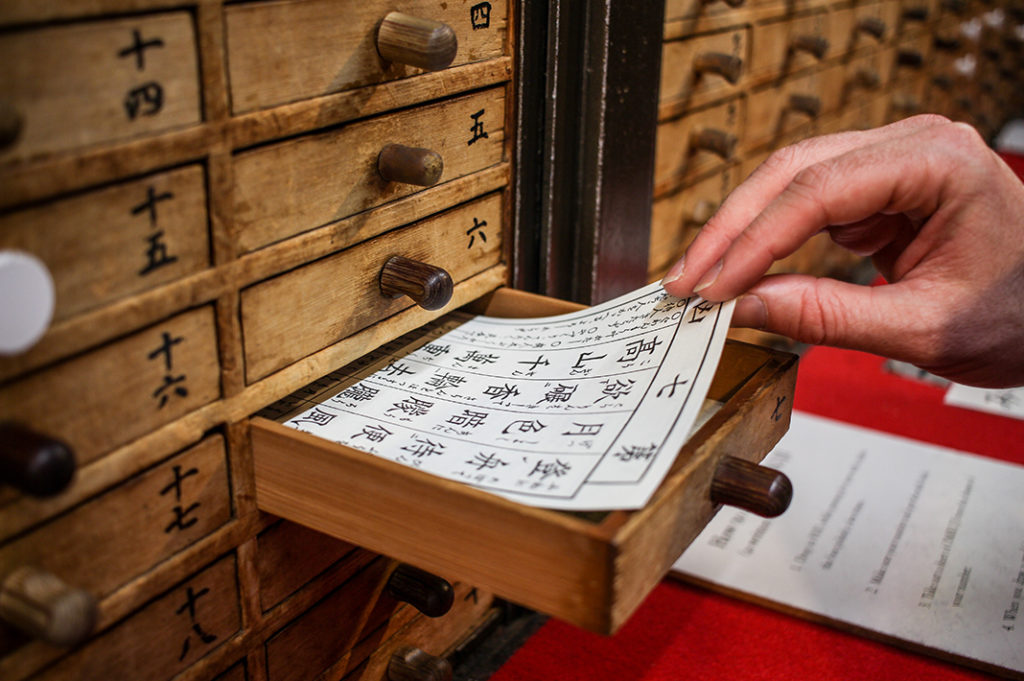 There are four types of luck; from best to worst: Dai-kichi, Kichi, Chu-kichi, Sho-kichi, and Kyo. If you get a good fortune, make sure you take it with you! If you get a bad one, it's customary to tie it onto something at the temple or shrine to rid yourself of the rotten luck. It could be a rope or a tree branch, but at Sensoji, it's a rack with thin metal bars. Tie it on and say goodbye to the bad juju!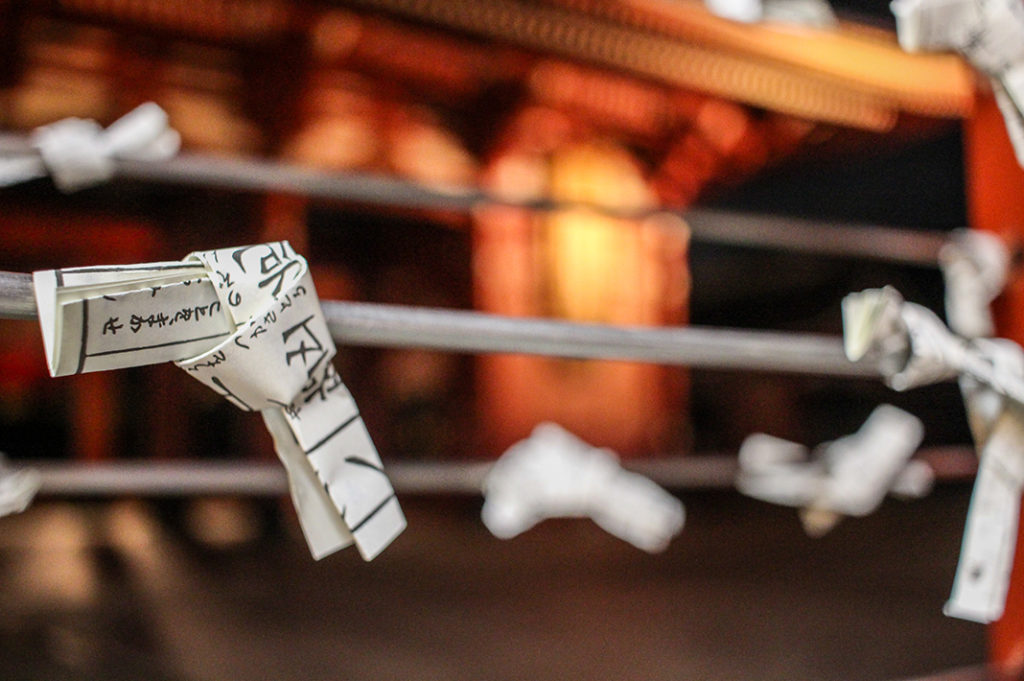 Asakusa at night
Visiting Sensoji at night isn't a satellite activity. The quiet streets and arcades of Asakusa are equally charming to explore. With all the people gone, you can really start to appreciate the landscape. Though many of the businesses close after dark, there are still plenty of great restaurants and bars in the area, including the nearby Hoppy dori, crammed with Izakaya and exuding retro charm.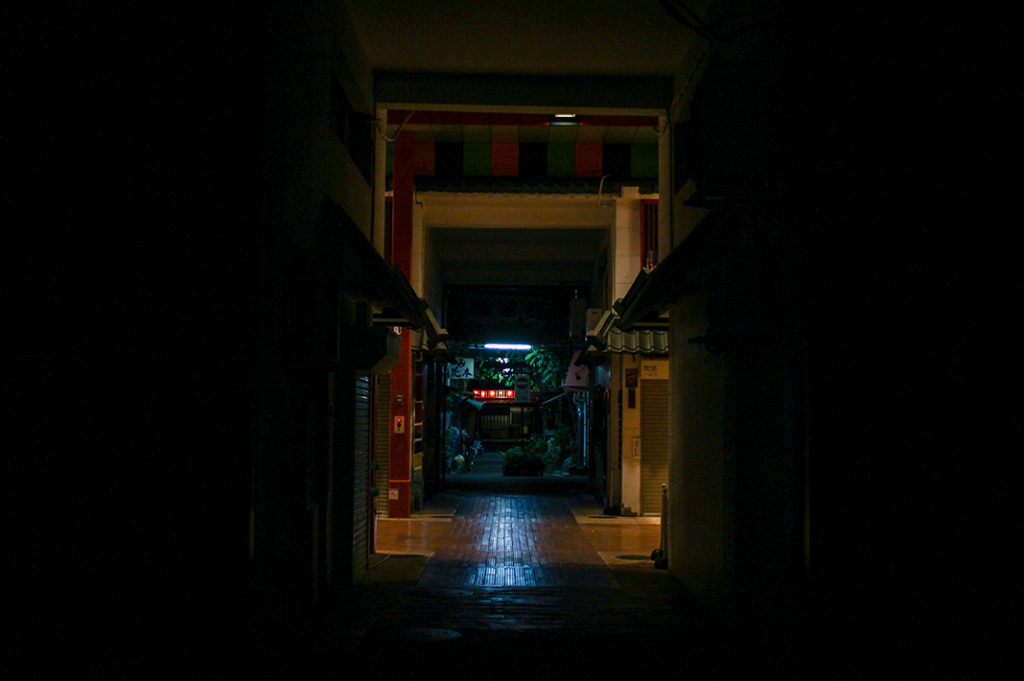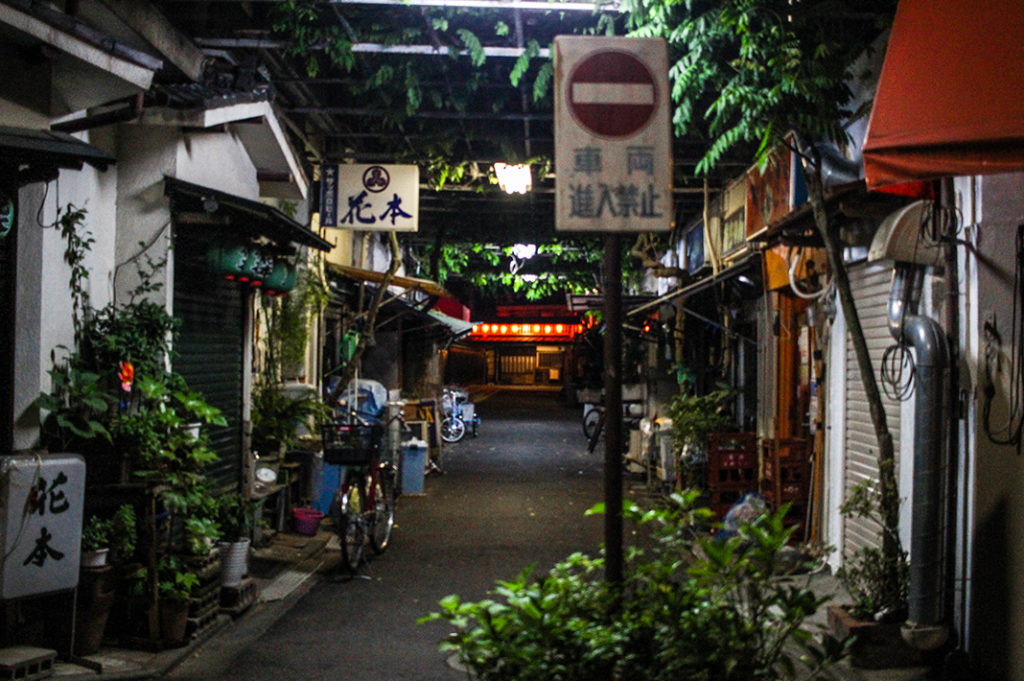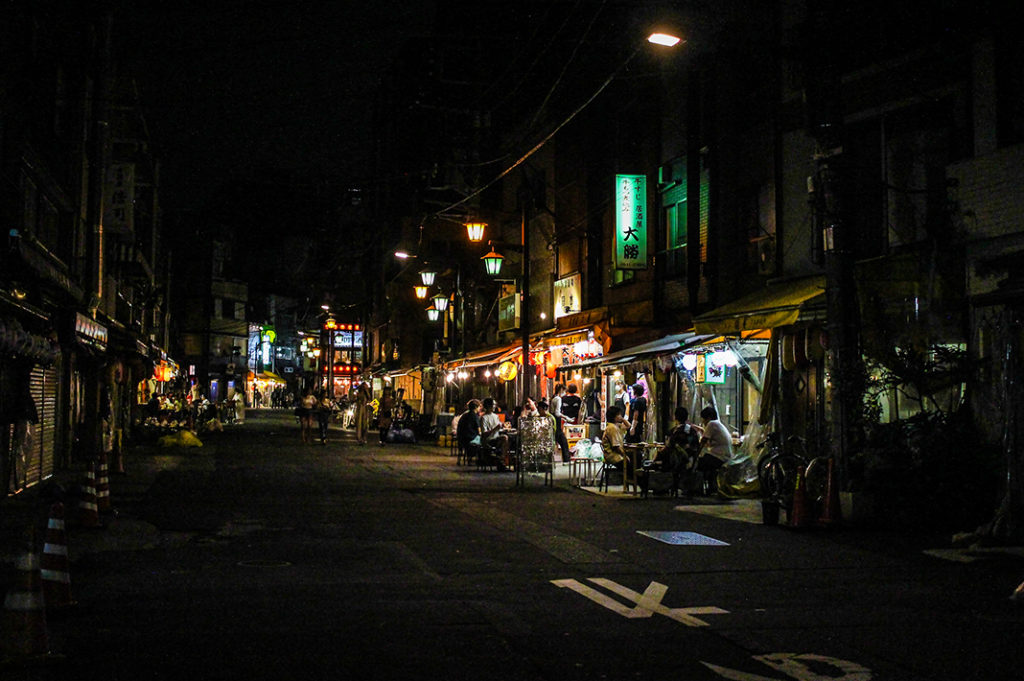 Around 11 pm, when the barflies are shooed away from Hoppy dori, the lights of Sensoji are turned off and Asakusa goes to bed for another night. The two versions of this neighbourhood are in stark contrast, so be sure to visit Sensoji at night to see which you prefer!
Name: Sensoji Temple
Address: 2 Chome-3-1 Asakusa, Taito City, Tokyo (link)
Grounds open: 24hrs.
Temple open: 6:00 am (Apr to Sept) or 6:30 am (Oct to Mar) until 5:00pm.
URL: here
Post by Japan Journeys.