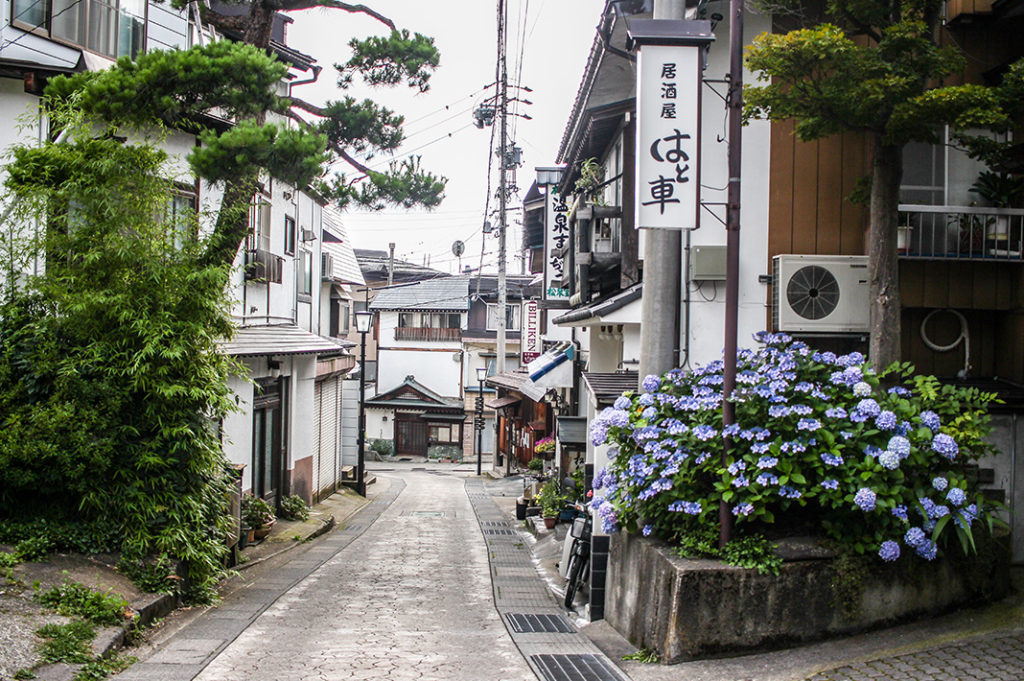 Nestled deep in the beech covered folds of northern Nagano prefecture, Nozawa Onsen is a picturesque village, home to 4,000 people. Sitting at the foot of Mount Kenashi, it comes alive in winter with one of the best ski resorts around. Snow aside, there is more to Nozawa Onsen than meets the eye. From steamy hot springs to historic shrines, handicrafts and local produce, there are plenty of great things to do in Nozawa Onsen that don't involve snow. The below could be experienced in one day, however, an overnight stay would open up the possibility of even more activities like hiking and mountain biking. All of the places mentioned below (including the stamp rally locations) can be seen on this map. 
Onsen
Blessed with access to steamy natural hot spring water, Nozawa Onsen has been a wellness destination since the Edo Period. Dotted around the winding, hilly town are roughly 30 springs, 13 of which are Nozawa Onsen's free public onsen, or soto-yu. Run by local volunteers and surviving on donations, each spring contains different mineral compositions and some have temperatures reaching up to 78ºC/172ºF.
There are also more luxe private onsen facilities available around town. If you're after a more familiar 'spa' experience, try Sparena, which has a pool, sauna, relaxation room as well as indoor and outdoor hot spring baths.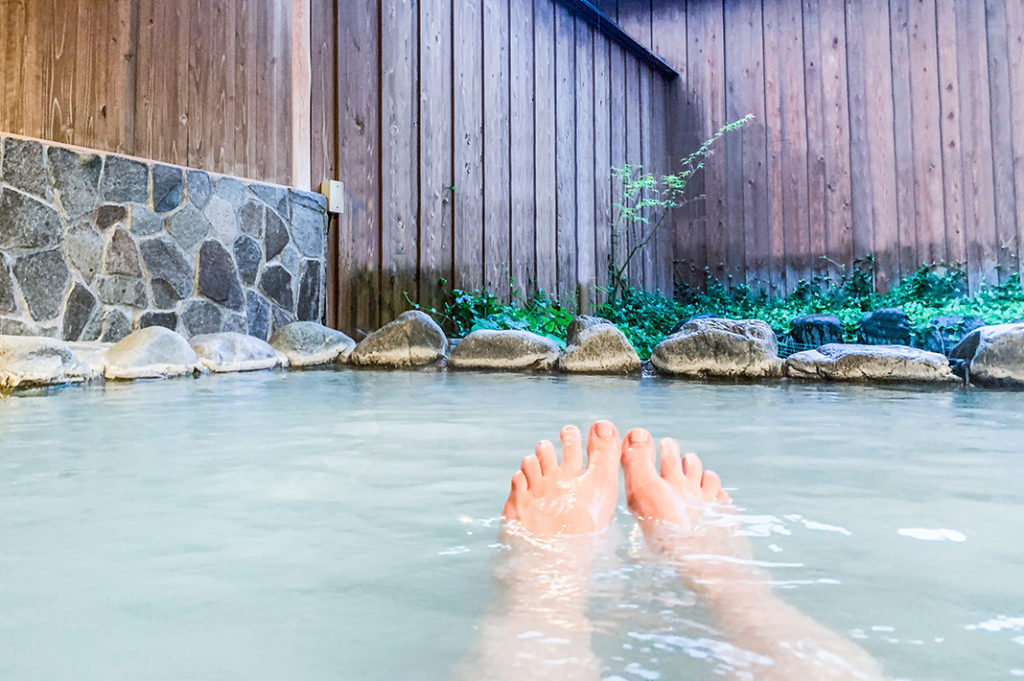 No matter which Nozawa Onsen hot spring you decide to visit, we're sure you'll benefit from taking the time to relax and unwind—and perhaps cure a few ailments in the process! It's wellness at its best. Read more about the thirteen free baths here.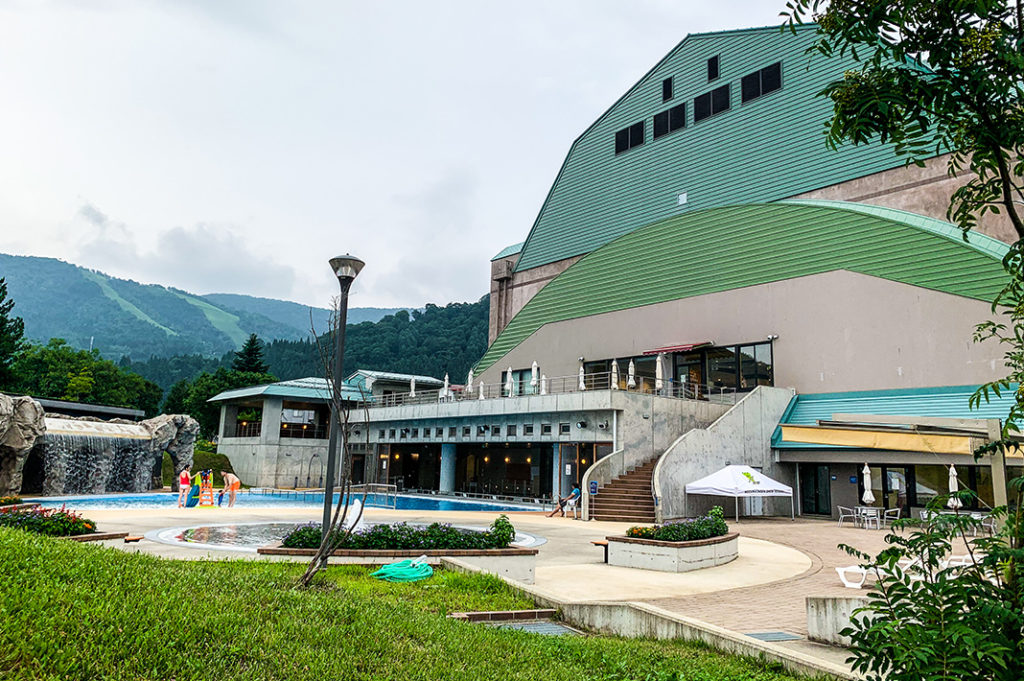 Free public foot baths
In addition to the many delightful onsen, there are also a number of free public foot baths around town. Called ashiyu in Japanese, these are tiny baths on the sidewalk just for your feet! All you need to do is take a seat, remove your shoes and socks, roll up your pants and dip your legs into the soothing hot water. Pro tip: bring a small towel with you so you can dry off before putting your shoes back on.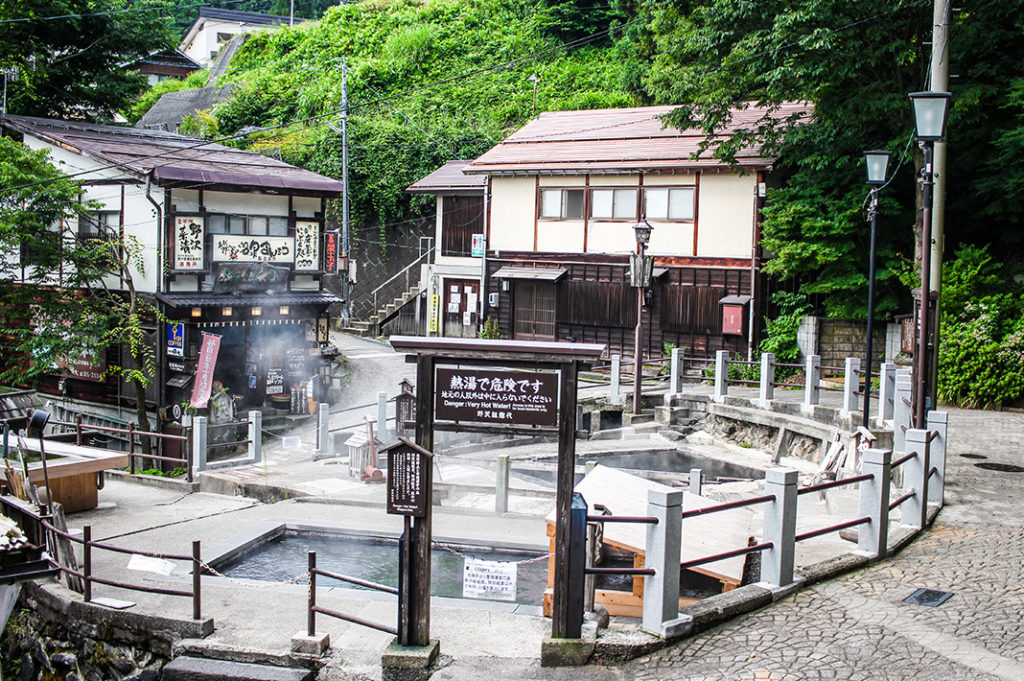 Ogama: Nozawa Onsen's kitchen
Of all the springs in town, Ogama is by far the hottest. The water here reaches an incredible 90ºC (194ºF), so it is understandably off-limits to visitors. Locals, however, use these hot pools to wash and cook vegetables and eggs, instead of doing it at home. It's kind of like a communal, open air kitchen powered by mother earth. A must-see!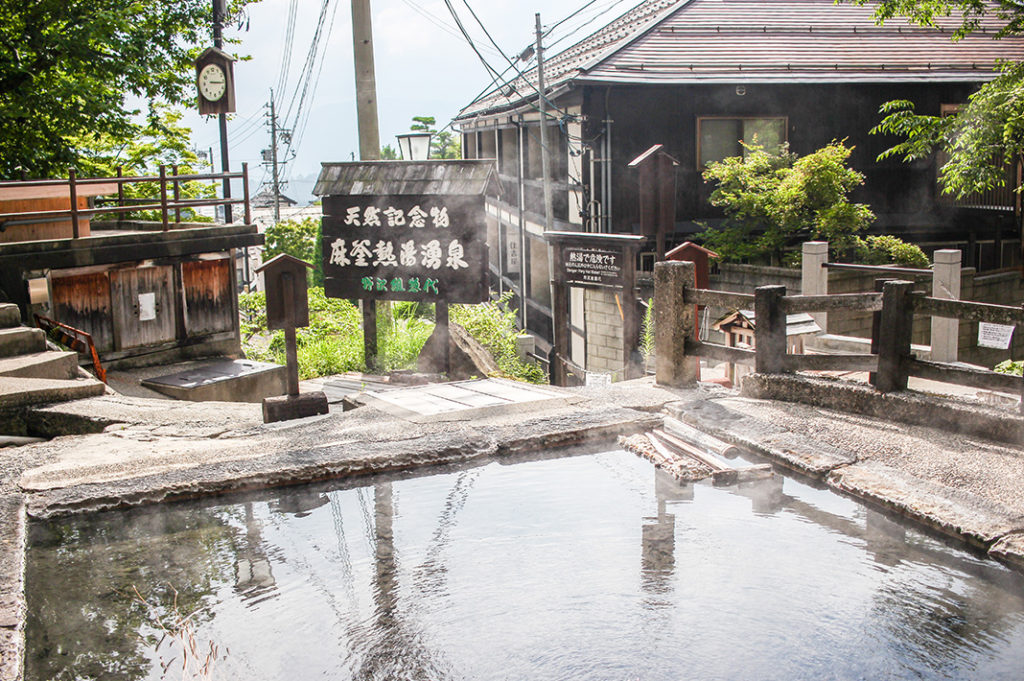 Cook Onsen Tamago
Onsen tamago, or onsen eggs, are a staple of onsen towns. After all, cooking food in naturally occurring, boiling hot, mineral-rich water is a no brainer. You can sample onsen-cooked eggs in restaurants all over town or, better yet, buy them raw and cook them yourself. Look in the souvenir stores surrounding Ogama; they have all kinds of pickles and foods and even sacks of eggs! As cooking in Ogama is off-limits to visitors, you can cook them nearby at "Mini Onsen Hiroba Yurari" (70ºC/158ºF) or at the following soto-yu bathhouses: Kamitera-yu, Kumanotearayu, Matsuba-no-yu and Jyuoudo-no-yu.
Morning Farmer's Market
If you're staying in town over a weekend, you'll be perfectly placed to check out the Sunday morning farmer's market. Held weekly from 6 am to 7.30 am, May to October, it takes place in Oyu Street, just in front of O-yu Hot Spring. Locals set up stalls selling all kinds of fresh produce as well as baked goods and the famous Nozawana pickles. Seeing as the public baths open at 5 am, you could even get in a soak before you go shopping.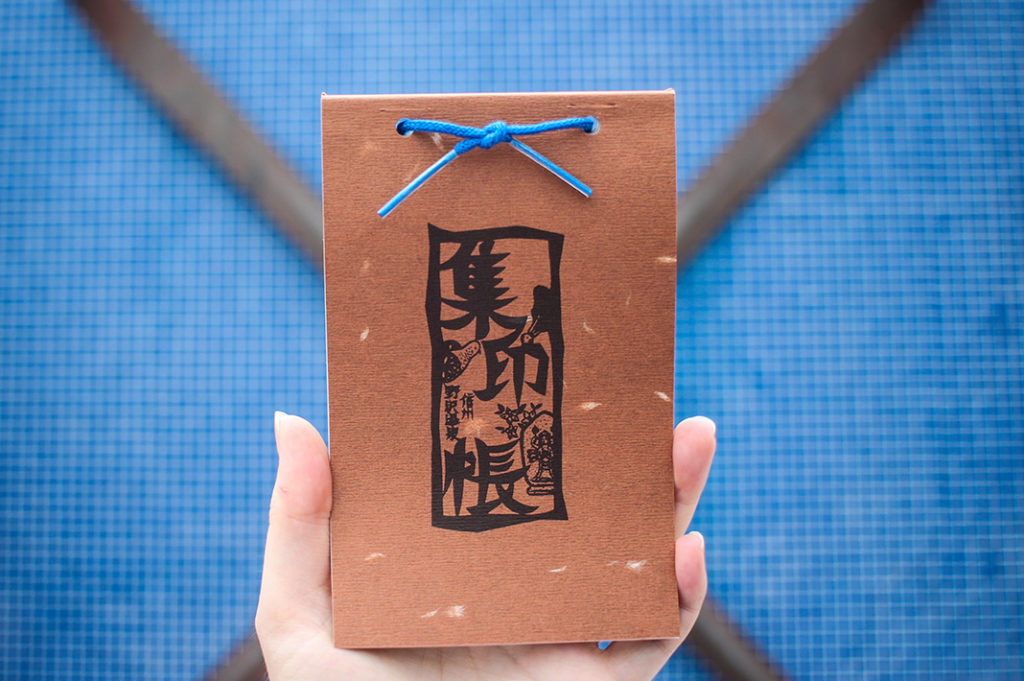 Stamp Rally
For those keen to explore, the stamp trail features 27 points of interest that really paint a portrait of Nozawa Onsen's culture and history. By participating, you can get the lay of the land, explore areas you may not have otherwise and learn a thing or two about life in the mountains. Pick up a stamp book from the Tourism Association Office (near Yokochi hot spring) for a few hundred yen. If you're short on time, you don't need to finish it as there are prizes available even if you collect 10 or 20 stamps out of the 27. Spoiler: they're both onsen towels. Read more about the stamp trail here.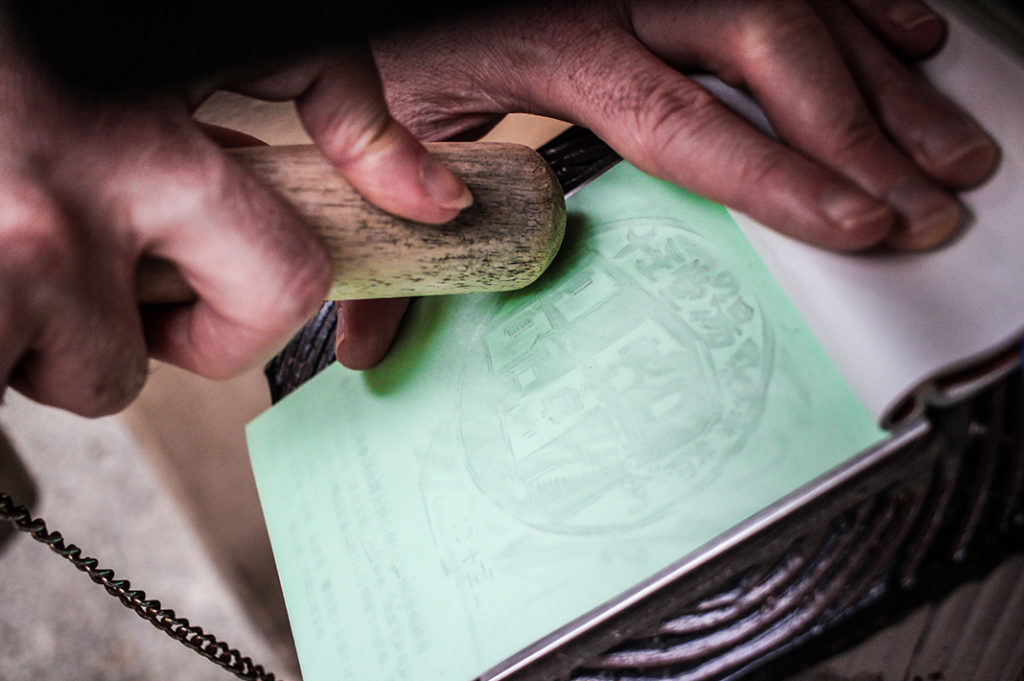 Take a ride on Yu Road
Yu Road is a free moving walkway that connects the hot spring village to the "Hikage base area." In winter, this is the main ski slope in town, but in summer…well, it's still the main ski slope in town!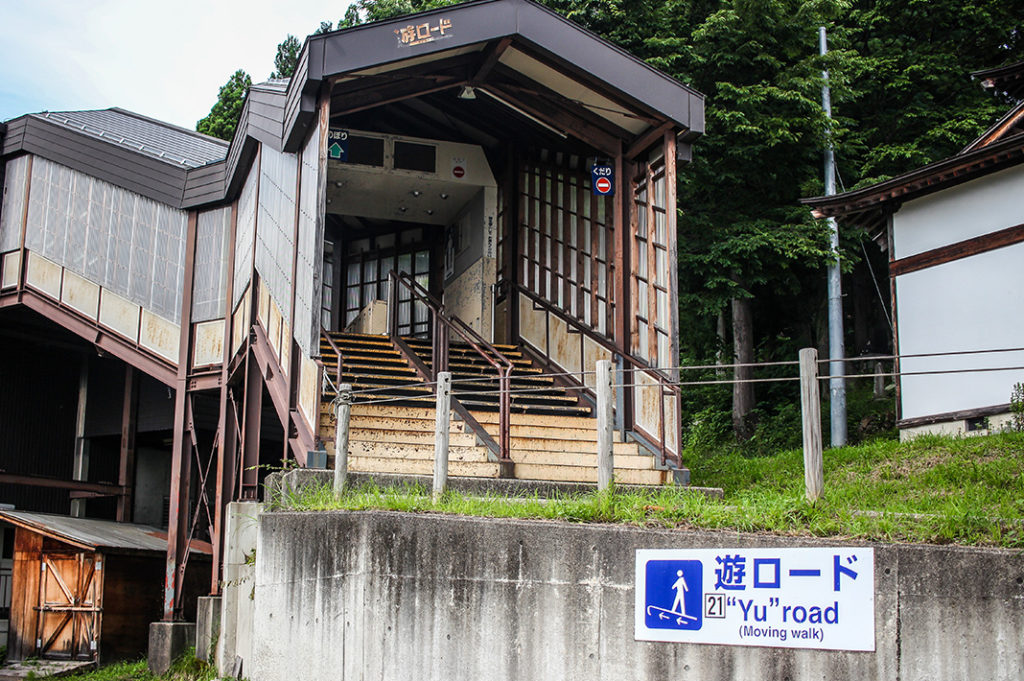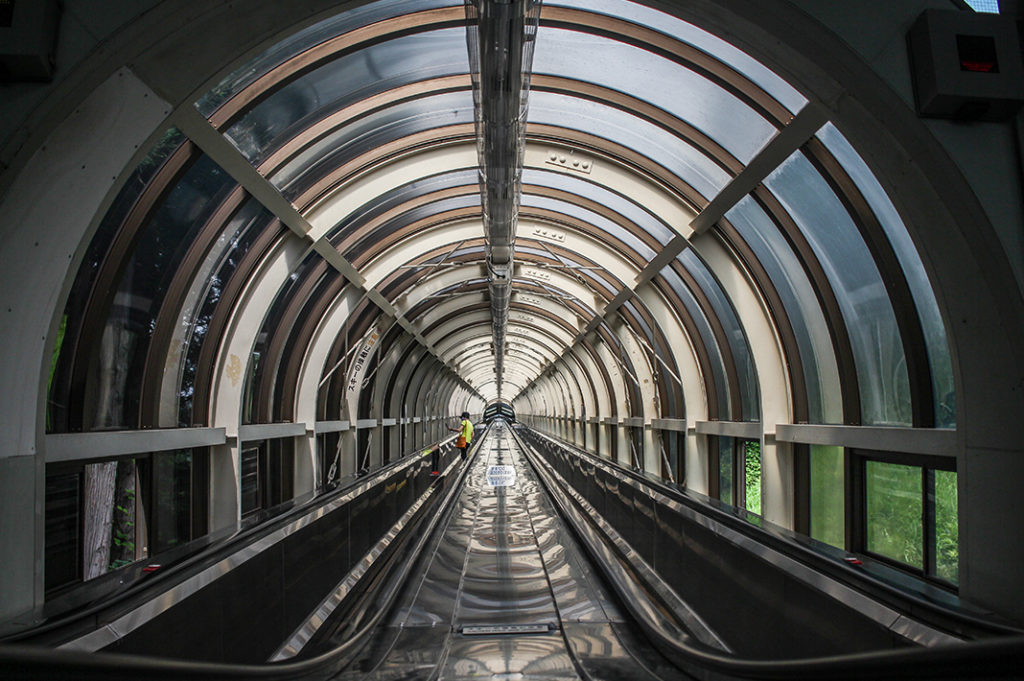 At the top of the walkway, you'll find Nozawa Onsen Sports Park which features a children's play area, zip line, dog run and even a summer ski slope. Instead of artificial snow, there is a slippery "snow mat" running downhill that, from a distance, almost looks like the real deal. Whether you prefer to ski or snowboard, you can embrace your winter fantasy up here.
Temples, shrines and a 300 year old tree
Next door to Yu Road you'll find some important local shrines and temples. Take the steep steps uphill, past the 300-year-old cedar tree, and enjoy the peaceful clearing surrounded by conifer trees. You can explore Yuzawa Shrine (Shinto) and Kenmeiji temple (Buddhist) which is known as the birthplace of the Nozawana pickle.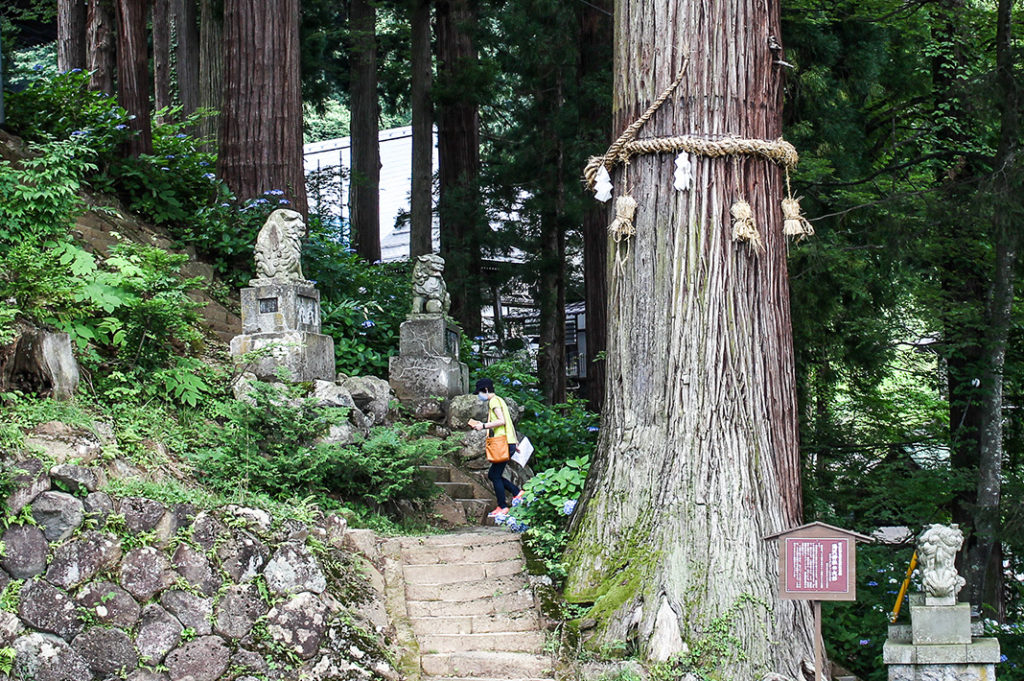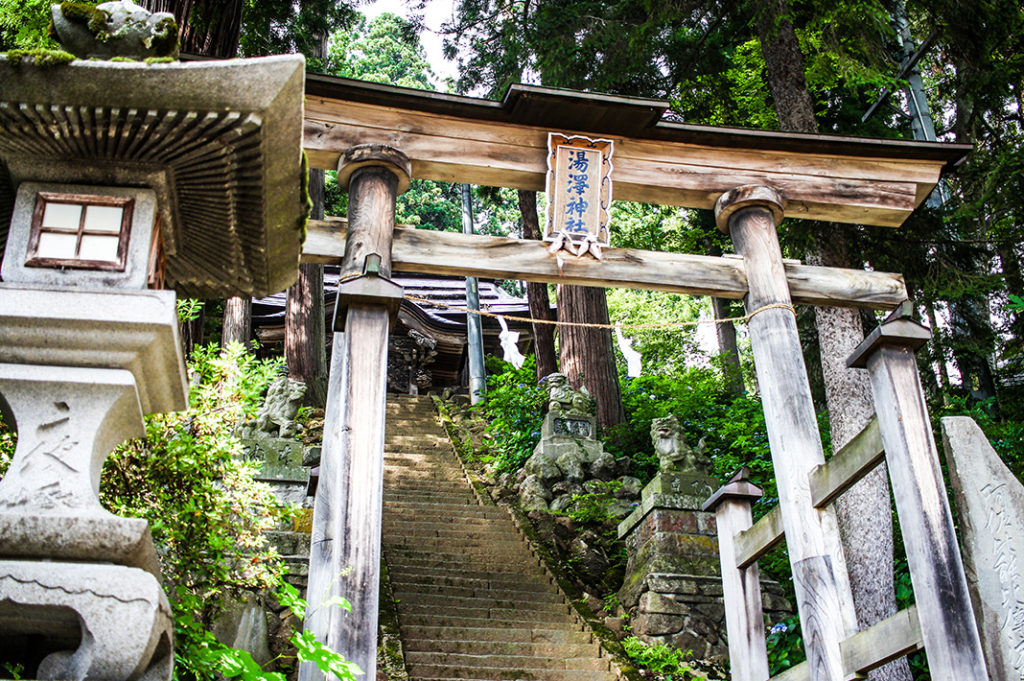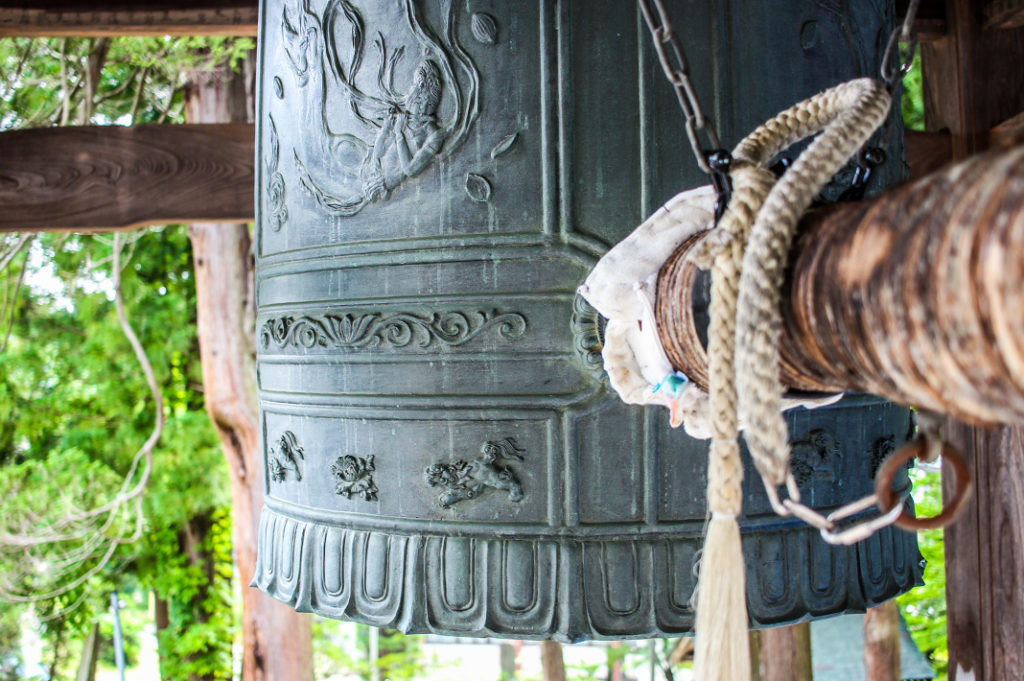 Akebi Vine Crafts and Hatoguruma
If you're into handicrafts, you'll have to check out the Akebi vine products throughout town. Vines are harvested from the surrounding forests, softened in the hot spring waters of Ogama and woven into baskets, lampshades and other items. The most popular vine product, though, is the hatoguruma [dove cart]. This is a traditional toy that has been made for generations here and can be found at souvenir stores all over town, as well as on the drain cover artwork! They make for a great local, handmade memento of your trip.
Artwork by Taro Okamoto
In 1991, Nozawa Onsen welcomed their first honorary citizen to the fold, famous avant-garde artist Taro Okamoto (1911–1996). Known for his Tower of the Sun (1970) installation in Osaka, he was later commissioned to create a monument for the village. He fell in love with life up here so much so that he began making annual winter trips. You can see his statue in front of the Nozawaonsen Village Hall, as well as his stylised calligraphy of the character for hot water ( 湯 / yu ) all over town.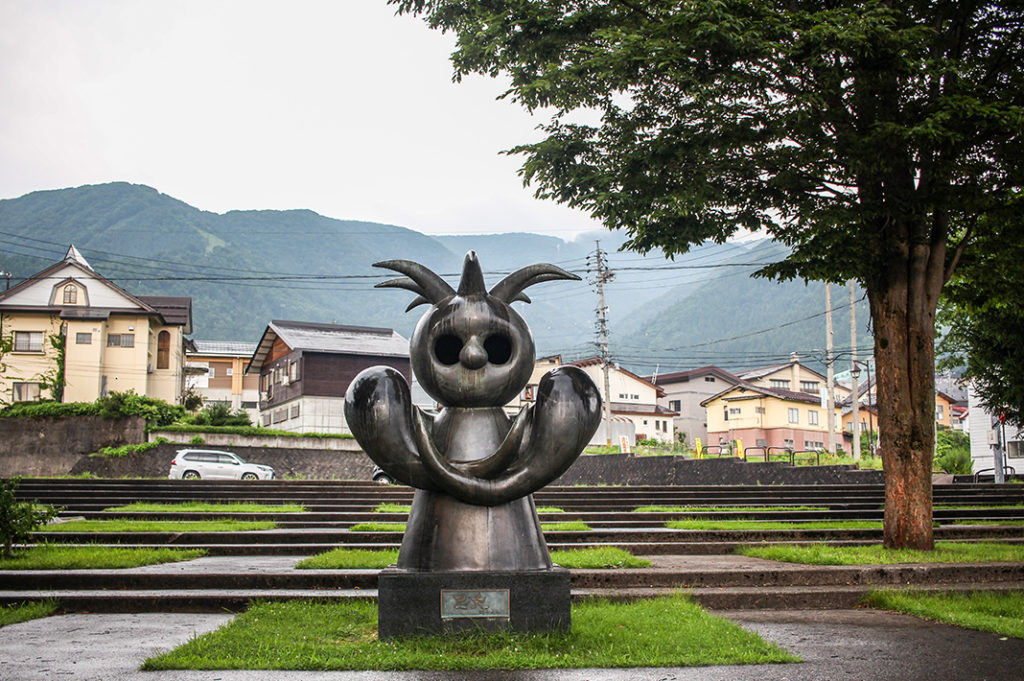 Dosojin Statues
Taro Okamoto isn't the only one making art around town. In fact, it seems that there are statues around every corner in Nozawa Onsen. The same, wooden statues, to be precise. These 'dosojin' are guardians of the village and make for a wonderful photo scavenger hunt. Read more about them and how they can protect you here.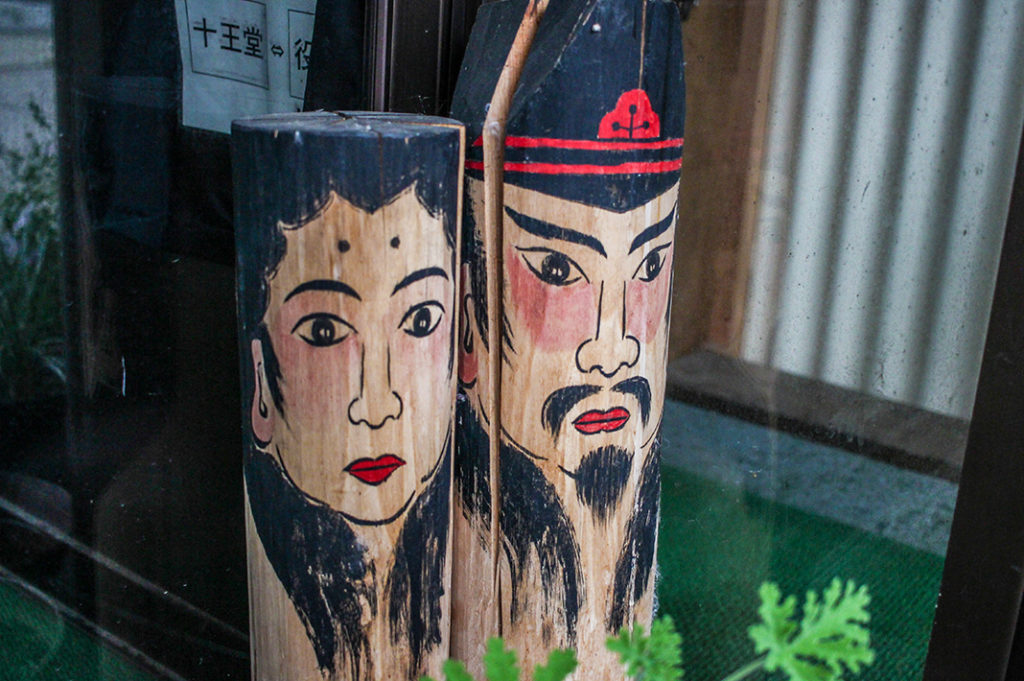 Food and local produce
Nozawa Onsen is home to over 30 restaurants serving everything from traditional Japanese to Italian, Mexican, burgers and steaks, so there's sure to be something for all tastes. However, if you want to try some of the local Nagano and Nozawa Onsen produce, here are a few things you should seek out. (Don't forget Onsen Tamago which has already been mentioned above!)
Nozawana
Nozawana is a leafy green vegetable famous in the area. Legend has it that one of the priests at Kenmeiji Temple brought turnip seeds back from Kyoto in the mid-1700s, but they grew differently here, with long stems and big leaves. Nevertheless, it has become a staple of life. Each family sows their seeds in August and harvests them just before the first snow. Then they are washed clean in the local hot spring water and pickled for later use. Each household has its own unique way of preparing them, so you may notice a difference if you try it a few times. You can find Nozawana at restaurants, from the farmer's market and in the souvenir shops to take home.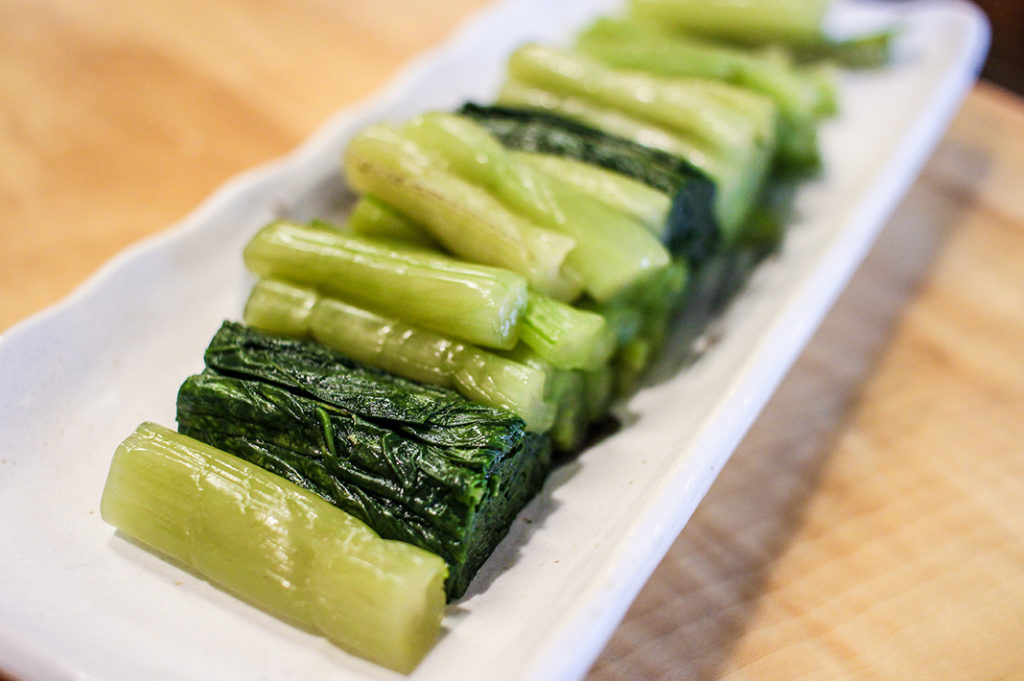 Nozawa Onsen beer
As if this village wasn't great enough, there is also a microbrewery just around the corner from O-yu, called Libushi. Run by an English-Japanese couple, this place uses local spring water and organic ingredients to create delicious, inventive brews. There is a great tasting set available as well as snacks and non-alcoholic juices for those abstaining.
Soba and Oyaki
As it's Nagano, you really should enjoy local favourites such as soba noodles and oyaki as much as possible. There are a few delicious soba restaurants in the village, though we really love 'Sobadokoro Daimon'—their tempura soba set is divine.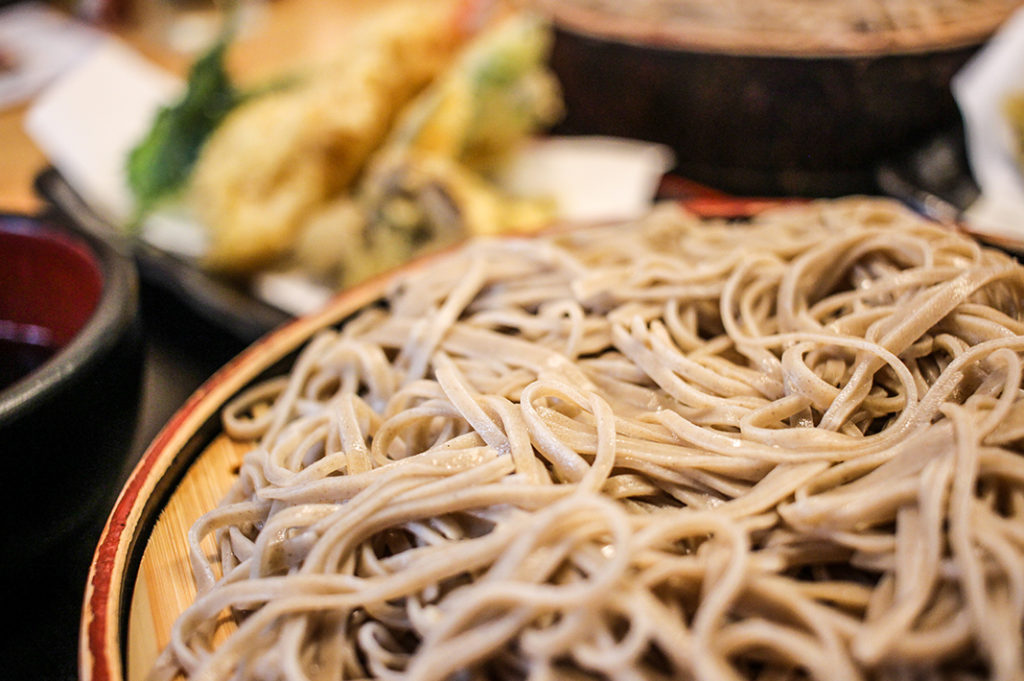 Oyaki is another must-try Nagano food. These savoury dumplings are made with a blended buckwheat flour, stuffed with local produce like mushrooms, pickles, vegetables or beans, then steamed, pan-fried or grilled and served hot. They're the perfect way to sample all of Nagano's finest ingredients in one savoury package. Here in Nozawa Onsen, we recommend trying the pickled Nozawana oyaki. You can find them all around the place, but Haus St Anton is a good bet.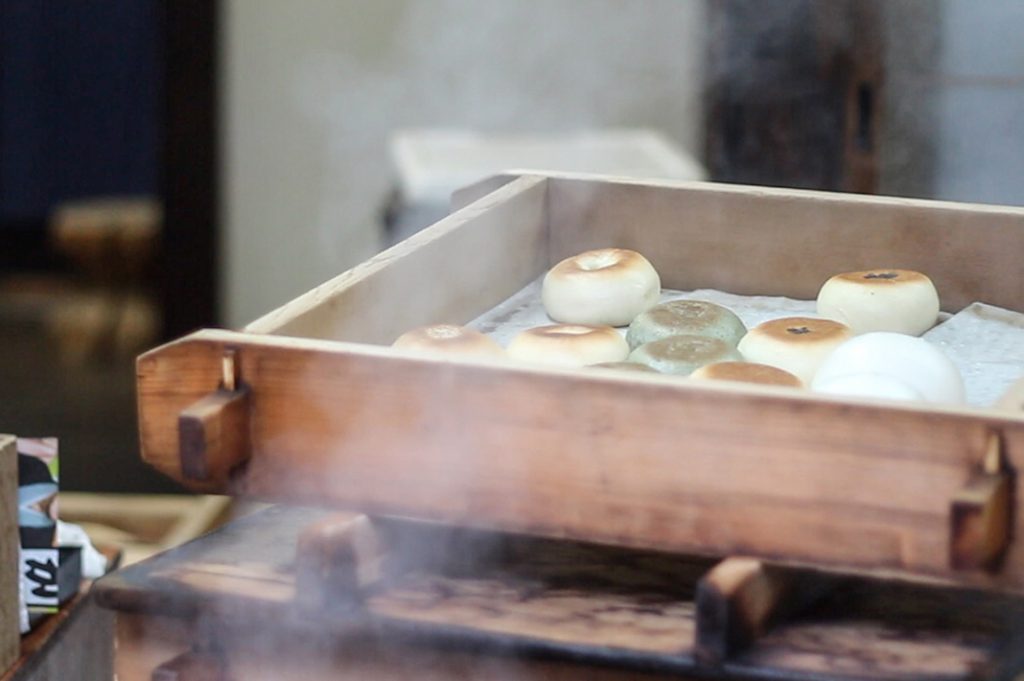 Other local Nozawa favourites
Head to Haus St Anton for all kinds of locally made goodies like jam, honey, ice cream and coffee. Another treat to look out for is onsen manju, small sweet buns with a filling—typically red bean. If all the eating has made you thirsty, wash it all down with some locally made sake!
Although this list of things to do in Nozawa Onsen is quite long, it's certainly not exhaustive. There is plenty more to see, do and eat in this charming mountain village. We think you'd better set aside a few blissful days to do it all! Don't forget to check out our map to help you find all the points of interest we discussed above.
Getting to Nozawa Onsen
Nozawa Onsen is located around 250km from Tokyo. The most direct way is to take the Hokuriku Shinkansen from Tokyo or Ueno Stations, departing at Iiyama Station (approx 1 hour 45 minutes and ~¥9,000 each way for adults). Once at Iiyama Station, it's a 20-minute drive to Nozawa Onsen village. You can take a taxi (approx 5,000yen) or catch the Onsen Liner bus (approx 600 yen). Check the Nozawa Onsen Liner bus timetable here. During winter, there are also shuttle buses running from airports, major cities and other ski resorts to Nozawa Onsen.
Post by Japan Journeys.