Asakusa is not the first place most people think of when it comes to sushi. There are many other things the area is more well-known for: Senso-ji Temple, the incredible menchi katsu actually worth queuing for, tourist tat, fit rickshaw boys, proximity to Kappabashi. But every neighborhood has at least one if not a handful of sushi bars worth frequenting. One we like is Hinatomaru.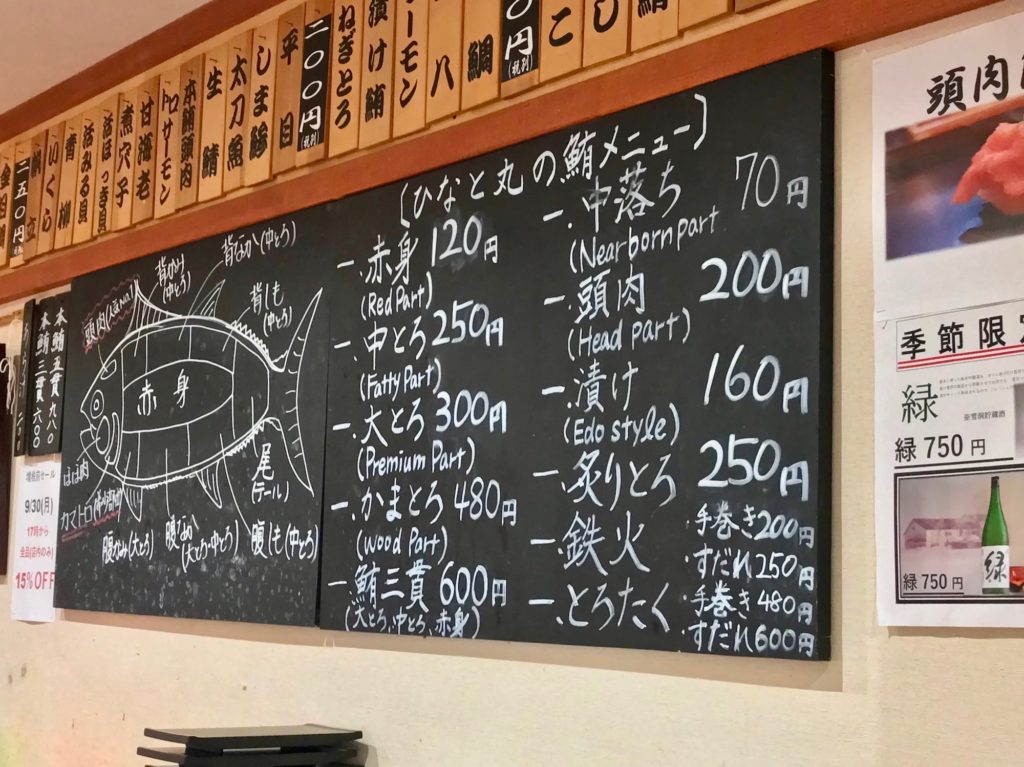 A standing sushi bar in Asakusa
Hinatomaru is a standing sushi bar that's open for about 10 hours a day, the kind of place you can walk into at 3pm for three pieces of your favorite sushi and a pint of beer before walking out again. It is never going to make a 'best of' Tokyo sushi list. That is perfectly fine.
I've visited Hinatomaru on and off over the last year or two. Asakusa is far from where I live, so I don't go as often as I'd like, but it's somewhere I wish I could visit more often. Their sushi is nothing posh. No complex aged fish, or particularly high-quality seaweed for the wrapping. (In fact, the seaweed they use isn't even that good; you'll really taste this in the gunkan-style pieces.) But in cost-performance terms it hits the spot every single time.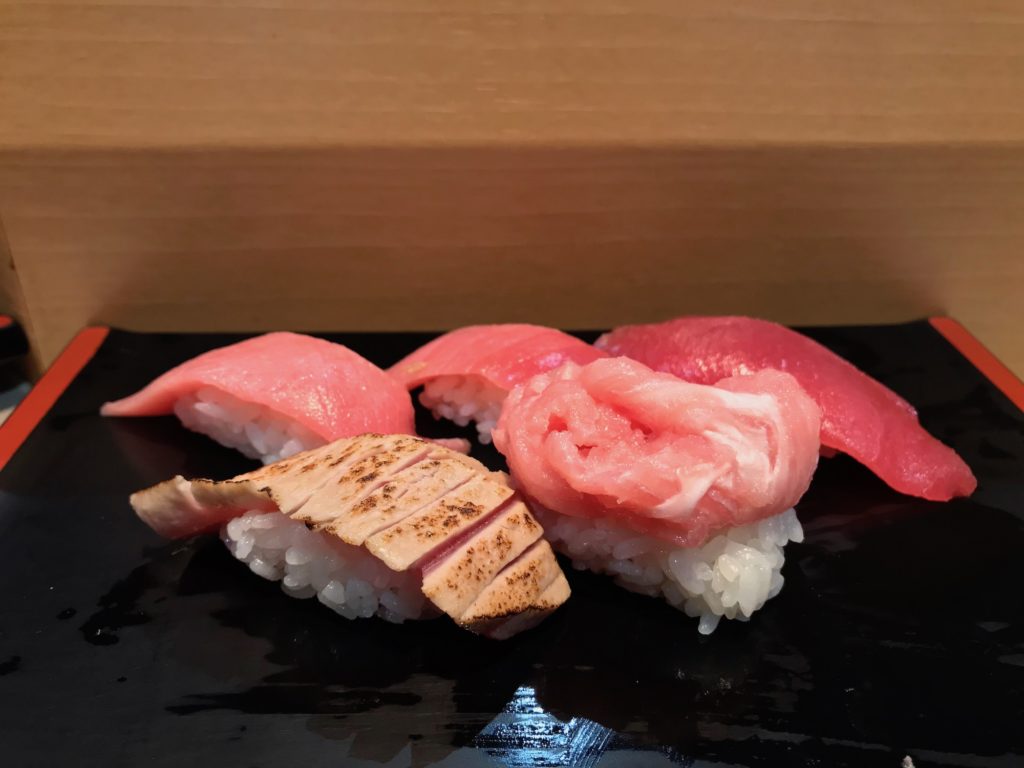 Hinatomaru's tuna set is worth the time
What is worth eating at Hinatomaru? Most fish you like will be just fine—fresh and treated with the right amount of care and respect for a neighborhood restaurant—and the vinegared sushi rice has a surprising sweetness.
I've always liked their sea bream lightly torched in the aburi style, which brings out the sweet and smoky fish oils. Their vinegared mackerel (shime saba) is cheap and cheerful, not at all fishy, and good for the price (less than ¥100!). When vegetarian friends are with me, they usually have the kanpyo-maki (gourd sushi) or cucumber rolls. But if you are particular about your sea urchin, don't order it here.
Without fail, though, I always order the 5-piece tuna sampler. You get to try a few different cuts of tuna, varying in texture, fat levels, and taste. They will taste different in every season, simply because the fish itself may have had more or less fat in its body. I like tuna in the winter months, as it often tastes richer and creamier, but this is just a personal preference.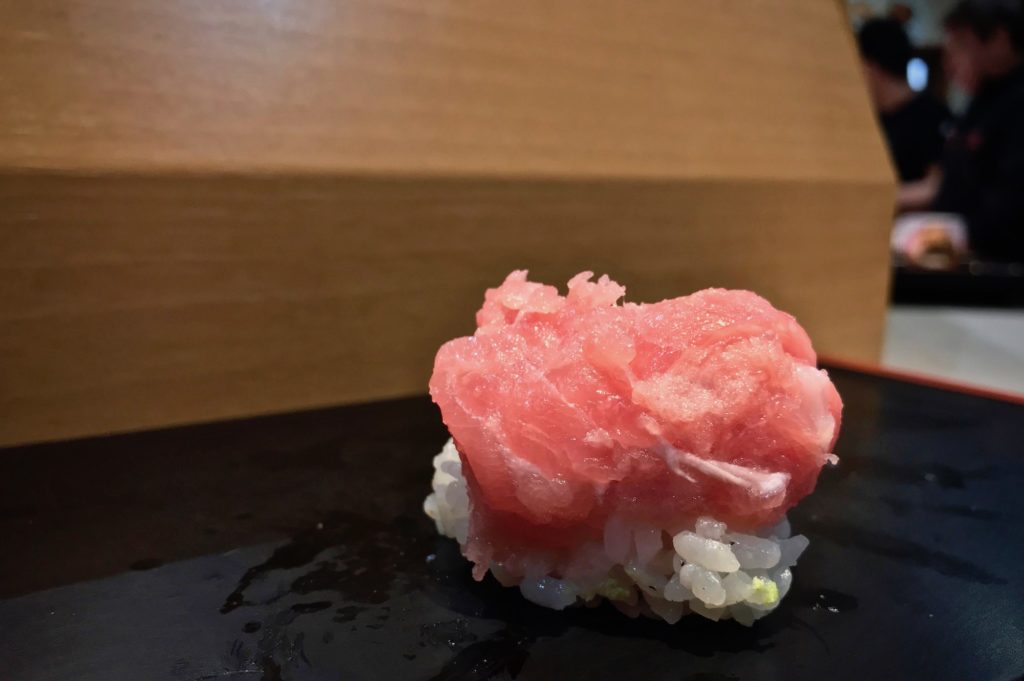 A case for tuna head sushi
Many sushi restaurants serve a few cuts of tuna. Lean (akami), medium-fatty (churro), and fatty (otoro) are pretty standard fare for sushi eaters now. Hinatomaru's tuna set, in that sense, mostly hews to convention. But when was the last time you saw a sushi restaurant serving tuna head sushi?
Enter the zuniku piece, or tuna flesh from the head. When I want to order seconds or repeat a piece, this is usually what I order. The meat near the head is rippled through with fat and tastes that much sweeter. A roughly chopped pile of it on just enough sushi rice is pure fish ambrosia. Sometimes I don't even want to bother with the other parts. If you've never tried zuniku before, do yourself a favor and stop by for a piece the next time you're in Asakusa. I think you'll love it.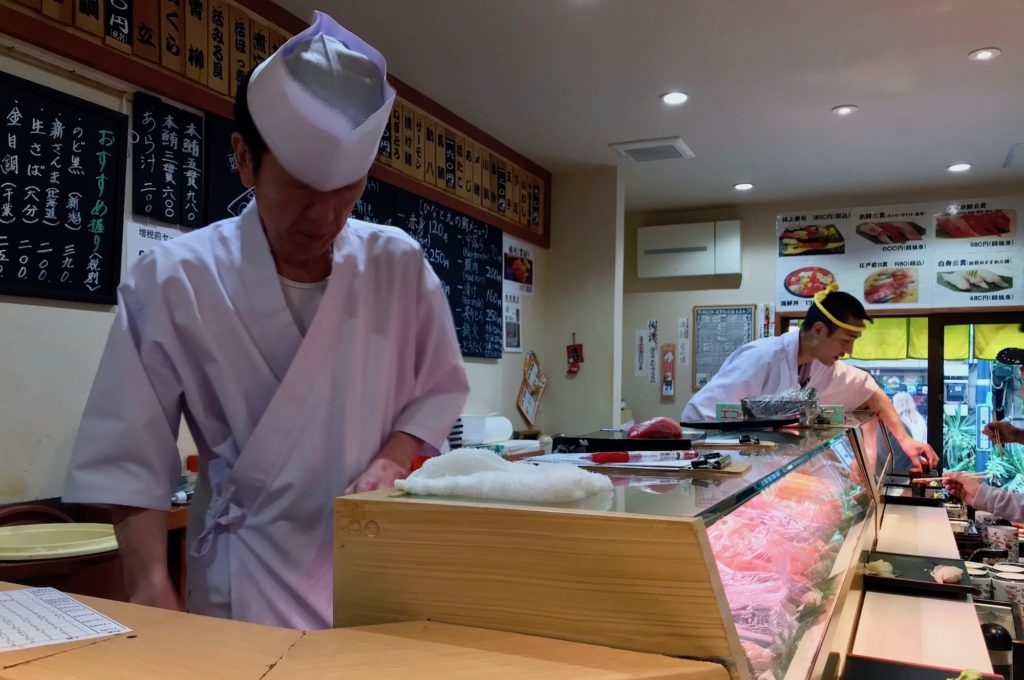 How to get here
Hinatomaru is a short walk from Senso-ji, located along one of the side streets off the main street leading to the temple. They really do close at 10:00pm, so if you want late-night sushi you're out of luck. Also, you may want to consider visiting mid-afternoon. It's less busy and sushi for tea is just great.
Name: Hinatomaru
Address: 1-20-3 Asakusa, Taito Ward, Tokyo 112-0032
Open: 11:30am – 10:00pm
Website: N/A
Post by Japan Journeys.