Asakusa found prosperity in the Edo era. A veritable playground for rice dealers, merchants, lowly officials and samurai, it was the go-to place to catch a show, grab a bite or simply drink the night away. Of course, its heyday sadly came to an abrupt end during the war, when it, along with much of Tokyo, was destroyed by US air bombing. As the city rebuilt and other areas surpassed it as preferred nightlife districts, Asakusa was left to find its new identity. Despite the constant modernisation sweeping across the growing metropolis, Asakusa has managed to retain much of its 'iki', or traditional Japanese aesthetic. Take a walk around the neighbourhood today and you'll see remnants of post-war Japan in the shopping arcades, winding backstreets and, of course, on Hoppy Dori.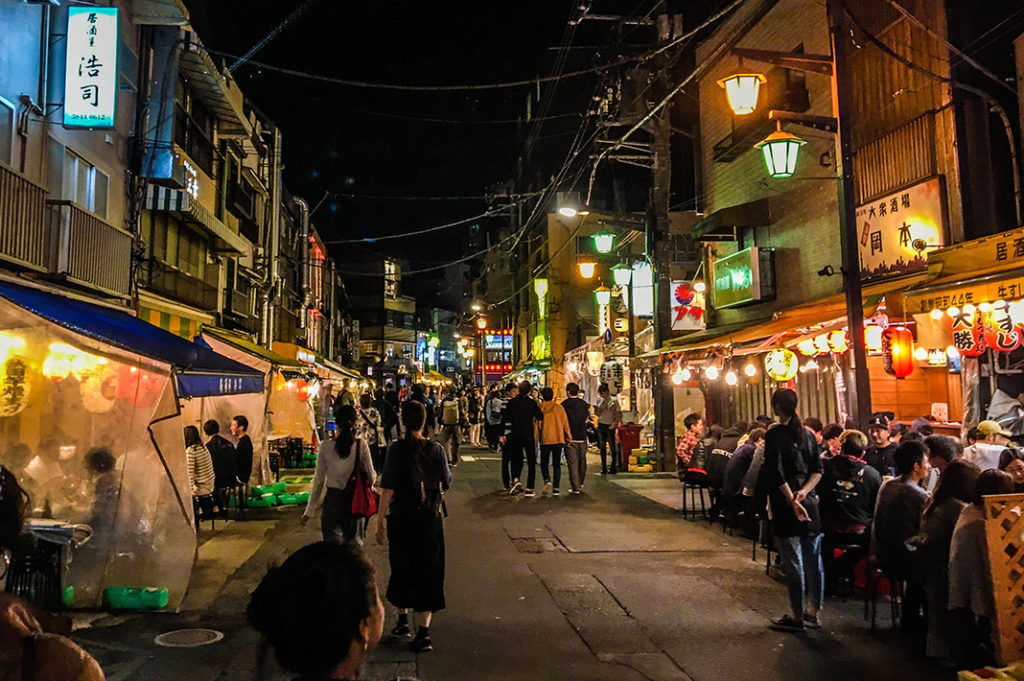 The many izakaya of Hoppy Dori
Hoppy Dori, or Hoppy Street, is a collection of izakaya (Japanese taverns) located to the west of Sensoji Temple. After the war, Tokyo's neighbourhoods were in the process of rebuilding and these ramshackle establishments served as a place for the people to gather once more and drink to old times. These days, you can come in search of a bite and a bev, day or night, rain, hail or shine. There are over a dozen places to choose from, and as many touts trying to beckon hungry diners into their steamy, crowded shops.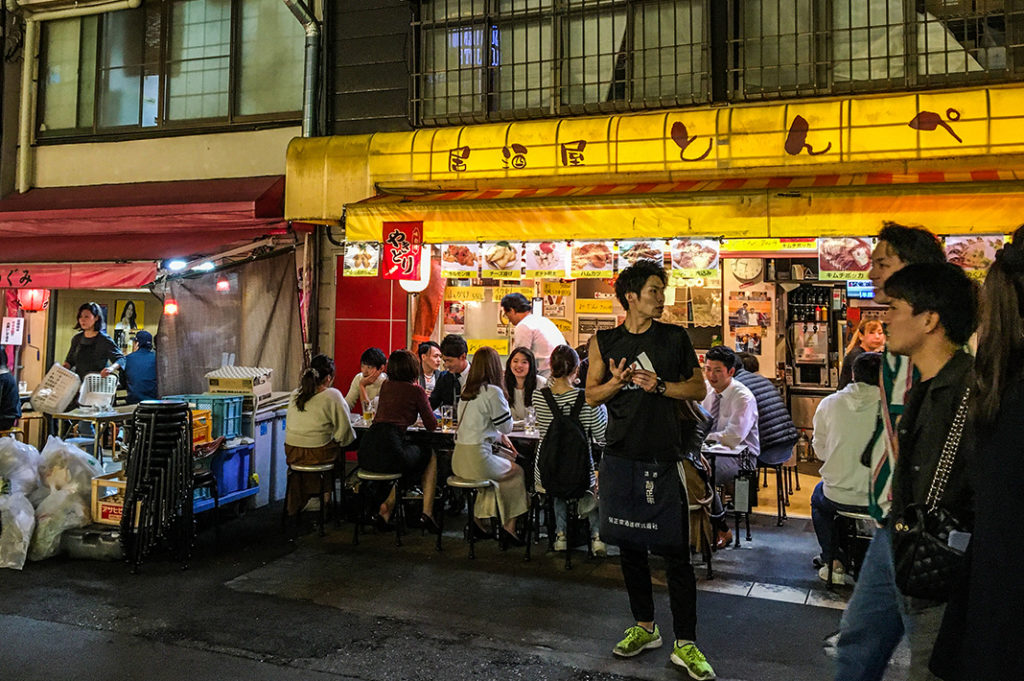 Exploring the izakaya
The izakaya on Hoppy dori are all open-fronted, with tables and chairs spilling onto the street al fresco style. People cram together around folding picnic tables, beside beer crates and empty kegs, just happy to be in each other's company. Inside is just as animated; raucous tables yell 'kanpai' and red-faced revellers tentatively navigate the steep staircases. When the weather turns, the vinyl awnings come out to ensure the good times continue to roll. At night, the lanterns adorning the shop fronts create a charming retro atmosphere, making a stroll here the perfect night-time activity in Asakusa.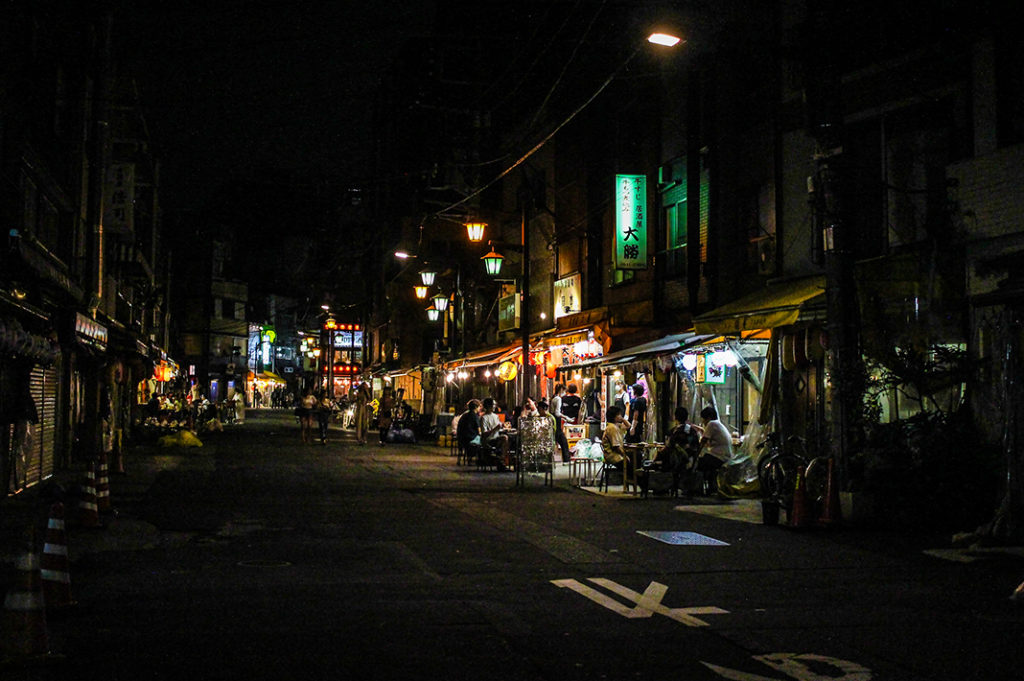 Each izakaya has different opening hours, but as they serve the local office crowd as well as tourists, you can expect to find things open from around 11:00 am and shutting down around 11:00 pm. (Gotta catch that last train, after all!) As it's one of the go-to dining spots in Asakusa, it's fairly touristy. This means there's a good chance you'll see picture menus or English menus and be able to communicate with staff. As the drinks flow and inhibitions fade, don't be surprised if you end up in conversation with the folks around you.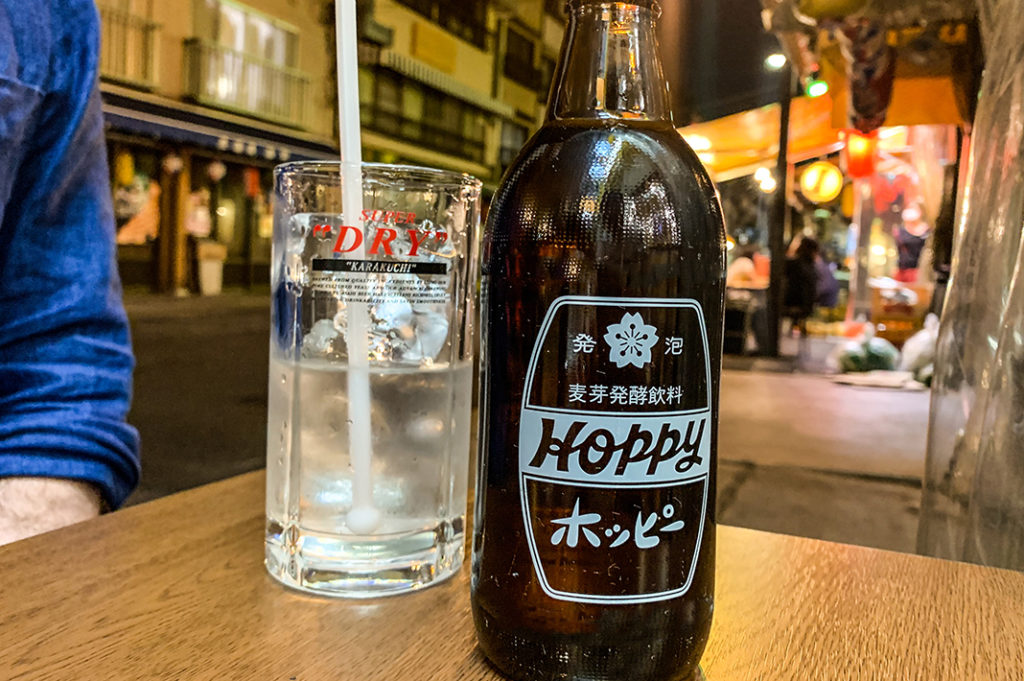 Hoppy Dori's namesake beverage
Hoppy Street gets its name from the post-war beverage named "Hoppy." In a time when beer was a luxury item, this cheap malt-flavoured substitute took the locals by storm. With an alcohol content of 0.8%, Hoppy is basically a soft drink. However, when you mix it with shochu, a Japanese grain liquor, it kind of resembles beer—more so in alcohol content rather than taste or mouth-feel. Hoppy was made out of necessity, much like Hoppy dori itself, which is why ordering one here is a must. What was once the next best thing still stands strong today.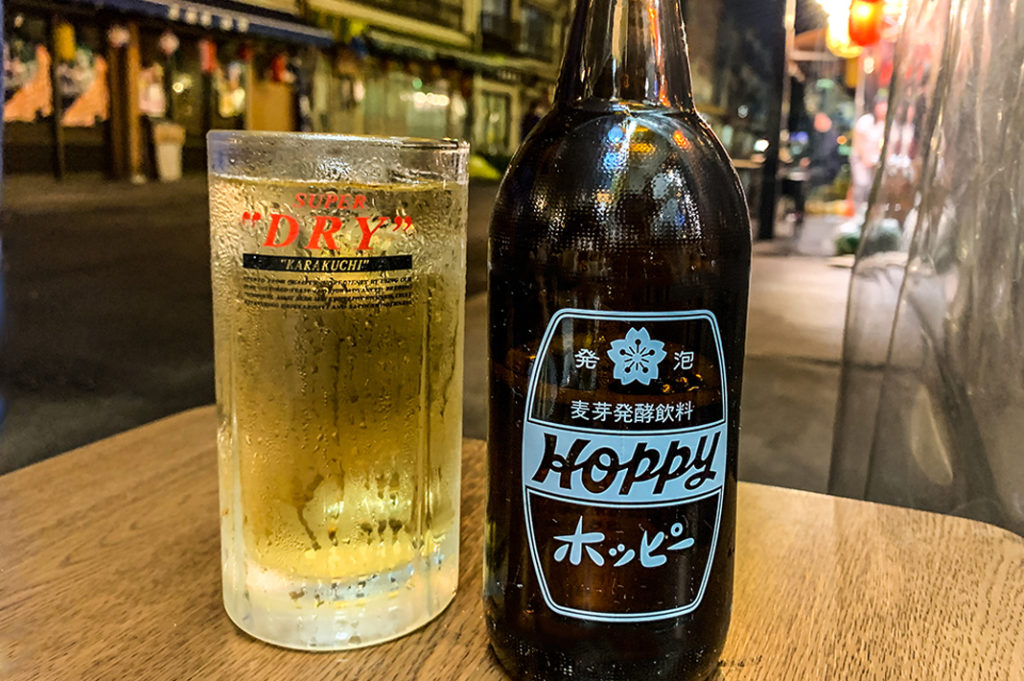 What to eat
If you're getting stuck into the Hoppys, it's not a bad idea to put something else in your stomach. And that's the beauty of an izakaya—it represents the best of both worlds; you can drink as though it were a bar but you can also eat as though it were a restaurant. And there is usually plenty to choose from. Izakaya staples include yakitori, karaage fried chicken, seafood, edamame and, of course, the humble french fry. However, Hoppy Dori is also known as 'Nikomi-dori' due to its long history serving nikomi, a soy-miso stew containing animal organs, carrot, daikon radish, tofu and konjak. Many of the izakaya on Hoppy dori have their own unique version of this dish, so give it a try!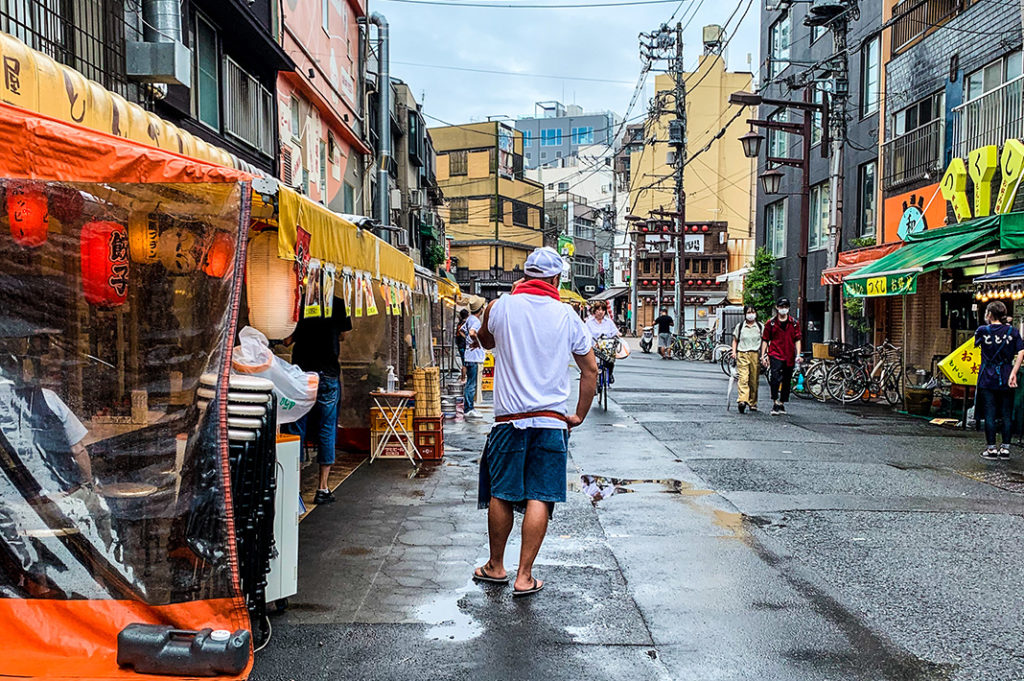 Tokyo is a place of constant evolution, so it's important to see these pockets of retro nostalgia while they're still here. And though there are more foreigners around these days, some things never change; the Hoppy still flows, the nikomi still stews and Hoppy dori remains a great place to wine and dine with friends.
Name: Hoppy Street / Hoppy Dori
Address: 2 Chome-3-19 Asakusa, Taito City, Tokyo (link)
Open: Various times between 9:00 a.m and 11:00 p.m.
Post by Japan Journeys.