Whether you're looking for a fun day trip while you're in Tokyo or you're looking to enjoy a day out with friends or family, Disneyland is one of the most fun things you can get up to in the city. Also, seeing as Tokyo Disneyland is one of the smaller Disney parks, you can definitely enjoy the whole park within a day. Find out everything you need to know to enjoy a day at the happiest place on earth, plus how to get there and buy your tickets. Get lost in the magic of Disney!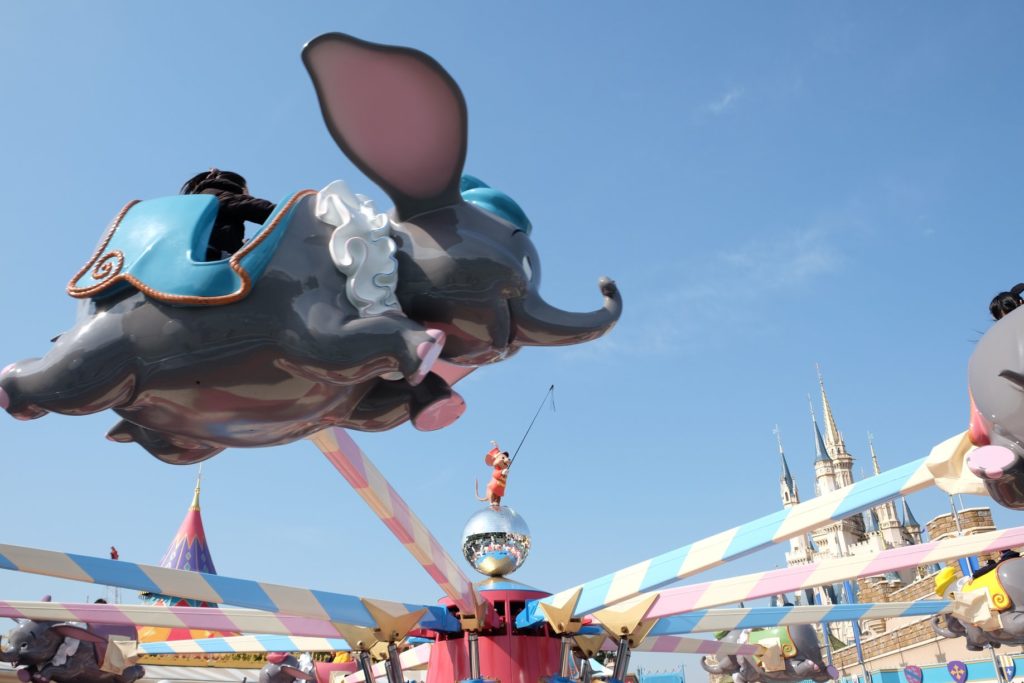 When's the Best Time to Visit Disneyland
If you'd like a quieter time then avoid weekends and national holidays as it can get jam-packed. However, if you have to visit during these times, consider a FastPass ticket to alleviate some wait times. You can also book your ticket in advance so you can skip the entry line. It's also worth arriving as early as possible because Disneyland is busiest for arrivals between 10-12.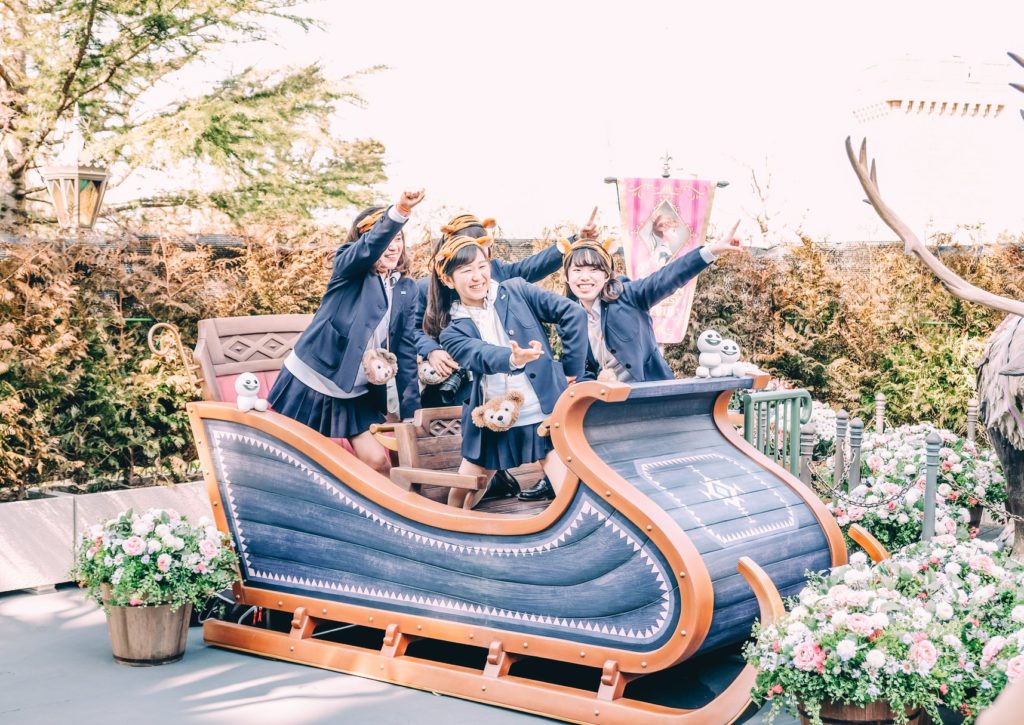 In terms of events, the most exciting things happen at Disneyland during sakura season, Halloween, Christmas, and New Year. This is when you'll find the characters dressed up in special costumes, extra special parades, and unique souvenirs. Keep an eye on their events page for more details.

What Areas Will you Find at Tokyo Disneyland
The most popular rides in Tokyo Disneyland include: Space Mountain, Buzz Lightyear's Astro Blasters, Haunted Mansion, Big Thunder Mountain, Monsters, Inc. Ride & Go Seek, and Splash Mountain. If you're looking to avoid huge lines then maybe tick off some of these popular rides straight away. Even with a FastPass, you can experience long wait times.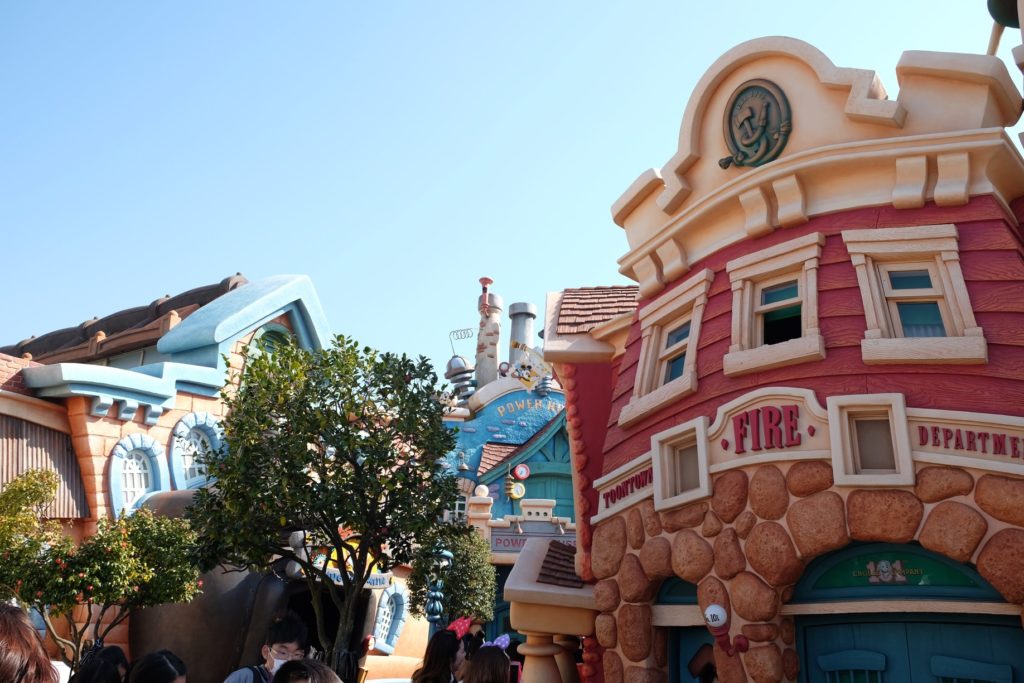 The main areas include:
Tomorrowland – to fulfil all of your sci-fi and space ride dreams.
Adventureland – time to get lost in the jungle, you'll find wooden frames and luscious forest plus rapids to traverse.
Fantasyland – the Disney Castle stands proudly in the centre of this magical area, you'll find cute rides for kids. It comes off the main World Bazaar street, the main shopping and dining area.
Westernland – Journey into 19th century American Old Wes and discover the Rivers of America.
Mickey's Toontown – A vibrant and colourful world of cartoons and cute rides.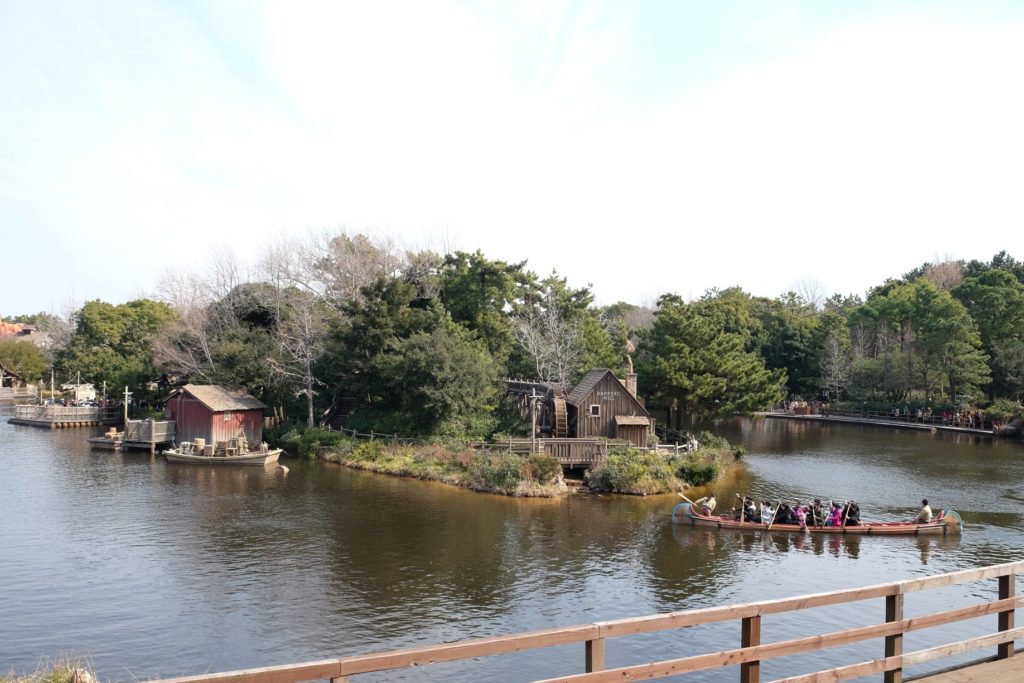 Where to Get Lunch
The food at Tokyo Disneyland is much better quality and reasonably priced than some other parks around the world so you're in luck! Most major credit and debit cards are accepted in Disneyland but it's best to carry some cash just in case. There's certainly no shortage of places to eat but some of the most popular spots include:
Pan Galactic Pizza food court in Tomorrowland, where you find adorable alien mochi and, of course, pizza and burgers. It's got a pretty elaborate set up so there's plenty to look at while you're waiting.
Good Time Cafe in Toontown where you can get the iconic Mickey Mouse gloves bao chicken sandwich, this is a genuinely delicious offering and unique to Tokyo!
Cowboy Cookhouse in Westernland is where you'll find those great, big turkey legs that you can chow down on. A cheap and easy way to get your protein for the day!
You'll also find bakeries and food stalls with sweet snacks like Mickey Mouse churros and ice-cream on the main street so make sure to treat yourself!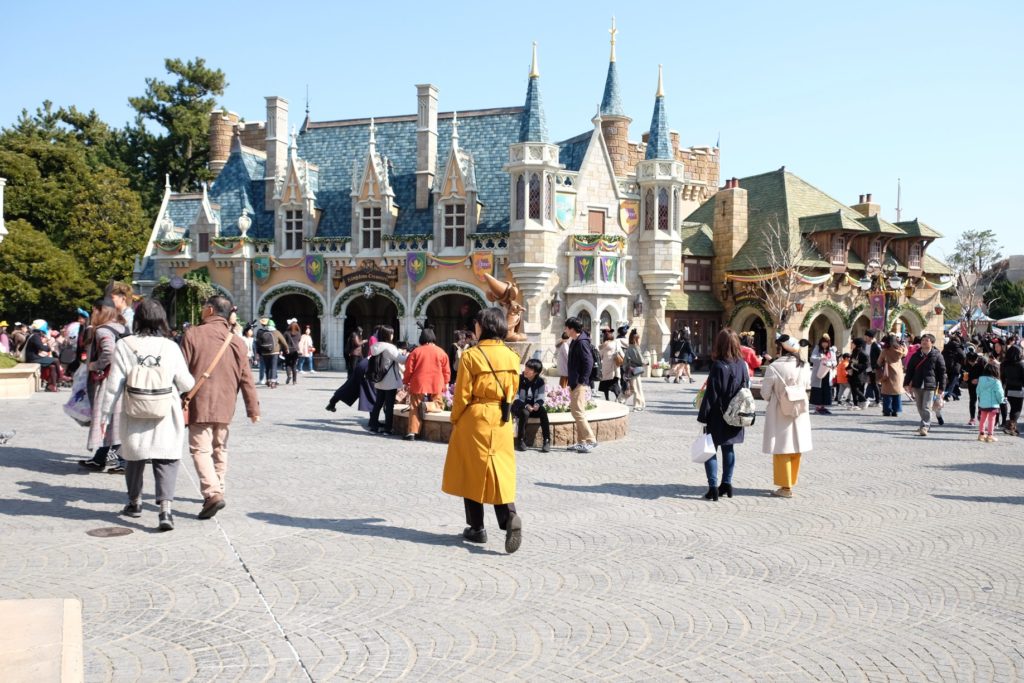 Tip: You can bring your own food into the park but you must eat in the designated picnic areas near the entrance gate. Make sure to bring a drink with you as you'll be walking a lot at drinks can get expensive!
Spending the Evening at Disneyland
The park lights up at night with illuminated scenes and a nighttime parade of music, floats, and more lights. You can also enjoy one of the best things about visiting Disneyland – evening fireworks! The fireworks start every night at 7:30 and are accompanied by Disney songs. Make sure to get there early and grab a space in front of the castle.
How to Buy Tickets to Tokyo Disneyland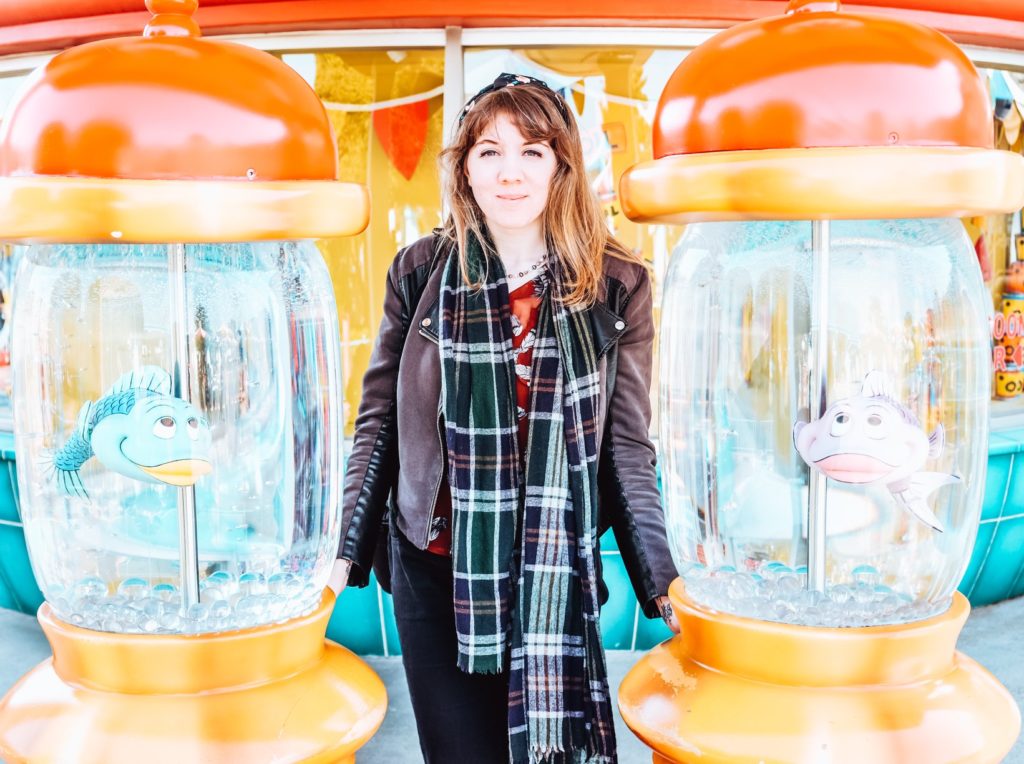 While you can buy tickets at the gate, there can be long waiting lines so I'd advise booking your tickets in advance. You can do that on the official Disneyland website but you will need to print out your tickets, or you can do so through an authorised reseller. There are convenient stands at Haneda and Narita airport where you can pick your tickets up upon arrival in Tokyo. Or, you can purchase tickets at Disney Stores in town, such as the Shibuya Disney Store. Sites like Klook or Get Your Guide are easy ways to buy your tickets online and they'll typically provide you with a QR code that can be scanned so no need for printing!
How to Get There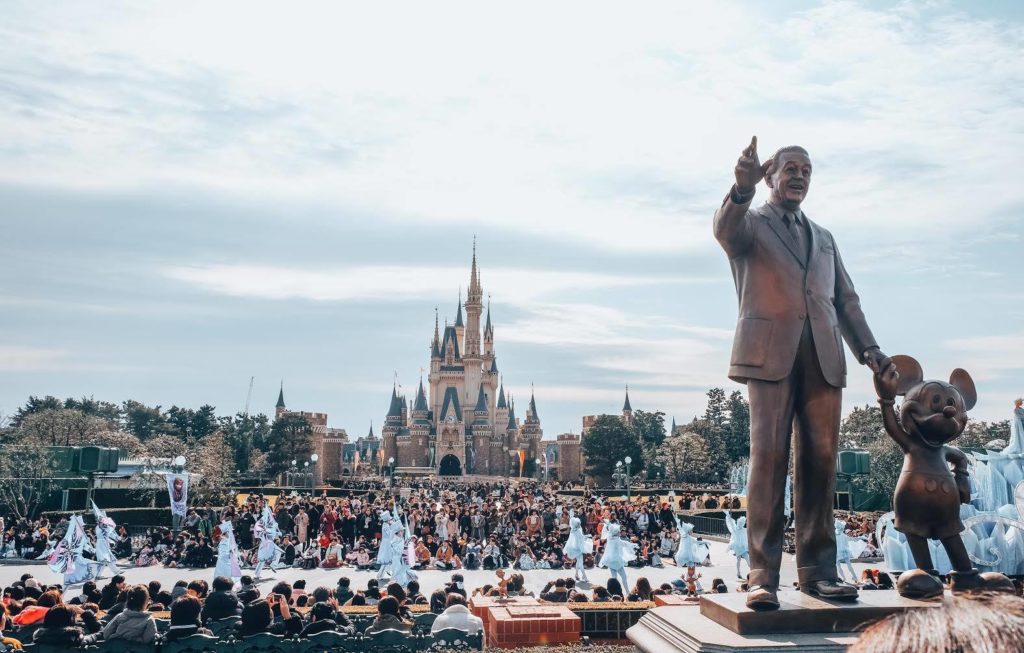 The main transfer hub to get to Maihama Station (the stop you'll need for Tokyo Disneyland) is Tokyo Station. You can take either the Keiyo Line or Musashino Line and it'll take fifteen minutes. You can also take the Chuo Line from Shinjuku Station.
From the station, you can walk five minutes on foot to the park. You can also take the bus from Haneda and Narita Airport, Tokyo Station, Akihabara Station, Shinjuku Station, and Ikebukuro Station. The bus is first come first served and you'll normally purchase a ticket before boarding, with fares ranging between 750 – 1800 yen.
Post by Japan Journeys.