Summer in Tokyo is deadly. We're not even joking: hundreds of people in the capital suffer from heatstroke each year, and living here feels like a three month-long sauna session. Countering the heat and humidity therefore requires daily infusions of cold food and drink. Tokyo summers are the perfect excuse for ice cream, kakigori (shaved ice), and…cold noodles. Like Sanpotei Tokyo Lab's hiyashi tantanmen.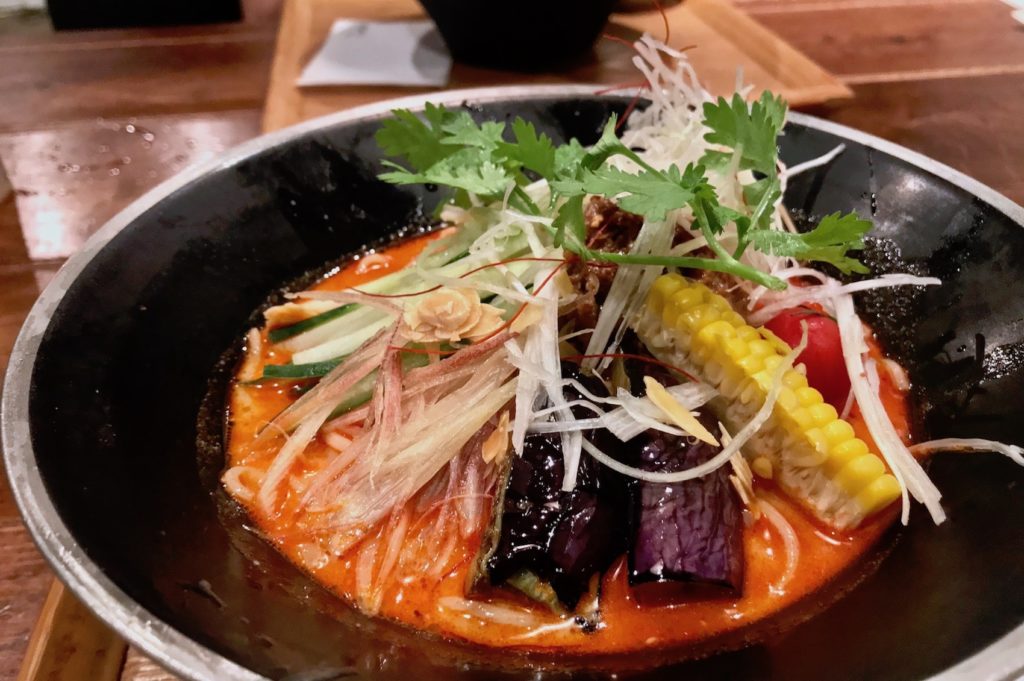 A visit to Sanpotei Tokyo Lab in Nakameguro
With its achingly hip cafes and independent boutiques, Nakameguro is not the first place that comes to mind for a bowl of noodles. But walk up the oldish shopping street that is Nakameguro Ginza and you'll find the sleek-looking Sanpotei Tokyo Lab.
Inside it's all dark wood, down lighting, and high chairs at the counter, almost like you're in a swanky bar of some kind. But what you eat here is soul food. Imagine slightly more refined takes on hearty Chinese classics, like spicy-sour soup noodles and mapo tofu noodles. You could order any of those and leave satisfied.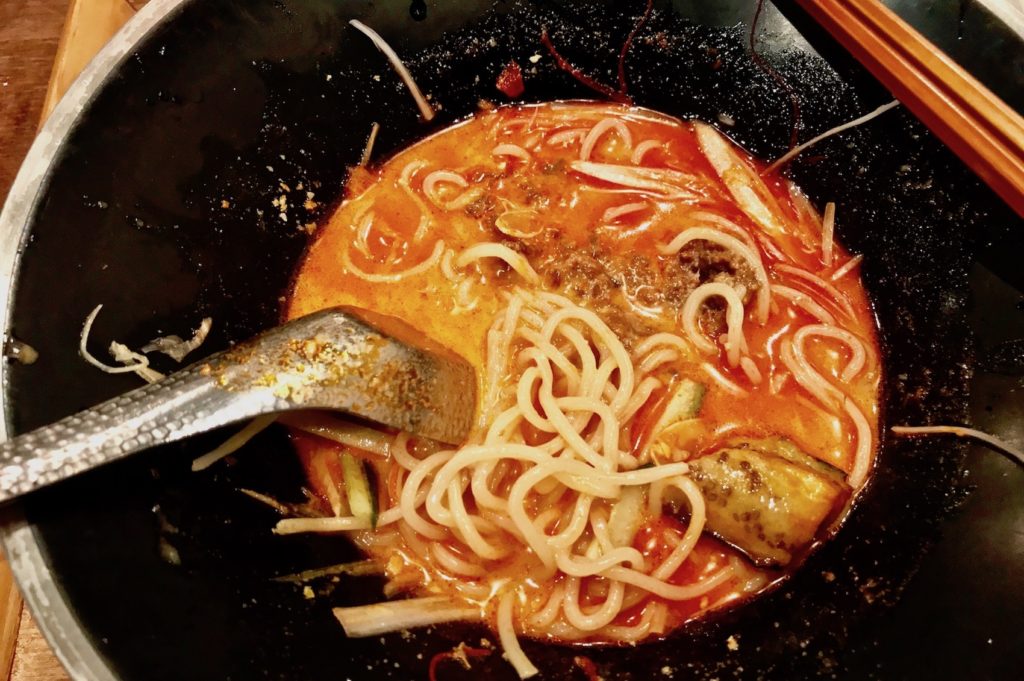 But it's all about the chilled tantanmen
Most noodle aficionados will very happily eat cold noodles. You know how it is with hot soups—let your noodles sit around for more than a minute and they start swelling and going soggy. Noodles retain their texture better in a cold broth, and you can take your time enjoying your meal in front of you.
This, in a nutshell, is why the summer special hiyashi tantanmen—henceforth 'chilled tantanmen'—at Sanpotei Tokyo Lab in Nakameguro is worth eating. Cold noodles won't deteriorate fast, and you'll cool down just eating it. It's perfect hot weather food.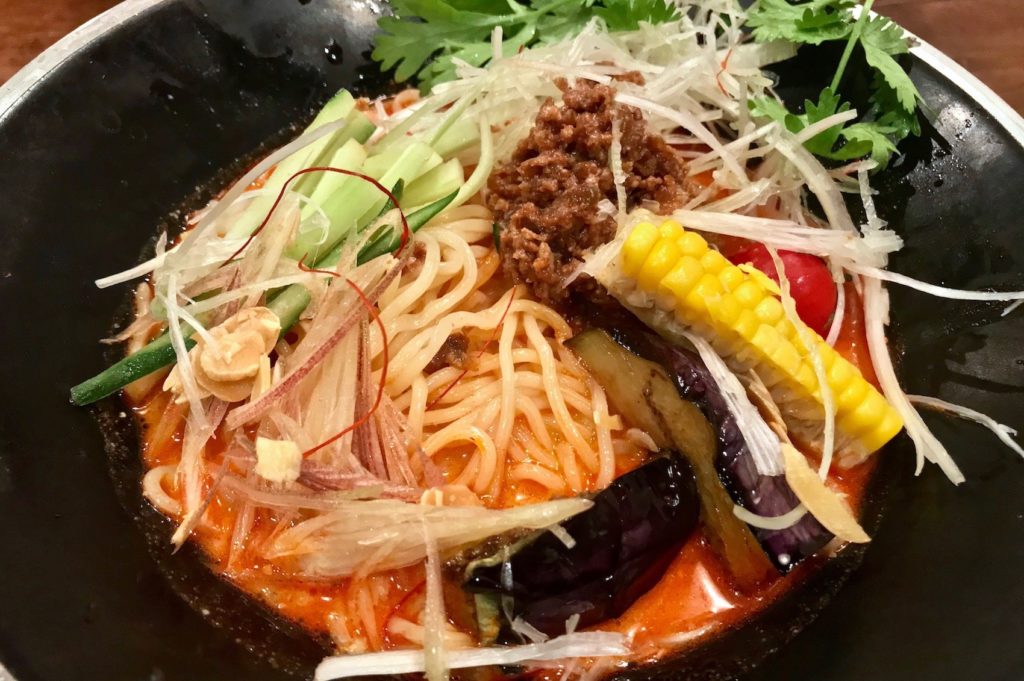 An outlier among tantanmen bowls
Tantanmen has its origins in the classic Sichuan dandanmian noodle dish, consisting of noodles in a peanut-sesame flavour base topped with savoury minced meat. Unlike most tantanmen, which tend to be heavy, Sanpotei's broth is surprisingly light. It's creamy and sesame-rich, with umami-ful minced meat animating each slurp of noodle.
But most importantly—and this is what really sets it apart from the rest—the tantanmen at Sanpotei arrives with a heap of vegetables on top. Everything is fresh, vibrant, summer-sweet. (Tantanmen is generally all about the meat and noodles; the vegetables are nonexistent or a distant afterthought.) There's corn, sweet as the summer sun; just-fried strips of aubergine, a small heap of julienned cucumber. If I had one gripe, it would be that there's no option to add more vegetables.
Go to Sanpotei for the tantanmen. If you happen to be there in the evening, chase your noodles with an order of wonton. These are only available at dinnertime, but they're worth visiting Nakameguro for.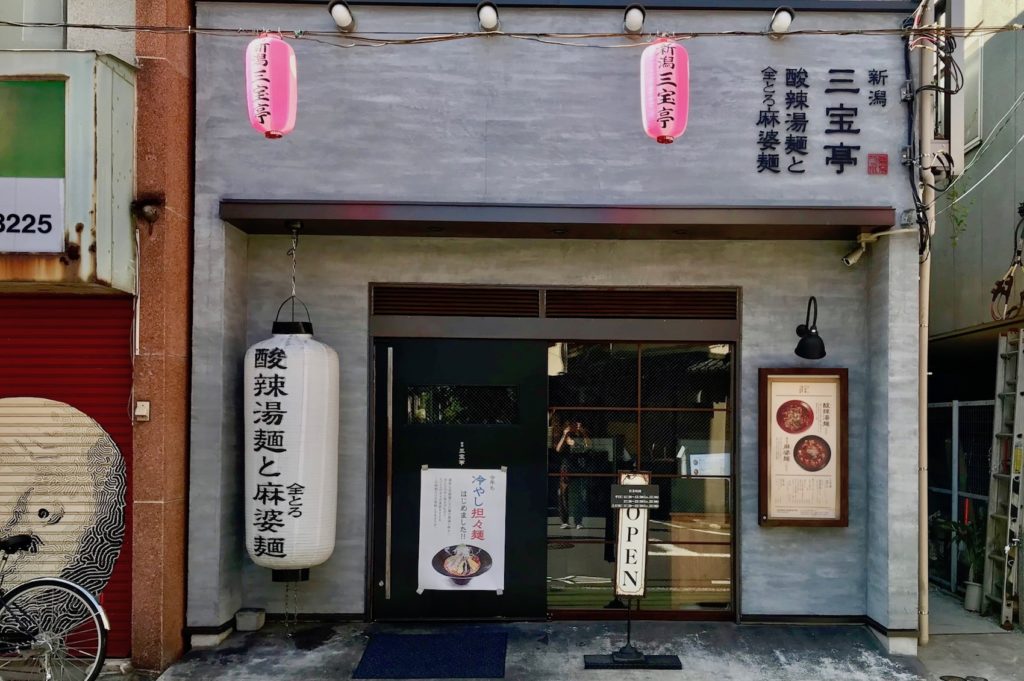 How to get to sanpotei tantanmen
Name: Sanpotei Tokyo Lab, Nakameguro
Address: 2 Chome-44-5 Kamimeguro, Meguro City, Tokyo 153-0051
Open: 11:00am–3:00pm, 5:30pm–11:30pm
URL: http://sanpou-g.co.jp/tokyolab/
Post by Japan Journeys.