Nestled along the scenic coastline of the Izu peninsula lies the Izu Shaboten Zoo. This Shizuoka zoo is famous for its capybara onsen. Visitors can watch the capybaras happily splash around and doze in the hot spring waters.
Depending on the time of year, there may even be a few baby capybaras nosing around in search of treats.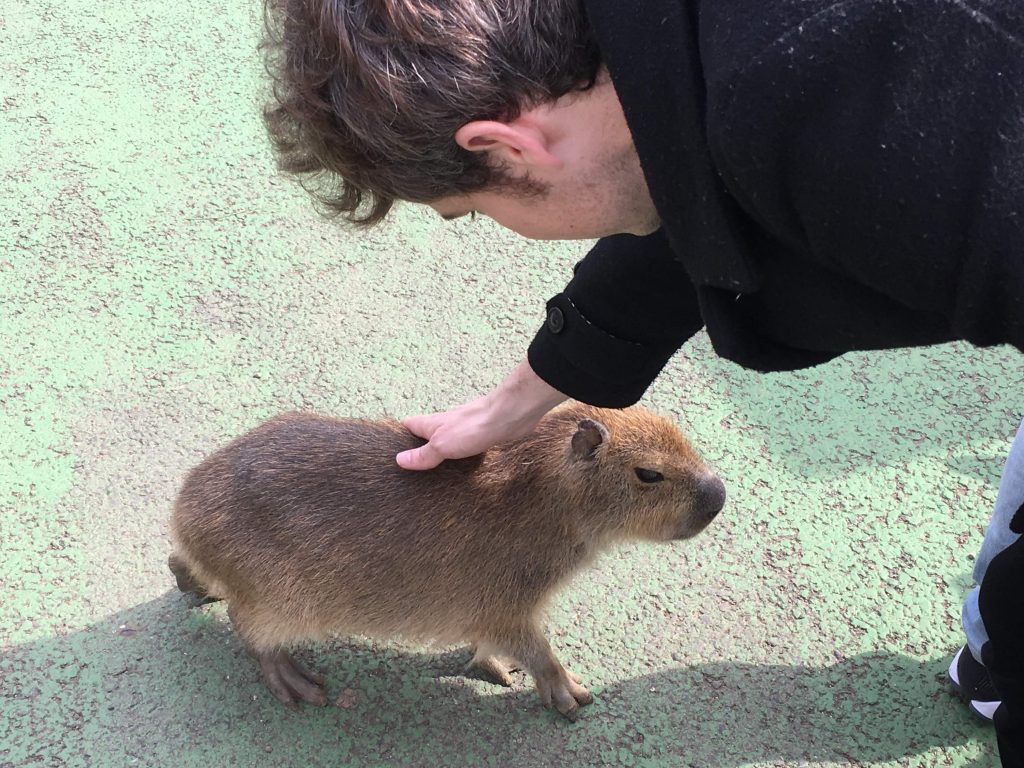 Visitors to the zoo can feed almost every animal and many by hand. Feed can be easily purchased by dropping a few yen into nearby coin-boxes, and gloves and hand-washing stations are also readily available. Exhibits feature minimal walling, and several enclosures permit entry, with peacocks, small monkeys, and other animals mingling freely with guests.
Also of note are the zoo's animal boat tours and their extensive cactus and succulent garden, where visitors can select and take home their own plants. If you'd like to grab lunch, the zoo offers a delicious range of Japanese, Western, and kid-friendly options at reasonable prices.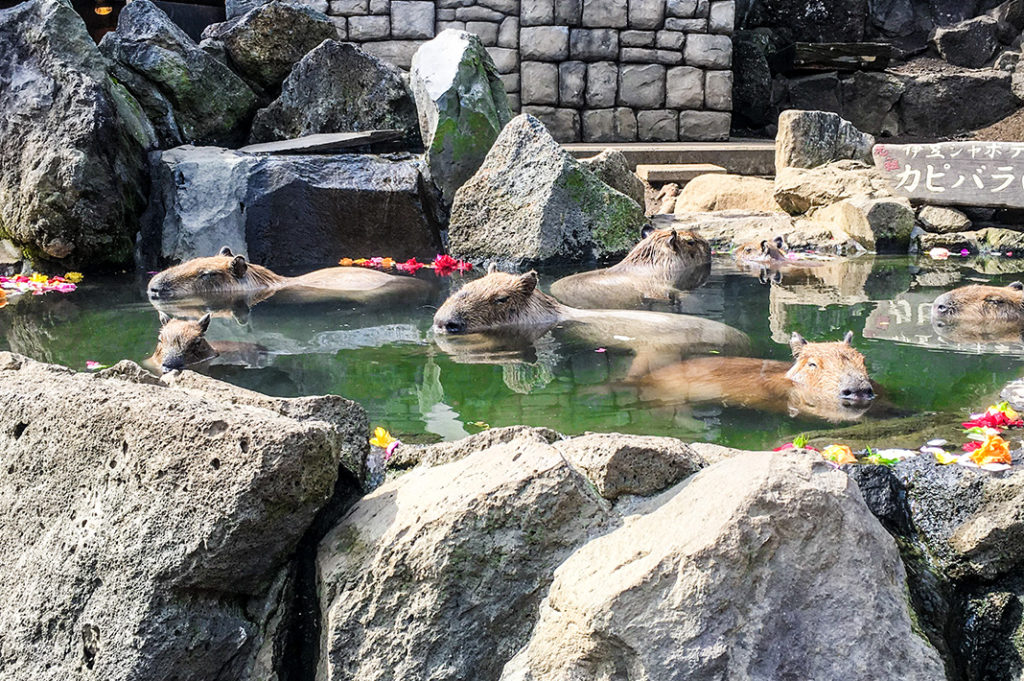 Accommodation Options Near Shaboten Zoo
If the sight of capybaras luxuriating in warm water makes you want to take a dip in an onsen yourself, the Izu peninsula is rife with options. The area is a hotspot for ryokan, traditional Japanese-style inns, which often include hot springs on the premises. Either treat yourself to a night of luxury or tuck into a cozy budget-friendly option. Ryokan typically offer gender-separated, public baths, and some bathing facilities also feature private baths that can be reserved in advance by individuals, couples, or families with young children. If you'd like a taste of the local, traditional fare, many inns will offer breakfast and dinner plans. However, you'll often be on your own for lunch.
Location
Close to Tokyo, the Izu peninsula is a perfect definition for a leisurely weekend or overnight getaway from Tokyo, though day trips are also possible if you set out early enough. If you're up for other activities, the zoo is right next to Mount Omuro, an ancient inactive volcano with stunning views and a traditional archery range nestled in a crater at its summit. Slightly to the east, you'll find spectacular coastal hiking trails along the Jogasaki Coast and the kid-friendly Izu Granpal Amusement Park.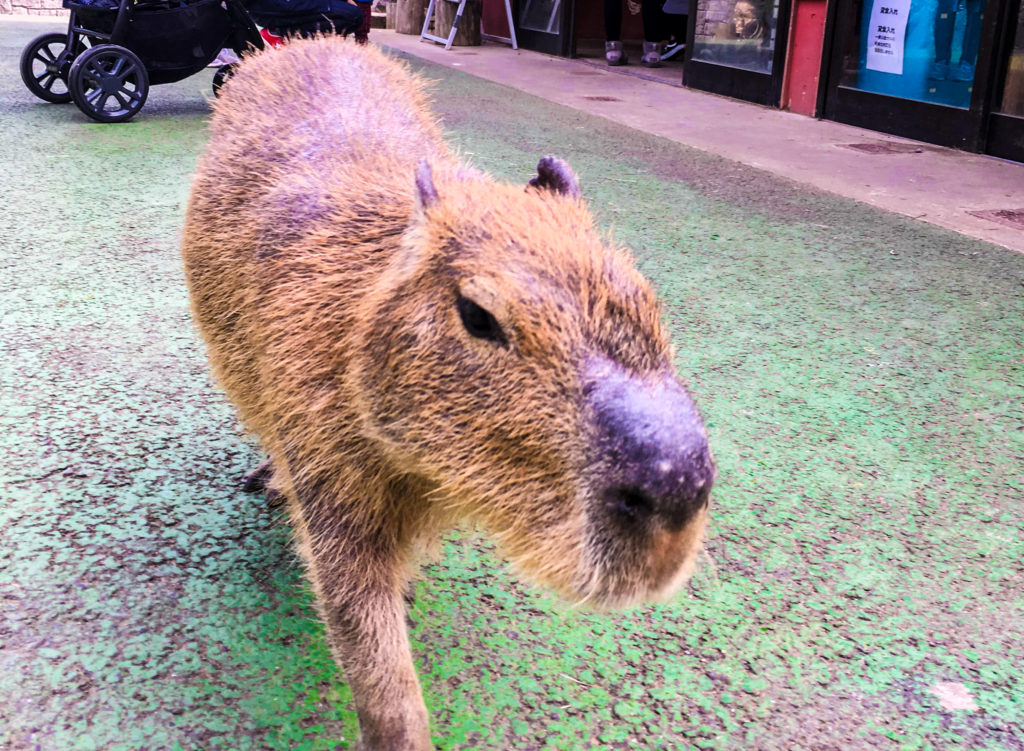 Access to Izu
The bullet train is the quickest option for visitors travelling from Tokyo and will take roughly 2.5 hours. Visitors departing from the city center can board the Kodama 653 Shinkansen from Shinagawa Station bound for Atami. At Atmai, transfer to the JR Ito Line in the direction of Ito. Using this line, you can catch some stunning ocean views before arriving at the terminus. From Ito station the zoo is a 35-minute bus ride. All-day bus passes for the area can be purchased at Ito Station. They are a small fee for adults and just a few hundred yen for children. Taxis are also available from Ito station and take approximately 25 minutes.
Useful Pass
If you'd like to save some money by bundling costs, Odakyu railways offers a 2-day "Ito Freepass" at less than ¥5,000 for adults and a half for children. This pass is valid for two days and covers return fare from Tokyo's Odawara Station to Ito Station as well as all the buses in the Ito area. The pass can be purchased from staff members at any Odakyu line station.
If you're travelling from Tokyo by car, the zoo offers parking for a few hundred yen. You can expect a 3 hour drive along major toll roads. However, the latter half of the drive will be along picturesque stretches of coastline.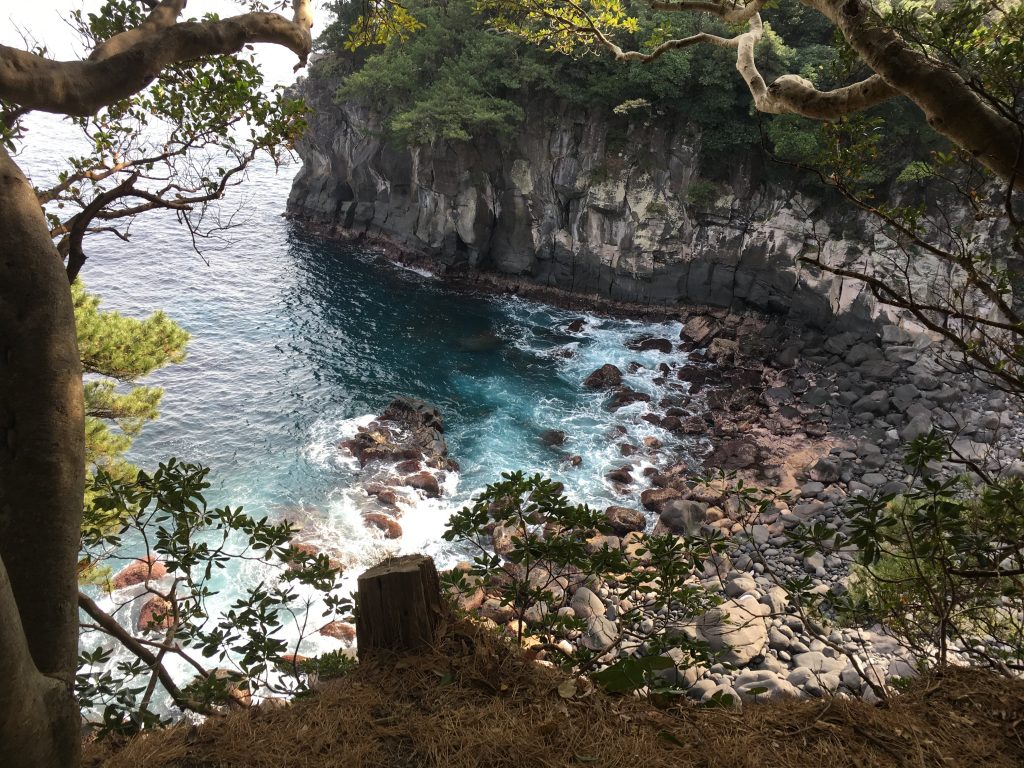 Name: Izu Shaboten Zoo (Shizuoka)
Website: https://izushaboten.com/lang/
Address: 1317-13 Futo, Ito-shi, Shizuoka, Japan
Open: Every Day (Mar-Oct 9AM-5PM / Nov-Feb 9AM-4PM)
Post by Japan Journeys.