Todoroki Valley is one of Tokyo's best-kept secrets. Had your fill of busy streets and perfectly manicured gardens? Craving something mercifully secluded, unsparingly green and unapologetically wild? These Tokyo parklands are here for you. Defying generations of dutiful landscapers, Todoroki is a 1.2 kilometer stretch of Tokyo's original forests, bisected by the peaceful Yazawa River. Ghibli-esque paths, bridges, and stepping stones bring its explorers past curious wildlife, benched resting nooks, and even a 7th century tomb before leading up to a lively teahouse, popular shrine and well-maintained family park.
Setting Your Course
Shockingly, the valley is only a 20 minute train ride from Shibuya station, the epicentre of Tokyo's hustle and bustle. It's also in the same ward (Setagaya) as Shimokitazawa, a popular, hipster-y neighbourhood stocked to the brim with second-hand clothing stores. Head south from Todoroki Station and you'll pass by some convenience stores and, before long, a Seijo Ishii supermarket just before the valley's entrance pathway. Take heed traveller! This is your opportunity to pick up one of my favourite things about hiking: a picnic lunch. The supermarket offers delicious, wonderfully cheap Japanese bento, onigiri and sandwiches. Or, just saying, you could always try this writer's personal addiction, convenience store egg salad sandwiches. Don't let the setting fool you—they're a taste of (easily portable) pure heaven for less than $4.
Into the Valley
As you enter Todoroki Valley, you may encounter fishers, students, joggers and groups of Tokyo's surprisingly energetic and friendly elderly out for a stroll. When you pass someone on the path, it's polite to call out a friendly "ko-ni-chi-wa". You'll be sure to get a cheerful response. However, at least when I visited around noon, the path was sparsely populated. The abundant wildlife, stepping stones, bridge, and general sheltered feeling of the area will help you live out all of your Ghibli forest fantasies. (Or at least, it helped me.)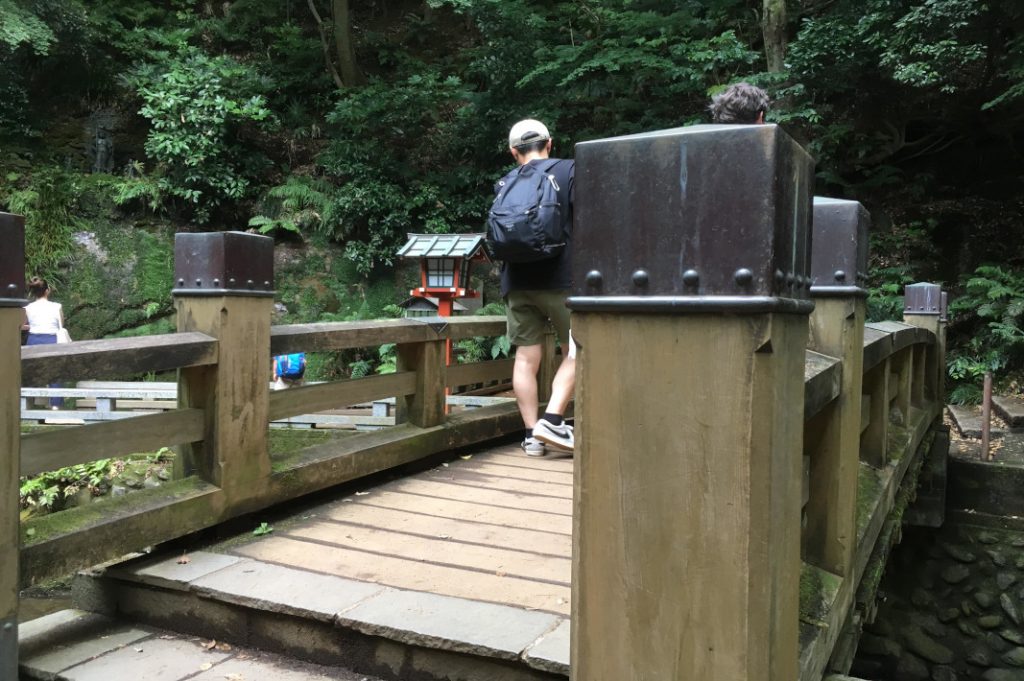 Todoroki History
Before long, you'll reach the turn off to the inelegantly named Todoroki Valley Tunnel Tomb Number 3. Discovered in only 1973, it dates back to the 7th century. Admittedly, the tomb can feel a bit eerie if you're traveling alone. But it's also a fascinating look into Tokyo's ancient history. Splendid artifacts were found in the tomb, which led specialists to hypothesize that it once belonged the area's ancient ruling family.
Fudo-no-Taki Waterfall
Continue, and you'll reach a modest forest temple, Chigo Daishi Mieido. It contains an image of Kobo Daishi, founder of the Shingon Sect of Bhuddism in Japan. Next, follow the sound of rushing water to the nearby the Fudo-no-Taki waterfall, whose water spills from a set of fierce dragon heads. By its base, you'll also find the lively Setsugetsuka tea room. In the summer heat, its saved ice is a godsend. But they also have plenty of local treats and tea on hand regardless of the season.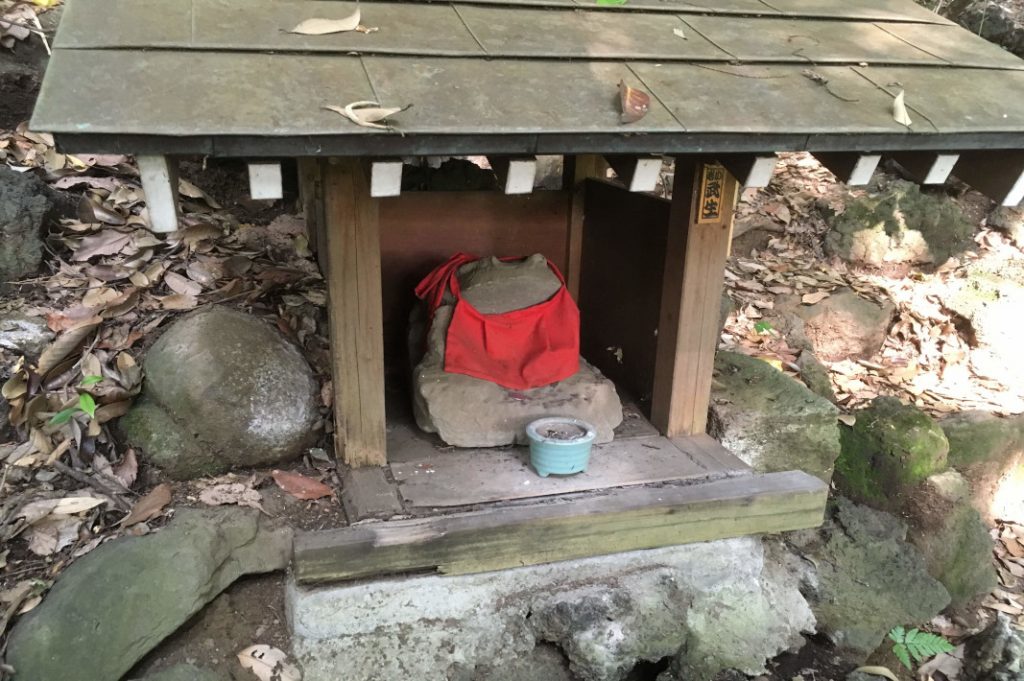 Fudoson Temple
Continue trekking upwards to your next way point, the well-tended Todoroki Fudoson Temple. Founded in approximately 1100, it enshrines the Buddhist divinity Acala, the Immobile One. It's a popular spot for those seeking good fortune in travel and study, as well as those hoping to catch its sweeping views of cherry blossoms and autumn leaves.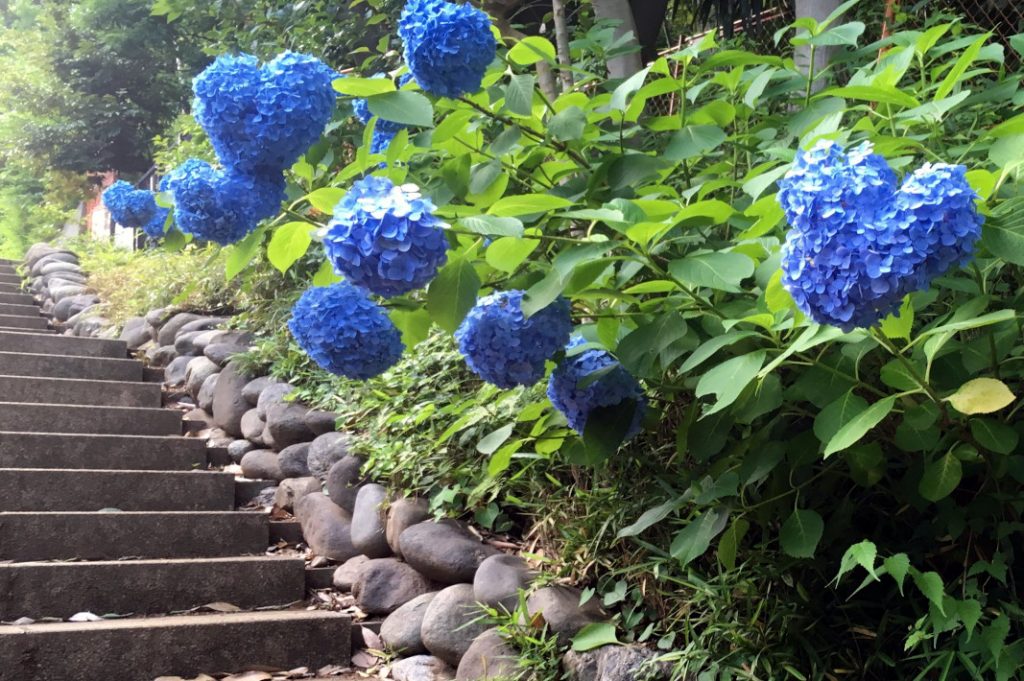 Easing Out of Todoroki Valley
Descend back along the ravine path and you'll eventually reach a Japanese garden, which melds upward into the Todoroki Ravine Park. If you haven't already found a cozy piece of forest for your picnic, its large swaths of soft grass are also pretty inviting. From here the choice is yours—use the park as a spring board to return to Tokyo's civilization or head back into the forest for another pass. If you're lucky, you might catch sight of a Tanuki, one of Japan's chubby, adorable raccoon-dogs.
Name: Todoroki Valley (等々力渓谷公園, Todoroki Keikoku Kōen) Tokyo Park Land
Access: 1-22 Todoroki, Setagaya City, Tokyo, 158-0082
More Information: http://biso.qrtranslator.com/0005000281/000002
Post by Japan Journeys.