Do one thing, and do it well. Many restaurants in Japan subscribe to this artisanal approach, which accounts for all the tiny specialist operations serving one or two dishes! Meat-ya in Asagaya definitely belongs to this school of thought. They have just one dish on their menu—plates of spaghetti covered in bolognese-style meat sauce.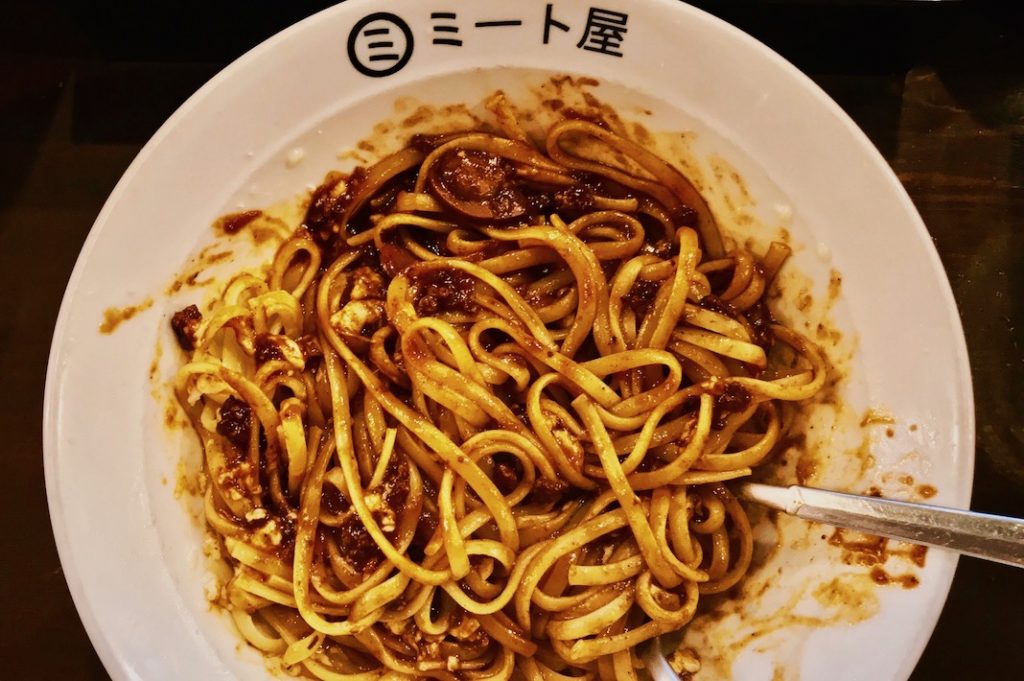 No ordinary spag bol at Meat-ya Asagaya
Of course, this isn't your average spaghetti bolognese. You'll catch the mouthwatering scent of red wine-infused meat sauce wafting down the shopping arcade even before you reach Meat-ya. Their rich sauce is simmered for around 30 hours, and all the pasta is made in-house. They toss the linguine noodles with butter before heaping on the sauce. 
You can have the meat pasta alone, or add extra toppings like fried eggplant, mozzarella cheese, and natto (fermented soybeans). Don't expect actual buffalo mozzarella—this is the shredded stuff, but it melts very nicely into the noodles. We love the cheese and eggplant combo. They also instruct you to stir the noodles and sauce at least 10 times before eating for even distribution.
How does it taste? Our Japanese friends note that it induces a certain nostalgia for the school lunches of their youth. It's certainly a little different from a classic Italian bolognese—less fatty and tomato-y for one thing—but deeply flavourful and comforting. It's excellent with a few drops of tangy hot sauce available counter-side.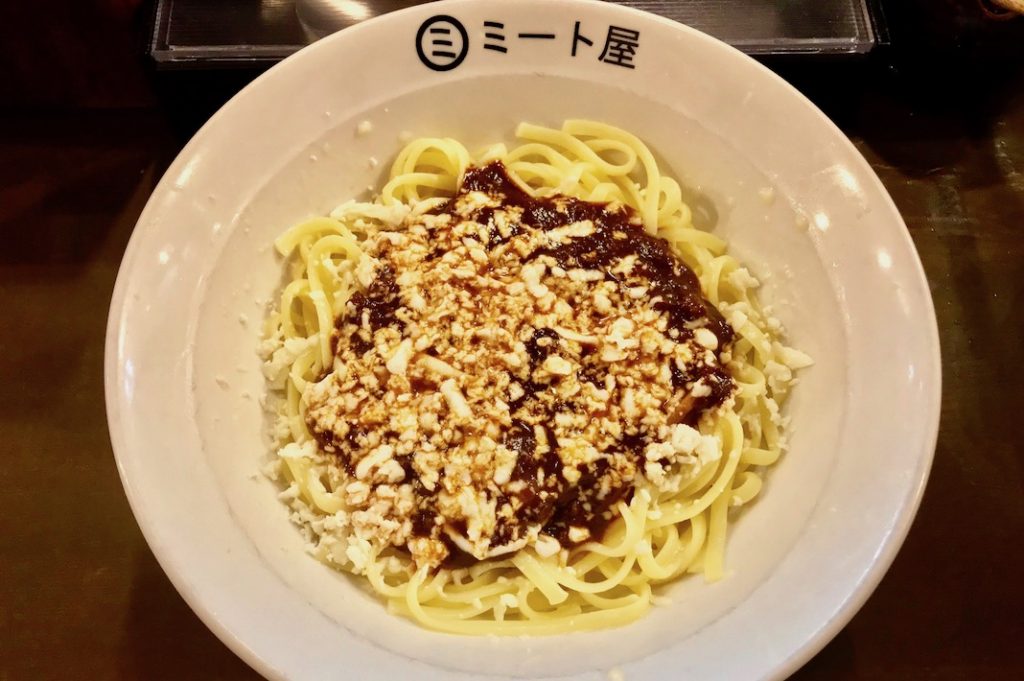 An eat-and-run operation
Eating at Meat-ya is rather like visiting a ramen shop and library all in one. There are just 9 counter seats, and you'll buy your pasta tickets from the vending machine inside. Once seated, you'll see signs disallowing you from using your smartphone. There's not much talking. It's all about enjoying the pasta; you're not encouraged to linger afterwards. Given the limited number of seats, though, this makes sense.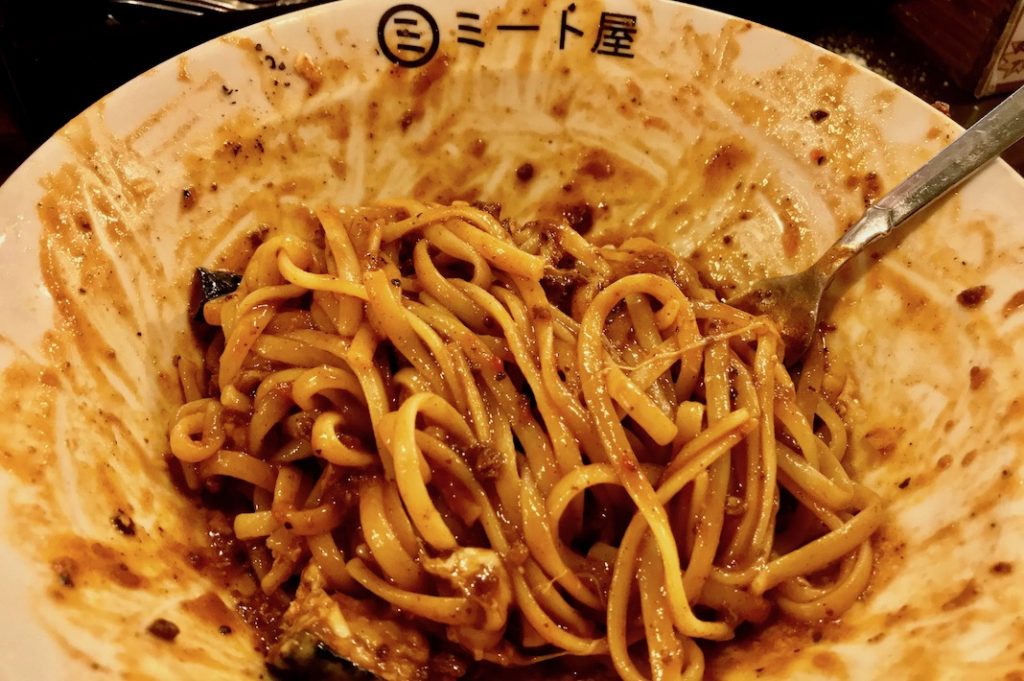 Meet ya at Meat-ya Asagaya
Is it worth trekking out to Asagaya for this spaghetti? We think so. It's certainly a favourite with many Tokyoites.
If you love comfort food and off-the-beaten-path restaurants, you might just love Meat-ya. Plus, the shopping arcade itself is super charming and local—it makes a lovely change from the busyness of downtown Tokyo. See you in the queue.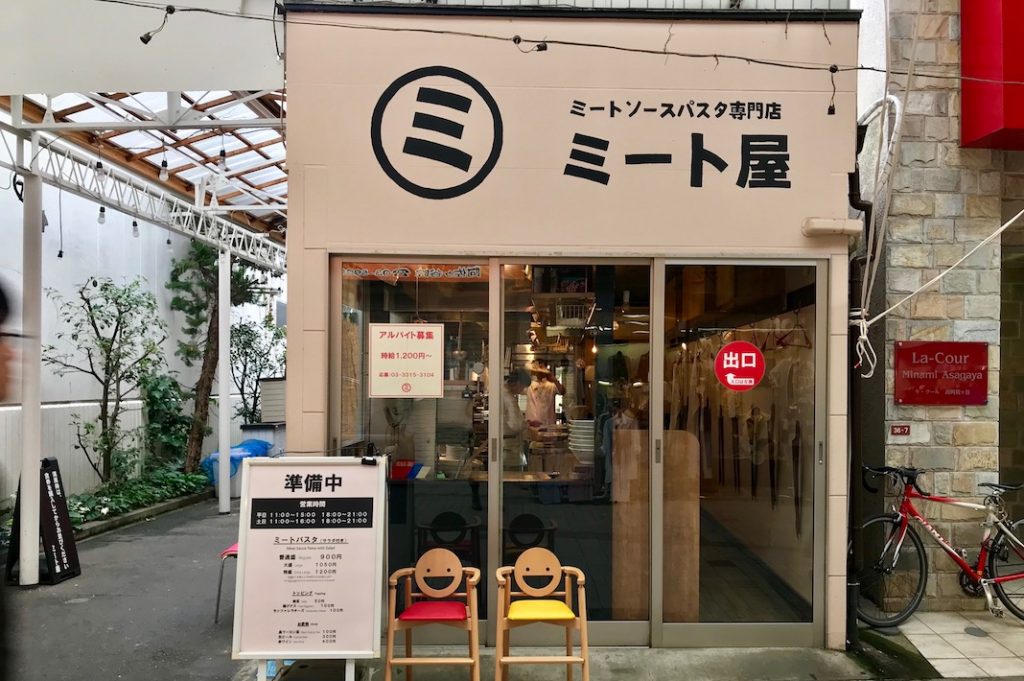 How to get here
Meat-ya is a 4-minute walk from the East Exit of Asagaya Station. Cross the road and head into Asagaya Pearl Center Shopping Street, and walk along until you see it on your left.
Name: Meat-ya Asagaya
Address: 1-36-7 Asagaya-minami, Suginami-ku
Open: 11:30–15:00 and 18:00–21:00 (11:30–21:00 on weekends)
URL: https://tabelog.com/tokyo/A1319/A131905/13043528/
Post by Japan Journeys.