Looking for a dash of culture at a Tokyo museum? Skip the Harajuku crowds in favour of the beautiful Japanese woodblock prints at Ukiyo-e Ota Memorial Museum of Art, or as many think of it, the 'Hokusai Museum'.  
Japanese Woodblock Paintings
Ukiyo-e is an iconic genre of Japanese art, prolific in the 17th–19th centuries. The paintings and woodblock prints depict landscapes, historic scenes, famous actors, sumo and of course, beautiful women. Some of the most globally recognisable works are those of Mt. Fuji and the Great Wave off Kanagawa. Japan is proud of its traditional culture so it's no surprise that you will find a museum dedicated just to ukiyo-e.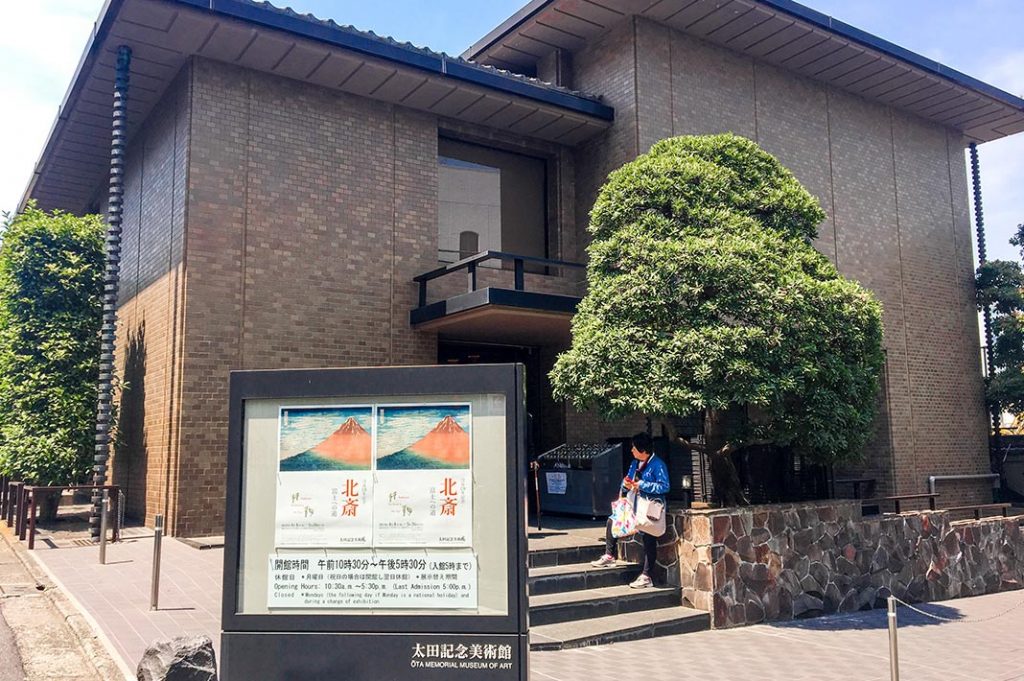 Ukiyo-e Ota Memorial Museum of Art
Opened in 1980 in Harajuku, this museum displays pieces from the private collection of businessman Ōta Seizo V. His passion for the 'ukiyo e' art form blossomed in his college years and lead him to start collecting and preserving numerous works since the 1920's. The collection grew to over 12,000 pieces, though was never displayed publicly in his lifetime. Three years after his passing, his family felt it was important to let this collection be enjoyed by the public and the rest is (recent) history.
The breadth of the ukiyo e collection allows for a monthly rotation of displayed works, so visitors can admire various themes of works throughout the year. While themes may vary, the insight into an ancient, almost foreign Japan remains.
The museum is an unassuming corner building in the quiet back streets of Harajuku, just a stone's throw from the coveted creperies and fashion boutiques. It certainly looks more like a school building or gymnasium than the home of precious Japanese works. Entry cost varies depending on the exhibition, but expect to pay around $10 per adult (less for kids and students).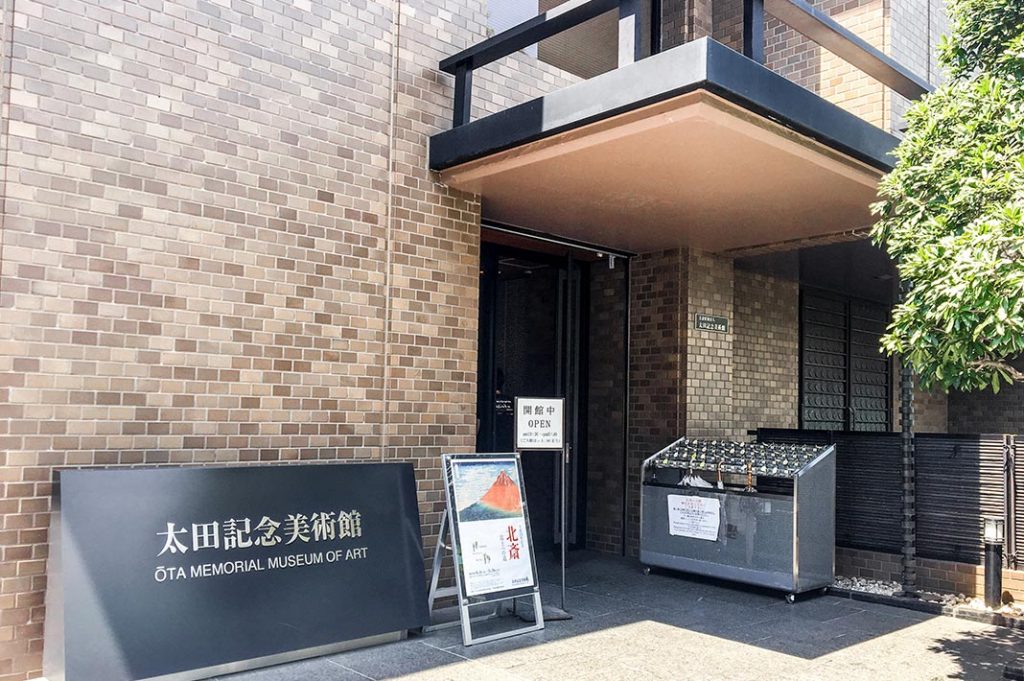 Step back in time
The works are displayed over three levels. After paying for entry, head into the ground level exhibition space to the right. The room is low lit with traditional decor elements including a tatami platform (remove your shoes!) and a central stone garden seating space. It's certainly a fitting atmosphere in which to view these centuries old works.
English descriptions are plentiful and give a good overview of the paintings, sketches, woodblock prints and tools on display. The atmosphere is very quiet and respectful allowing visitors to imagine themselves in the scenes lean into the paintings, eyes squinting at the detail, there is nothing to distract them from travelling back in time in their minds.
Head upstairs to circle the mezzanine level and back past reception for access to the basement level to view the entire exhibition. Aside from the artwork, there is also a souvenir store selling a number of Japanese fans, purses, tenugui (multi-purpose cotton towels) and other woodblock nick nacks.
Unfortunately, no phones or photos are permitted so you will have to see the space and the artwork for yourself.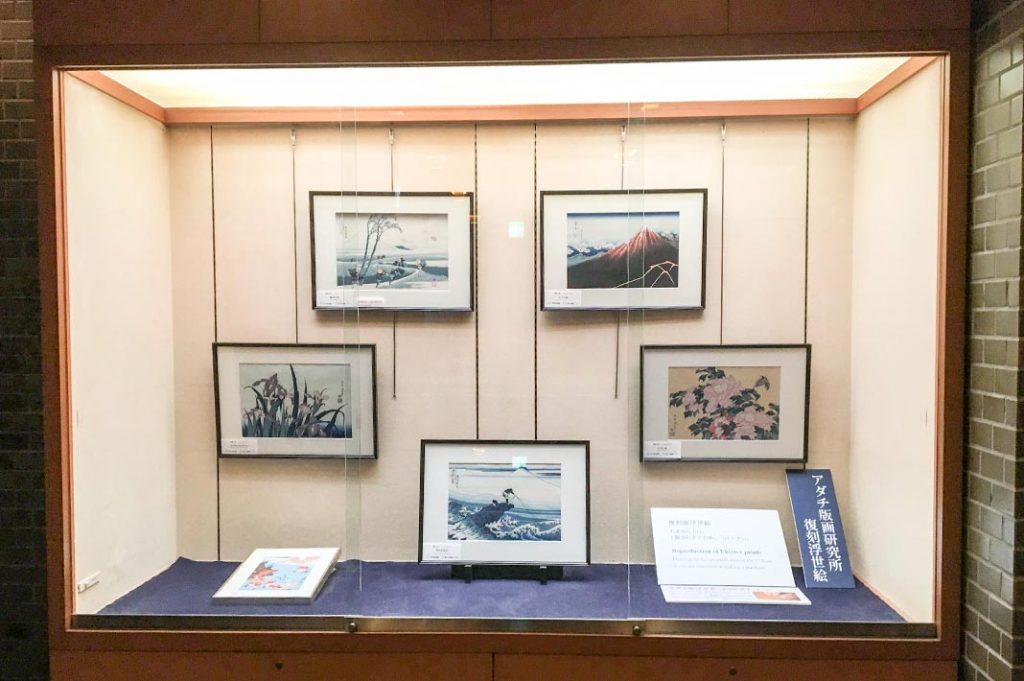 How to get to there
The museum is located just a few minutes walk from both Harajuku and Meiji Jingu Mae Stations.
Take the JR Yamanote Line to Harajuku Station and exit via the Omotesando guchi exit. Follow Omotesando street toward Meiji-dori Avenue for few minutes, turning left after the Softbank cellphone store. Follow the signs to the museum.
If you're taking the Chiyoda or Fukutoshin Subway Lines, depart at "Meiji Jingu Mae" Station. Take Exit 5 and continue walking for a few buildings. Turn right before the Softbank cellphone store and follow the signs to the museum.
Name: Ukiyo e Ōta Memorial Museum of Art
Address: 1-10-10 Jingu-mae Shibuya-ku Tokyo
Open: Tuesday–Sunday 10:30–17:30 (Closed Mondays)
URL: www.ukiyoe-ota-muse.jp/eng
Post by Japan Journeys.