Cinephiles coming to Tokyo could definitely put together a movie-based pilgrimage trip. Movie-themed amusement parks aside, there is plenty of Godzilla history, not to mention filming locations from countless Hollywood movies. One such place that never fails to please a crowd is Gonpachi in Nishi-Azabu, aka The Kill Bill Restaurant. 
The Kill Bill Restaurant in Tokyo
Word on the street is that Quentin Tarantino was so inspired by the decor on a past visit to Gonpachi that he used it as inspiration for the "House of Blue Leaves" scene in Kill Bill volume 1. If you're trying to remember, this is when Uma Thurman takes on the Crazy 88s and Lucy Liu in a spectacularly bloody fight. Though it was filmed on a sound stage in China, Gonpachi still feels very familiar—particularly when walking up the staircase and along the mezzanine.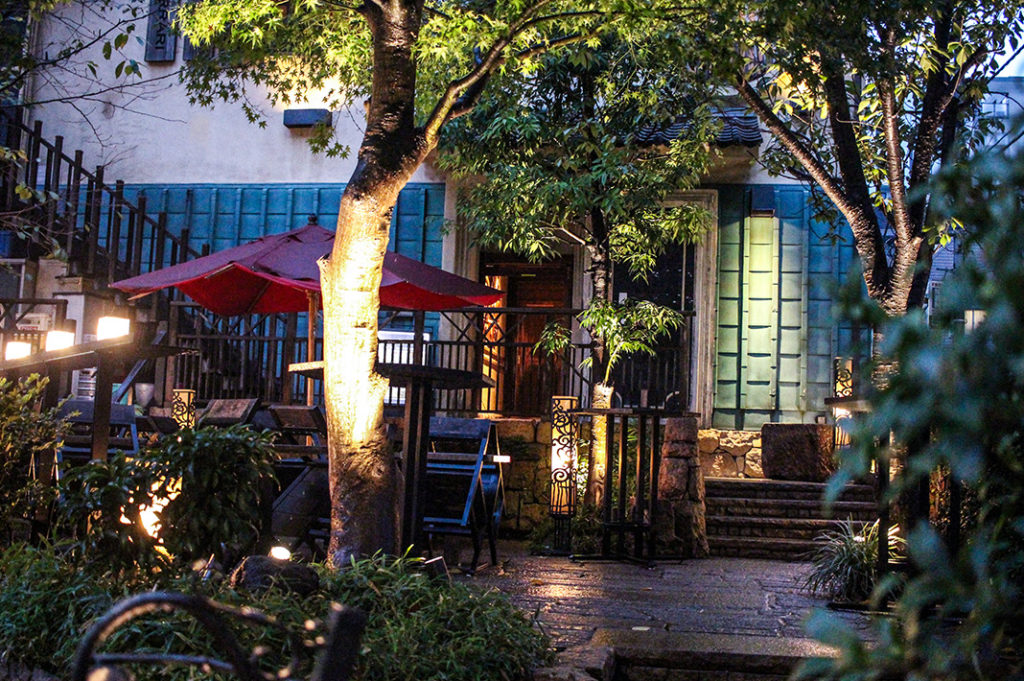 Even from the outside, it's impressive. The large warehouse-esque structure dominates a corner block of the Nishi Azabu neighbourhood and has a nice entrance featuring trees and plants, a rock wall and glowing lanterns in the evening. As we make our way toward the door, we notice framed portraits of all the celebrity visitors; Kanye, Kim, Stallone, Rami Malek and, of course, Quentin Tarantino.
Gonpachi and the House of the Blue Leaves
Stepping inside, the staff bellow out hearty greetings in Japanese, and we notice they do the same for everyone who leaves, too. It's not quite the fawned, obsequious greeting O-ren and her posse get when they enter in the movie, but then again, we are not yakuza.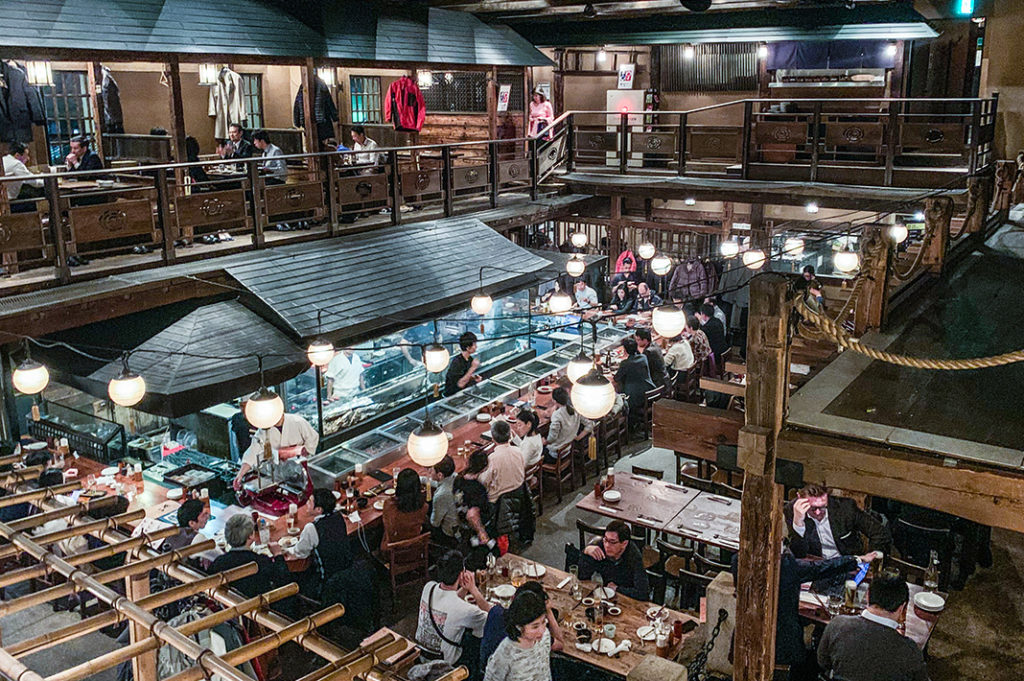 If you have to wait, they'll give you a little sample drink to sip at the bar while you take in your surrounds. And what a space it is, all stone floors, rustic wooden beams and lanterns. At the heart of the sunken ground floor sits a steaming, bustling open kitchen. Solo diners and small groups will inevitably be seated around its counter, while groups of 4 or more will fill the surrounding tables.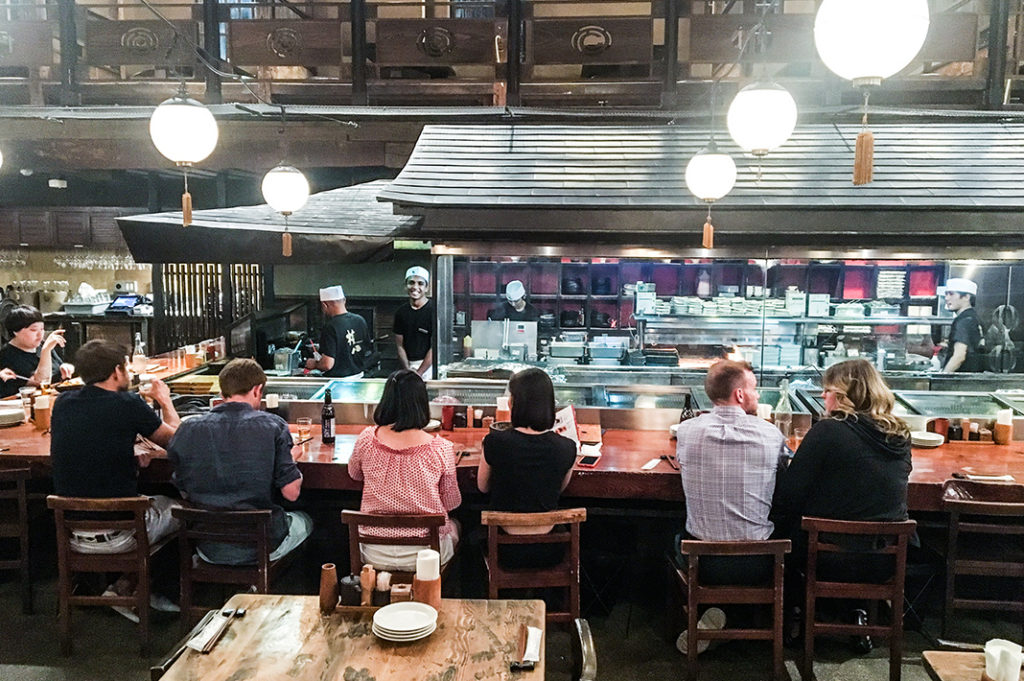 Up a few steps is a split level dining area that wraps around the sunken space, featuring more tables and booths. But things really get exciting upstairs.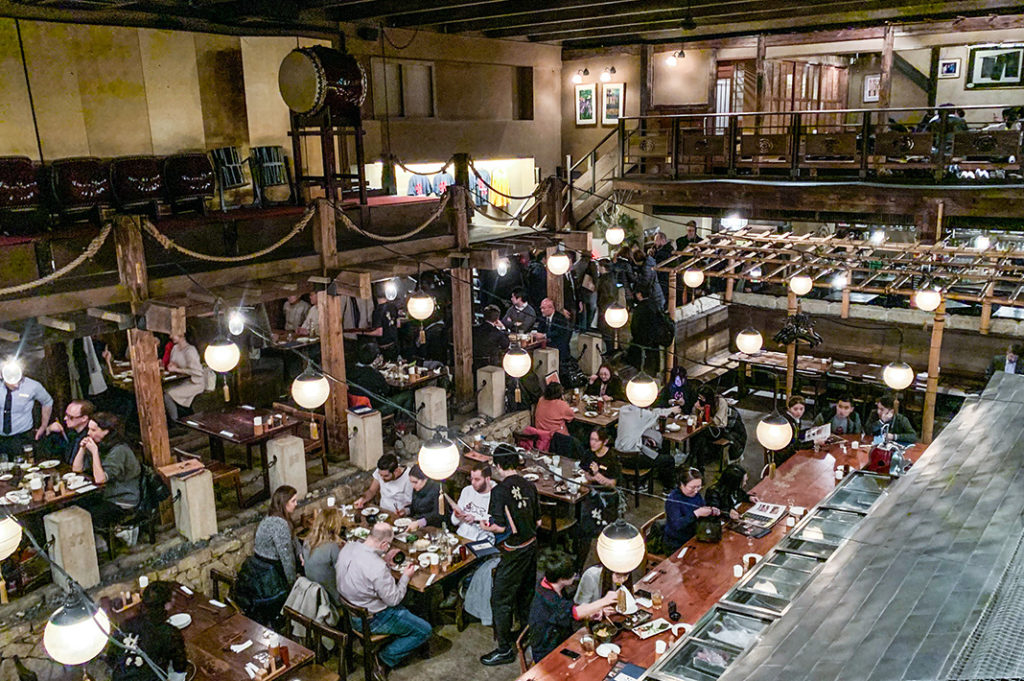 The Mezzanine
Take the wooden staircase to the mezzanine level and you'll come face to face with the private dining areas decorated zashiki style with tatami mats, low tables and sliding rice paper screens to close them off. Just like the room O-ren and her crew drink in. Shoes will be lined up outside, and these tend to be the most raucous spots in the house.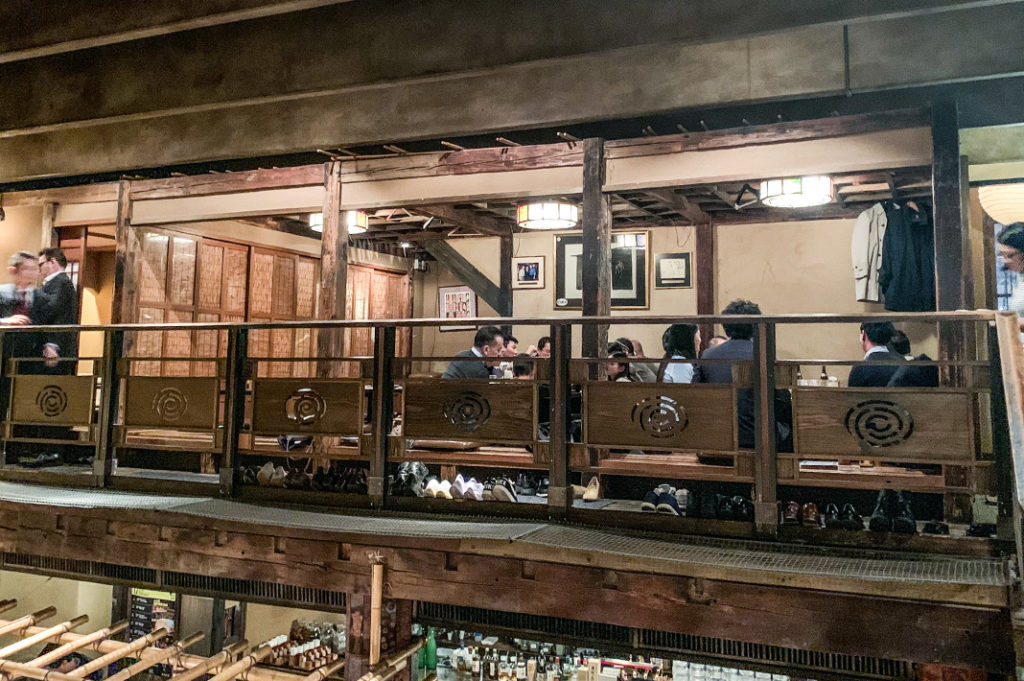 Follow the mezzanine around and you'll see more booths for groups of 6 with sunken leg areas, meaning no shoes here either.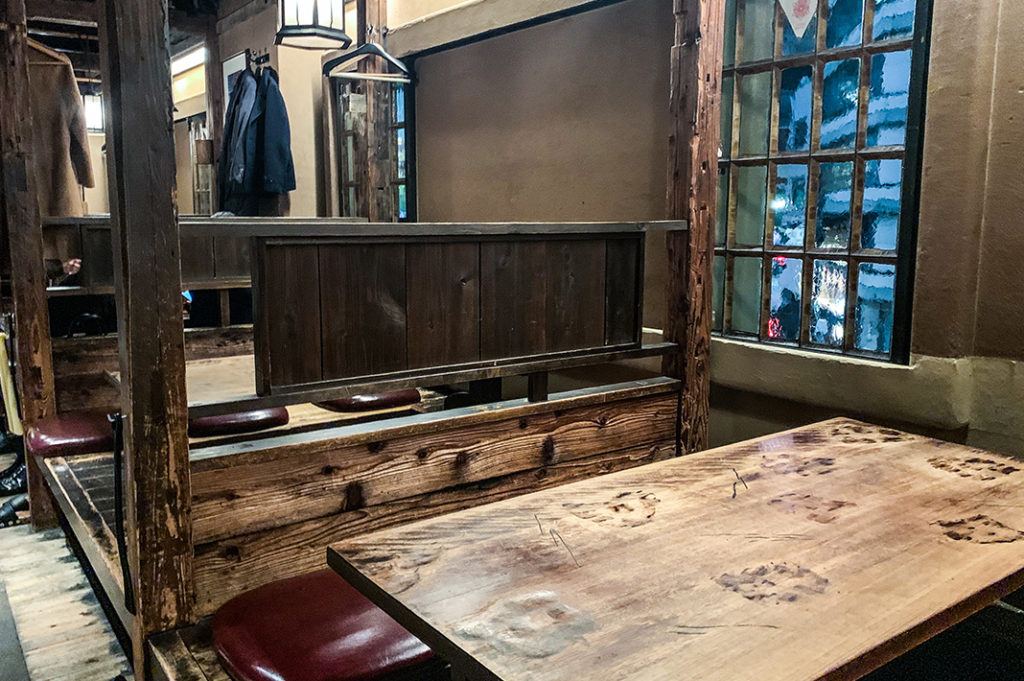 From the booths you can catch a glimpse of the taiko drum set up on the opposite side. Unfortunately we aren't visiting on a performance night but their website lists the event dates. Even if you are seated on the ground floor, you'll get to check it out as the toilets are located upstairs.
The Food At Gonpachi
Though many come for the Kill Bill atmosphere, the izakaya fare at Gonpachi is decent, too. It's probably not going to blow your mind, but we can't complain about the taste. The menu is fairly broad and features English descriptions as well as images. You can expect everything from sushi to yakitori to soba noodles.
Even vegetarians have plenty to choose from including fresh tofu, pickles, grilled vegetables and of course, edamame. There is also a decent drinks menu, featuring beers, wine, sake and signature cocktails. As a bonus, the staff all seem to speak English making ordering a breeze for visitors and those unfamiliar with Japanese.
Final Thoughts
Gonpachi is open from lunchtime until 3:00am—perfect for those who have missed the last train and looking for a hearty meal in the Roppongi area. And, due to the abundant seating, it is also great for large groups. You can make a reservation online or call to do so in English.
Though Gonpachi has other branches, we think the Nishiazabu location is the best for obvious reasons. If you don't know the film, I'd highly recommend watching it. It will make a visit to Gonpachi in Nishi Azabu all the more special.
After our meal, standing outside on the street corner, I had just finished saying that I wished there had been more Kill Bill soundtrack songs played inside, when the familiar Da Da Dun! ('Battle Without Honor or Humanity' by Tomoyasu Hotei) blared from the outdoor speakers. The absolute cherry on top that inspired a late night screening back at home.
Getting there
Gonpachi restaurant is a 10 minute walk from Roppongi Station, which is serviced by the Hibiya and Oedo Lines. See other things to do in the area here.
Gonpachi Nishi Azabu
Address: 106-0031 Tokyo, Minato City, Nishiazabu, 1 Chome−13−11
Open: 11:30a.m.–3:00a.m.
URL: https://gonpachi.jp/nishi-azabu/
Post by Japan Journeys.