I turned on my side, studying the intricate pillar designs, cross-hatching, and delicate soaring beams that held up the Yurt around me. Our group was cosy; thick wool blankets and a heater kept the November chill at bay, and I couldn't stop smiling. It felt like something out of an adventure novel. For many, overnighting in a sea-side yurt sounds like a dream, let alone a yurt on Naoshima, Japan's famous art island. However, with the help of Tsutsujiso guesthouse, we were able to live out our fantasy.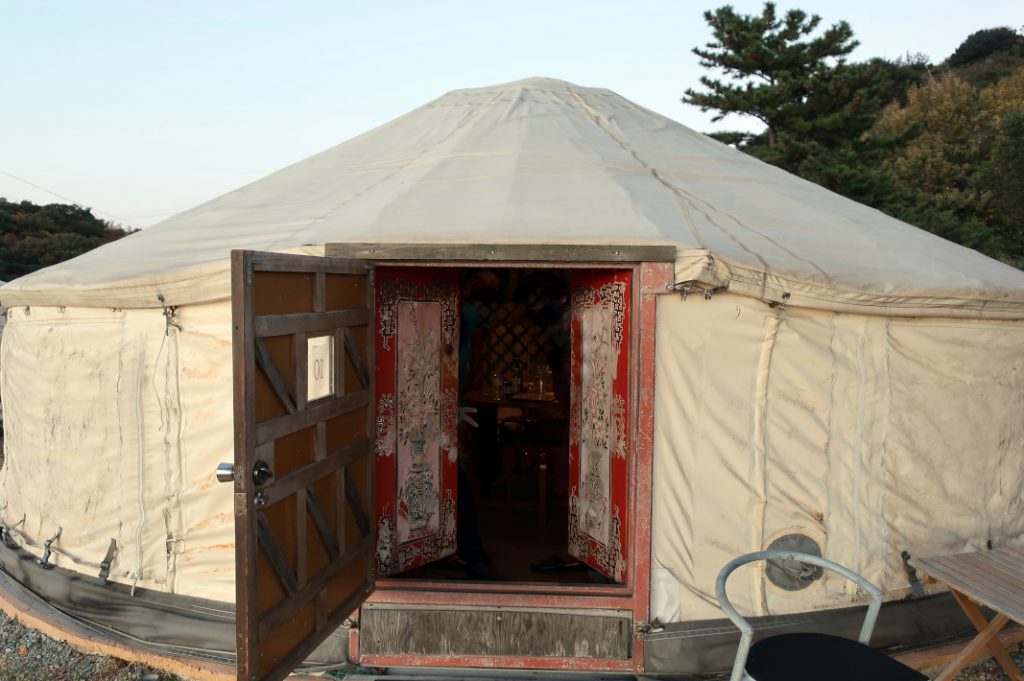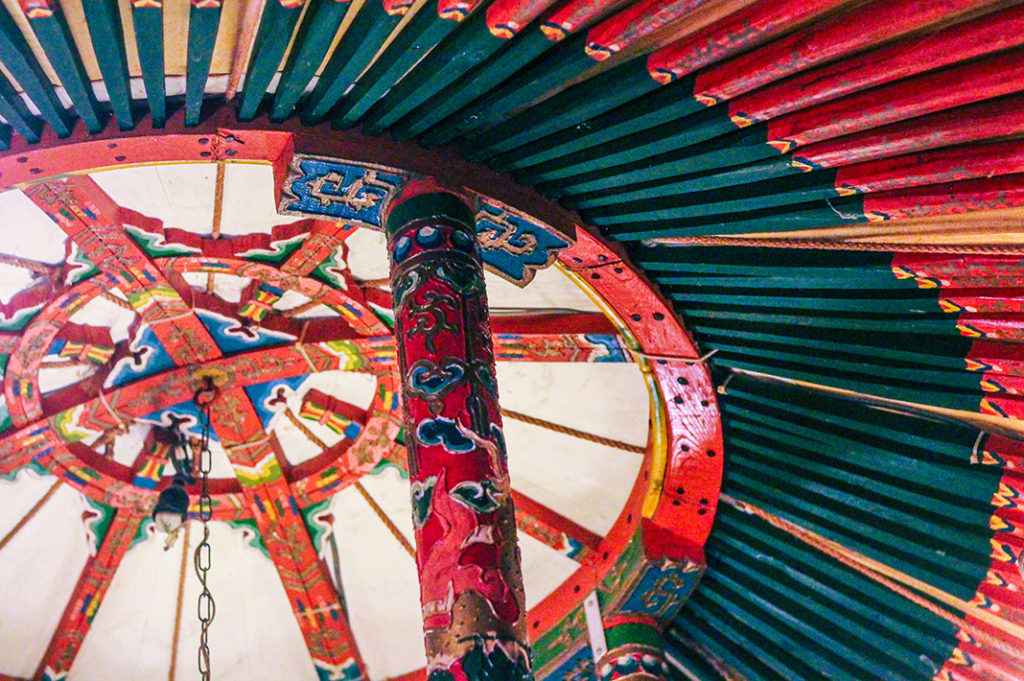 What's Naoshima?
A visit to Naoshima Island tops off the wish list of many travellers—and for good reason. Stepping onto the Island feels like stepping out of reality. The Island lives and breathes art. You'll find museums and installations hidden throughout it, sometimes in the most unexpected places. These spaces reflect the natural artistry of the island itself and are elevated by the artistic projects of locals and visitors. While Naoshima can be visited in just one day, it's best to stay overnight. Rather than a pell-mell dash to see everything, you'll be free to explore and reflect on what you find at your leisure. Also, if life gives you the chance to sleep in a yurt, you'd better take it.
That said, there's a wide variety of accommodation on the island. Alternatives range from the pure luxury of staying at the Benesse House Museum to cozy, Japanese hotels. However, one of the most remarkable options is Tsutsujiso Guesthouse.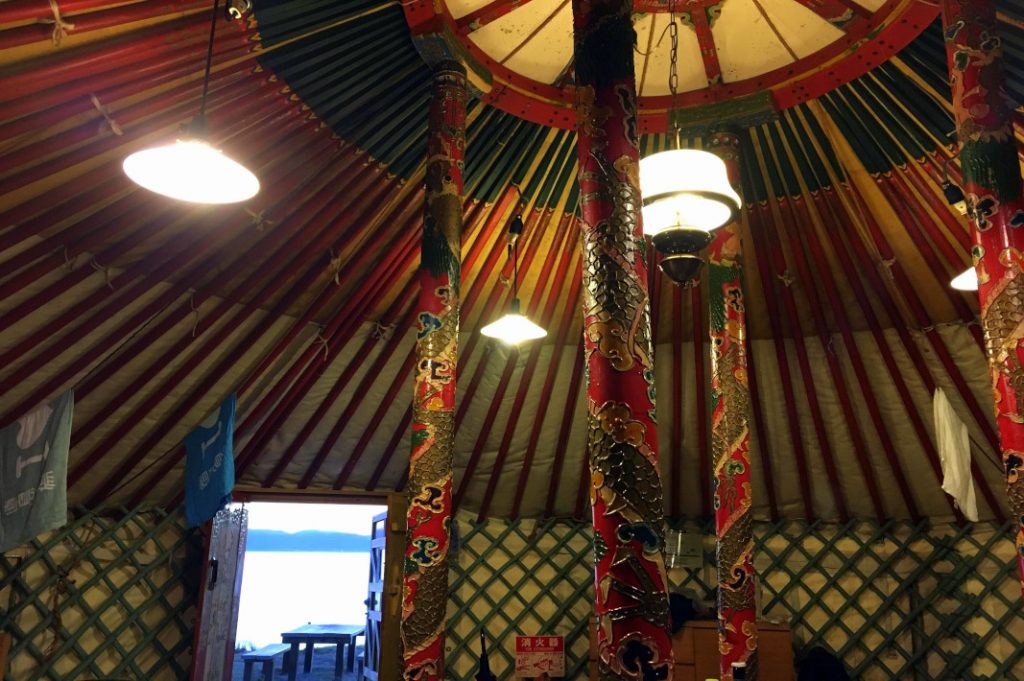 Tsutsujiso Guesthouse and the Yurts
Built by Japanese architect Kazuhiro Ishi in 1992, Tsutsujiso guesthouse is equipped with ten Mongolian Yurts (called Pao in Japanese), three Japanese-style cottages, and three trailers. Each yurt comes with four beds; however, it's possible to book an entire yurt with less than four people. You'll never have to share with strangers. Each yurt's door and main pillars are adorned in intricate designs. Meanwhile, there's a tabled area in the centre that's perfect for sharing drinks, snacks, and conversation. Understandably, toilets are in the main complex, separate from the yurts. That said, there's also a small cabin with fresh water, sinks, and mirrored getting-ready areas among the yurts.
Some Yurt-Adjacent Luxuries
If you don't mind roughing it, there are coin-operated showers on the premises. However, if you're in the mood for something a bit more luxurious, you can book the steaming hot sento for an hour. It's similar to a Japanese onsen, except there isn't a natural hot spring source, just hot water. Tsutsujiso's sento consists of two bathing basins, separated by gender. Once the men and women have separated, guests disrobe, shower, dip into the piping hot water, and relax or blow-dry their hair in the attached room.
Theoretically, you could eat all of your meals at Tsutsujiso. However, it's also fun to wander over to the nearby town and poke around the restaurants there. We had breakfast and dinner at the guesthouse, which was delicious. But take note that all meals have to be booked at least 3 days in advance. It is an island after all, so many resources have to be pre-ordered by boat. Breakfast is Japanese style with rice, fish, and pickled goodies. Meanwhile, assorted bento boxes are available for lunch. Finally, dinner might be fresh BBQ or hot sukiyaki, depending on the season.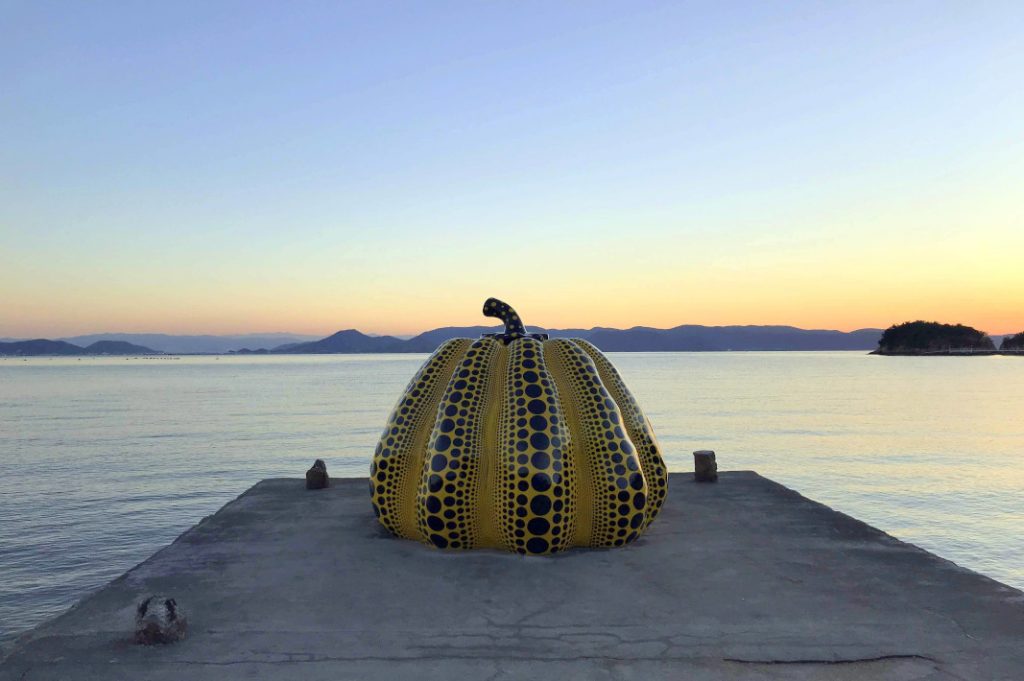 Nearby Sights
While there's a host of sights nearby, there are also some key spots scattered throughout the town and across the island. Just up the beach from Tsutsujiso Guesthouse, you'll fund one of Yayoi Kusama's spotted pumpkins gazing out into the sea. Beyond that, you'll catch sight of the Benesse Art Museum. The Chichu Museum, Lee Ufan Museum, and Ando Museum are also popular sights on Naoshima. Within the town, you'll find the Art House Project, Miyanoura Gallery 6, and I Love Yu, an art installation/hot spring mix.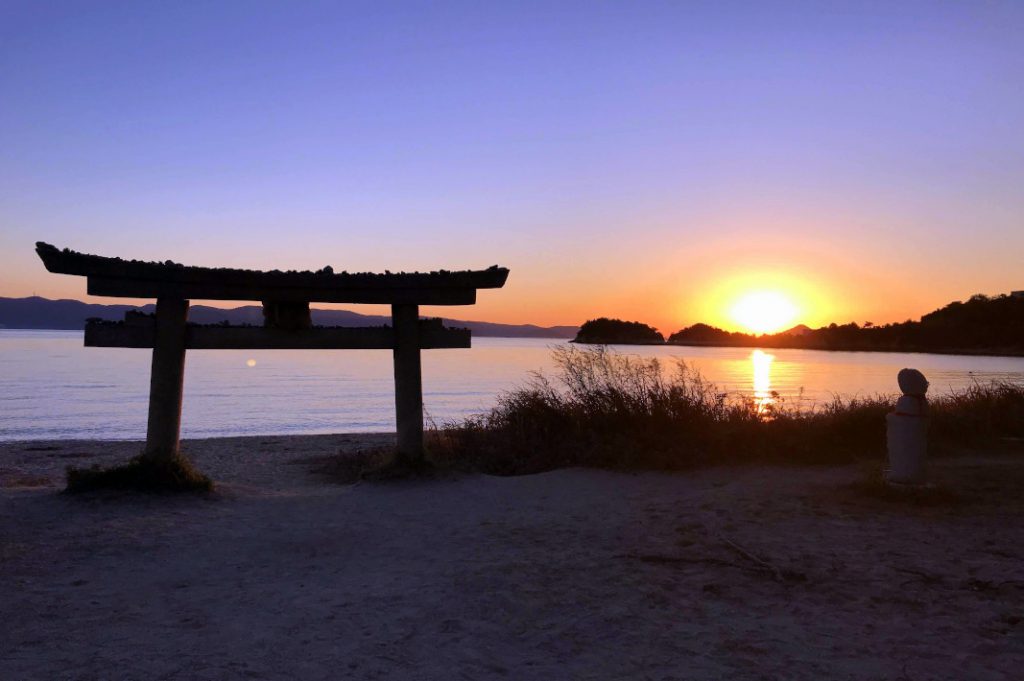 Great! So How Do I Book Tsutsujiso?
Tsutsujiso's yurts, Japanese cottages, and trailers can be booked in English here. Take note, though, their reservations fill up fast, especially in the summer months. It's best to book as far in advance as possible, and the earliest you can book is 6 months before your intended date of stay. If you're booking a large group you can pay in advance. However, it's their preference that you pay in cash on site. In fact, it's a good idea to withdraw all the cash you'll need for the weekend before you make it to Japan's Art Island; it can be difficult to find an ATM there. Treat it as your last stop before leaving reality and stepping out into Naoshima's world.
Name: Tsutsujiso Guesthouse
Address: 352−1 Naoshima, Kagawa, Kagawa District, Japan, 〒761-3110
Website: here
Post by Japan Journeys.