Okonomiyaki. A tongue-tying savoury pancake that has bewitched many a diner over the years with its wonderful mix of flavours. (It's pronounced kinda like 'okko-nommy-yukky' by the way). Join us as we check out Harajuku restaurant Sakura Tei Okonomiyaki.
Okonomiyaki
Okonomi roughly translates as 'how you like' or 'what you like' and yaki means 'to cook/grill.' Thus, okonomiyaki is something you can cook how you like. (Within reason, there's still a general recipe!)
The traditional recipe is a thin, savoury batter, mixed with shredded cabbage and additional ingredients such as pickled ginger, pork, prawns, squid, shiso and many more. It's first shaped into a thick disc and cooked on a teppan hot plate, then slathered in a brown sauce (similar to Worcestershire) and mayonnaise. There will also possibly be a garnish of seaweed sprinkle and bonito (dried fish flakes). There is also the Hiroshima-style Okonomiyaki that you can read about, here.
Sakura Tei Okonomiyaki
Though there are many places to enjoy okonomiyaki around Tokyo, Sakuratei is a fun one, conveniently located and great for travellers. You'll find it tucked away in a hip Harajuku backstreet beside Design Festa Gallery. It may be hard to see the entrance at first but once you notice the brightly painted murals, you'll wonder how you missed it.  
Inside, the warren-like rooms are adorned with brightly painted murals and there is a bustle of activity. Despite the 200 person seating capacity, you may still have to wait; it's a good idea to reserve ahead of time. Once at your teppan (hot plate) table, the fun really begins putting your chef skills to the test.
The menu
You can order a la carte from the menu or go for an all-you-can-eat package. The a la carte option serves up full sized okonomiyaki (most people struggle to finish one) while the all-you-can-eat option serves up half-sized versions to allow you to try different toppings.
In terms of okonomiyaki, there are a variety of fillings ranging from classic to healthy, even ones with Korean and Italian flavours. According to the menu, vegetarian and vegans are also catered for.
If you want to try a few things, perhaps give 'Monjayaki' (a Kanto/Tokyo region special) a go. It's made from similar ingredients but the batter is runnier, so it never quite sets on the hotplate. You spread it out thin, then once it starts simmering, use a small spoon/spatula to scoop up little mouthfuls. I'm much more into the chunky and heavy okonomiyaki so I will go that route every time.
There are also plenty of sides like salad and pickles, plus things to grill like steak, seafood, noodles and veggies. The dessert menu features hot and cold desserts, some of which make the cold to hot transition once you cook them on your grill!
All-you-can-eat
The all-you-can-eat packages are fun. The lunch package (from ¥1,500pp) lasts 90 minutes while the dinner package (from ¥2,500pp) lasts 2 hours and features more food options as well as an all-you-can-drink alcohol add-on.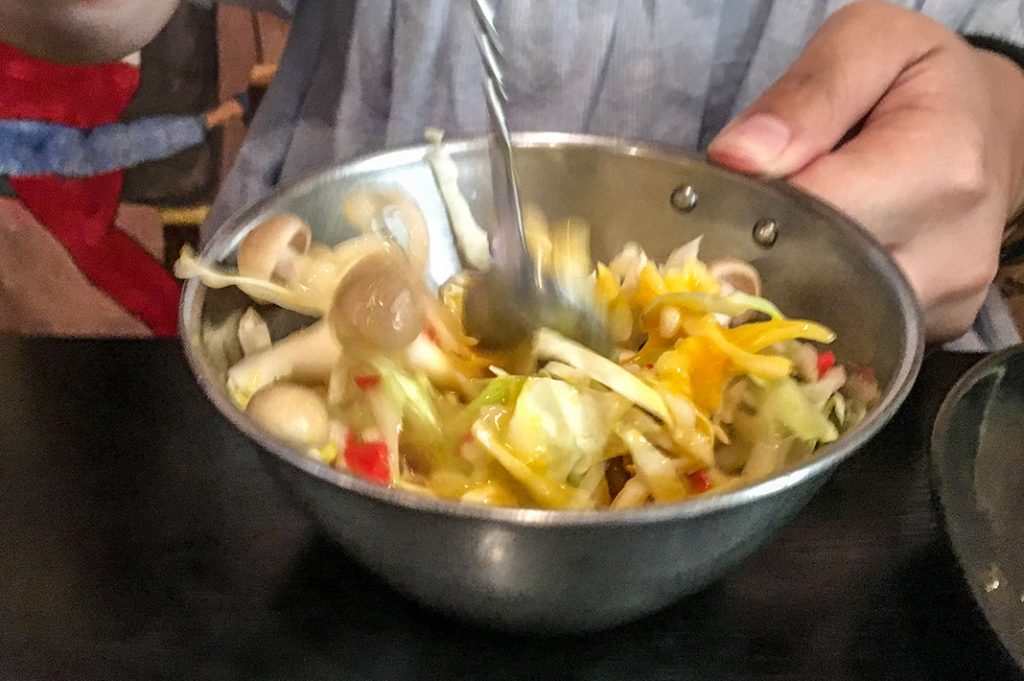 The basic lunch package is unlimited okonomiyaki and monjayaki. They come with the usual cabbage, fried tempura bits and pickled ginger but you can pick one additional topping per pancake—things like kimchi, bacon, mushrooms, squid etc. At dinner, the topping choices are more elaborate. You get unlimited sides plus you can also order unlimited yakisoba or yakiudon (fried noodle dishes).  
Any way you do it, you're sure to have a great time grilling your way to your self-appointed Michelin star. Just don't forget to give compliments to the chef!
Name: Sakuratei
Address: 3 Chome-20-1 Jingumae, Shibuya City, Tokyo.
Open: 11:00–23:00 (LO 22:00)
URL: http://www.sakuratei.co.jp/en/
Post by Japan Journeys.