One day I was on my way to Harry's Sandwich Co., and I walked out of the Meiji Jingu "Harajuku" Tokyo Metro stop and stopped dead in my tracks. The large windows out to the street had the words "BROOKLYN" etched into each one of them. A familiar sight as I'd lived in NYC for the previous 19 years, but at the same time, brands in Tokyo LOVE Brooklyn and will slap the "b" word on almost anything, regardless if it has any roots in NY or not. Green Brother's Salad, I'm looking in your direction. What was even more familiar was the words above "Brooklyn", which were "Buttermilk Channel". I was shocked… and kinda excited at the same time. Buttermilk Channel is one of my favorite brunch spots in NYC.
The Brooklyn Original
Buttermilk Channel is is the name of the straight of water between Brooklyn NY and Governor's island off the coast of NYC. But more prominently Buttermilk Channel is a pretty well-known restaurant in the Carroll Gardens neighborhood of Brooklyn, a restaurant I lived around the corner from for a brief time. So well known, and well regarded that Beyonce and Jay-Z, who live nearby, have been known to drop in.
Buttermilk Channel serves "Southern Food" (southern being that part of America), and is famous for its brunch of fried pork chop and waffles, pecan french toast and 3 different kinds of Bloody Mary's. Missing the popular NYC weekend ritual of a proper brunch, I got my wife on board (also from NYC), we called up our friends who had just moved to Tokyo from Bushwick, Brooklyn and headed there on a Saturday morning.
The Menu
I was especially curious as to how the menu would stack up to the original. There are plenty of restaurants and cafes in Tokyo that claim to be "Brooklyn inspired" and many of them make some choices that no self-respecting Brooklyn restaurant would make, like hot dogs tossed in pasta and selling it as carbonara. When we got there the restaurant was half full at 10 am on a Saturday in December. Not bad.
The space is cavernous and has all the "Brooklyn" touches of the original; tile floors, maps of NYC on the walls and distressed wood. Upon taking a look at the menu, I was pleasantly surprised to see the brunch menu nearly identical to the brunch menu in Brooklyn; egg scrambles with house-cured lox, eggs with sausage peppers and onions and buttermilk fried chicken on a waffle. The real test though would be the drinks menu, because after all, it's not a proper brunch if alcohol is not consumed (or at least offered).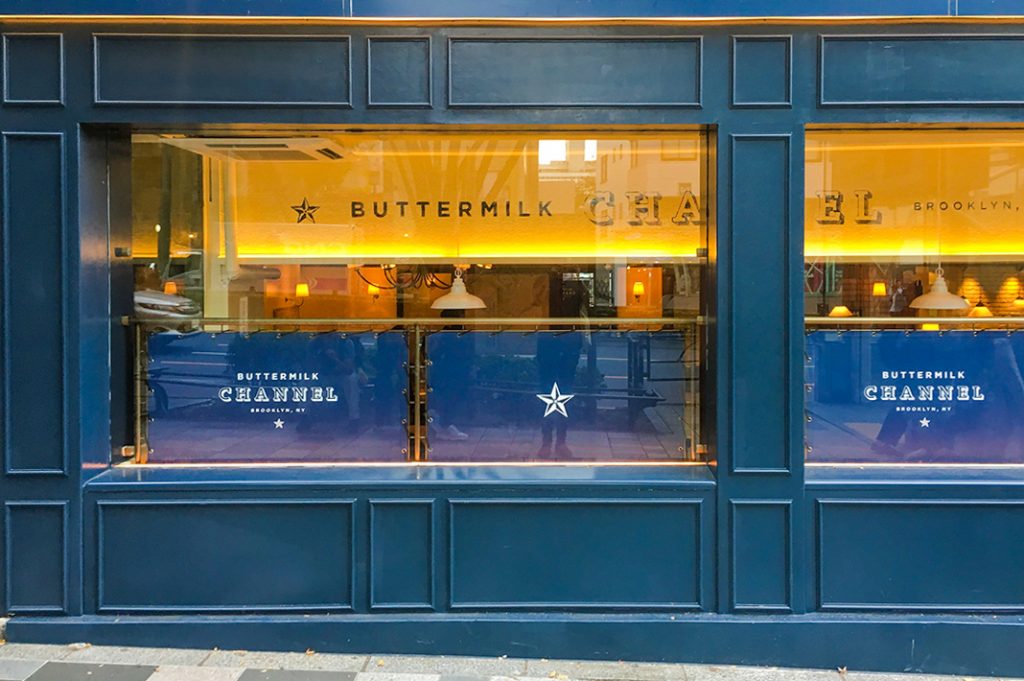 This being Tokyo, I had no doubt there would be alcohol, but would it be true to the original? I don't really want to drink a lemon sour for brunch. Ok, I take that back, that sounds like the perfect brunch drink, but not at Buttermilk channel and not for the purposes of this review. I perused the cocktail list… and there it was, the Bloody Mary section of the menu. I say "section" because there's more than one. In fact, thee's three. All special in their own right. There's the classic, of vodka, tomato juice, black pepper, and hot sauce, garnished with a house-made pickle.
Buttermilk Channel Tokyo's Bloody Marys
The Court Street Bloody, named after the sweet in Brooklyn the original resides on. Court Street in Carroll Gardens is a traditionally Italian neighborhood and this bloody mary pays homage to that. The drink is made with Rosemary infused vodka. It comes garnished with salami, a cube of Italian cheese and an olive. The third and final Bloody Mary, the Star of the Sea is my personal favorite. Made with celery and peppercorn infused vodka, it comes "garnished" with an entire raw oyster on the half shell on top. It's salty, it's sweet and it's spicy. My favorite for obvious reasons. But, I was shocked at the price. Oysters tend to be pretty expensive in Tokyo regularly coming it at ¥400-500 each. I was shocked (in a good way) when I saw the Bloody Marys were ¥800. That's even cheaper than in Brooklyn!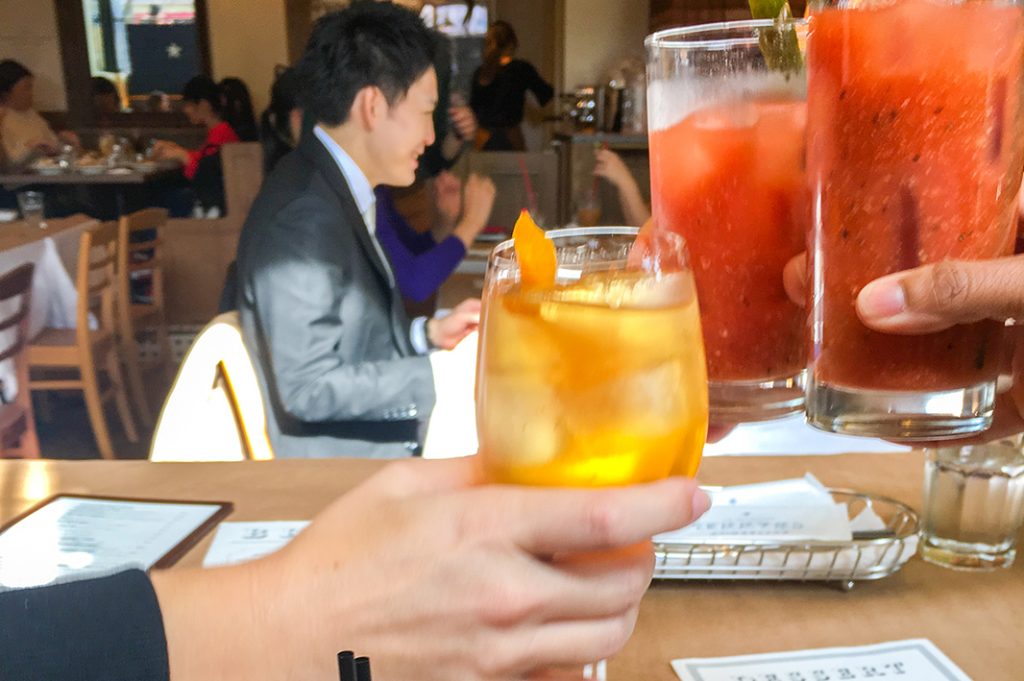 The Food at Buttermilk Channel Harajuku
For food, we got a great assortment of Buttermilk Channel classics; the sausage and pepper scramble, the hour-mad lox scramble and the buttermilk fried chicken. All of them faithfully created just like they would be in Brooklyn. The portions were maybe a little smaller than NYC, but, this is Tokyo and people just do eat the size portions that Americans do. Overall if your looking for a proper NYC brunch experience with Aperol Spritzes, Bloody Mary's, Bellinis, egg dishes, cured lox and fried chicken, look no further than Buttermilk Channel. I kinda lied in the opening, Beyonce has not personally approved Buttermilk Channel Tokyo, only the Brooklyn original, but who knows, maybe the next time she's in town she'll stop in.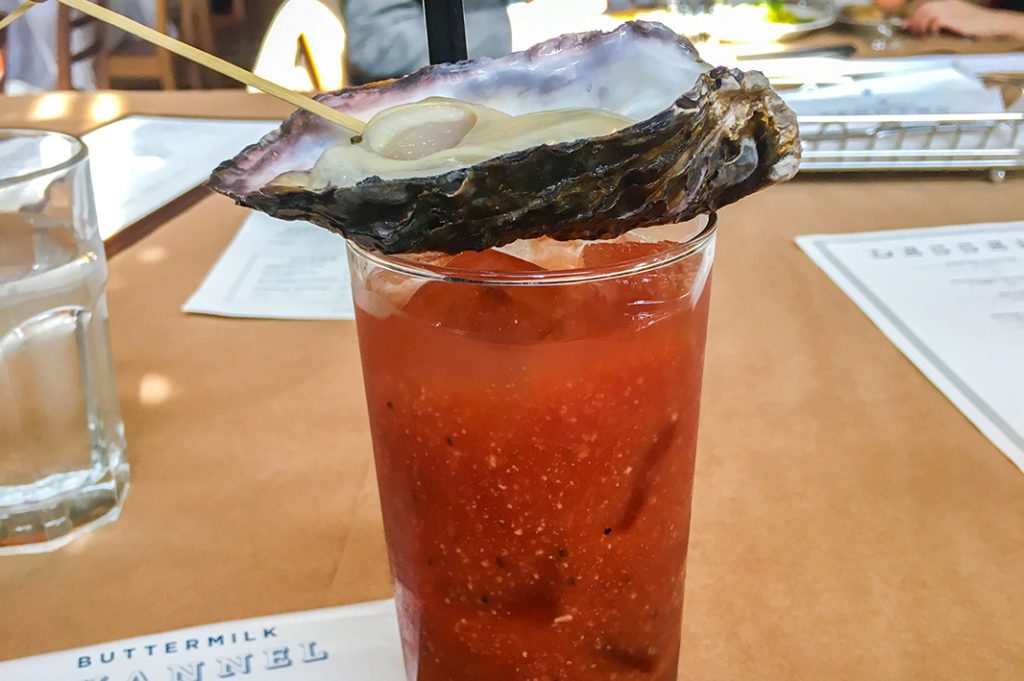 Buttermilk Channel, Tokyo
Address: 1 Chome-11-11 Jingumae, "Harajuku", Shibuya City, Tokyo 150-0001
Hours: 10:00 – 23:00 7 days a week
Website: buttermilkchannel-jp.com
Post by Japan Journeys