Whenever I have visitors in town, I love taking them to a stand-up dining place. Stand up dining, or tachigui, is an old fashioned way to enjoy a quick bite in Japan. Think affordable meals, scarfed down between appointments, all without creasing the back of your pant leg. What's not to like? While soba is the most common tachigui, you can also find other cuisines like tempura, sushi and grilled meat! A great option for meat lovers is Jiromaru, a stand up wagyu BBQ restaurant, with locations in Shinjuku and Akihabara. Here's why you should check out:
Experience Edo-Style Tachigui
Tachigui is a remnant of the Edo period (1603-1868) when the busy working class of Tokyo would need a quick bite without slowing down. These stand up dining restaurants still exist in Japan, but they are certainly not the norm. So, while you're here, why not take the opportunity to experience this unique old fashioned dining style.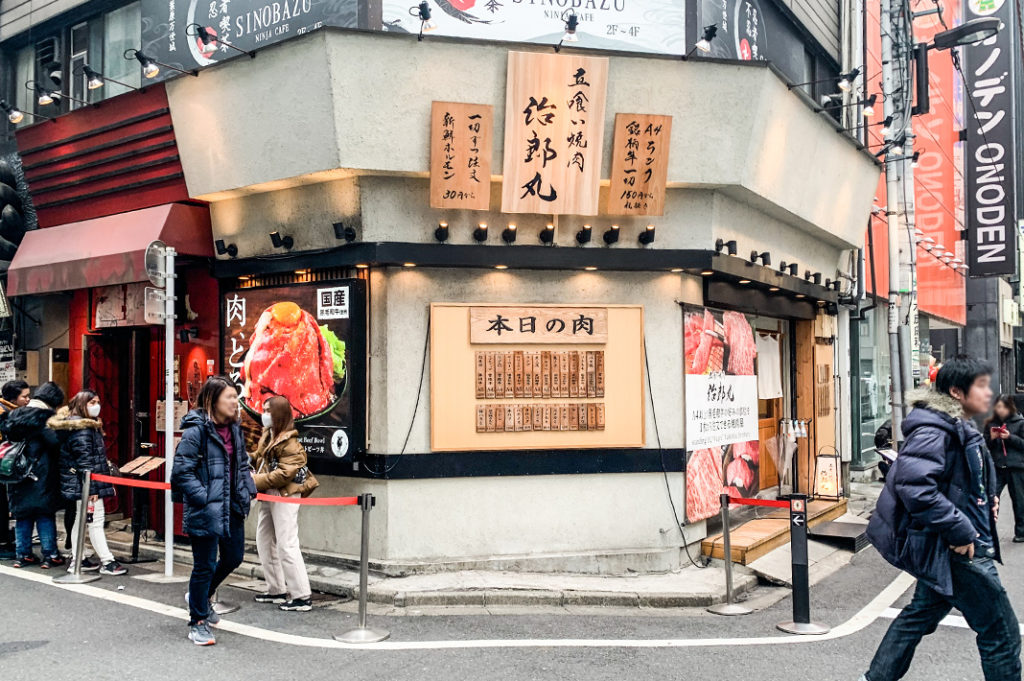 Sample High Quality Beef
The beef at Jiromaru is of high quality and the chefs change the menu daily, depending on what cuts they purchase. They primarily use local A4 and A5 Wagyu beef so don't expect a cheap eat. Once the cuts and price have been determined each day, the small wooden tablets that make up the menu are displayed both inside and outside the restaurant. As you can see, you can expect to pay roughly 250-300 yen for the quality slices.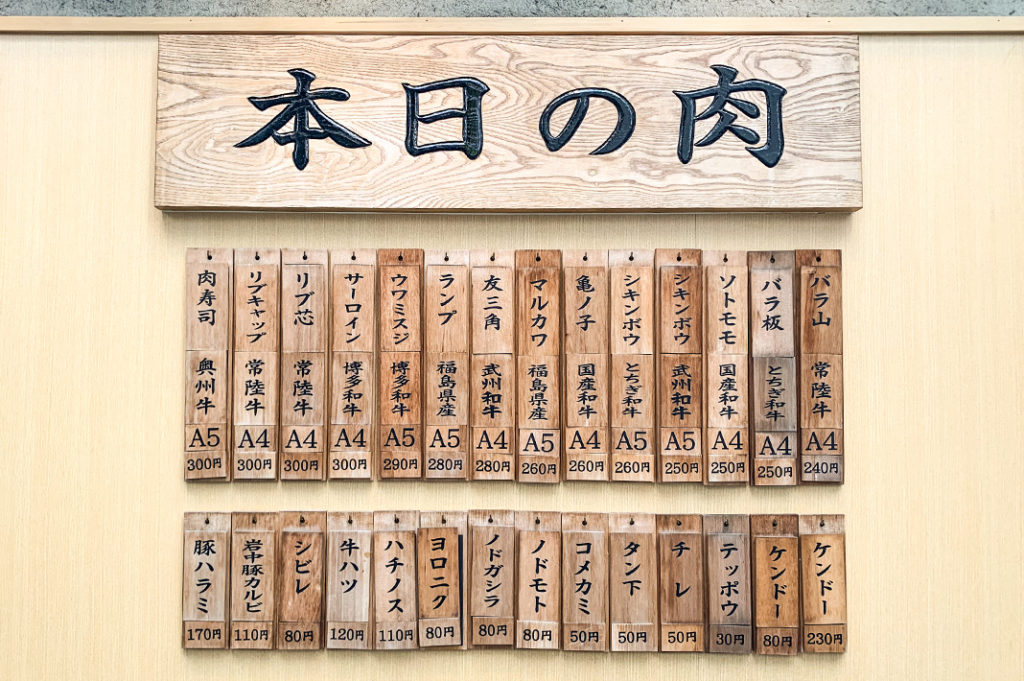 That Pay Per Slice Variety
The pricing of the meat is per slice, which means you can sample a variety of tasty cuts in the one meal. No more getting food envy over the juicier steak at the next table. However, this does mean that you could end up spending a lot if you're not paying attention. Not a problem for some, but if you want to squash your hunger and not your budget, I'd recommend getting some rice as a side, and ordering slowly!
A note about portions. On the whole, Japanese consume smaller portions of meat with their meals. Eating this way has taught me a surprising lesson about when I actually become full. I find I overeat less these days.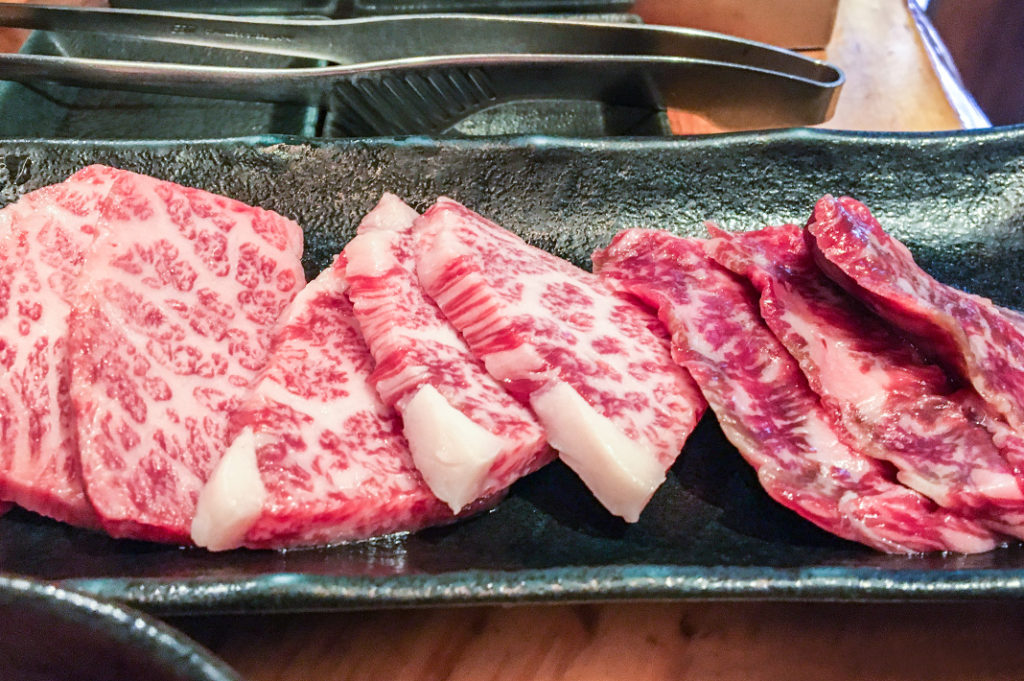 At Jiromaru, don't be surprised when the thin slices come out; it's a quality over quantity situation, so make sure you savour the different flavours and textures, instead of mindlessly woofing it down.
Tachigui is Great for Solo Diners
The space inside Jiromaru is quite tight, and you essentially stand at a counter. This is great news for the solo diner or small groups. While the Akihabara branch is double the size, the Shinjuku branch only fits around 10 people.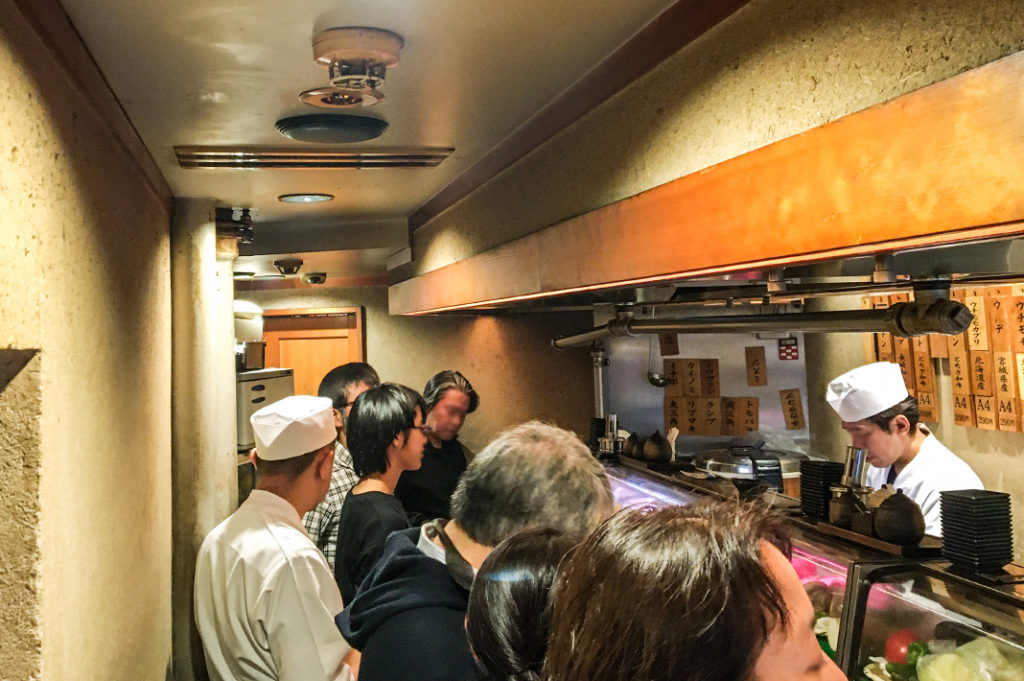 When we visited the Shinjuku branch as a group of three, I poked my head in to check availability. There was only one space right by the door. Expecting a harried "shove off, we're full" reaction, I was surprised when they beckoned us in and positioned all three of us at the empty spot right next to the door. In fact, the door could no longer close and one of our group stood in the doorway with the breeze in his hair.
We huddled around one grill (three maximum per grill), juggling plates and drinks, and moving out of the restaurant when people needed in or out—which was often as turnover can be pretty quick. This may not be everyone's idea of a good time but, for me, it was a fun, "more the merrier" dining experience that my friends and I won't soon forget.
Try Your Hand At Yakiniku BBQ
It's probably evident from the moment you step inside, but in this restaurant, you're the chef! Each spot at the counter comes with a small gas-powered grill. While most yakiniku (grilled meat) restaurants involve sitting around a large tabletop grill, this one involves standing around a small one. The do-it-yourself yakiniku grilling is definitely something to try out in Japan, even if you opt for a sitting restaurant. Staff at Jiromaru will give you paper aprons to protect your clothes and a few pairs of tongs with which to handle the meat.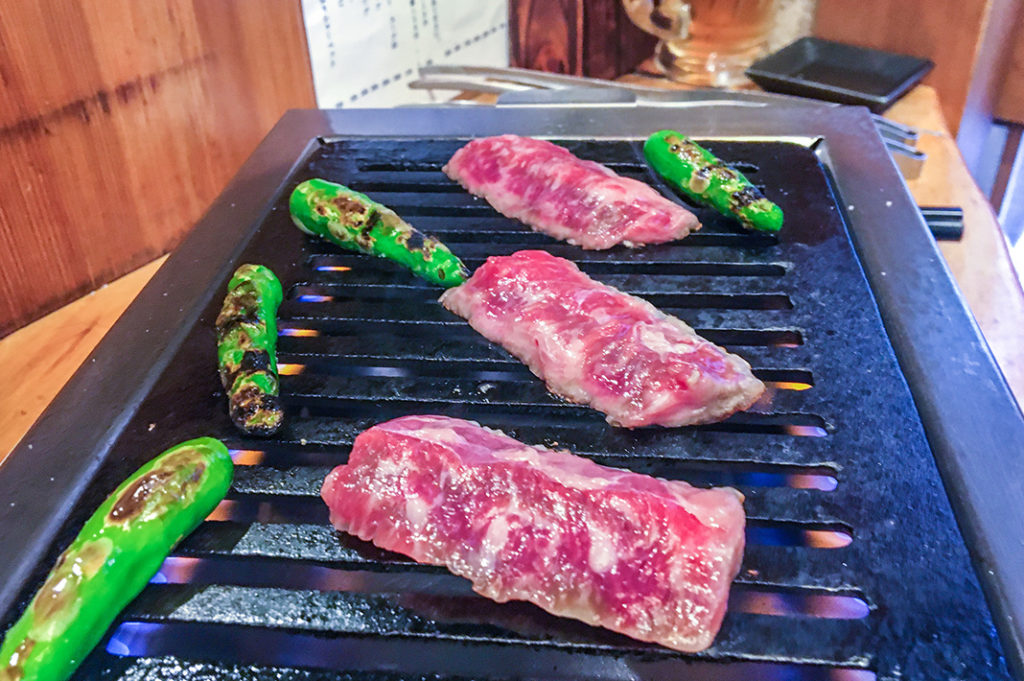 Freshly Sliced To Order
When you're settled, you'll notice the glass cabinet running along the counter in front of you. Just like at a sushi restaurant, it's full of today's cuts. As you order, the chefs will freshly slice your beef and present it to you on a small plate. At this point, they'll advise if the meat should be eaten with any particular dipping sauces.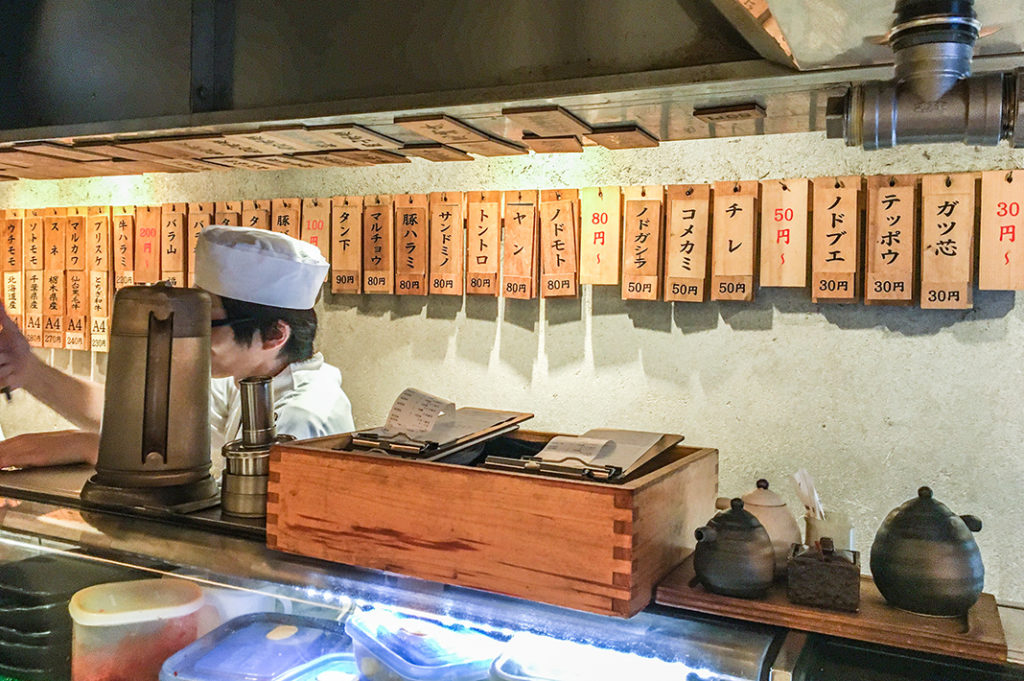 In terms of ordering, I would suggest going a la carte rather than a chef's selection, which can work out fairly dear and you tend to forget what you're eating. If the staff don't speak English (I've had both experiences), you can point to the meat on display, what the person next to you has, your own body parts or try out a few of these words:
Beef (gyu)
Pork (buta)
Sirloin (saaroin) – most expensive and delicious
Rump (ranpu) – tender and tasty
Boneless Short Rib (harami)
Flank (kalbi)
Beef tongue (gyutan)
Ribcap (ribukyappu)
Chuck (zabuton)
Brisket (misuji)
Pork Belly (buta bara)
Roast or Rib Roast (as it sounds but remove the 't')
Gooseneck Round (sotomomo) — tough but tasty
Liver (rehba)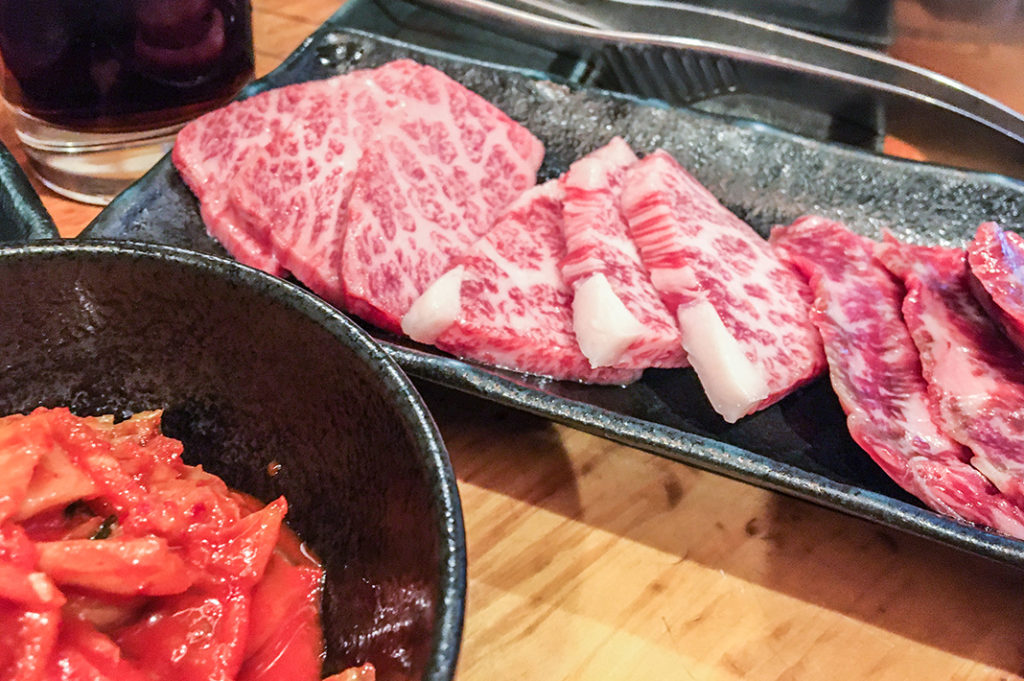 If you'd like to grill some vegetables, you could order mushrooms (shiitake or eringi), eggplant (nasu), green peppers (shishito), leek (negi), asparagus (asupara) and pumpkin (kabocha). For sides, I'd recommend a bit of kim chi and rice. Add a nice beer to wash it down and you've got yourself a fun, delicious, well-rounded meal!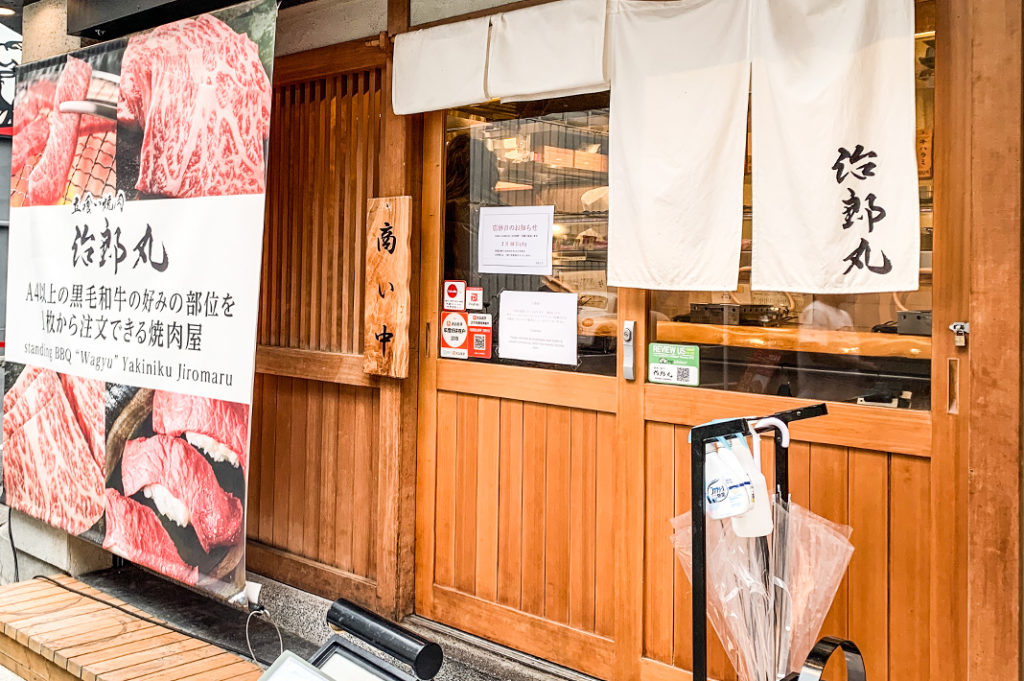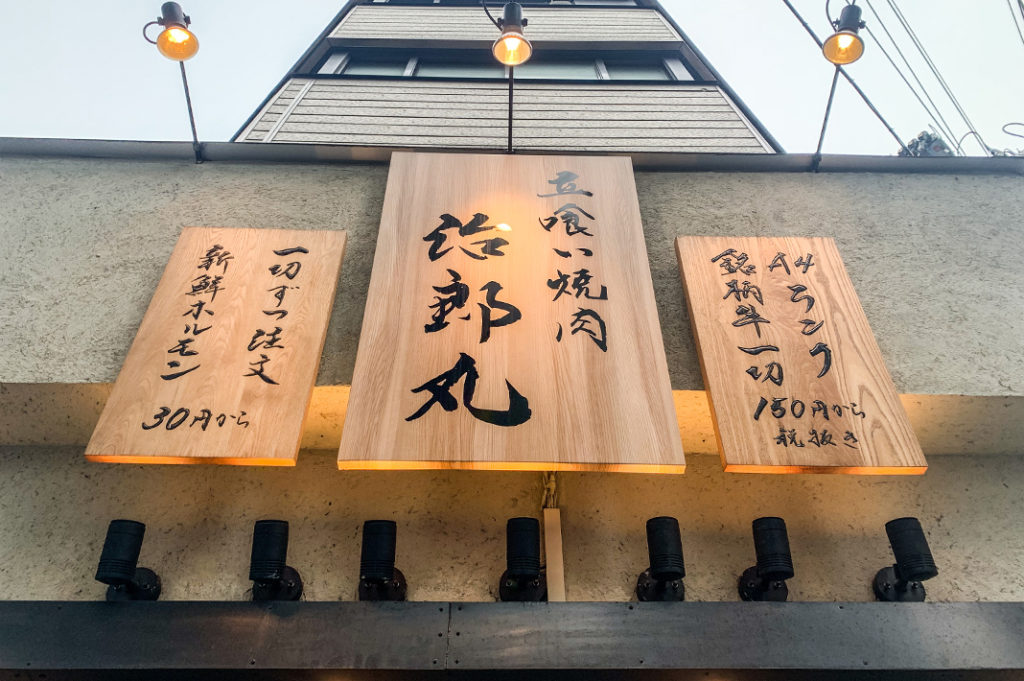 You can find Jiromaru in Akihabara and Shinjuku.
Post by Japan Journeys.