Calling all okonomiyaki fans! If you haven't already done so, you simply must make a pilgrimage to try the delicious, layered Hiroshima style okonomiyaki! Though there are plenty of places at which to try Hiroshimayaki, we recommend a visit to the multi-level Okonomimura in Hiroshima's fun Shintenchi area.
Where am I, and what is Okonomiyaki?
Okonomiyaki-heads, feel free to scroll down a little. For those new to the concept, Okonomiyaki (pronounced 'okko-nommy-yukky') is a Japanese savoury dish that kicked off in 1930's Osaka. The traditional method involves folding some fillings (shredded cabbage, pickled ginger, pork etc.) into a thin batter, then pouring and shaping it all into a thick, almost frittata-esque cake on a hot plate. 
However, Hiroshima-style Okonomiyaki, or hiroshimayaki, is more of a layered affair. And, it involves noodles. Did we mention it involves noodles? Though there are still plenty of variations of this style, there seems to be a standard method.
The Hiroshima style 
First, the chef pours a dollop of batter on the hot plate and spreads it out into a super-thin disc, like a crepe. Onto that goes a heaping pile of shredded cabbage—gotta love that fibre! Then it all happens so fast. A sprinkling of powders and seasonings for extra umami, on goes sprouts, spring onion, a strip of bacon and a scattering of tenkasu tempura bits.
Suddenly it's flipped to let all that goodness steam and compress down. Next, cooked noodles are put on the hotplate, seasoned and stir-fried. The pancake tower is then carefully stacked atop the noodles. Not last, and certainly not least, an egg is cracked onto the hotplate and spread into a thin disc.
The pancake tower (now with noodles) is placed on top of that and then the whole thing is flipped. Phew, what a process! It's certainly fun to watch.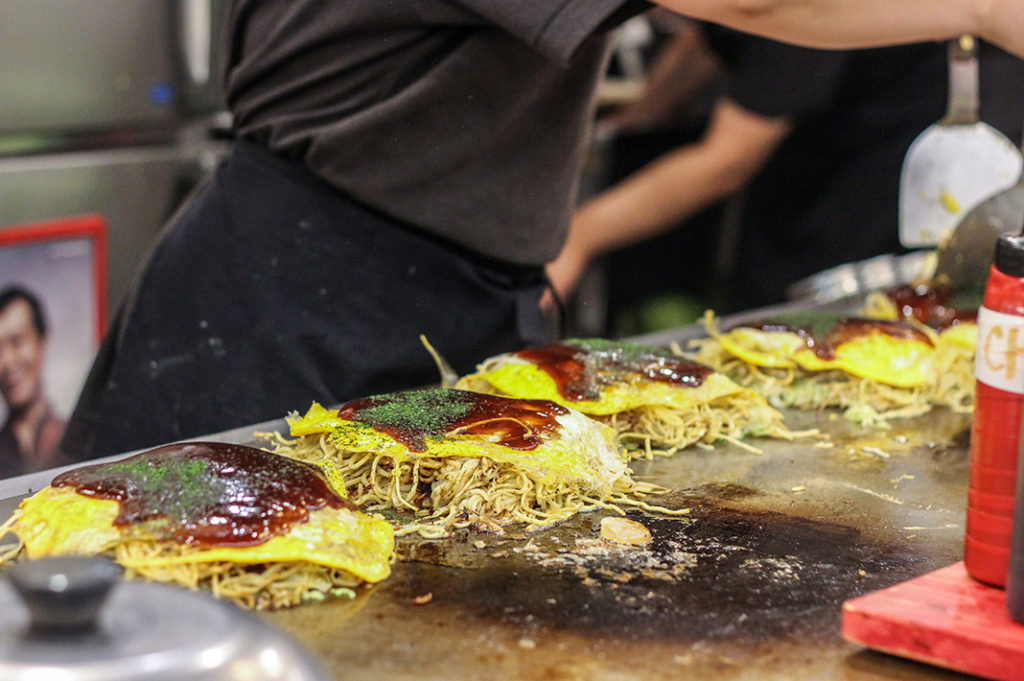 Then we come to the last part, the toppings. In its most generic form, the top layer of egg is slathered in the essential brown sauce (similar to Worcestershire) and a sprinkling of aonori seaweed powder.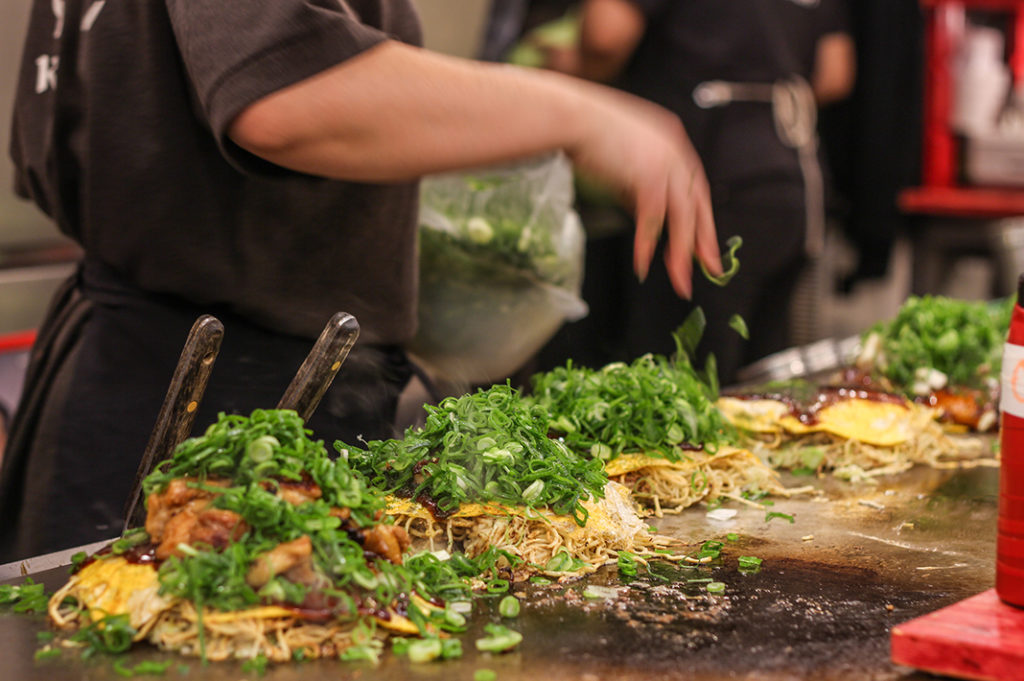 But, as people like different things, restaurants will likely offer more elaborate versions. Think kimchi, prawns, oysters, chicken, cheese, bonito flakes and eggs. 
Okonomimura
This style of food became popular after the war and there are still plenty of places to try it today. For those looking for a bit of provenance with their meal, head to Micchan Shintenchi—one of the oldest okonomiyaki restaurants in town. Or, for those looking for the best, Hassho is right up there. But for a fun, food-hall type vibe, you really can't go past Okonomimura.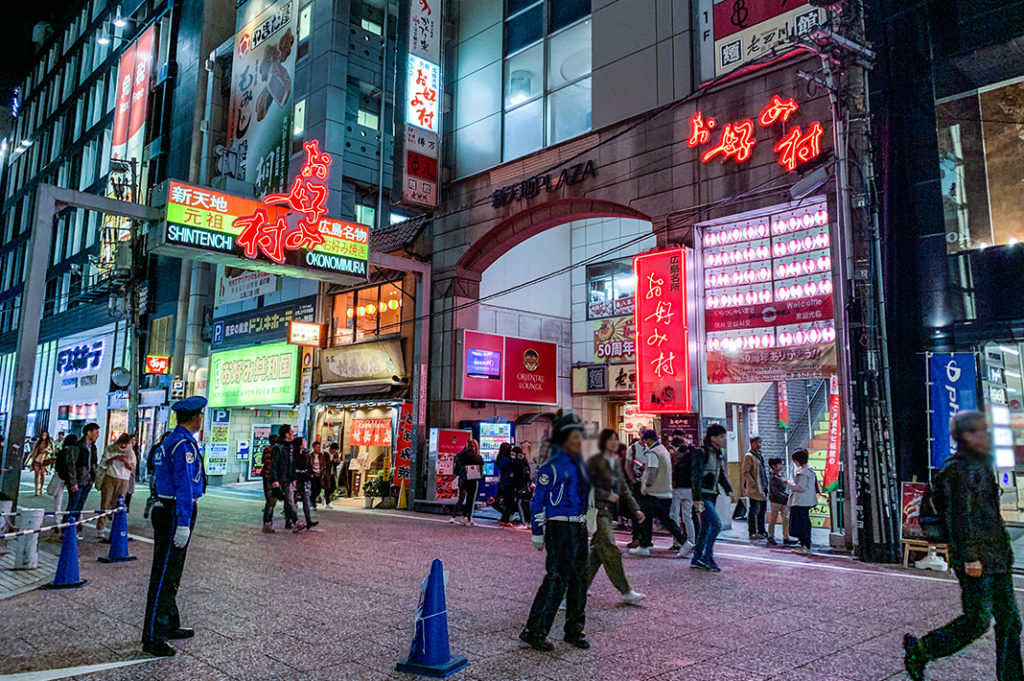 Translating to 'Okonomiyaki Village', it is essentially 3 levels of small, open-faced okonomiyaki restaurants. Each level is a steamy, sizzling, chatty world of teppans. All up, there are 25 restaurants to choose from, all slightly different from one another (the website offers a run-down).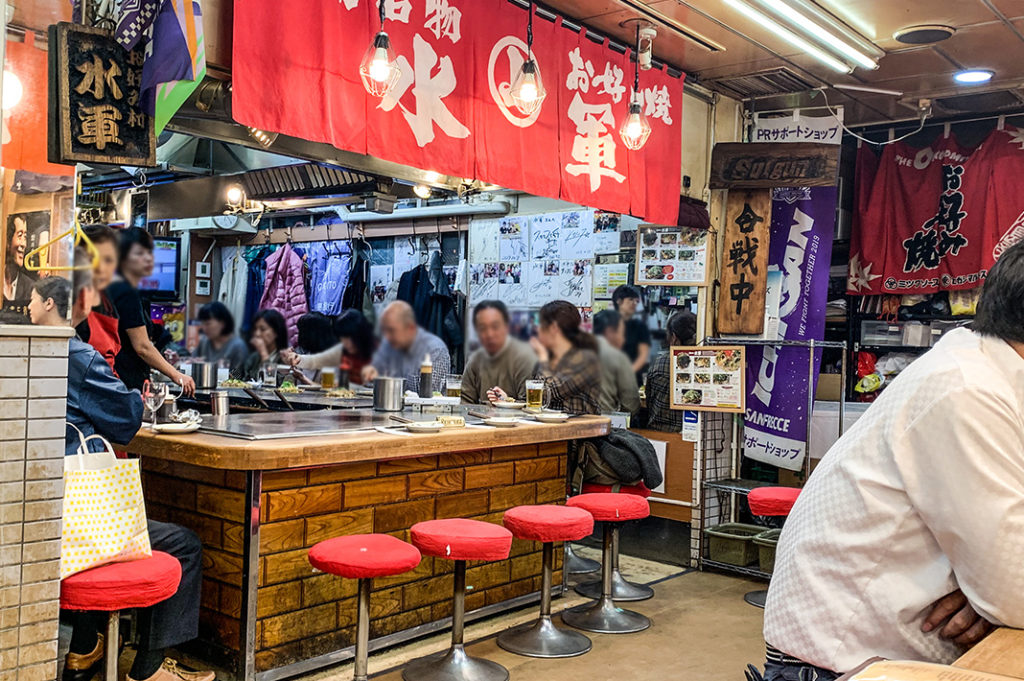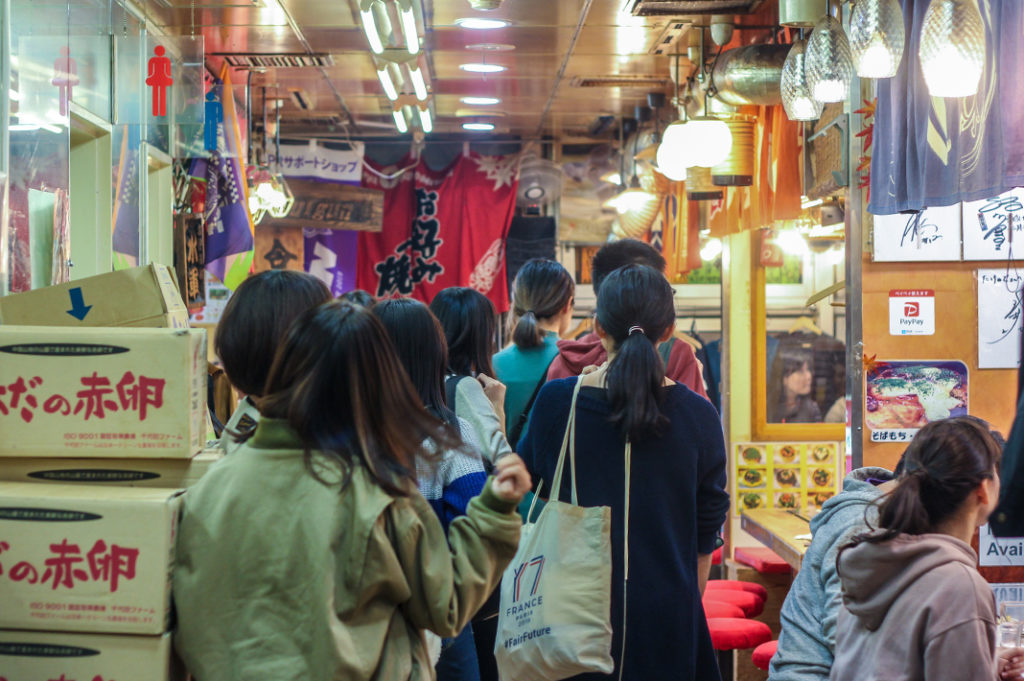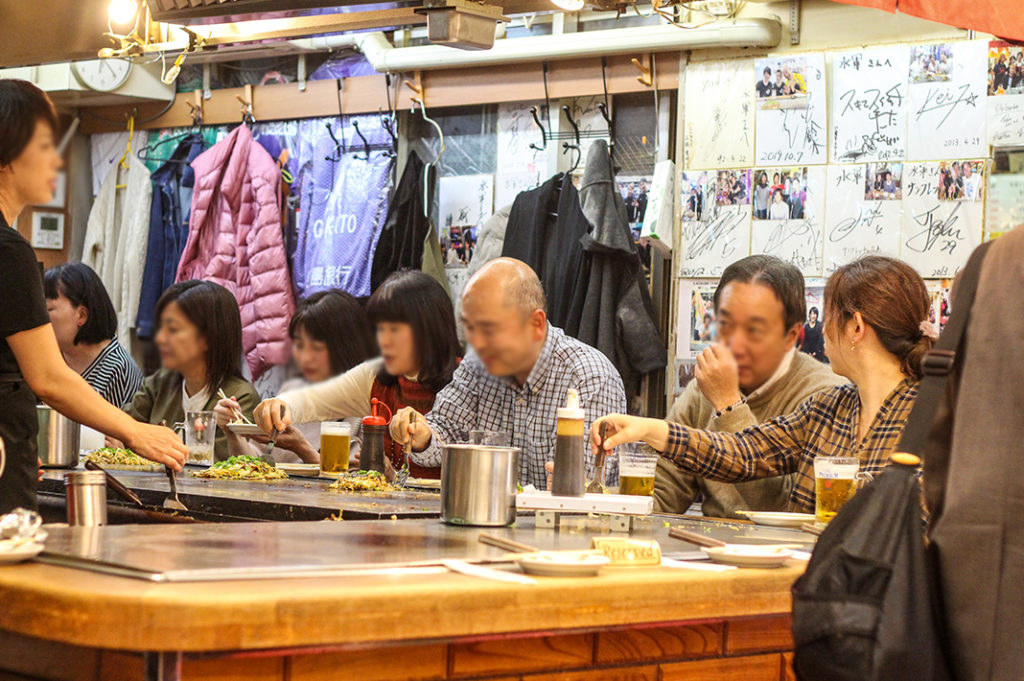 What they all have in common, though, is a sauce unique to the restaurants of Okonomimura, supplied by local condiment company Sun Foods. It's tasty, no question. But there is an important question…should you go the original or the spicy sauce? I'd recommend trying both.
With all this new knowledge, all that's left for you to do is to grab yourself a seat at the teppan, cheers your neighbours and enjoy the show. We should also mention that Okonomimura is tourist-friendly; English menus—or at least picture menus—should be no problem there.
Trying Hiroshimayaki Elsewhere
Even though Hiroshima is the home of hiroshimayaki, there are plenty of places you can try it around Japan. Some okonomiyaki restaurants serve the Hiroshima version, but there are plenty of Hiroshima-style specialists around, too. One to look out for in Tokyo is the chain called "Hiroki."
Getting There
Okonomimura is a three-minute walk from the Hatchobori stop on the Hiroden streetcar. Or, if you're on the bus, it's a 12-minute walk from the Hiroshima Bus Centre. Look for the staircase with a bunch of lanterns hanging above it. 
Address: 5-13 Shintenchi, Naka Ward, Hiroshima, 730-0034
Open: Each shop has different hours 
URL: http://www.okonomimura.jp/foreign/english.html
Post by Japan Journeys.