Whenever someone visits Tokyo, I'm quick to recommend slotting Yoyogi Park into their Shibuya or Harajuku plans. I'm convinced there's no better tonic for the weary urban traveller, particularly when the sun is shining. Now, I know what you're thinking, you've seen one park, you've seen them all. But I'll wager that you'd change your tune after a visit. On paper, Yoyogi's size doesn't quite compare with some of the other big hitters, but it does have a relaxed and welcoming vibe that I've yet to experience elsewhere. It's a proverbial watering hole, attracting all walks of life. And what you'll find there is a cross-section of Tokyo's population at their happiest.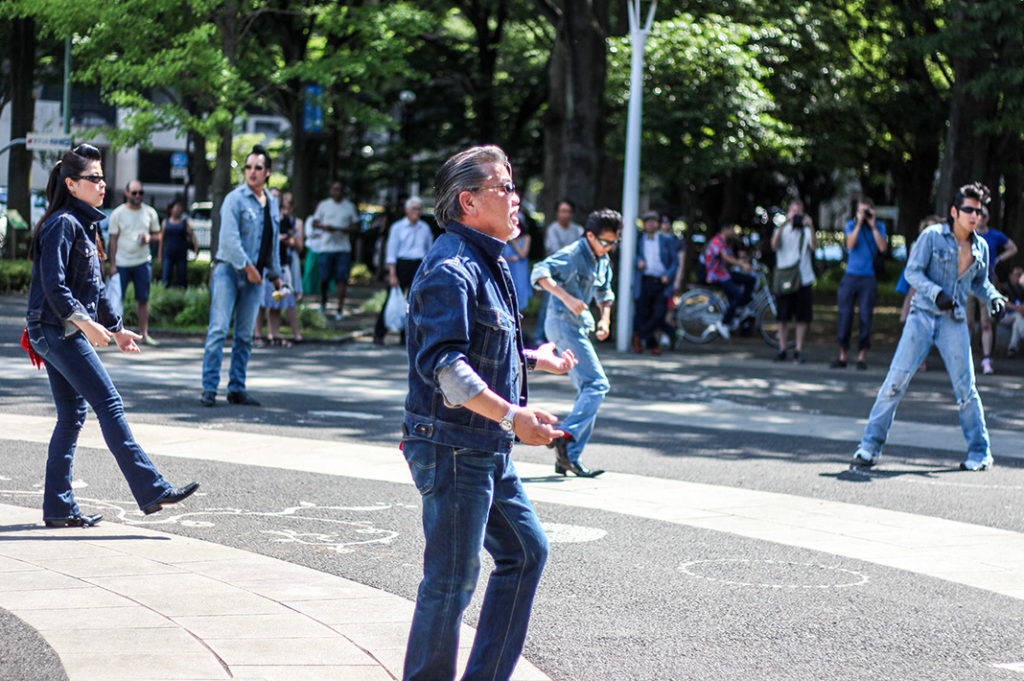 Rock on down
For me, Yoyogi is a great place to catch up with friends every now and again, though there are some who make it a more regular thing. For instance, visit on a Sunday and you'll see the iconic Rockabilly dancers twisting and bopping over near the Harajuku entrance. Denim-clad with taped together shoes and towering pompadours, this crew have been dancing for kicks every week for around two decades. I first saw them in 2003, but who knows how much longer they've been jiving away.
Once you tear yourself away from the dancers and make your way inside, you can start to explore the 540,000sqm park, bustling with all kinds of people doing all kinds of things.
All about leisure
The sprawling grass lawns of Yoyogi Park (not as common as you'd think) are the perfect place for picnics, reading and playing games like frisbee and soccer. Not to mention bubble blowing and flag-waving. I've seen artists drawing, teens filming music videos, EDM dance troupes and countless other hobbies brought out into the light.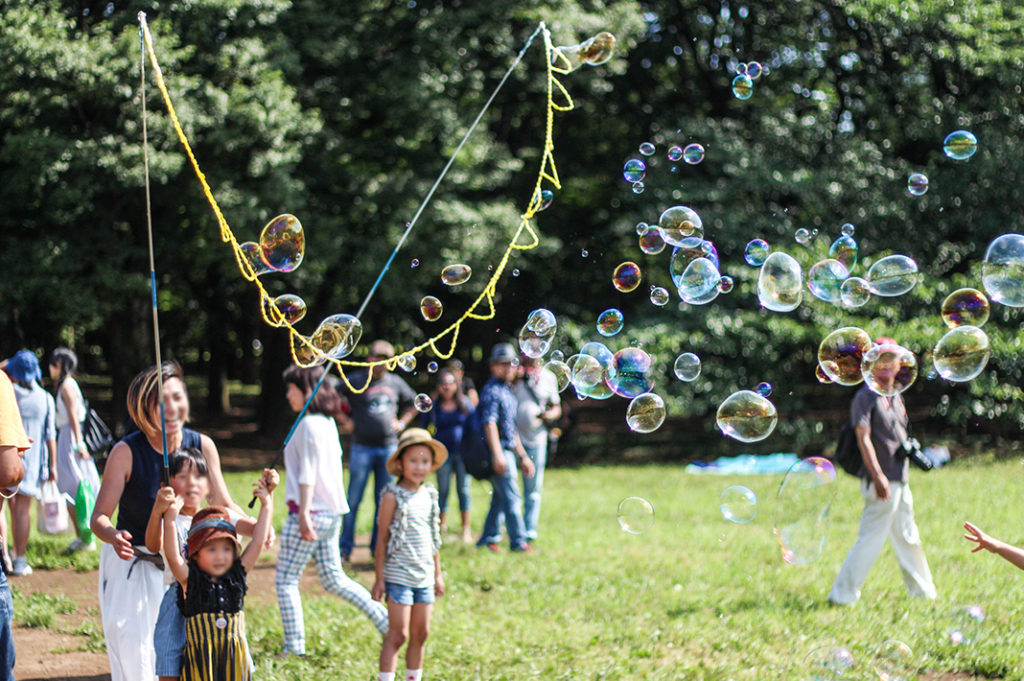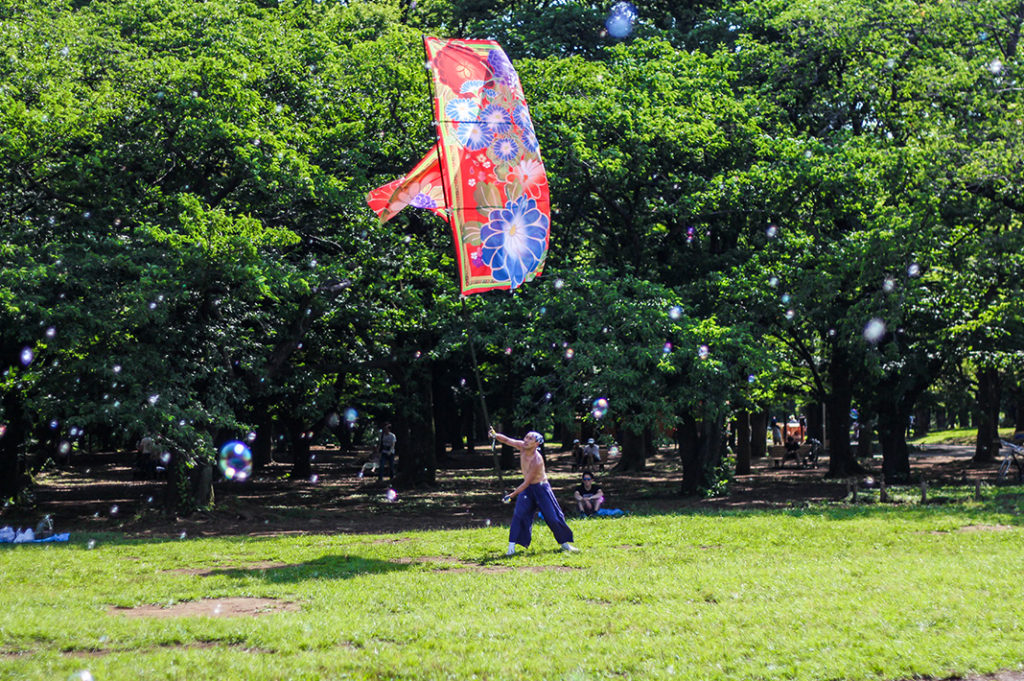 Those looking to practise their saxophone or violin in private tend to head for the more forested areas, though their music often carries over for those nearby to enjoy.
Around all these grassy areas are a network of paths, upon which you'll see runners and cyclists enjoying some exercise. There is even a dedicated cycling course with a bike rental facility for kids, adults and tandem bikes.
When I'm in need of a pick-me-up, my go-to spot is the dog run, where you'll see some of the most well-loved and well-dressed pooches in Tokyo. They're a lot of fun to watch as they bound and bark as dogs will. Their wild canine personas quickly disappear on the way out, as they get cleaned up with wet wipes and have their hats and sunglasses reattached.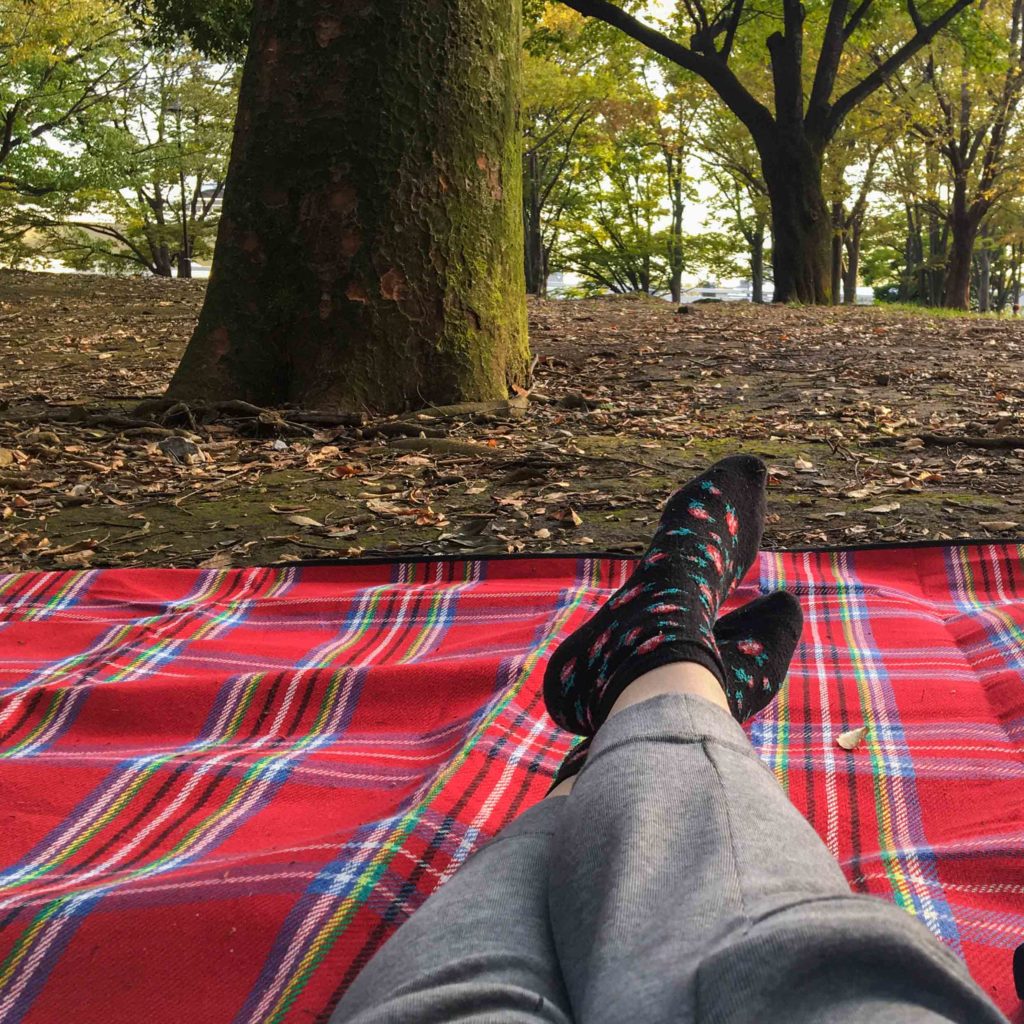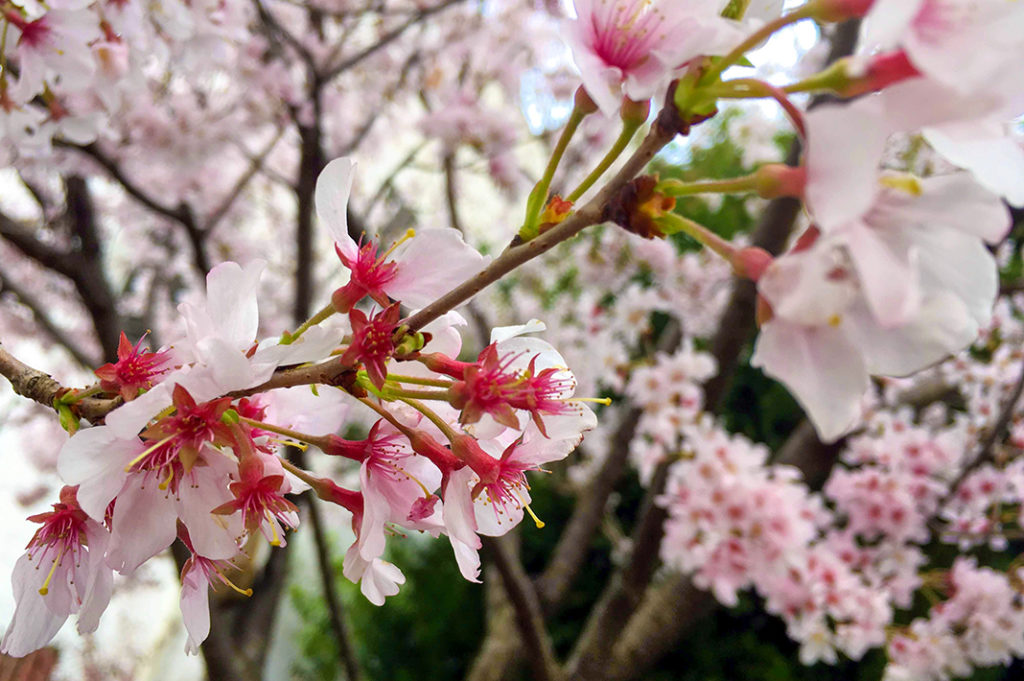 Beautiful Nature
All the people and dogs are great and all, but nature is the real star here. The grassy lawns are complemented by large ponds, a bird sanctuary and an abundance of trees. Though fairly small, the cherry blossom garden is, without fail, packed with picnickers in Spring. And from September to November, Yoyogi park is a vision of Autumn. An afternoon stroll through the Gingko forest, as the yellow leaves flutter down through the sunbeams to blanket the ground, is a magical experience.     
But wait, there's more?
The park continues to the south, across the main road and towards Shibuya. This side is more reserved for sports inside the stadiums and fields, as well as weekly and annual events. Farmer's markets and flea markets happen regularly and if you're lucky, you might catch a food festival, St. Patrick's Day, Pride Festival or any of the other themed events. Fair warning: these events can get pretty busy!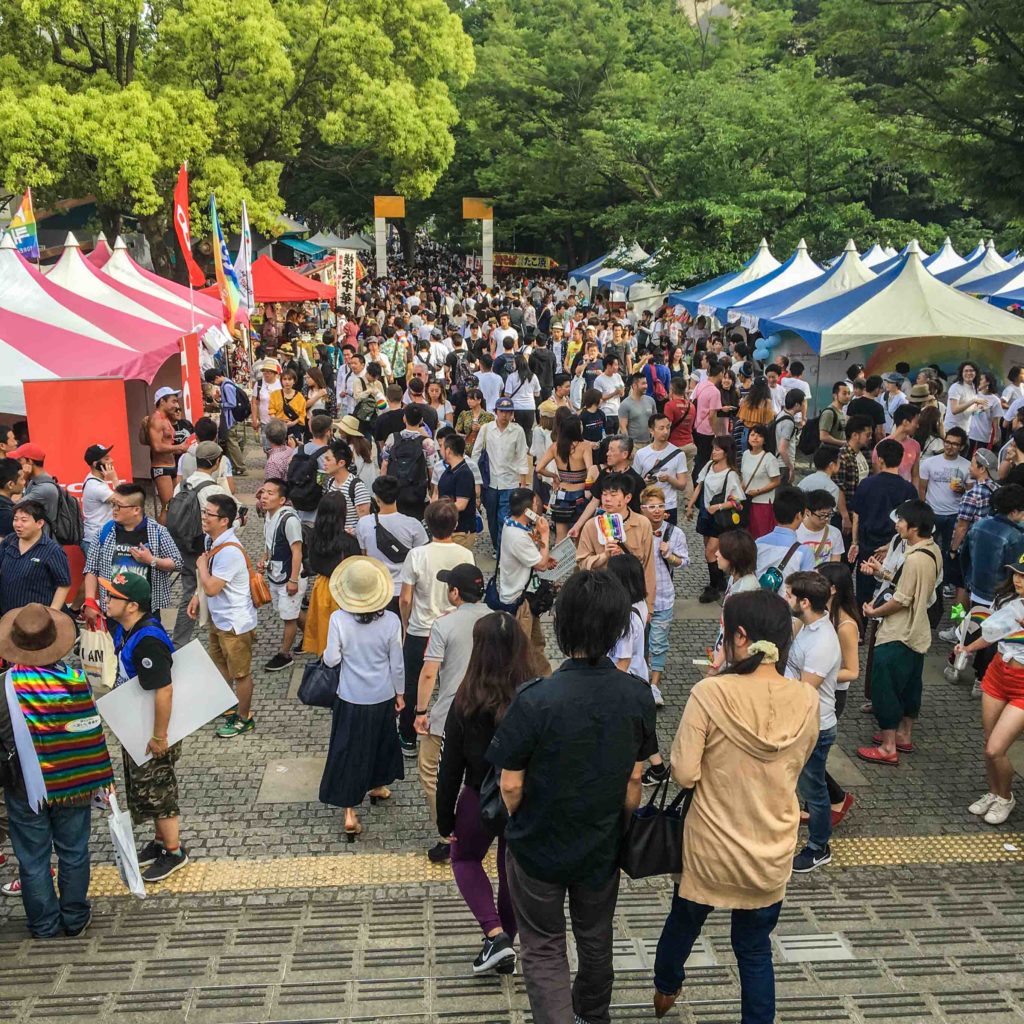 The ghosts of Tokyo past
While laying on your picnic rug, have a think about Yoyogi's former lives—as it wasn't a public park until 1967. Originally, in the early 1900s, this was military land and the location of the first successful powered aircraft flight in 1910. Years later, during Japan's occupation by allied forces, the US military turned the grounds into housing for their personnel. It saw another change in 1964 when the area became the Olympic Village for the 1964 Tokyo Olympics.   
Across all iterations, Yoyogi Park has been here to serve the city and people well. These days, it's where you go for some fun in the sun, forest bathing and to re-energise your travel-weary soul. Make a point of visiting on your next trip to Tokyo, I know you won't be disappointed. 
Getting to Yoyogi Park
Yoyogi Park is located right next to Meiji Jingu Shrine and near the bustling Shibuya, Harajuku and Omotesando; it's the perfect accompaniment to any of those destinations. It's a mere 3 minute walk from JR Harajuku Station (Yamanote line), Yoyogi Station (Chiyoda line), Meiji Jingumae "Harajuku" Station (Chiyoda and Fukutoshin Lines), and 6 minutes walk from Yoyogi Hachiman station (Odakyu Line).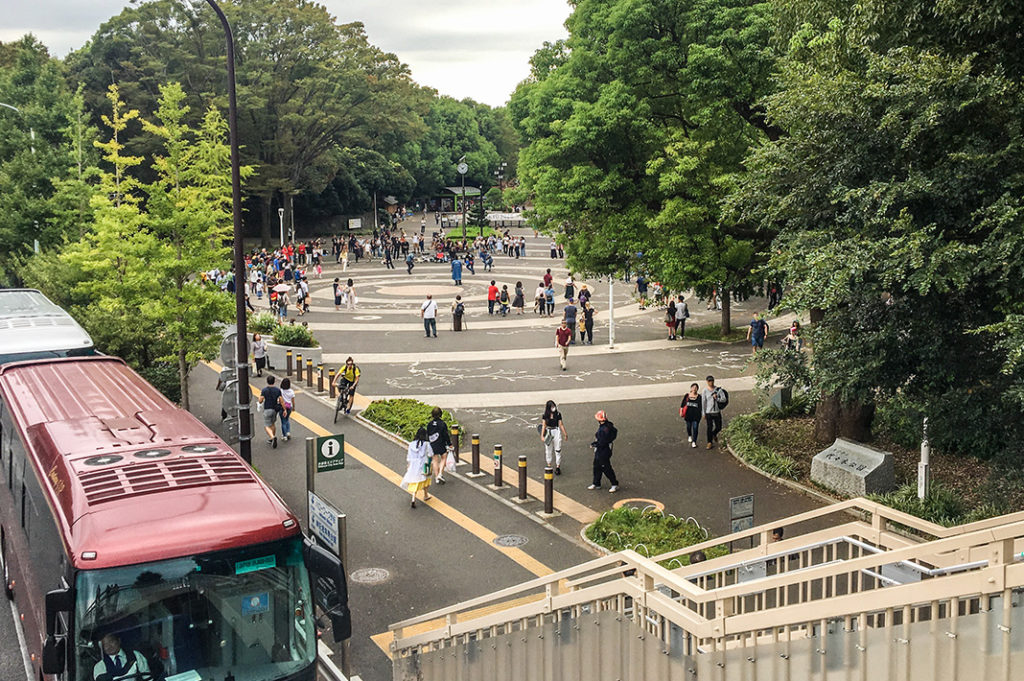 Yoyogi Park
Address: 2-1 Yoyogi Kamizono Cho, Shibuya City, Tokyo 151-0052
Open: 24 hours
URL: click here
Post by Japan Journeys.