Looking for a short walking route in Kyoto that will give you real time chills and great photo opportunities? Look no further. We've put together a fabulous walking tour that winds through Kyoto's Gion district and finishes at the Kodaiji Temple complex. All up it's around 3km walking one-way. Though once you see how many charming streets there are to explore, you'll no doubt wander a bit more than that. We estimate this to be a half-day journey, but it all depends on your walking speed, whether you stop for lunch and how long you stay at each attraction. You can follow along with the route here.
Starting at Gion-Shijo Station, let's head straight into Gion—Japan's most exclusive geisha district. Many of the areas you'll be walking through on this tour are national preservation districts, which means you'll see plenty of traditional architecture, cobblestoned streets, machiya townhouses and chaya teahouses. In other words, get your camera ready.
Chugenji Temple
From Gion-Shijo Station, head up Shijo-dori towards the mountains, keeping the road on your left. Just after the first traffic light, there is a small Buddhist Temple tucked in between a few shops. Take a few steps into the tranquil courtyard and you'll feel as though you've wandered miles from the busy road. In here, your eye will no doubt be drawn to a bright display of paper cranes surrounding a stone statue. This is the guardian saint (jizo) who is enshrined here and who locals pray to. Originally 'Ameyami Jizo' (the rain stopping Jizo), today he is better known as the 'Meyami Jizo' who cures eye-related ailments.
On my visit, I thought about praying for the rain to stop but then noticed how pretty all the umbrellas looked in my photos and kept kept walking.
Shirakawa Canal and Gion Tatsumi Bridge
As you catch your first glimpse of the Shirakawa canal, you'll understand why I included it in the tour. This area, with its tree-lined paths and flowing canal is always picturesque but especially so of an evening. The soft lantern light adds a dreamy, romantic air to the scene.
Follow along until you reach the Gion Tatsumi Bridge. Said to be the most picturesque bridge in Gion, this spot is never without a scattered gathering of people trying for photos. There's certainly no denying its charm! Across from the bridge is the tiny Gion Tatsumi Shrine with a beautiful old gnarled tree dominating it's space. This shrine was reputedly built to stop the cheeky tanuki (raccoon dogs) from causing people to fall into the river. If the coast is clear of tanuki, continue onward.
Shijo-dori and Yojiya
Shijo-dori is the main thoroughfare of the Gion area and the place for shopping and souvenirs. Hunt down the most delicious traditional sweets or the most stunning trinkets like elegant hair combs or cosmetics.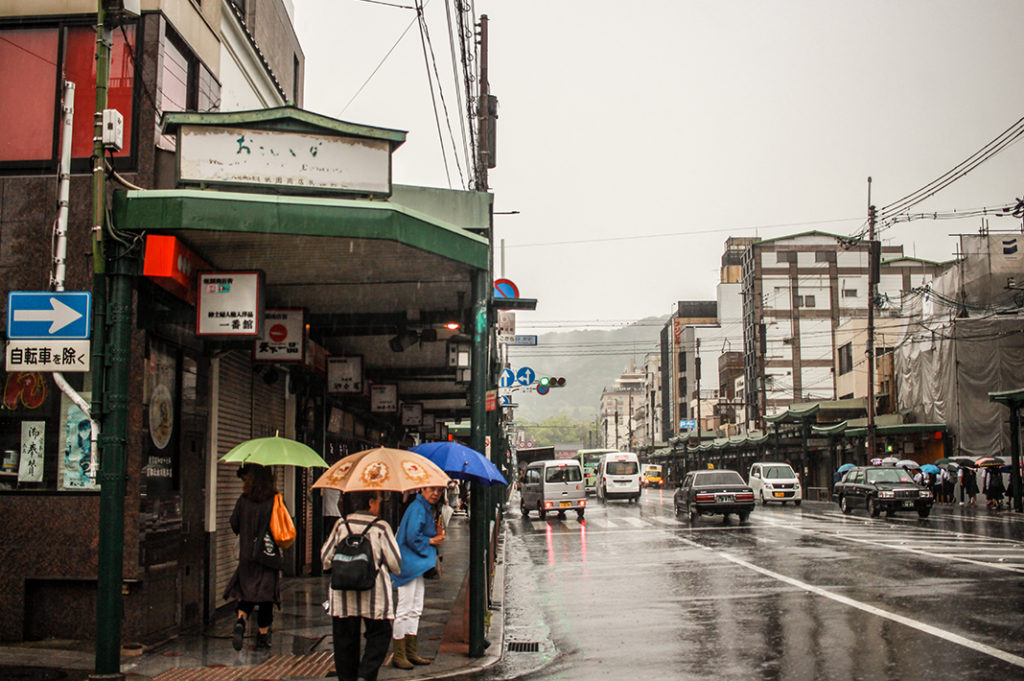 If you only have time for one shop, visit Yojiya. Founded in 1904, this cosmetics brand is a household name. Their flagship product is their facial blotting paper—the perfect light-weight souvenir to take home. Take some time enjoying the shops along Shijo-dori, but slowly make your way towards the large shrine standing tall at the end of the street.
Yasaka Shrine
Yasaka Shrine is one of the most beloved in Kyoto—nay, Japan—and a hub of activity during the annual Gion Matsuri (Festival). In fact, people have been travelling from far and wide to visit Yasaka shrine for over a thousand years. Which is how the surrounding area came to exist; the influx of worshippers lead to the construction of hospitality and accommodation businesses, and the rest is history. The main gate makes for a pretty picture, but there is much more to see inside! Best of all, the whole place is beautifully illuminated at night and open 24hours for an evening stroll or early morning prayer.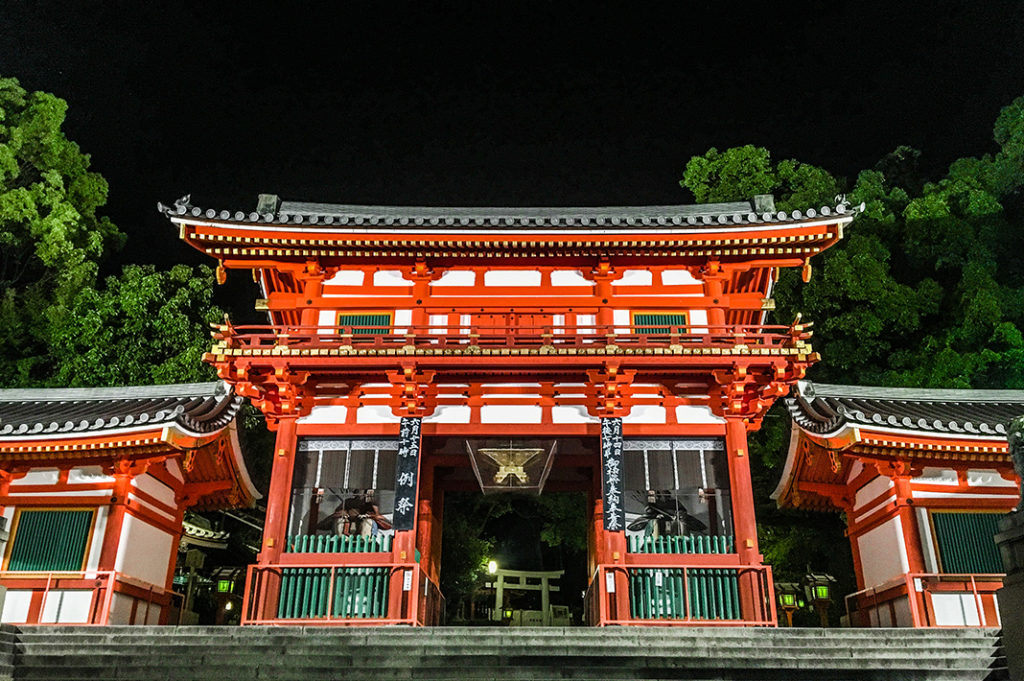 If you're looking for a lunch stop, try the nearby Oagari Okonomiyaki for some authentic Kyoto-style fare. Read more about what you can expect from the experience here.
Gion Kobu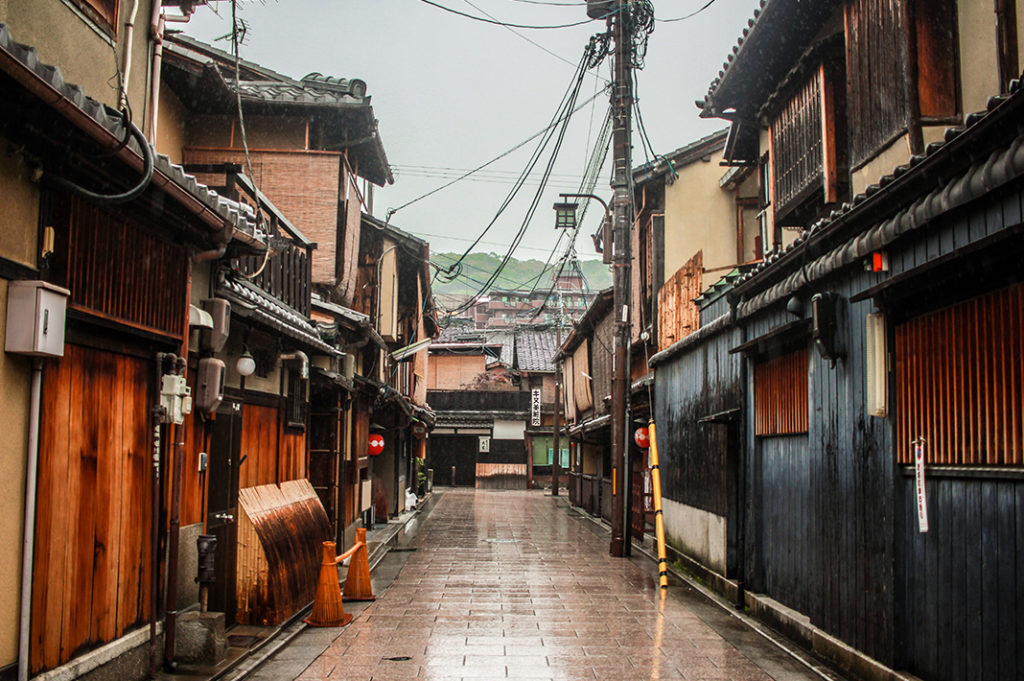 Meander back down Shijo-dori, taking a left at the famous Hanamikoji Street. A stroll through this part of town is equal parts calming and exciting. The natural textures and traditional styles serve to transport you back in time. Though don't be surprised if you see a geisha or maiko in the area, it is indeed still very much an active geisha district today!
Our next stop is at Gion Corner. This classical theatre is a point of interest as it has cultural performances nightly at 6:00pm and 7:00pm. Think tea ceremony, bunraku puppetry, koto instrument performance but most notably kyo-mai dance by the maiko (geishas in training). This is where the local maiko brush up on their skills to further their careers. If you're interested, just be there half an hour before show time to grab your tickets. More information on their website.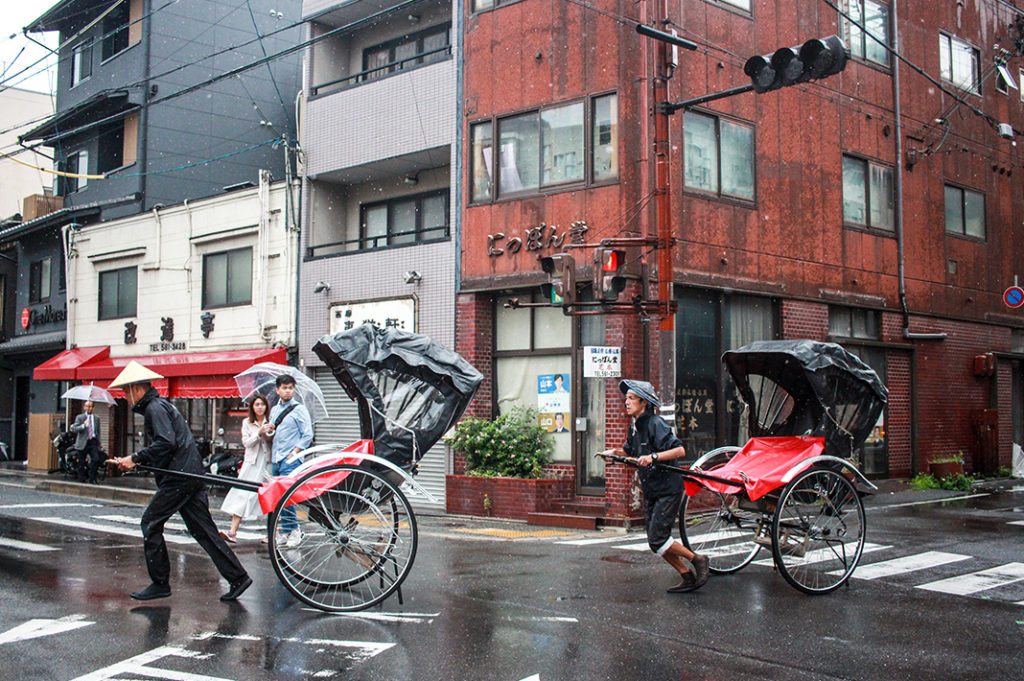 Ishibe-koji Alley
If you thought you'd already seen the most beautiful spots in Gion, strap in for the next level. The Ishibe-koji Alley is the most picturesque street in all of Kyoto, no question. Established in the Taisho Period (1912–1926), it was the place for the rich and famous to wine, dine and recline in style. The pedestrian-only alley winds from Shimogawara Street to Nene-no-Michi Lane and is flanked by stone walls, charred cedar buildings and lush greenery. The establishments here are still just as high-end as ever, featuring luxury accommodation, tea houses and restaurants. There is a definite air of exclusivity about it, with its high fences and curtained entrances, made no less evident by the 'no photography' signage. Trust that it will take your breath away and go there as soon as possible.
Kodaiji Temple
Once you emerge from Ishibe-koji Alley, head over to the Kodaiji Temple. Dating back over 400 years to 1605, it is an oft-overlooked spot in the Higashiyama area. This Buddhist Temple has a little of everything; a garden designated as a 'Place of Historical Importance and Outstanding Scenery' as well as a number of 'Important Cultural Properties' on site.
You can enjoy the dry rock garden, enormous weeping cherry tree, traditional tea houses and the lovely bamboo garden. If you happen to be going off-script from the tour and find yourself there of an evening, you can witness their special illuminations. More about Kodaiji Temple here.
Ryozen Kannon Statue
Across the carpark from Kodai-ji Temple is the Ryozen Kannon Statue—no doubt you've already spotted it. This 24m tall statue of Kannon, the Goddess of Mercy, gazes down over the complex with the lush Higashiyama mountains as her backdrop. It costs a few hundred yen to enter, but I'd recommend it. This temple is essentially a memorial for forgotten souls. Here you can pray for the souls of unborn babies, the Japanese who died in the Pacific War and the unknown (foreign) soldiers of World War 2.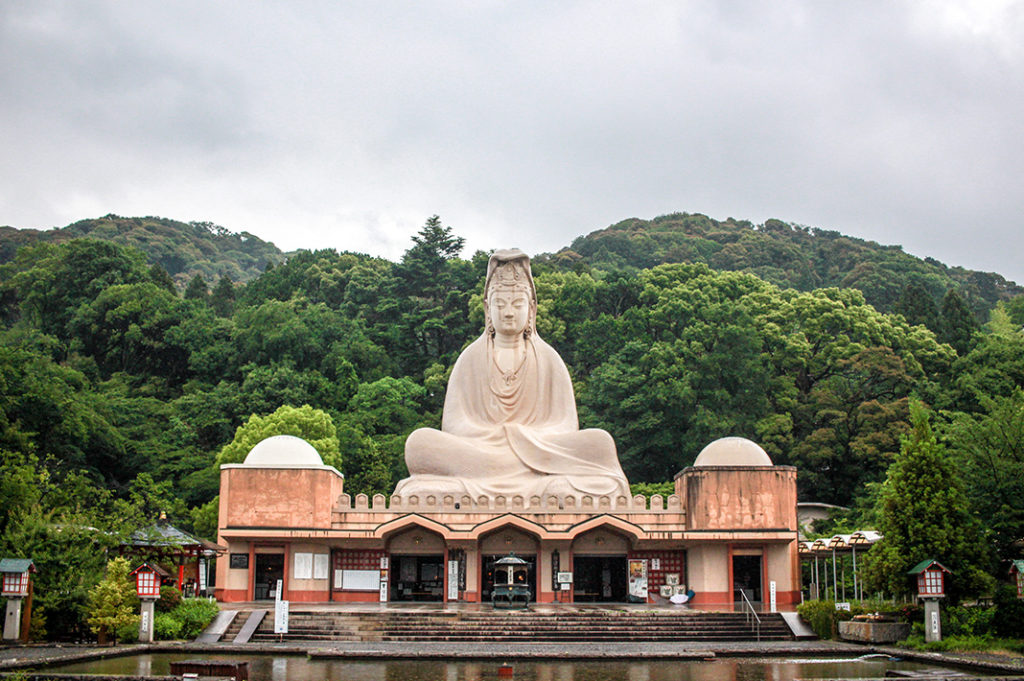 Get up close to the statue, rub the golden ball for good fortune or head inside the 500 tonne concrete and steel Kannon statue to see the twelve zodiac statues within. It's a unique looking complex which stands apart from many others in the area. More information here.
Finishing Up or Continuing the Walk?
From the carpark you can look out over the neighbourhood—a scenic view complete with an eye-catching Pagoda. If you've seen enough for one day, head back the way you came to Gion-Shijo Station which should take 15 minutes. But, if you still have some more energy, follow along with part 2 of the tour.
Post by Japan Journeys.