Wondering how to cool off in Japan's humid summer? Perhaps you're munching your way through a Japanese food checklist and hoping to try something new? Well, look no further than nagashi somen, or flowing noodles. This simple, refreshing summer dish is a tried and true way to cool down and, if you're in the Kyoto area, you'll find it in the shaded mountain village of Kibune. There, perched just above the river's surface, is a popular kawadoko (river dining) restaurant named Hirobun where you can beat the city heat and dine in style.
What exactly is Nagashi Somen?
Nagashi (referring to flowing) somen (noodle) is quite a simple premise, really. To start with, diners sit alongside a gently sloped bamboo waterslide.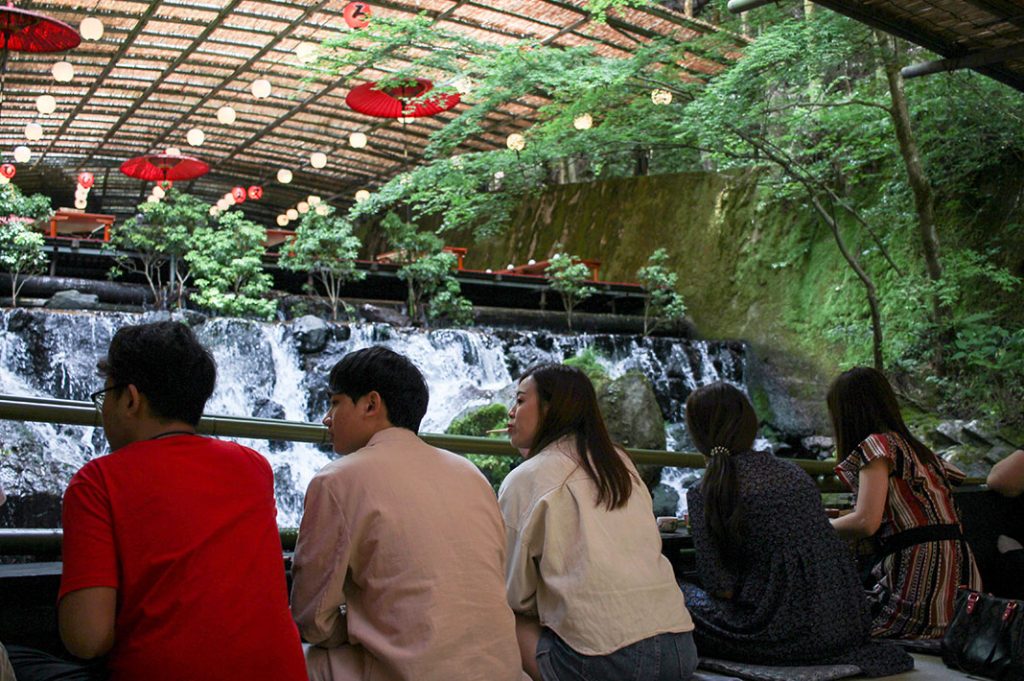 The chef, at the highest point, drops small bundles of cooked somen (thin, white, rice noodles) into the water where they float downstream to be deftly scooped up with chopsticks, dipped in a broth and promptly eaten.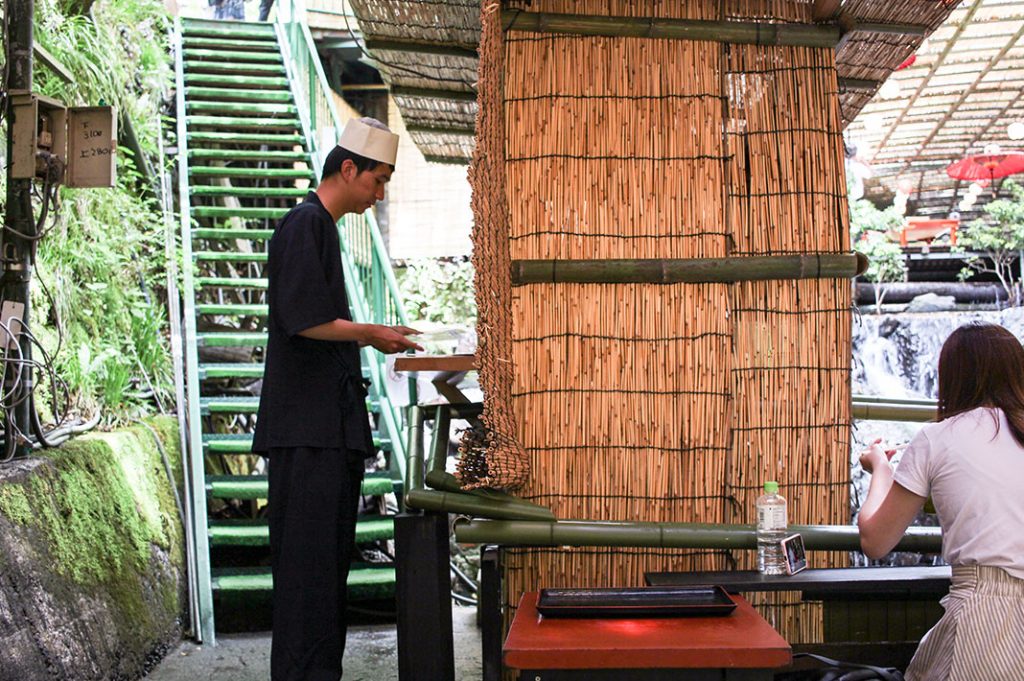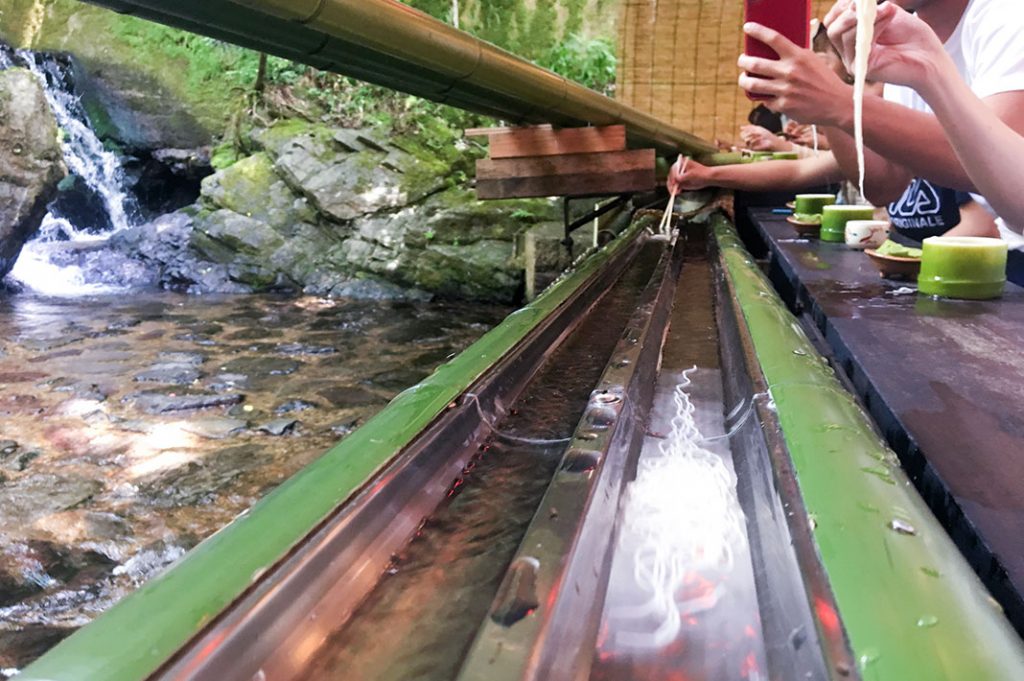 This style of dining has long been popular in Kyoto as a means of cooling down in summer. With nagashi somen, all components of the meal are chilled and refreshing: the water flowing through the bamboo, the noodles themselves and the tasty dipping broth. Nowadays when it's hot, we turn to air conditioners and hand-held electric fans, but there's no denying the effectiveness of old techniques: shade, water and cool food and drink.
Kawadoko river dining in Kibune 
Kawadoko river dining is another simple yet effective old-fashioned method of keeping cool. As the air temperature right above a river is naturally lower, and it's breezier, it was a stroke of pragmatic genius to try to put people there.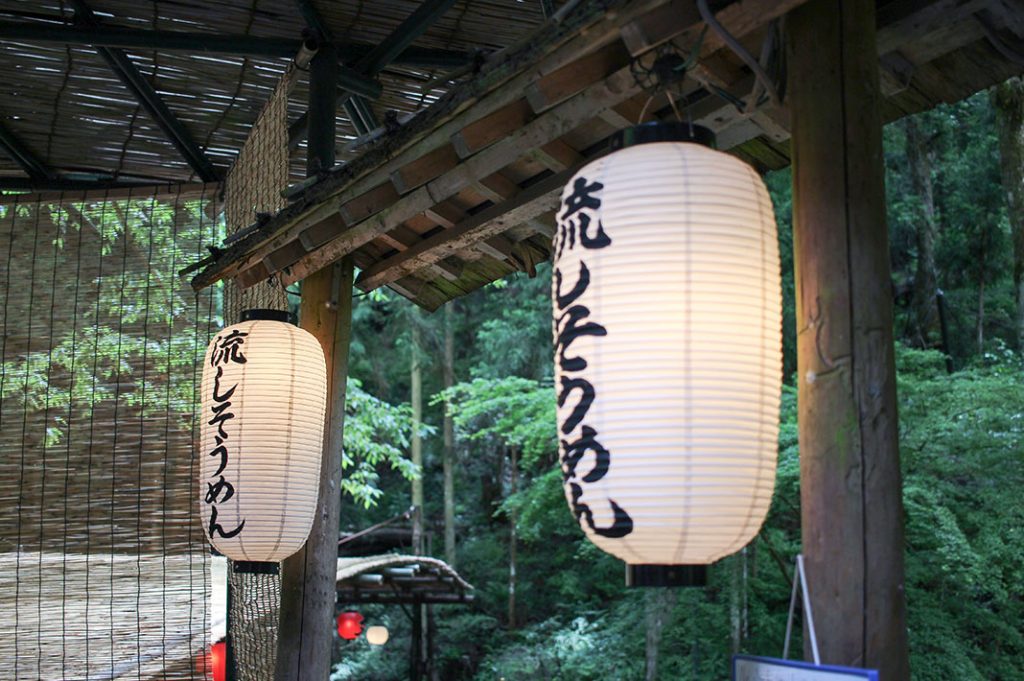 Some of the oldest kawadoko riverside dining in Kyoto can be found right in the city along the Kamogawa River. Though if you're looking for something a little more lush, head to the mountains north of Kyoto, to the small village of Kibune. The winding main street features a row of ryokan (traditional guesthouses) and restaurants on one side with the shady river on the other. Every summer, the restaurants construct platforms right above the water's surface for makeshift dining areas. Those looking to escape the heat need only make their way down to the river's edge.
Hirobun Restaurant
Hirobun's clever combination of kawadoko dining and refreshing nagashi somen sees it as one of the best lunch spots in town. Not to mention the price, low compared to the multi-course fancy menus at other establishments. For this reason, it is a little more laid back than other spots. To get there from Kifune Shrine (in the center of town), make your way uphill five minutes and you'll come across Hirobun on your right. 
After paying, I took my English instructions and reservation number/fan downstairs to the waiting area. As I descended, the river grew louder and the temperature dropped. The staff ushered me to the first waiting area where I could begin to enjoy the breezy benefits of kawadoko dining. 
The zen of kawadoko 
Sitting cross-legged on a wooden platform with the cool, rushing water of the Kibune River inches below, I was transported to another time and place. Above me, bamboo shading kept the sun out and paper lanterns swayed in the river breeze. To my sides, the deep, mossy embankment provided a natural refrigeration and the river's white noise brought a kind of zen calm over the group.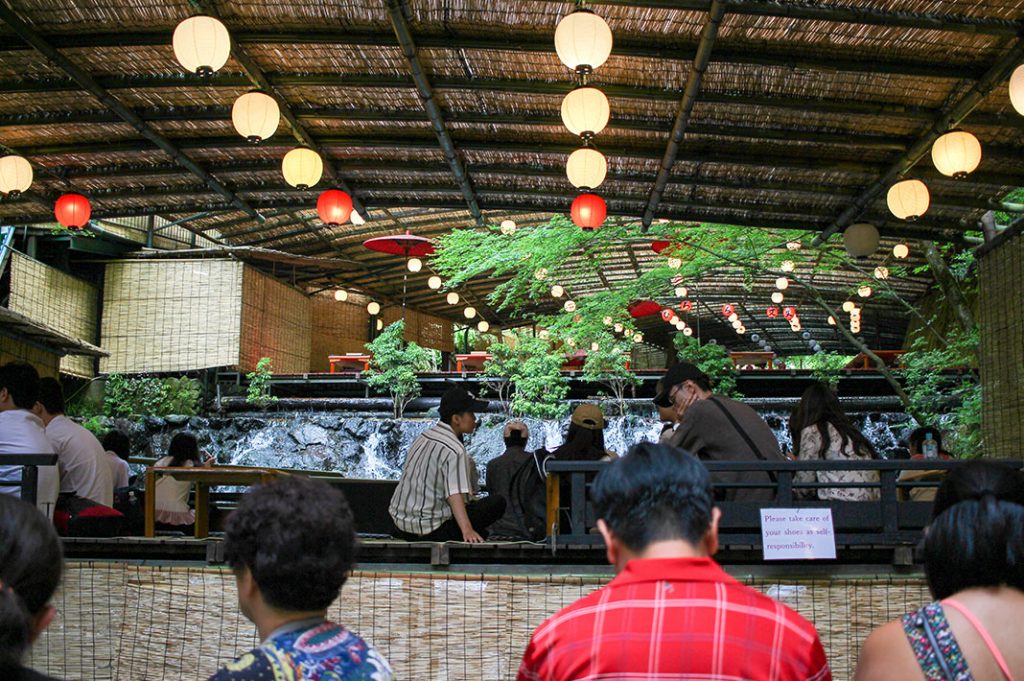 Before long, the staff called out my number, 'Ni-juu-baaan! Number Twenty!', and I was relocated up to the second waiting area. From here, I was close enough to observe the bamboo slide and hear the gleeful laughter, now audible over the rushing river.
The Hirobun system  
The place runs like clockwork; seats are filled, noodles flow for fifteen minutes then places are reset for the next wave of people.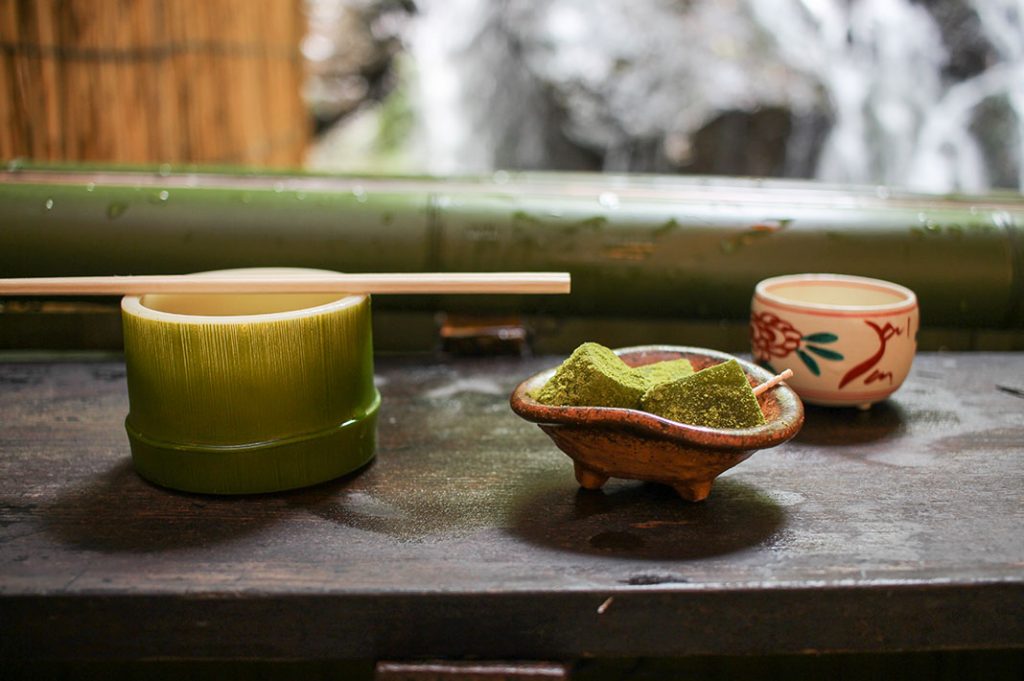 When I took my place (first in line next to the chef) I noticed that there were actually four bamboo tracks. Looking down the line, I could see that the staff had seated us in groups so we would each have our own track. As I was dining solo, I had a track all to myself. The group of three friends to my right shared the next track, receiving three bundles of noodles for every one of mine. 
Chopsticks At The Ready, It's Go Time
I only had a moment to enjoy (and photograph) my adorable place setting and the stunning view, before the noodles started flowing.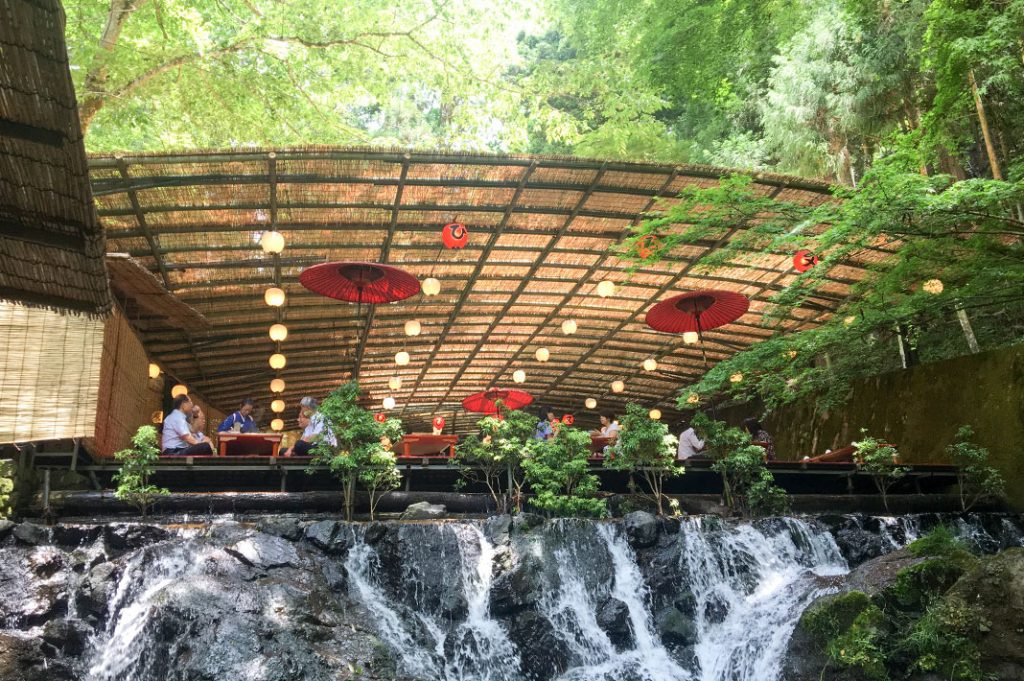 Hastily grabbing my chopsticks, I scooped up the first bundle, dunked it into the cool broth and enjoyed the refreshing taste of summer. The noodles, swimming in chilled water and soaked in savoury broth, made for a slippery, fresh combination.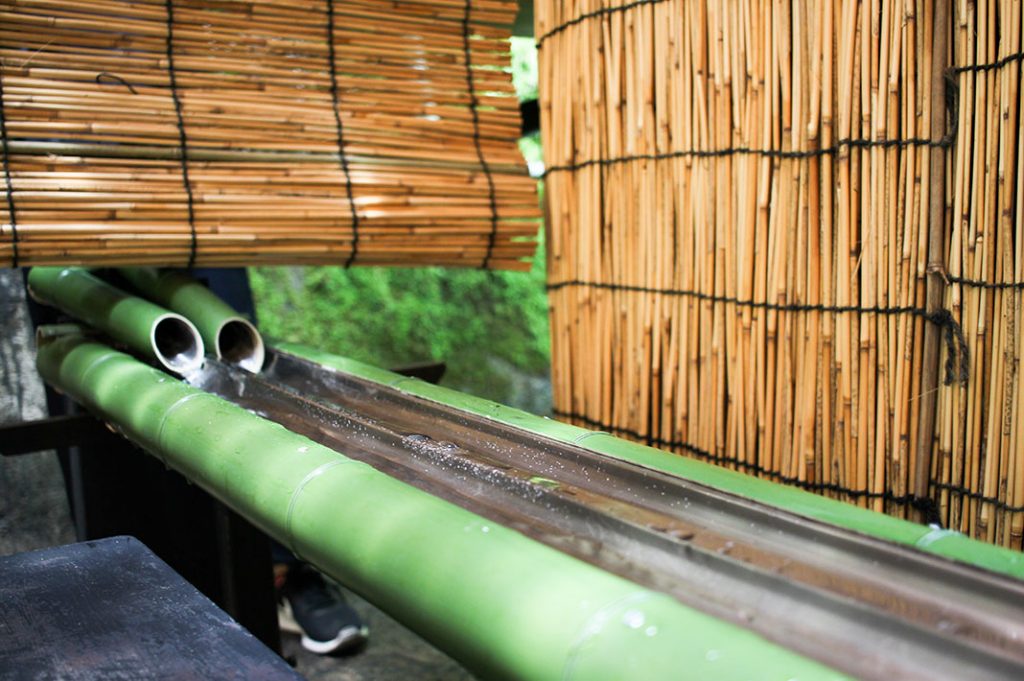 By the time I was finished that mouthful, another little bundle came floating toward me. And over and over again for fifteen minutes. It pays to be handy with chopsticks in this style of dining—not to mention good at paying attention. I sacrificed many noodles while taking photos. Well, sort of; I gave the signal to my neighbours to help themselves to any I missed, which they happily did. Despite missing a few rounds, I was still super full by the end. 
When the time allocation is nearly up, the chef will send down small pink bundles of noodles—shiso (Japanese herb) flavoured—to signal the end. From then, it's time to finish your tea and dessert and make way for the next group. 
Things to know before you go
I'd read that Hirobun started serving at 11.00am, so I arrived 20 minutes early to beat the crowd. However, there were already people eating, waiting downstairs and queuing on the street so I would suggest getting there even earlier to beat the crowds, particularly if you're hungry.
In the waiting area, you'll need to remove your shoes, so make sure you have socks. It's also worth noting that you may be sitting for some time on a hard wooden floor with only tatami for cushioning.  
How to get there 
Take the Karasuma Subway Line from Kyoto Station to Kokusaikaikan Station (around twenty minutes). From there, head upstairs to the bus area in search of #52 bound for Kurama (via Kibuneguchi). Ride the bus for 20 minutes, departing at Kibuneguchi bus stop. From this point, you can walk into town or take the #33 bus two stops (five minutes).
Details
Name: Hirobun
Where: 87 Kuramakibunecho, Sakyo Ward, Kyoto
Open: Nagashi Somen is May–Sept, every day from 11am–4pm (except if raining). Check the website closer to your visit. Across the street, the main restaurant is also available.
Web: https://hirobun.co.jp/
Post by Japan Journeys.