Touring Kyoto can be tiring business, which is why you need a comfortable place to rest your weary head. And while it's great to experience one of Kyoto's many historic Ryokan or converted geisha houses, they're not exactly the most cost effective option for a long stay. Fortunately, during my research for good-value, conveniently-located hotels in Kyoto, I came across Hotel Intergate. Recently opened in early 2018, the Shijo Shinmachi location was the first of four Intergate properties in Japan; others soon followed in Tokyo, Hiroshima and Kanazawa. With a busy four days planned, I was counting on Hotel Intergate to help me relax, unwind and refresh. Spoiler alert: it totally delivered.
Location
The Intergate Hotel at Shijo Shinmachi has a very convenient location. At just five minutes walk to Shijo Station (on the Karasuma Subway Line), you have access to Kyoto Station (2 stops, three minutes) or the northern mountain villages of Kibune and Kurama. It's also five minutes walk from Karasuma Station (on the Hankyu Kyoto Line), which gives you easy access to Arashiyama and the Gion/Higashiyama area.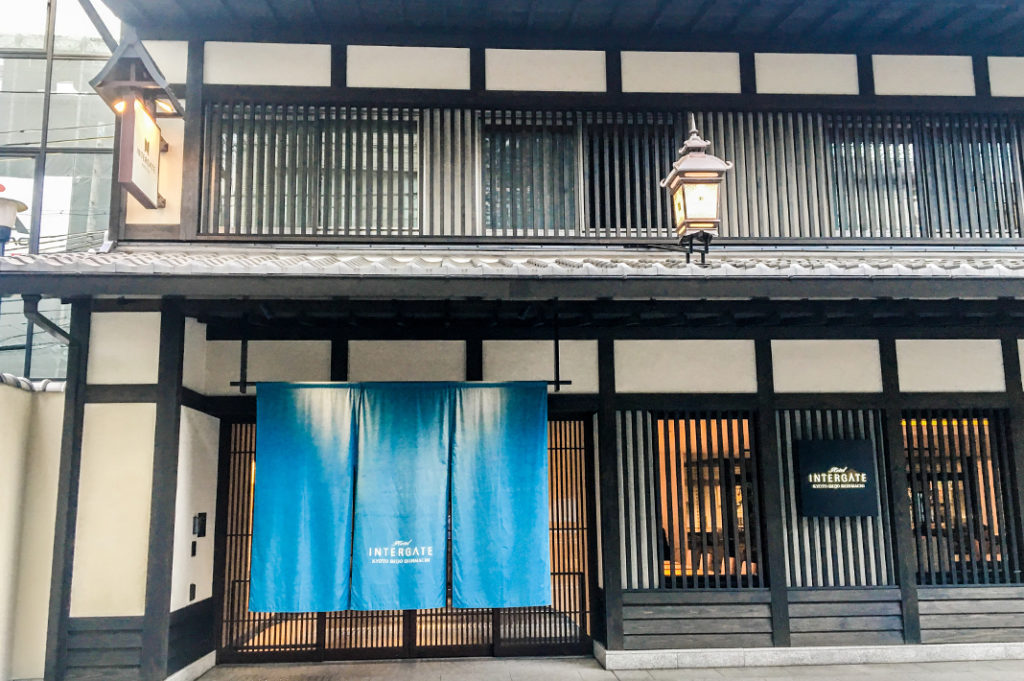 Just a few blocks away, you'll find Kyoto's famous Nishiki Market—the perfect place to grab a snack or two. After a long first day exploring Kyoto, I picked up some strawberries and tofu donuts en route to check in.
Service
At check-in, the staff guided me (in English) through the workings of the hotel before presenting me with an electronic room card. From there, I was directed to the self-check-in machines to complete my payment. After inserting the room card, I followed the English prompts and confirmed my dates and rates, then paid up. Throughout my stay, the staff were ever-present and ready to assist, like when I forgot the code to the communal bath, needed an umbrella for the downpour or my luggage stowed upon checkout.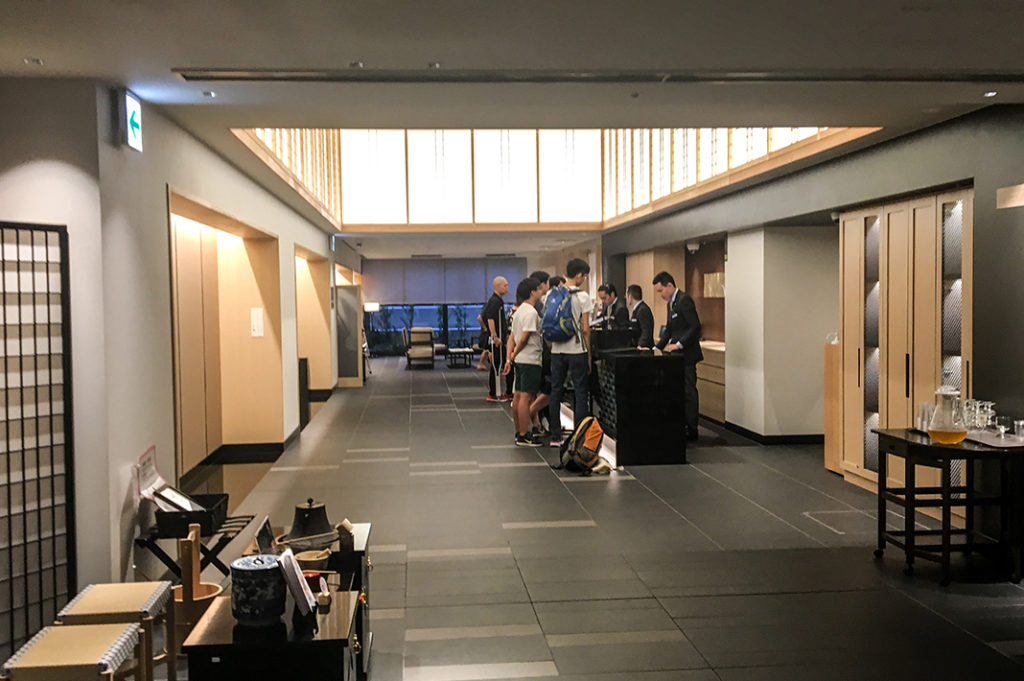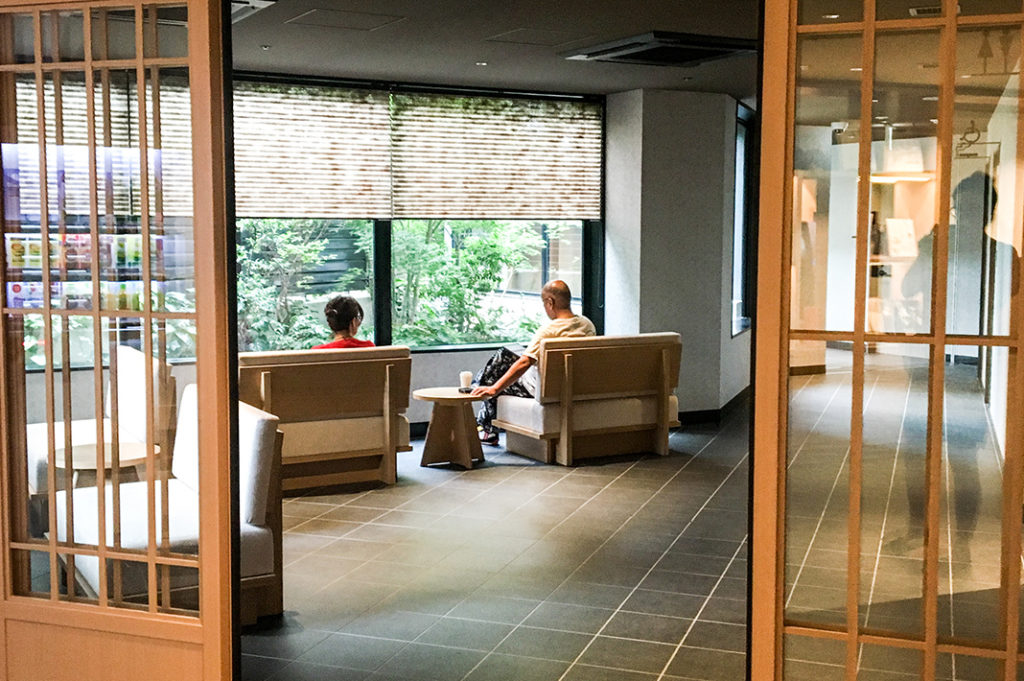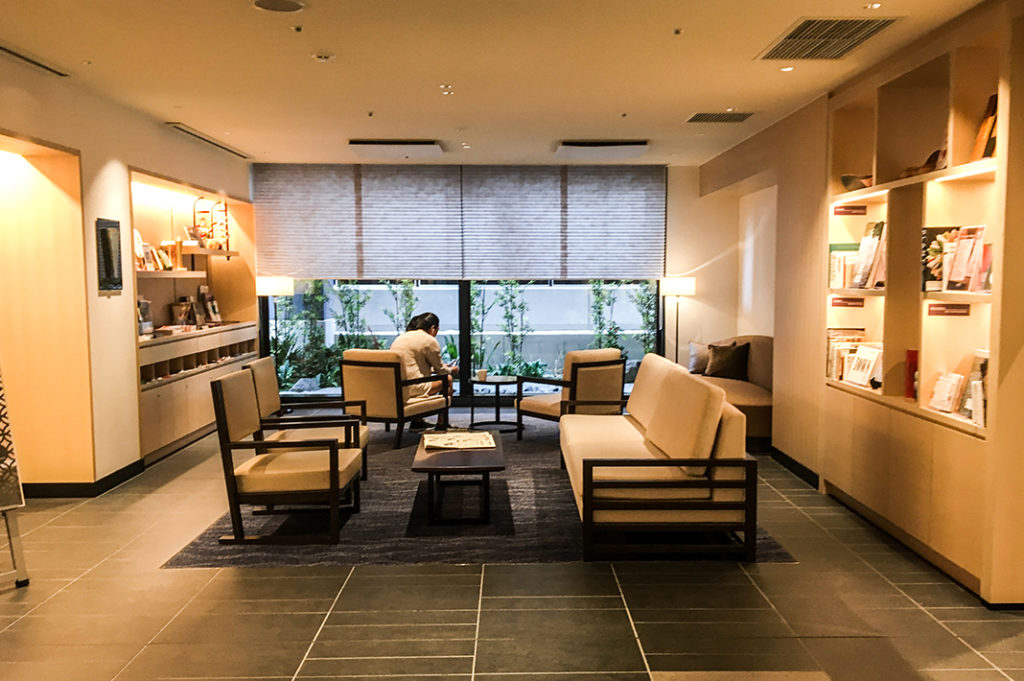 The Room
As expected, the room was spick and span with everything I could need and more.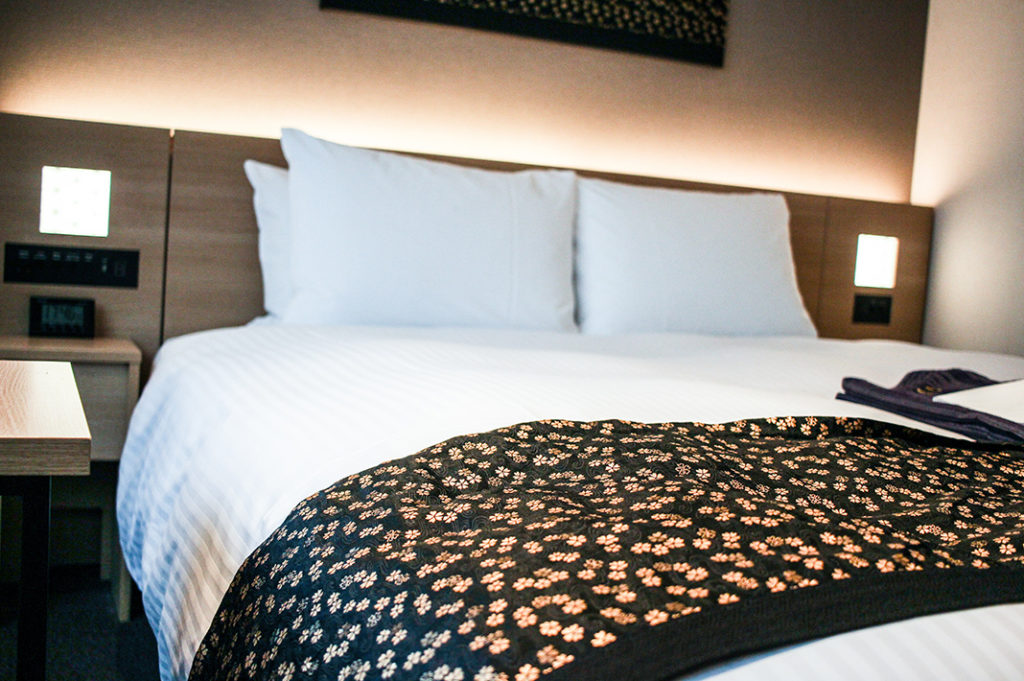 The plush bed provided restful sleep and was a great spot for mindless TV consumption and computer time. In the bathroom were all the toiletries I could have left home without. Of course there was also a small fridge for BYO drinks, a kettle for that much needed morning coffee and a secret hidden safe big enough for laptops and other items. It became my sanctuary at the end of each day, as I recapped my adventures and prepared for night-time explorations.   
Facilities and Atmosphere
As the property was so new, everything was perfectly clean and modern. The contemporary Japanese aesthetic featured many traditional elements like shoji screens, noren curtains and a rock garden viewing area. This coupled with the relaxed mood lighting made it feel quite cosy.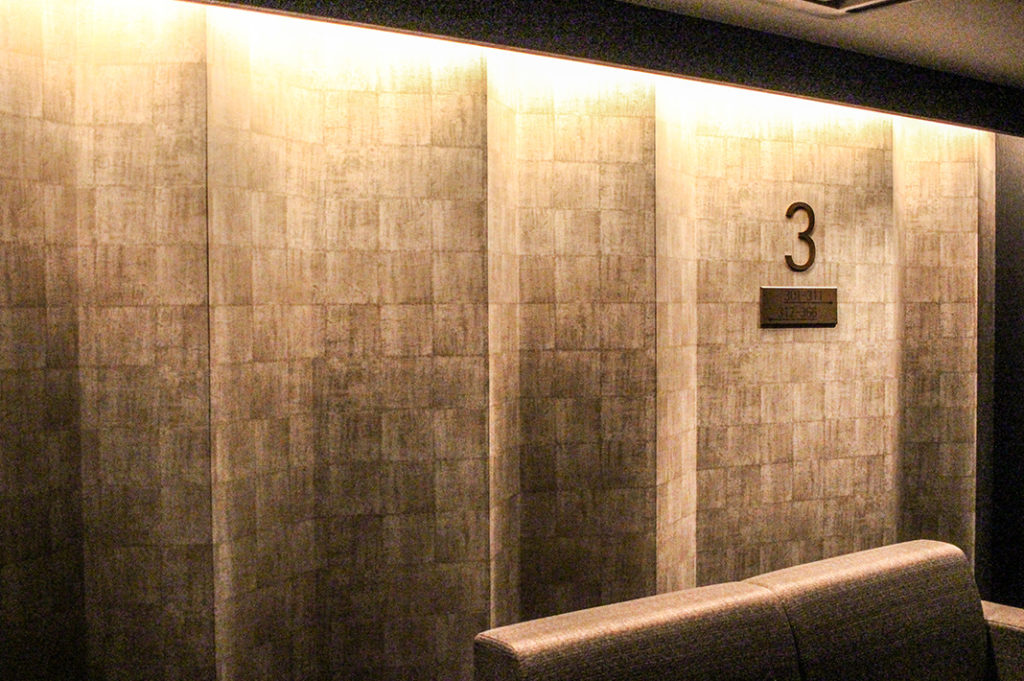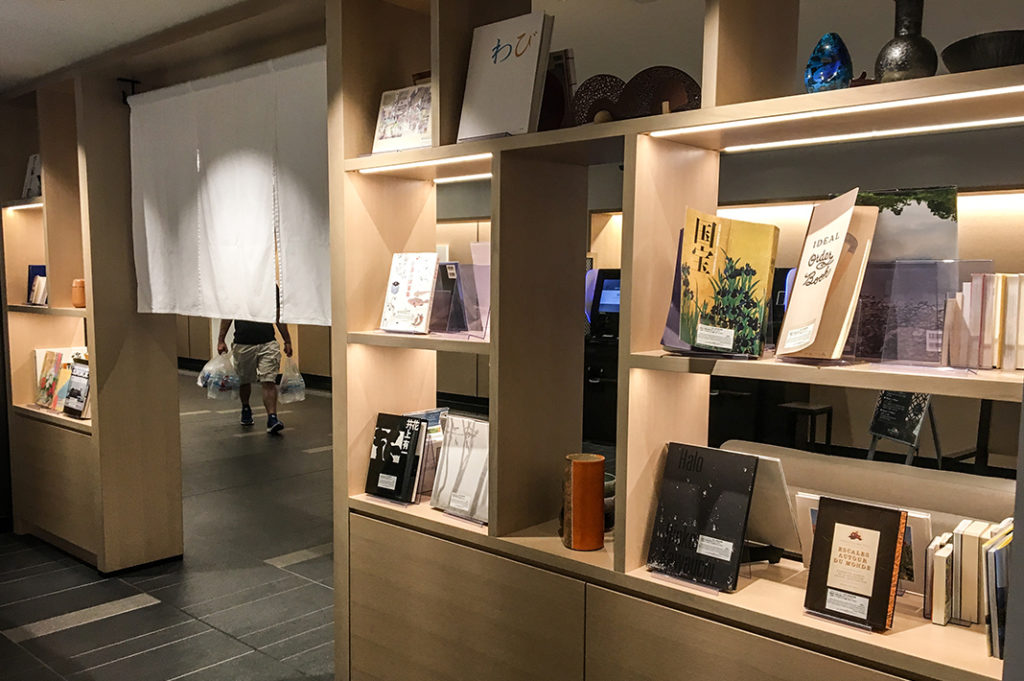 The hotel's 'Grand Bath' communal bath is a special treat just for guests—no strangers allowed. Upon check-in you receive codes for each day, but the front desk will happily help you if you forget, like I did. You can wear the traditional cotton pyjamas from your room down to the baths, which gives the place a real guest-house feel. Note: no tattoos are allowed in the communal bath.
Hotel Intergate Breakfast 
Being the most important meal of the day, the breakfast buffet was fittingly bountiful. As is common with many Japanese hotels, there was an interesting blend of both Japanese and Western dishes available. However, the Intergate menu is "vegetable rich" to deliver the most vitamins and minerals to their busy guests.
The continental corner featured cereals, pastries, fresh-baked breads and even a home-made butter. These paired nicely with the bacon, eggs and spanish omelette. There were stations to assemble your own miso-soup or season your own tempura—and that's not even half of it!
The dishes changed daily; the popeye cream spinach was replaced by a Naples inspired daikon radish dish which resembled a spicy bacon and capsicum pasta. I got my protein hit from the broiled fish of the day and enjoyed the colourful raw veggie sticks.
Last stop is the bar to pick up some juice, water or coffee. If you want your coffee to go, you can pour it into one of the take-away cups provided. Good news for non-guests, this delicious buffet is open to all! If you're in serious need of a healthy breakfast, head on over.
Intergate Events
The Intergate Hotel has a full calendar of cultural activities scheduled. Though I unfortunately missed every single one during my stay. Things like a Maiko performance, tea ceremony or painting. They cost extra to participate but are reasonably priced and in a super convenient location for guests.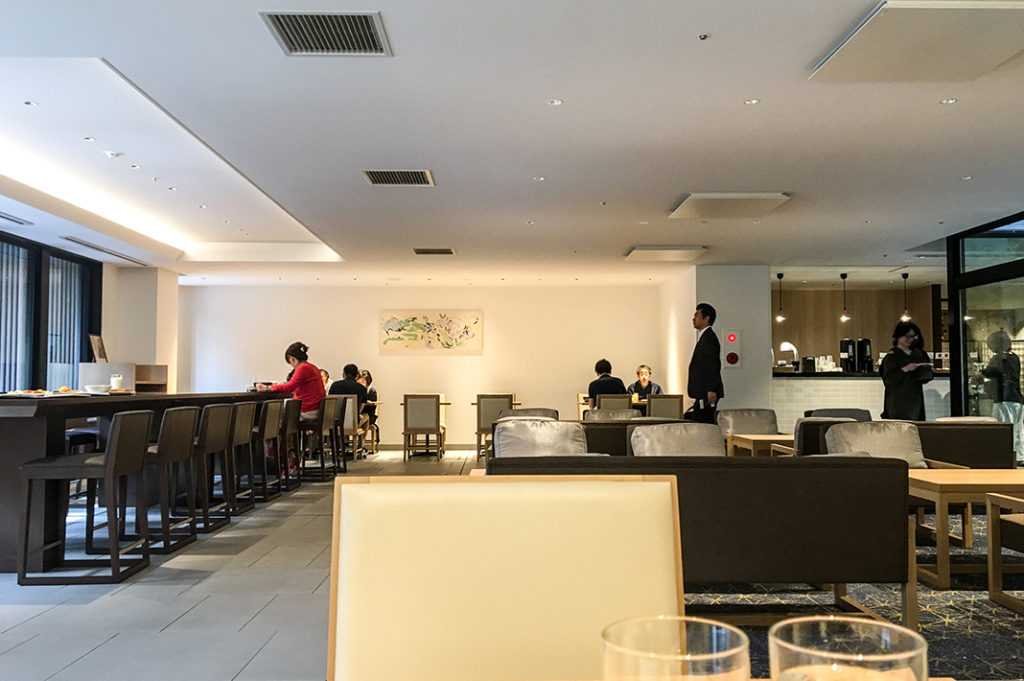 Each day, the Intergate Lounge (where breakfast is served) also provided a number of free drinks and snacks for guests. There are morning smoothies, midnight snacks and of course, happy hour. I was either out exploring or resting in my room, so didn't do much mingling, but I was tempted!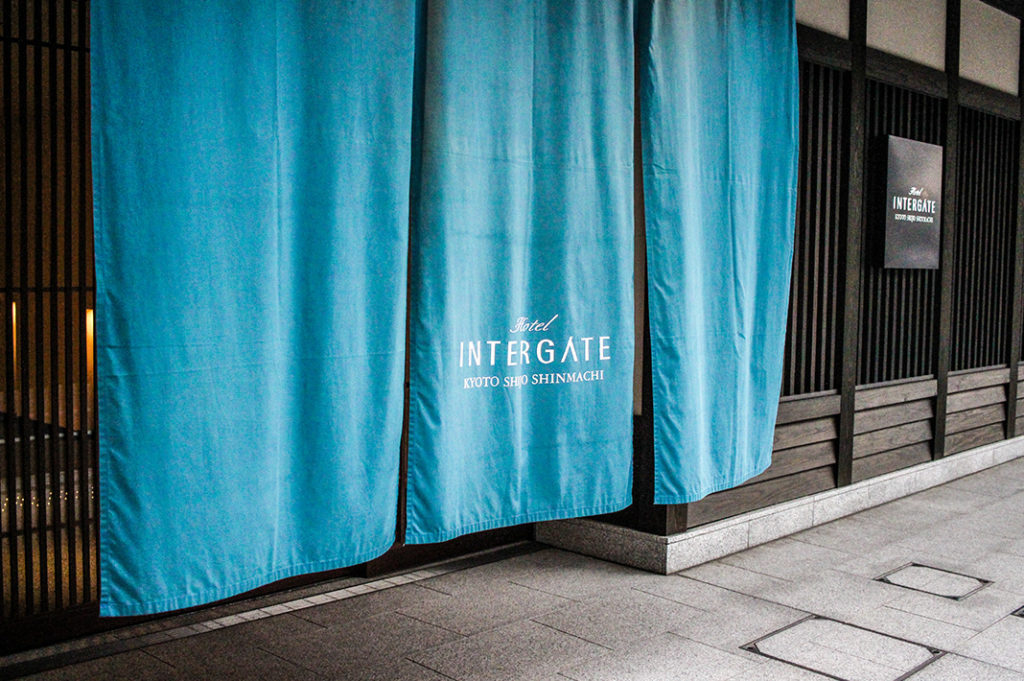 With such a busy schedule, Intergate Hotel was a beacon at the end of each day. I could soak the day away in a big hot bath, relax in my cosy room with the free Wifi and start each day right with a healthy breakfast. If you're looking for a conveniently-located and reasonably priced hotel in Kyoto, I would certainly recommend Hotel Intergate Kyoto Shijo Shinmachi.
Hotel Intergate Kyoto Shijo Shinmachi
Address: 387 Mukadeyacho, Nakagyo Ward, Kyoto, 604-8214
URL: https://www.intergatehotels.jp/en/kyoto_shijo/
Post by Japan Journeys.