Tired body? Looking for a break from the tourist crowds of Kyoto? A day trip to Kurama Onsen might be just what the doctor ordered. Located less than an hour from the city, Kurama is a rural, mountainous retreat, lush with cedar trees and flowing with natural hot spring waters.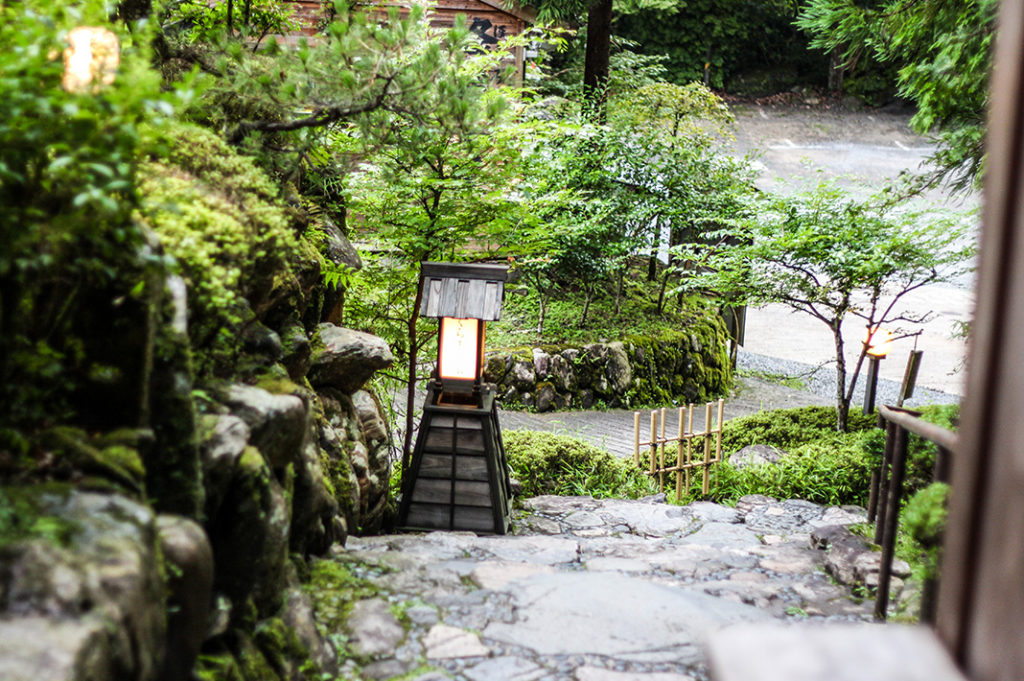 I've visited this onsen twice now; first as a relaxing afternoon activity and secondly as the finishing point of a hike from the nearby village of Kibune. Whatever the reason, it's a highly recommended way to practise self-care during your next trip to Kyoto. 
Accessing Kurama Onsen
Like I said, this is a day-trip, so allow around an hour to get there. From Kyoto Station, take the JR Nara Line to Tofukuji Station and transfer to the Keihan Main Line to Demachi-Yanagi Station. Next, take the Eizan Kurama Line all the way through to Kurama Station.
Once you arrive at Kurama Station, there should be a free shuttle bus awaiting every train to ferry guests over to the onsen. If you'd rather explore the quaint area between the station and your destination, it's a pleasant 12 minute walk.
You'll pass souvenir stores, traditional looking homes and you might even catch the local stone mason at work. Before long, you'll come across this large wooden sign at the entrance to Kurama Onsen.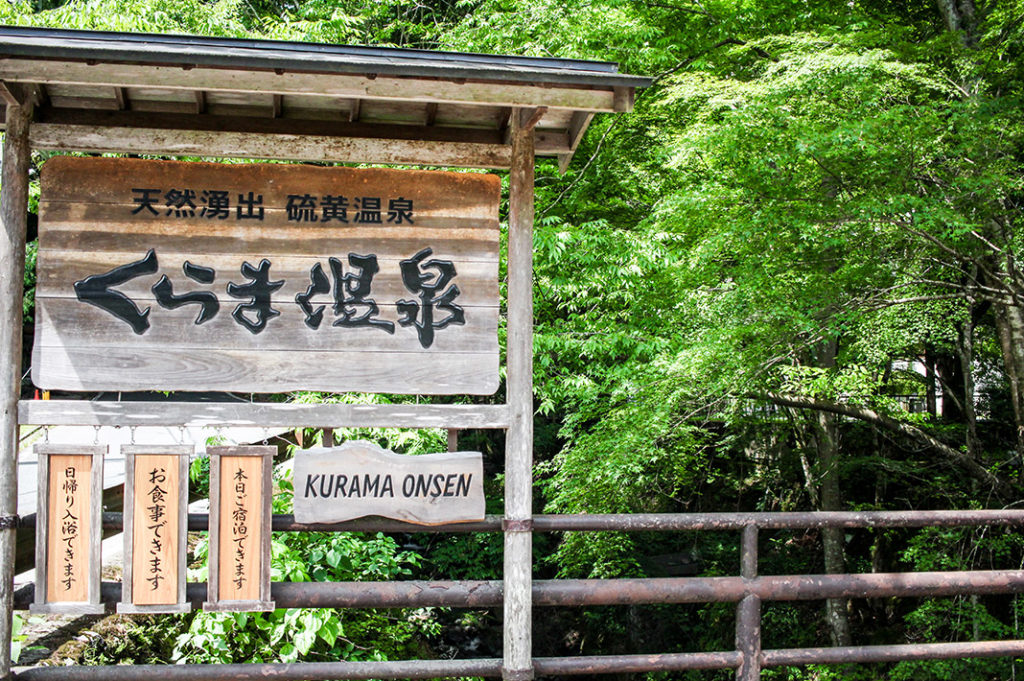 Once you cross the river into the carpark, you have two options: the main building to your left or the outdoor bath straight ahead.
Day Bathing in the Outdoor Bath
Being in the mountains, I simply couldn't resist an outdoor bath. Following the garden path uphill, I came to a manned booth where I purchased my ticket from a machine (¥1,000). Don't worry if you forget your bath towel or onsen towel—you can rent them here for a small fee.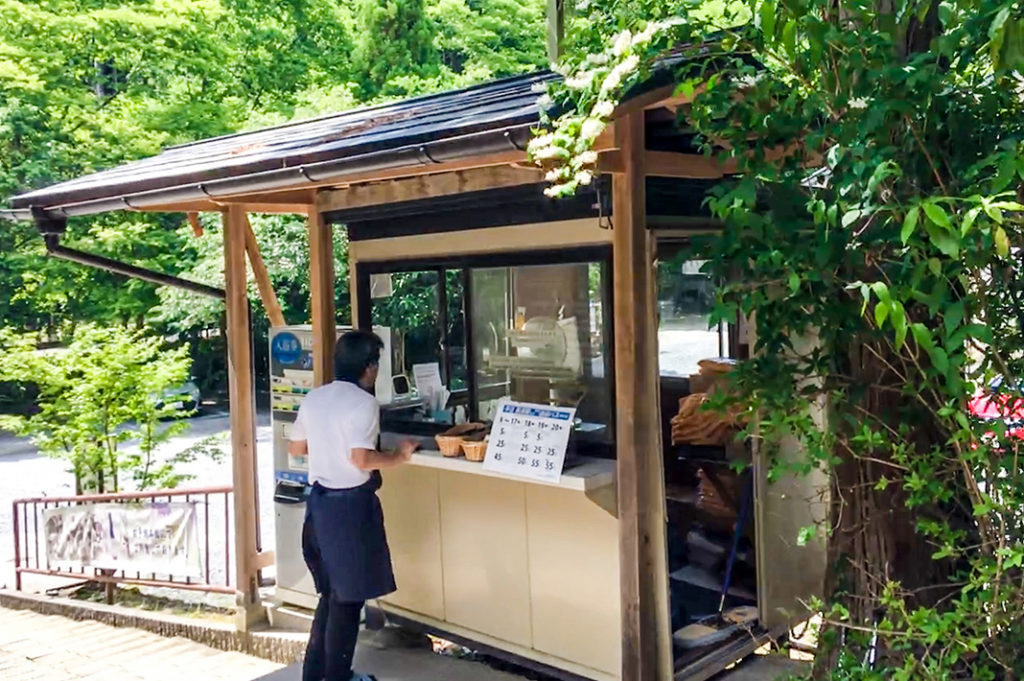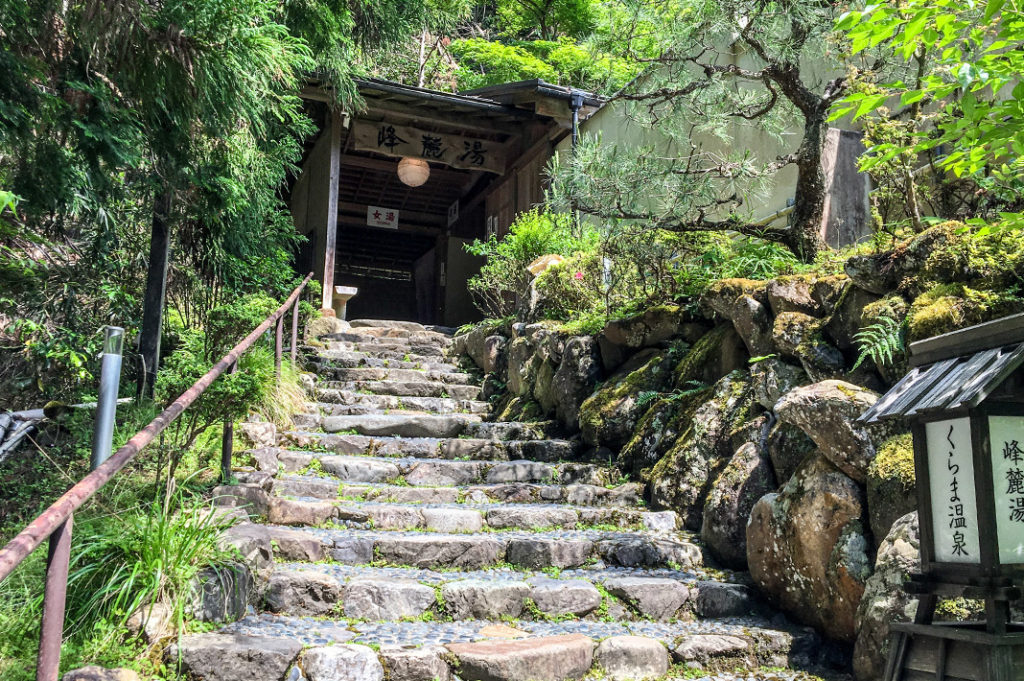 Approaching the building, I was more than ready for my soak. I passed through the pink Noren curtain into the women's side, depositing my shoes in a free shoe locker. The change room interior was floor-to-ceiling timber with a wall of lockers on the left. It is here where you store your belongings, so get undressed and hold onto your small onsen towel. (You need a 100yen coin to use the lockers but get it back at the end). 
Next to the mirror and basins, there is a sliding glass door into the indoor bathing area featuring a few shower heads and a deep tub. While that's all well and good, the real attraction is the open-air bath.
The Open-air Experience
For those who have done a few hot spring baths in Japan, you'll know the liberating feeling that comes from letting it all hang out with a bunch of strangers. Couple that with being in the fresh, open air, staring up at wooded mountains and you're really onto something.
Unfortunately, there were too many people around for me to get a photo of the outdoor area, so you'll have to rely on my written word and your own imagination. The area resembled a large paved courtyard, with a steaming hot pool taking up most of the space. Bamboo fences offered privacy but were dwarfed by the towering mountain landscape. The garden beds featured shrubs, rocks and trees, offering plenty to look at. There was a thatched roof structure over one section of the bath, offering shelter from the elements and an ever flowing source of hot water creating nice background noise. 
I settled into the bath, balancing my folded towel on my head. Taking a deep breath, I closed my eyes and focused on the sound of running water, the wind in the branches, people chattering and the smell of trees and wood. I was so relaxed that I almost forgot to take in the stunning view.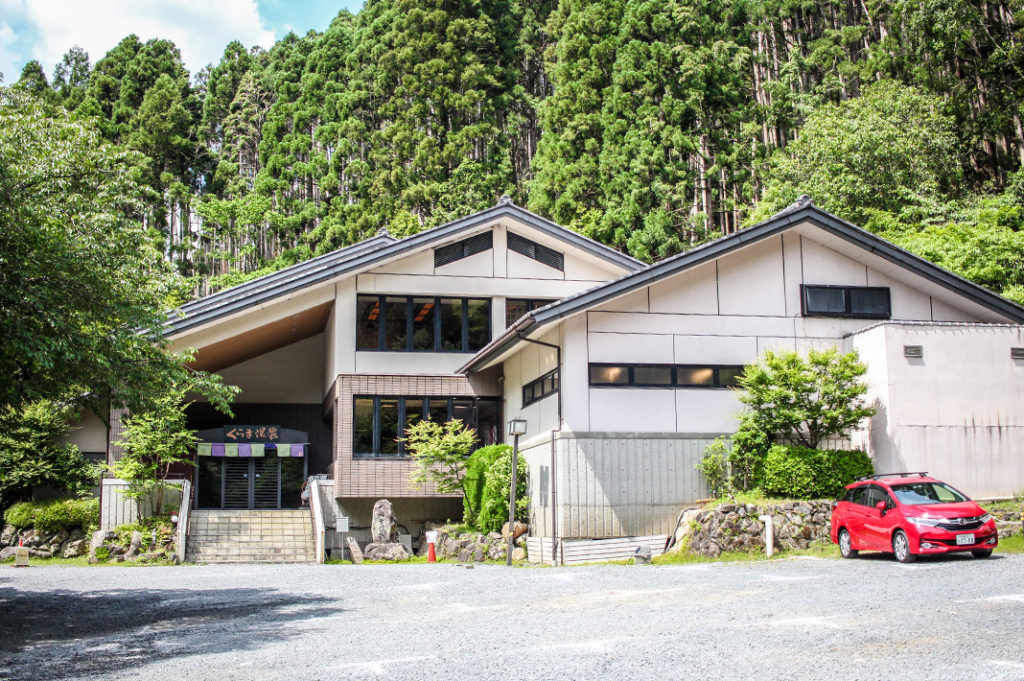 Other Options
For those who'd like to sample more baths, go for the "Day Trip Course" (around ¥2,500 for adults). With this, you can access the outdoor bath as well as all the indoor baths and sauna in the main building. This package comes with towels as well as a yukata (cotton robe) to wear around the facilities.
As this facility is technically a ryokan (traditional Japanese guesthouse), you are able to stay here to enjoy the mountain clarity a while longer. The great news: guests have access to the baths at any time, included in the price. There is also a restaurant to service guests, but day-trippers can dine here too. It's open every day of the year. Day bathing requires no reservations.
Heading Back
After my bath, in fresh clothes and fully relaxed, it was time to head back to Kyoto. I took the free shuttle bus to the station and waited a few minutes for the next train heading back to Demachi-Yanagi. On the platform, wind chimes tinkled overhead. The train carriage windows were designed to allow for maximum nature appreciation, but I was more appreciative of the comfortable chair and had a quick nap en route to my next destination.
Name: Kurama Onsen
Address: 520 Kuramahonmachi, Sakyo Ward, Kyoto
Open: 10:30a.m. – 9:00p.m. (last admission 8:20p.m.)
Web: http://www.kurama-onsen.co.jp/index_e.html

Post by Japan Journeys.