Sun, sky, an epic romance between a goddess and a vicious five-headed dragon, Enoshima Island has it all. Home to ancient shrines, winding pathways framed by traditional restaurants and shops, and candle-lit caves, the island is a not-to-be-missed day or overnight trip from Tokyo. This article is the first installment of a two-part series on Enoshima Island. And it will guide you on a tour through the island's famous shrines, after delving into its formidable legend.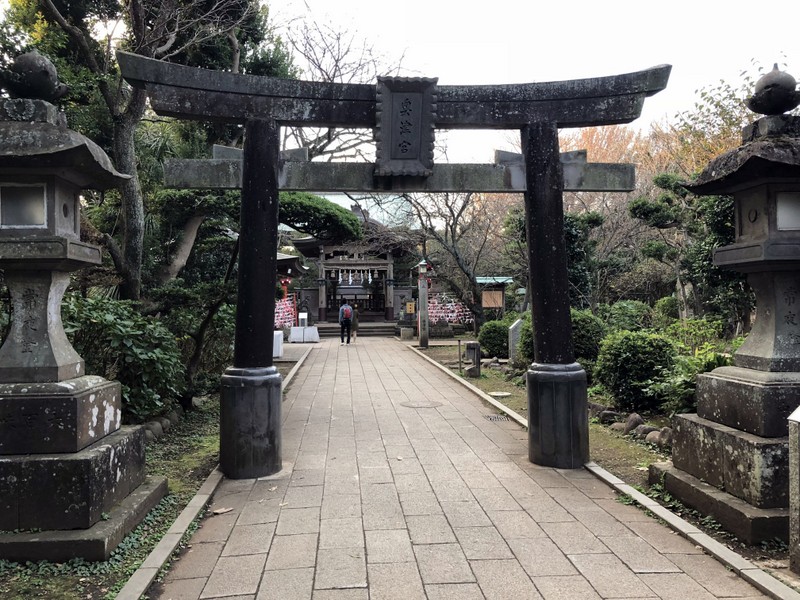 Getting your bearings for Enoshima
Only an hour and a half by train from Tokyo's bustling Shinjuku Station, the island is understandably popular with tourists—but pleasantly so. A bridge links the island to the mainland, providing routes for foot and motor traffic. Moreover, some of the best sandy beaches in the Tokyo region extend along either side. However, we'll be visiting the island itself, so make sure to bring your walking shoes. Although there are internal escalators to aid in ascending the island, you'll have to make your own way down. Prepare to become intimately familiar with the island's well-maintained stairs. But don't worry—the trek is well worth it, and there are plenty of opportunities to take breaks at the cafes, restaurants, shops, and viewpoints that line its winding pathways. As an additional note, consider purchasing the Enopass, which grants access to the island's main attractions and escalator, in addition to providing discounts at many local hot-spots. You can purchase it at the escalator ticket office or local tourist information desks.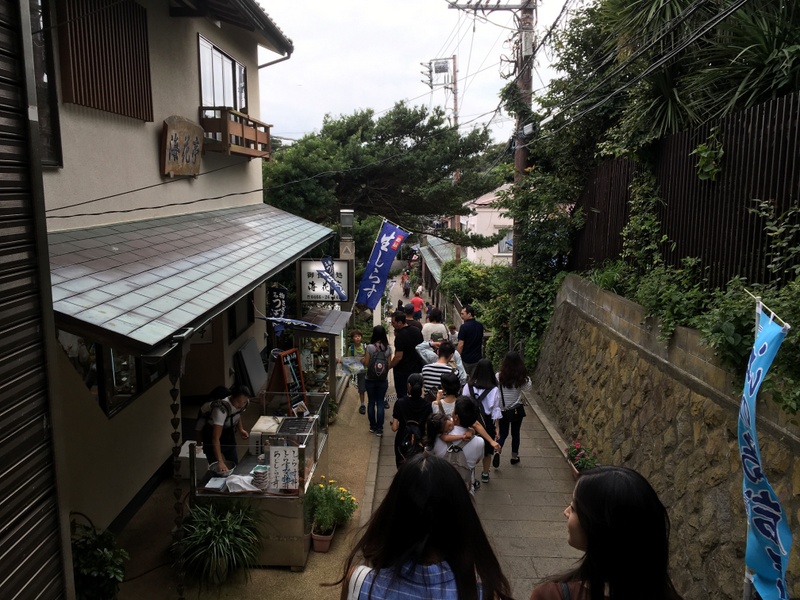 The legend in Enoshima
Collectively referred to as Enoshima Shrine, the island's major shrines are dedicated to Benzaiten, a goddess of wealth, good fortune, knowledge, and music—and for good reason. Legend has it that the surrounding area (Koshigoe) had been terrorized by storms, earthquakes, and Gozuryu, a ferocious five-headed dragon. One day, the heavens opened. Benzaiten, hearing the people's cries, descended from the sky, and a rocky spurt rose from the sea. Forming into Enoshima Island, this spurt would become her home. Meanwhile, Gozuryu, witnessing her arrival, fell madly in love with her and requested her hand in marriage. But Benzaiten (being a goddess of knowledge) was crafty. She accepted on one condition, that Gozuryu would be bound to protect rather than terrorize the people of Koshigoe. Devoting himself to this new mission, Gozuryu eventually earned Benzaiten's admiration, and the area prospered under their dual protection. Much later, when Gozuryu's spirit passed from this world, he laid his body down across the Koshigoe area. If you look among the hills of Kamakura and Enoshima, you'll still see the traces of his mighty form …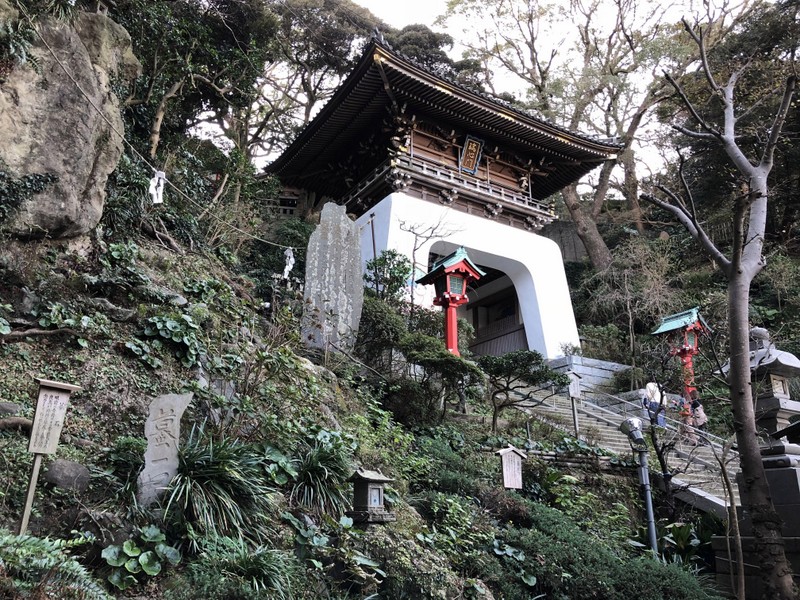 The outer shrine: Hetsunomiya
Scatted across the island, there are three major parts to Enoshima Shrine: Hetsunomiya (the outer shrine), Nakatsunomiya (the middle shrine), and Okutsunomiya (the inner shrine). As you begin your ascent, keep watch for the island's well-fed cats. They're very friendly. Before long, you'll reach a fork in the path. Left leads to the escalators, which will deposit you at the middle shrine. Meanwhile, right leads you to the stairs, which will bring you to the outer shrine. Let's visit the outer shrine first! When you reach it, you'll find a small pool surrounding a dragon statue. Rumour has it that if you wash your coins in this pool, your fortune will double, and baskets are provided for just this purpose. As you explore this shrine, you'll also find a hall with statues of Benzaiten, as well as prayer tablets for good romantic luck.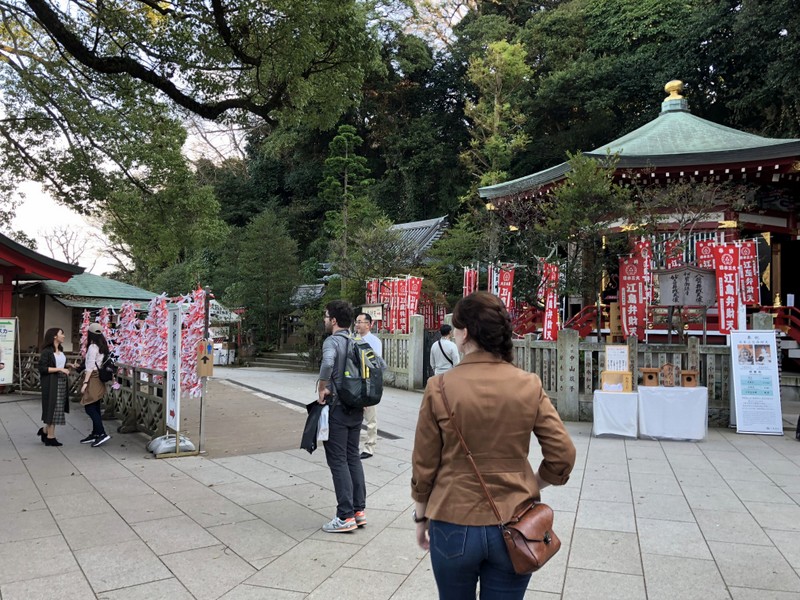 The middle shrine: Nakatasunomiya
If you continue along the path (or simply exit the escalator) your next destination will be the tranquil middle shrine. Take a moment to leave an offering, make a prayer, or rest while taking in the sweeping island views. From here, you'll access the popular gardens, observation lighthouse, and the island's only Buddhist temple; see part 2 of our series for more detail about these attractions.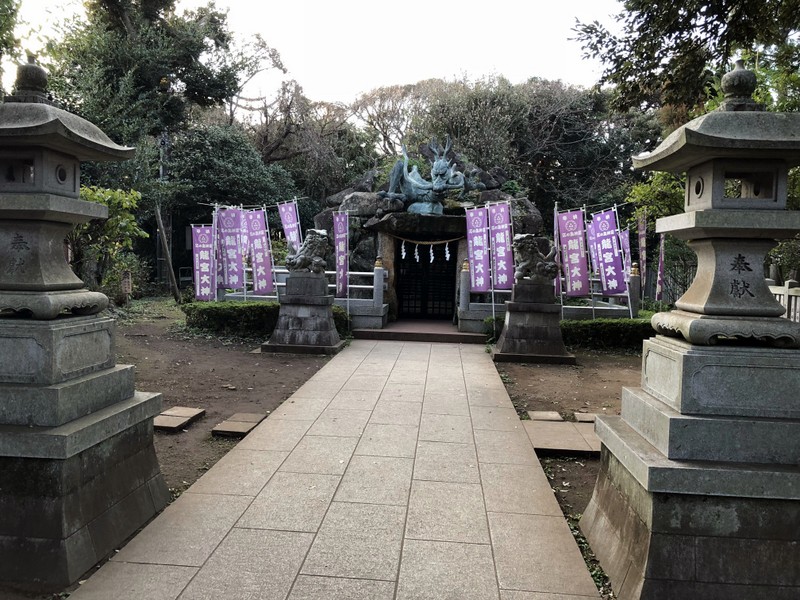 The inner shrine: Okutsunomiya & the Ryuren lover's bell
Continue along the path just a little further, and you'll arrive at the gorgeous inner shrine. Keep watch for the striking dragon statue crouched above one of the many shrine entrances. If you look around, you'll see a path branching upwards toward the Ryuren love bell. Symbolizing the island's love story and framed by sea views, it's a sweet pilgrimage to make with a special someone. Meanwhile, reminiscent of Pont des Arts in France, the area is covered in locks inscribed with lovers' names. Local myth has if that if you write your names on your lock, secure it with the others, and ring the bell, you'll be together forever.
Read Part 2 here.
Name: Enoshima Island
Address: Enoshima, Fujisawa, Kanagawa 251-0036
URL: http://www.discover-fujisawa.jp
Post by Japan Journeys.