Kyoto's eastern Higashiyama area is positively packed with beautiful historic temples, shrines, statues, pagodas, gardens and much, much more. But with so many outstanding places to see, where should you start? One of my personal favourite spots in the area is Kodaiji Temple. With a garden designated as a 'Place of Historical Importance and Outstanding Scenery' and a number of other 'Important Cultural Properties' on site, it's a lovely place to spend an hour or two.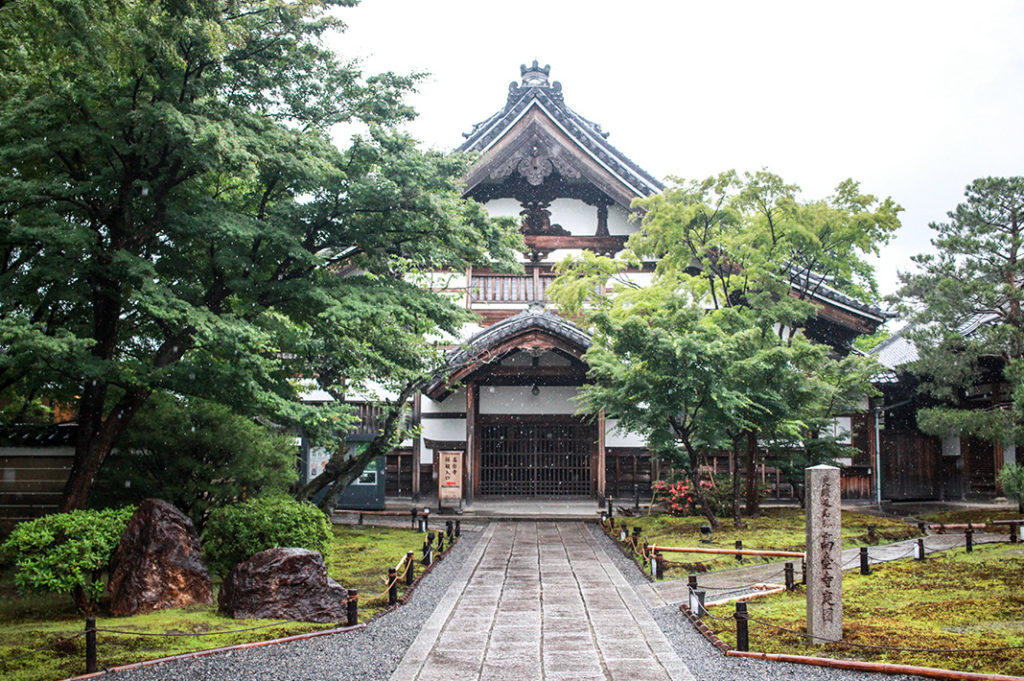 The Kodaiji Temple Story
Situated at the base of Kyoto's eastern mountains (Higashiyama), Kodaiji dates back over 400 years to 1605. At that time, high-ranking noblewoman Kita-no-Mandokoro—more affectionately known as 'Nene'—had been grieving the loss of her husband for seven years. As was customary, she had become a Buddhist nun after his death and began practising under a new religious name. Five years on, she received the honorary name of Kodai-in, which would influence the name of the temple she built in his memory, Kodai-ji.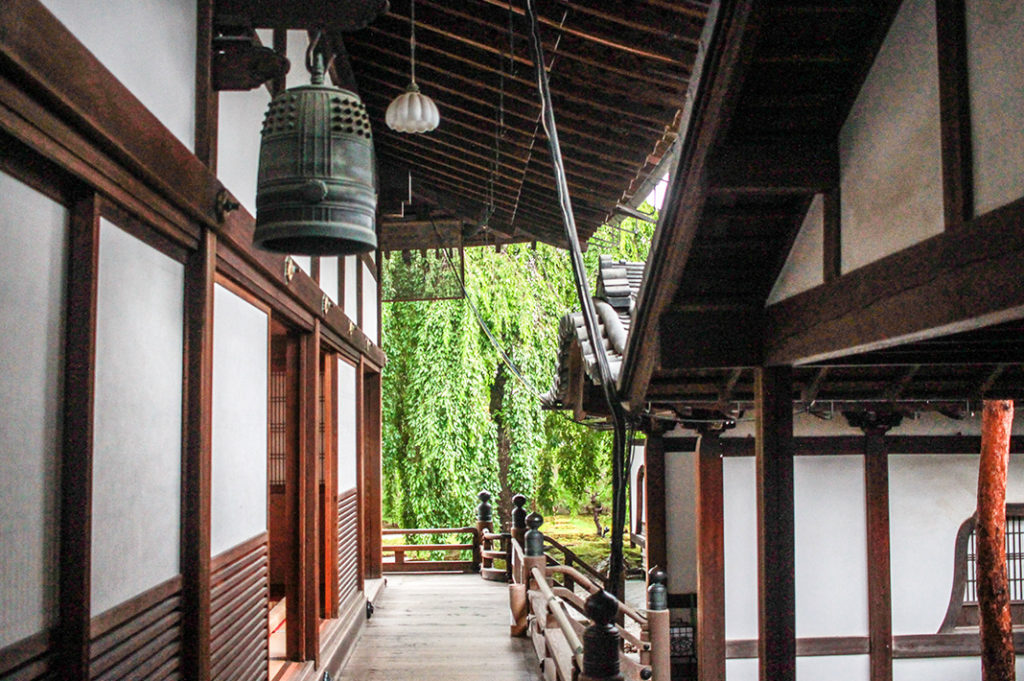 Nene accepted funds to complete it from none other than Tokugawa Ieyasu, the first of the Tokugawa shogun, so the architecture and design is of outstanding quality. As is common in Japan, Kodaiji was damaged from a series of fires, though a few original structures still remain. Namely, Kaisando (Founder's Hall), Otama-ya (Sanctuary) and its gate, Kasatei & Shiguretei (teahouses) and Kangetsudai (Moon Viewing Pavilion). These are all designated as important cultural properties of Japan.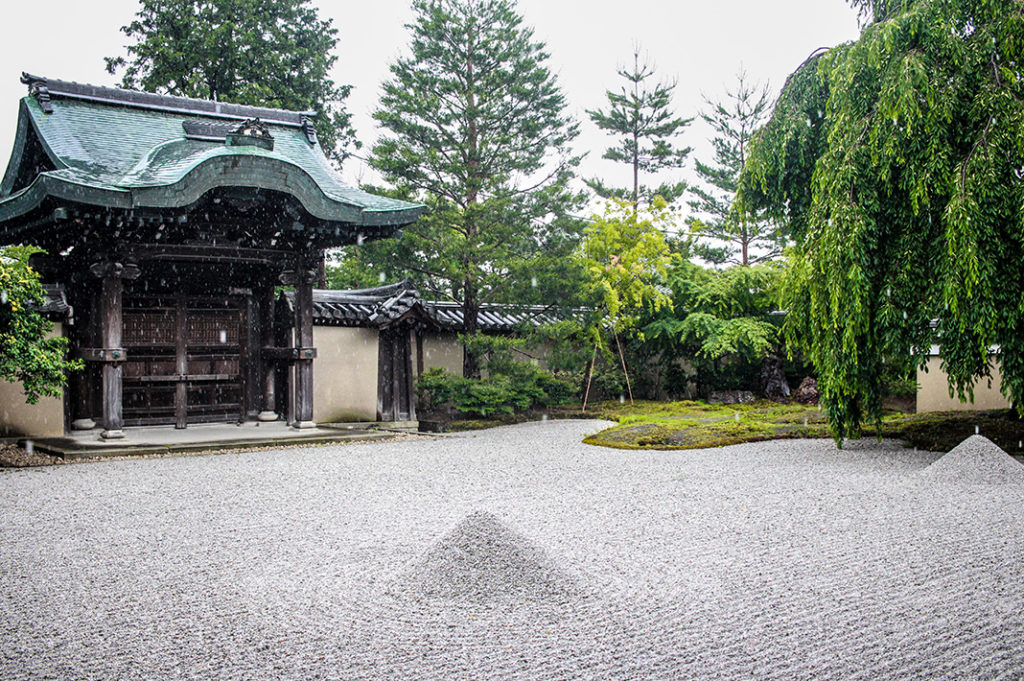 Exploring the Grounds
The first thing to note about my Kodaiji visit is the lack of crowds. Perhaps I was just a little eager that rainy morning and beat the rush? Regardless, I felt that I had the place to myself for the most part—a rare experience. I could take in unencumbered views of the gardens and sit quietly and listen to the rain.
Beside the Main Hall, you'll notice a dry rock garden and enormous weeping cherry tree. During spring, this looks equally as beautiful but in pale pink.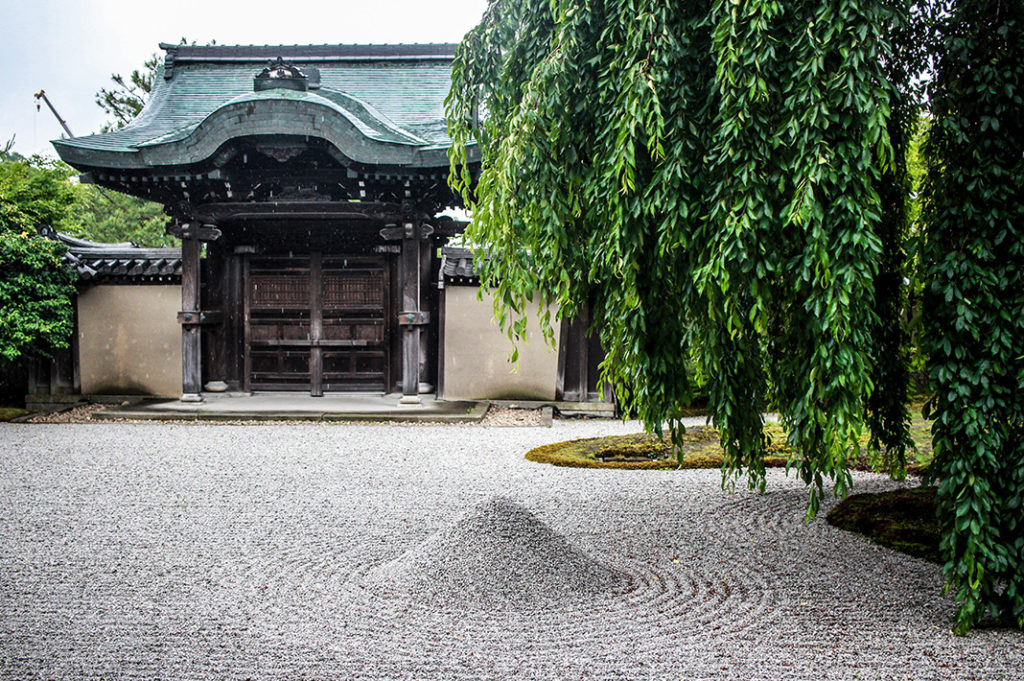 Follow the decking around to catch you first glimpse of the famous gardens. You'll notice Kangetsu-dai (the Moon Viewing Pavilion) on the left and Kaisan-do (Founder's Hall) in the centre of the image.
The moon viewing pavilion was designed to reflect the image of the moon so it could be admired more fully.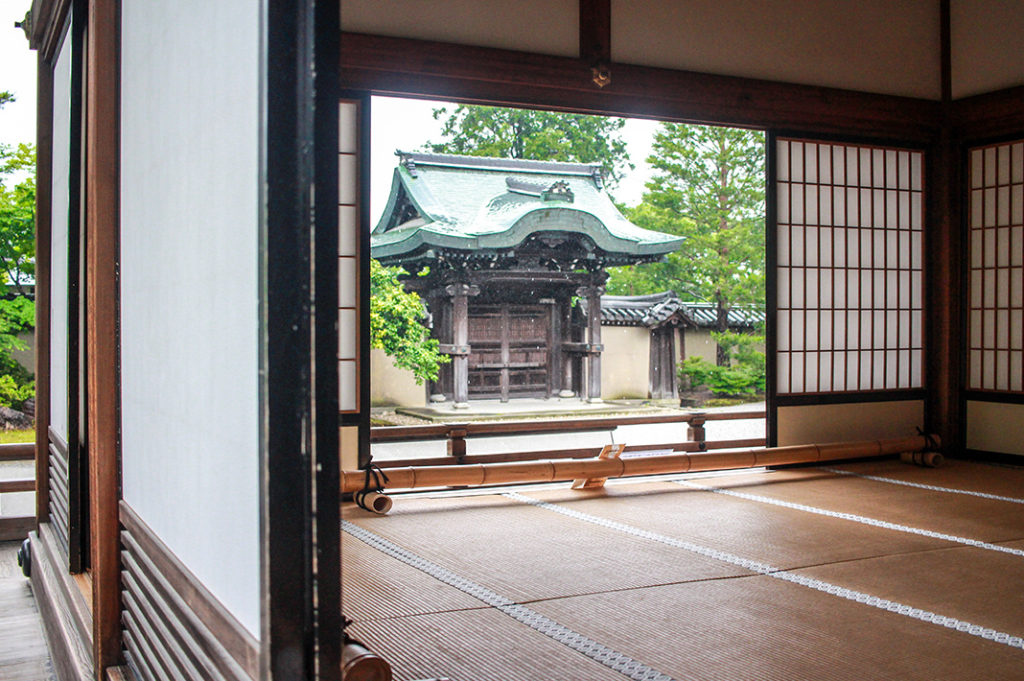 Outside Kaisan-do

Inside Kaisan-do
Take some time to explore Kaisan-do, dedicated to the temple's founding priest. It's a peaceful sanctuary, with views out onto the pond. Once you are ready to move on, take the Garyoro (reclining dragon corridor) uphill.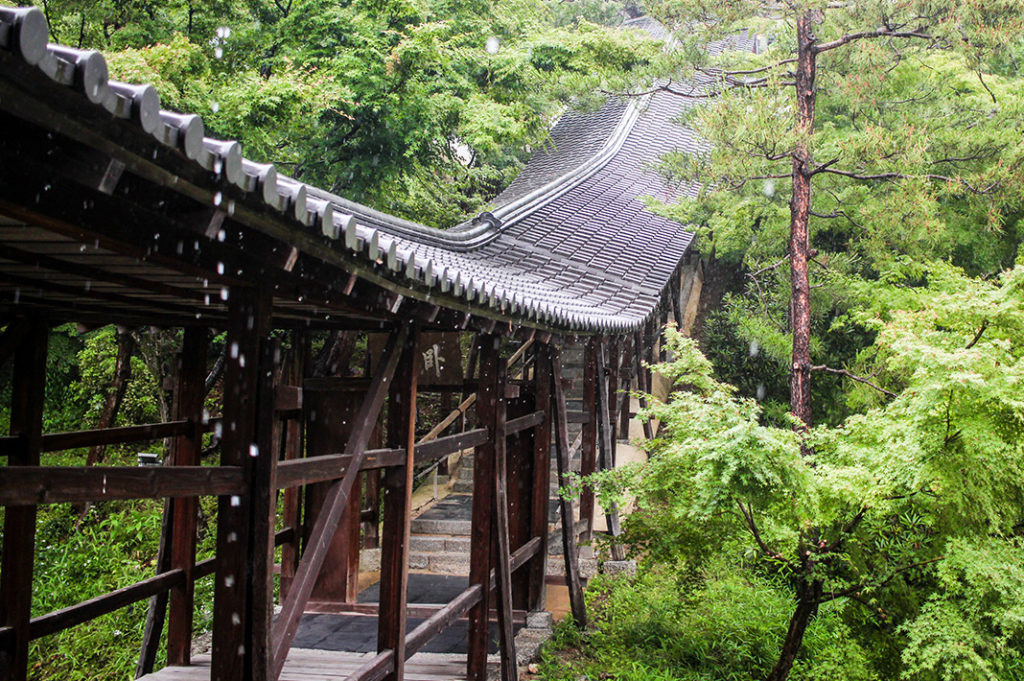 At the top of the corridor sits Otama-ya—where Nene and her husband are enshrined. The building also features some 16th century lacquerwork known as Kodaiji Makie. Unfortunately it was under construction during my visit so I couldn't venture inside. On the outside, however, I spotted some vibrant paintwork.
Also in the grounds are a few traditional tea houses as well as a lovely Bamboo garden. It is truly a wonderful spot to explore.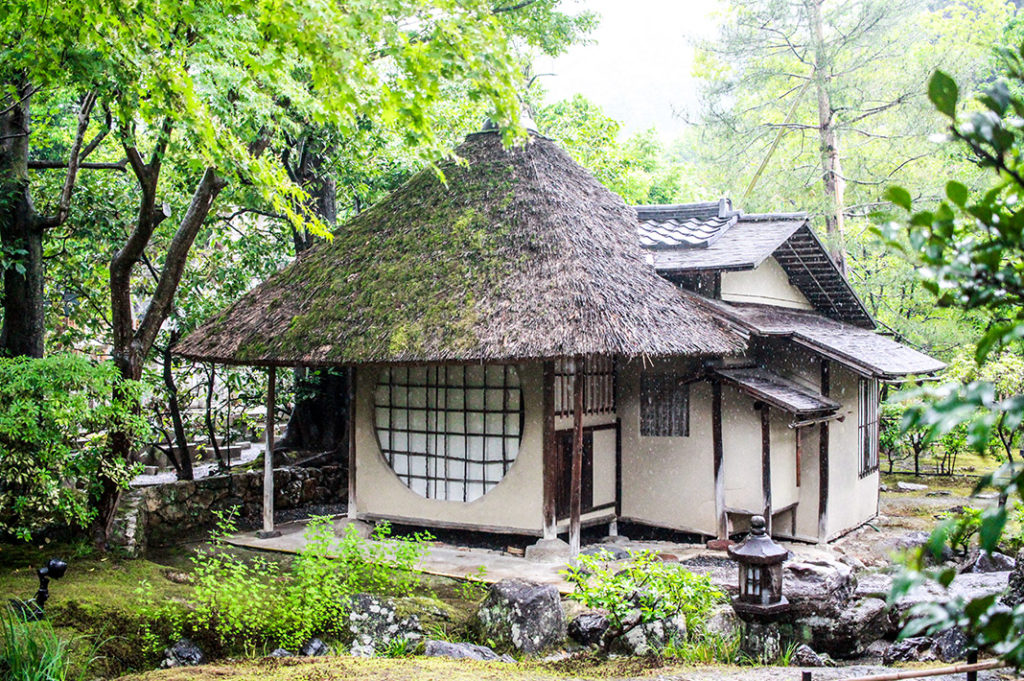 Nightly Illuminations
The landscape of Kodaiji can be seen in a whole new light during evening illuminations. They run from sunset until 9:30pm in summer (August 1–18), autumn (late October to early December) and spring (mid-March to early May). In spring, the magnificent weeping cherry blossom tree looks positively magical lit up.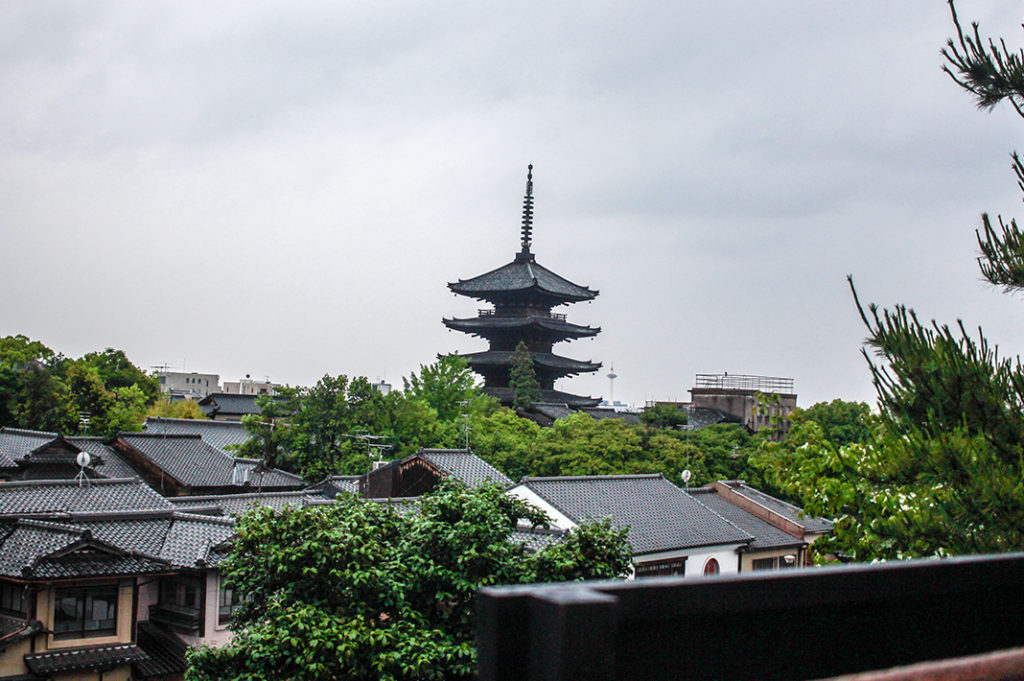 Getting to Kodaiji
Kodaiji Temple is located in the Higashiyama area between Yasaka Shrine and Kiyomizudera. For those coming from Kyoto Station, catch bus 100 or 206 for 15 minutes to Higashiyama Yasui bus stop. From there, it's a 5-10 minute walk.
On foot from Gion, wind your way through traditional backstreets, ending near Ishibe-koji Alley. This is the picturesque route.
In the same complex, you'll also find the Ryozen Kannon Statue and Temple. This is certainly worth a visit while you're in the area. From the carpark you can also see across the neighbourhood to the Pagoda at Hōkanji Temple.
Kodaiji Temple
Address: 526 Shimokawaracho, Higashiyama Ward, Kyoto, 605-0825
Open: 9:00a.m.–9:30p.m.
URL: http://www.kodaiji.com/e_index.html
Post by Japan Journeys.