Akihabara can be a frenetic place; whirring arcades, hordes of tax free shoppers, maids spruiking their cafes. Things are loud and cramped and colourful—I guess that's all part of its charm. But when you're in need of a break, you'll no doubt be searching for a peaceful place to sit and watch the world go by. Enter Hitachino Brewing Lab. Located under the tracks by the Kanda river, this Japanese craft beer hall is, in my opinion, one of the best bars in Akihabara.
A history lesson to drink on
Though technically in the Kanda neighbourhood, Hitachino is just a short 5 minute walk from the main action of Akihabara. As you approach, it almost feels as though you're traipsing back in time. You'll first reach the pretty European looking Mansei Bridge (manseibashi) which crosses the Kanda River. Fun fact: this was the first stone bridge in Tokyo but it was unfortunately destroyed in the 1923 great Kanto earthquake. The version we see today was built just seven years later, and is still of a rare age, as many areas of Tokyo were destroyed during World War 2.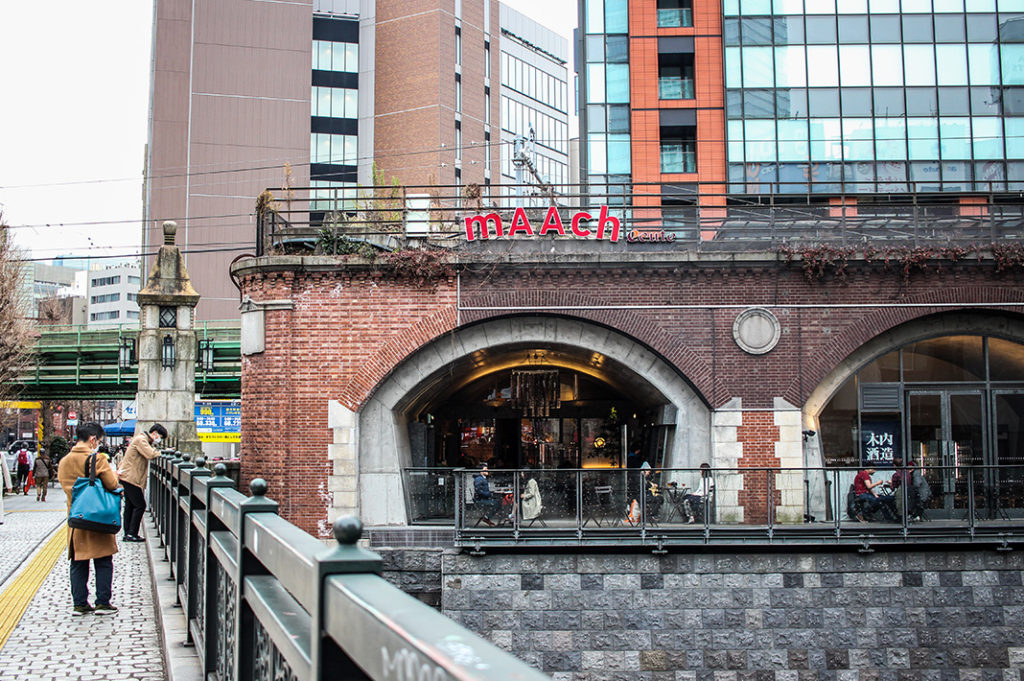 An Historic Building
Running along the river, you can't miss the arches of the red brick "mAAch ecute" building. If you stand back long enough, you'll even catch some trains zipping overhead. In the early 20th Century, this was Manseibashi Station—the fourth busiest hub with a beautiful design akin to that of Tokyo Station. Sadly, it too was lost in the earthquake and soon became obsolete.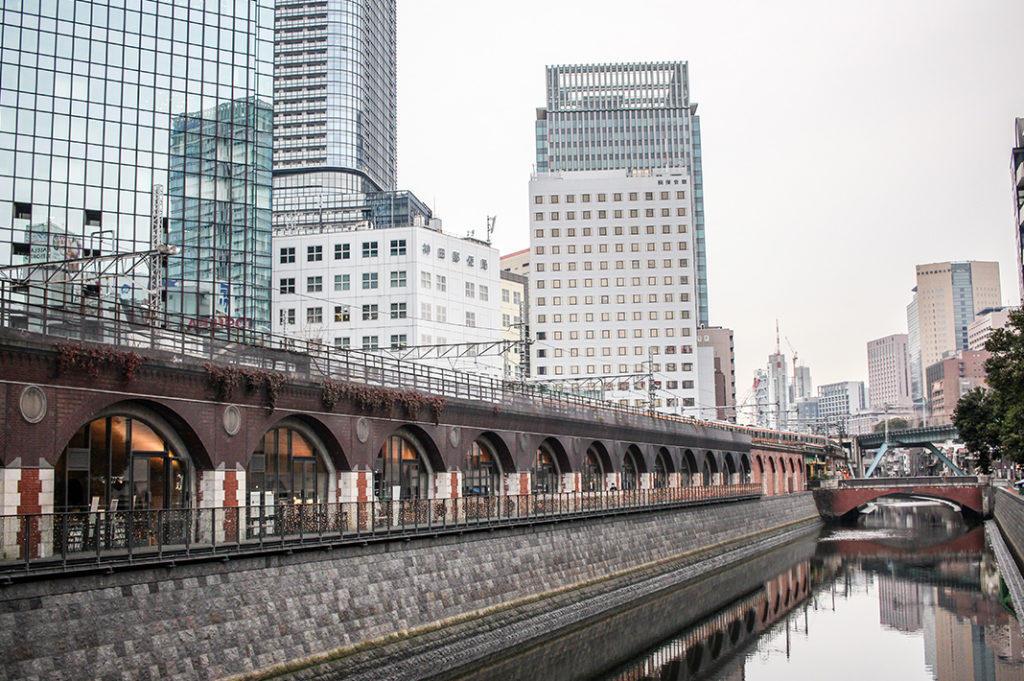 What you see now is a rejuvenated space, though many of the original features remain. These days, there are shops, restaurants and even a train observation deck on the roof! And of course, Hitachino Brewing Lab.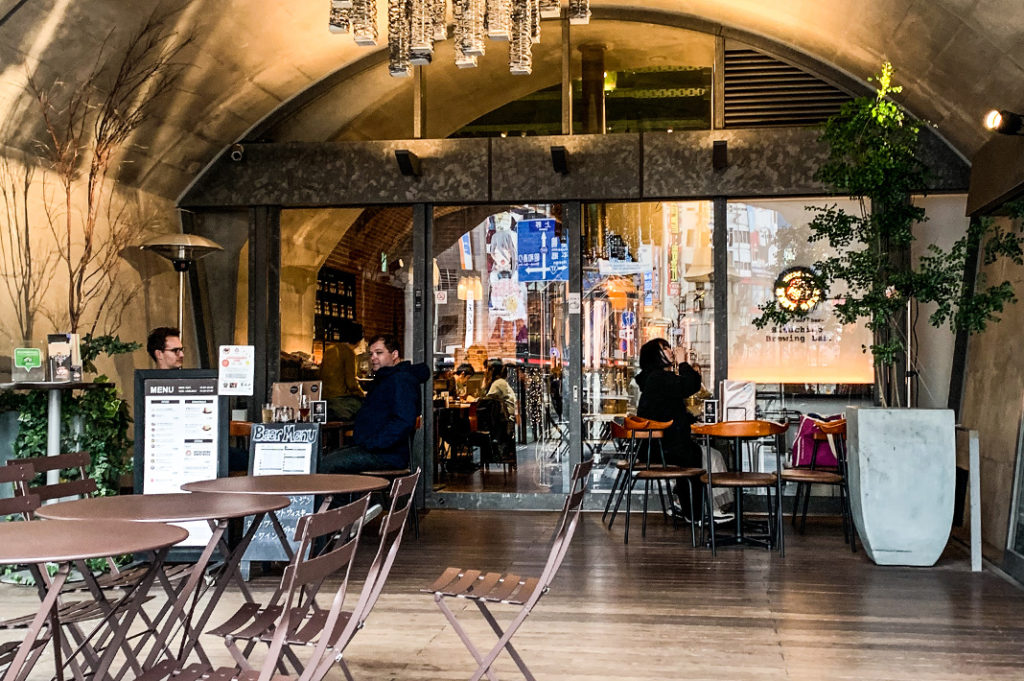 Enter the Brewing Lab
Hitachino Brewing Lab is not just a bar. As it's name would suggest, it is also a small brewery. They brew their own seasonal and experimental drops right here in Akihabara but also offer brewing experiences for the general public.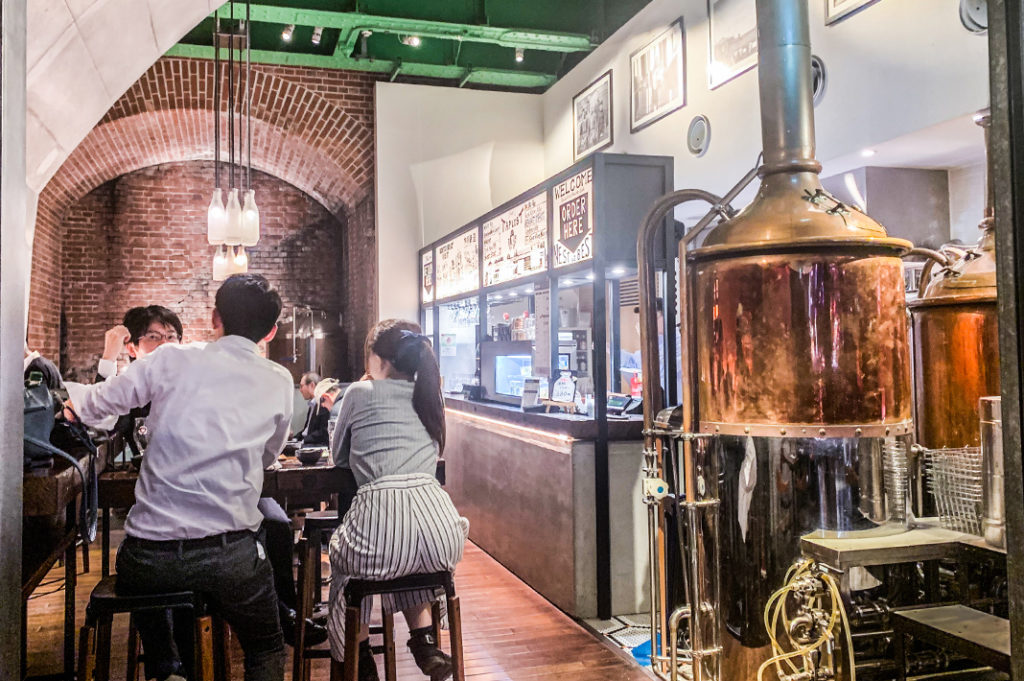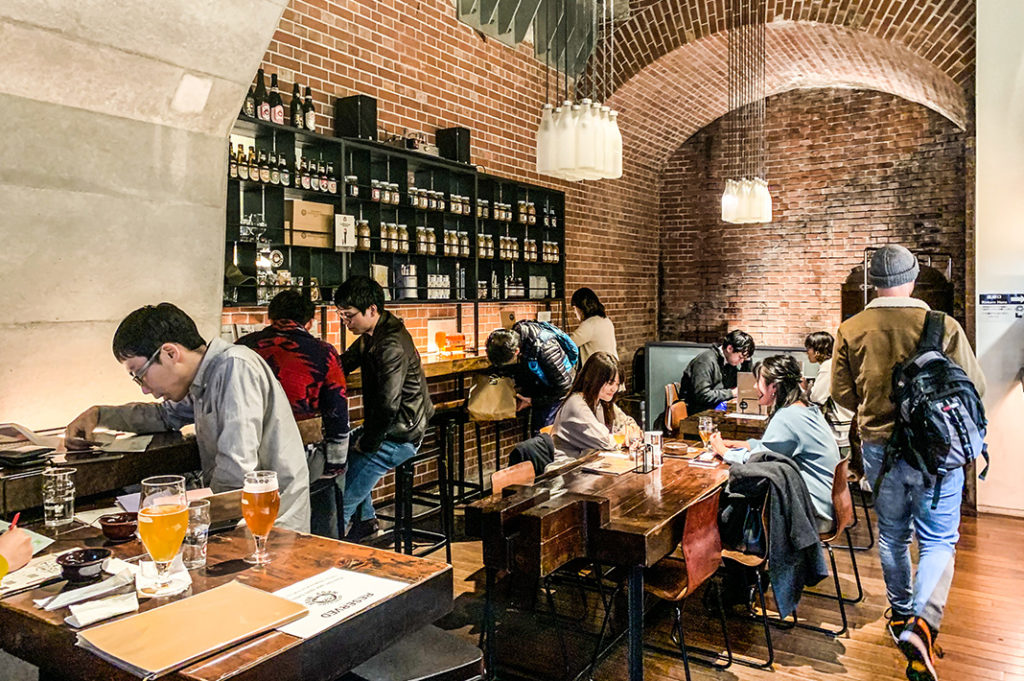 The space inside is fairly small—just a handful of tables—but there is more seating available on the deck. When the weather's warm, it's delightful to sit outside and watch the world go by. The fairy lights, river and romantic old bridge have you feeling as though you're in some European city.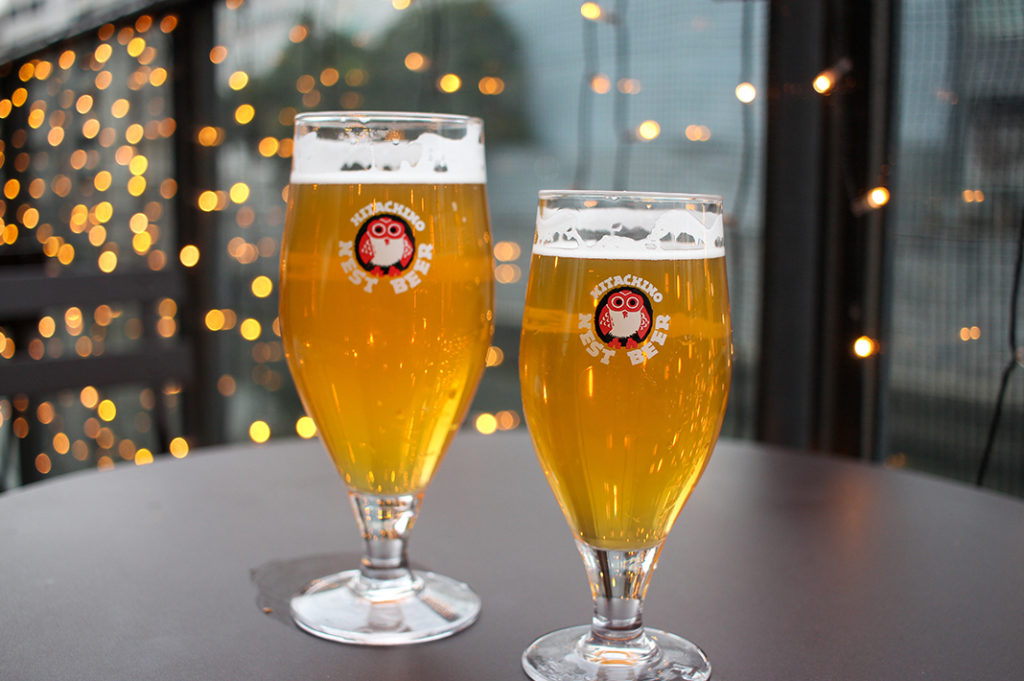 Then when the sun sets and the neon lights up, you see that wonderful juxtaposition of old meets new.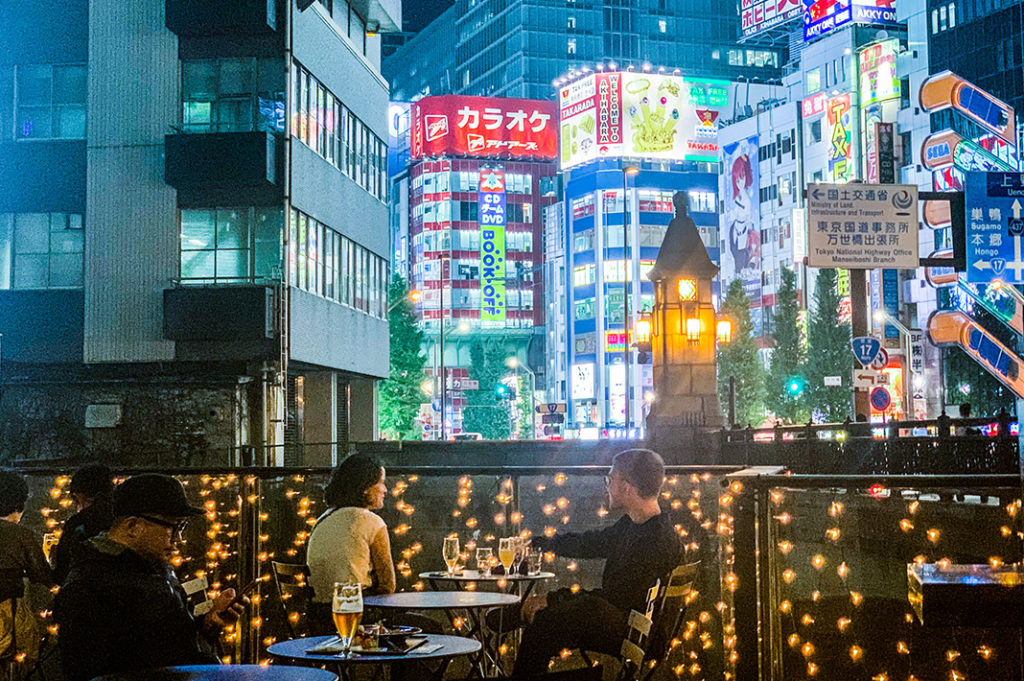 What's on Tap at Hitachino?
Not surprisingly, they only serve their own brews at Hitachino, which is fine by me. The taps change daily—there are ten, though they weren't all in use during our visit. Hitachino has a standard range of beers which you can get around town, but here at this brewing lab, you're able to try special brews like sours and dark beers. That being said, I still can't go past a nice (award winning) White Ale.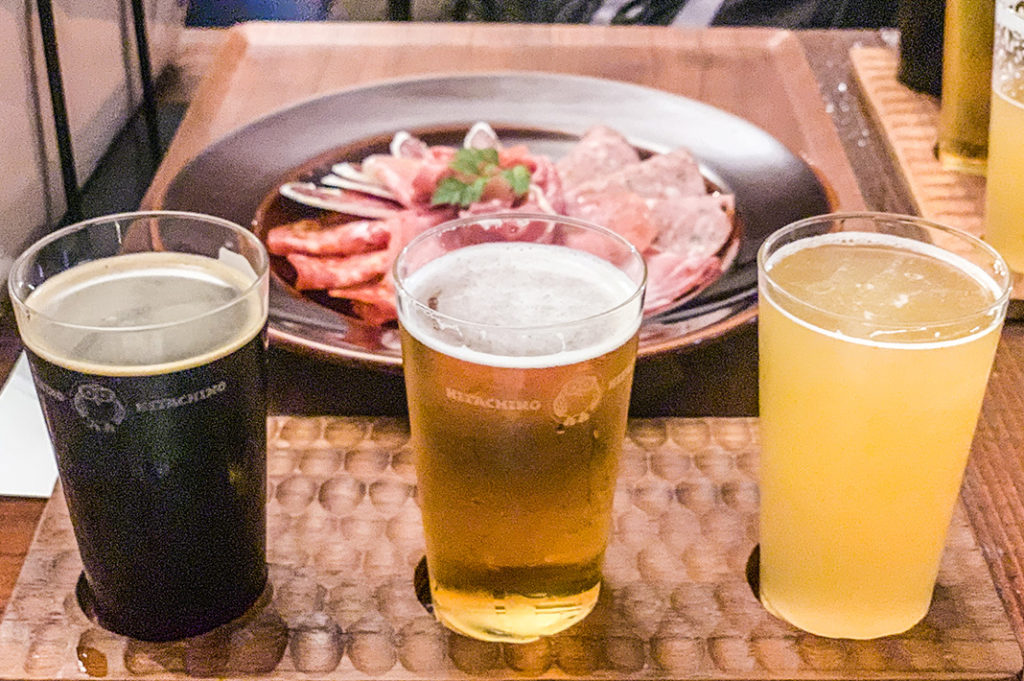 If you're not sure what to try, you can always go for the flight! Price wise, drinks here are a standard craft beer pricing. If you're looking for 180yen happy hour beers, look elsewhere. This is where you go for a quality drop.
Fancy a Bite?
For those feeling peckish, Hitachino Brewing Lab has a food menu consisting of small tapas style dishes. Interestingly, ingredients are sourced from nearby Ibaraki prefecture, where the main brewery is located. It's the perfect place to order a deli plate and kick back by the river.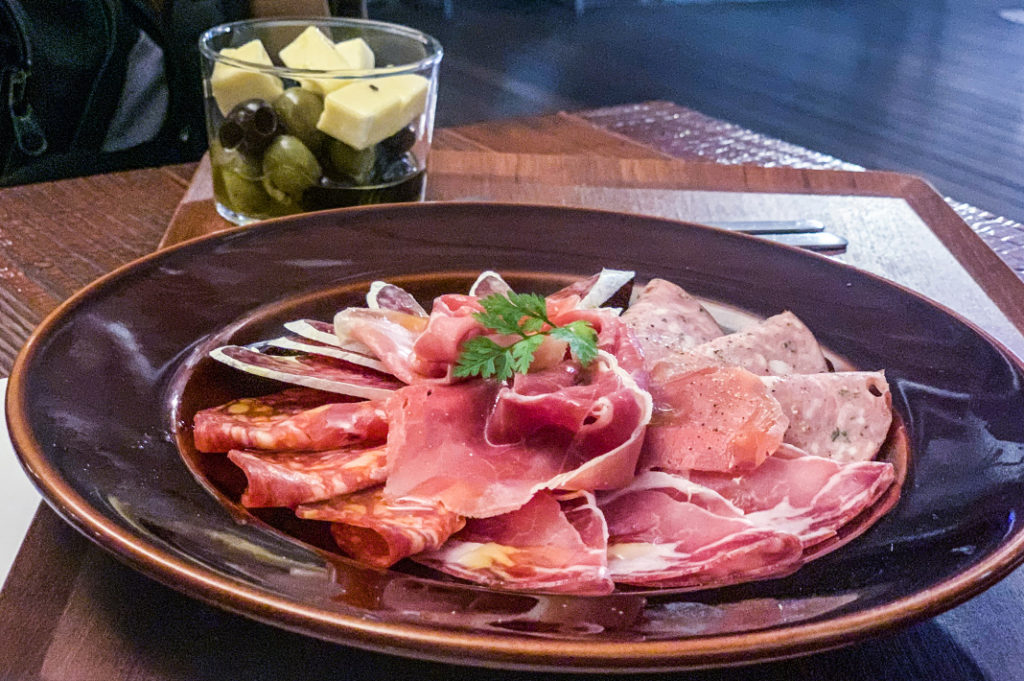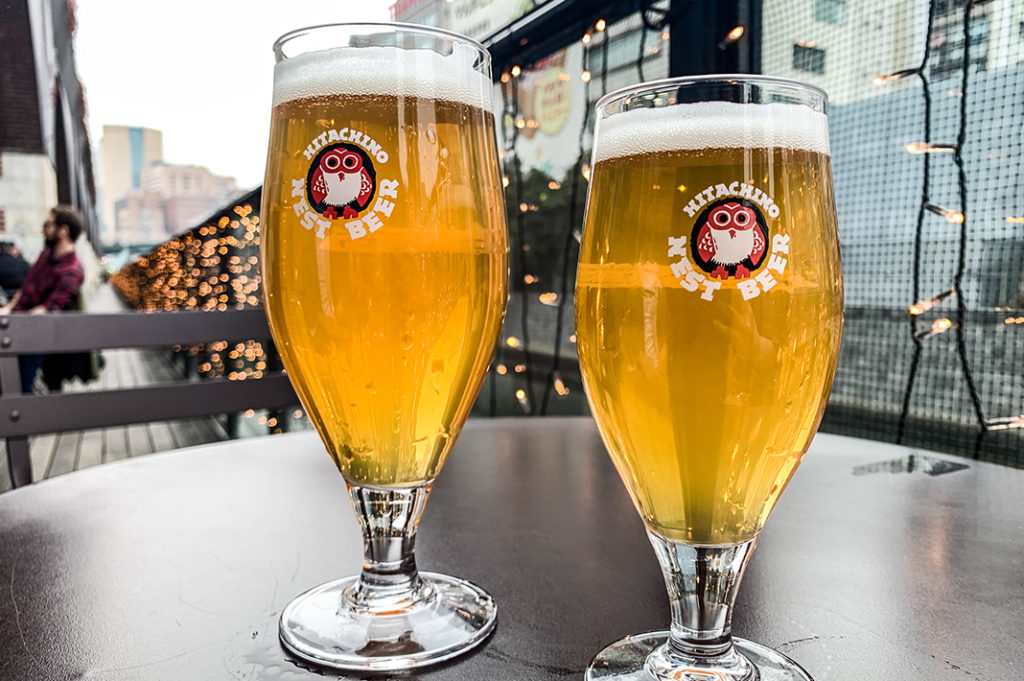 So if you find happy hour approaching and are looking for a bar in Akihabara, turn your back on the noise and head to Hitachino Brewing Lab. I think you'll be pleased you did. Cheers! 
Name: Hitachino Brewing Lab
Address: 1 Chome−25-4 Kanda Sudacho, Chiyoda City,101-0041 Tokyo
Open: 11:00a.m. – 11:00p.m. (closes at 9:00p.m. on Sundays)
URL: http://hitachino.cc/brewing-lab/
Post by Japan Journeys.