Come springtime in Japan, there's one thing on everybody's mind: cherry blossoms. People watch the forecasts, scrutinise the buds and, when the time is right, head to the parks to lay down their picnic blankets and crack into the snacks. It's all a lot of fun. And while there are many, one of the best places to see cherry blossoms in Tokyo has to be at Ueno Park.
The Many Attractions of Ueno Park
Ueno Park's history dates back over 140 years, making it one of Japan's first public parks—a concept borrowed from the west during the Meiji period. Onsite are a number of museums, shrines, temples, statues and even a zoo. Year-round, the landscape morphs with the seasons, and in spring, it's the 1,200 cherry trees people come to see.
Ueno Park cherry blossoms
There are a number of cherry blossom varieties in the park which flower at different times. Wander through anytime between February and April (and even a variety in November!) and you're sure to catch some blooms. But, for the biggest wow factor, you'll want to head to sakura dori, the central pathway. Fluffy pink sakura arch overhead, creating a spectacular sakura tunnel.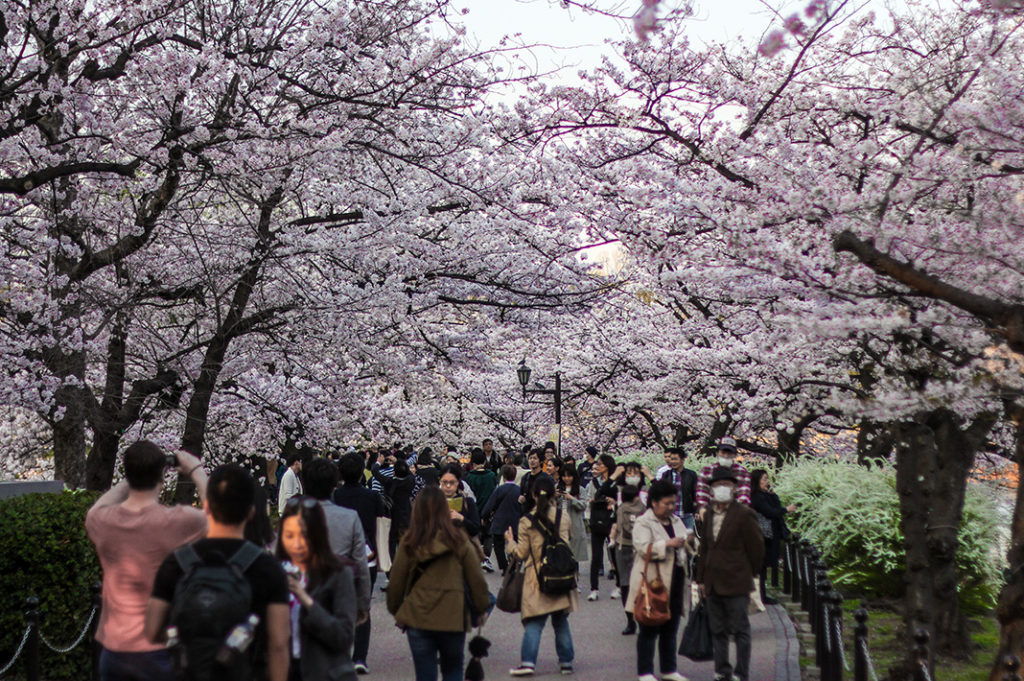 You can also find more cherry blossoms to the left of the boat house; these curve all the way around the side of Shinobazu pond.
Hanami from a swan boat
Speaking of boats, hanami season is the best time to take a romantic boat ride with that special someone. There's nothing quite like gliding around on the pond, waving and laughing at others…and getting a serious arm or leg workout at the same time. As the blossoms line the pond, you can get right up close to the drooping branches for a better look.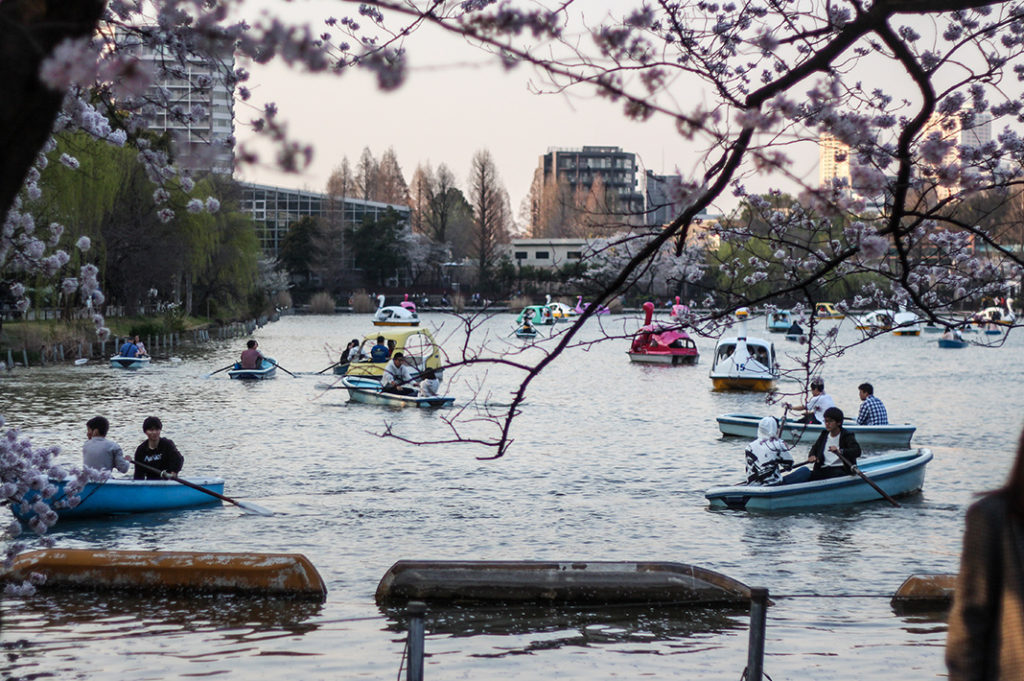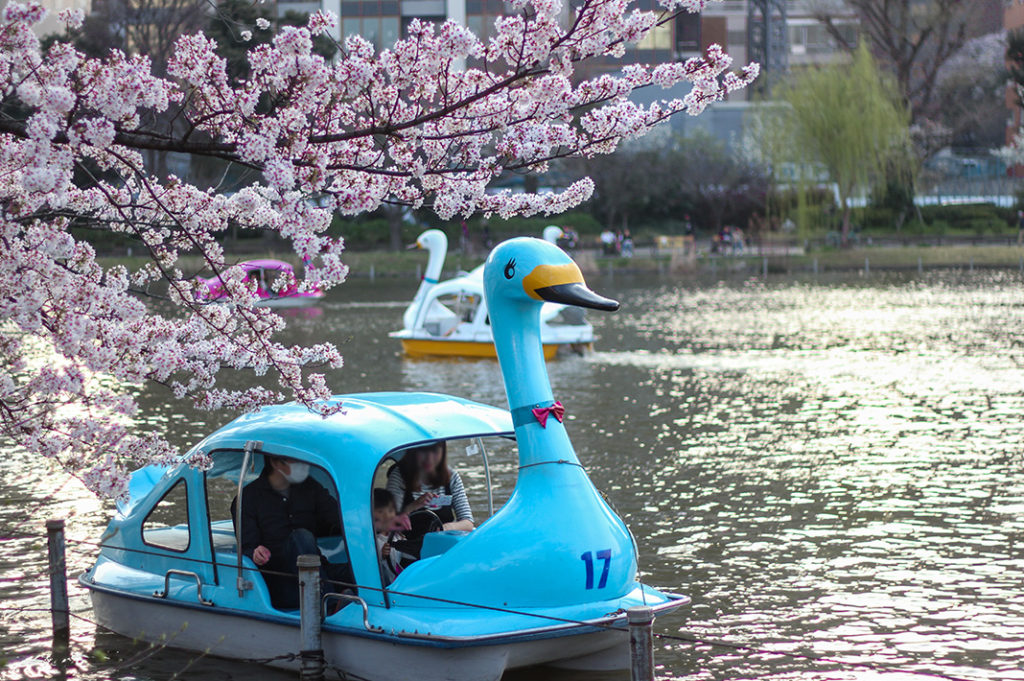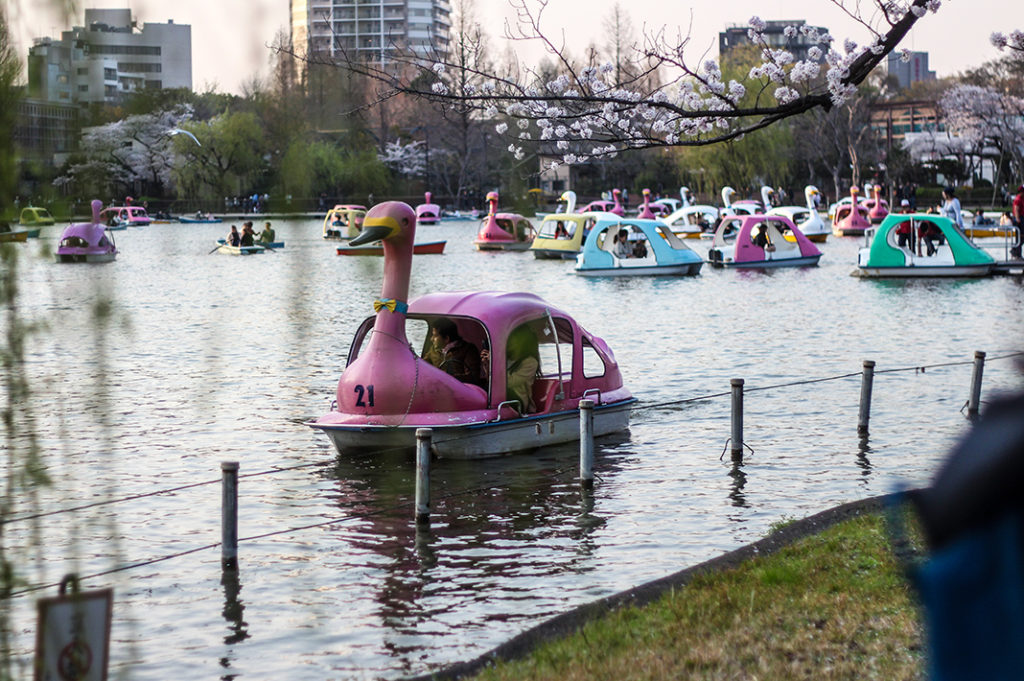 The boat house hires out small rowboats, pedal boats and swan boats by the half hour, with prices starting from 600 yen.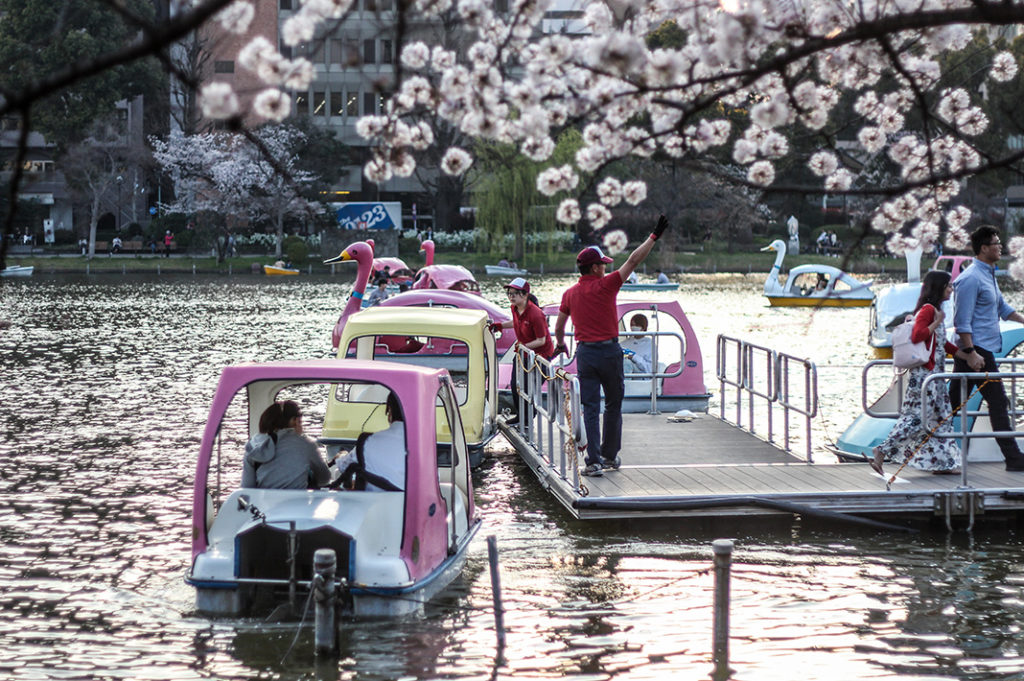 Watching people watching sakura
Don't get me wrong, I love looking at cherry blossoms, but hanami is also a great time for people-watching. Think about it. The weather's grand and everyone's relaxed, taking it slow and open to socialising—particularly after a few cans of Strong Zero.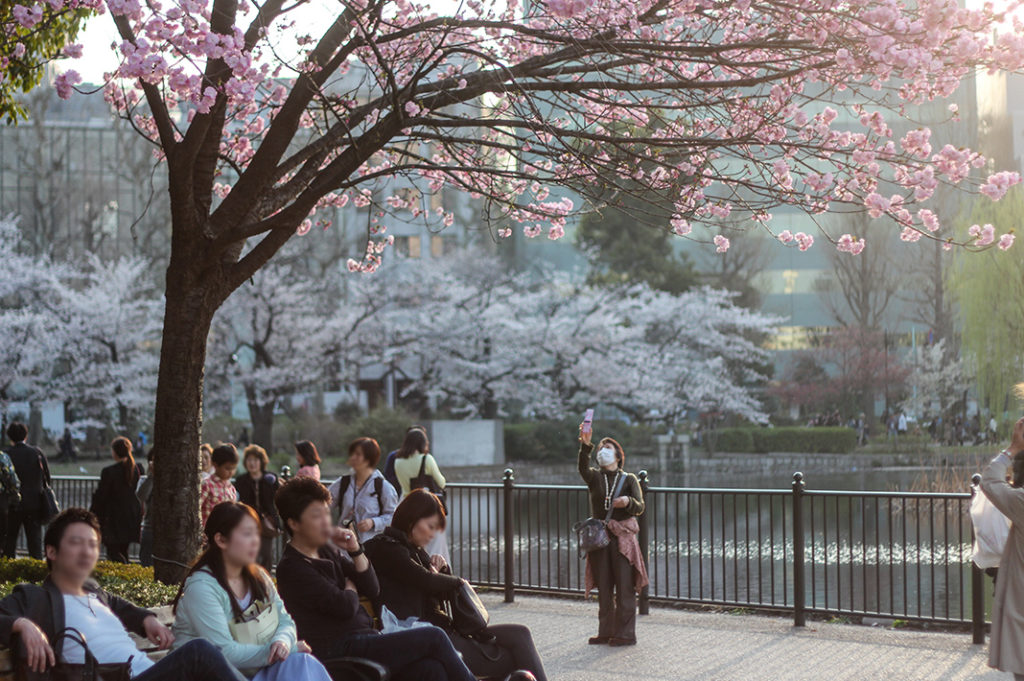 While enjoying the Ueno Park cherry blossoms, I came across a man feeding sparrows. A small crowd had gathered and he was soon sharing bird seed so others could hand feed the sparrows, too. I find that these types of social gatherings really bring out a sense of togetherness.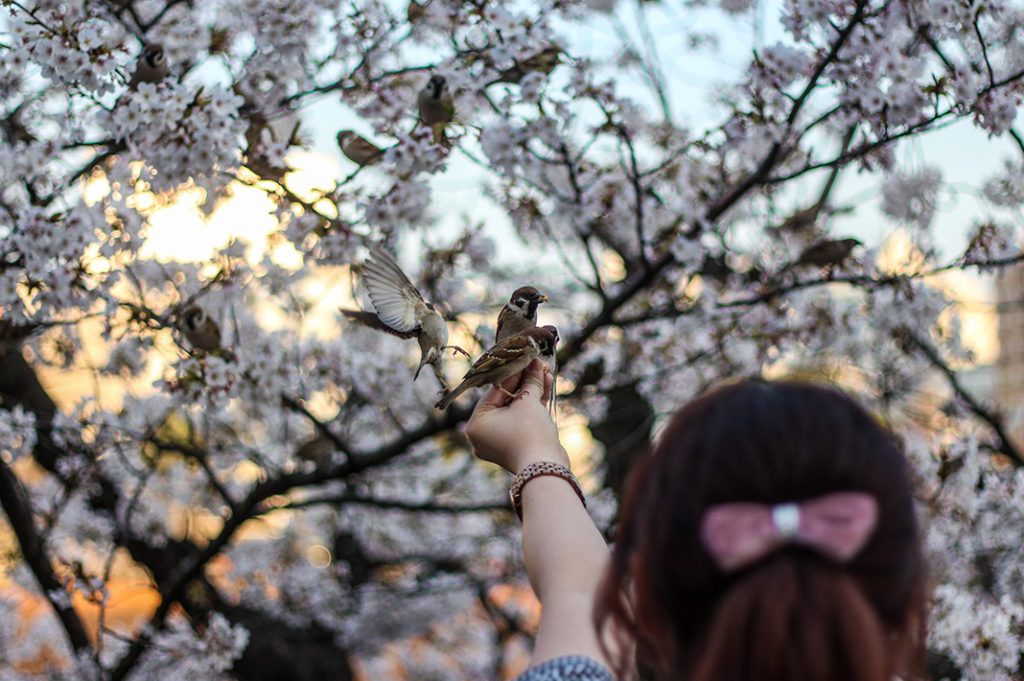 The Festival
In Japan, large gatherings such as these are serviced by festival food stalls. They look the same no matter where I've seen them; there's hot food like takoyaki, yakisoba, karaage, whole grilled ayu fish, as well as a variety of kid's games.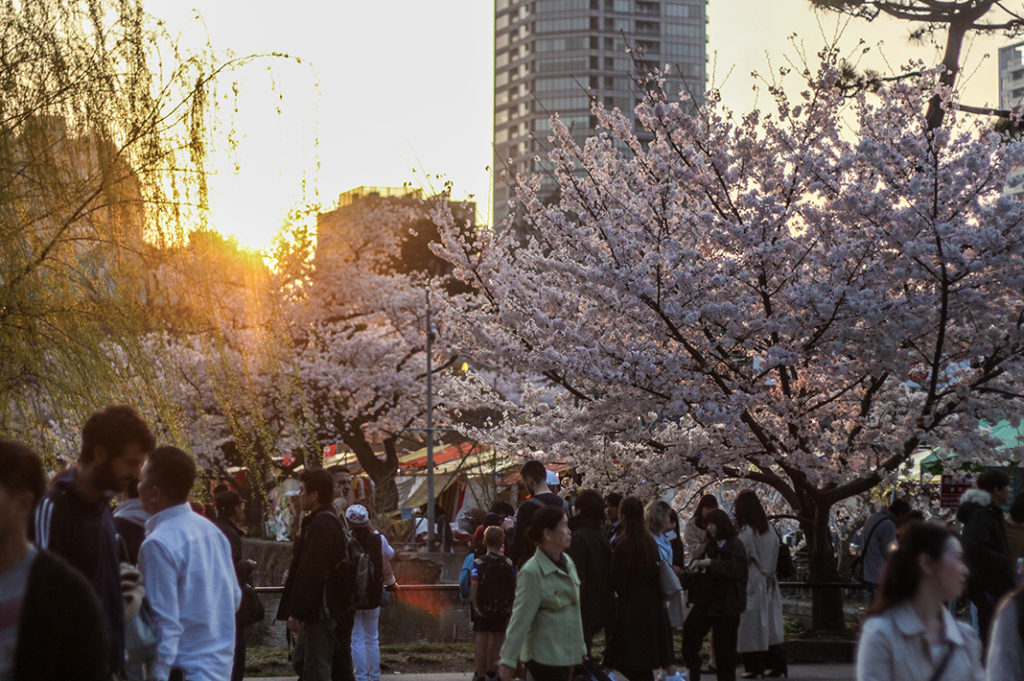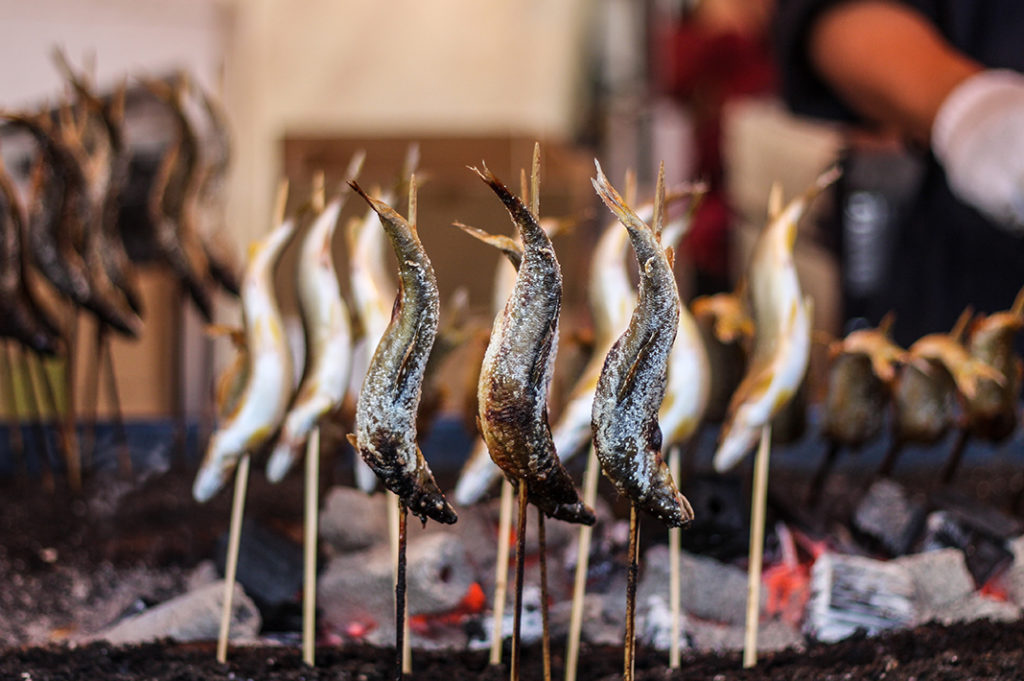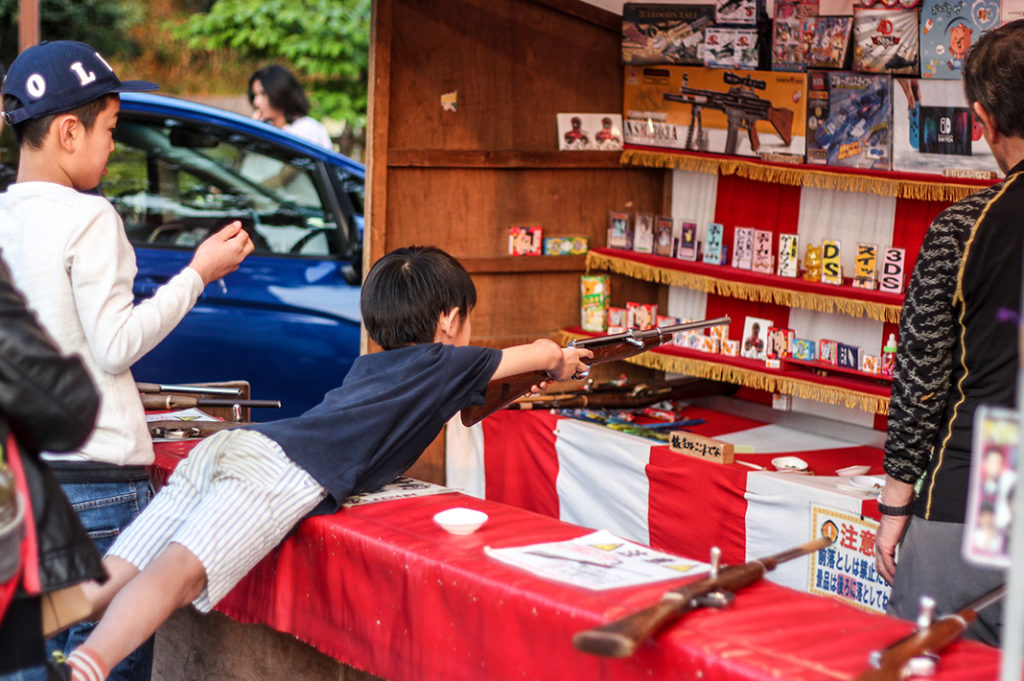 As the sun sets, what you lose in visibility is made up for in ambience. The Benten-do temple is beautifully illuminated, allowing for the dreamy atmosphere to continue long into the night.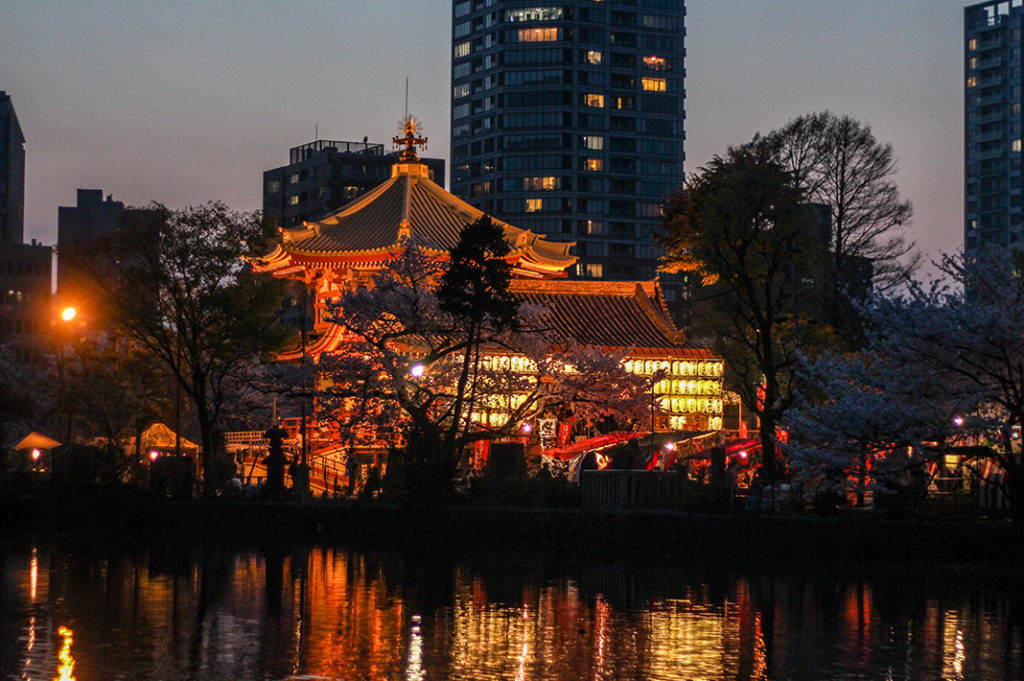 When it comes to the best places to see cherry blossoms in Tokyo, Ueno Park is a strong contender. Come for the sakura, stay for the swans.
Ueno Park
Address: Uenokoen, Taito City, Tokyo (beside Ueno station)
Open: 5:00a.m. until 11:00p.m.
URL: https://www.kensetsu.metro.tokyo.lg.jp/jimusho/toubuk/ueno/kouenannai.html
2020 Blossom forecast: Click here
Post by Japan Journeys.