Kyoto is the land of limitless temples and shines. That said, many of its most popular sites are packed with selfie-stick wielding tourists regardless of the time of year. If you're seeking something private—and don't mind stepping off of the beaten path—drop by Shoden-ji Temple. It's one of Kyoto's hidden gems, and it even captured the heart of the legendary rock-star David Bowie. When my fiancée and I visited Kyoto, we decided to drop by and check it out. What followed was a remarkable experience that took us through the streets of Kyoto's locals, brought us deep into the Temple's tranquillity, and introduced us to its macabre secret.
How to Get to Shoden-ji Temple: One of Kyoto's Hidden Gems
A thick swath of forest borders Kyoto's northern edge, which is exactly where Shoden-ji Temple makes its home. There are two ways to get there: (1) the relatively quick, easy way and (2) the long, leisurely way. For the first option, board either the #1 or #37 Kyoto City Bus at Kitaoji Station and depart at Jinkoin-mae Bus Station. From there, it's just a 750-meter walk up to the Temple's first set of gates. Wishing to make things as difficult as possible for ourselves, my fiancé and I decided to take option #2 and walk from Kitaoji Station. The route takes slightly over an hour in total. However, it does wind gorgeously through Kyoto's quiet back streets. The small shops, gardens, and occasional happy toddlers gave us a lovely glimpse into the everyday lives of those who call Kyoto home.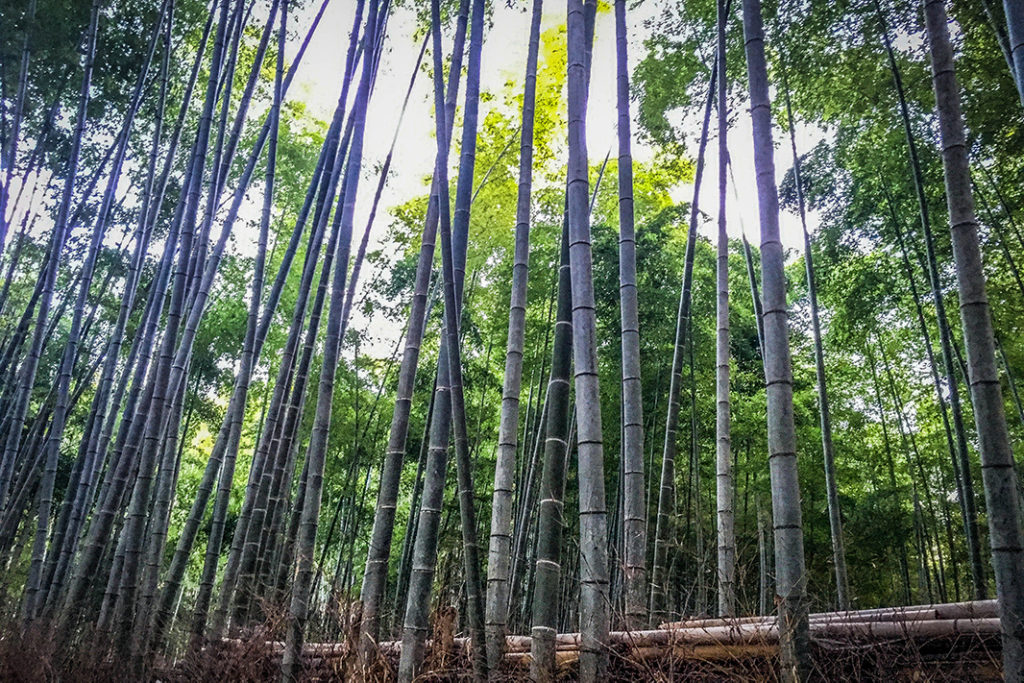 Bamboo Groves
After passing through the temple's first set of gates, we noticed knots of bamboo woven throughout the tree line. Along the temple's main path we found off-shoot trails leading deeper into the forest. After our visit, they allowed us to take a circular route through the area's ancient bamboo groves and provided the perfect cap-off to our visit.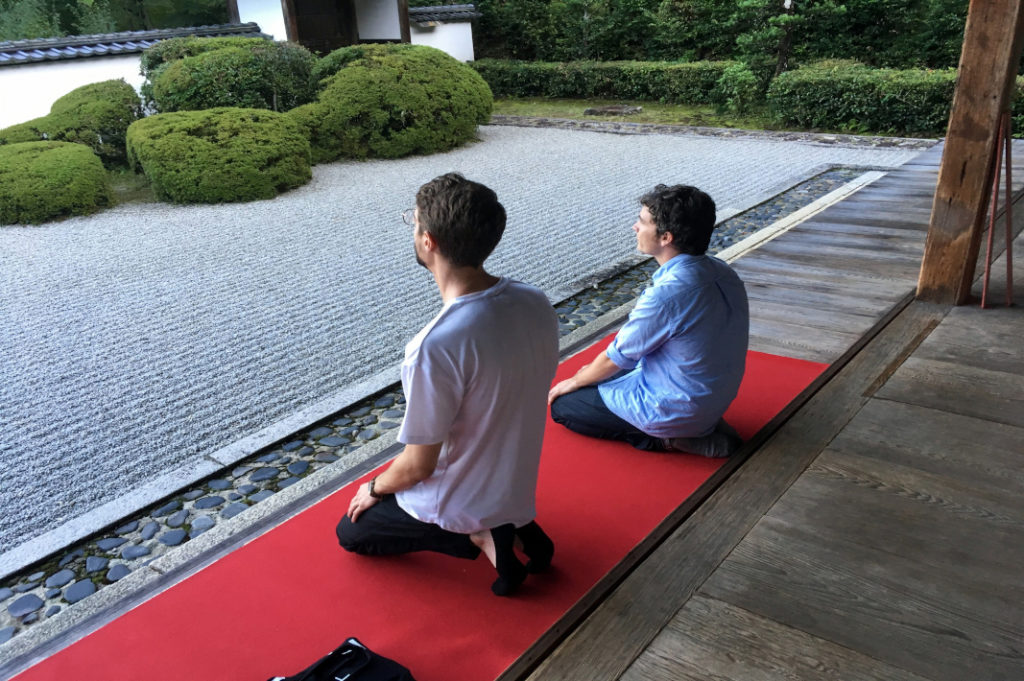 Bowie and Shoden-ji Temple
Upon arriving at Shoden-ji's white walls, our first impression of the temple was how sleepy it seemed. Little did we know that the temple also housed a bloody secret. Our arrival seemed to startle the Temple's attendant, who quickly snapped to and cheerfully handed us some pamphlets. We learned that Shoden-ji is an ancient site, built in 1282 by the Rinzai Buddhist Sect. One of its most notable features is its Zen rock garden, which dates back to the 16th century. Designed with the nearby Mt. Heiei in mind, it offers graceful views of the local nature and mountain lines. In fact, it's this garden that won the love of David Bowie. When asked for sites in which to film a shochu spirits commercial, Bowie recommended Shoden-ji as one of his favourite locations. During filming, Bowie was moved to tears by the garden's overwhelming sense of tranquillity.
Blood on the Ceiling
However, not all at Shoden-ji is as peaceful as it seems. In the 1600s a devastating bloodbath of a battle took place at Kyoto's Fushimi-Momoyama-jo Castle, which left its floorboards adorned in bloody handprints and footprints. These same boards were used to craft the current ceiling of Shoden-ji's main hall, and a series of bloody handprints can be glimpsed along the edge of the ceiling. Genko-an temple in Kyoto uses similar floorboards. However, theirs contain footprints. The prints are a sharp reminder that peace is certainly not as easy as it seems. All of which only serves to underscore the hard-won tranquillity of the rock garden outside.
In the land of over-populated temples, Shoden-ji offers a moving glimpse into war, peace, and the never-ending struggle between them. If you're visiting, schedule in some time to experience Shoden-ji Temple, one of Kyoto's hidden gems.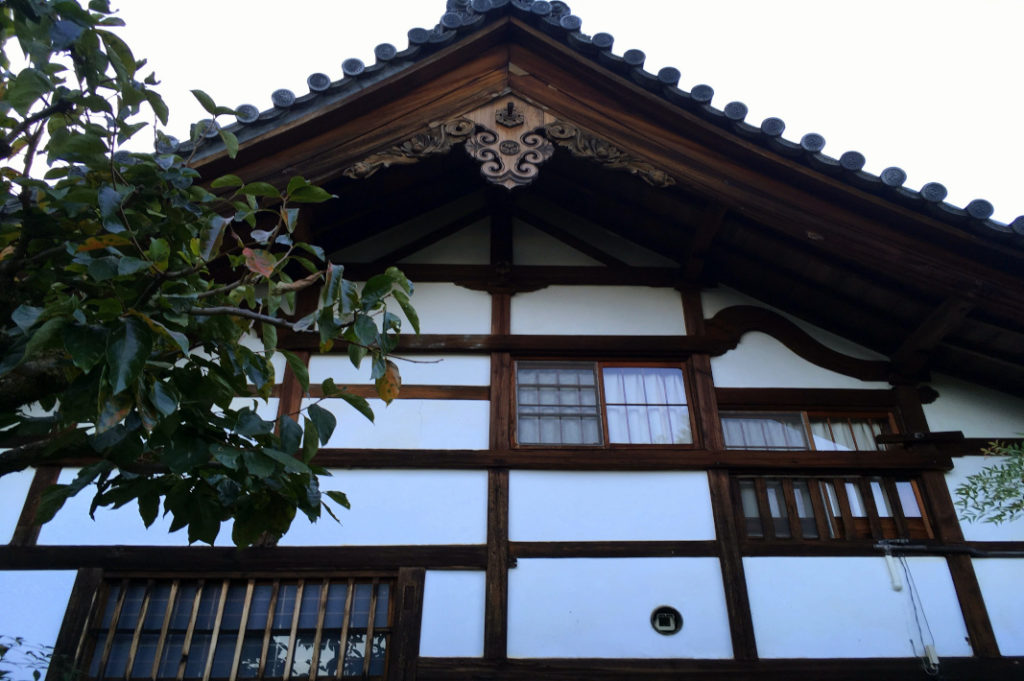 Name: Shoden-ji Temple
Address: 72 Nishigamo Kitachinjuancho, Kita Ward, Kyoto, 603-8847, Japan
URL: https://kyoto.travel/en/shrine_temple

Post by: Japan Journeys