Be ye brave enough to sail Japanese waters? Until One Piece, pirates and Japan were two words that rarely went together. However, to everyone's delight, the Hakone Sightseeing Cruise has found another way to merge them together. Let's give them a round of applause. Due to their efforts, visitors can climb aboard one of Hakone's pirate ships, enjoy a stately sightseeing cruise around Lake Ashinoko, and maybe even find some treasure…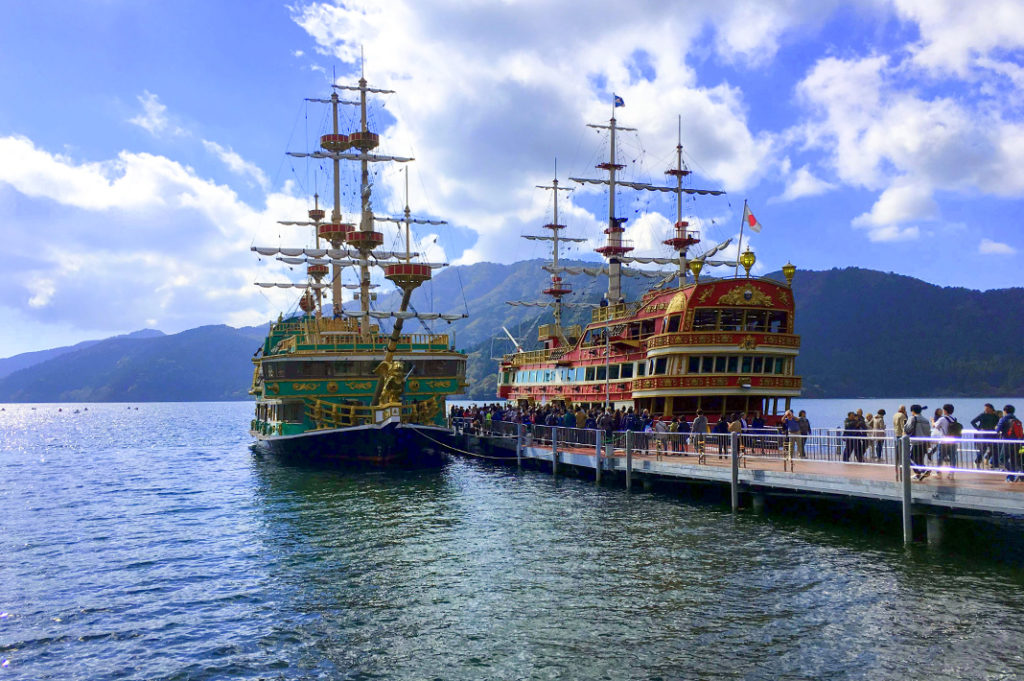 What? Where?
The Hakone Sightseeing Cruise rules the waters of Hakone's Lake Ashinoko. Furthermore, it offers dreamy, lake-side views of Mt. Fuji and Hakone Shrine. The area itself is a notable tourist hotspot and is especially popular amongst those visiting Tokyo. Hakone is renowned for its hot springs, volcanic valley, ropeway, and shrines. In particular, the area's volcanic valley, Owakundai, is well-known for its black eggs, which are carefully boiled in its volcanic waters. If you can, definitely try one. They're good luck and taste, not unsurprisingly, like a slightly smoky egg.
As visitors descend the ropeway from Owakundai toward Lake Ashinoko, many are baffled by the sudden appearance of Hakone's pirate ships. Initially, they are a very confusing sight. However, the ships are beautiful examples of 18th-century design and a great opportunity for some swashbuckling fun. In total, the ships dock at three ports. The recommended starting port is Motohakone-ko, which is close to the stately Hakone Shrine. From there, the ships dock at Todengai-ko, which is close to the volcanic valley. Finally, the ships dock at Hakonemachi-ko, which is a less exciting, general access point close to Hakone City.
The Origins of Hakone's Pirate Ships
Surprisingly, the Hakone Sightseeing Cruise owes its creation, in part, to Disneyland. Allow me to set the scene. It was the 1960s. As Japan's economy started to pick up, so too did interest in new leisure activities. One fateful day, the company president embarked on a trip to Disneyland. Reportedly, he was inspired by the company's creativity and success. After taking some time to think things over, he embarked on a new adventure: Western-style pirate ship cruises. Despite initial apprehension, the ships were a huge hit, especially among children. These days, nearly 2 million people board the ships each year.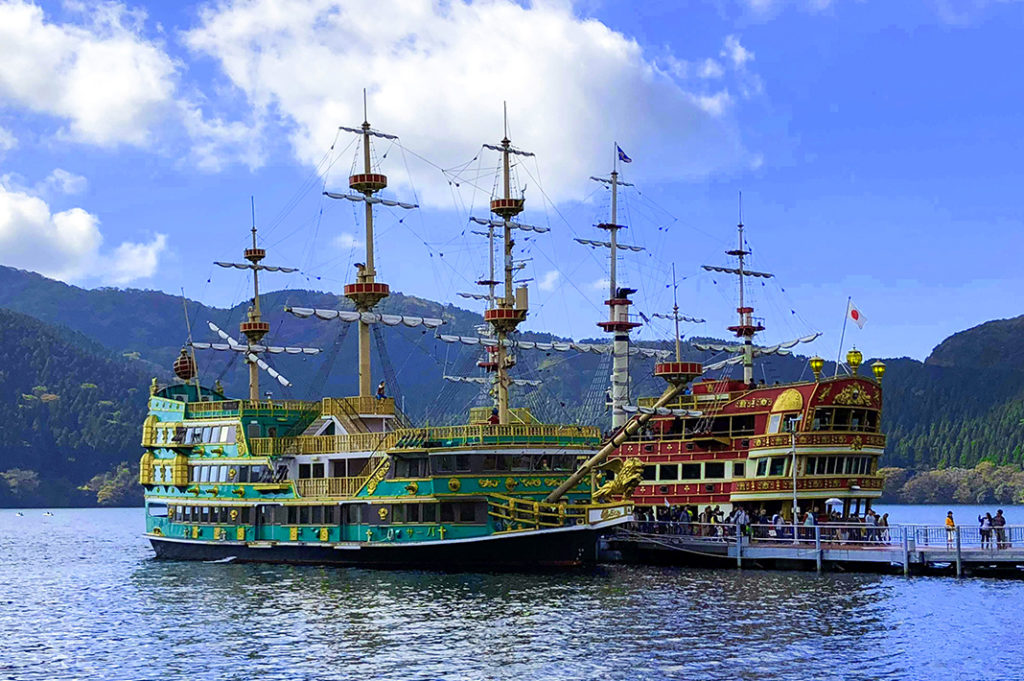 The Hakone Sightseeing Cruise: The Fleet
In total, the Hakone Sightseeing Cruise maintains a fleet of three ships: a French flagship, a British battleship, and a luxury cruiser. Shockingly, each of them can hold up to 500 people. The Royal II, with its vivid red hull, is a reproduction of an 18th-century French flagship. Amongst its classical French décor, guests can seek out the ship's trusty, wooden captain for a photo-op. Meanwhile, the Victory is a model of the infamous HMS Victory, an 18th-century British warship. The original was a pivotal participant in many key sea-faring battles. Its black and gold hull hides an intriguing secret: there be treasure on board. Finally, the Queen Ashinoko offers the best in sea-worthy refinement. It's the most luxurious of the ships, and its most easily recognizable for its heavy use of gold accenting on its hull.
Whichever ship you should choose, the Hakone Sightseeing Cruise is a not-to-be-missed adventure. It's a great way to traverse the area, take in its top sights, and have a ton of fun to boot.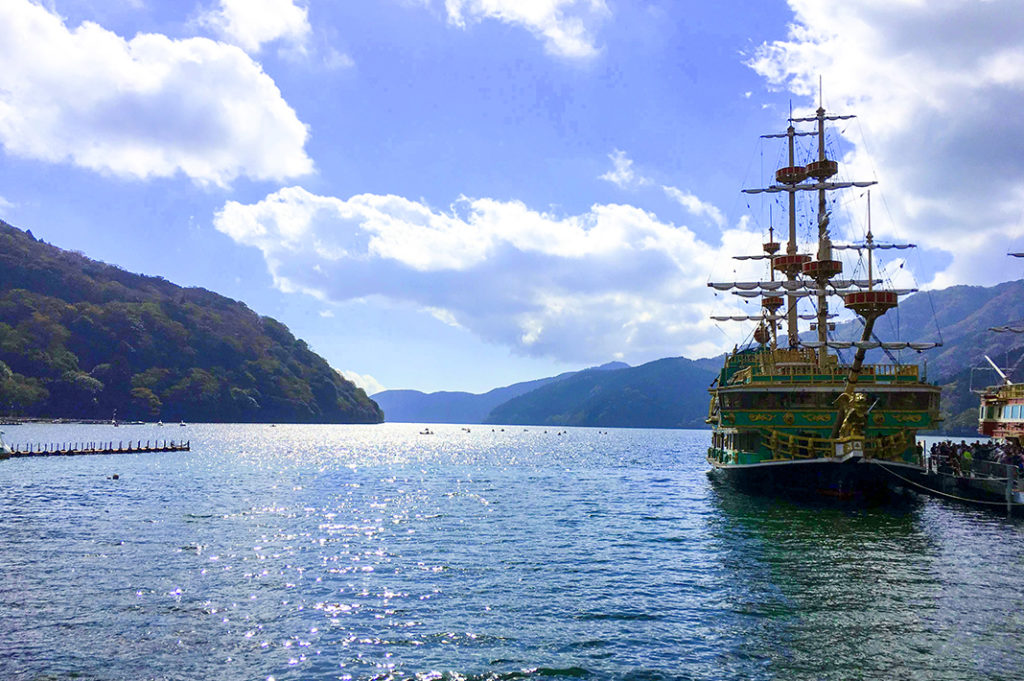 Name: Hakone Sightseeing Cruise
Address: Motohakone-ko is the recommended starting port; its address is 6–40 Moto-Hakone, Hakone-machi, Ashigarashimo-gun 250-0522
URL: https://www.hakone-kankosen.co.jp/foreign/en/

Post by Japan Journeys.