Although much of Kyoto city's architectural and cultural history has skyrocketed in popularity in the last five years, many almost 'undiscovered' sites also exist. The lack of visitation creates a tangible atmosphere of living, breathing history. The vast temple complex of Myoshin-ji [妙心寺] and Taizo-in [退蔵院] in Kyoto's Hanazono district is the perfect example of a historically preserved environment. Better still, it remains largely unvisited by foreign tourists, making it the ideal 'immersive' experience.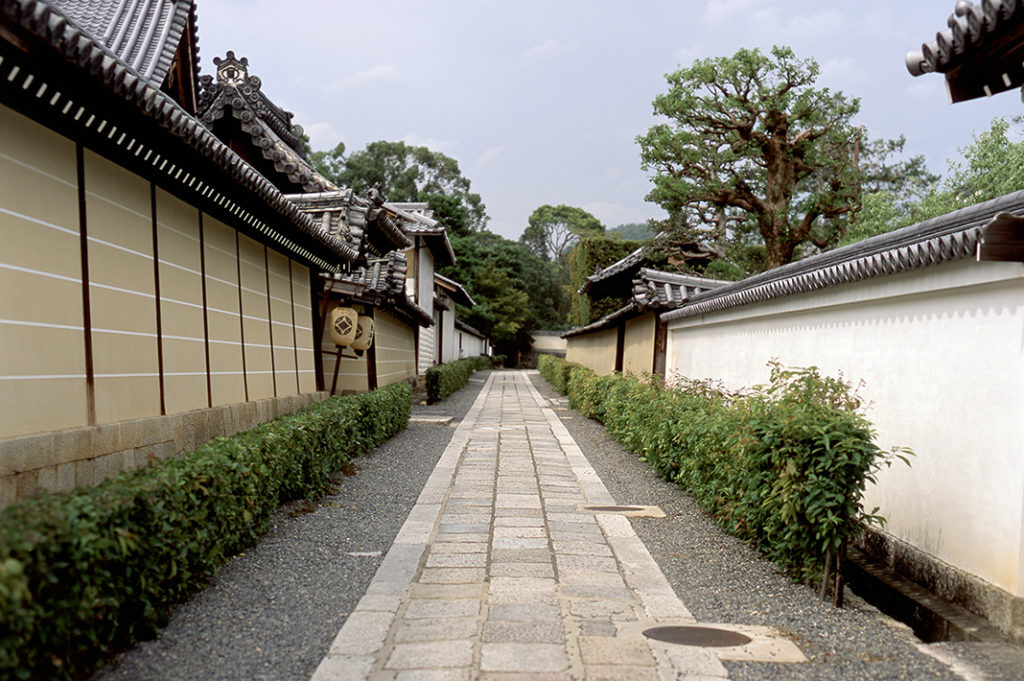 Myoshin-ji and Taizo-in: historical Japan, in miniature.
Myoshin-ji is not simply one temple; it's actually an enormous multi-temple complex, much like Nanzen-ji, in eastern Kyoto. It actually started life as Emperor Hanazono's (r. 1308-1318) personal villa. Again, much like Nanzen-ji, Myoshin-ji's conversion from villa to temple was the result of a retiring Emperor dedicating himself fully to pursuing the way of Zen. As the years passed, Myoshin-ji grew from a few buildings into a thriving community of both monastic and lay Buddhists.
Myoshin-ji's tranquil and minimalistic atmosphere is a point of pride for its residents. Workers and residents carefully maintain the traditional lime-washed walls and the sloping, tiled eaves. Naturally, not a spot of litter or stray leaf can be found on the carefully swept stone pathways. Throughout the grounds, ancient, twisted pine trees soar into the sky and bend over walls, creating an almost movie-like atmosphere. In fact, visitors who want to visit one of Japan's historical film sets may enjoy Myoshin-ji all the more for its genuine nature and lack of tourists.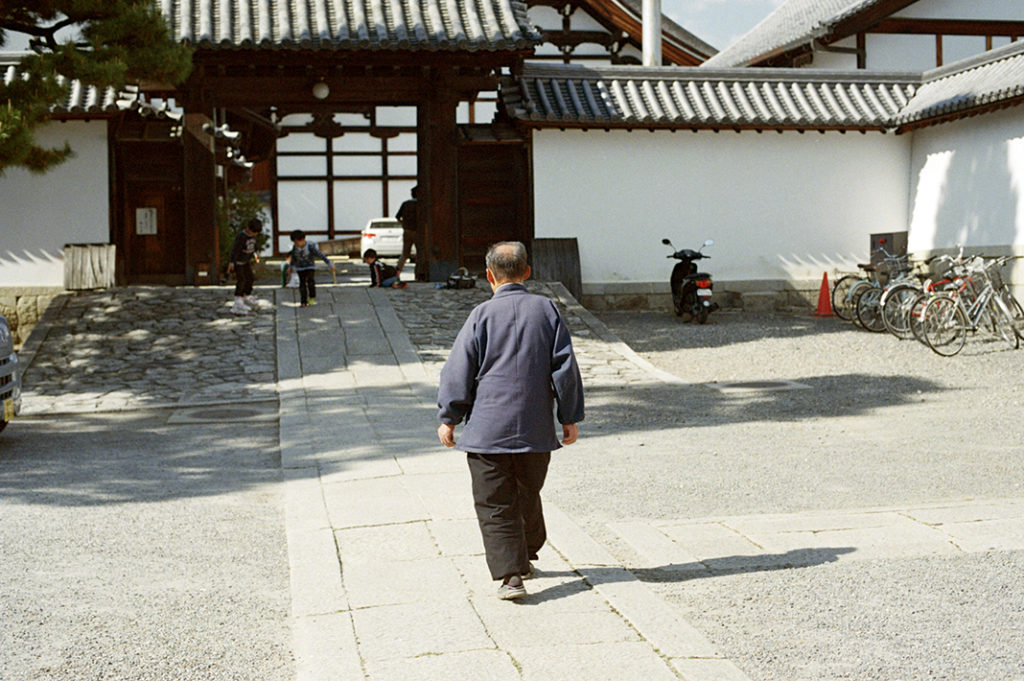 A neighbourhood left behind in time.
As you walk through the temple grounds, you'll pass a plethora of Buddhist architectural styles. Naturally, towering red 'mon' gates are the crowning glory of the courtyard's north-south pathway. Beyond, stone paths lead through temples and halls of all sizes. The atmosphere is always quiet, punctuated occasionally by elderly ladies passing through, or Buddhist monks in flowing robes or enviably stylish traditional work attire. It truly feels as though you've stepped back in time, to a Kyoto before modernity.
Uncommonly, Myoshin-ji is just so: a temple complex with 'regular' residents and a very real community. In the 1800s, the temple's scholastic nature formed the basis for other educational institutions to grow and develop in the Hanazono district. Today, this includes a kindergarten, elementary, junior and high schools, and the well-regarded Hanazono University.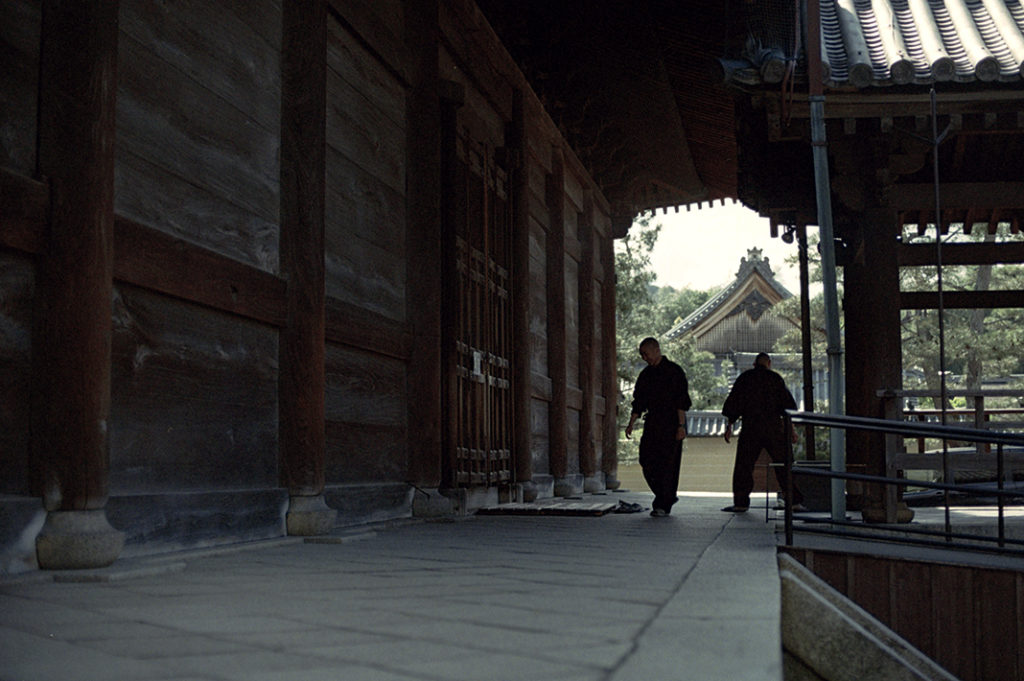 Myoshin-ji and Zen: more than meets the eye.
It would be easy to spend an entire day wandering the avenues and eaves of the Myoshin-ji complex. Uncommonly, Myoshin-ji stands out among other temples in Kyoto with the sheer scale of Zen Buddhist education it offers to both local and foreign visitors. As such, any number of Myoshin-ji's Zen meditation [zazen・座禅] retreats or classes will offer a worthwhile opportunity to learn Zen practice from the masters in an authentic environment.
The language and cultural barriers between Japan and the world beyond its shores have traditionally been hard to bridge. However, Myoshin-ji's offerings of Zazen classes to the public are unusual in welcoming foreigners, despite making clear that instruction is only available in Japanese. Certain sessions encourage non-Japanese speakers to bring somebody who can interpret instructions for them. Alternatively, foreign visitors who know passable Japanese can also attend.
Taizo-in
If you want to experience Zen-like calm, but don't feel like getting up at 5 am, the adjoining Taizo-in temple offers the perfect alternative. Groups of ten or more travellers visiting Taizo-in have the opportunity to reserve a one-hour tea ceremony experience. For smaller groups or individuals, tea and wagashi are available. Best of all, you can sit and enjoy them from the calm of the windowed tea room, overlooking part of the idyllic landscaped garden.
Taizo-in's gardens are spectacular and should not be missed when visiting the adjoining Myoshin-ji temple. A stream flows gently through the rocky landscape, gathering in a reflective koi pond, overlooked by a leafy viewing area. Before this, the entry path is punctuated by an enormous weeping cherry tree, which in turn is flanked by two dry stone gardens.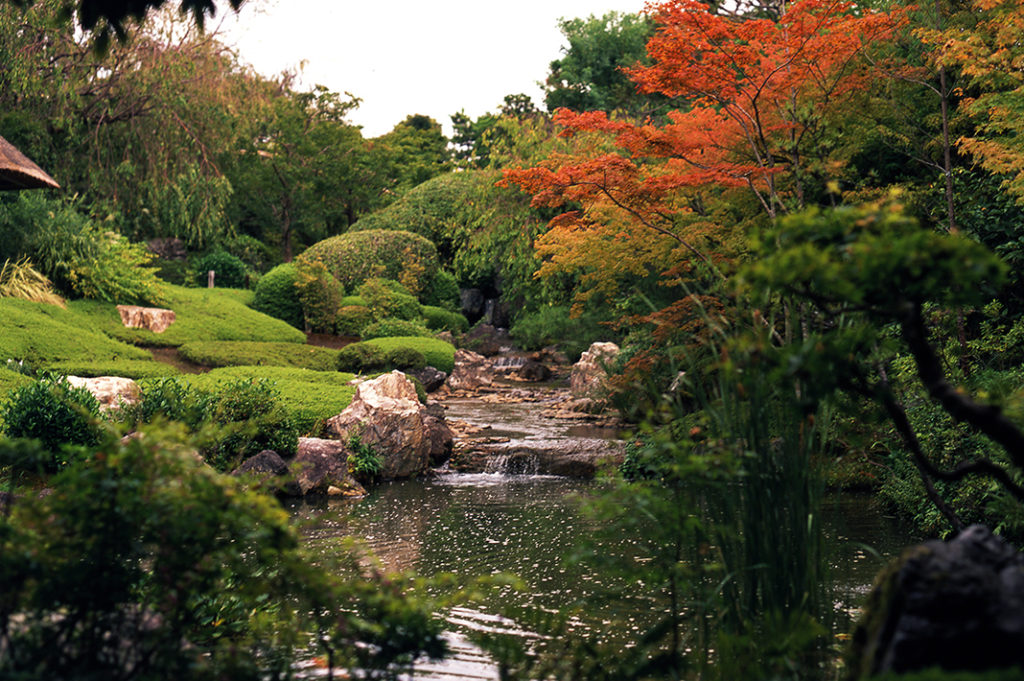 Taizo-in: where life imitates art.
Painstakingly careful design is a common factor in all Japanese gardens. Specifically, the construction of 'viewpoints' – that from anywhere you stand, the repose of the land resembles a painting. Naturally, such careful scenic design is a photographer's dream and invites viewers to observe and enjoy their surroundings with consideration. This strolling garden was created with suspense and surprise in mind. Its twists and turns reveal layers upon layers of perfect views, paying homage to Japan's natural landscapes in miniature.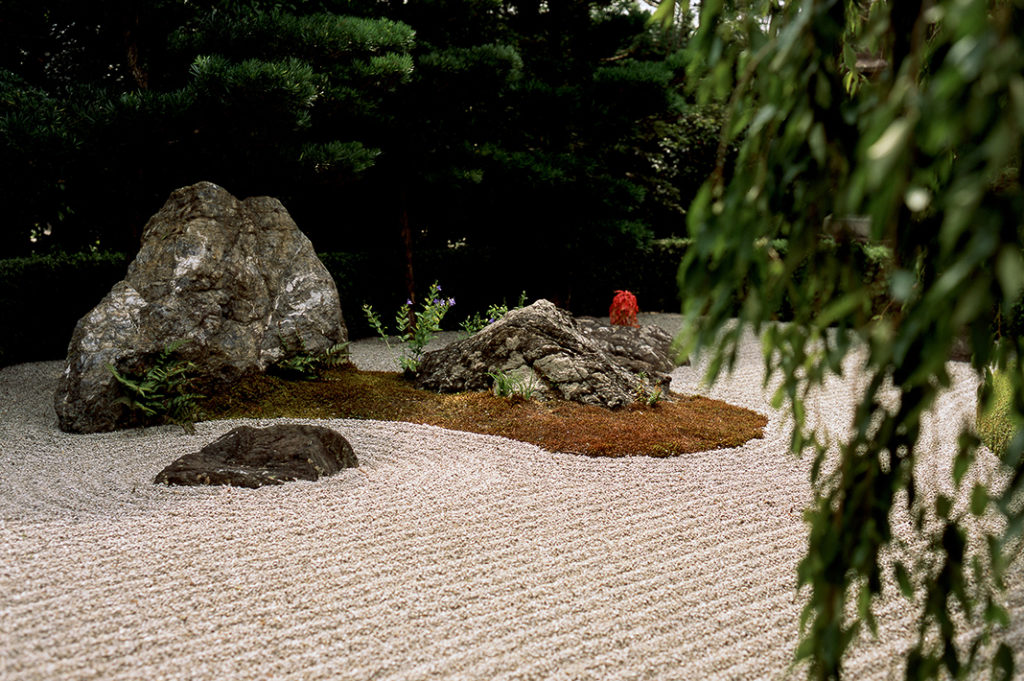 Access
One of the great things about technology is having the chance to explore locations before we head out into the world. As such, you can explore the street-level Google Earth map of Myoshin-ji here. However, this top-down view lets you choose closer looks at many of the temples in the complex. Of course, no doubt you'll be keen to actually see Myoshin-ji and Taizo-in for yourself. The closest train connection is JR Hanazono Station; a 5 to 7-minute walk from Myoshin-ji's front gate.
Taizo-in is a small sub-temple to the left of Myoshin-ji's large 'mon' gates.
Post by Japan Journeys.