Uji is all about green tea; it's past, present and future are deeply rooted in tea culture. A quick stroll through town is enough to clue you in, with celebrity-status tea houses and green coloured foods everywhere you turn. For matcha lovers and food lovers alike, there is plenty to get excited about. By lunchtime on my recent visit, I'm already starving and not in the mood for queuing in the sun at one of the popular tea houses. I'm still in the quiet upriver area, past the famous Byodoin Temple, when I spot a riverside restaurant calling to me like a siren mirage. The rustic wooden structure stands on stilts above bobbing boats and is adorned with festive lanterns. Still riding high from my riverside lunch in Kibune the day before, I step into the Uji restaurant 'Aiso' with Green Tea Soba on my mind.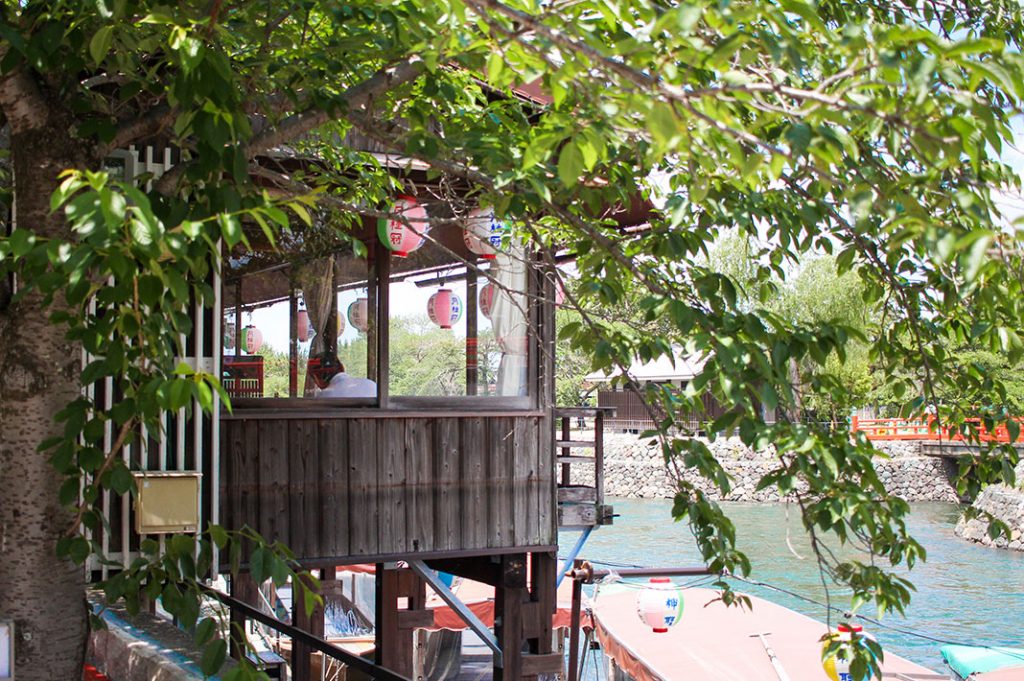 Riverside Dining in Uji: Aiso
As is the case with riverside dining in Kibune, the main business (hotel or restaurant) is located across the road from the riverbank, while a simple dining annex is perched over the water. Here in Uji, staff from the hotel Aiso hurriedly shuffle between the two in their outdoor slippers ferrying drinks and food to relaxed diners. The wooden annex structure reminds me of exciting places like cubby houses, bungalows and cabins. All are novelty and promise seclusion, relaxation and fun.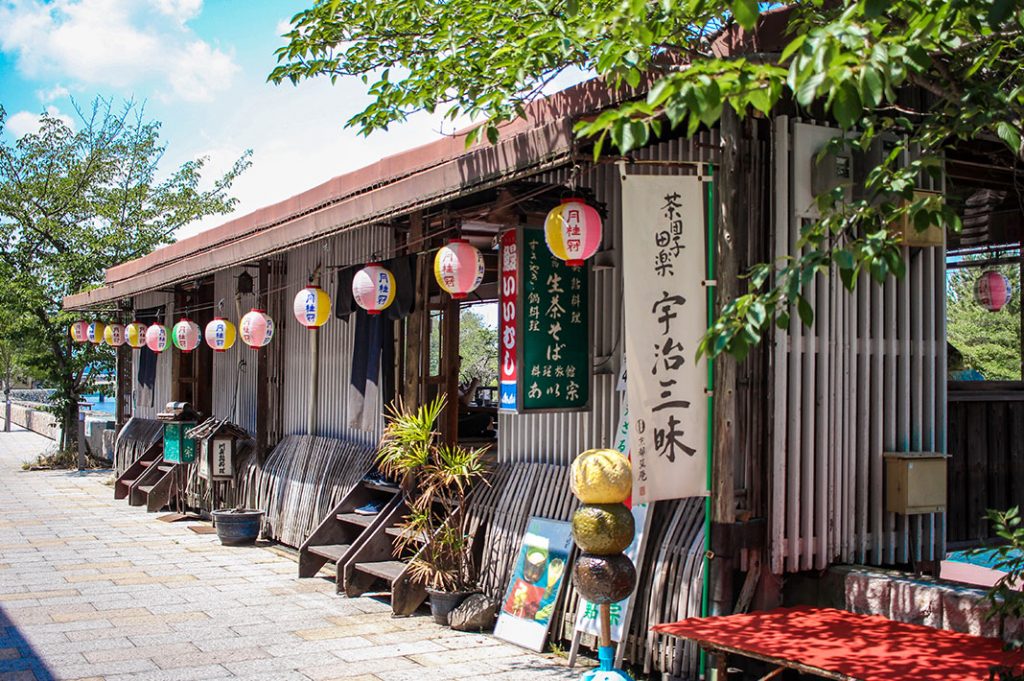 I ascend the few steps to the raised dining room and leave my shoes outside. Passing through the curtain, I find my chabudai (low table) and settle in cross legged on the tatami floor. From the floor to ceiling windows, I enjoy the relaxing views and white noise of the flowing Ujigawa river. This is usually a busy spot, but I happen to be in town on the day of the Matsuri (festival) so everyone is across town perusing the stalls, leaving me with a quiet, peaceful dining experience.
The Menu
Quickly after sitting down, an English menu is presented which showcases a variety of meals; udon, soba, eel, rice dishes. Most cost around 1,000 yen ($10) but the fanciest sets are double or triple that price. I weigh my options while enjoying the tea and matcha flavoured yatsuhashi, a Kyoto specialty made from glutinous rice powder, quite similar to mochi.
Cooling Down
It had been a particularly hot day so the cool breeze off the river is very welcome as it makes its way through the dining room. Pushing the hot tea aside, I grab my mug of ice-cold beer, take a big gulp and let out a sigh. This is the life.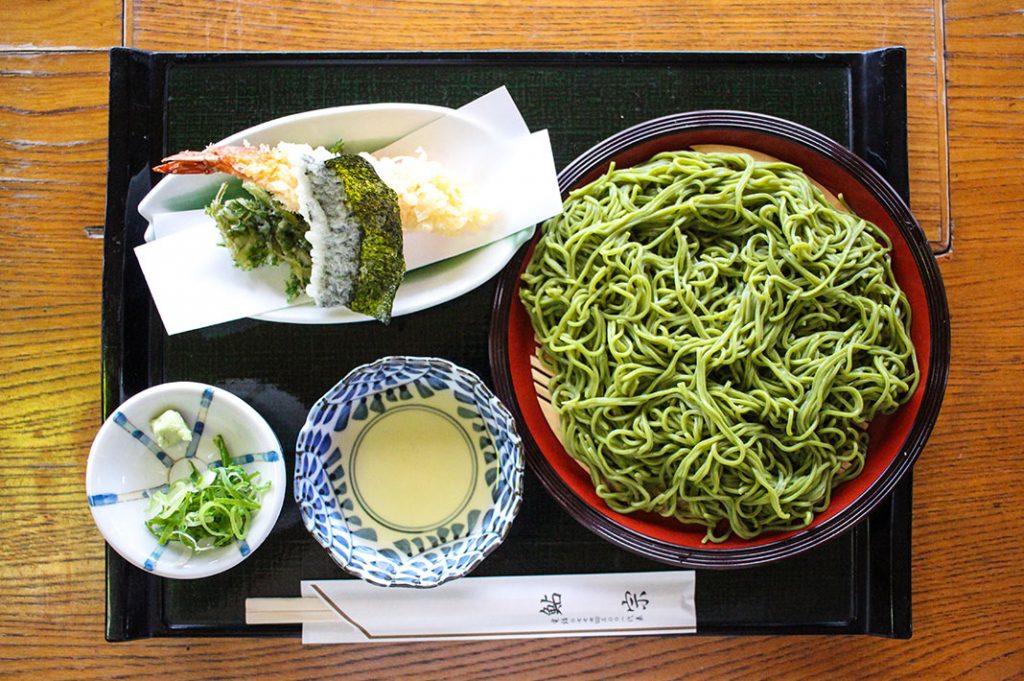 I decide on a green tea soba (cha soba) set with tempura. When given the option of hot or cold noodles, I choose cold. Chilled soba (also known as zaru-soba) is a fabulous way to stay cool in the summer—just try it and see.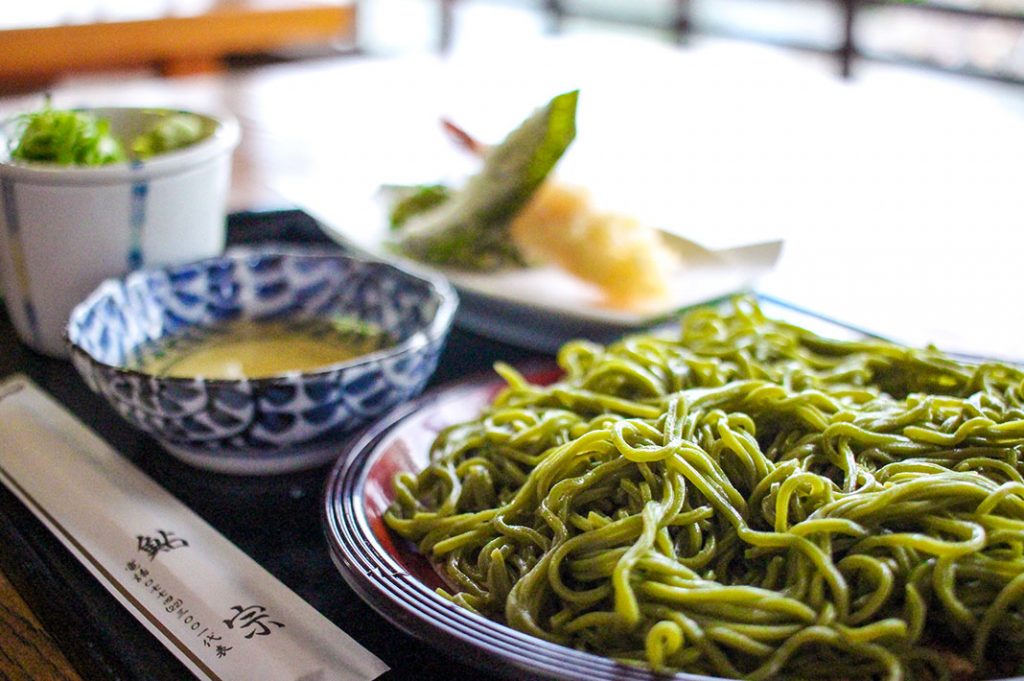 The Taste Test
My meal comes rather quickly. On my tray are a jumble of green tea soba noodles atop the namesake bamboo strainer (zaru), a plate of tempura and dipping sauces for both. I start with the tempura.
The kikuna (edible chrysanthemum leaf, also found in sukiyaki hotpot) is delicious; so peppery, nutty and aromatic. The single sheet of nori is crackly and crunchy while the meaty prawn is sweet and fresh. I enjoy the light tempura batter which holds up well in the dipping sauce.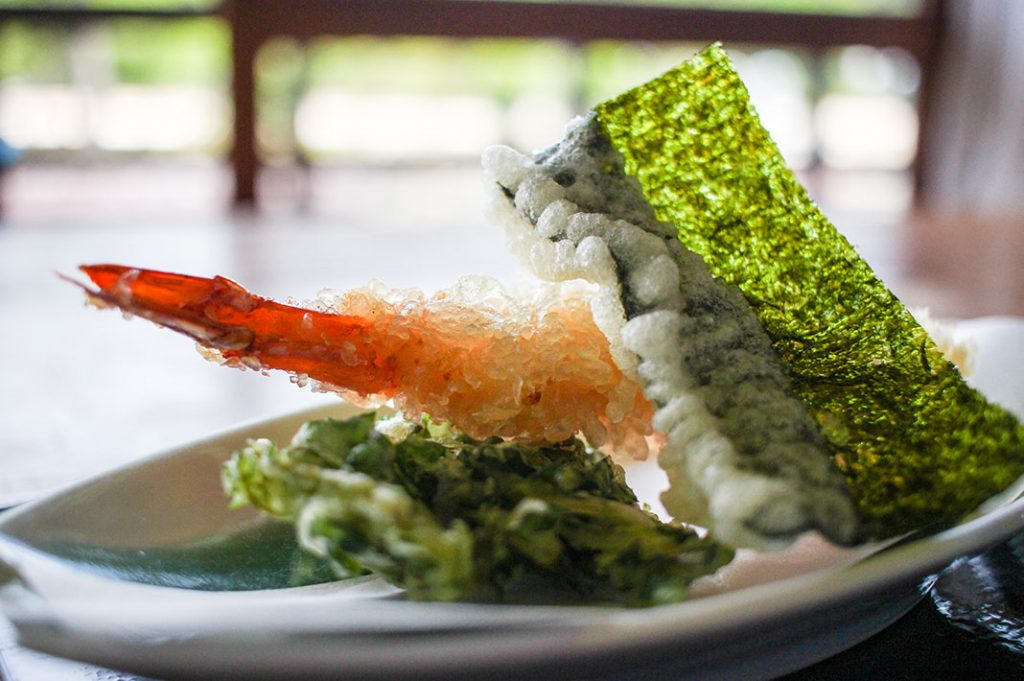 Onto the soba. Traditionally zaru-soba is accompanied by a chilled soy-based dipping sauce called tsuyu. Basically you scoop up a mouthful's worth of noodles then dip it into the cool tsuyu before slurping it down. I mix spring onion and wasabi into mine for preparation.
The green tea soba (cha soba) is a first for me and I was pleased that matcha wasn't a dominant flavour. In fact, I could barely taste it. The noodles were quite green, proof that a little matcha powder goes a long way. This would bode well for me as I would be consuming a lot of matcha in various forms that day. When I'm all done and nicely cooled down, I take my bill across the street to pay and set off in search of more matcha.
Name: Aiso (鮎宗)
Address: 3 Uji Tokawa, Uji city
Open: 11am–5pm
URL: http://www.wao.or.jp/aiso/
Post by Japan Journeys.