Despite having a Christian population of roughly 1%, Christmas is a big deal in Japan. It's playing from speakers, appearing in stores and even decorating the streets. There's no denying the spirit of Christmas consumerism is alive and well. So when the cold weather creeps in and you find yourself wondering what to do for Christmas in Tokyo, just do as the locals do: eat KFC, look at night illuminations and go to a German Christmas market! It's all guaranteed to delight! On our quest to complete this checklist, we found ourselves heading to, arguably, the greatest market of them all: the Yokohama Red Brick Warehouse Christmas Market.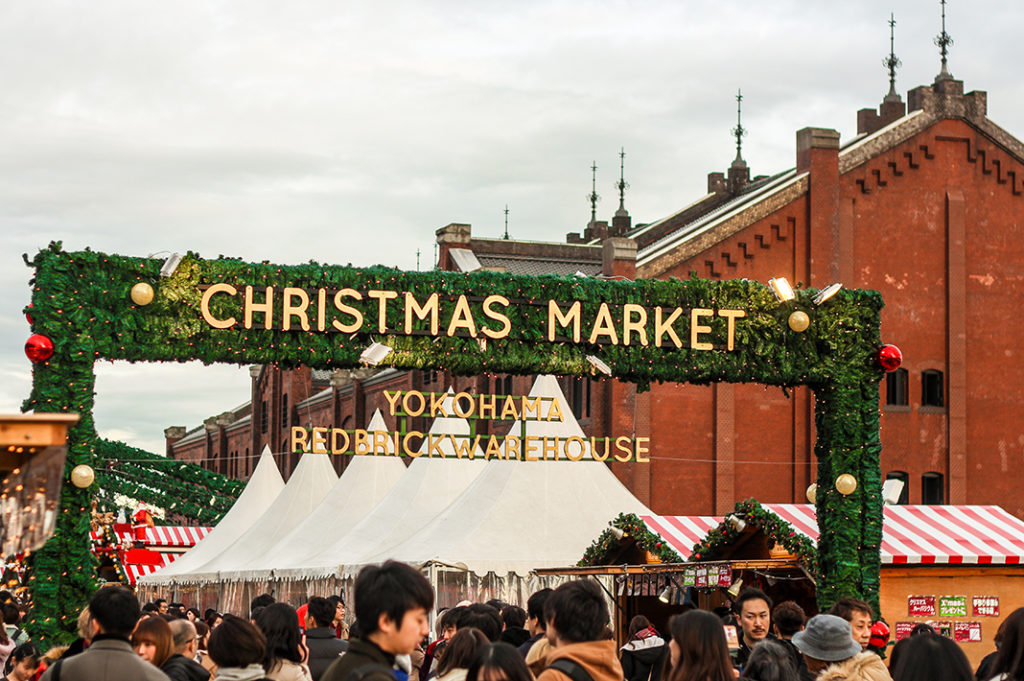 Date Night at the Yokohama Christmas Market
We arrived in daylight, rugged up against Yokohama's chilly ocean breezes. Standing before the entrance archway, with twinkling lights and steaming food stalls ahead, the excitement set in. All around us, couples clutched each others arms, sipped at steaming cups of mulled wine and posed for selfies. Then we realised, it was Christmas Eve—the biggest date night of the year in Japan—and this was the most romantic spot in town. So the three of us leaned into it and got in line for a hot beverage.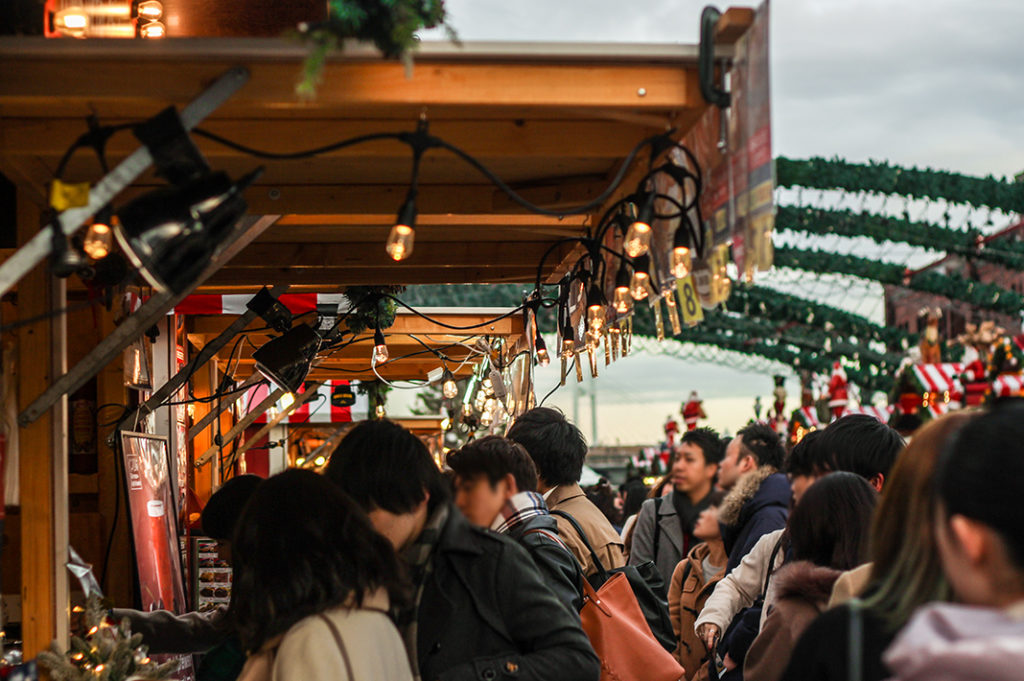 Once our hands and bellies were suitably warmed, we set off to explore the other offerings. The adorable wooden huts lining the central promenade weren't just for show, they sold things like roasted meats, stews, sausages and pretzels.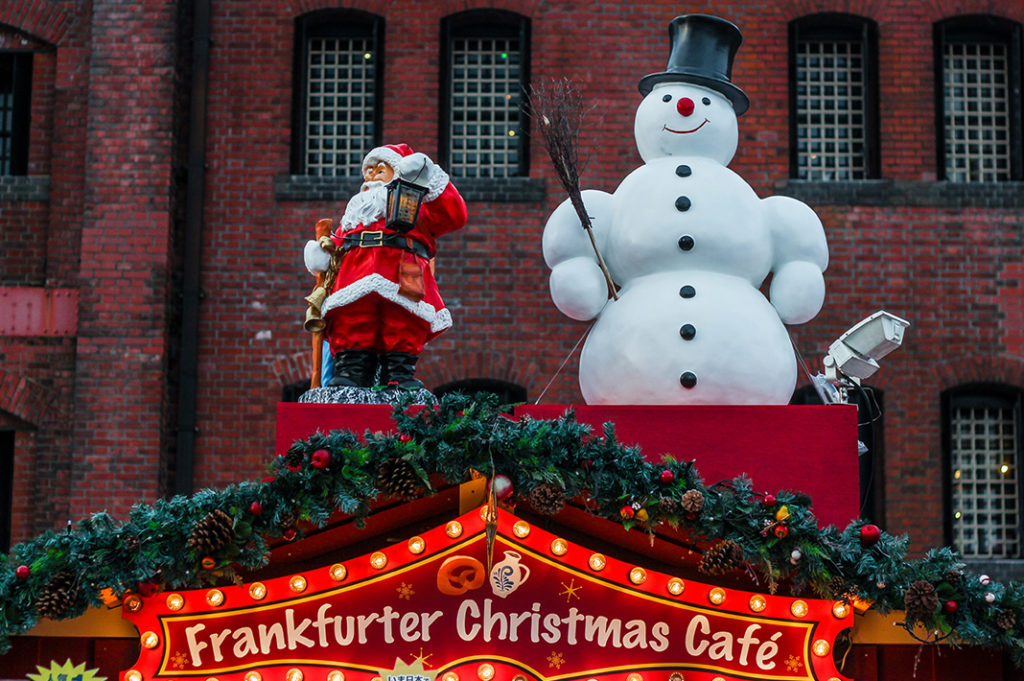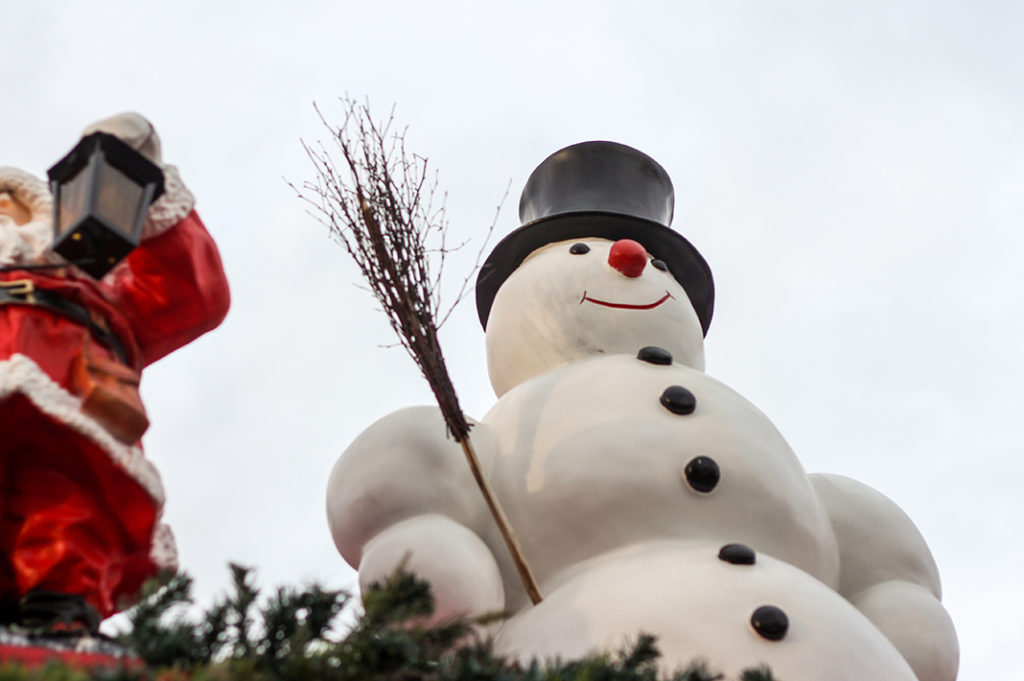 We picked out a few dinner candidates and made our way over to the gigantic Christmas Tree centrepiece. Adorned with big red ornaments and strands of lights, it towered over the whole area, making for a wonderful photo backdrop. 
Champagne and Seafood
Lucky for us all, the 2019 market featured a 'champagne and seafood' section surrounding the tree. Along with stalls selling Christmas ornaments, matryoshka dolls and small gifts for that special someone, there were garlicky prawns, fresh oysters and flowing champagne. It was all very civilised.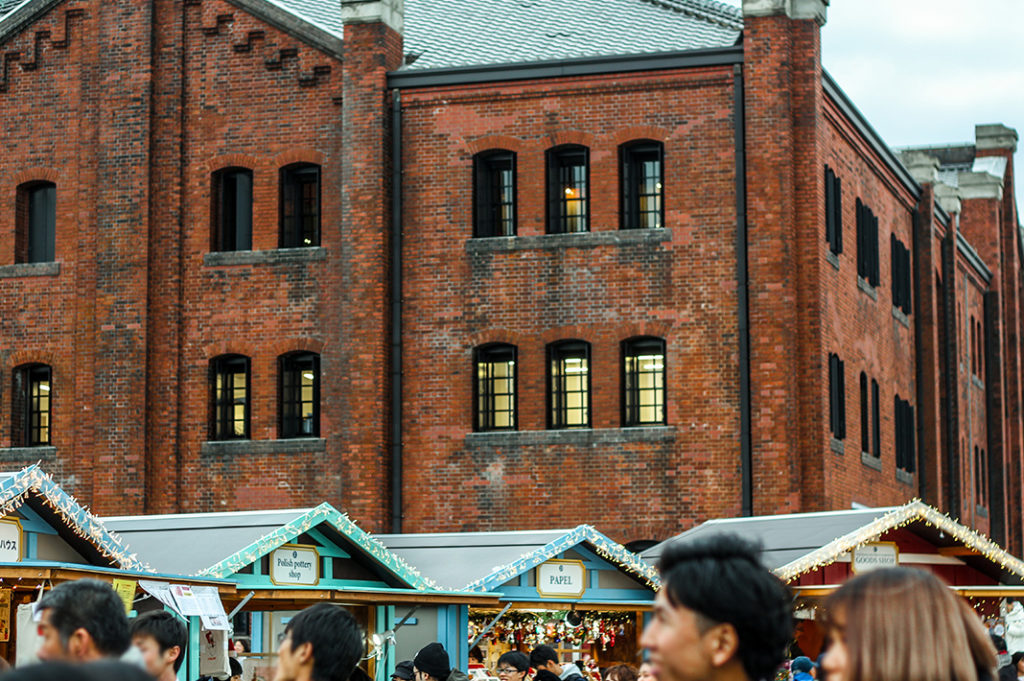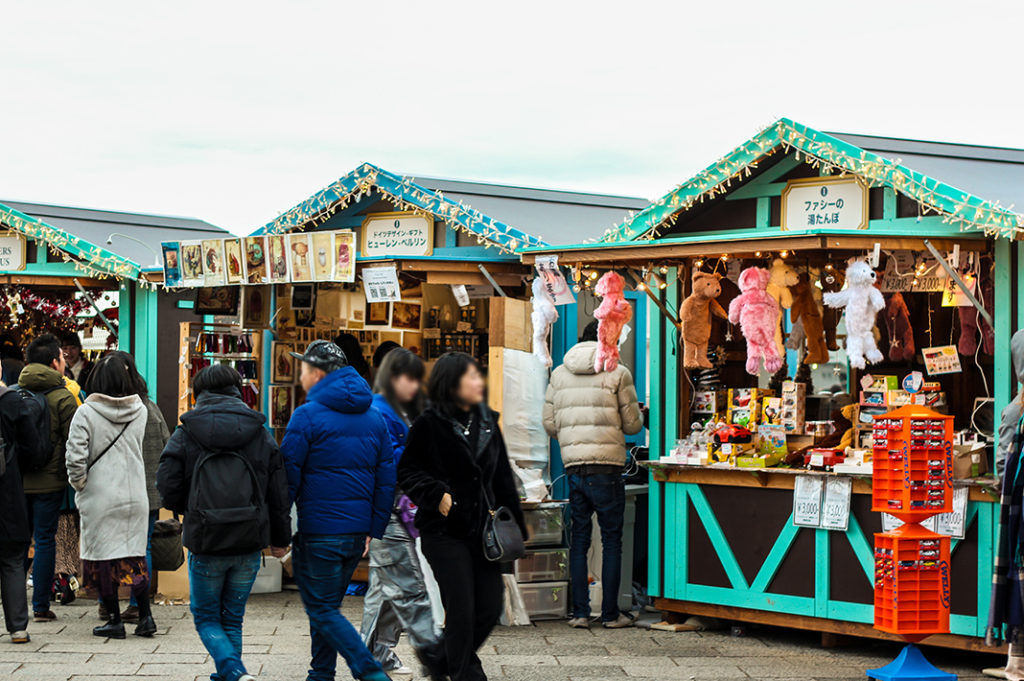 As it was still too bright for the tree to be lit up, we ducked into the Moet Champagne pop-up bar for a celebratory tipple. The bar/lounge was decked out with golden sparkly accents and a faux champagne flute pyramid. Everyone was bopping along to the DJ while a looping video cut with words like 'SUCCESS' and 'MAGIC' kept pulling the eye. After a time, we decided to rug back up and get a dose of Christmas eve magic.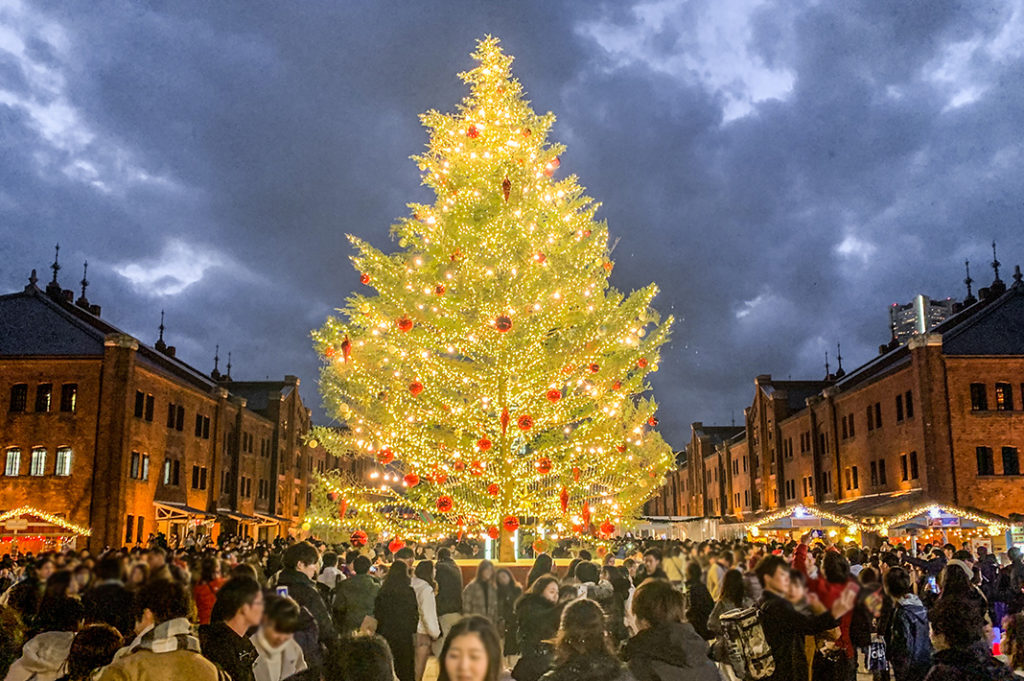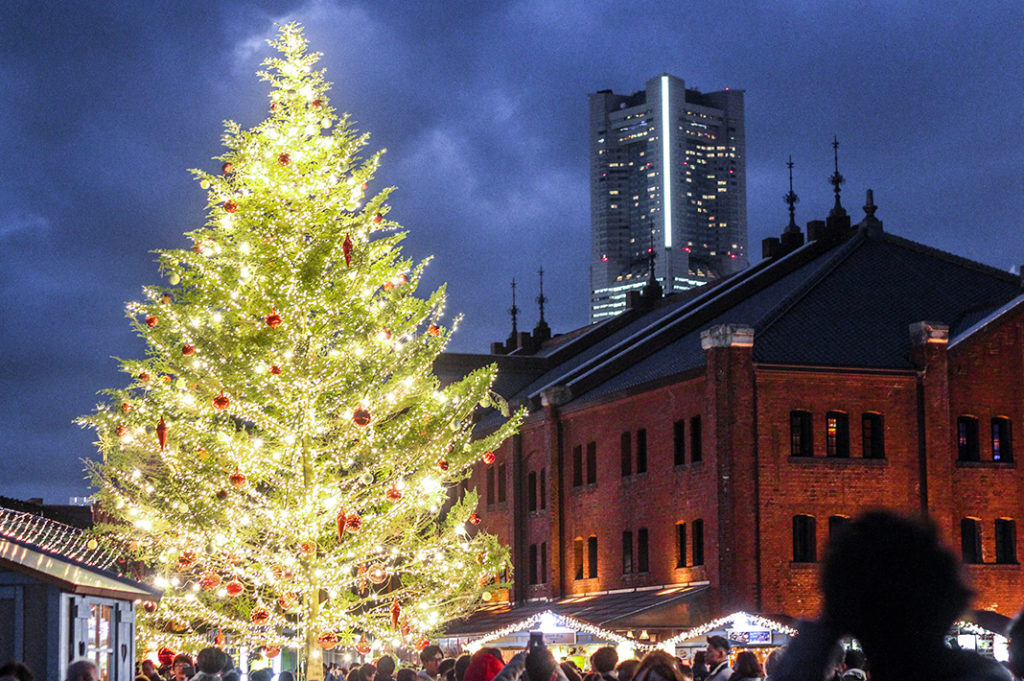 Romantic Sausage Feast
Nothing says German market like a hot sausage, am I right? So that's exactly what we got. With lashings of ketchup and mustard on a crunchy bread roll, it was one of the better sausages I've enjoyed so far in Japan. We huddled between stalls, munching away in a frenzy, with breadcrumbs raining down our fronts like Christmas snow.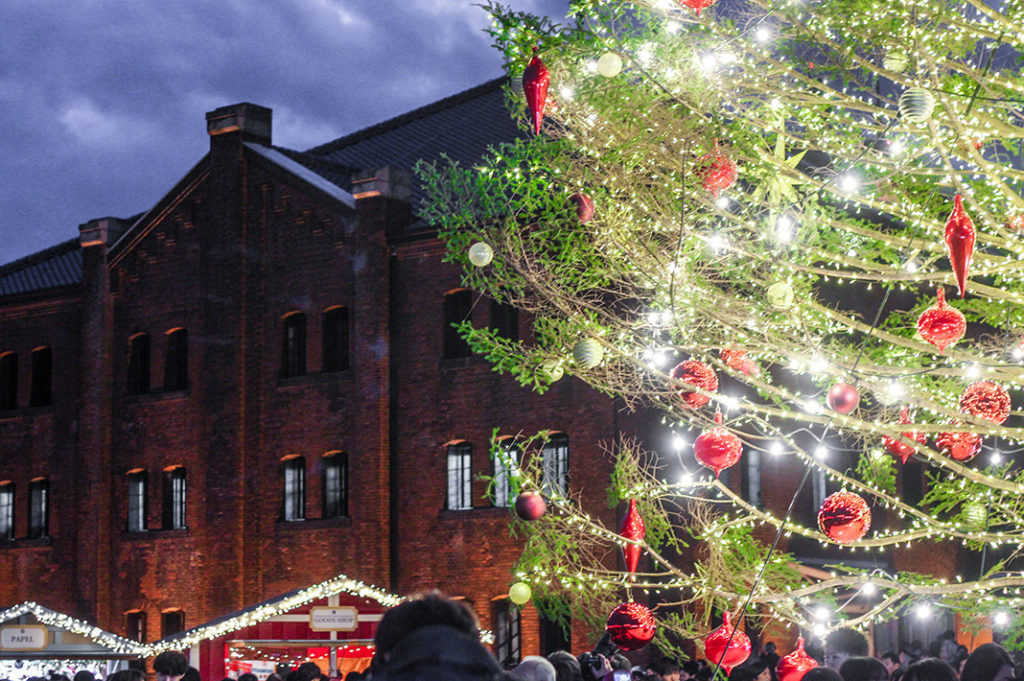 A Little Christmas Shopping
The Red Brick Warehouses themselves are full of shopping opportunities. After dinner, we ducked inside to use the bathrooms, but also to peruse the stalls. It was delightfully warm inside, which kept us a while longer than usual, and we checked out the souvenirs, perfumes, hand creams and various other curio.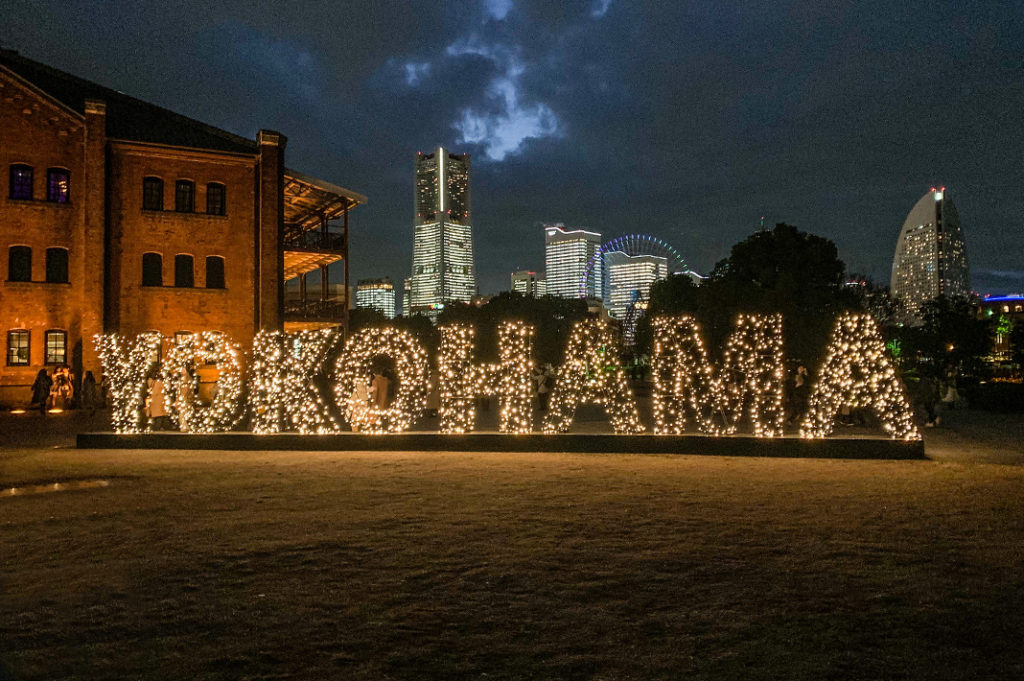 Would it be Christmas (or a date) without Ice Skating?
On our way out we spotted the outdoor ice skating ring. Running from late November to mid February, this seasonal instalment is a regular date magnet. Couples giggled and clutched and held hands with the magical Christmas lights illuminating their path on the ice. I even spotted Santa san (or possibly one of his helpers) making an appearance.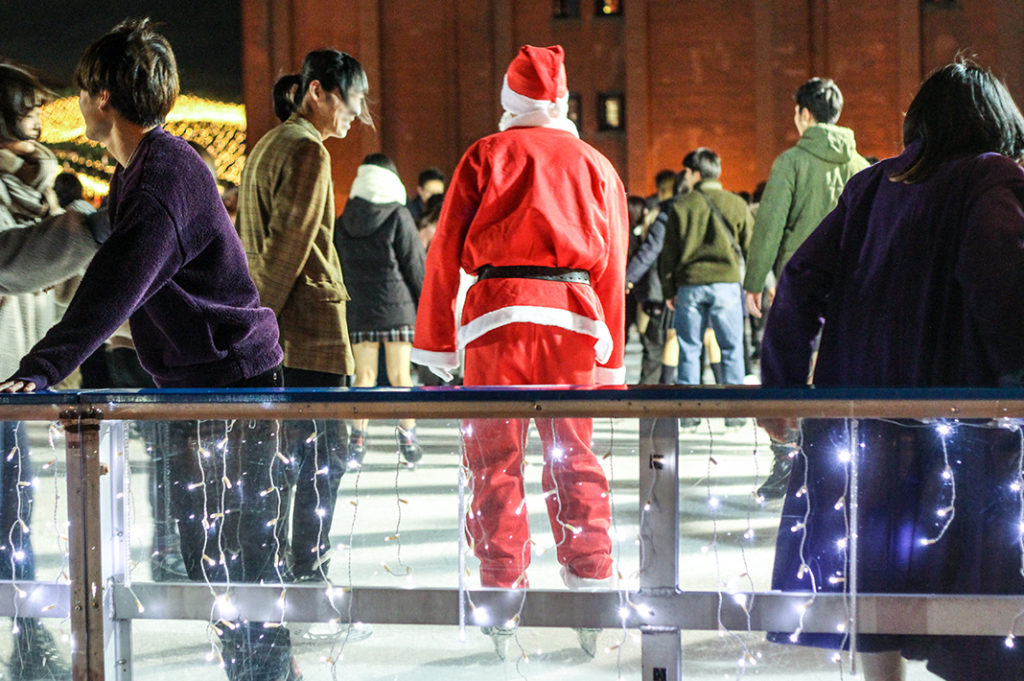 With bellies and hearts full, we set off into the night in search of the last item on our Christmas checklist: Kentucky Fried Chicken.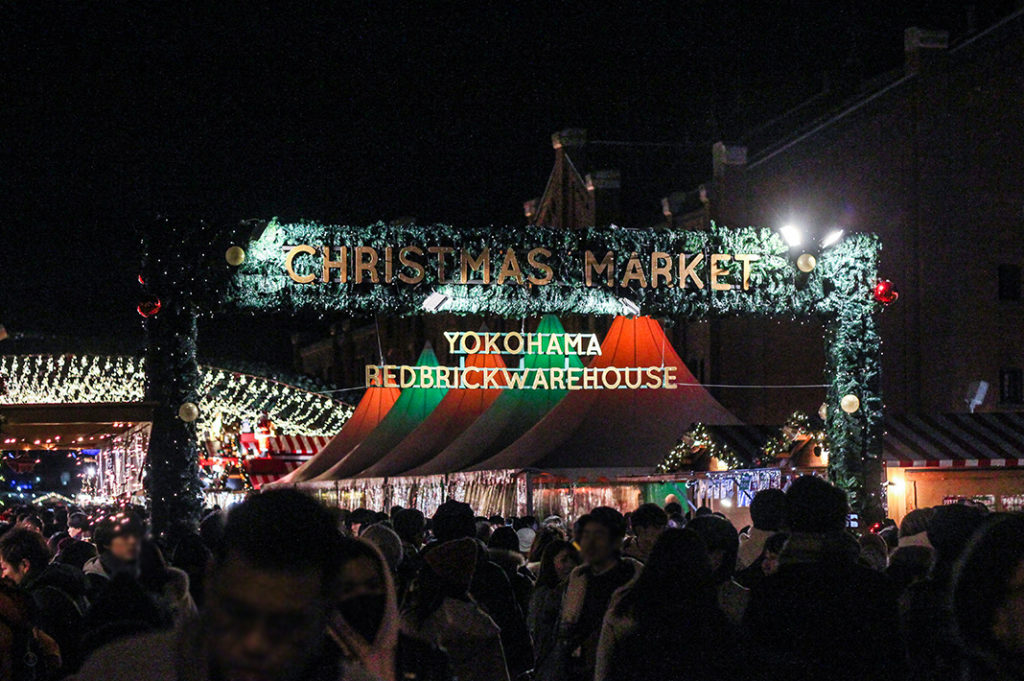 Name: Yokohama Red Brick Warehouse (Akarenga) 
Address: 1 Chome-1 Shinko, Naka Ward, Yokohama, Kanagawa 231-0001
URL: yokohama-akarenga.jp/christmas/
Open: Usually the 4 weeks leading up to Christmas 
Post by Japan Journeys. More about Yokohama here.