As I paddled my kayak through the mangroves, a hawk circled overhead and a chorus of bird calls floated out of the surrounding forest. This is when I fell in love with Iriomote Island. Located in the sub-tropical southern tip of Japan, Iriomote-jima is the largest of the remote Yaeyama Islands of Okinawa. A world away from the hustle and bustle of Japan's major cities, it was exactly the nature escape I needed. The majority of the island is covered by the protected Iriomote-Ishigaki National Park, meaning only regulated eco tours can run. This ensures we leave nothing behind but footprints. After checking out the variety of available tours and activities online, we decided on a trekking and kayaking day tour. 
Making your way to Iriomote Island
You can access Iriomote Island by a 50 minute ferry from Ishigaki Island, the most well facilitated island in the vicinity, featuring an airport, restaurants, accommodation and shopping. Ishigaki Airport is connected to various major airports around Japan as well as Hong Kong.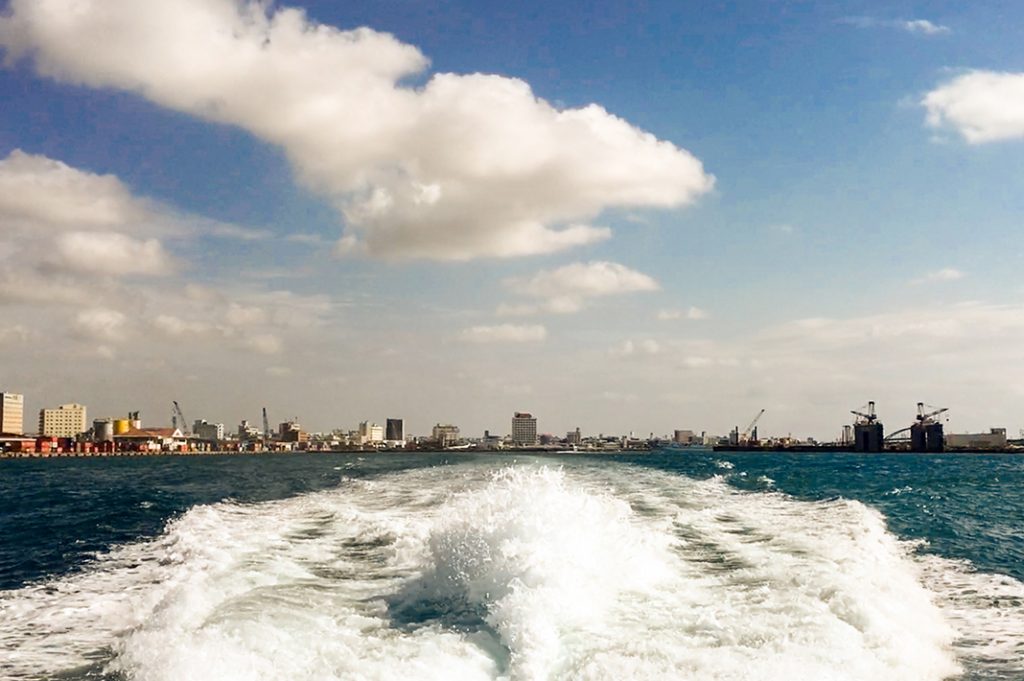 Once off the ferry, our very tanned, very relaxed looking guide sauntered over in flip flops. He lead us to the van, hoisted himself into the driver's seat and donned his shades. We knew we were in the presence of a chiller. 
As he sped along to kayaking HQ, we gaped out the windows at the lush surrounds, now understanding what a 90% forested island looks like. Within those trees, our guide explained, lived the elusive and critically endangered Iriomote Wildcat, a subspecies of leopard which looks closer to a domestic cat. While I was desperate for a sighting, I was glad not to see any beside the highway; the council had installed underground tunnels and warning speed bumps to keep them away from roads.   
Arriving and Suiting Up
We were met at the quaint HQ by a curious pet goat who was reportedly going through an emotional teen phase. The guide had to sit on him to stop him from jumping on tables and headbutting the males in our group. It was highly entertaining and refreshing to see these down to earth operations, particularly when our objective was to engage with nature.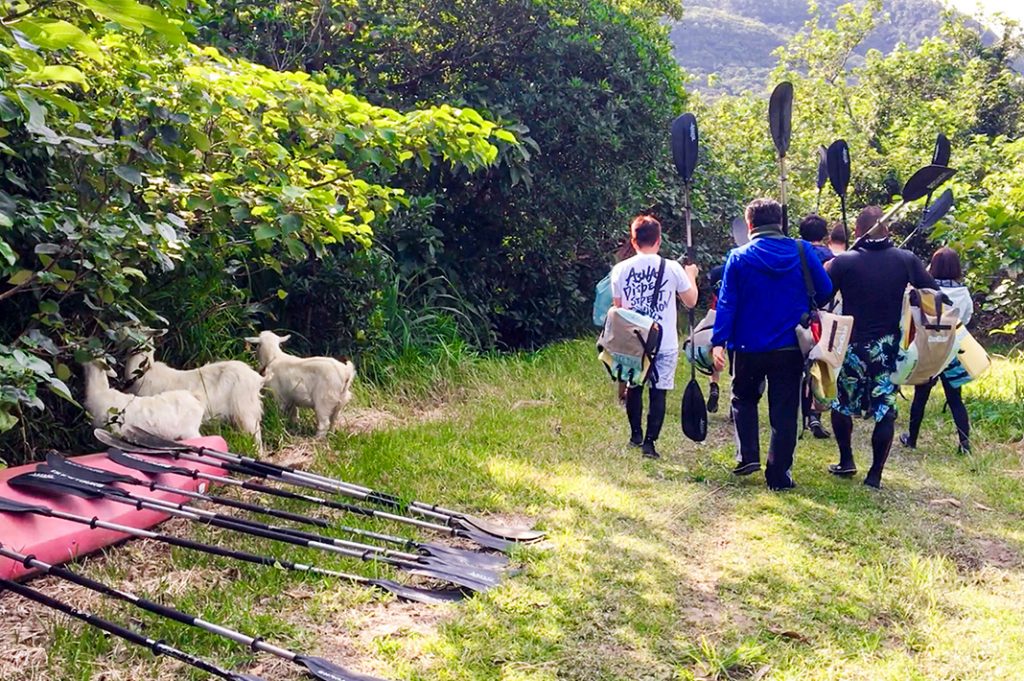 The goats lead us all the way to the river's edge—stopping only to munch on grass—where the kayaking portion of the tour was to begin.  
Kayaking through paradise
Setting out in our dual kayak, my husband and I promptly engaged in a race with our friends. Once my arms fatigued, admittedly rather quickly, I was happy to cruise along the mangrove trees in search of the crab inhabitants.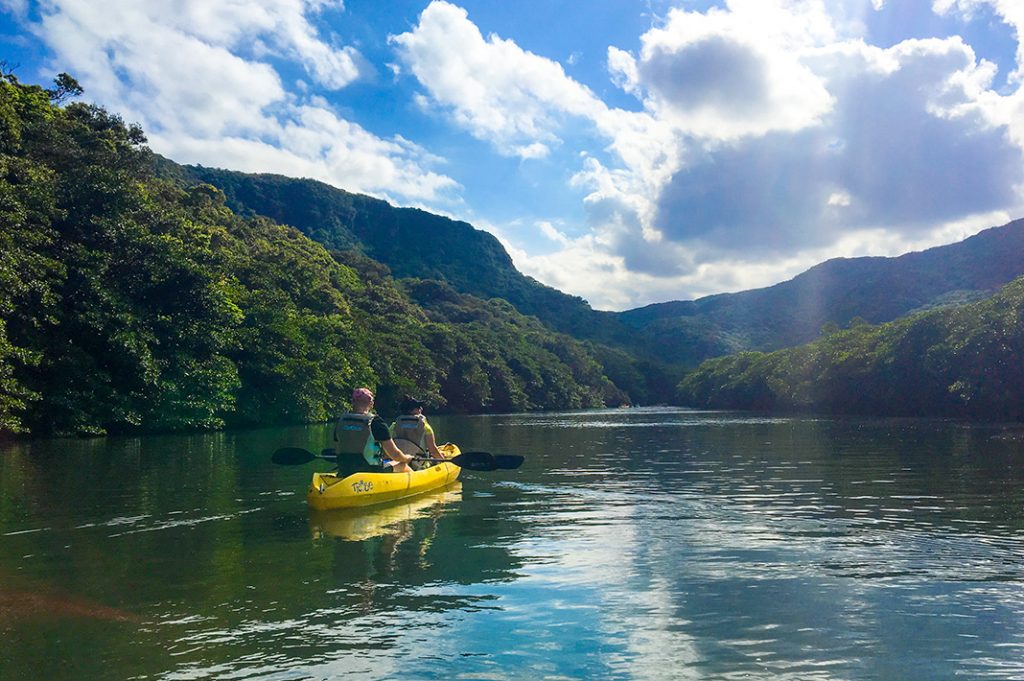 Out on the open water, I suddenly remembered reading something about there being around 400 types of fish in the river. A whole other world existed just below the surface.
The Hiking Portion
We tethered our kayaks to some trees and set off into the forest. The guide told us that we were walking through the home of various animals, birds, reptiles, butterflies and even fireflies. Though we didn't come across the nocturnal Iriomote Wildcat (for obvious reasons), he did point out signs of their existence. A few rocks sported the scratch marks of cats sharpening their claws for hunting. 
We chatted while trekking through the lush forest, scrambling over logs and ducking under ferns. Eventually we came to a waterfall and stopped for lunch. The guide handed out bento box lunches which featured the Okinawan staple: SPAM. I'd never tried SPAM before; perhaps it was the setting, but I rather enjoyed it. 
As the sun shone down, I had to remind myself that it had been snowing in Tokyo days earlier. Sitting on a gigantic rock with my bento box and the waterfall's white noise, there was nowhere I'd rather be.
Leaving Iriomote
We hiked, kayaked and drove our way back to the ferry, so relaxed from a wonderful day. Of course, I wasn't quite ready to leave. I decided that next time I would book accommodation in order to extend my time in this paradise. This day was the highlight of my Okinawan trip and I would highly recommend it to any nature lovers out there. You can find more information on the Okinawan Tourism Website.
Post by Japan Journeys.