A standing restaurant is the epitome of Japanese efficiency. No seats means more people can fit into a space, and then promptly leave as soon as they've finished eating. These kind of no-frills, high turnover dining experiences are not surprisingly popular with salarymen taking a quick break before heading back to the office (or home on the last train). So how does it work? Typically you'd buy your meal from a ticket machine, refill your own water and bus your own dishes—all within 10 minutes, all without taking a seat! These elements allow for pricing to be so low. But they aren't all so quick'n'nasty. Places like Kikuya in Ebisu manage to strike a winning balance between affordable, delicious and stylish.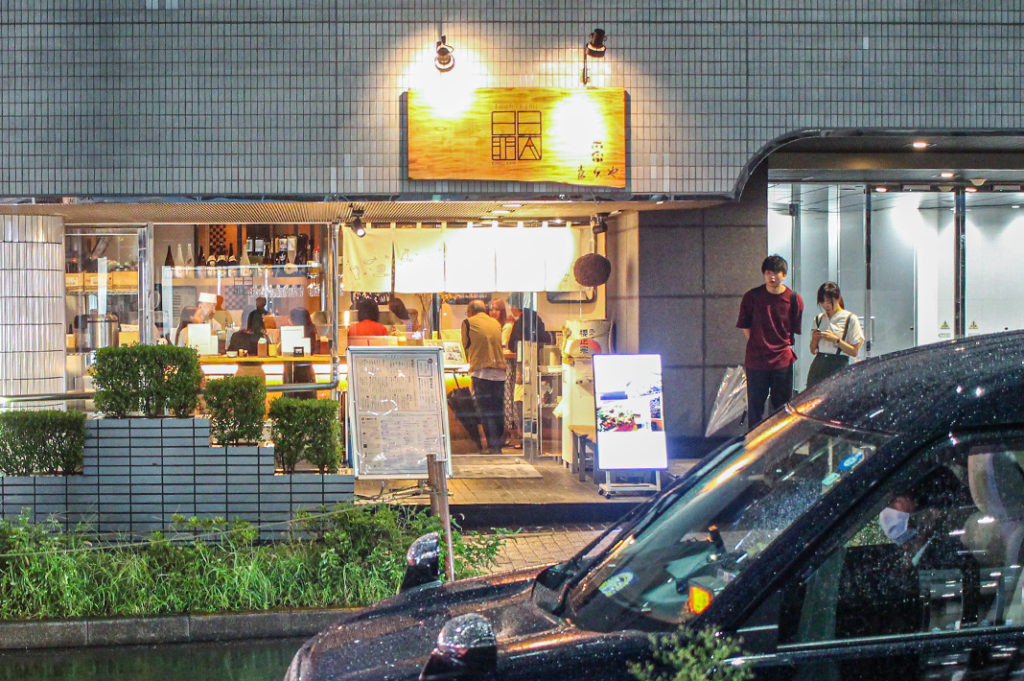 Standing Tempura Restaurant
There are many types of tachigui (stand up dining) restaurants around town ranging from sushi to soba and even grilled (by you) wagyu, but Kikuya are masters of tempura. These battered, deep-fried morsels of vegetables and seafood have been a Japanese favourite ever since their introduction by the Portuguese in the 16th century. And we know what you're thinking, how can deep fried food be stylish? Well, originally, tempura was a type of fast food but has since morphed into a kind of fine dining. And when done right, the batter is light, the oil is clean and the air is clear. A far cry from the old chip shop back home.
A cut above the rest
Kikuya are, in fact, very conscious of standing apart. The tempura is prepared in a "fatless" cooking style, making it healthier than the average tempura-ya. The interior is quite the opposite of many cramped standing restaurants, too. The ample floor space and counters are decorated with framed Japanese fabrics and dried flower arrangements, giving it a very cosy, almost feminine appeal. This is quite the point; Kikuya are trying to encourage more women to enjoy the tachigui style of dining as many would not have considered the lunch-hour noodle shops a viable hangout before.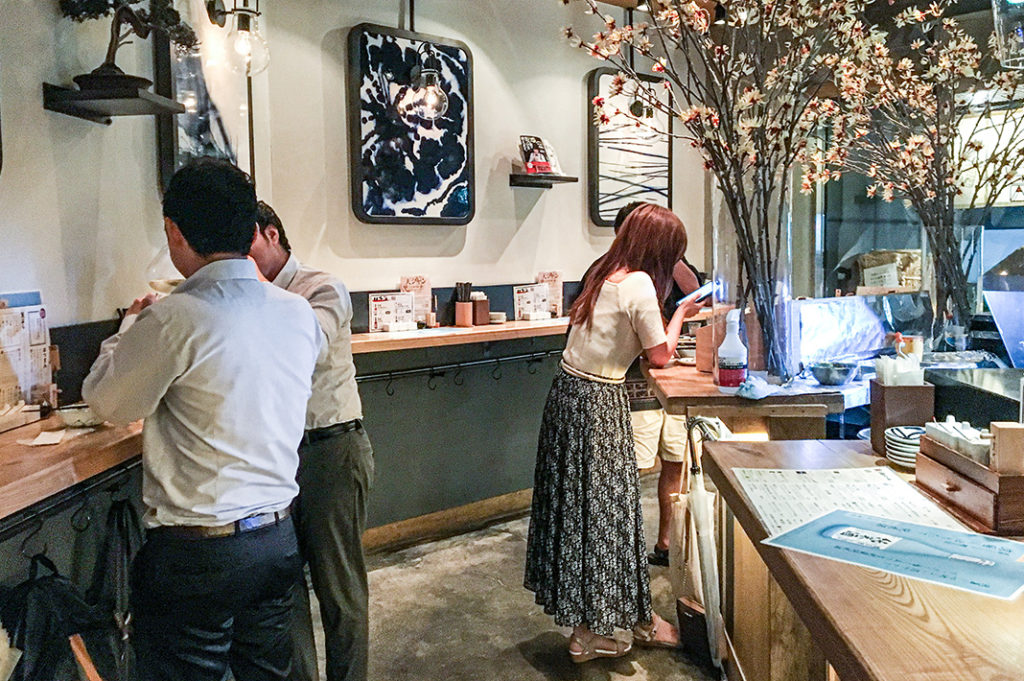 Tempura and Sake
Another great thing about Kikuya is the English menu and English speaking staff. Of course you can make your own selections from the extensive menu, but it's always good to ask for their recommendations.
And I'm glad I did; I may not have tried the tempura daikon radish otherwise. That large simmered disc was packed with flavour and made even more delicious by the tororo konbu shredded kelp topping. A close second for me was the prawn (big, sweet and springy) and the melty eggplant.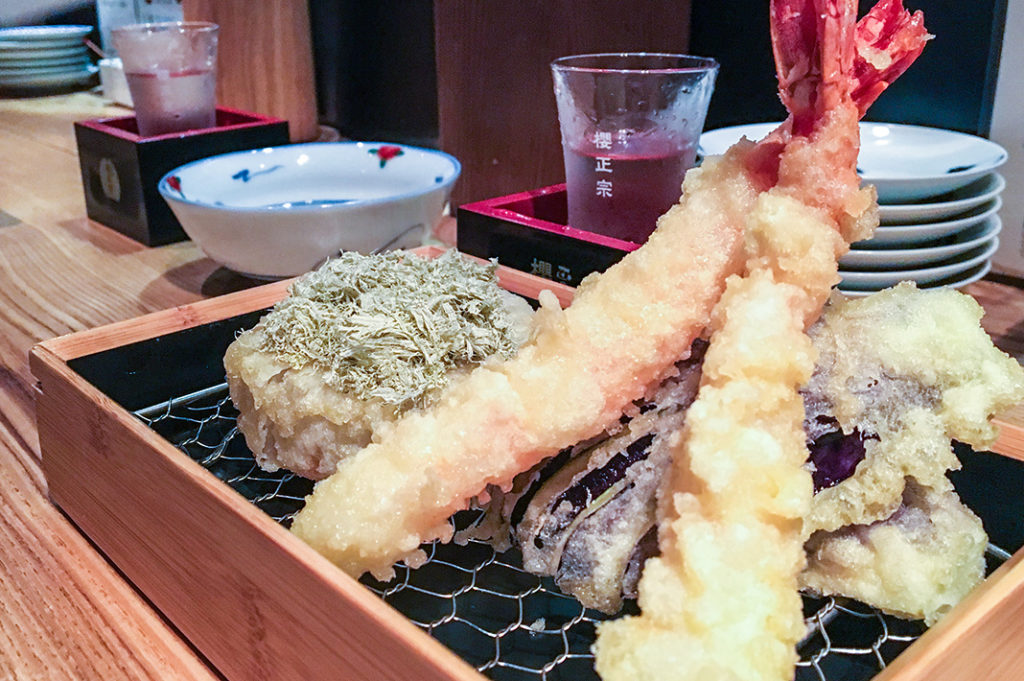 The batter is delicate, with just the right amount of crunch. As is customary with tempura, mix some grated daikon into the dipping sauce, and dip your tempura before taking a bite. On the counter, you'll also notice a selection of flavoured salts to enhance the experience.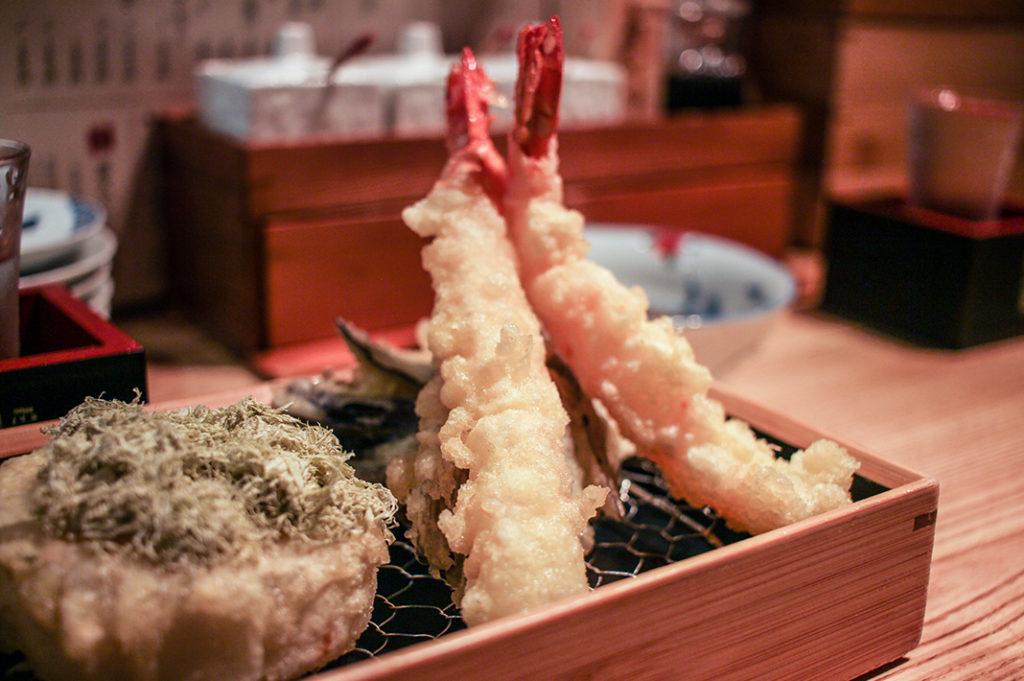 And to top things off, why not order a Japanese sake? Served in the sosogi-koboshi style, the glass is placed inside a small box (masu) and sake is poured until it overflows from the glass to fill the box.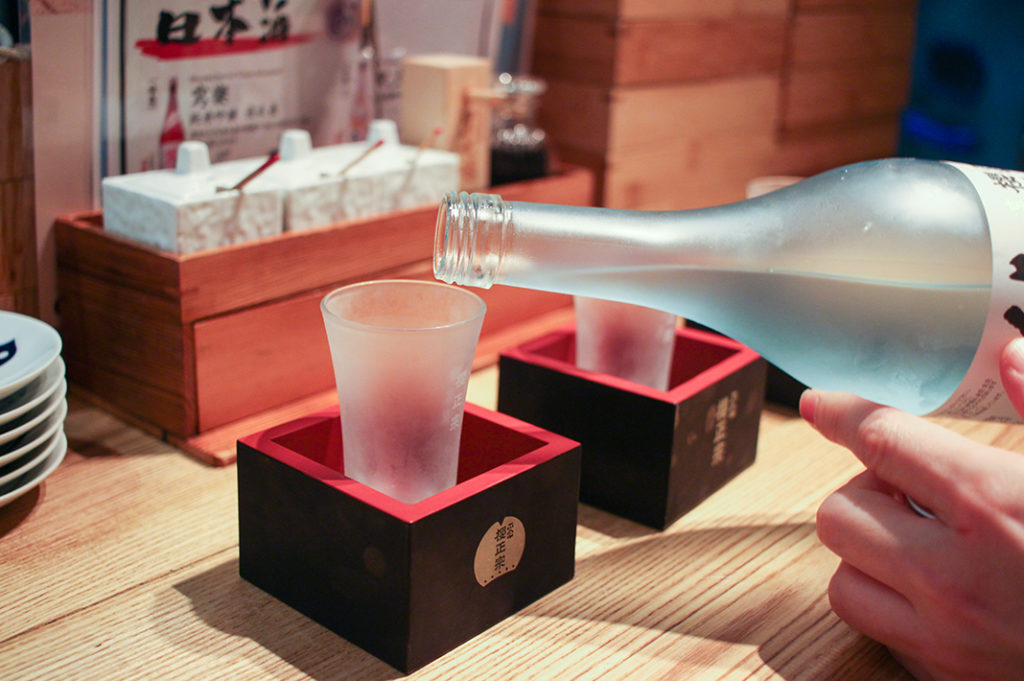 Apparently there is no set way to drink it, except to have fun!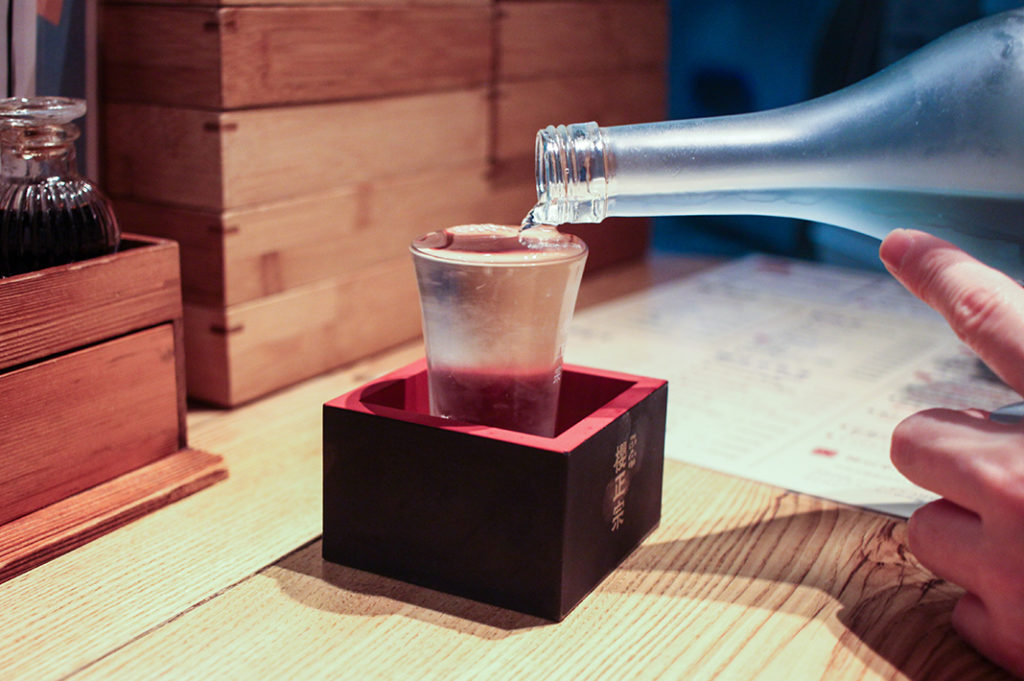 If you're not near Ebisu, good news—Kikuya have multiple other locations around Tokyo and in other major cities. Check out their website for more detail. So whether or not you visit Kikuya, make sure you seek out a tachigui (stand up dining) restaurant while in town. It's a winning combination of delicious Japanese cuisine with a unique dining style, that definitely feels more authentic than touritsy.
How to Get to Kikuya
Kikuya is a 1 minute walk from JR Ebisu Station East Exit.
Name: Standing Tempura Kikuya
Address: 〒150-0013 Tokyo, Shibuya City, Ebisu, 4 Chome−6−1 恵比寿MFビル1F Link
Open: M–F: 11AM–2PM and 4PM–12AM. Sat: 1PM–Midnight. Sunday: 1PM–11PM
URL: http://kikuyajp.com/
Post by Japan Journeys.