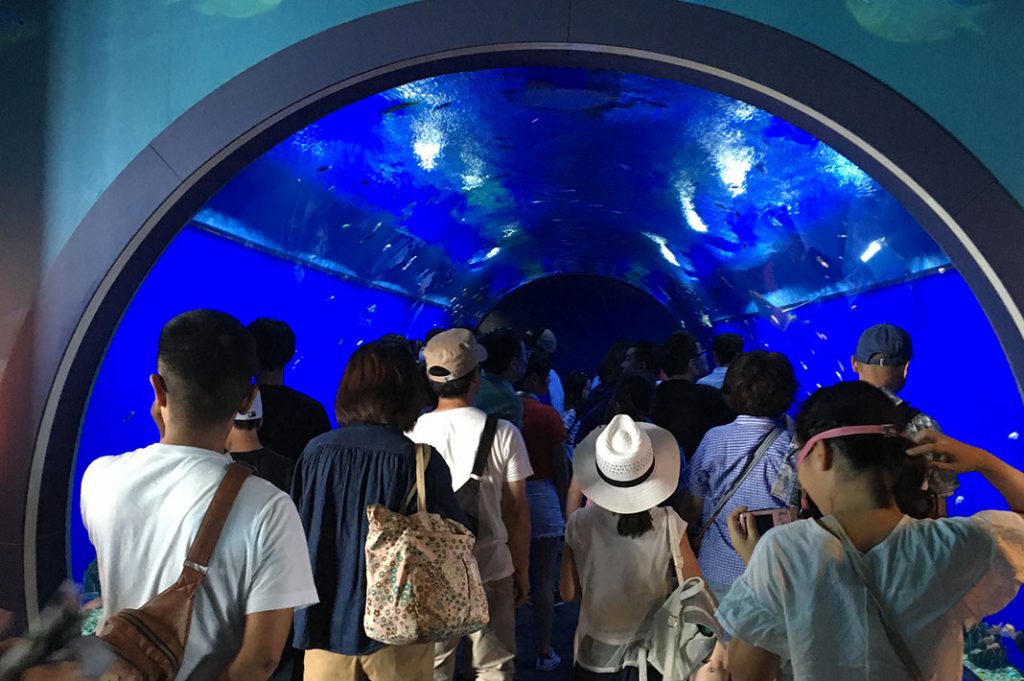 Kaiyukan, or Osaka Aquarium, is one of the finest aquariums in Japan, housing over 30,000 creatures across 620 different species. The design takes visitors on a tour of the Pacific Ocean past fifteen large tanks, each representing a different region. Beginning with land-dwelling creatures, you slowly make your way down the spiral ramp and head 'below the surface', travelling deeper into the Pacific. It's the perfect Osaka indoor activity.
The Permanent Exhibit
Osaka Aquarium boasts a great diversity of plant and marine life which also includes amphibians, reptiles, birds and mammals. All up, it takes roughly two and a half hours to complete the self-guided tour through forests, Antarctica, the Great Barrier Reef and down into the deep sea.
The path is easy to follow and it's so calming to watch the dolphins, sharks or crabs moving around. Luckily, all tanks offer detailed English descriptions and audio guides are also available in English, Japanese, Chinese and Korean.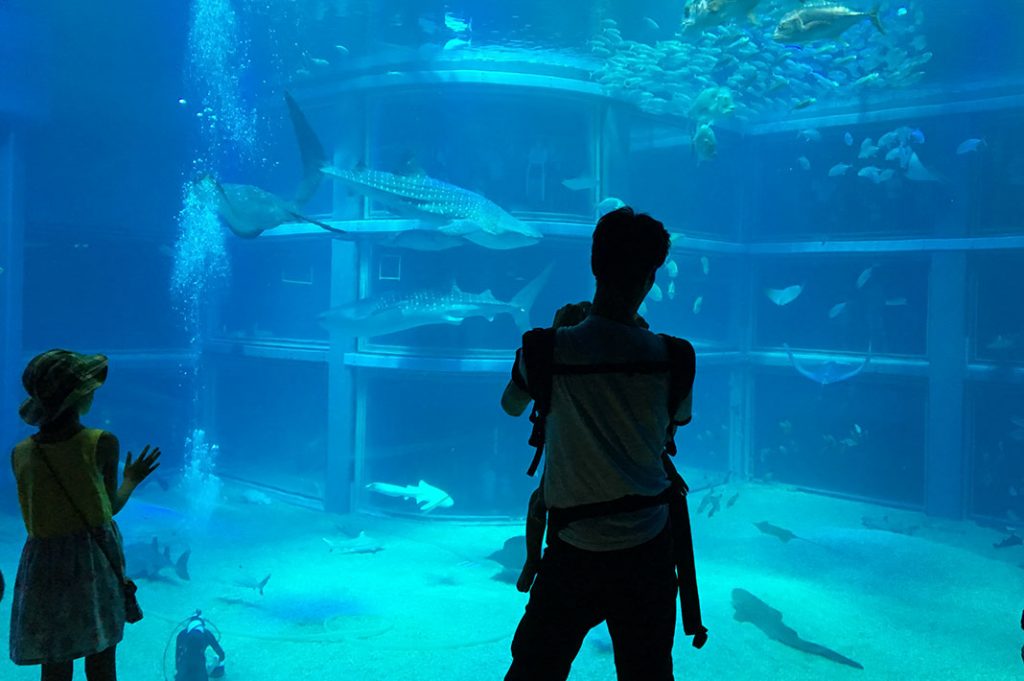 The star attraction has to be the beautiful whale shark or 'junbi' as the children were excitedly exclaiming. It resides in the 'Pacific Ocean' tank, 9m deep, 34m wide and containing 5,400 tonnes of water. There are seats surrounding this tank on all sides to truly take it all in.
Check the website for a schedule of feeding times so you can try to catch the excitement.
Interactive Exhibit
Toward the end of the tour is the Interactive exhibit. Here you can see arctic seals and penguins up close and can even touch the backs of manta rays in a shallow pool. Note: you are required to wash your hands and follow instructions on how to safely touch them.
Kaiyukan Night Aquarium
Kaiyukan is open until 8pm every night, transforming into a romantic night experience from 5pm. The music and synthesised moonlight make it a perfect date spot.
Other features
Kaiyukan is super accessible for wheelchairs, strollers, guide dogs, nursing mothers and even offers prayer rooms. If you have excess baggage, there are coin lockers available for standard prices (200–700 yen depending on size). It's the perfect Osaka indoor activity when you need to escape the summer heat or a rainy day.
Nearby, there are plenty of shops and restaurants as well as a Ferris Wheel, Cruise Ship and LEGOLAND. The Naniwa Kuishinbo Yokocho in the adjacent building is a great place to dine. This food theme park is modelled after the 1960s Osaka food scene.
How to get to Osaka Aquarium
We would recommend arriving early to skip the queues at the ticket box. On weekends, these can get fairly long and winding—particularly unpleasant in the summer heat.
Osakako Station is a five minute walk from the Aquarium. From JR Osaka, take the Osaka Loop Line for 15 mins, change to the Chuo line at Bentencho for 5 minutes until Osakako. Or, from Umeda, Shin-Osaka or Namba Stations, take the Midosuji Subway Line to Hommachi, then change to the Chuo Subway Line to Osakako. All of these routes take approximately 20–30 minutes.
Name: Kaiyukan (Osaka Aquarium)
Address: 1-1-10 Kaigandori, Minato-ku, Osaka City.
Open: 10:00—20:00. Check website for alternate hours and scheduled closed dates.
URL: https://www.kaiyukan.com/language/eng/
Post by Japan Journeys.