Roppongi isn't all swanky clubs and expensive restaurants. As with most areas in Tokyo, there's always more beneath the surface. Wander a little further afield from the main Midtown area and you'll find a few surprises, like antique shops or tiny little restaurants that seem to have been around forever. A place we love is Magurodake Bono Shirakawa, located near Roppongi Itchome Station.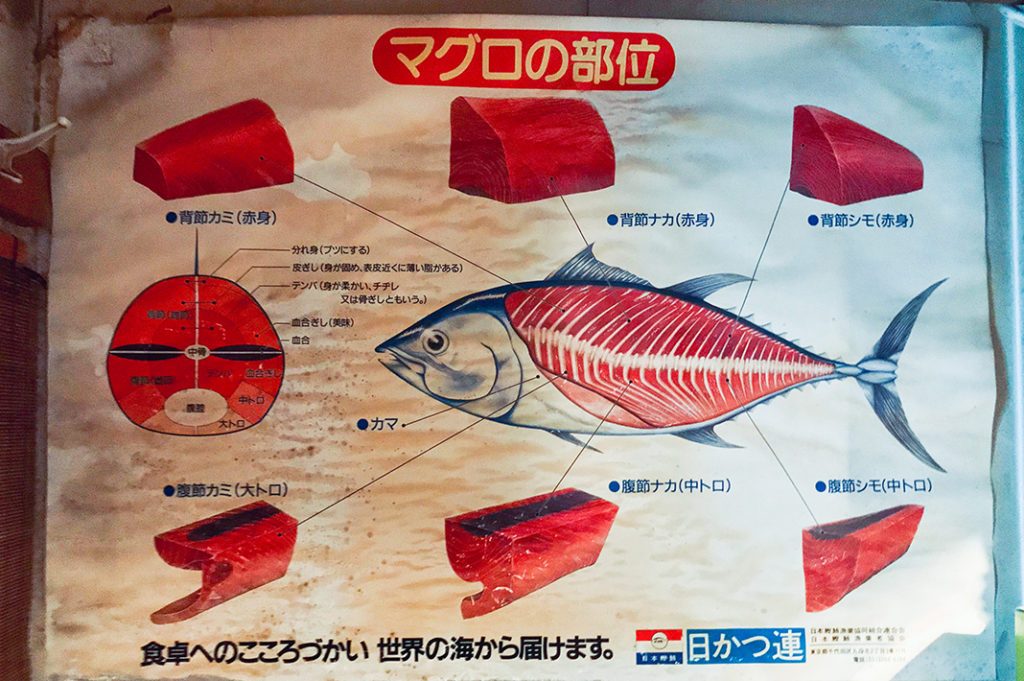 Entering Magurodake Bono
The shop itself is tricky to find if you don't know what you're looking for. There are no obvious signs to Magurodake Bono: all you have to go on are the faded indigo aprons hanging in front of a green door with bamboo blinds. This is after you get past the fact that it's near a huge expressway.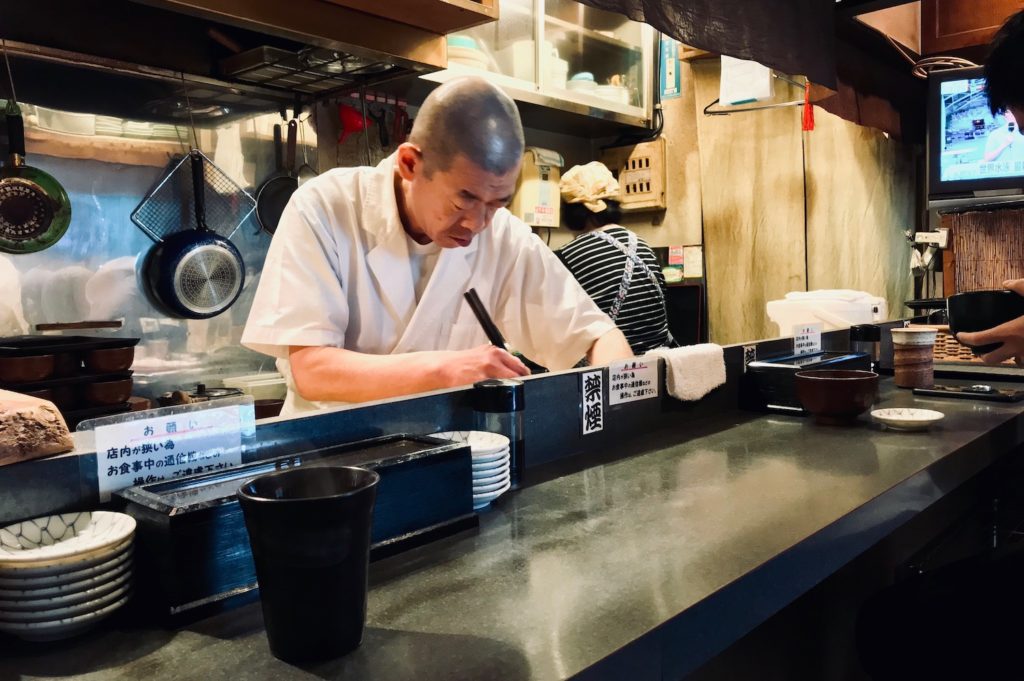 The space inside is tiny and warmly lit. There are just 8 counter seats, with little room to move around both behind and in front of the counter. The elderly couple who run the restaurant seem to spend much of their time in silence around each other. There's a distinct sense of this shop belonging to another era, too. The slightly-aged poster on the wall showcasing the different parts of the tuna adds a lovely and old-fashioned touch to the space here.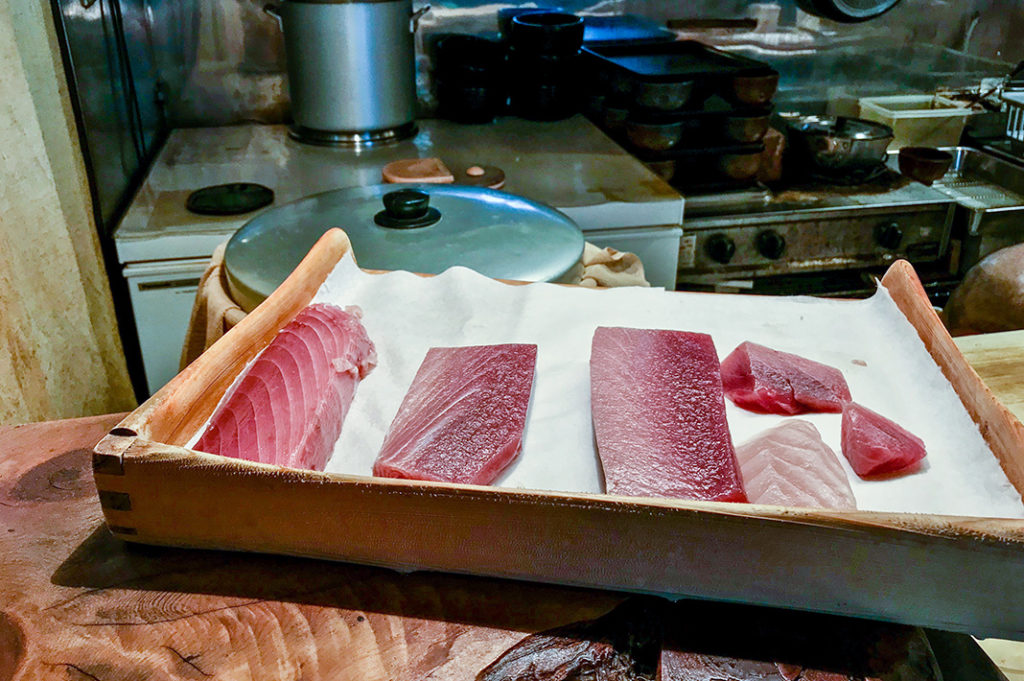 What to order at Magurodake Bono
With a name like 'Magurodake' or 'tuna only,' there's no prizes for guessing what's on the menu. The menu is divided into two sections: rice bowls, or nigirizushi. The latter comes in sets of three pieces. Frankly, we think JPY500 for three pieces of fatty tuna is a decent bargain this side of town!
The most inexpensive rice bowl at JPY700 is the akami, or lean tuna. Other bowls clocking in under JPY1,000 are the negitoro—that's chopped scallions and tuna—and the lean tuna and fatty tuna. If you want to go all out, there's the option of having only fatty tuna over your rice at JPY1,800. Considering Magurodake Bono's location, this isn't a bad deal at all.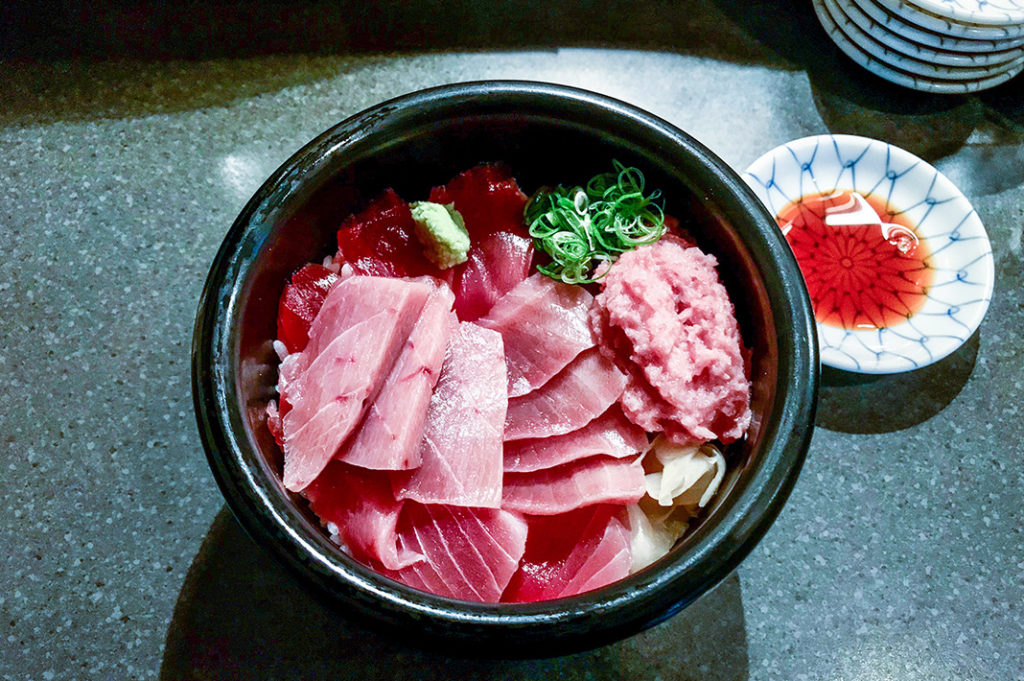 Tuna tricolore is a well-balanced rice bowl
The sanshoku or 'three colour' rice bowl is a thing of beauty—and on a more prosaic note, a very decent compromise between price and quality at JPY1,200. They don't stint on the tuna at all, slices of fish are laid out around the bowl like slabs of red and pink jewels. A dainty heap of finely-chopped scallions and dab of wasabi adds a pop of colour to the bowl, while the pickled ginger gives everything a refreshing acidity.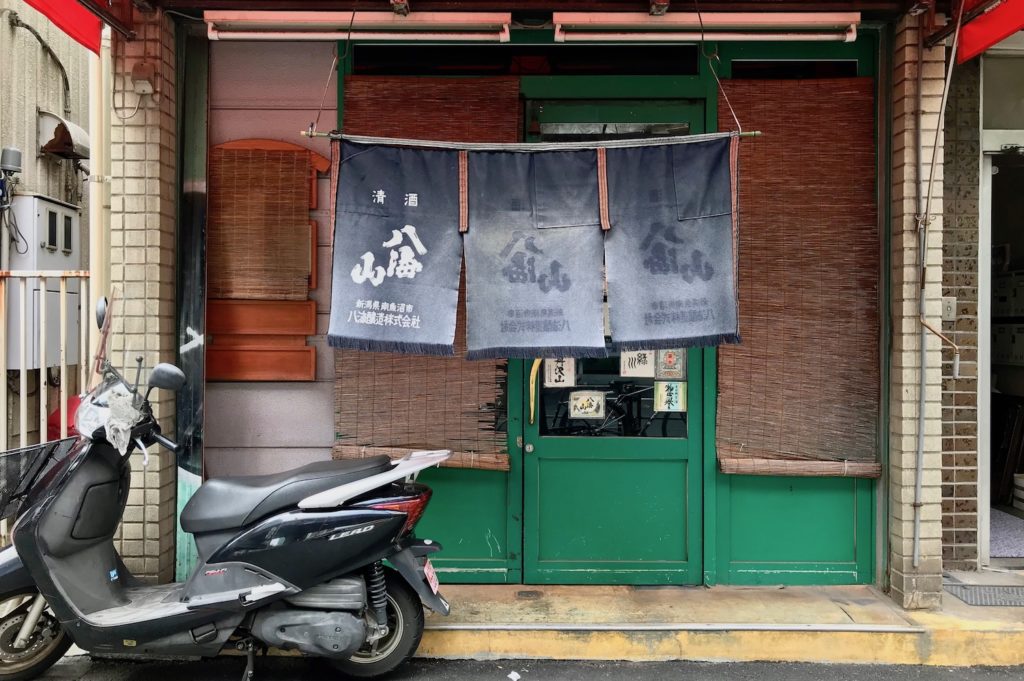 How to get here
The nearest station to Magurodake Bono is Roppongi Itchome Station. It's just a 4 minute walk from the station's exit. See our articles on what else to do while in the area.
Name: Magurodake Bono
Address: 2-3-3 Roppongi, Minato-ku, Tokyo (link)
Open: 11:30am–3:00pm, 6:00pm until sold out. Closed Sundays and public holidays.
Post by Japan Journeys.