There's a different kind of magic in the air as crisp and golden October dissolves into the chillier winds of November. For many, the reason for the season is the festival of Halloween. Originating from the Gaelic rite of Samhain, Halloween exists today in many forms, including All Saints Day and Dia De Los Muertos. Conversely, the Japanese festival of the dead is named Obon and happens in August. As such, we can safely assume that Halloween in Japan is an entirely secular event and an unofficial excuse to drink in public while dressed as Pikachu. If you're heading out for Halloween in Japan, be sure to keep this Field Guide on your phone and see how many points you can score. Battle!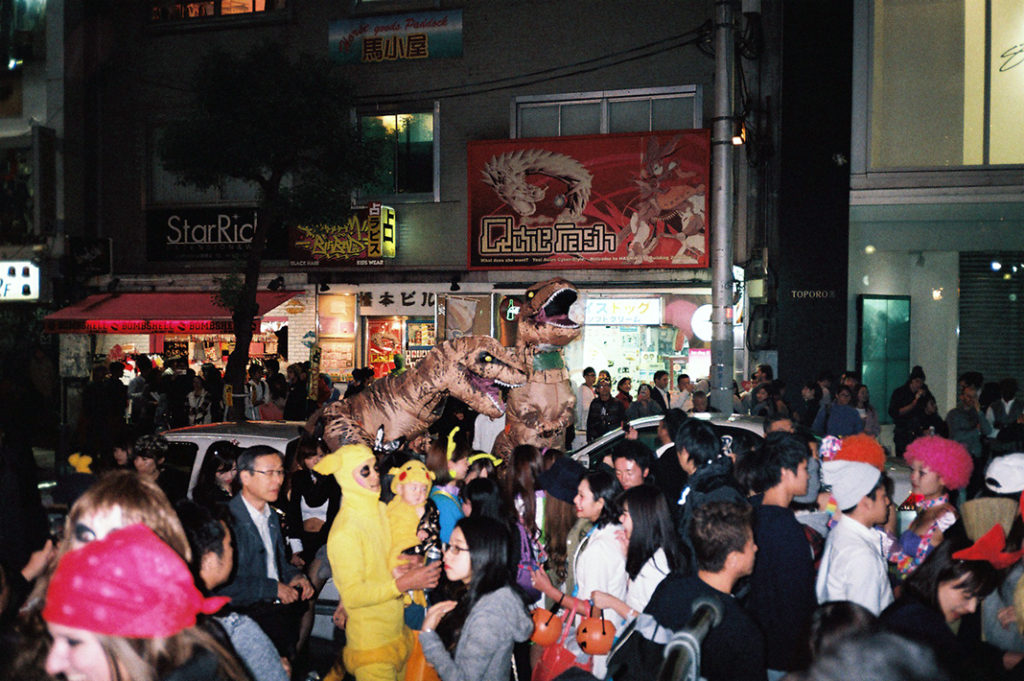 Halloween in Japan: exactly as good is looks.
Halloween celebrations in Japan are entirely unofficial. On the Saturday night before whichever day October 31st falls on, people simply congregate in costume. However, in recent years, celebrations have occurred on the closest Saturday to Halloween, and Halloween night itself. In Tokyo, the street party will usually stretch from the Hachiko statue and along the 'Center-gai' in Shibuya. For Osaka, the best party is at America-mura's Triangle Park. Additionally, Kyoto residents will often travel the short distance to Osaka to join the larger celebrations.
The event in itself is in many ways unthinkable to the Westerner. Quite simply, people gather in costume, consume a merry amount of beer and chu-hi and have a lovely time. Generally speaking, there are no fights, no riots, no police visibility. People will even dress in matching outfits with their pets and children, with no fear of any crowd-based dangers. It's a beautiful thing to do on a refreshingly crisp night in October. If you're lucky enough to be visiting Japan during this time, you'd be missing out if you didn't participate to the best of your ability. In order to help you see it all in one short night, you'll need some assistance. Luckily, the perfect field guide is right here. Enjoy responsibly!
The "Safety in Numbers"
+1 point, +1 bonus point for each group member.
A Japanese Halloween classic! Dressing in a manner that may get you fired from your day job requires the unwavering dedication of the office group. Presumably, the group are all co-workers from the same company division. "Safety in Numbers" seek to obfuscate their identities by looking identical to their colleagues. In short, this ensures that their boss cannot obtain a positive ID when images of them vomiting on a police car surface on Instagram the following Monday.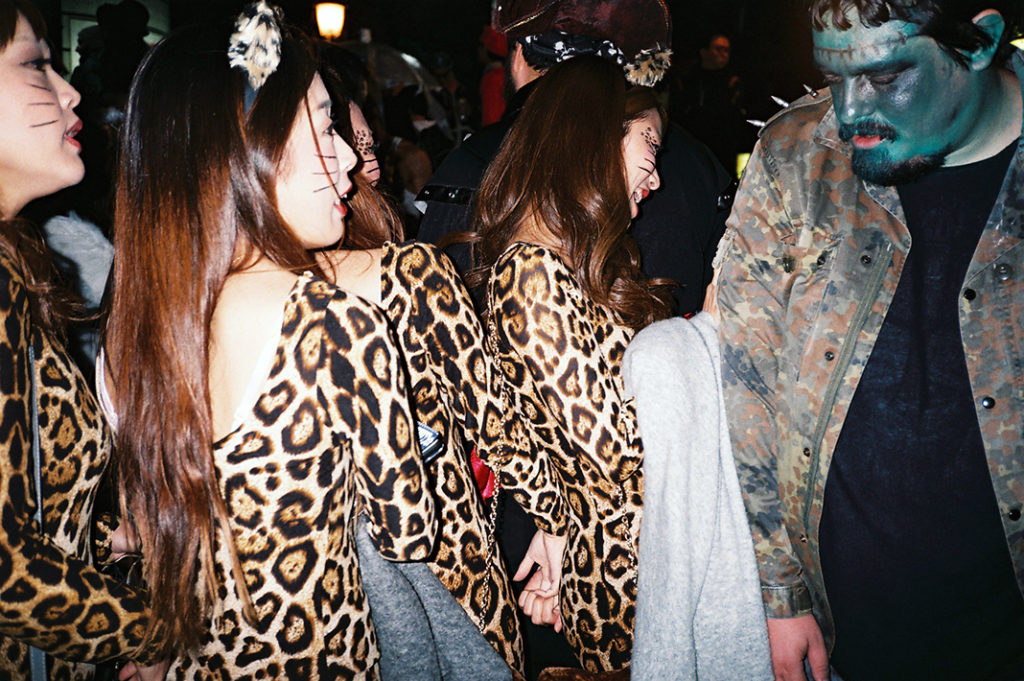 The "Flavour of the Year"
+2 points, + 1 bonus point for every sighting of the character.
Clearly, this image was taken during the Halloween event in Osaka, in 2017. This is demonstrated by the excessive number of "Harley Quinns." As per "Safety in Numbers," the co-operation of the group is required when committing to the Character of the Year. 2017 also saw an increase in Donald Trumps and that awful "Pen Pineapple Apple Pen" guy. Naturally, photo opportunities arise when multiple individuals are dressed as the same character in one inner-city space.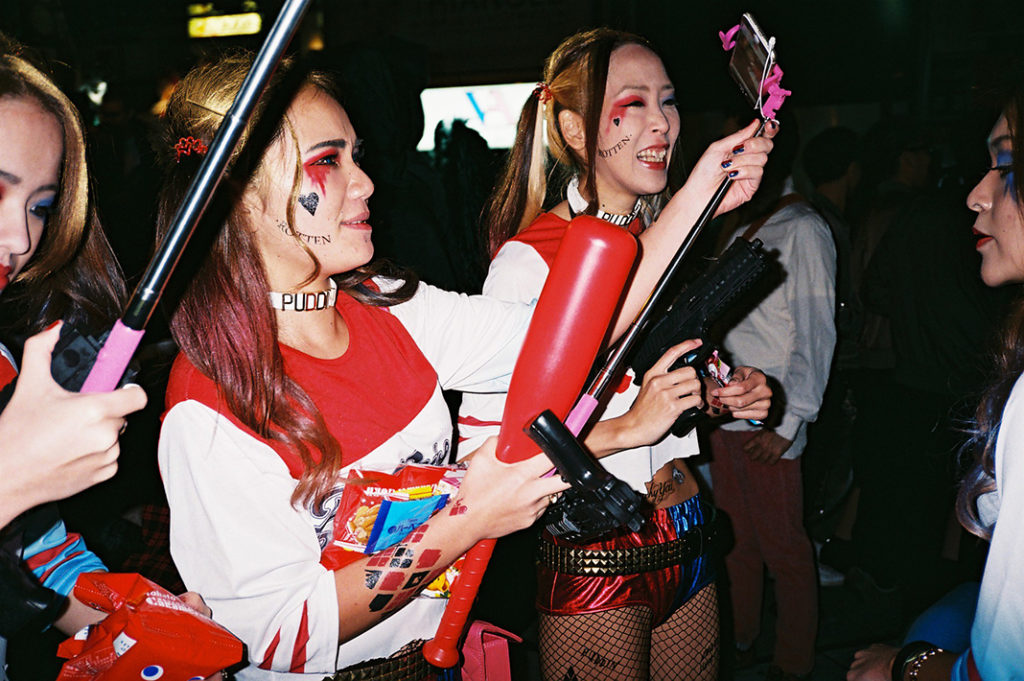 The "Well-Executed Classic"
+4 points
Simple concepts, but complex efforts. This individual could have donned a giraffe kigurumi and called it a day. But he went that extra mile, and that extra mile deserves extra points.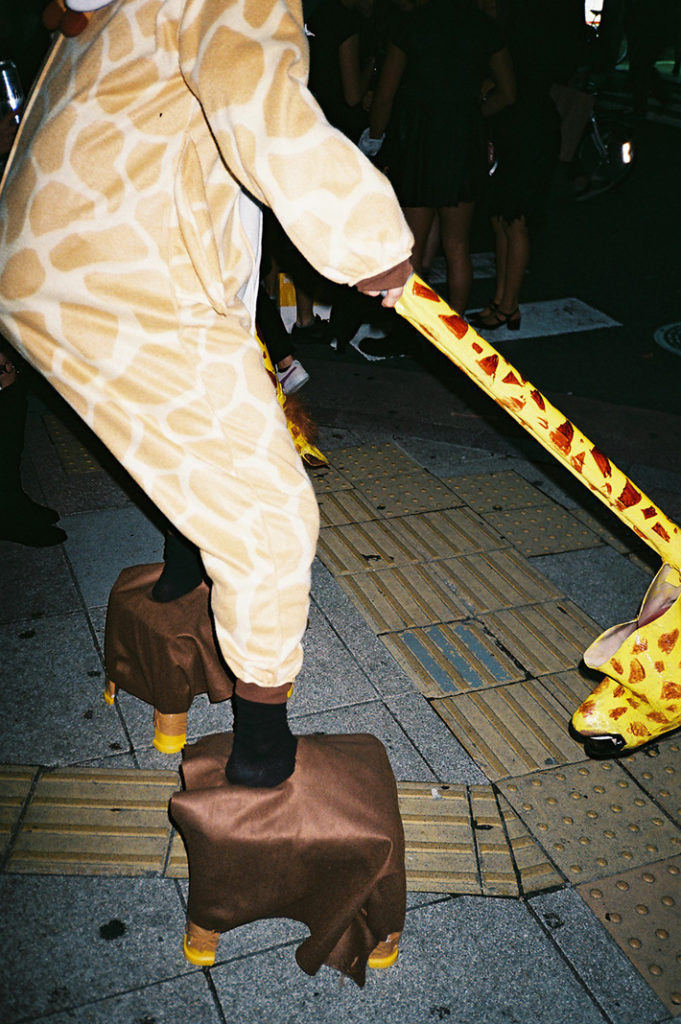 The "Japanese Exclusive"
+4 points
Japan's dedication to ghoulish folklore is well-documented. Every year, expect to see several people attend Halloween events dressed as creepy dolls, obscure Yokai or characters unique to Japanese horror culture (including Sadako, Kayako, Toshio or Gegege no Kitaro).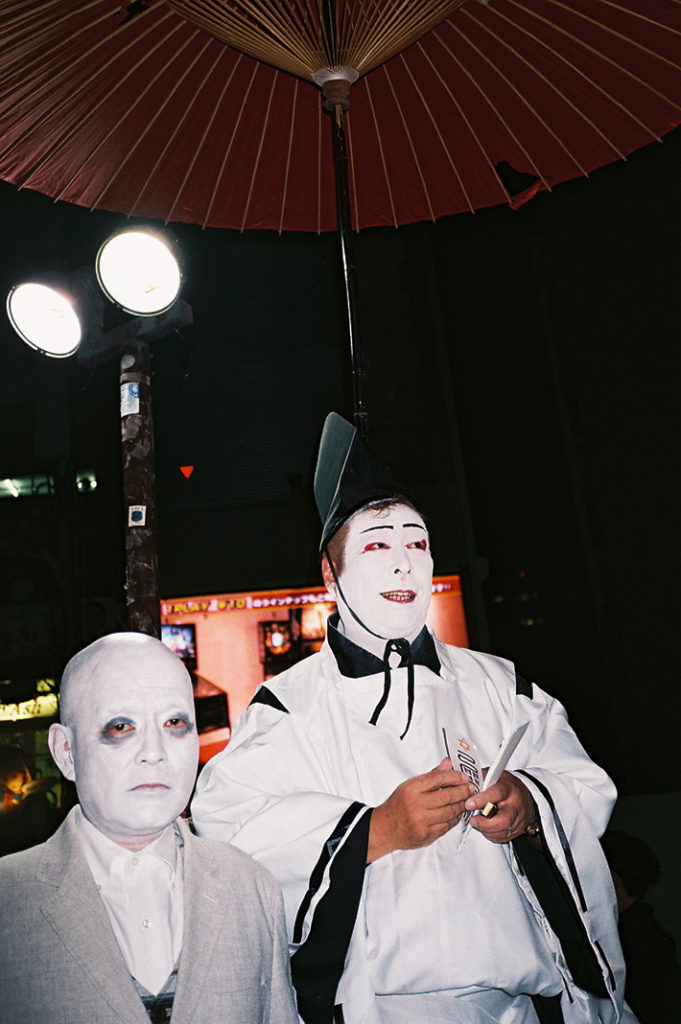 The "SWAT Team"
+1 point, +1 bonus point for every member of the team.
For the benefit of any American readers, this category needs explaining. At any given moment during Japanese Halloween, you may see a fully armed and armoured SWAT team burst into a crowd and start holding people at 'gunpoint.' While such a scene is a genuinely terrifying possibility in many countries, it's an entirely benign situation in Japan. Reassuringly, because Japanese gun laws are so extremely tight, model (dummy) firearms are accepted for use as costume props, as access to the real thing is virtually impossible. As Japan doesn't have 'SWAT' teams, there's no risk of any 'impersonating police' offences, either. So, relax and award yourself some points, because it's all an act.
Unless… some kind of rogue war drone or a brain-virus had escaped from a nearby military facility and… no, never mind. That would totally never happen.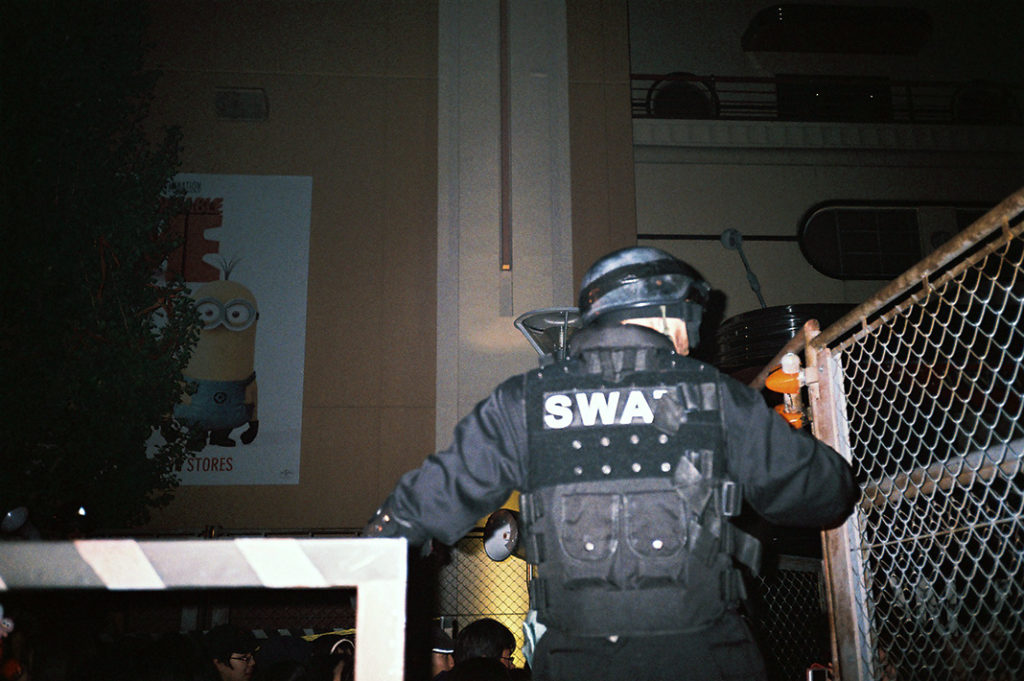 The "Zombie'd Cars"
+ 2 points, +1 point for each recognisable character inside the car.
Cruise culture is big in Japan. In fact, 'creative' approaches to road usage are so popular, you'll probably see scores of tourists playing a terrifying real-life version of MarioKart at any given time. Beyond this, expect to see inner-city traffic routes lined with big American cars complete with hydraulics, chrome and bloody handprints. Of course, you should award yourself bonus points for costumed characters inside the car.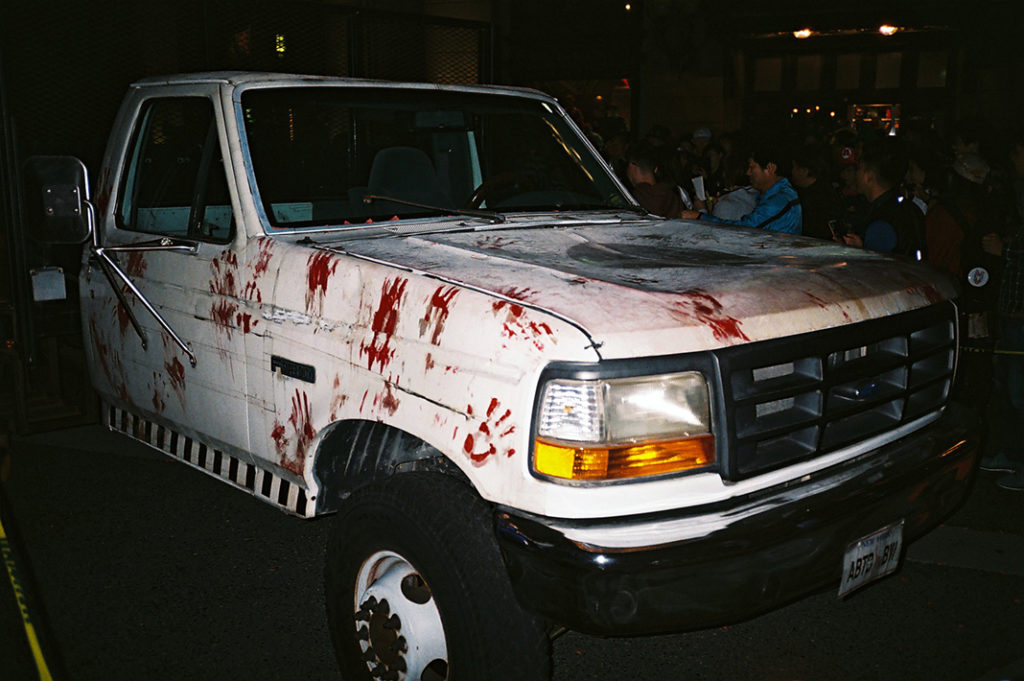 The "Generic Zombies"
+1 point per Zomb. +1 bonus points for undead celebrities.
Zombies are great. It isn't a real Halloween without zombies. Naturally, some people take their outfits to an entirely new level and deserve that extra bonus point. Watch out for Boomers!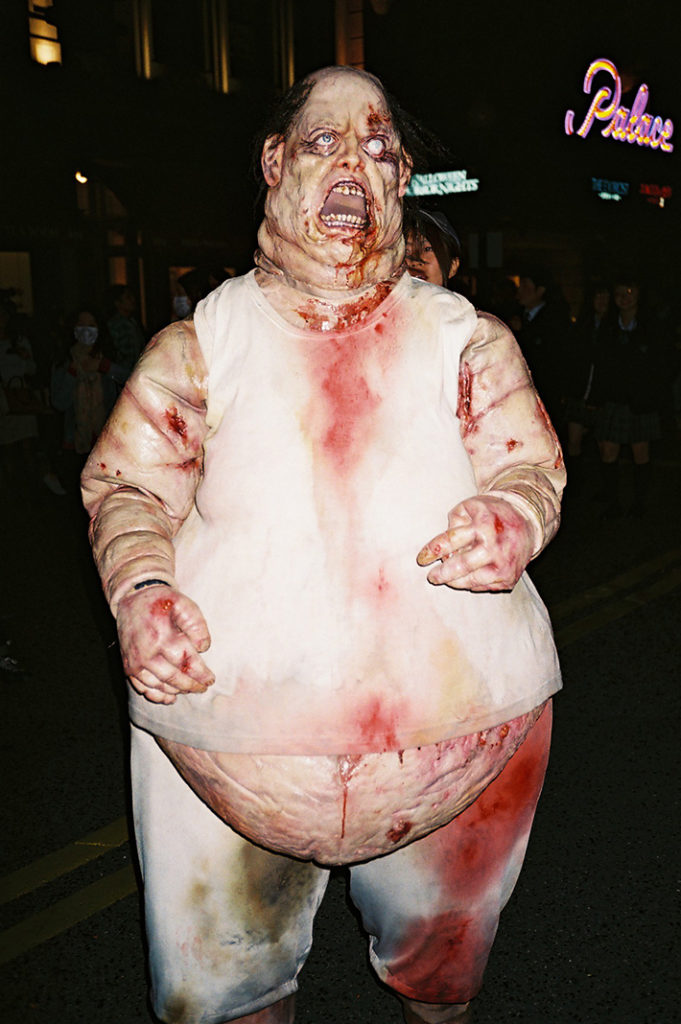 The "Japanese-Level Dedication to Cosplay."
+5 points, +1 bonus point for each well-crafted prop.
Do you see it? Three individuals, one even wearing silicone face prosthetics. A whole human, dressed as a time-travelling DeLorean, made from polystyrene and adorned with neon lights. A set of false legs attached to a hoverboard. You don't need to be a cinephile to appreciate this masterful cameo, but you may need to be over the age of 35.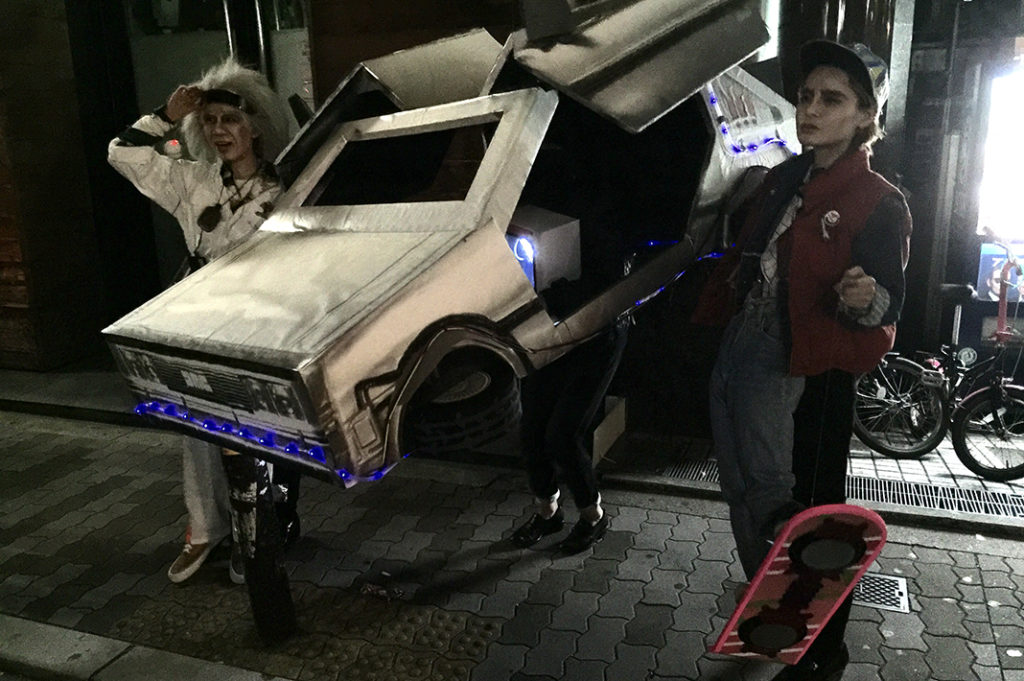 Jesus
Signifies the start of the rapture; all points are null and void.
The Man Himself has occasionally mentioned returning to the mortal realm one day. However, no known passages in scripture mention a Lawson in downtown Osaka, but the Lord works in mysterious ways. Game over!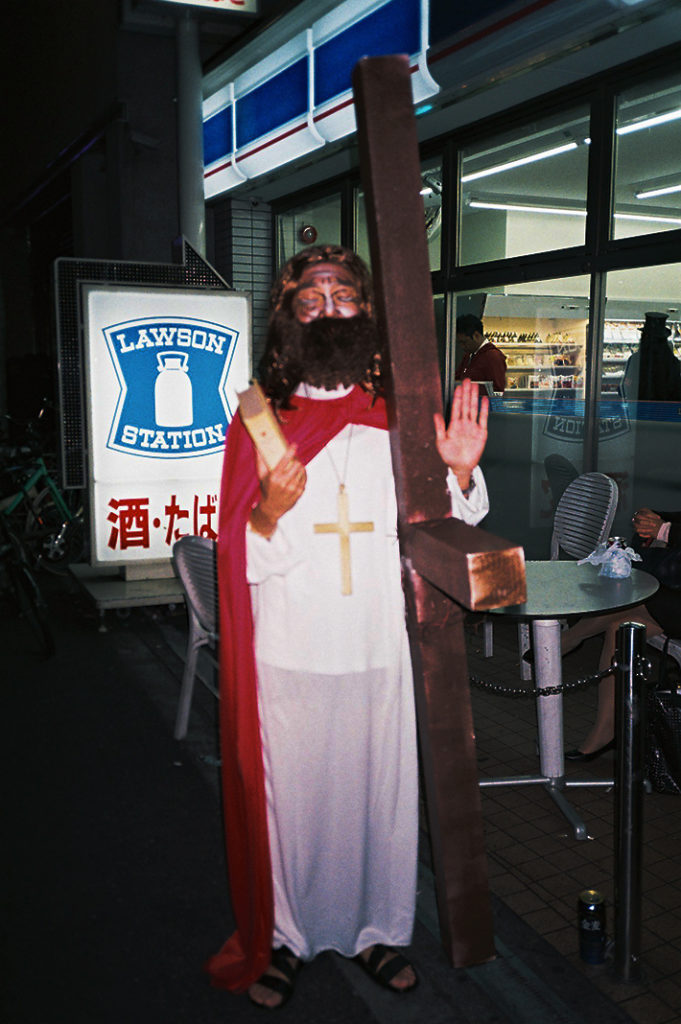 Post by Japan Journeys.