As I sip my tea, a gentle breeze blows into our private dining room. The stand alone sukiya-zukuri style thatched roof and earthen walled structure contains a rather elegant space; tatami mats, a lacquered table and floor-to-ceiling glass doors with stunning views of the lush surrounds. Outside, a small river babbles by and birds flit from tree to tree. Though Ukai Toriyama is 50km from Shinjuku and technically still in Tokyo, it feels a world away from the hustle bustle. With a 20,000 m² garden and with hiking trails and steaming natural hot springs nearby, this high-end charcoal-grilled chicken establishment makes for a seriously peaceful escape from the city.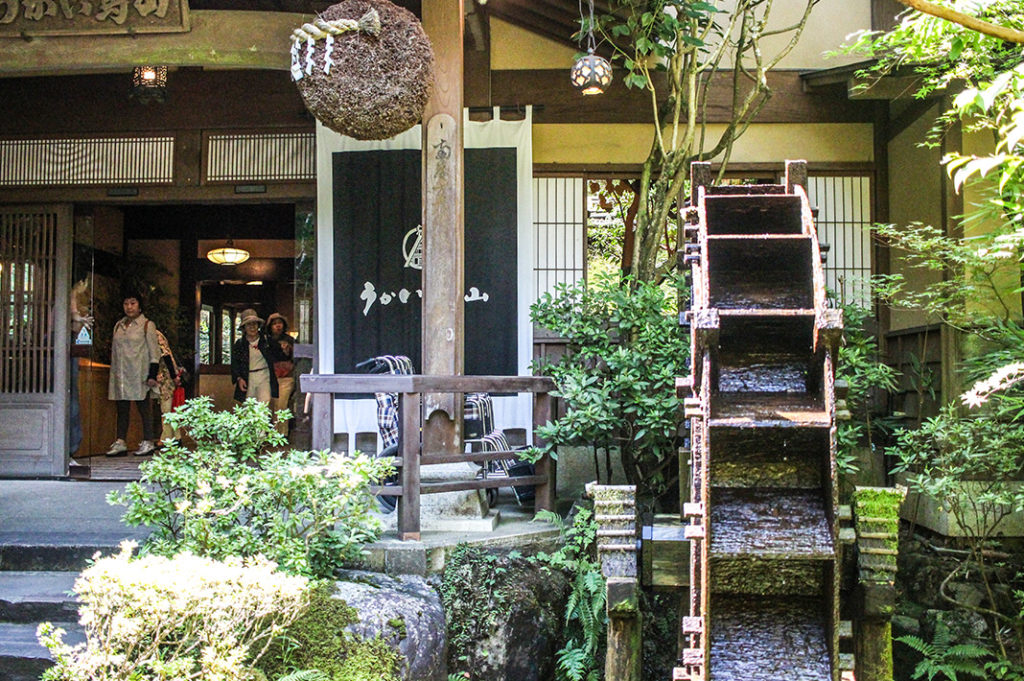 A Visit to Ukai Toriyama
Like all Ukai Group restaurants, Ukai Toriyama is exceptional in its cuisine, hospitality and design. The expansive gardens are dotted with traditional buildings, stepping stones, rivers, water wheels and lush vegetation. Spring is a pretty sight when the cherry blossom trees reach full bloom and summer is all about the magical glow of the fireflies. But let's not forget the fiery red autumn maples and the snow capped wonderland that is winter. Basically a stunning scene awaits year-round.
The Kaiseki Experience Begins
A knock at the door pulls my attention from the view; our hostess is entering with our first course. The boiled leafy greens are seasoned beautifully, the walnut tofu is thick and creamy with a tasty sweet sauce and the fried crab cake lets out steam as I crunch into it. Sitting on top of the crab cake is what looks like a pine needle, though the hostess explains it is entirely edible, made from dried noodles. This is very typical of kaiseki; not only using local, seasonal ingredients across multiple courses, but also reflecting natural elements like leaves and dew.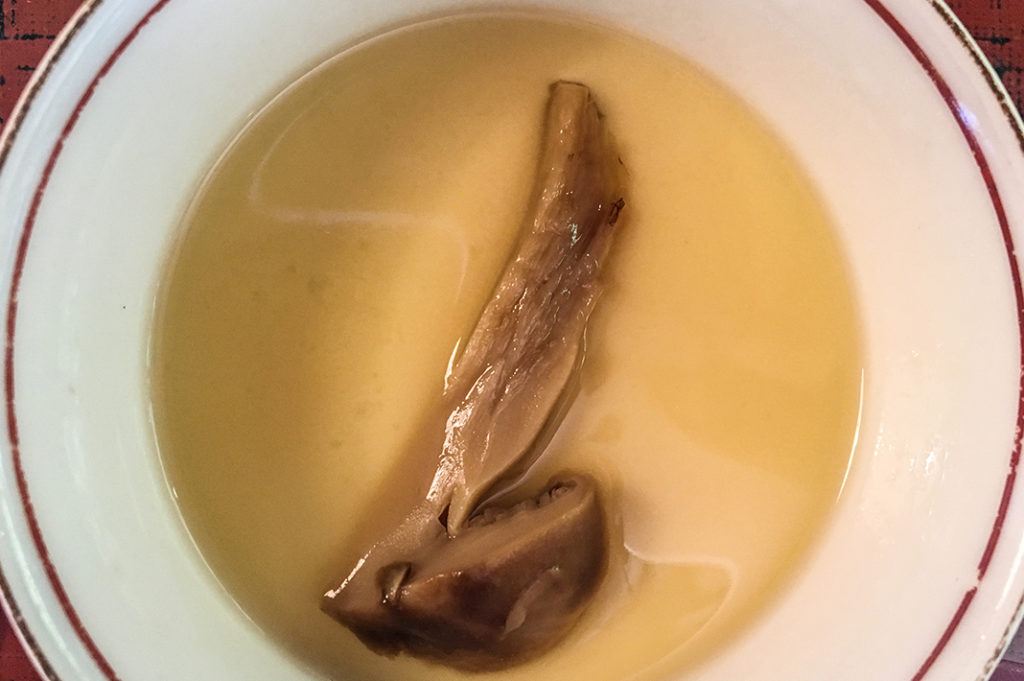 The next few courses flow in; soft simmered taro and a steamed egg custard all silky and hot. Soon our hostess carefully sets down a charcoal grill in the irori table where we sit. As Ukai Toriyama focuses on high-quality charcoal grilling, I know we're in for a treat. She soon returns with a platter of meats and vegetables and begins to cook our main course before our very eyes.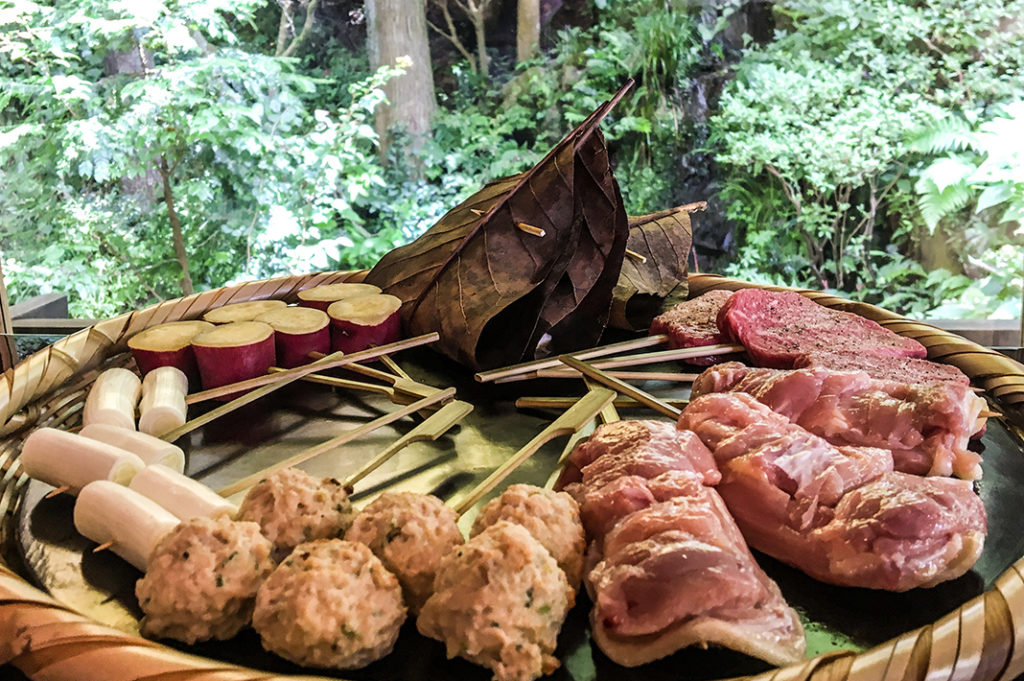 Let the Grilling Begin
She lays the platter down and our hungry eyes take it all in. Chicken, wagyu beef, leek, sweet potato, tsukune chicken meatballs and magnolia leaves filled with chicken with miso. Heaven. To our delight, she reaches first for the beef, carefully laying each bright red, marbled lollipop onto the hot grill plate.
Once the beef reaches our preferred level of readiness, she serves them up for us. I take a bite and the hot, salty, juicy beef melts in my mouth. Next, I try adding some wasabi—my new favourite flavour combination. As expected, the peppery wasabi pairs very well with steak—just like mustard.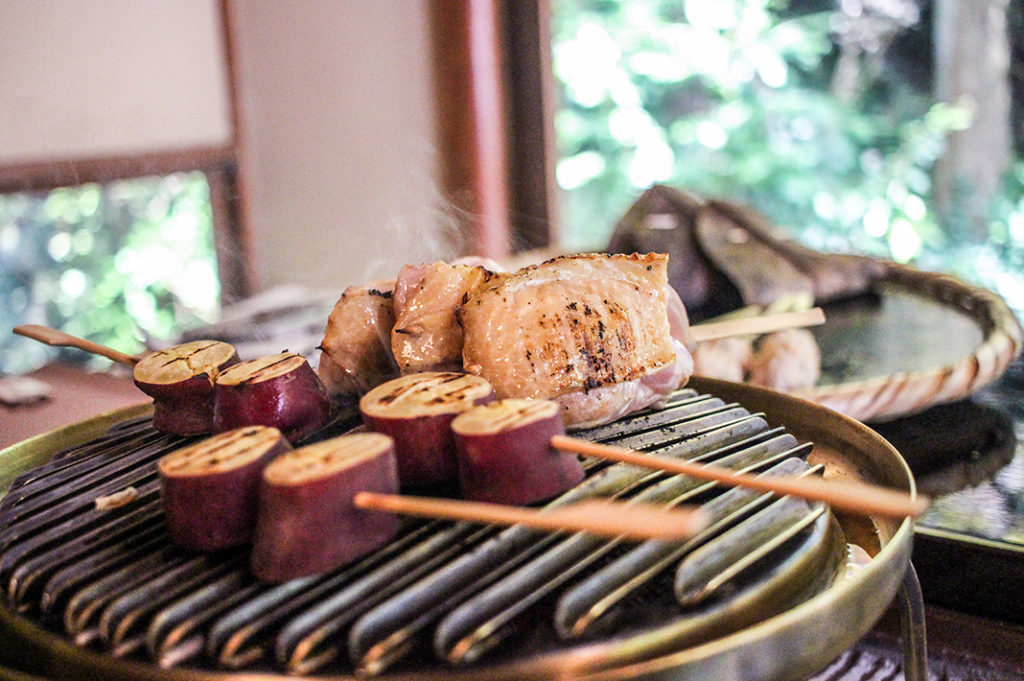 Next, we move onto the vegetables. The grilling brings out the natural sweetness of the leeks and sweet potato making them equal stars of the show. Before long, she is reaching for the famous chicken. Our host elegantly grills each skewer to perfection, with multiple dips into the secret recipe sauce pot. The chunky cuts are cooked just-so, and the skin gets a wonderful caramelised crunch to it.
Last but not least, the tsukune meatballs are fluffy and juicy while the chicken and miso inside the magnolia leaf packs a pajor flavour punch. By this point we are almost seeing stars, but somehow manage the next two courses—rice, soup and pickles and sorbet.
Touring the facilities
After eating, we take a stroll around the grounds, enjoying the peace of the area. We notice more small sukiya-zukuri style private huts like ours dotted around the gardens, each afforded its own unique nature views. One path leads us over a series of wooden boardwalks to an old tea house in a far corner. An elderly man is bent over in the garden but looks up and waves as we approach. The large wooden water wheel spins on beside the teahouse and we are told that this was the traditional way of making soba. Before moving on, we enjoy a cup of hot soba tea.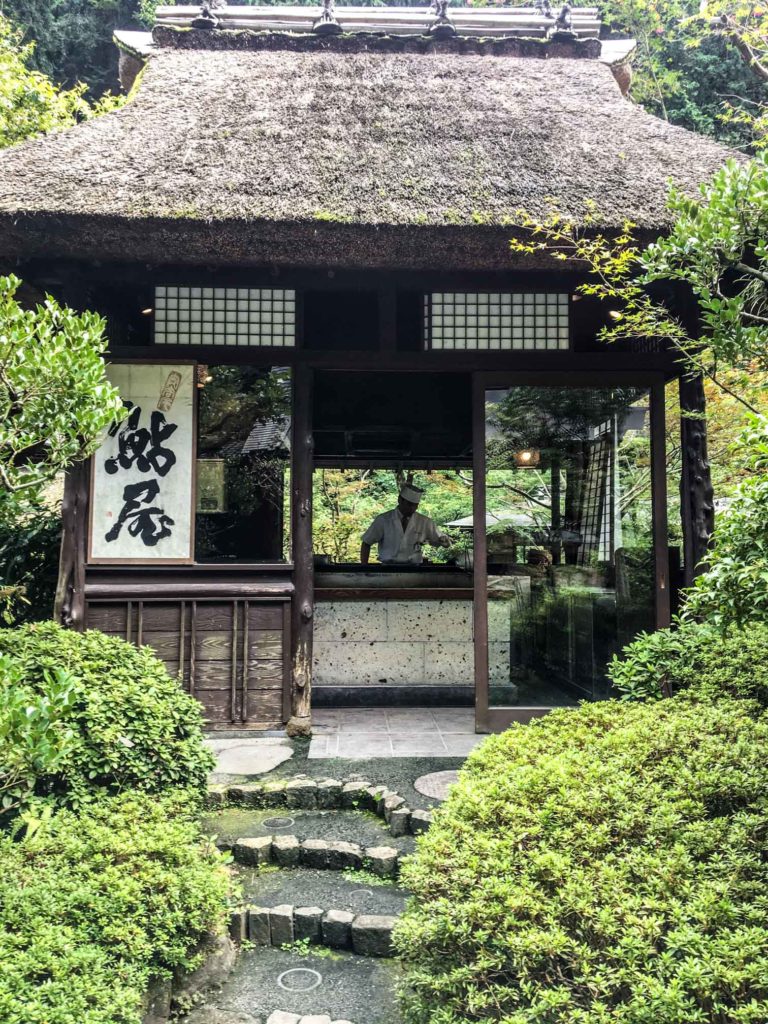 On our way back, we pass by a small structure for grilling fish. A young chef stands on duty before the charcoal pit, threading ayu (Japanese trout) onto skewers and grilling them expertly.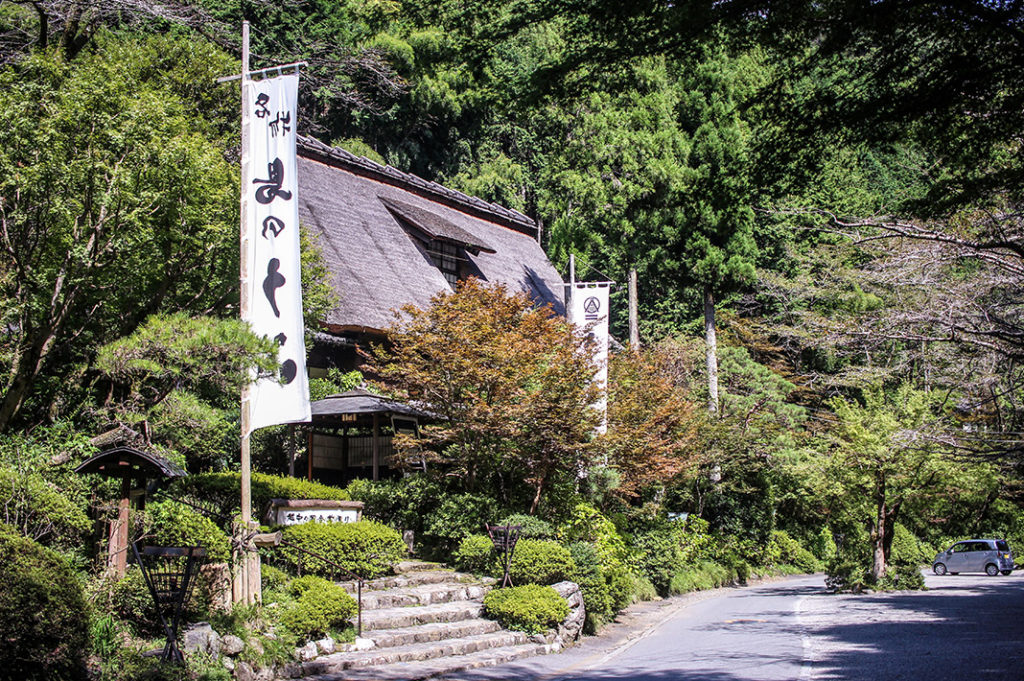 Lastly, back by the entrance, we explore the large gasshōzukuri structure which houses some traditional artefacts including samurai outfits and guns. This traditional style of building is not so common, and is the very same type that people flock to see in Shirakawago.
Climbing down the ladder from the attic, we pat our stomachs contentedly and prepare to move on. Lucky for us, our next stop is an equally peaceful hike up the nearby Mount Takao. We hop back in the shuttle bus and get dropped off at Takaosanguchi Station. You could return to Tokyo from here, but if you have a little more energy, consider a gentle hike up to the summit where you can enjoy wonderful views as well as more snacks and drinks if you have room!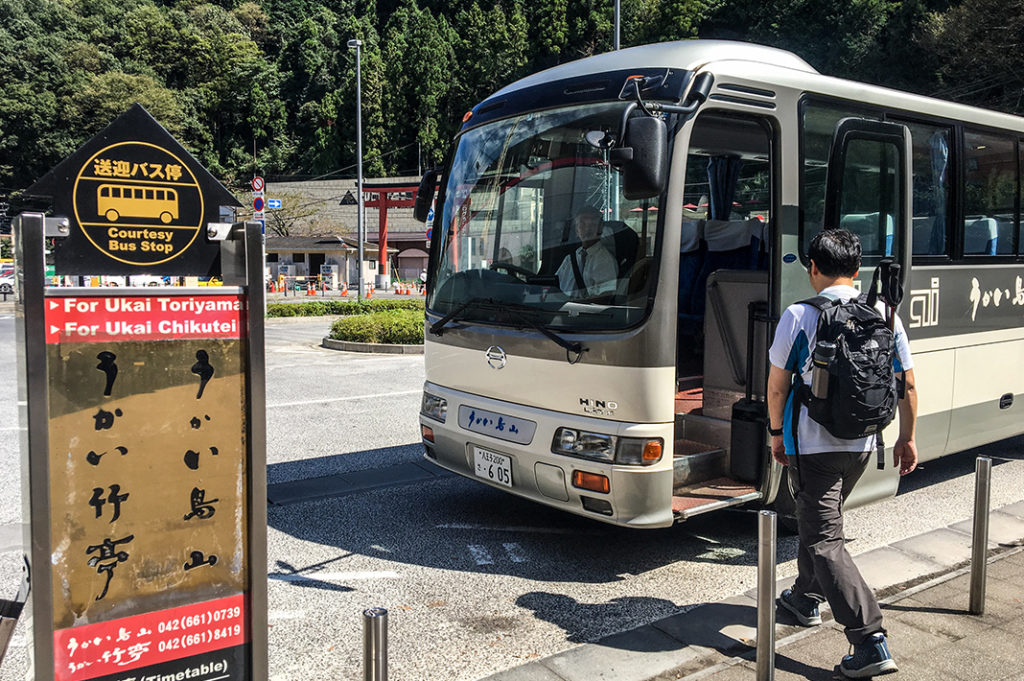 Getting to Ukai Toriyama
From Shinjuku Station, it's easiest to take the Keio Line Limited Express train bound for Takaosanguchi Station (55 minutes). However, if coming from Tokyo Station, take the JR Chuo Line to Takao Station then change to the Keio Line, and get off at Takaosanguchi Station. Once at Takaosanguchi Station, look for the shuttle bus that will take you to the restaurant. Plan to make a day of it and enjoy a hike of Mount Takao after lunch, followed by a trip to the nearby onsen for a soak. 
Dinner ranges from 5,940 to 12,100yen depending on the chosen menu. Lunch courses are the more affordable option at 5,370yen per person.
Ukai Toriyama
Address: 3426 Minamiasakawamachi, Hachioji, Tokyo 193-0846
Open: Sunday, Monday, Wednesday–Friday: 11:30–7:30 (Saturdays from 11:00)
Closed: Tuesdays
URL: https://www.ukai.co.jp/english/toriyama/
Post by Japan Journeys.