If you're after a rowdy night with Tokyo locals, look no further than Okinawa Paradise. This Shinjuku restaurant may be a little tricky to find, but is well worth the effort. Located in Shinjuku's Kabukicho district, Okinawa Paradise sits three floors up in a nondescript building with no English signage. But don't let that put you off; inside is a rambunctious yet laid-back taste of the southern islands. When it comes to venues where you can sample a range of Okinawan cuisine while participating in a spirited singalong, it's our number one pick!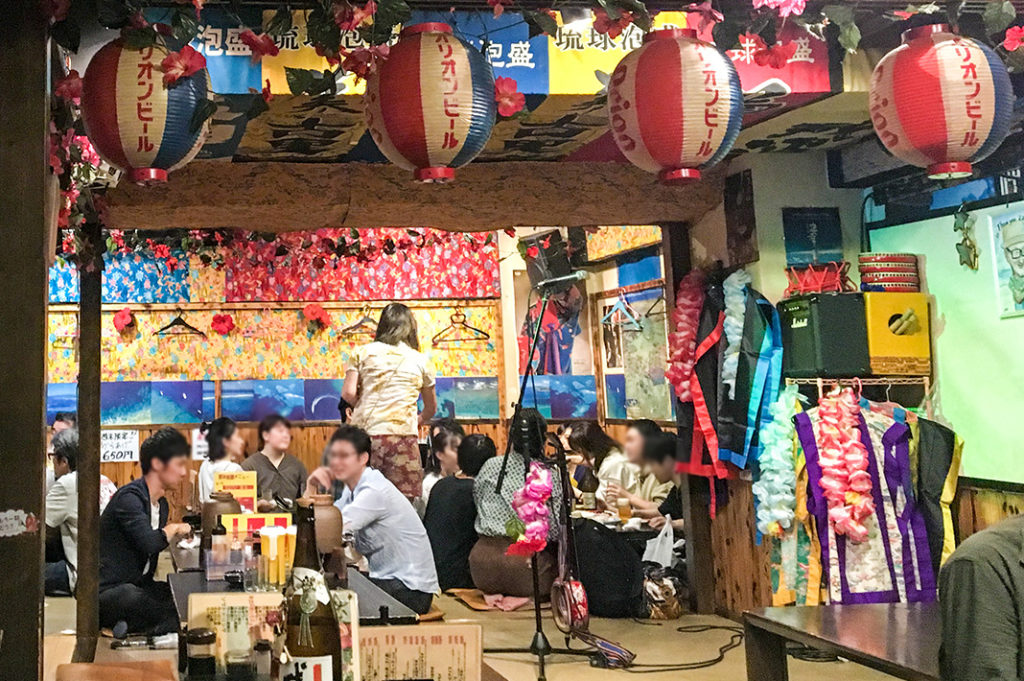 The Space
Once you've found the building, make your way up to level three. The decor is a mixture of tropical flowers, Orion beer lanterns and an impressive bottle display along one wall. Staff weave around in floral print and thongs to complete the island aesthetic. The space fits 60 people—some at tables and others cross-legged on the tatami floor area. As you'll see, the latter is prime real estate.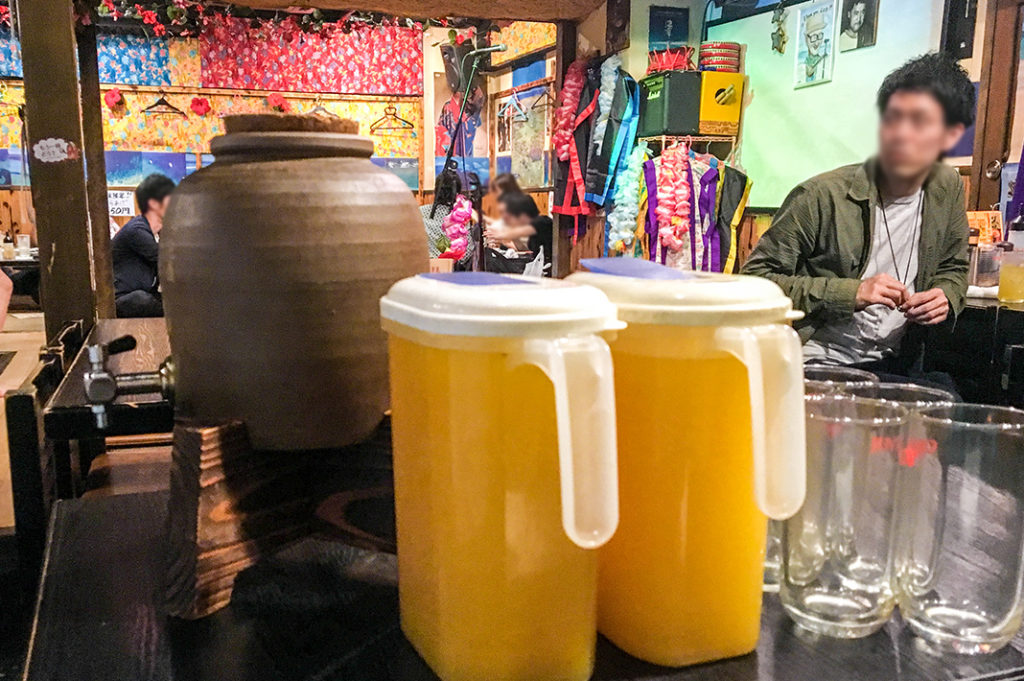 All-you-can-drink Awamori and Beer
First thing's first: drinks. You can order your beverages a la carte but if you're in the mood, the fun is in the nomihoudai (all you can drink) package. What's that saying… 'do as the locals do'? With this option, you're given a 2.5 hour time limit to drink as much as you like (drink responsibly, people). A cask of awamori (Okinawan spirit) and juice mixers will be promptly placed on your table, so you can make your own cocktails. For those a little more cautious, you can also order unlimited beer. Once your time is up, it's possible to extend for longer, though I'm willing to bet your table is probably quite full of drinks at this point.  
Sampling Okinawan Food
The food at Okinawa Paradise is cheap and tasty with plenty of Okinawan favourites featuring pork and SPAM. Even though the menu is in Japanese, it does have pictures, so you can simply point to what you'd like. To help you out, the first page features their top 10 recommended dishes. If you're dining with a group, order a few different things so you can sample all the flavours and textures of Okinawa.  
While everything was delicious, there are a few things I'd recommend. For the sake of trying something different, order a dish featuring goya. This bitter gourd may not be the biggest crowd pleaser but it's ubiquitous in Okinawan dishes and worth a try. The umi-budo (sea grapes) don't taste oceanic at all—in fact, with the dipping sauces, they are very moreish. The rafute (pork belly) was meaty and delicious, as was the somen champuru—which was like a pan-fried SPAM pasta. 
The Okinawan Performance
The food and drink may be satisfying, but they aren't the main attraction. Every night, there is a live sanshin (traditional Okinawan stringed instrument) performance by the restaurant's master, Shingo Tamaki. Once the patrons are well into their all-you-can-drink packages, Tamaki takes to the tatami with his instrument. Best of all, drums and tambourines are handed around so everyone can participate in the fun. The songs are native island songs and, impressively, most of the crowd know how to sing along. For those of us who don't know what's going on, Tamaki will teach cues and accompanying hand movements so everyone can be in sync.  
If it's your birthday, as it was mine, you can go up on stage, don a costume and stand beside Tamaki as he and the whole restaurant sing 'Happy Birthday' to you. Just when you reach peak embarrassment, a staff member will come along with a huge, novelty sized beer for you to drink.
The sense of camaraderie with other patrons, coupled with the food, drink and performance make a visit to Okinawa Paradise a night to remember. If you can't get to Okinawa, it's the next best thing.
Bookings and Access
Okinawa Paradise is located a five minute walk from both Shinjuku and Shinjuku San-chome Stations. Find the reddish building with the ground floor liquor store and head on up to level 3.
This is a pretty popular spot so you'll need to book ahead, particularly on weekends. You can do so online or call via Gurunavi with English assistance.
Okinawa Paradise
Address: Level 3, 1 Chome−2−16 Kabukicho, Shinjuku, Tokyo (link)
Open: Sun–Thurs 5:00pm–Midnight, Fri & Sat 5:00pm–1:00am.
URL: https://okinawaparadise.gorp.jp/
Post by Japan Journeys.