When visitors think of old school Japan, they no doubt picture kimono-clad geisha and rickshaws whizzing down cobbled alleys. This definitely has its place in history, but there are so many different eras in Japan's past. The Showa period, for example, which lasted from 1926–1989. Being so recent, there are still plenty of remnants of this era around town—not to mention in people's memories. If you want to experience it for yourself, head to one of Tokyo's dagashi bars, or all-you-can-eat candy bars! 
Designed to look like relics of the Showa era, they specifically pay homage to the old fashioned candy stores (dagashi-ya) of yesteryear. Plenty of folks in Japan still have fond memories of visiting these stores to buy cheap sweets, kind of like penny candies or pick'n'mix. So it's a great place to let your inner child out to play for a while.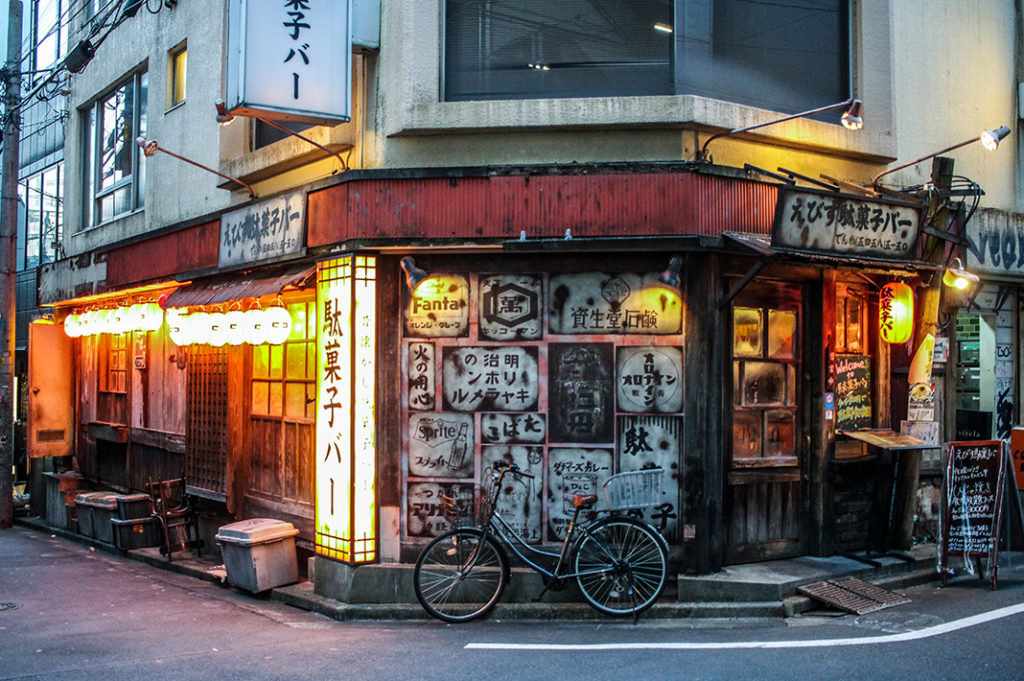 With multiple locations around town, these izakaya are a bit of fun. They serve drinks, of course, and food designed to emulate an old school lunch menu. But the star of the show here is the sweet, sweet candy. For a ¥500 cover charge, you can get all-you-can-eat at the lolly bar for 2 hours. Yes, you read that correctly.   
All You Can Eat Candy
On my recent visit to the Ebisu branch, I arrived right on opening time. All the other adults were still working so I essentially had the place to myself. You might say I felt like a kid in a candy store. After ordering a drink and some food, I grabbed the small wicker basket on my table and went over to peruse the selection.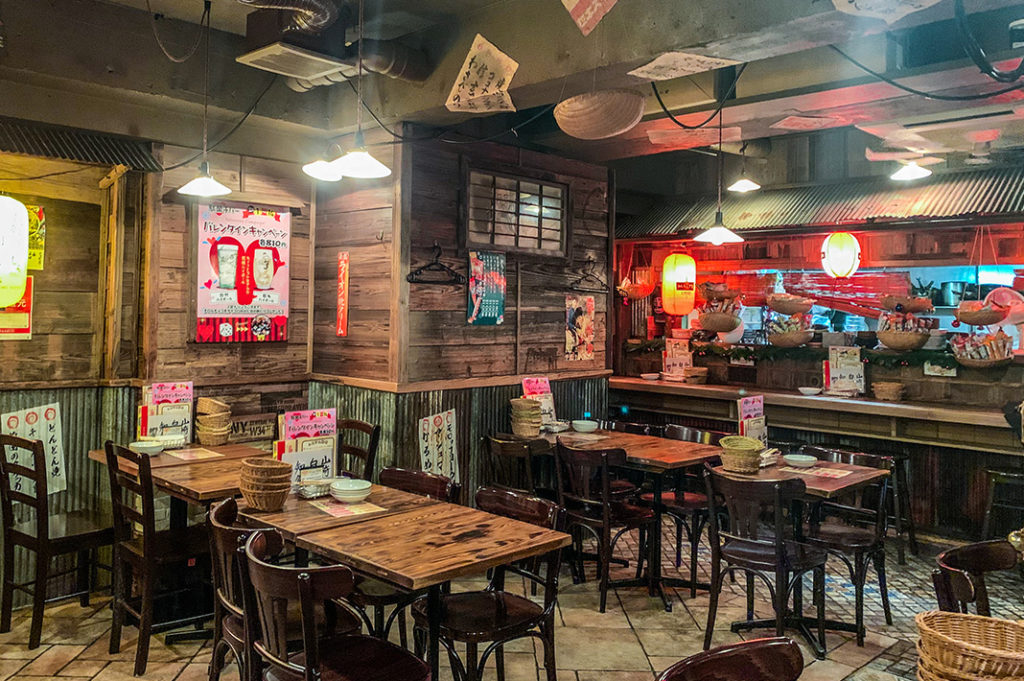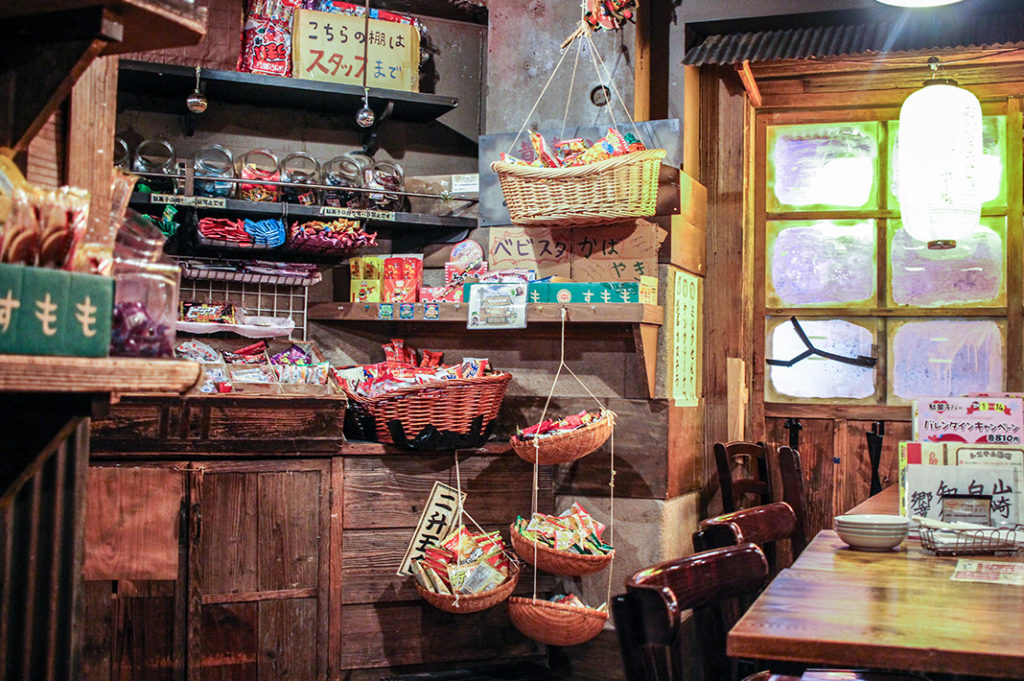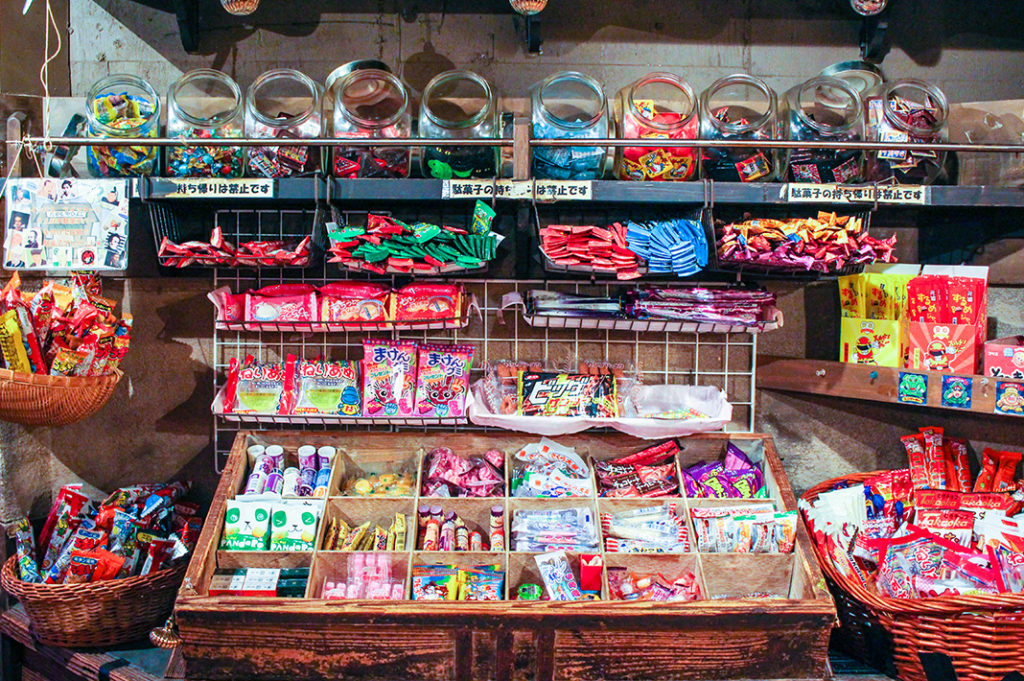 Just looking at the display was enough to shake my inner child awake screaming in their face ala Christmas morning, "SANTA'S BEEN, HE'S BEEEEN!". Meanwhile, my adult self just pictured the disapproving look on my dentist Kobo san's face. I filled my basket, decided that finding a new dentist wouldn't be so bad.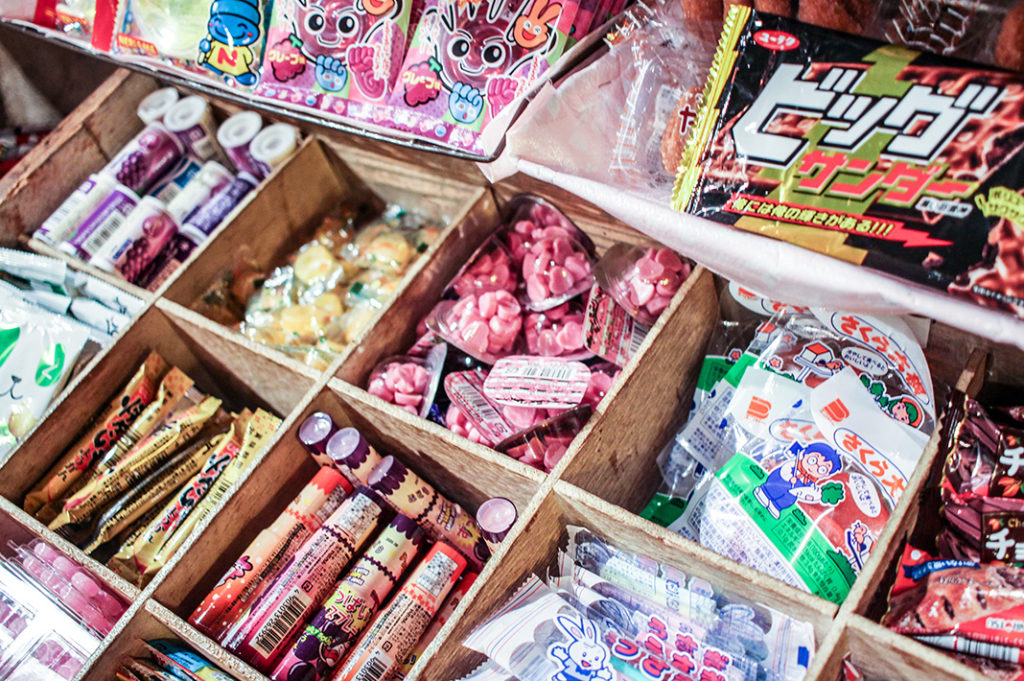 The sugar comes in many forms: gummy, chocolate, hard candy, jelly, spray, granulated, musk, even baked into cookies, donuts and cakes. For the savoury heads, there are plenty of dried noodle snacks, chips and puffed corn style things too. And I don't even think that's half of it.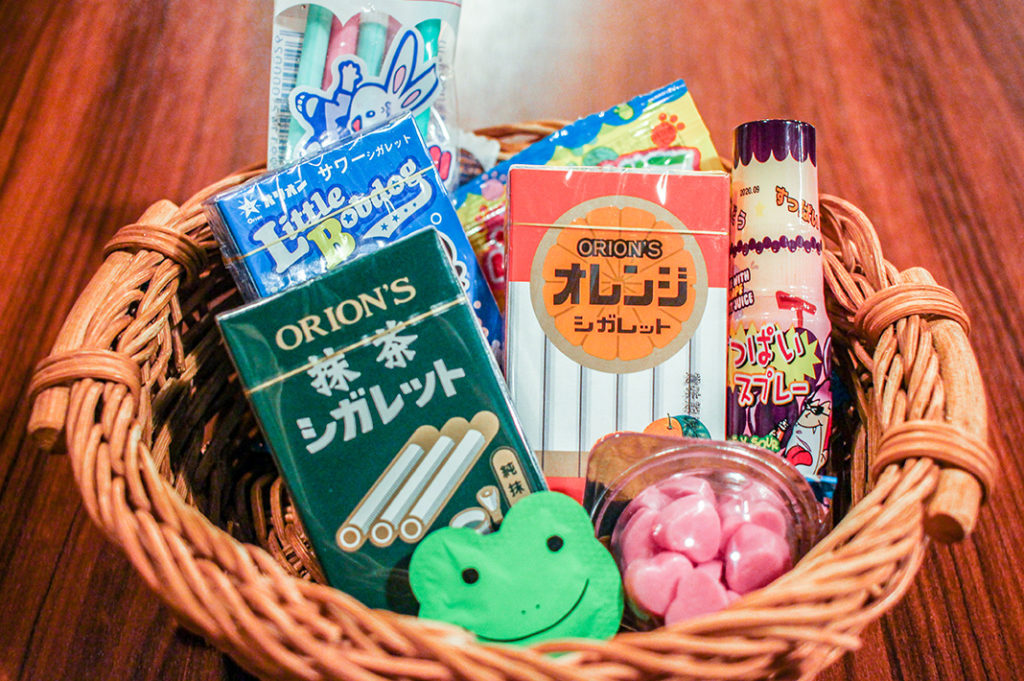 I brought my selection back to the table, and started on dessert before dinner. It's not only allowed here, but expected. I started with the orange candy cigarettes, faux smoking as the smooth sax of 80s legends The Checkers serenaded me. The candy cigarettes are definitely a remnant of a different time, I remember the red-tipped ones in Australia with an unfortunate name. Thankfully they weren't to be found here.
The Menu
The menu features old fashioned 'school lunch' food as well as recipes popular of the time.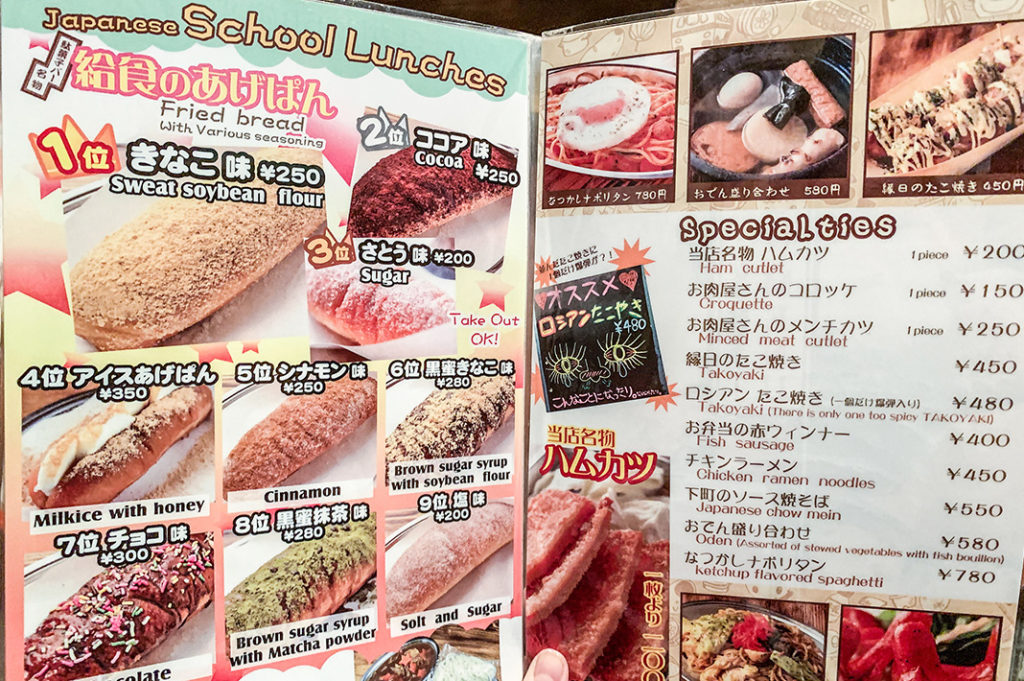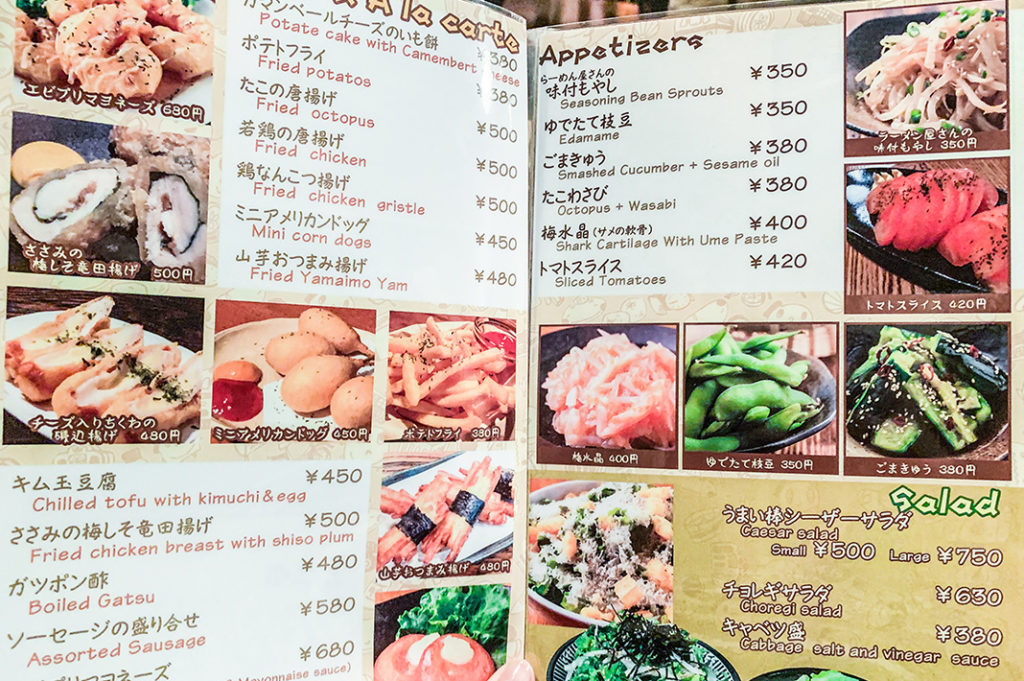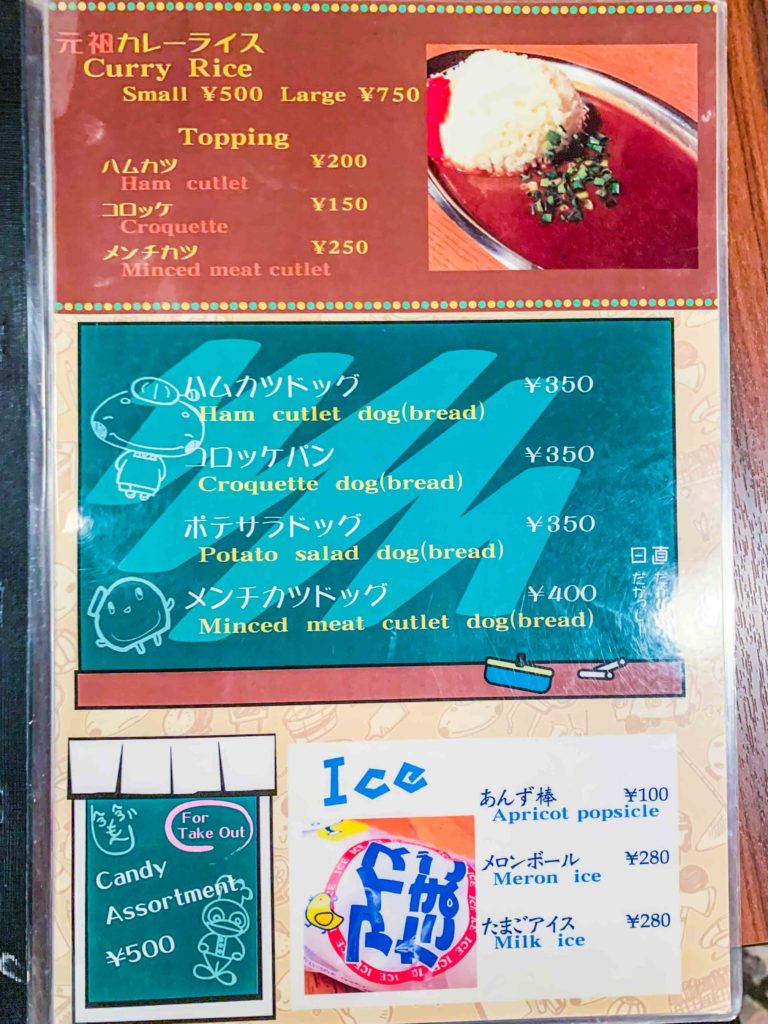 For my main, I ordered curry with soft noodles assuming it was a fun, school menu thing. It was definitely novelty—the noodles arrived in a steam bag—but I'd probably go for something green next time to offset my sugar intake.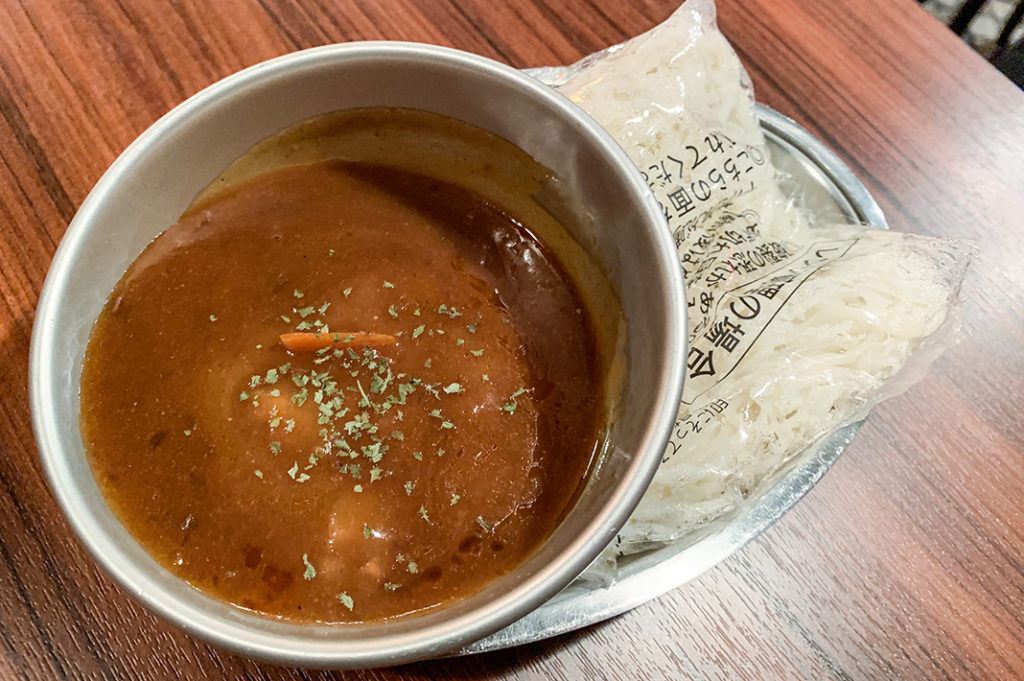 After my meal, I pushed the dishes aside and started working on the sweets again.
Unfortunately I was pretty quickly sugared out. One thing to know about Dagashi Bar is that Mrs. Gloop's warnings fall on deaf ears here; there's no saving for later. Sadly you can't take any candy home and have to finish everything at the table. My advice? Go with a group so you can sample a little of everything!
Name: Dagashi Bar (駄菓子バー)
URL: http://www.dagashi-bar.com/
Locations in Ebisu, Shinjuku, Shibuya, Ikebukuro and Kamata
Post by Japan Journeys.