Japan seems to have perfected the art of great egg sandwiches. Even the everyday ones from Family Mart are an exercise in inexpensive luxuries–creamy, eggy, mayonnaise-rich filling between two triangles of pillowy white bread. But venture out to Kansai, and you'll find egg sandwiches containing thick, wobbly omelettes rather than mayonnaise-mashed eggs. To my mind, these are the best kind of egg sandwich. One of my favourite places in Kyoto city for a breakfast egg sarnie is old-school kissaten Smart Coffee.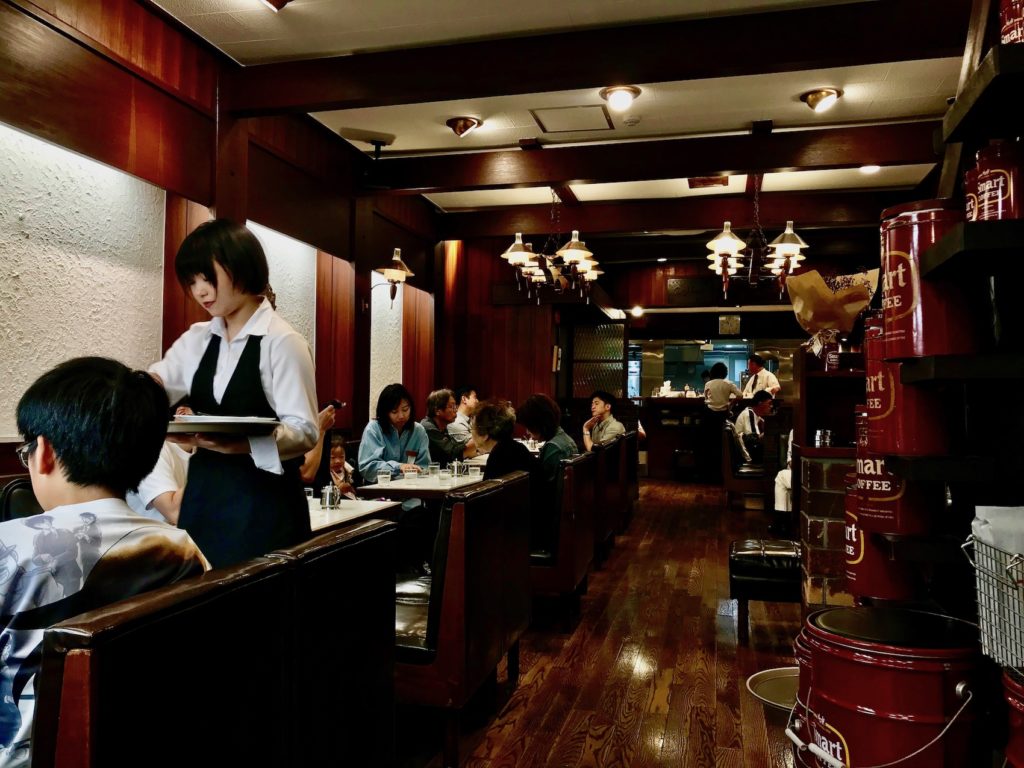 An old-fashioned kissaten
Smart Coffee in Teramachi has been open since 1932, and it is beloved by locals and tourists alike. It's an old-fashioned kissaten of the highest order. The staff are decked out in black and white uniforms. Rustic red tins of coffee line the staircase, and there's a formidable-looking coffee roaster right at the entrance of the shop. You'll hear soft strains of classical music as you wait for your food.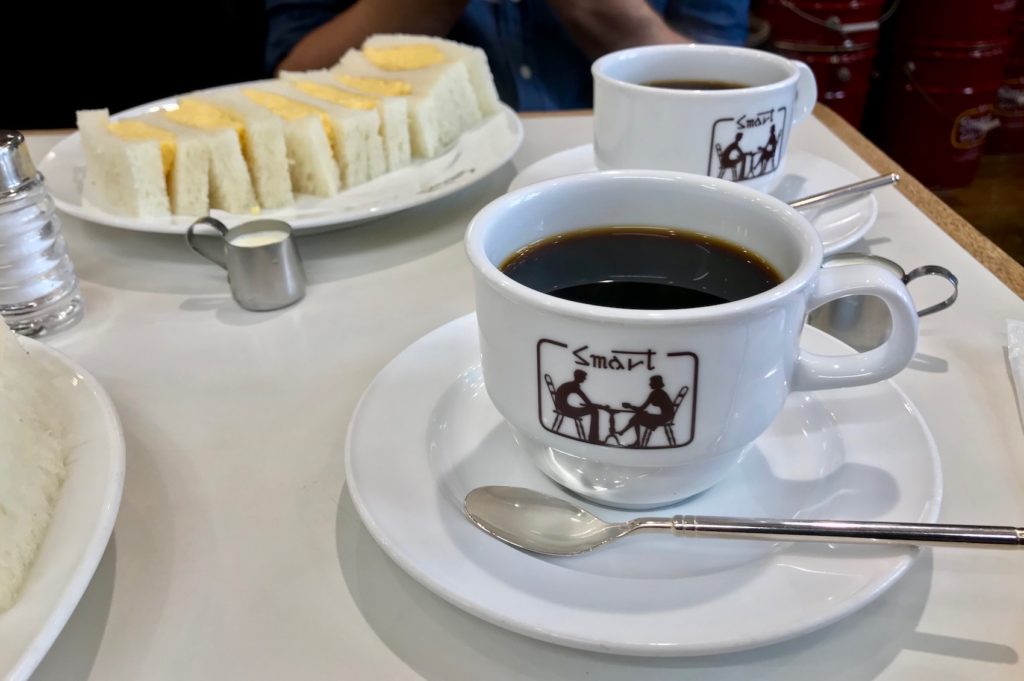 Dark roast at Smart Coffee – perfect for caffeine addicts
There are plenty of drinks here–take your pick from orange juice (you can even order it hot), Viennese coffee, tea, and cocoa. But at a kissaten like this, the house blend is the way to go. It's the ideal drink for caffeine addicts–a classic kissaten-style coffee so dark it's like ink, jolting you awake from the first sip. Pour in a dash of cream from the tiny pitcher alongside to soften the whole affair.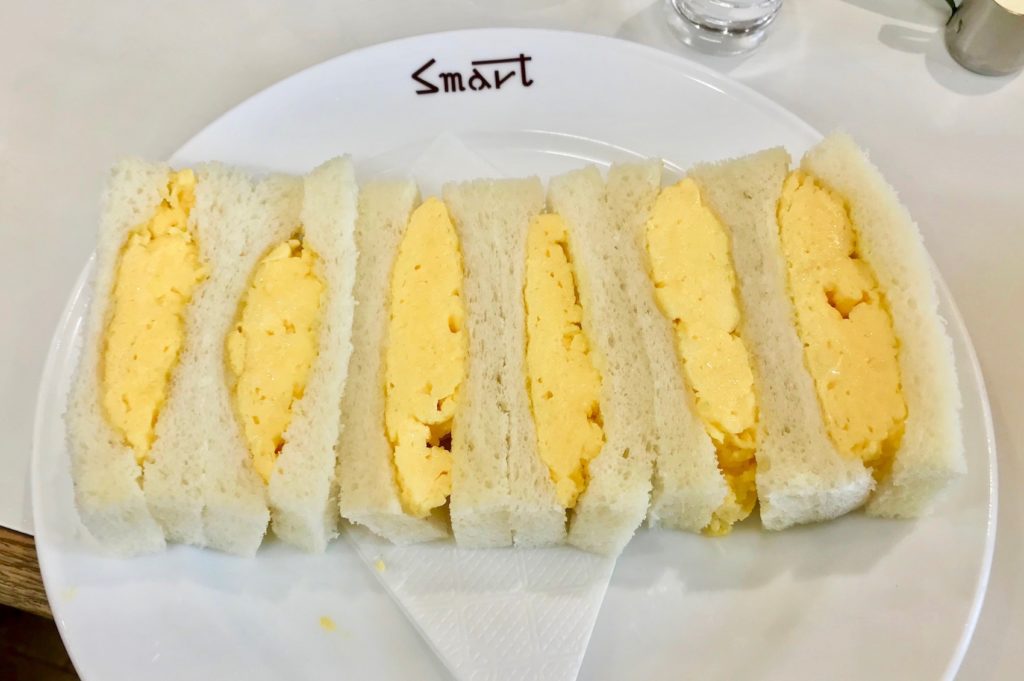 Egg sandwiches to ruin you for all other versions
Others might order the hot cakes (sweet, fluffy pancakes), French toast, or the jiggly egg pudding. Smart Coffee offer substantial sandwiches filled with lettuce, bacon, tomato, and even fruits. Yes, fruit sandwiches with whipped cream inside! But cast aside these temptations, and order yourself a plate of egg sandwiches. They're quite possibly the best way to fuel you for a day of exploring Kyoto.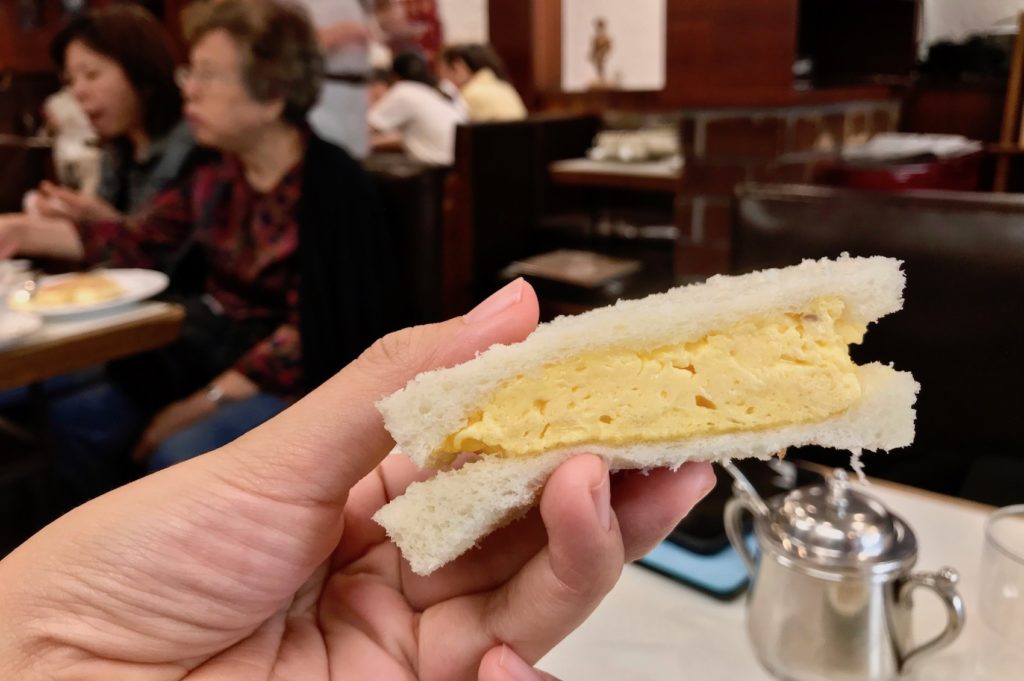 What you get here is half a dozen egg sandwiches, soft white bread filled with thick fingers of omelette. A close culinary equivalent might be the egg sandwiches you get at Hong Kong's old-fashioned cafes. There's a hint of mustard in each sandwich, and the omelette is tender and silky, with a slightest hint of wobble. They're simple, substantial, and perfect for breakfast. You'll want to pour a little fine-grained salt onto your plate, and dip each bite in as you go along.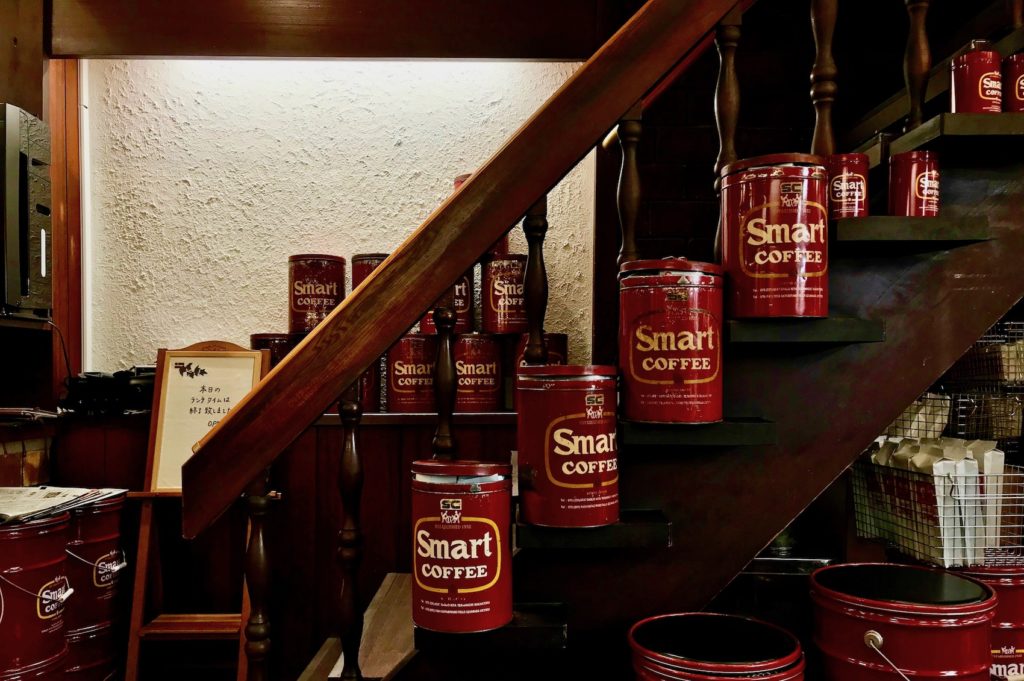 How to get here
Smart Coffee is located in the northern part of the covered Teramachi Shopping Arcade. It's busiest at peak travel season and on weekends. Go early if you can.
Name: Smart Coffee
Address: 537 Tenshojimaecho, Nakagyo Ward, Kyoto, 604-8081
Open: 8:00a.m.–7:00p.m.
URL: http://www.smartcoffee.jp/
Post by Japan Journeys.