When people ask me what to eat in Tokyo, a hundred places immediately race through my mind. But, of course, it all depends on the person's likes, dislikes, budgetary and dietary restrictions. One of the best catch-all styles of dining, in my opinion, is yakitori (grilled food on sticks). It's a crowd pleaser, great for fussy eaters, kids and vegetarians alike! There are countless yakitori joints all over Tokyo, but one of my favourites is Kushiwakamaru in Nakameguro.
Kushiwakamaru
Yakitori is ubiquitous in Japan. There are the cheap chain restaurants where you can order up a storm on the tablet and walk out with a wallet as full as your stomach. Then, for a more elevated experience, there are Michelin quality options that can bring David Chang to tears. Though Kushiwakamaru is not Michelin starred, it is damn good food at a reasonable price and therefore one of my go-tos in Nakameguro.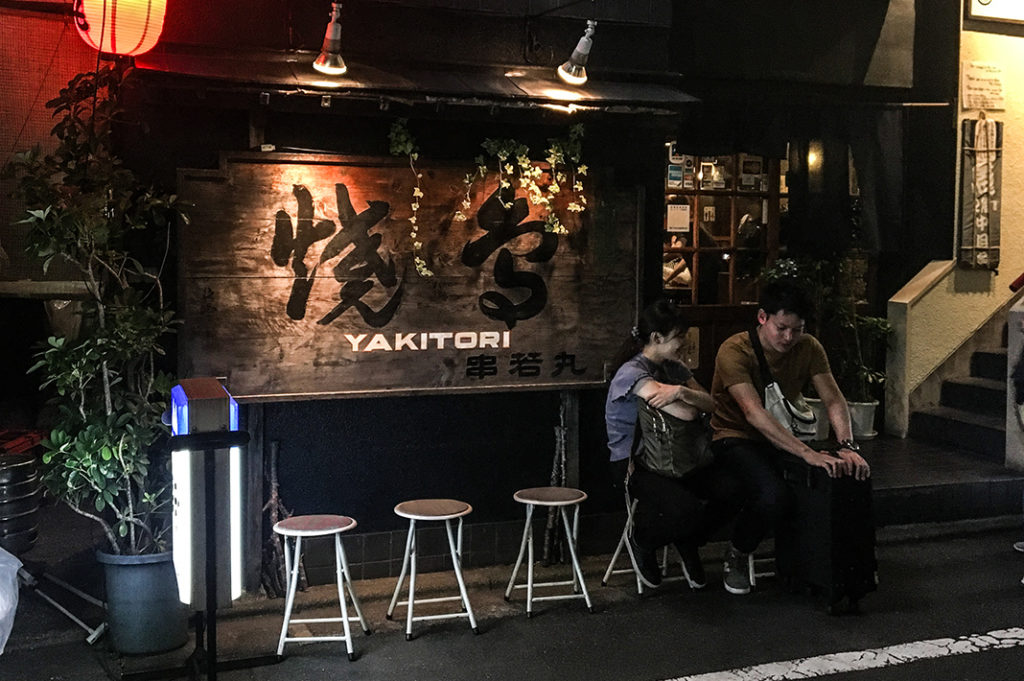 If you arrive around dinner time, you'll likely encounter people milling around outside, waiting for their turn to enter. Kushiwakamaru do accept reservations but if you find yourself here without one, you'll have to join these folk. Head up to the door and add your name and group size to the clipboard hanging beside it. You'll get a glimpse of how many are ahead of you, too. A walk around the area may certainly be possible, but do so at your own risk! For those who hate waiting, my tip would be to reserve or arrive early, as people tend to eat dinner later in Japan. 
A lively affair
Once you make your way inside, past the jealous stares of the others in line, your fun begins! Slide closed the rattly glass-paned door and follow the staff to your seat. There are counter seats for smaller parties but groups over 4 people will be relegated to the tables. I've even seen staff move people at the counter along to make way for new diners.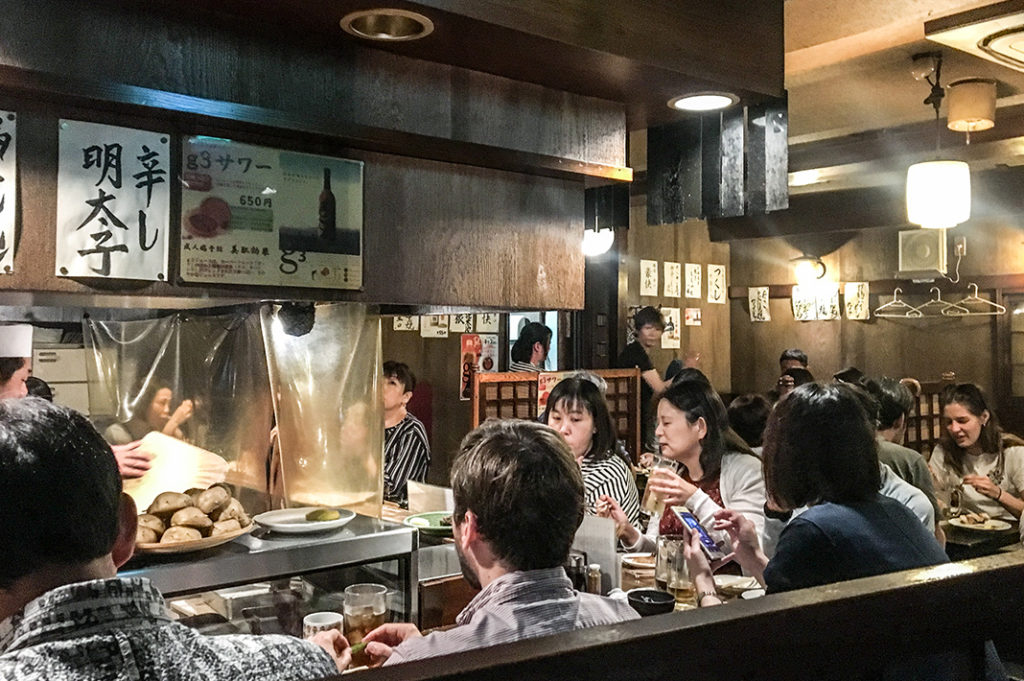 Kushiwakamaru has a cosy, traditional feel: wooden surfaces, coat hangers, menu items pasted to the walls. A plastic sheet shields diners from the yakitori smoke while the chefs fan and baste their grill expertly. There is a cacophony of chatter while food and drink fill every inch of table space.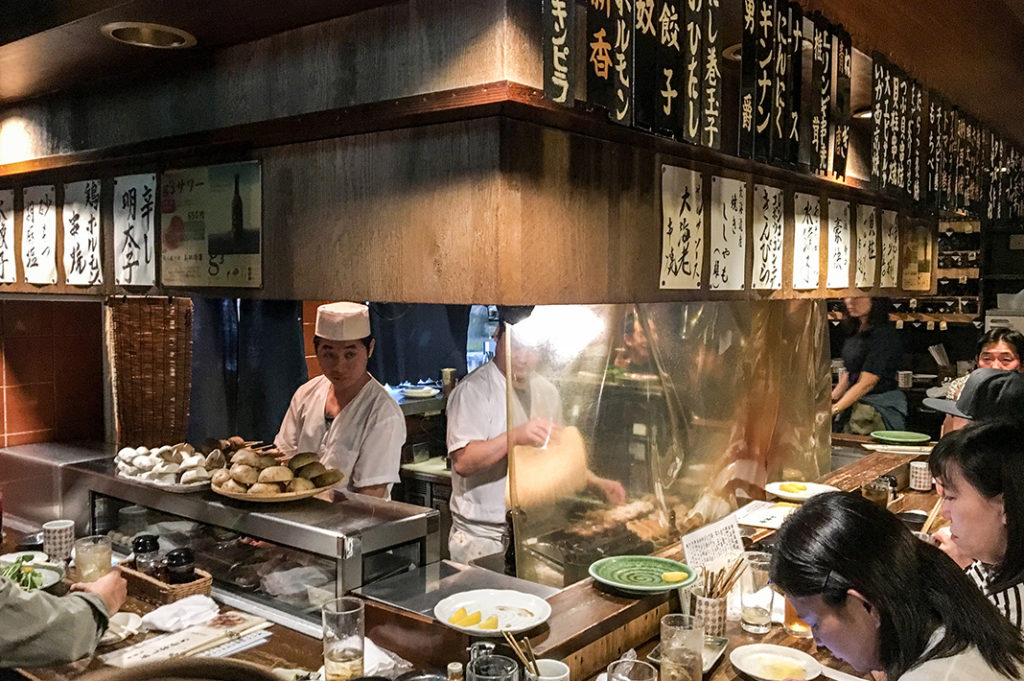 On the Menu
The English speaking staff will bring you the menu, conveniently written in both English and Japanese. You'll see all the yakitori favourites plus plenty of sides, meaning almost any palette, appetite or budget can be satisfied. The beauty of this style of dining is its flexibility—similar to tapas, the small dishes can be shared or eaten solo. If you have kids or small appetites in the group, there won't be any waste!
First up are a range of grilled chicken options; thigh, breast, tenderloin, wings…plus the more adventurous cuts. Props to the chef who always keeps that grilled chicken so tender. There are also bacon-wrapped goodies (try the tomato), salads, rice balls and a whole bunch of grilled vegetables. Mushrooms, leeks, potato, capsicum, garlic…the delicious list goes on. The staff may ask if you want salt or sauce. I recommend trying both, but I always ask for their "osusume" (recommendation)—after all, they know what's best. A personal favourite is the grilled eggplant—vegetarians note that it comes with bonito fish flakes on top and suspected dashi (fish based stock) underneath.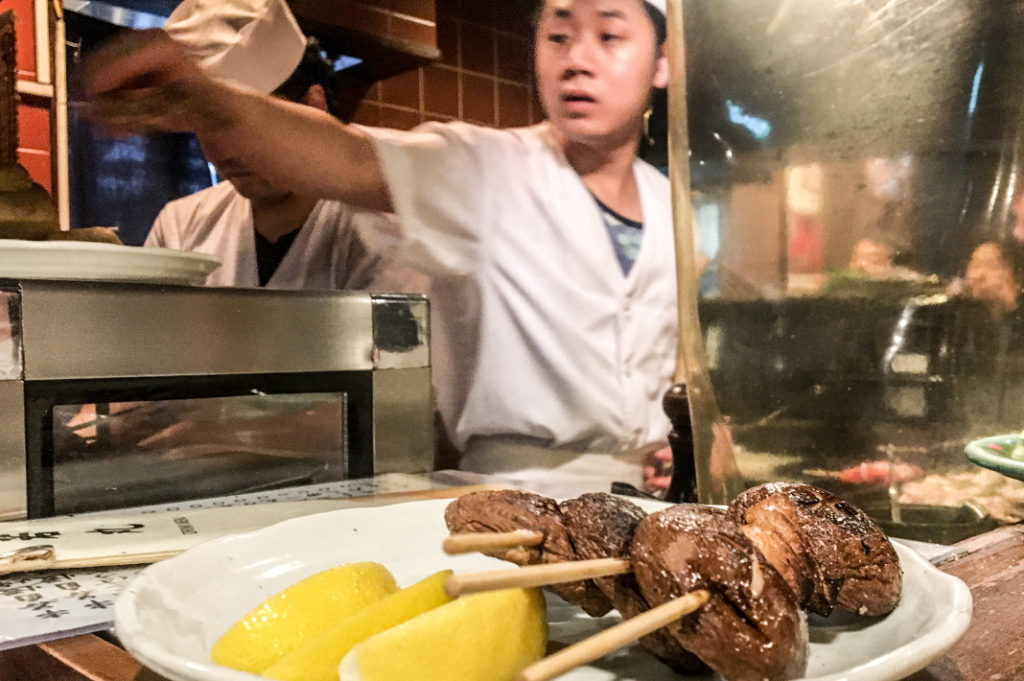 If you sit at the counter, the chefs will place a large plate in front of you where they can transfer your cooked sticks to. They will undoubtedly watch with anticipation to see if you liked their food. It's tempting to order the whole menu, but take your time and enjoy ordering the Japanese way. Have a drink and a few bites, then think about round two…and three, and four. Make sure you remember your favourites so you can be sure to order them again in your final round. With full bellies, thank the chefs and make your way outside past the ever-present queue. You'll never see someone so happy to watch you leave.
Getting to KushiWakaMaru
Nakameguro is just 2 stops from Shibuya and can be accessed from the Toyoko Line or the Hibiya Line. Take the main exit from Nakameguro Station, crossing the main road. Head down the side street to the left of Tsutaya books, and take the first left. Walk two blocks and you'll see Kushiwakamaru on your left.
KushiWakaMaru. The Stick Factory. Yakitori
Open: 5:00p.m. – Midnight, 7 days.
Address: 1 Chome-19-2 Kamimeguro, 目黒区 Meguro City, Tokyo
Google Link: https://goo.gl/maps/64E3EKUfD8iGVCvW6
Post by Japan Journeys.