Historically, vegetarians and vegans have had a tricky time dining out in Japan. Even a dish with no visible meat or seafood may have some secret animal products flavouring in the stock or sauce. When so many of the traditional recipes rely on animal protein, it's no surprise that veganism is a concept many can't wrap their head around. Despite this, the number of vegetarian and vegan restaurants is increasing, and finding them has never been easier thanks to Google Maps and websites like Happy Cow. This idle Googling is exactly how I came across Saido vegan restaurant in Tokyo's Jiyugaoka.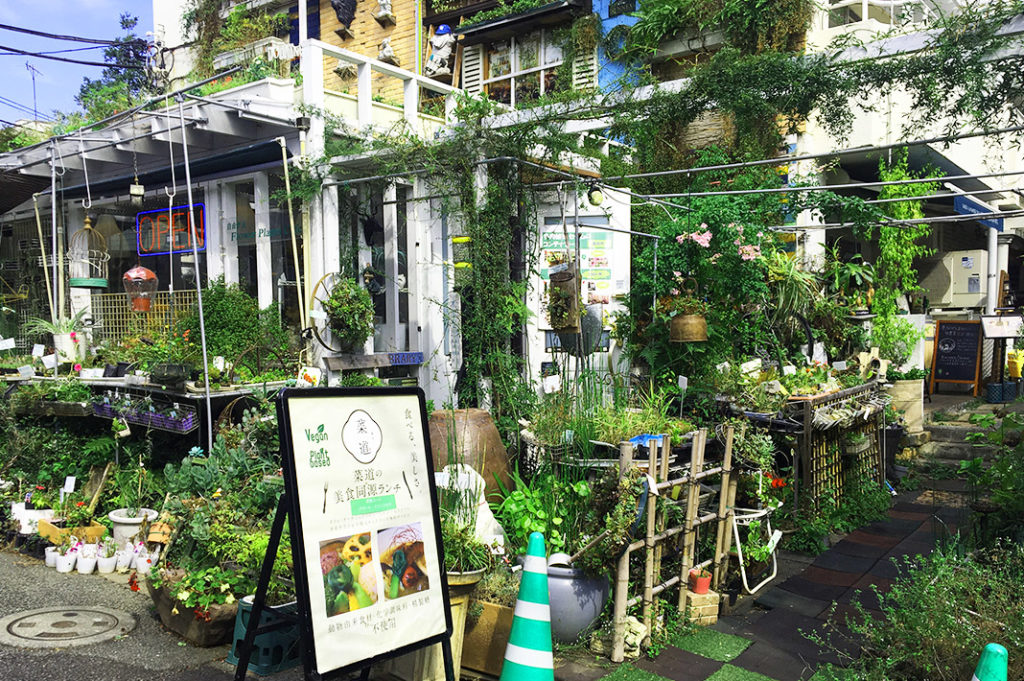 Saido Vegan Restaurant
Tucked away in a back alley, inside what looks like a local plant nursery, Saido is definitely a hidden gem. They may be hard to find but they're quite visible online—listed as the #7 vegan restaurant in the world on Happy Cow. Quite impressive stats for a restaurant that just opened in 2018! I wanted to see what all the fuss was about so made a quick online booking for our group, mere hours before our arrival.
On the Menu
The friendly staff welcomed us in, gave us an English menu and ran us through what was on offer. Drinks-wise, there was a selection of vegan beer, wine and sake from both Japan and abroad. On top of that, a number of other organic drinks, juices and herbal cordials to suit any taste.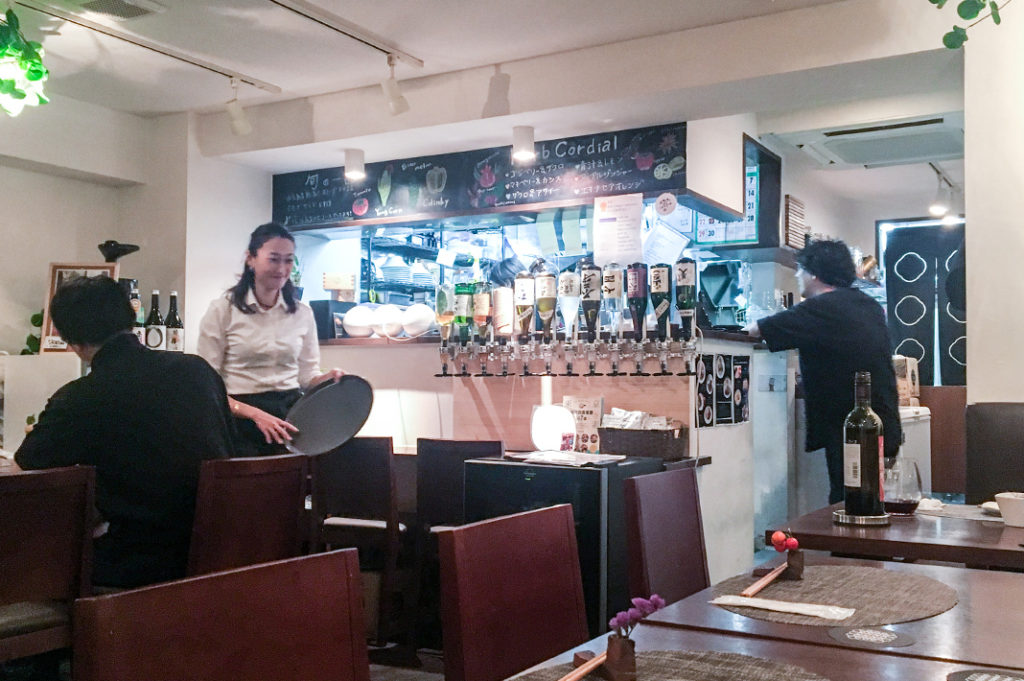 The dinner menu featured an enticing array of starters and small tapas style dishes, noodle- or rice-based mains, and dessert. Think vegan eel or katsudon, mapo tofu and soup curry. Though there is a different menu for lunch and dinner, my guess is that they're both winners.
The Entrees
Our drinks came quickly, followed by the otoshi (compulsory appetizer). We had spied the other tables eating this particular food but couldn't find it on the menu. To our delight, the waitress carried over a tray and sat down what looked like three tall shot glasses with a deep fried whole egg sitting on top.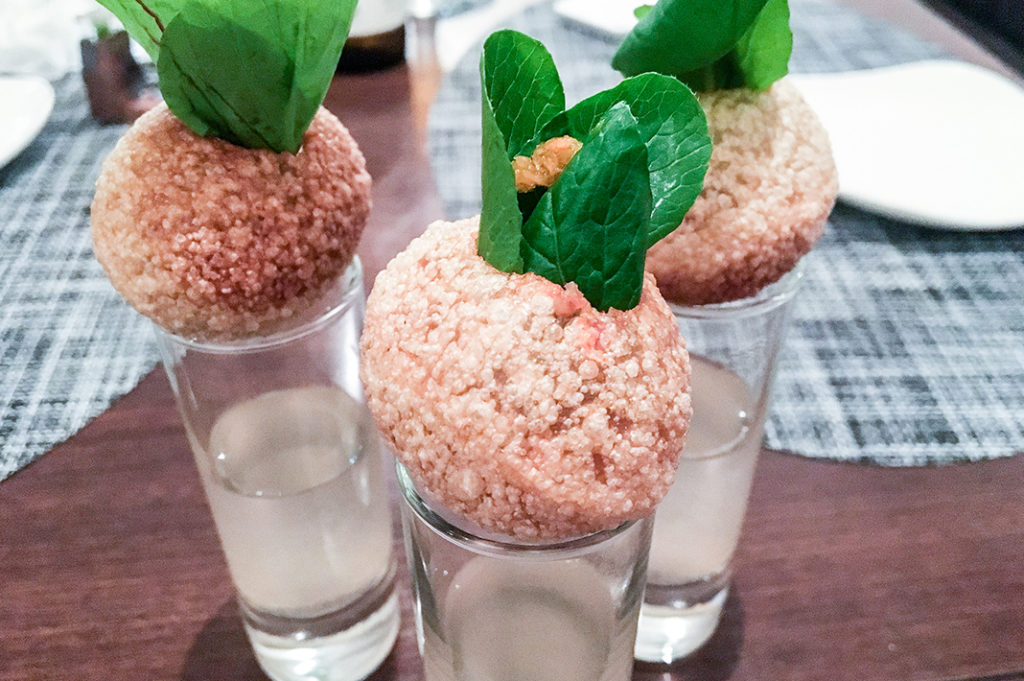 It turned out to be a clear tomato juice shot—literally juice straight from a tomato—and the crunchy shell was filled with an Indian-spiced bean curry. I'd never had anything quite like it before, it was as wondrous as it was tasty.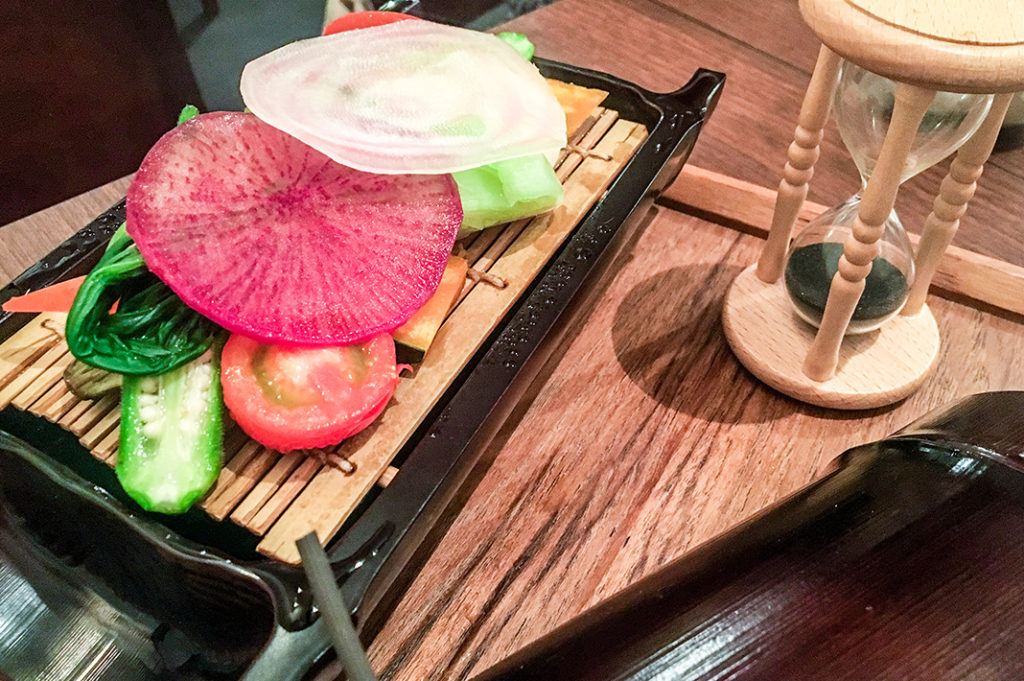 In serious need of a veggie hit, we had ordered the steamed vegetable entree. The waitress set down the tray, created a steaming reaction inside the container and placed the lid back on. She then turned over a small hourglass and told us to wait a few minutes. These theatrics were a fun surprise, and in no time we were digging into those colourful, perfectly steamed veggies.
The Mains 
The three of us took rather different approaches to the mains. The vegan katsu-don received the thumbs up from my partner in crime; it was gone before I finished taking photos of my meal so I can't personally attest to its taste. You'll have to trust his enthusiastic nodding and mumbled 'mm-mms' through mouthfuls of food.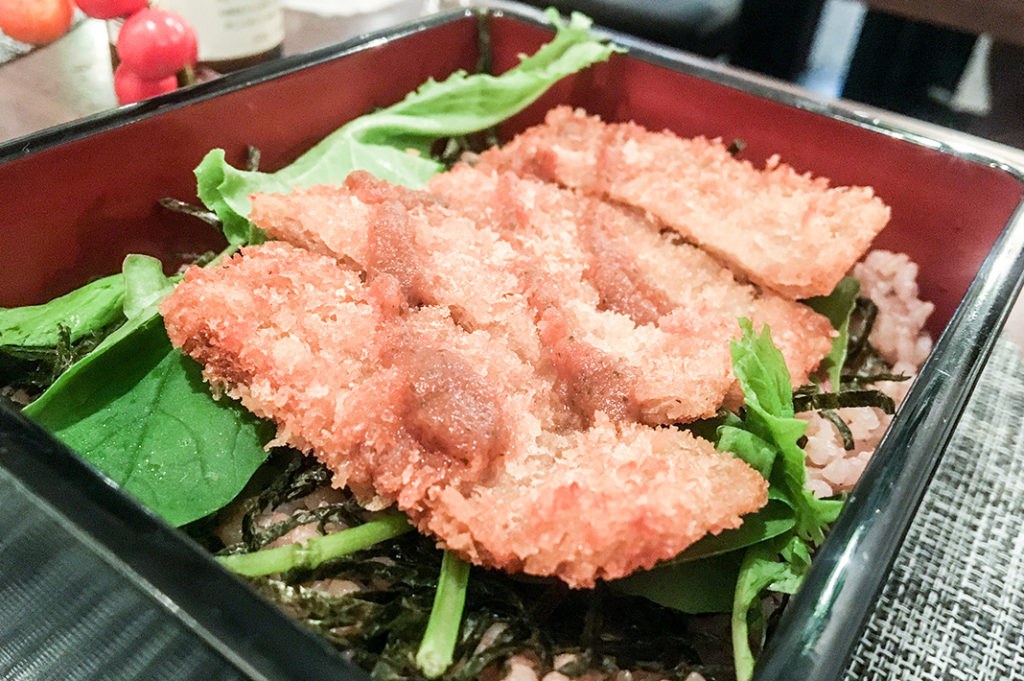 I myself went for the soup curry. Once more we all oohed and aahed as it was carried over—the dish resembled a giant white orb with a small finger sized hole in the top. I hooked my finger in and uncovered the first layer of the stacked dishes—pickles. I then unstacked the other layers: the curry layer filled with vegetables and rice at the bottom.
The vegetables were perfectly cooked and the gravy carried a rich Szechuan pepper flavour. I had been warned that the curry would be spicy, though I didn't find it to be. Rule of thumb in Japan: spicy doesn't always mean spicy.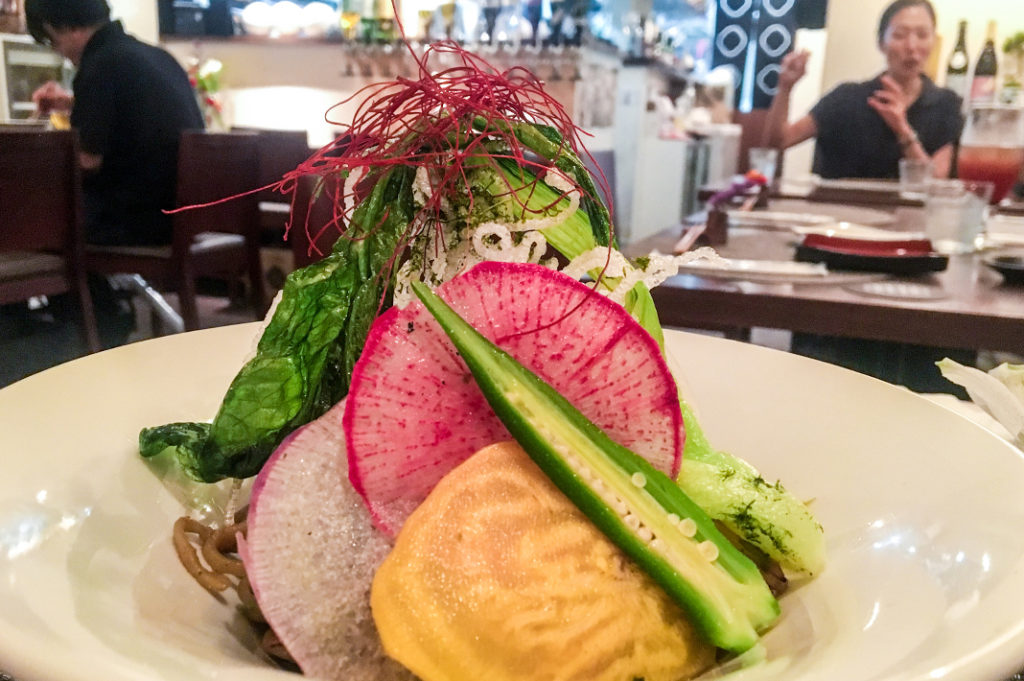 Lastly, the stir-fried noodle dish arrived, garnished elaborately with Saido's (signature?) colourful veggies. Unlike my home-made vegetarian stir-fries, this one packed a punch with all the right flavour and texture. I think I'm going to have to start calling mine 'stir-cries'. 
Always Room For Vegan Desserts
The dessert menu featured a number of tempting items, but we went for the blueberry cheesecake resembling a small terracotta pot complete with soil and a seedling. The waitress set it down and we promptly began taking photos of the very realistic looking plant. After a few moments, she whipped it away, replacing it with another version. She giggled at our confused expressions and explained her prank: the first one was an actual plant. We laughed at this unexpected moment we hadn't seen coming (again!). Taste-wise, the crushed nuts went nicely with the smooth 'cheesecake' filling. It was sweet and creamy without being too cloying. Needless to say, it was gone in no time. 
Finally, as we were the last ones there before closing, the staff brought over a lucky dip prize box. Only one of us had a winning ticket but we all received packets of their signature 'samurai curry' sauce to make our own vegan curry at home. Bonus!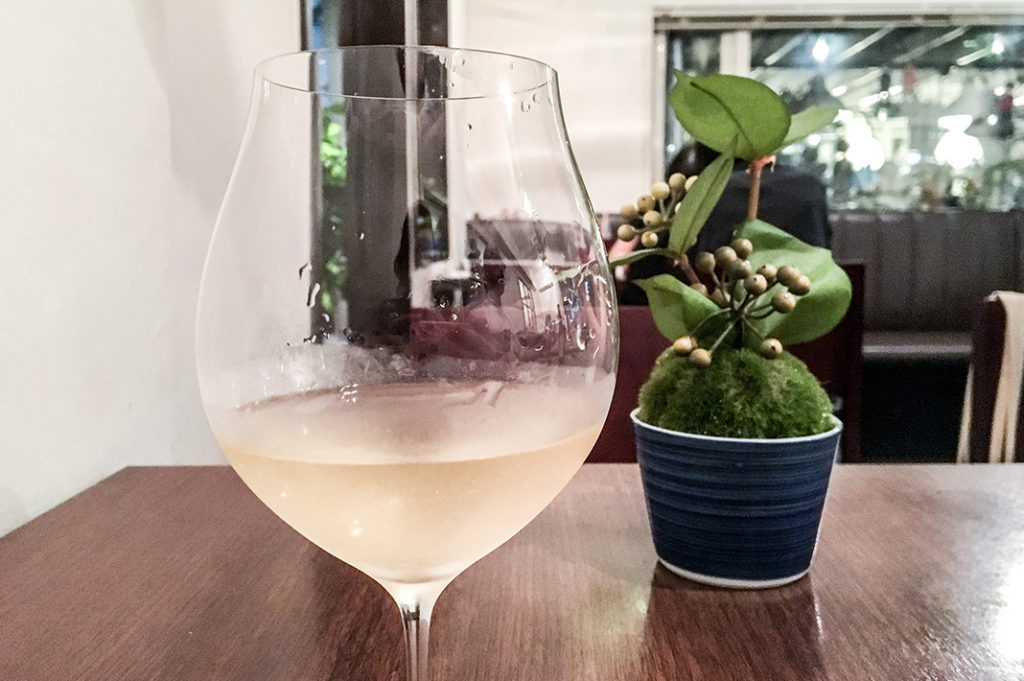 We absolutely loved the food at Saido—the surprises and theatrics were a memorable added bonus, too. I'm hoping that on your visit, there are even more surprises in store!
Getting to Saido
You can reach Jiyugaoka via the Tokyu Toyoko Line from Shibuya or the Oimachi Line which links up to Shinagawa. From Jiyugaoka Station, it's a 4 minute walk to Saido. Take the Central Exit and head left. Follow the road's curve right just before the railway tracks, and stay on this road for three blocks. When you see the parking lot on your left, head right into the uphill alleyway and you'll spot Saido towards the end. 
Saido
Open: 11:30a.m. – 3:00p.m. and 5:30p.m. – 10:00p.m.
Closed: Wednesdays
Address: 2 Chome-15-10 Jiyugaoka, Meguro City, Tokyo (Link)
Web: https://saido.tokyo/ 
Post by Japan Journeys.