Hiroshima's sacred Miyajima Island welcomes millions of serenity-seeking visitors each and every year. Itsukushima, the island's original title, has sat in place as countless summers crept in and out with the same regularity as the tides. Along with its highest peak, Mt Misen, Itsukushima has long been considered a shinto holy site and worshipped by locals as far back as the 6th Century. This is no doubt how it received the name "Island of worship". Historical records note that a coastal shrine was built on the island in 593 and later rebuilt in the 12th Century by powerful clan leader Taira no Kiyomori. This curious shrine, Itsukushima Shrine, still exists today on the shores of the island, and is one of the most magical spots in all of Japan.
The floating torii gate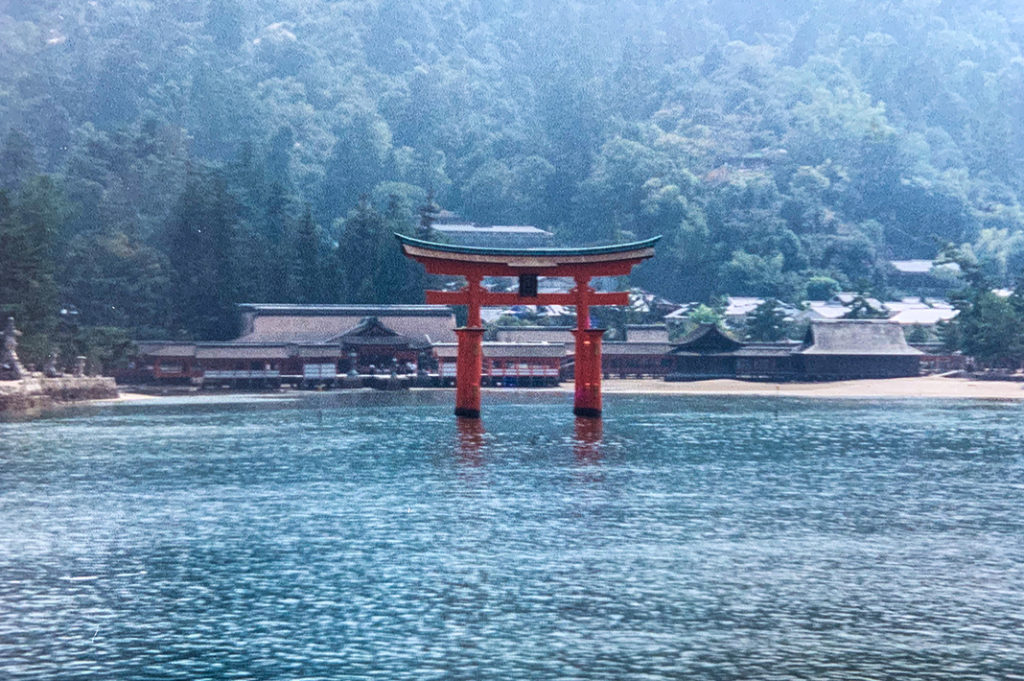 As you approach Itsukushima by boat, it's hard to miss the picturesque red torii gate which appears to be floating on the sea. This official gateway to the shrine juts proudly out of the water at high tide, stark red against the surrounding blue and green hues.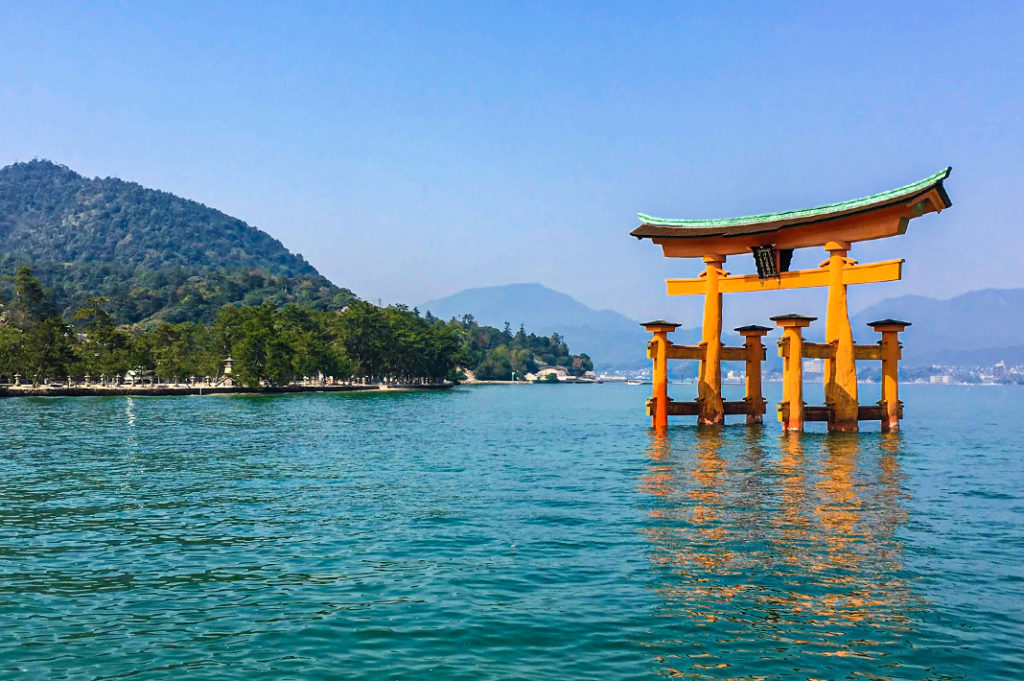 It's natural to want to get a little closer, so local agencies have made it possible for visitors to do so by kayak or boat.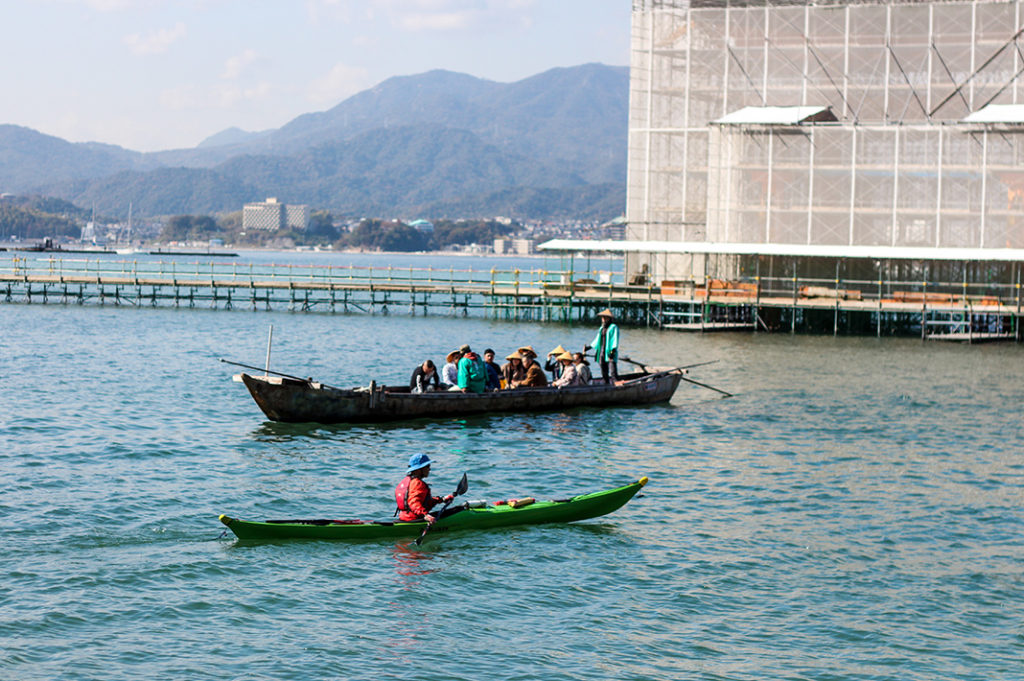 Then, as the tide recedes, the full length of the wooden posts are revealed, boring into the seabed. When the tide is low and the coast clear, you can walk all the way out to take in the full enormity of the torii.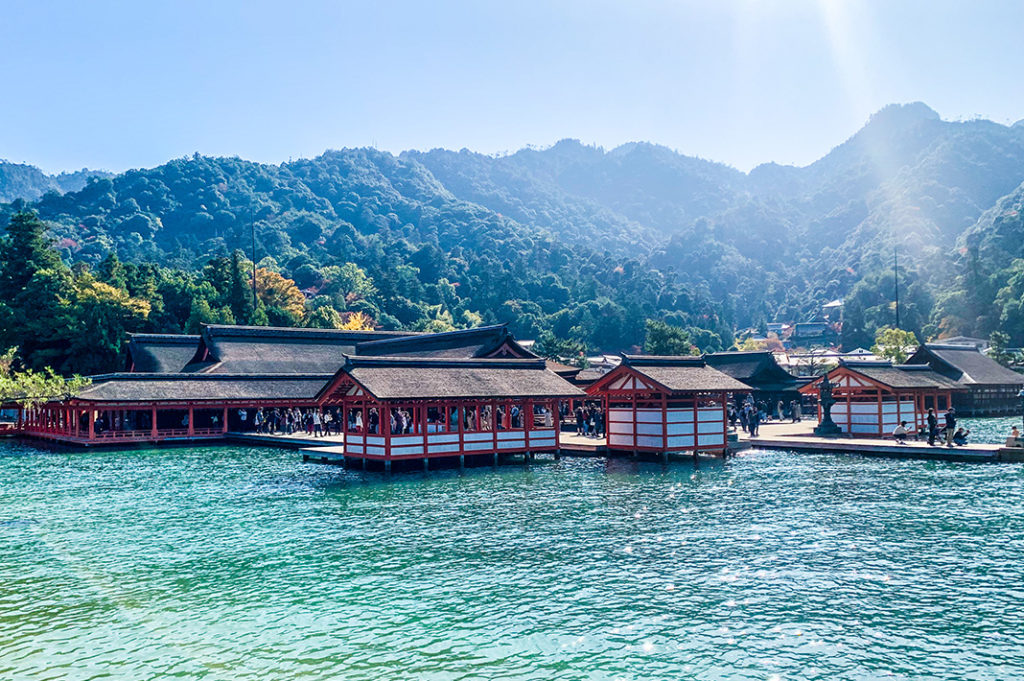 Itsukushima Shrine
Itsukushima Shrine itself sits 200m away, cradled in the small inlet on the island's shore. Supported by a network of pillars, it too appears to be floating above the sparkling sea. This 'floating over the ocean' appearance is a one-of-a-kind design in Japan; you won't see it anywhere else. So how, you ask, did someone come up with the idea to built it? Legend has it that this god island was considered so sacred, so pure, that the shrine and torii were built above the water rather than on the land. This way it was as close as possible to the god island without actually desecrating it.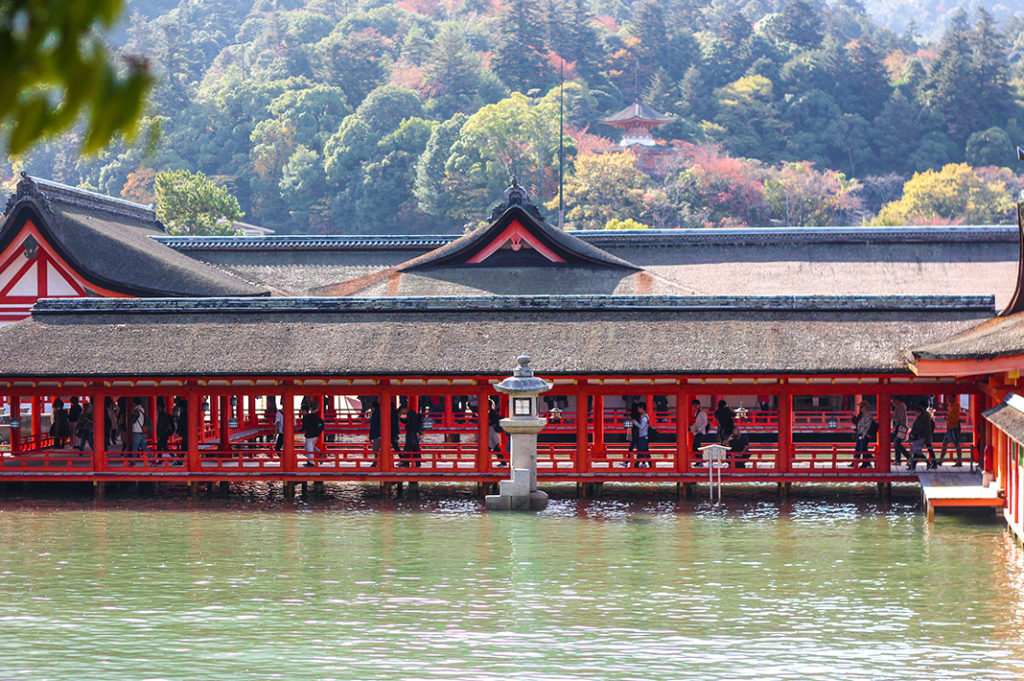 Like other shrines, Itsukushima contains multiple buildings. But instead of garden paths and shrubbery, these buildings are linked by wooden boardwalks. These pier-like corridors are roofed with pillars and flow past various halls, rooms, shrines and even, amazingly, a Noh theatre.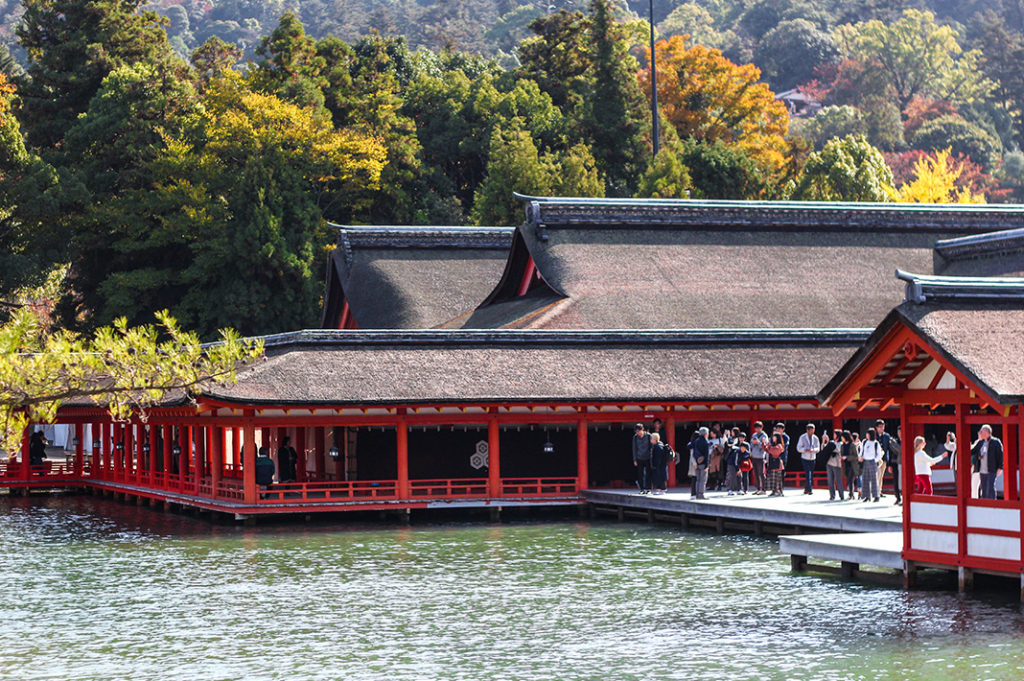 As you make your way around, you can appreciate the stunning nature views from multiple angles. Look down (but don't lean over!) and you'll feel as though you're walking on water. 
It goes without saying that the area in front of the torii is a coveted spot for photographs, particularly weddings.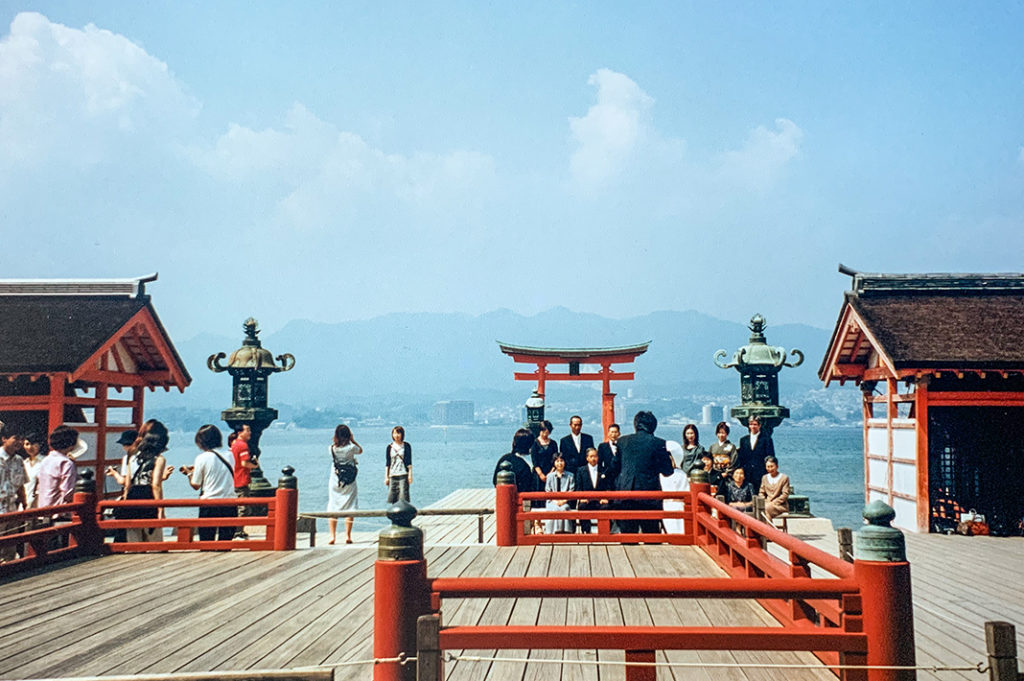 A magical, powerful place.
Itsukushima Shrine has long been considered an important and powerful place. The positive feelings experienced during a visit have led it to be included in many lists of "power spots" in Japan; places of supreme tranquility or energy. This may sound like a bunch of woo-woo, but power spots are unquestionably memorable places.
In 1996, Itsukushima Shrine became registered as a UNESCO World Cultural Heritage site, and six of its buildings have been deemed National treasures. On top of that, it is also considered one of Japan's "three scenic views" (Nihon Sankei) alongside Amanohashidate and Matsushima.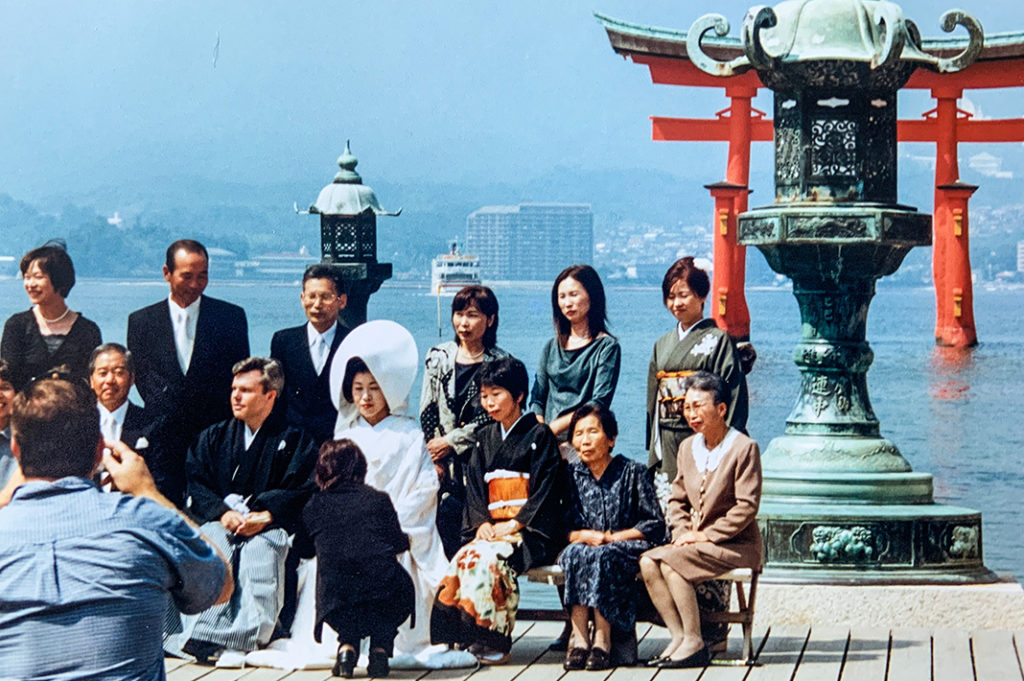 Designations aside, why not visit Itsukushima to make up your own mind about it. Breathe deep the salty sea, gaze up at the sacred, forested mountains and enjoy the feeling of floating above the lapping tides.
Getting to Itsukushima Shrine
Follow the crowds out of the Miyajima Pier ferry terminal and to the right. Itsukushima Shrine is just a 10 minute walk away. Enjoy the shops, the roaming deer and sea views along your way.
From Hiroshima
The cheapest way to get to Miyajima (Itsukushima) from Hiroshima Station is to catch the JR San-yo train (30 min, ¥260) toward the island. Then, it's just a short 10 minute JR Miyajima ferry from Miyajima-guchi port (¥180). Both are covered by the JR Pass.
On a nearby dock, you'll also spot another ferry company called the 'Miyajima Matsudai Kisen'. This costs the same amount but is not covered by the JR Pass. If you plan to ride the Miyajima Ropeway, you can package this with your ferry ticket to get a discount.
However, if you're in the Peace Park area and don't mind splashing out, the Aquanet boat is a ¥4,000 round trip. It sails past the A-bomb dome and out into the bay, taking 45 minutes each way. Make sure you book your return ticket time as soon as you alight at Miyajima, as things can get busy.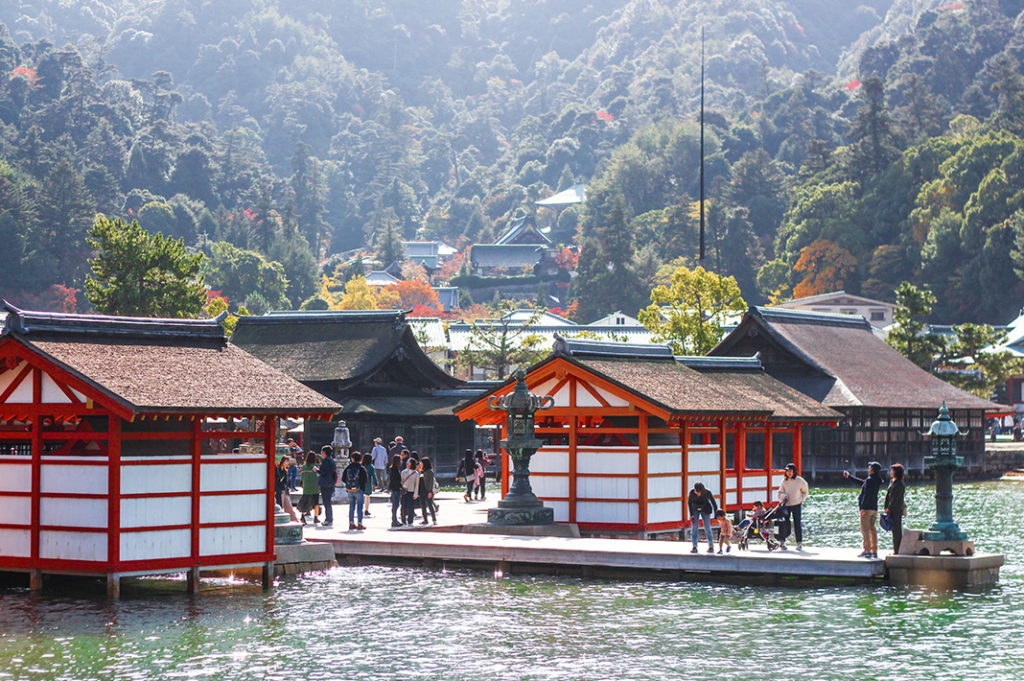 Name: Itsukushima Shrine
Address: link
Open: 6:30am until 6:30pm
URL: http://www.en.itsukushimajinja.jp/index.html
Post by Japan Journeys.