Tiny and sweet, cherry blossoms are a sure-fire symbol of spring, and in Japan, their delicate blooms have been celebrated for thousands and thousands of years. Therefore, it's no small wonder that Tokyo, the country's most bustling city, has no shortage of awe-inspiring cherry blossom spots. But which of these win the title of Tokyo's dreamiest cherry blossom spot? The champion is undoubtedly Meguro River.  Over 800 cherry trees line a 5 kilometer stretch of the river. During the day, their branches romantically hang over the water and cherry blossoms drift through the air. By night, the area is lit up by pink lanterns, and its banks nearly burst with those celebrating hanami picnics or simply taking in the other-worldly atmosphere.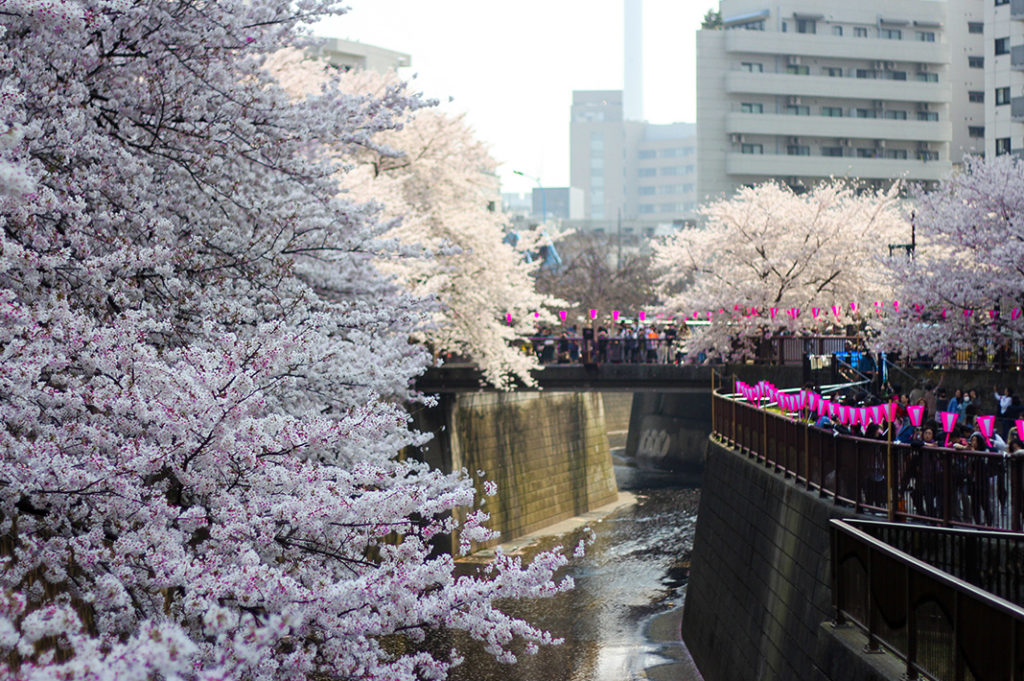 How to Get to Meguro River
Since the area is so large, it's extremely easy to reach Meguro River. The closest station is Nakameguro Station. However, Meguro Station and Ebisu Station are also good choices. Simply select whichever station is closest to where you're staying, make a complete circuit of the river, and return to that station. Easy-peasy. If you'd like to set a particular point in your GPS or in Google Maps, head to the Meguro River Cherry Blossom Promenade and begin your circuit there. A full circuit of the river should normally take about 1 hour. However, if you arrive during peak season, especially during the evening or weekend, be prepared to take much, much longer. If you find yourself getting tired, there are plenty of cross-over points that will allow you to cut your trip short and double back along the other side of the river.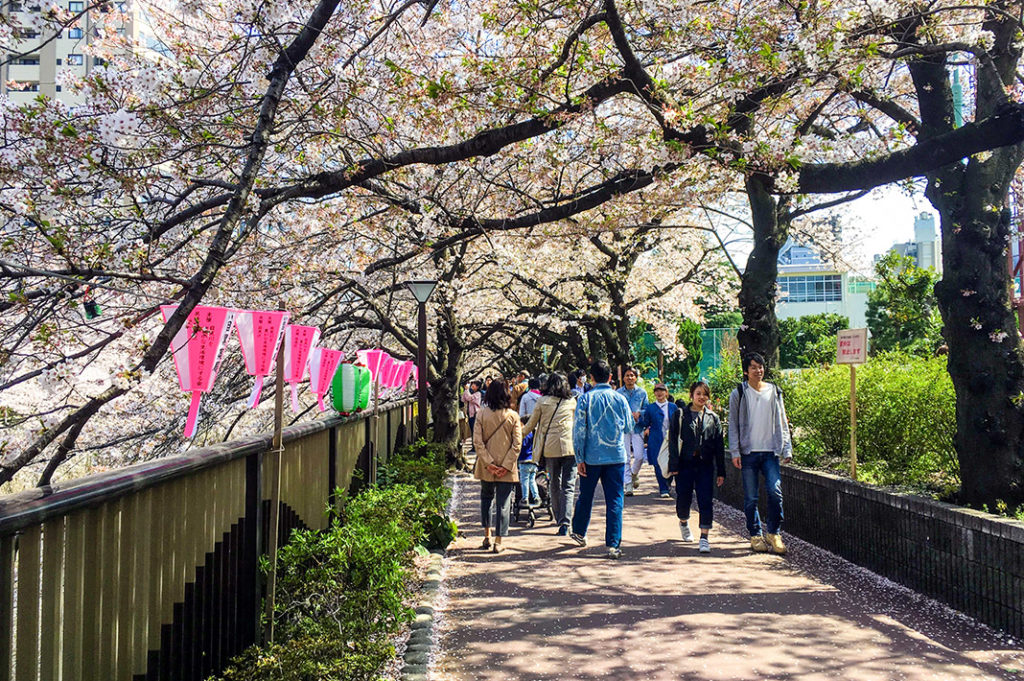 By Day: Tokyo's Dreamiest Cherry Blossom Spot
Hanami is Japan's favourite way to celebrate the season. In essence, a hanami party means picnicking under the cherry blossoms with family, friends, or co-workers. In Japan, drinking in public is permitted, and drinking at hanami parties is enthusiastically encouraged. During the day, many will squeeze their hanami parties in along the banks of Meguro River, and you'll see some (un)lucky business people staking out spots for their after-office parties. If you'd like some privacy, rise early and walk along Meguro River at sunrise. You'll have only a few, early morning joggers to dodge.

If you can, drop by during lunchtime to sample festival food and drinks at one of the hundreds of pop-up stalls around the area's key stations and Meguro River itself. If you'd rather sit down, there are also plenty of cafes and restaurants with charming terraces set along the river. However, you may need to make a reservation in advance. If you'd rather celebrate like a local, you could also bring your own picnic blanket or settle down on one of the river's benches. However, note that there won't be many trash cans along the river. You'll likely have to carry the rubbish from whatever you bring.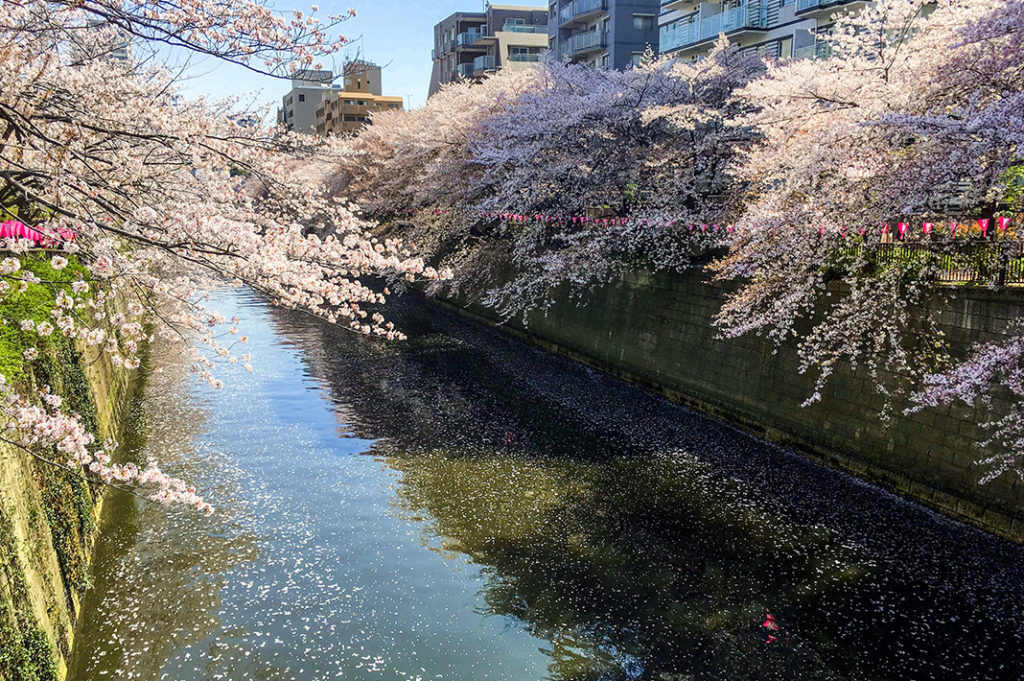 By Night: Tokyo's Dreamiest Cherry Blossom Spot
As the sun sets, the pink lanterns in the area start to flicker on. The result? Gently lit blossoms, gorgeous reflections off the river, and a fairy-tale-like atmosphere. As adults finish work and children escape school, the area reaches its peak in terms of visitors. Expect crowds. However, it's often so beautiful that the crowds barely matter. Hanami parties will also be in full swing so expect lots of general, friendly revelry to be going on. Regardless of the hour, many private companies also offer small boat tours of Meguro River during cherry blossom season. If you're interested in getting a closer look at the river, make sure to search for Tokyo-based companies. Regardless of your vantage point, a stroll along Meguro River during Cherry Blossom Season is an unforgettable, otherworldly experience. It's an absolute must if you're visiting Tokyo from late March to early May.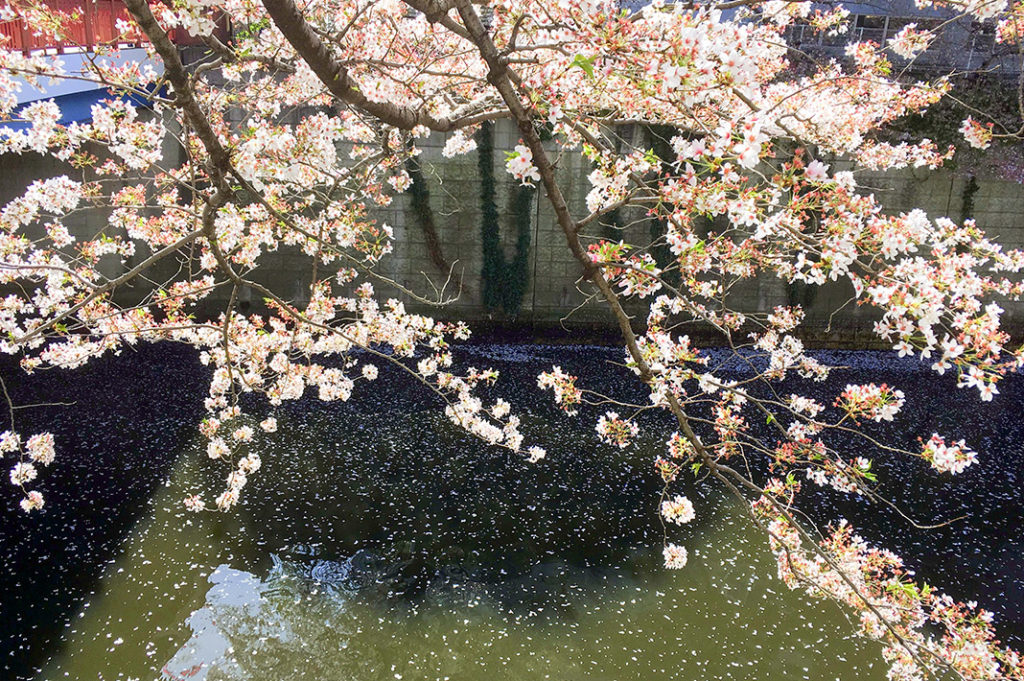 Name: Meguro River
Address: Nakameguro, Meguro City, Tokyo 152-0000, Japan
The 2020 Cherry Blossom Forecast: https://www.jrailpass.com/blog/japan-cherry-blossom-forecast

Post by: Japan Journeys