On my first day in Nagasaki, I wanted to explore the cluster of historical attractions in the city's south-east, to learn more about the interesting mix of cultures that make up modern-day Nagasaki. First on my route was the Confucius Shrine (or Koshibyo), dedicated to the great thinker Confucius. Built in 1893 by the Qing Government and local Chinese residents, it is the only authentic Chinese-style mausoleum in Japan. Packed with rare objects and national treasures, it's a great place to see Chinese architecture and learn history.  
Confucius who?
Confucius was a Chinese philosopher and politician born in 551 BC. According to the literature, he is the oldest of the world's four great sages—the others being Buddha, Socrates and Jesus Christ. He spent his 74 years preaching about how a good moral character can lead to cosmic harmony around a person. In fact, he is the one who coined the adage 'Do unto others as you would have them do unto you.', i.e The Golden Rule. After his death in 479 BC, his loyal disciples recorded his teachings in 'The Analects.' This posthumous collection of writings then became the foundation of Confucianism. This shrine, Koshibyo, pays homage to Confucius, his disciples and Chinese history in general.
Visiting the Confucius Shrine
The Confucius Shrine is a walled complex on a quiet street in the Ouramachi area of Nagasaki. Stepping through the Gakumon entrance, I feel as though I've entered a foreign land. Everything looks a little—or a lot—different from what I'm used to seeing in Shinto Shrines and Buddhist Temples. Technically, the land underfoot is owned by the Chinese Embassy in Tokyo, and many of the items throughout the grounds and museum have been gifted or loaned by China. I see lions, dragons and mythical creatures like Kakutan and Qilin.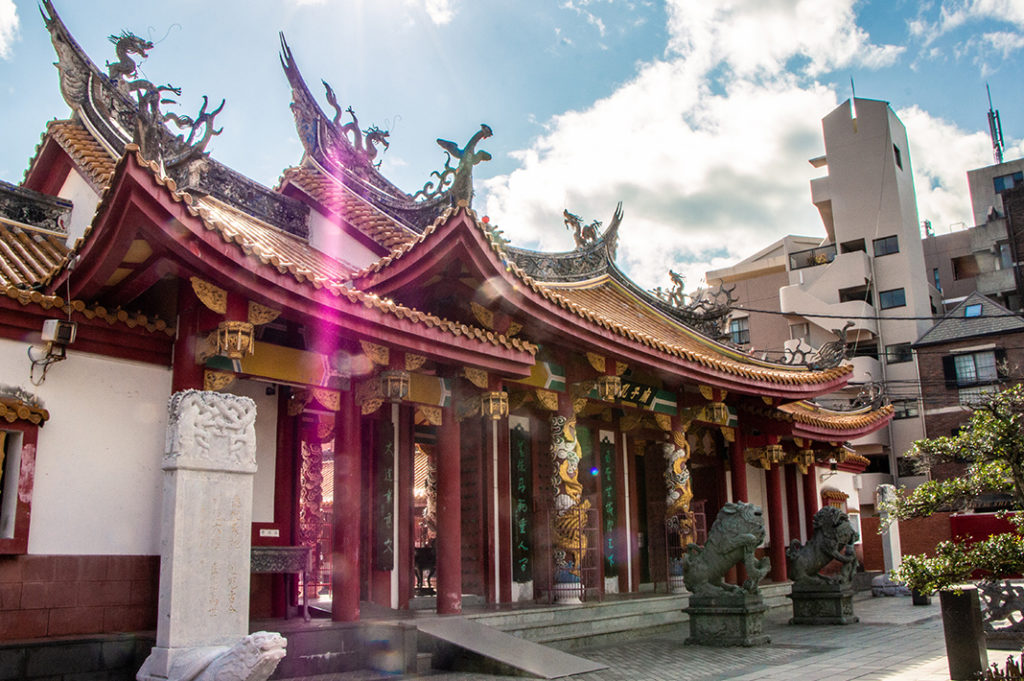 Ahead of me is the beautiful and colourful Gimon gate and to my right, a small garden with a stone bridge arching over a pond. Two pistache trees, a male and a female, cast their shade on the scene. Also known as Confucius trees, these are often found at Confucius-related spots like this. At the far end of the pond, rare Taihu stones donated by China's Jiangsu province are stacked into a miniature hill.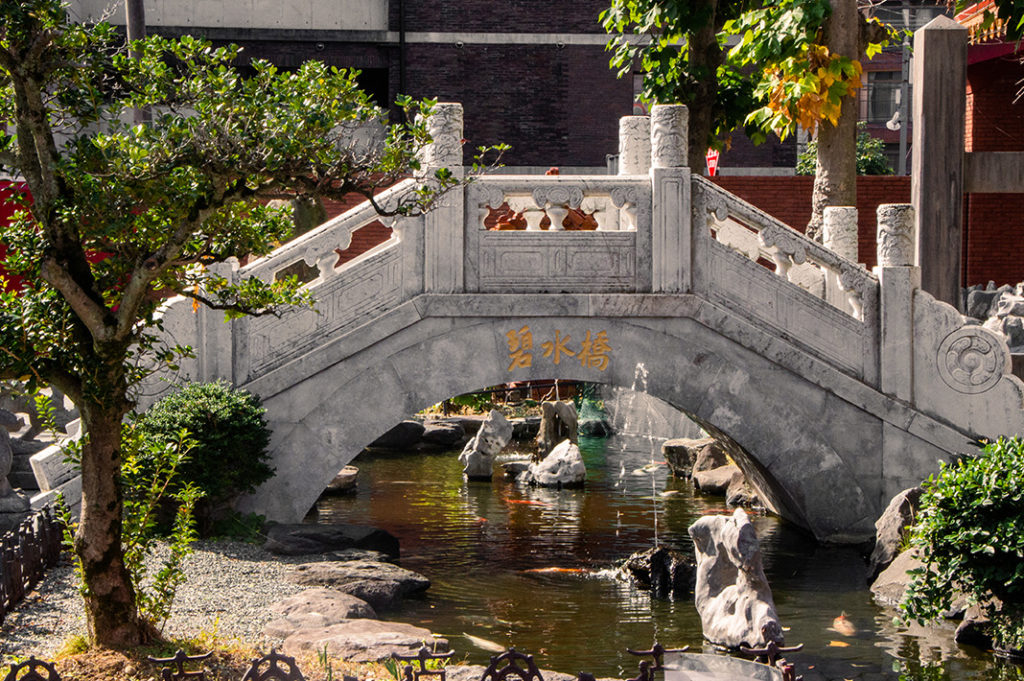 Fantastic Chinese architecture
After exploring the small garden, I turn my attention back to the Gimon gate. Dragons adorn the roof, frozen mid-thrash, while the yellow tiles signify that Confucius holds the very highest status. (Lesser folk get green tiles).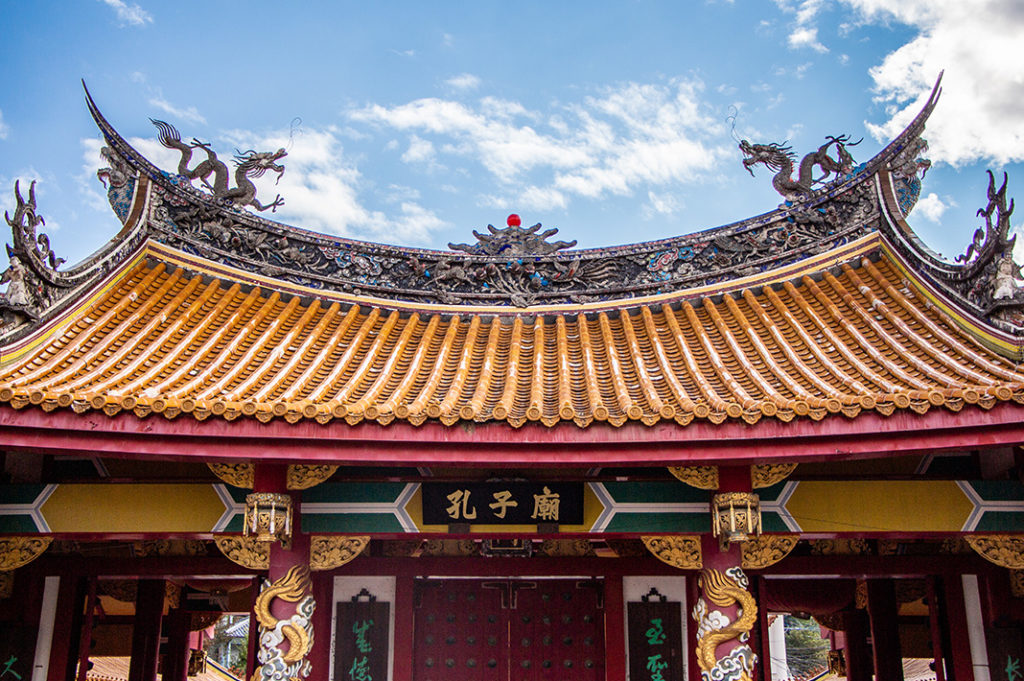 I pass the carved and bright pillars as I make my way through into the central courtyard.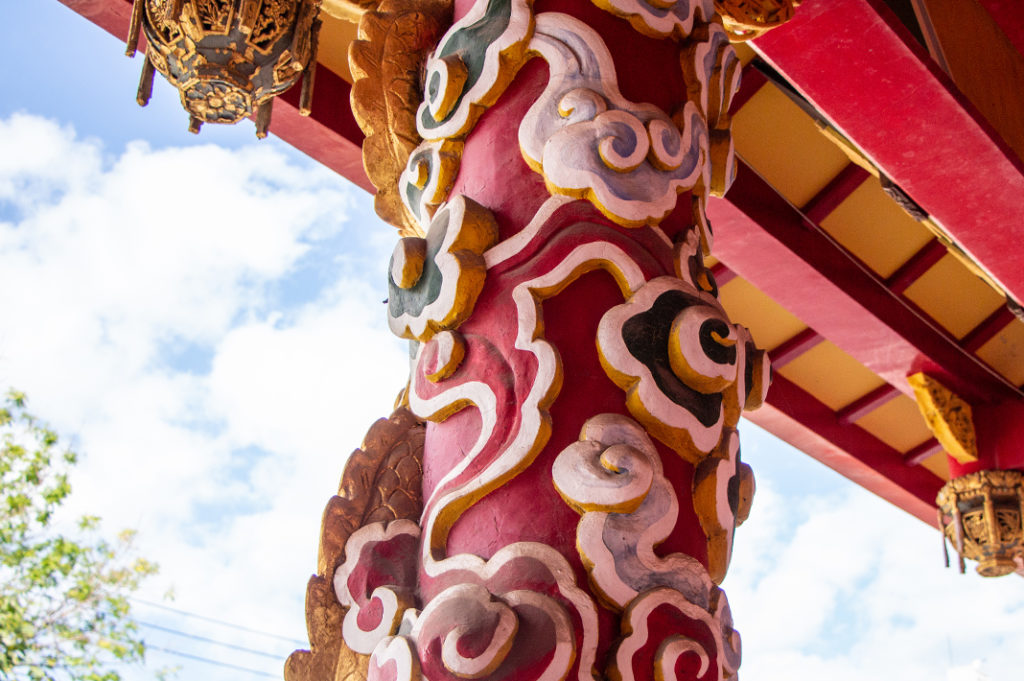 Again, I'm greeted by yellow roof tiles and red accents, the latter of which is said to signify joy and ward off evil. A beautiful display of Chinese architecture.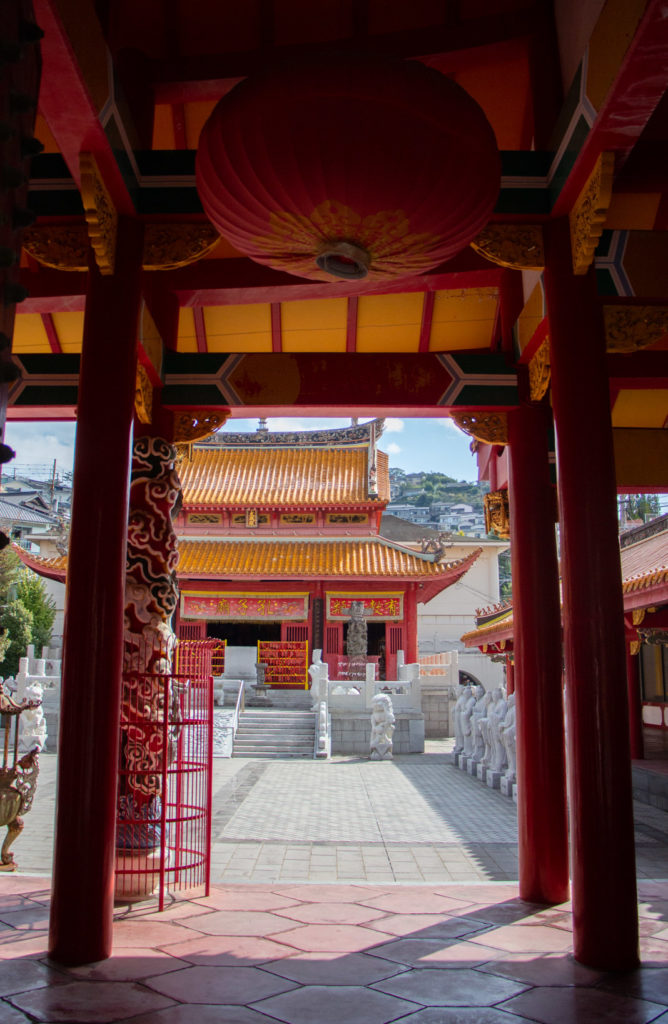 Open corridors run along both sides of the courtyard but, more interestingly, so do 72 statues depicting Confucius' disciples. Each one of these statues is named and modelled after historical descriptions. Each one of these disciples was said to be skilled in the 'six arts': rites and music, calligraphy and maths and archery and chariot driving. The shrine encourages its visitors to look into the faces of the sages to see if you can spot your dad, uncle or grandfather among them. Unfortunately, I had no luck spotting mine.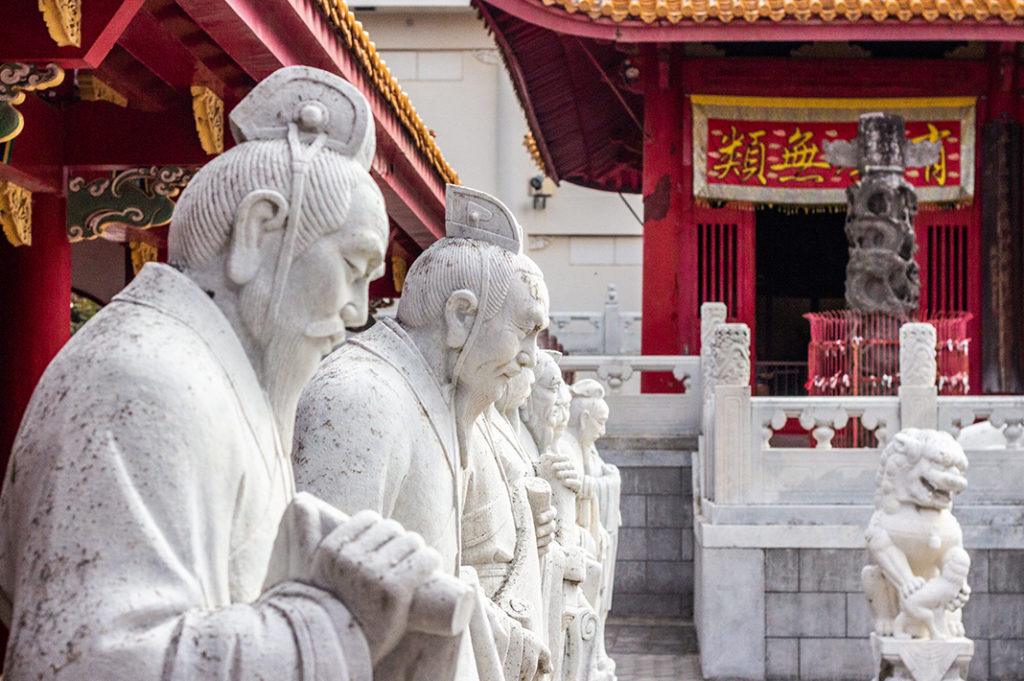 Confucian history on display
Beyond the statues, the wooden Taisei Hall stands as it has since 1893, having largely withstood the natural elements and the not so natural atomic bomb. Inside, you'll find the largest seated statue of Confucius in Japan, reaching 2 meters. Behind this hall, the Historical Museum of China displays a rotating collection of Chinese national treasures. Note that most of the signage inside is in Japanese.
Events at Koshibyo
With so much Chinese culture in Nagasaki, you can bet that Lunar New Year is a big deal. Every year from late January to early March, the Nagasaki Lantern Festival is held and the city comes alive with lanterns, lights and decorations. The Confucian Shrine is the start and endpoint for the lively Mazu procession. There are also Golden week celebrations in May and a Confucius Festival to celebrate the Birth of Confucius in September. 
On my way out of the shrine, a group of people stopped me for a chat, telling me that I absolutely had to try Sara Udon, a local specialty. I promised I would, and a few days later, when I actually had it, I was so thankful for their sage advice. Now, in the spirit of Confucius, I've got the opportunity to do unto others as I would have them do unto me. I'm using my platform and parting words to tell you to try Sara Udon and check out the Confucian Shrine. You'll be glad you did.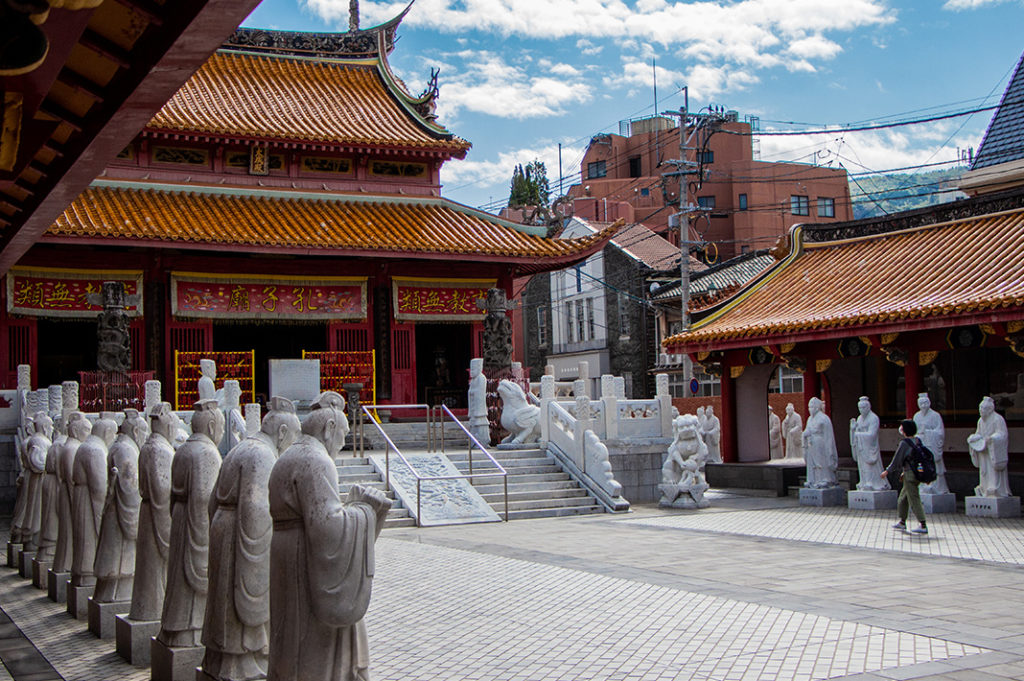 Access
To get there from Nagasaki Station, take tram #1 bound for Sofukuji, changing at Shinchi Chinatown to the #5 tram bound for Ishibashi. Get off at 'Oura Cathedral' (Oura tenshudo) and walk 3 minutes. Read more about the Nagasaki tram system here.
Nearby attractions include Oura Church, Glover Garden and the Gunkanjima Concierge Cruises and Digital Museum.
Name: Nagasaki Koshibyo Confucius Shrine and Historical Museum of China
Address: 10-36 Ouramachi, Nagasaki, (link)
Open: 10 am until 4:00 pm
URL: website
Post by Japan Journeys.