We hear music in the distance. Drums beat and flutes whistle a traditional sound—ancient Japanese melodies in an otherwise modern city. We follow the alluring tune and quickly become engulfed by a town that stands still in time. Men and women in kimono pass by and the buildings grow old as we progress ever closer to what looks like a raised, decorative wooden stage. Just half an hour from central Tokyo, the town locally known as Koedo (Little Edo), is a perfect Tokyo day trip.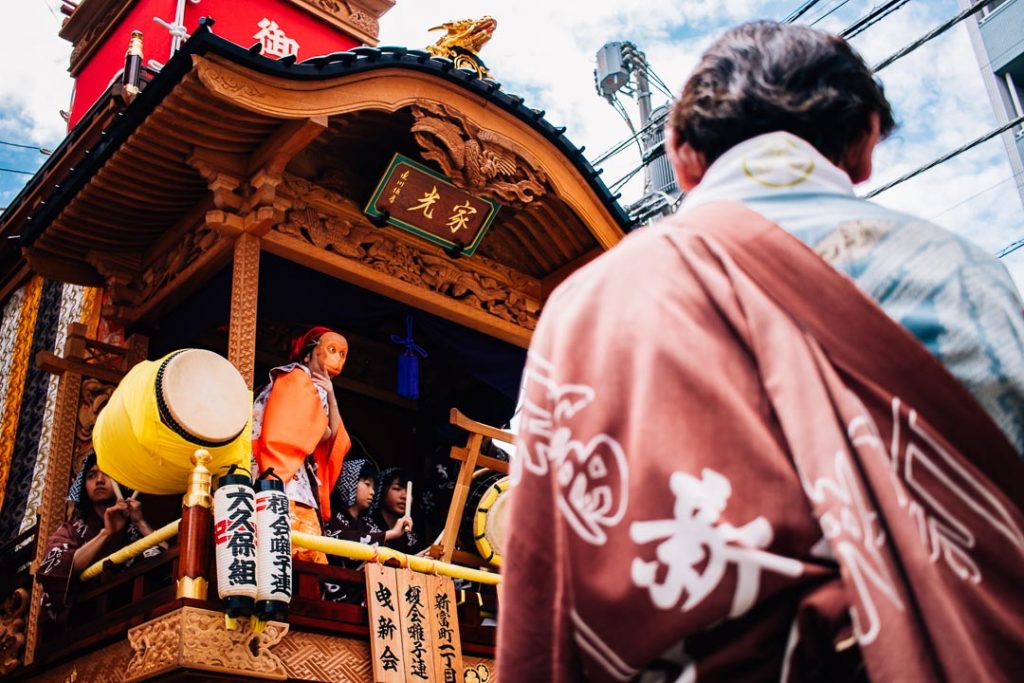 Edo was renamed to Tokyo in 1868, but a breath of that heritage lives on in Kawagoe's "Little Edo", with old-world buildings, shops offering traditional foods and gifts, an abundance of shrines and temples, and, of course, a collective, impassioned motivation to keep the history alive. Making a day, or even half-day trip to Kawagoe wonderfully contrasts the ultra-modern Tokyo cityscape and quickly overshadows the small oases of tradition that sprinkle the otherwise futuristic central metropolis.
Getting There
The trek to Kawagoe is not only worthwhile but easy as well. Although there are several direct routes from Tokyo, we recommend starting from Ikebukuro Station. Here you can purchase discounted tickets for the Tobu Tojo Line and enjoy a comfortable, direct, thirty-minute trip to Kawagoe Station. The 700 yen round-trip tickets can be purchased without reservation at the gates for the Tobu Tojo Line. The incredibly helpful English-speaking staff will ensure you find your way. They also offer multi-lingual area maps, brochures, and guides for you to consider during your ride.
Other direct routes to Kawagoe Station include a fifty-minute journey from Shinjuku on the JR Saikyo Line Express train or the seventy-eight minute trip from Yokohama on the Tokyu Toyoko Line or Tokyo Metro Fukutoshin Line.

Things to do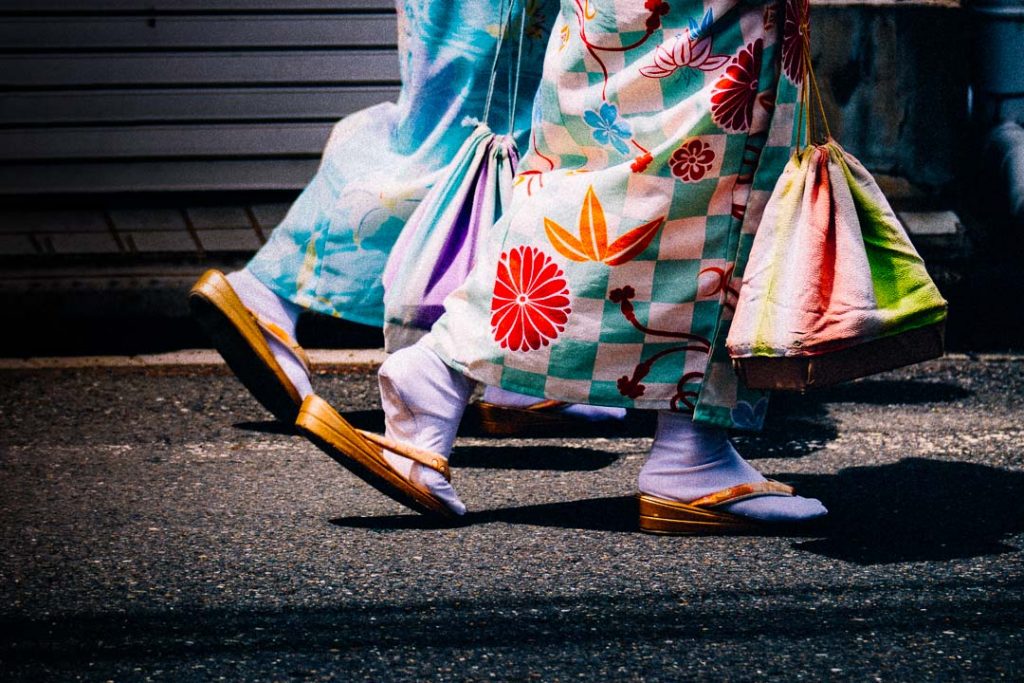 Looking over your complimentary Kawagoe guide, you'll find an overwhelming number of attractions, a welcome problem. Do you begin by renting a kimono for the day? Do you head directly to Kita-in Temple? Perhaps you're a museum aficionado, in which case you may want to head to one of the city's many museums. Kawagoe also runs two different buses specifically for visitors. The "Co-Edo Loop Bus" and "Koedo Famous Locations Loop Bus" (¥200-¥500) are a laid-back way to experience the top spots. Holding one of these bus tickets also entitles riders to discounts for select shops, services and entrance fees.
Most consider Kura no Machi (Old Town) Ichibangai Street the main attraction. Located only a twenty-minute walk north of the station, or along either of the two above bus routes, the streets are lined with old-style buildings, many of which are "Kura," historic storage buildings that have since been developed into residences and shops. As you gaze upon the gift-shop kabuki masks, stylistic furoshiki and contemplate what traditional Japanese sweets to take home, a two-wheeled rickshaw flies by–pulled by a shafu. You feel the century-old atmosphere.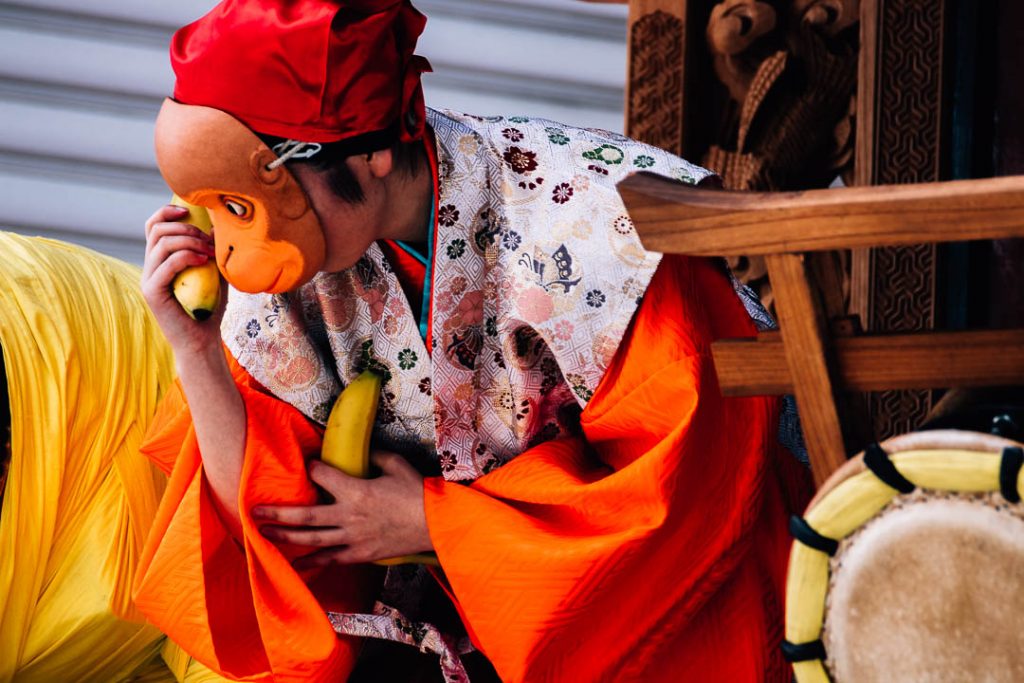 It was nearby the entrance to Ichibangai Street, where we found the source of that once distant song. A small cohort of musicians played atop a ten-foot-high, sparsely colored but highly decorative, spinnable stage. A performer in a monkey mask entertained a crowd, many of whom donned happi—common festival attire. Those who stuck around enjoyed not only the music, but the sight of the monkey-masked performer materializing a bushel of bananas that she jubilantly shared with the crowd.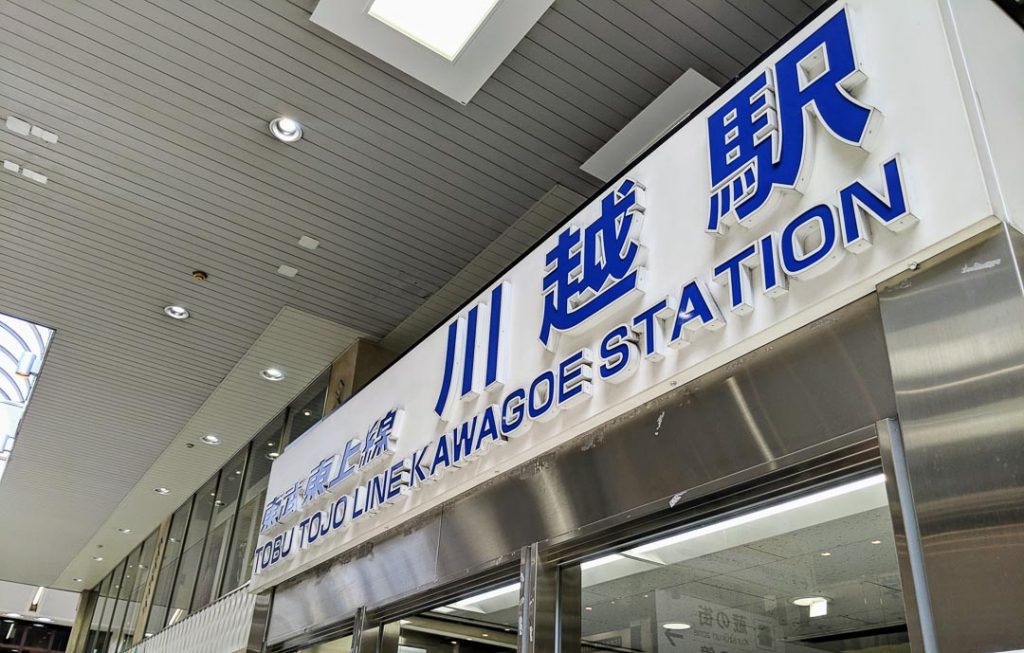 Kawagoe day trip from Tokyo
At such a short distance from Tokyo, Kawagoe's Little Edo is an easy half-day or day trip. However, it offers plenty for a longer visit, too. Some days, such as festival and event days, offer a more lively visit than others. But, whether you prefer a leisurely stroll through a sleepy centuries-old town or an energetic, golden-week culture trip, Kawagoe is well worth a day of your time, from any length of stay in Japan.

Post by Japan Journeys. Photos copyright Jarrad Jinx (@jinx.photo).