For most, the words "Tokyo sewer tour" don't inspire much excitement. It's an activity that probably doesn't rank highly on too many must-do lists when visiting, I know. But if you're into Ninja Turtles, urban exploration and underbellies—this one's for you. Tours of the 'Metropolitan Area Outer Underground Discharge Channel' (or Ryu-Q- Kan for short) give insight to fascinating feats of engineering as well as rare access to surreal subterranean landscapes.
The Tokyo Sewer Tour Lowdown
The first thing we should clarify is that it's not technically underneath Tokyo but in the neighbouring prefecture of Saitama. This location allows the facility to collect overflowing water from nearby rivers and divert it underground into the Edo River. Referred to as an 'underground discharge channel', it's basically what keeps Tokyo safe from flooding.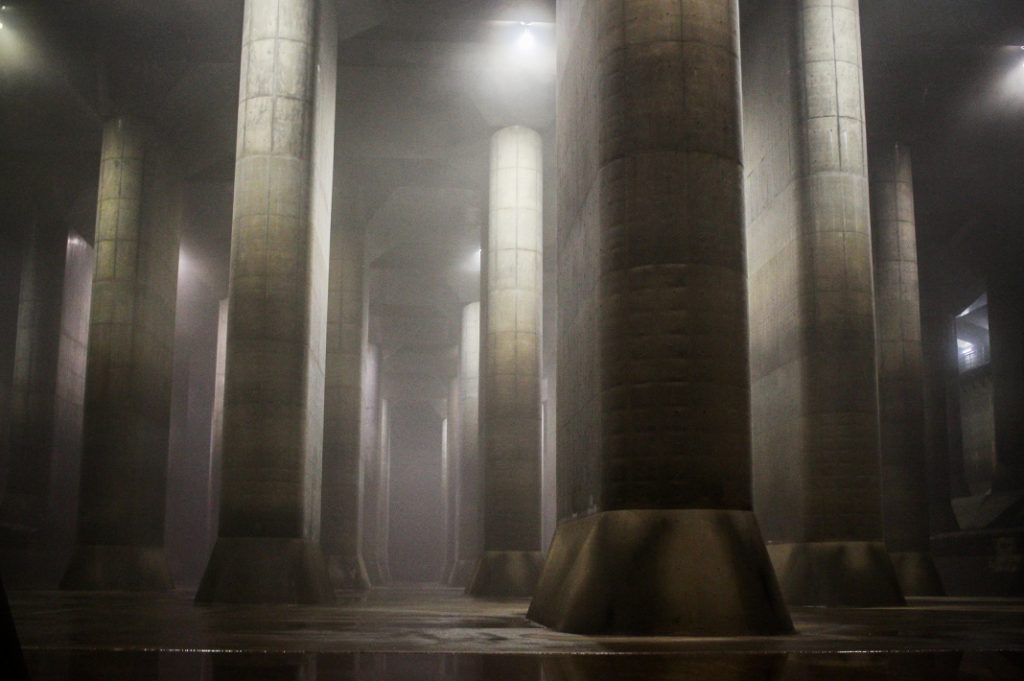 The tour lasts one hour and is conducted in Japanese. For safety reasons, non-Japanese speakers cannot participate unless they bring along an interpreter; staff will check on this when you sign in. I'm lucky to have a few like-minded friends who were all too happy to explore the underground with me and fill in the blanks. It turned out they could save their explanation breath for awed gasping instead as I was given a very comprehensive English guide booklet.
Our tour began on the second floor in what resembled a school library, complete with group workstations and spinning text screensavers. After learning the history of the facility and workings of the machinery, we set off for the main event, the tour of the 'underground temple'. This gigantic space is sacred by name only, it is actually a huge pressure tank that holds the collected water before discharging it to the Edo River—empty during tour hours of course.
Entering the belly of the beast
The walk to the subterranean entrance—which looks like a doomsday shelter or Jurassic Park facility—was short and wet. From under my umbrella, I dismissed visions of walls of water bearing down on me and followed the others inside. Over 100 steps took us down twenty two meters where we found ourselves, at last, in the cavernous 'Underground Temple'.
It was everything I imagined it to be; silent, cool, damp and misty. The most visually striking element are the 59 columns, each standing 18 meters tall and weighing 500 tons. The 177m tank stretches seemingly forever and makes for some very eery shots.
Make the most of your time down here; after the guide is done explaining, you will have only ten minutes to explore and get photos. You can't wander too far though. For safety reasons, ropes cordon off most of the tank to ensure nobody gets accidentally (or purposefully) separated from the group. I'm sure this system is much easier than a 50 person headcount on the way back up.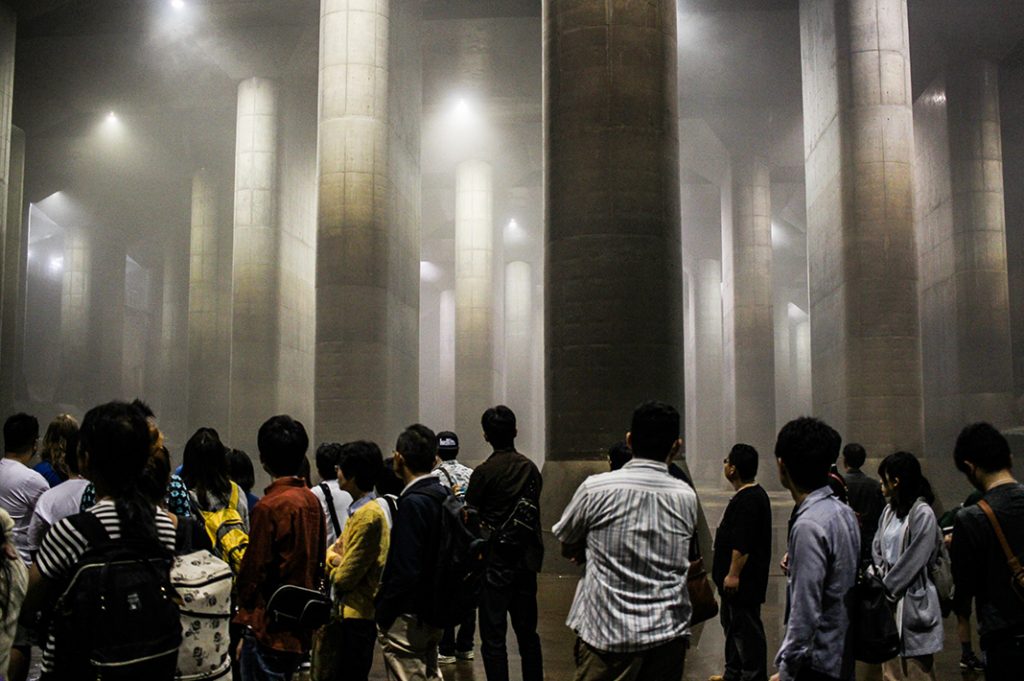 Things To Know Before You Go
Tickets for the tour can only be organised online, in advance. They are released exactly one month ahead of tour dates, i.e., as soon as the clock strikes midnight and January 1st begins, you can get your February 1st tickets. And if you're planning on visiting on a weekend, you'd better be quick; our Saturday tour booked out in five minutes. It's worth noting that they don't allow primary/elementary aged children on the tours.

On the day, don't arrive late as they won't let you join. It's also quite far away from the station and shops, and there's no cafe on the premises, so make sure to eat before or after. If you're still in Saitama around dinner-time, you could take the opportunity to visit the famous 'White Gyoza' restaurant, just a few stops from the Ryu-Q-Kan facility. They are delicious gyoza which you can enjoy in a private room upstairs, just leave the complicated ticket ordering system to your Japanese speaking friends, though they will undoubtedly be confused too!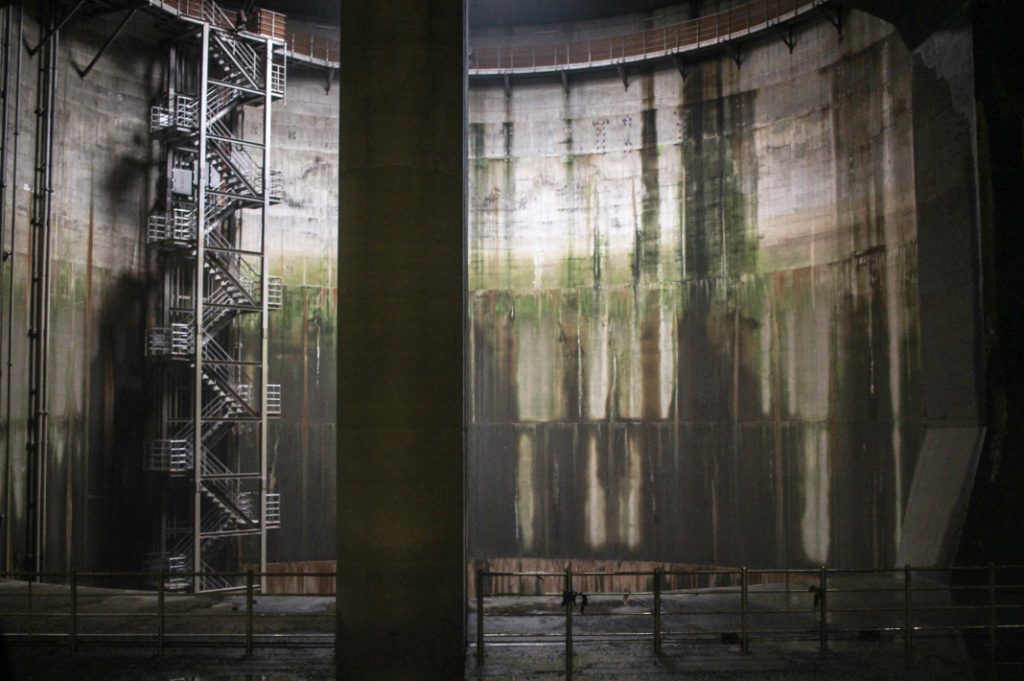 Getting There
The journey is going to take a couple of hours from central Tokyo so ensure you allow plenty of time. You'll want to head toward Minami-Sakurai Station on the Tobu Noda Line (Tobu Urban Park Line). From there you can walk over thirty minutes to Ryu-Q Kan, catch a cab or get the Haru bus (which leaves from the station's south exit) to the Ryukyukan stop. More access details can be found on their website.
So if you're interested in checking out the underground scene wherever you travel, you can't get more literal than this. It may take a little extra effort to visit, but it's a pretty amazing experience to be down there.
Name: Metropolitan Area Outer Underground Discharge Channel (aka Ryu-Q Kan or the G Cans Tour)
Address: 720 Kamikanasaki, Kasukabe, Saitama 344-0111
Time: Daily 9:30 am-4:30 pm
Closed: Over New Years — check website for details.
Post by Japan Journeys.