At any time of year, visitors can find various festivals throughout Japan that offer a great opportunity to get off the beaten path. Every spring, on March 15th, a rather unusual festival takes place in the town of Komaki in Aichi Prefecture: Honen Matsuri, aka The Penis Festival.
The town of Komaki, home of the festival
Honen Matsuri translates to "harvest festival". These festivals, held in early spring, have been occurring in Japan for over a thousand years. Along the way, they've evolved into celebrations of all things related to fertility and prosperity…including reproductive organs. Ordinarily, Komaki is a sleepy, industrial town, but for Honen Matsuri it transforms into a bustling site of activity.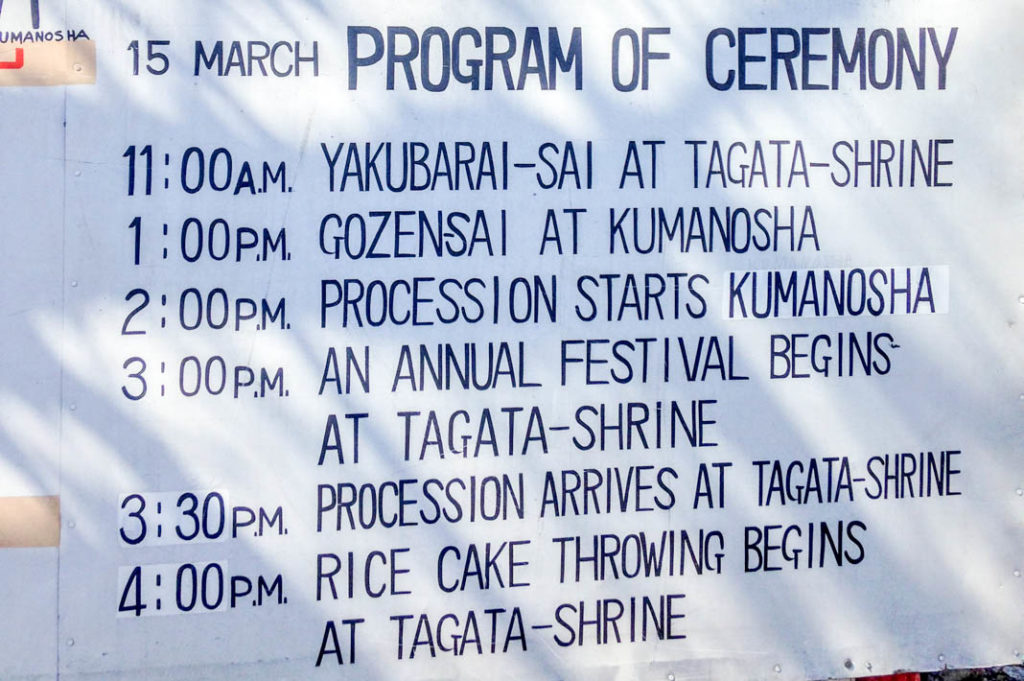 Getting your bearings at the festival
Although the main highlights of the Komaki festival are in the afternoon, things kick off at 9:00 am on the grounds of Tagata Shrine. Plan on arriving around 11:00 or 12:00, as it is well worth it to walk around and take in the unique atmosphere. You will have no trouble finding your way from Komaki station: just follow the signs!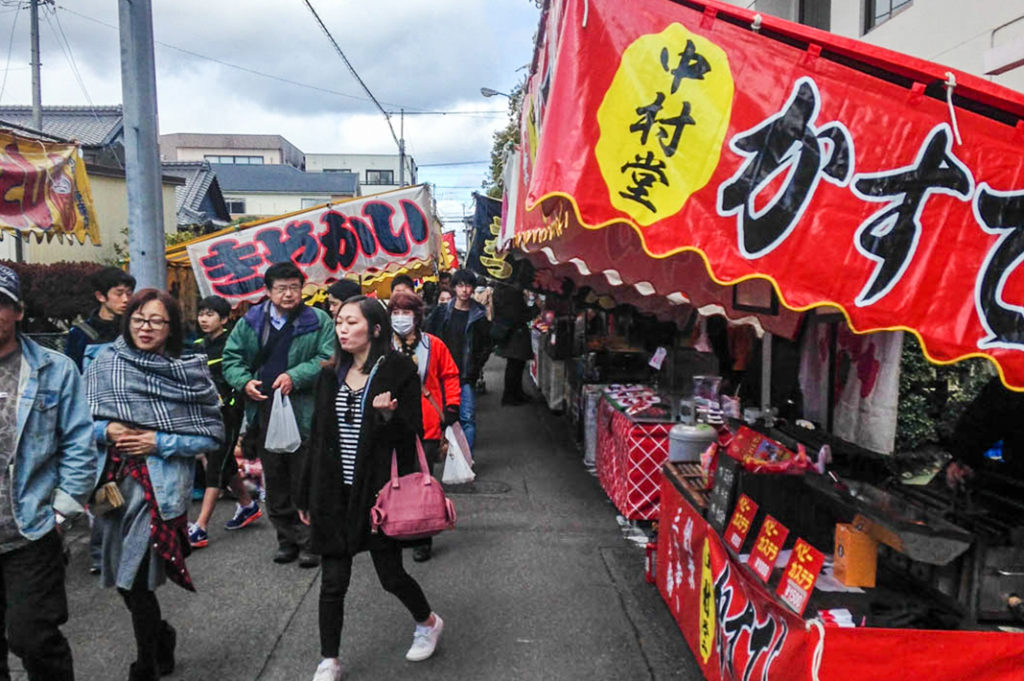 Have fun browsing the tents of festival food to choose your snacks for the day. All the usual options can be found, but there are some more exotic ones as well. The penis-shaped lollipops and chocolate-dipped bananas are always crowd favorites! Each year, the creative vendors also release a new treat for that year's festival. The detailed, penis-shaped taiyaki of 2017, filled with a hot dog and melted cheese, was quite memorable. As you take in your surroundings, look out for colorful locals dressed in crazy costumes.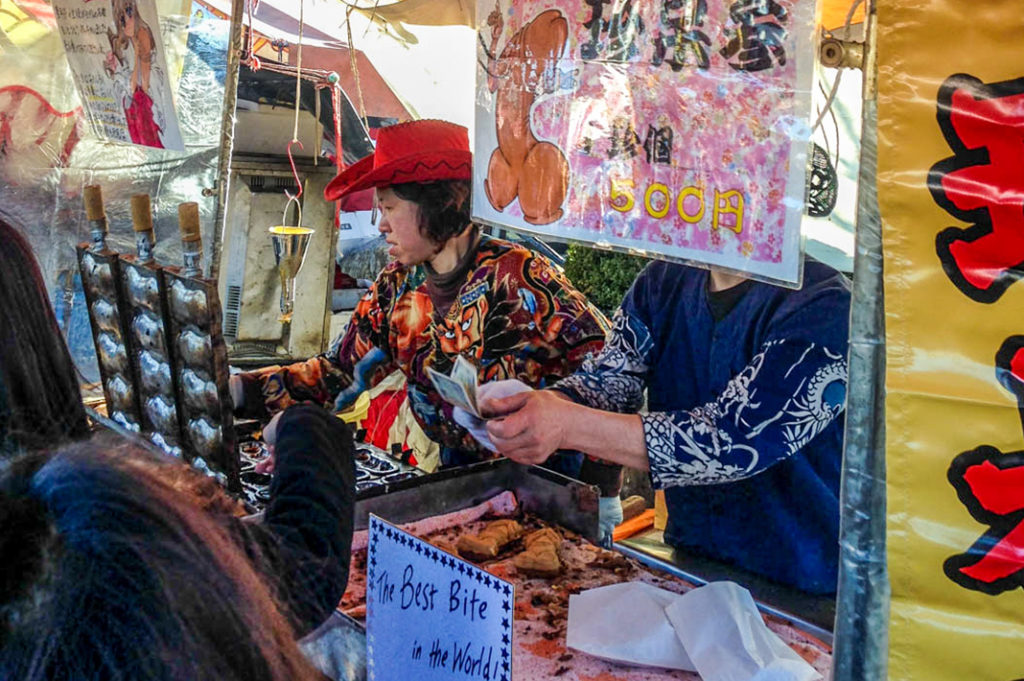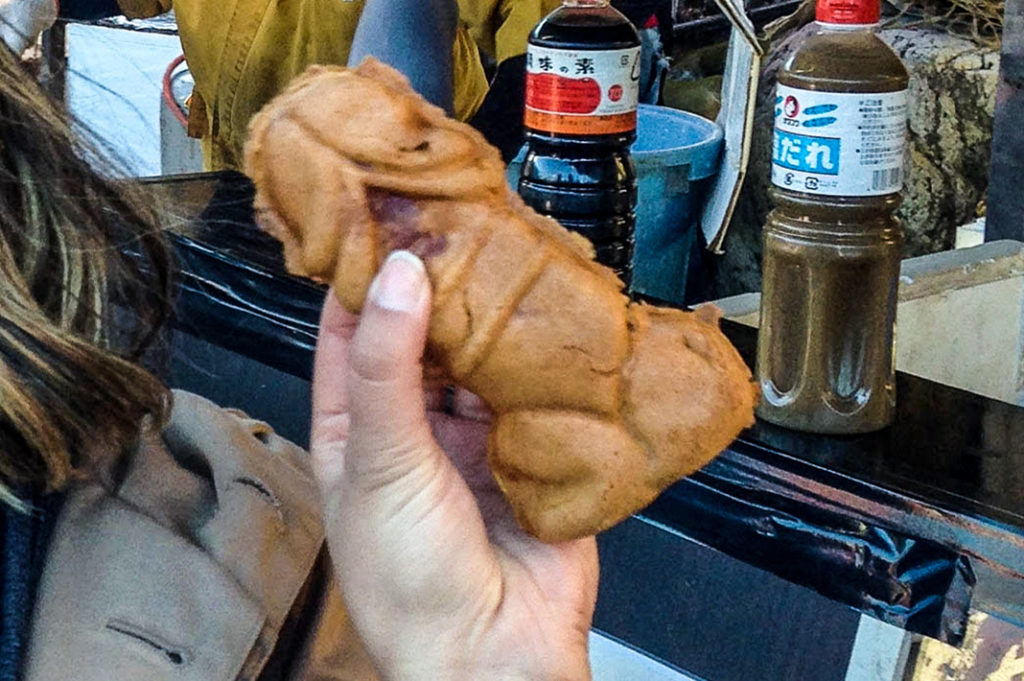 Find spirituality at the shrine
Although there is a lot of silly fun to be had at the penis festival, the day is also a serious one for locals wishing for prosperity. To see this spiritual side, take a look around Tagata Shrine. Here, you'll find long lines to purchase omamori or to pray at the honden. And in a corner of the shrine courtyard are a pair of large stone orbs. Women who wish to get pregnant will rub these while praying for children.
Despite the abundant symbols of genitalia, the Honen Matsuri in Komaki is still at its core an important festival for locals. The more famous penis festival in Kawasaki has received criticism in recent years for becoming overrun by drunk foreigners. Here, you are far more likely to see families and older people than tourists.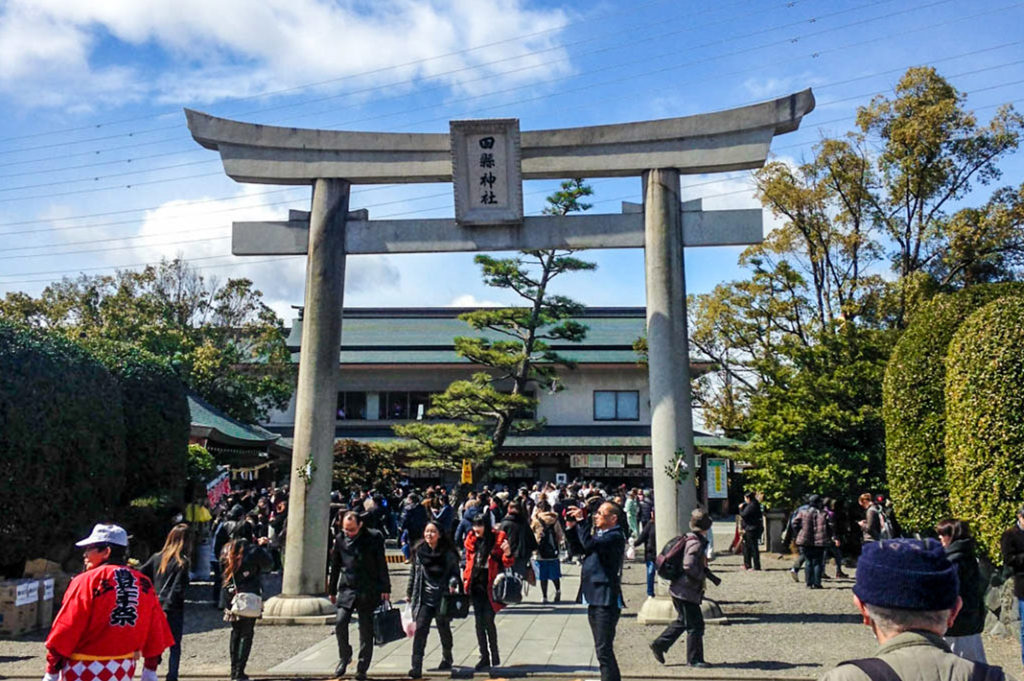 The highlight of The Penis Festival: the parade
At 14:00, festival-goers flock to the main street to watch the parade. It starts out normally, led by musicians and town officials. However, things quickly become more interesting. Festival workers pass out free sake from wooden barrels, and a group of women in ceremonial robes carry small wooden phalluses that onlookers can touch for luck with child-bearing.
Just when you think the Penis Festival couldn't get any stranger, it's time for the main event—the moment that everyone has been waiting for. Last in the parade is a group of twelve 42-year old men, a traditionally unlucky age, carrying a mikoshi. And nestled in this mikoshi is their precious cargo, a 280 kg, 2.5 meter long carved wooden penis. After marvelling at the giant phallus, the crowd gathers behind and follows it up the street. Finally, it is inserted into Tagata Shrine with much cheering and fanfare. 
The Mochi Nage
After the parade, there is one more surprise in store at Honen Matsuri. Once the phallus has been placed inside the shrine, the whole crowd gathers for the mochi nage. In an adjacent square, Shinto priests climb up a high scaffold to bless mochi rice cakes before throwing them at the people waiting below. Legend has it that if you catch one of these mochi, you will be blessed with good fertility. The result is a pretty crazy experience, as competition for these rice cakes is fierce and the mochi is hard and coming at you from a drunk priest on a scaffold. Be sure to put away glasses and cameras before the mochi nage begins. If you do manage to catch one, you will leave with a unique souvenir and a great story from this unusual Japanese penis festival!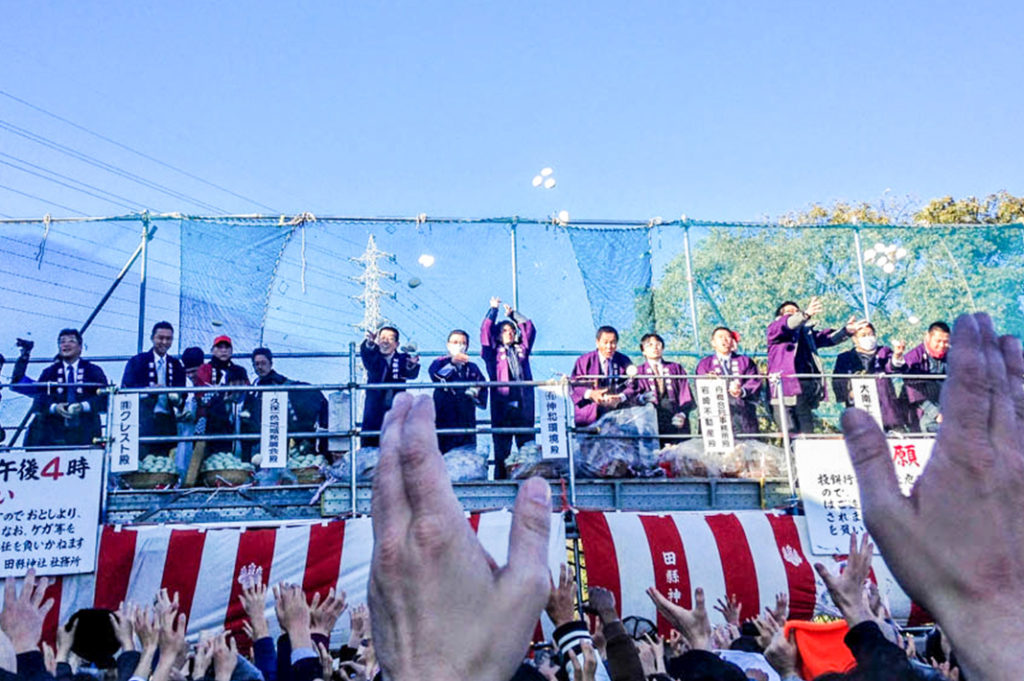 Info and logistics
Getting to Komaki: From Nagoya Station, take the Meitetsu Line to Inuyama Station. There, change trains to the Meitetsu-Komaki line for Komaki station. The journey is about one hour.
Name: Komaki Honen Matsuri
When: Annually on March 15th
Open: 9:00
Parade: 14:00
Mochi Nage: 16:00
URL: https://www.aichi-now.jp/en/spots/detail/70
Post by Japan Journeys.