When exam season rolls around in Japan, the place to be—other than at your desk studying—is at a Tenmangu Shrine, praying for unbridled academic success. There are thousands of these types of Shinto shrines throughout Japan, each and every one of them dedicated to the God of Learning, Sugawara Michizane. What makes Fukuoka's Dazaifu Tenmangu Shrine so special though, is that it happens to be located on Michizane's gravesite. Supposedly, this brings additional luck to those who pray here. From an A to an A-plus? I'll take it. As Fukuoka's largest Shinto Shrine, it's also one of the prefecture's top attractions, welcoming 10 million visitors per year. Whether you're praying for academic advancement, interested in seeing what 1,000 years of history looks like, or just keen to look at the pretty trees, a visit to Dazaifu Tenmangu is a great idea.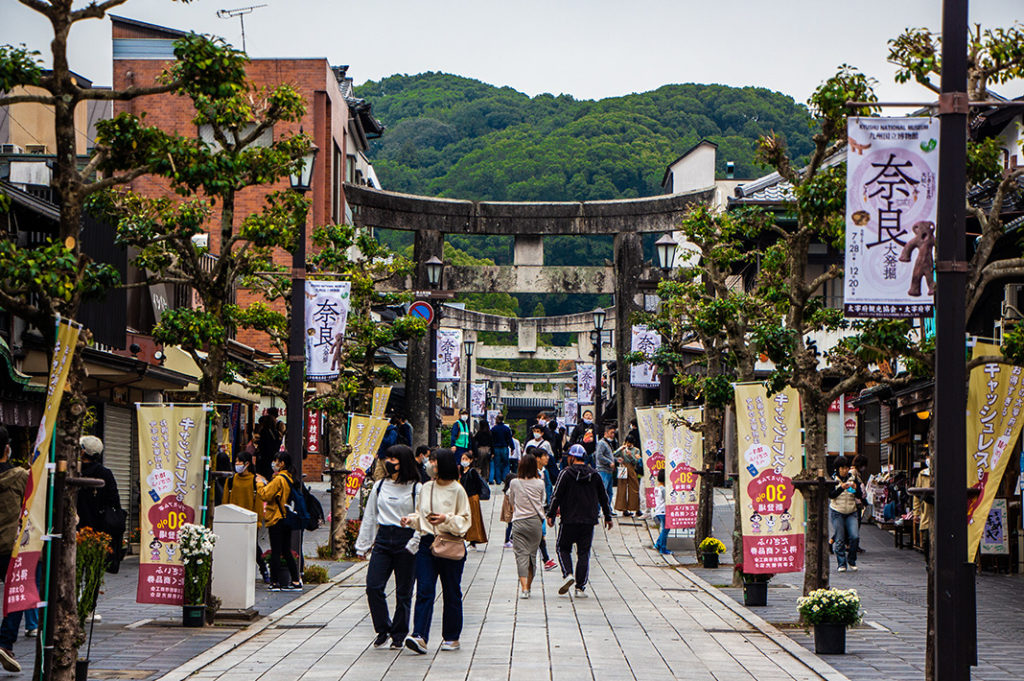 Approaching the Shrine
I arrive at Dazaifu Station on an overcast day in late Autumn. The crowd sweeps by me, following their noses in the direction of the Omotesando shopping street, and I allow myself to be swept along. The pedestrian thoroughfare is lined with shops ranging from souvenirs and confectionery to cafes. Perhaps most popular is the famous Starbucks branch designed by architect Kengo Kuma. A series of stone torii gates mark the approach to the shrine grounds.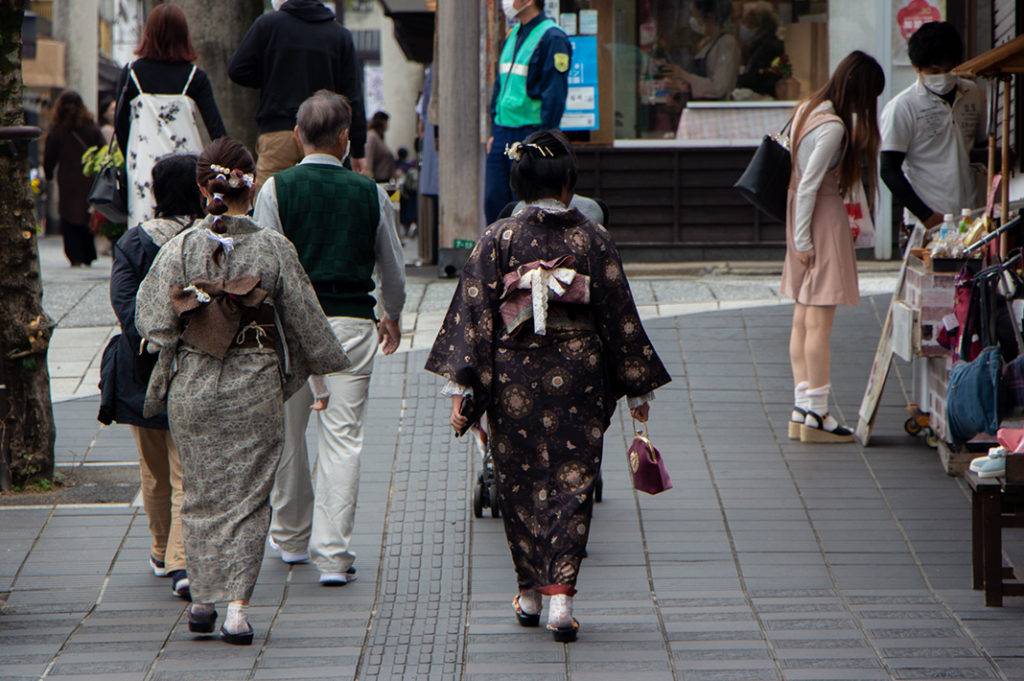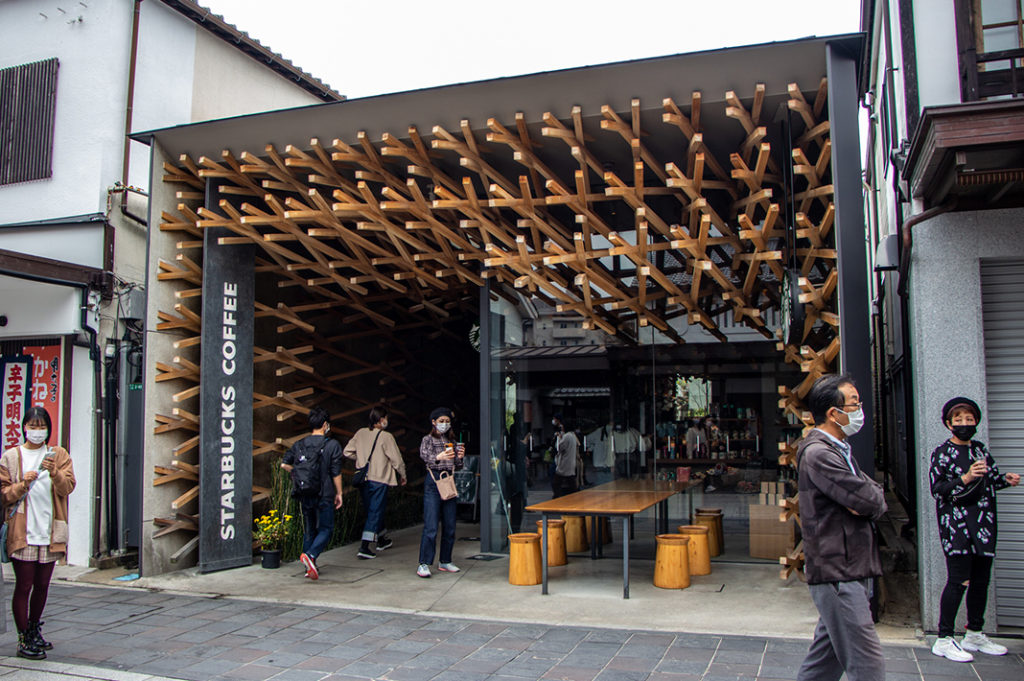 Mid-way along, I stop for one of the area's famous umegae-mochi, a sweet rice cake filled with hot azuki red bean paste. Available all along this strip, they are associated with the many plum trees within the grounds and even bear the imprint of a blossom on their surface.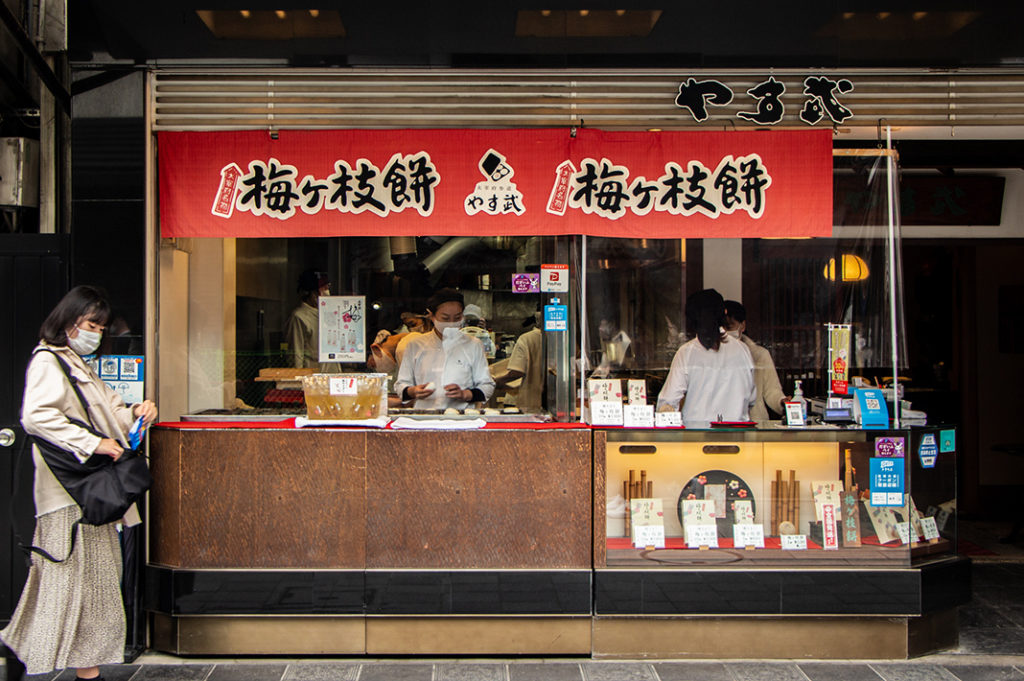 I watch as the confectioners rhythmically press the soft mochi mounds into the griddle pans and seal them.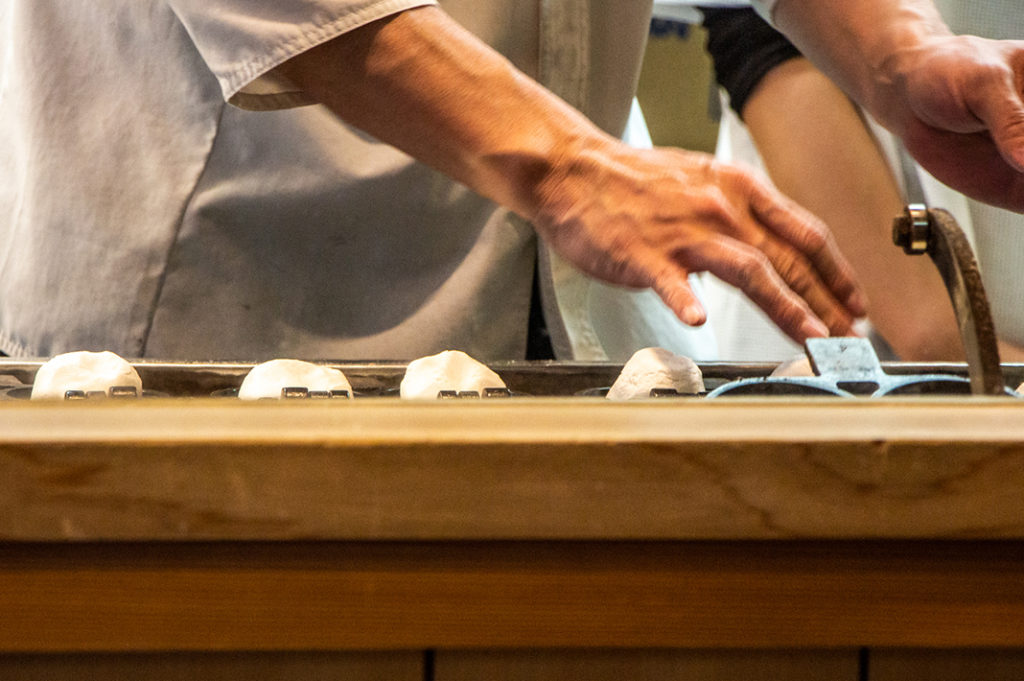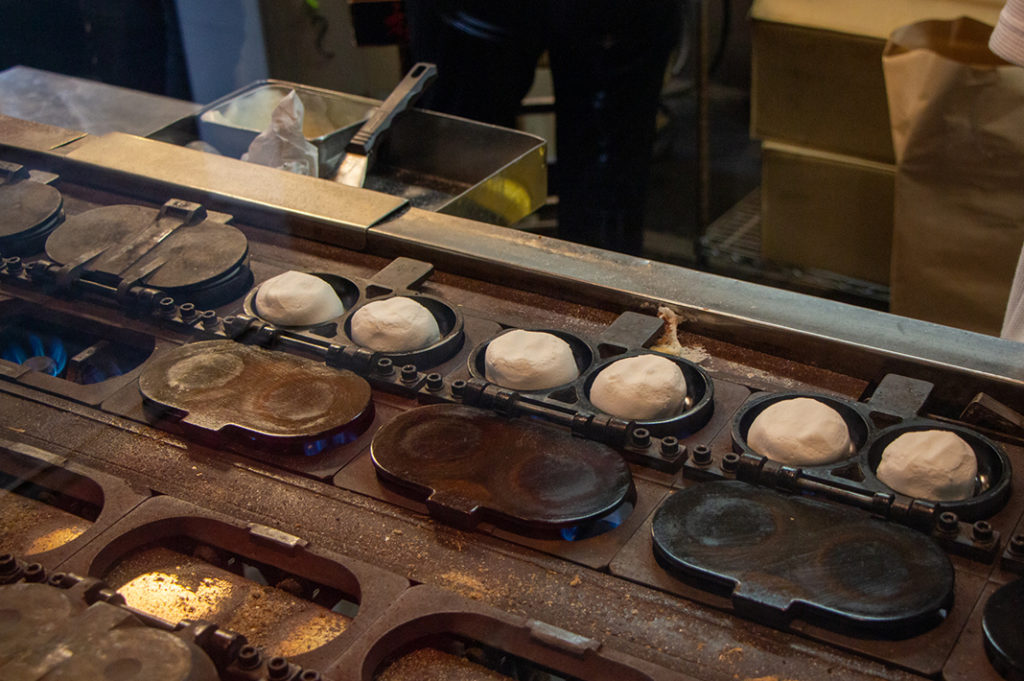 The sweet is served in a little paper sleeve; I eat it quickly (and gingerly) to spare my fingers from the heat. It's the perfect energy boost for further explorations.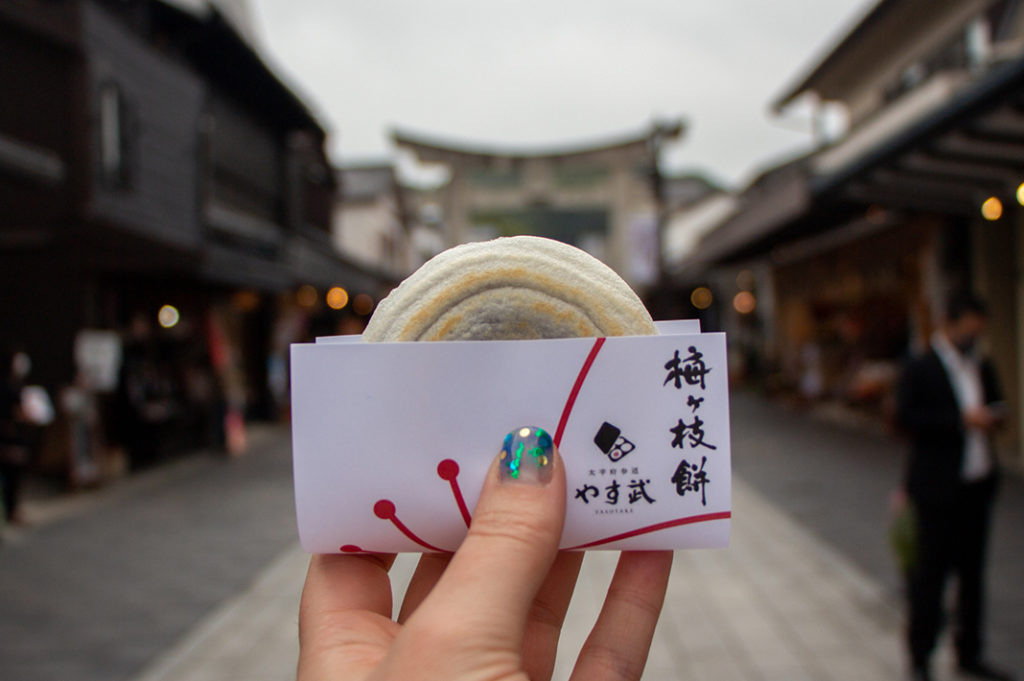 Entering the Shrine grounds
One of the first sights within the shrine grounds is the large pond, shinji ike, and its pretty taikobashi drum bridges. Though indiscernible to the eye, the pond is actually shaped like the Japanese character for heart (心 – shin). Three bridges, representing the past, present and future, transport you over the twists and turns of the pond, to arrive at the Shrine's main hall. Gigantic camphor trees reach impossibly over the path, with the help of wooden supports.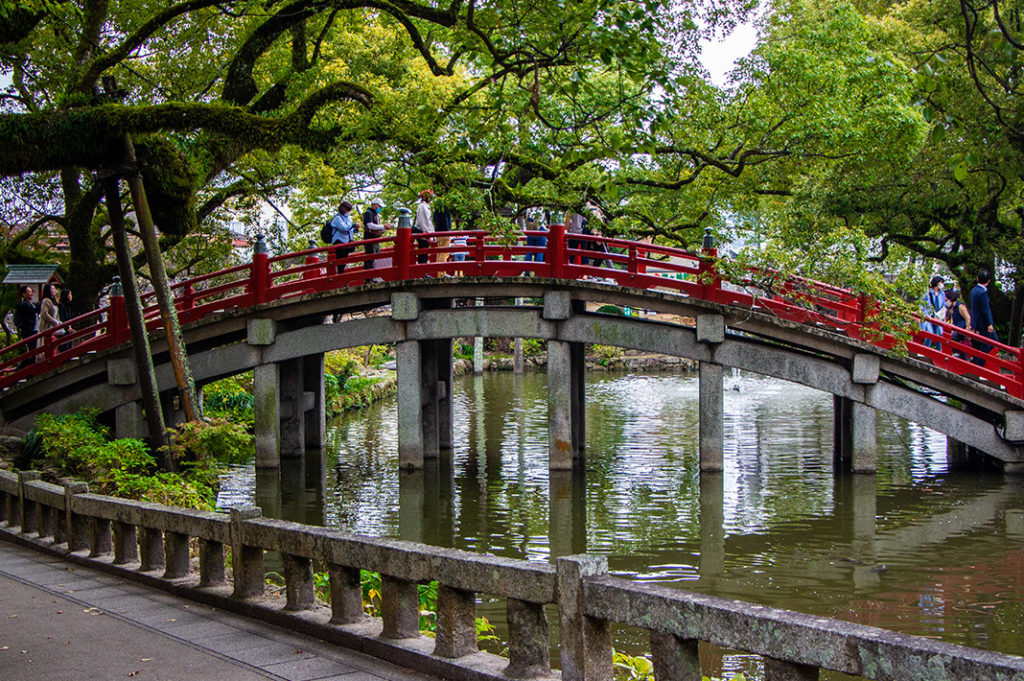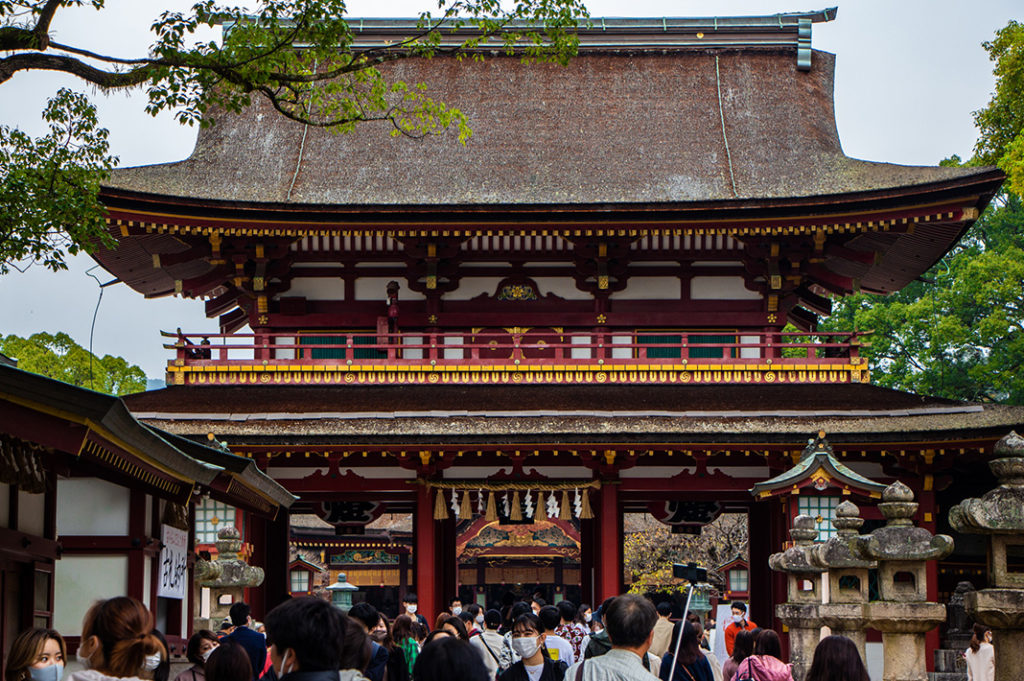 Just before the gate, I stop at the chozuya to wash my hands before entering the sacred space and find the water basin decorated with fresh flower bouquets. The basins are a common fixture at Shinto shrines in Japan, but the flowers are unusual. Having caught sight of a few glassy-eyed, kimono-clad younguns posing for professional portraits, I suppose it was for the shichigosan 7,5,3 festival.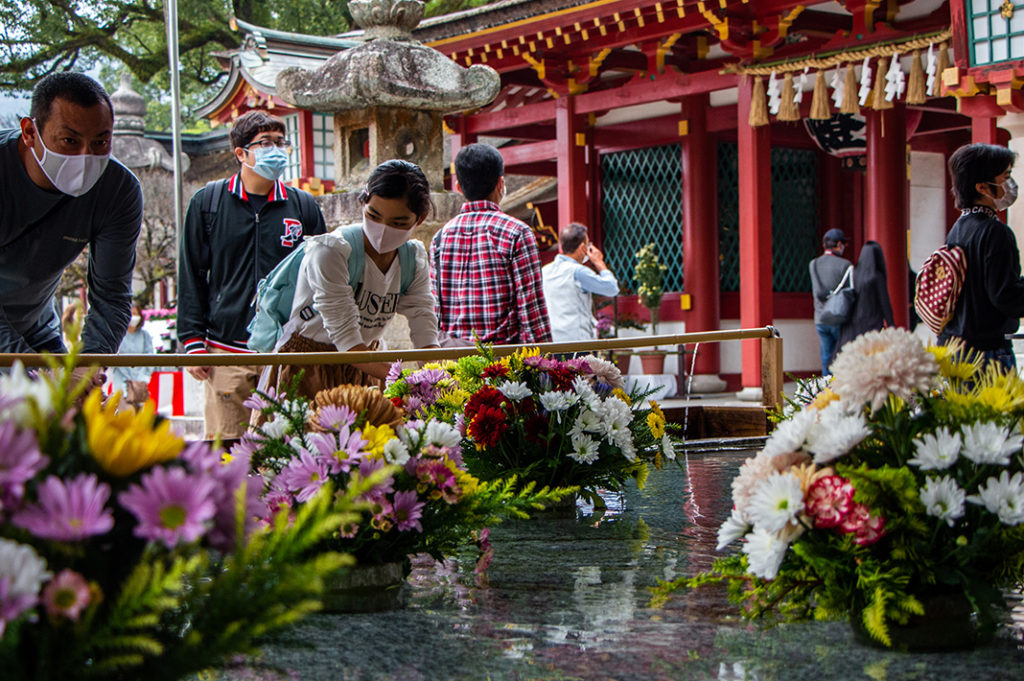 I make my way through the gate and come face to face with the shrine's honden (main hall) standing proud with its thatched roof. Though the original building was constructed over a thousand years ago in 919, the version we see today is, not surprisingly, a little newer than that. Constructed in 1591, it dates back over 400 years and has Important Cultural Property status. I wait my turn for a quick prayer before heading off to explore the grounds a little more.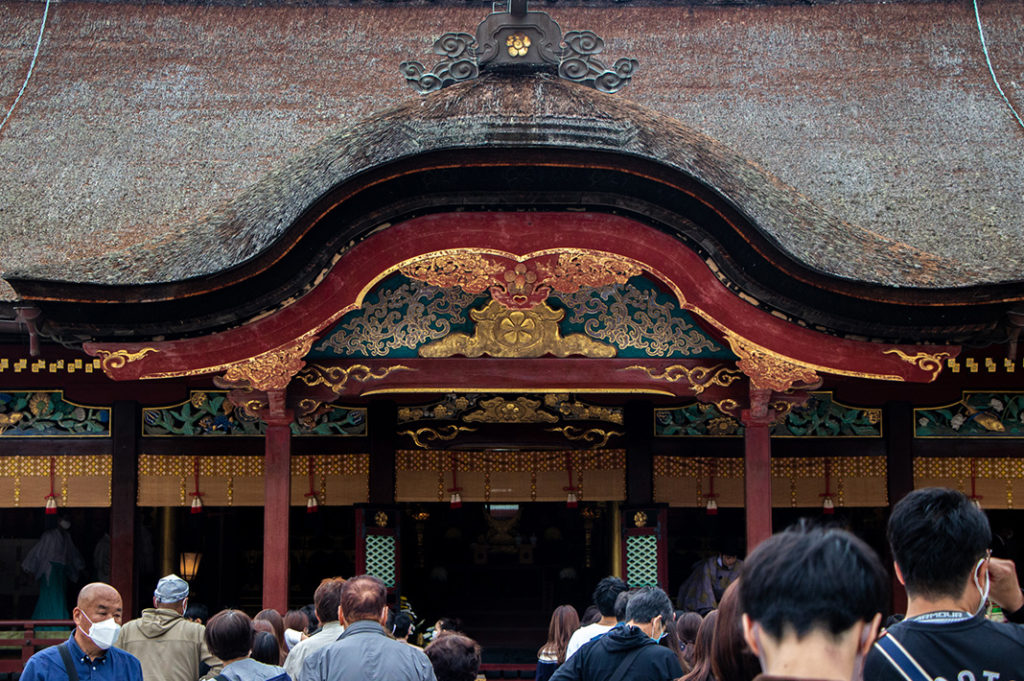 Shrine of learning, culture and the arts
At Dazaifu Tenmangu Shrine, people seek their blessings in various ways. This could be from one of the amulets from the goods office, the omikuji paper fortunes (tie the unfortunate ones along with the others) or by rubbing the head of an ox statue. You'll find these bovine figures all around the grounds—it's an arty place—so simply pat the head and you'll acquire new knowledge. Easy.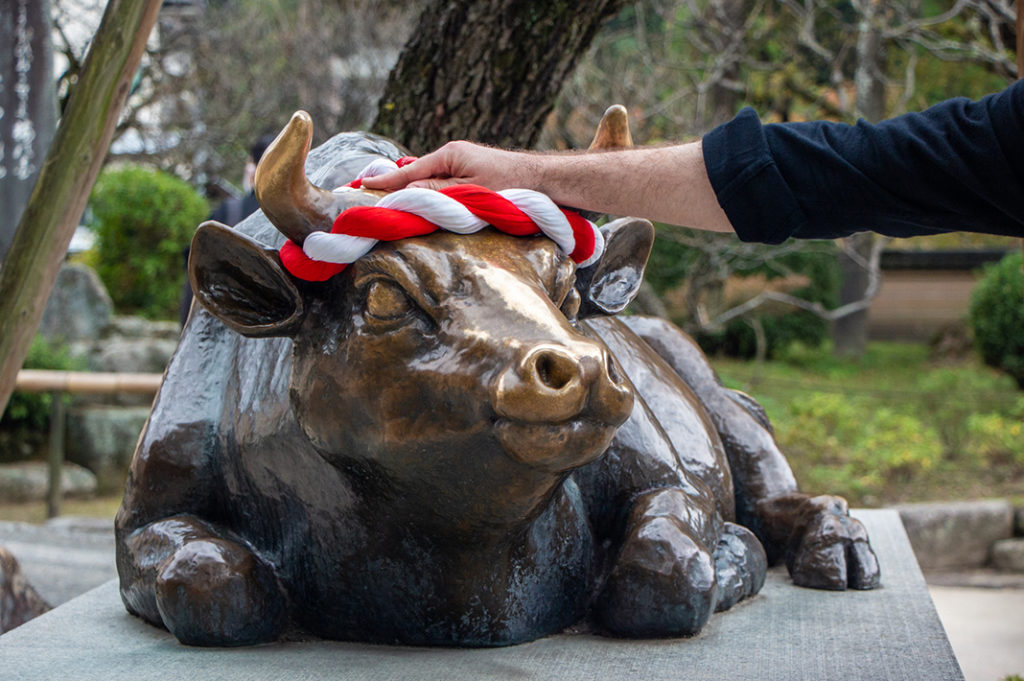 When to visit Dazaifu Tenmangu Shrine
Dazaifu is a place that can be enjoyed year-round, though we'd be remiss if we didn't mention the plum trees. As Michizane was so fond of them—often writing poetry in their honour—there are 6,000 plum trees in the grounds. From early February to mid-March, they transform the space into a delicate floral wonderland and sweeten the air with their scent. If you cannot make it during this time, don't worry. There is a year-round floral calendar designed to impress visitors at any time. After the plum blossoms come cherry blossoms, wisteria, azaleas, iris, chrysanthemum and of course the fiery autumn foliage I encountered.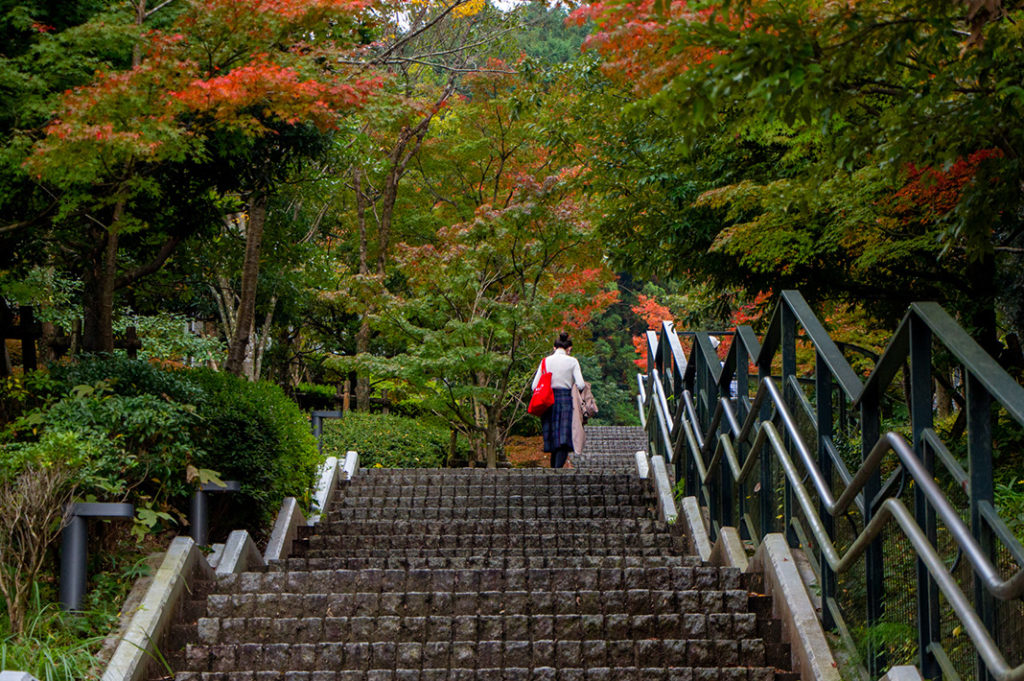 Kyushu National Museum
In keeping with the knowledge, culture and arts theme, the Kyushu National Museum is located just a short walk from the shrine—one that's particularly colourful in autumn. Opened in 2005, it's the fourth National museum in Japan after Tokyo, Kyoto and Nara. As this area played a major role in Japan's Nara and Heian Periods (710-1185), it was an obvious choice. Inside is a great exhibition about Japanese history featuring countless artefacts as well as interactive games and theatres.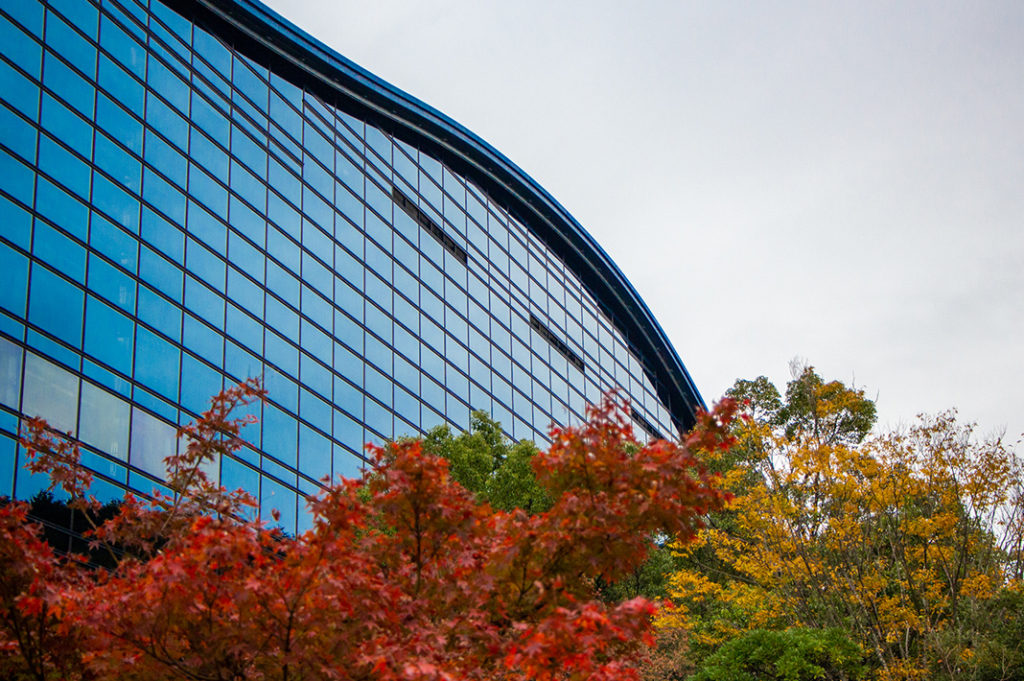 Even if you don't have exams coming up, Dazaifu Tenmangu Shrine, with its stunning grounds and millennia of history around arts and culture is well worth a visit.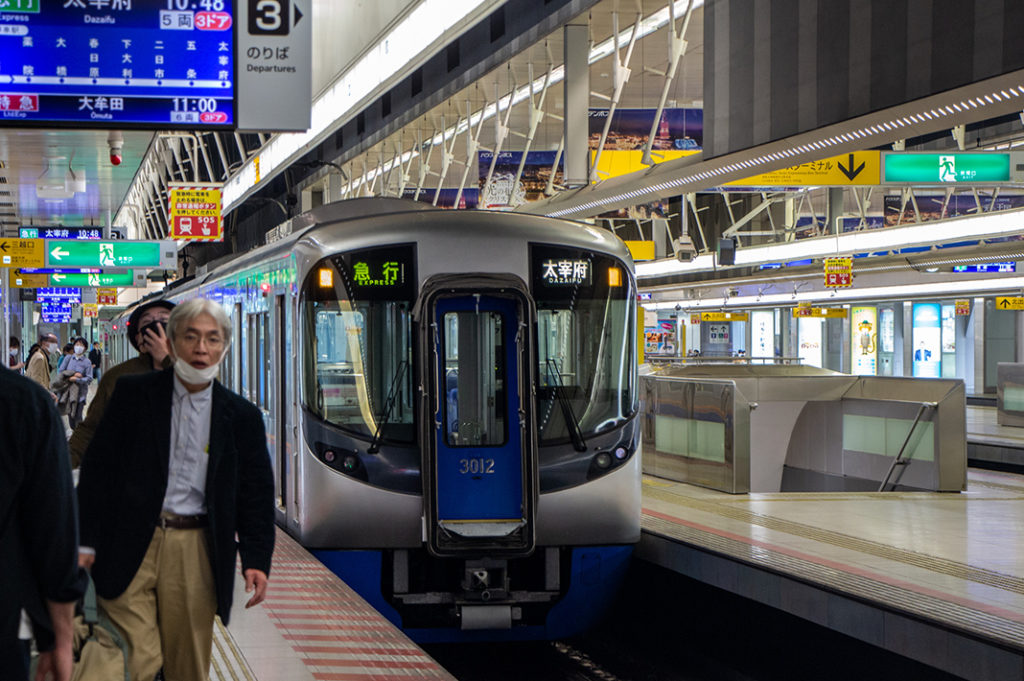 Accessing Dazaifu
It's around a 30-minute journey from "Nishitetsu Fukuoka (Tenjin) Station" to Dazaifu. Take the Omuta line to "Nishitetsu Futsukaichi Station" where the train will make a brief stop. After a few minutes, it heads back along on the Dazaifu Line, going two stops to Dazaifu Station. From here, it's just a 5-minute walk to Dazaifu Tenmangu Shrine along the shopping street.  
Name: Dazaifu Tenmangu
Address: Google link
Open: 6:30 am – 6:30 pm (until 8 pm Fri and Sat)
URL: website
Post by Japan Journeys.