One of Japan's 10 most populated cities, Fukuoka is a bustling, vibrant place. With white-sand beaches, blue water, fresh seafood and sumptuous Hakata style ramen, there's so much to do and eat that you'll likely want to return to sample it some more. For a good overview of everything this city has to offer, though, simply follow our Fukuoka itinerary below. We're suggesting 3 nights and 3 days to cover the basics, but feel it could be even longer if you wanted to do some extra day trips!
We recommend arriving at night and getting a good rest before your days of exploring. 
Day 1
We start our day at "Nishitetsu Fukuoka (Tenjin) Station" where we will make the 30-minute journey to Dazaifu.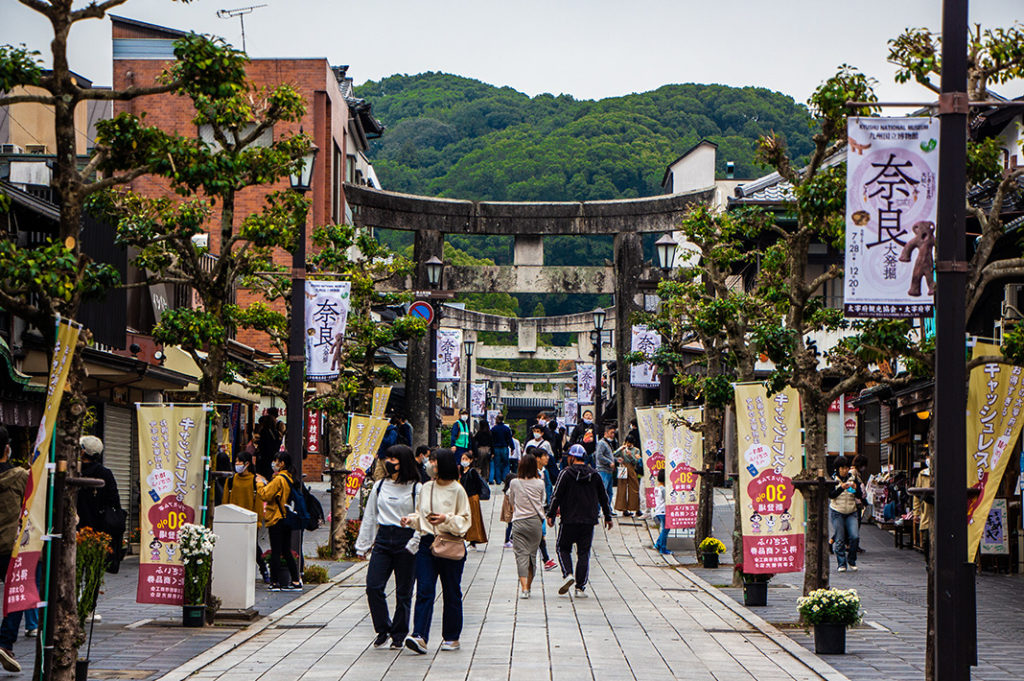 9:30am – Dazaifu Tenmangu
As Fukuoka's largest Shinto Shrine, Dazaifu Tenmangu Shrine is also one of the prefecture's top attractions, welcoming 10 million visitors per year. With 1,000 years of history and gorgeous gardens, a visit to Dazaifu Tenmangu is always a great idea. Once off the train, make your way along the Omotesando shopping street where you can enjoy the famous umegae-mochi and check out the famous Starbucks branch designed by architect Kengo Kuma. Also on the grounds is the Kyushu National Museum featuring countless artefacts as well as interactive games and theatres. Read more about it here.
Catch the train back to "Nishitetsu Fukuoka (Tenjin) Station" and transfer to the Kuko Line (bound for Chikuzen-Maebaru) at Tenjin Station. Ride for 3 minutes, 2 stops, to "Ohori Park (Fukuoka Art Museum)."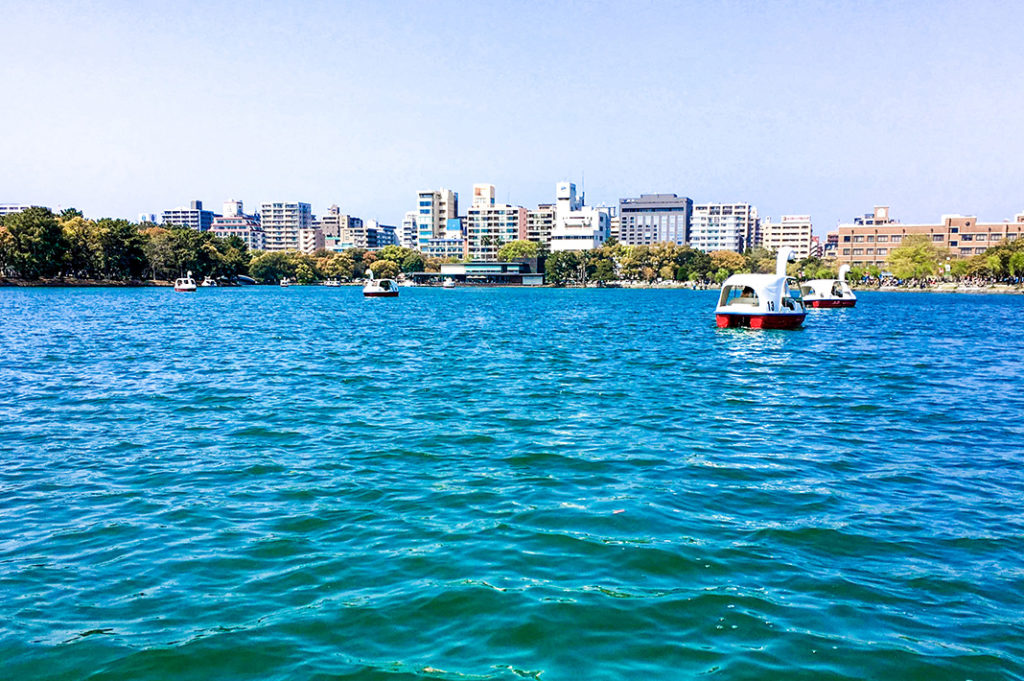 12pm – Ohori Park and castle ruins
Brimming with romantic lakeside views, graceful bridges, and swan boats, Ohori Park is one of Fukuoka's most beautiful, tranquil spots. In Japanese, "ohori" means moat; extremely fitting when you consider that Ohori Park's lake used to, quite literally, be Fukuoka Castle's moat. The moat was repurposed into a public park in 1929 and has become a popular spot for families, dates, and quiet contemplation. Take a swan boat out, explore the castle ruins or even check out the Fukuoka Art Museum. Read more about it here. There are a few food options in the park, as well as in the next part of the Fukuoka itinerary.
From the park, we're heading to the Daimyo neighbourhood. You can walk there in 15 minutes or shave off a few minutes by catching a train. From "Ohori Park" station, take the Kuko Line, bound for Kaizuka, one stop to Akasaka Station and head out exits 3, 4 or 5.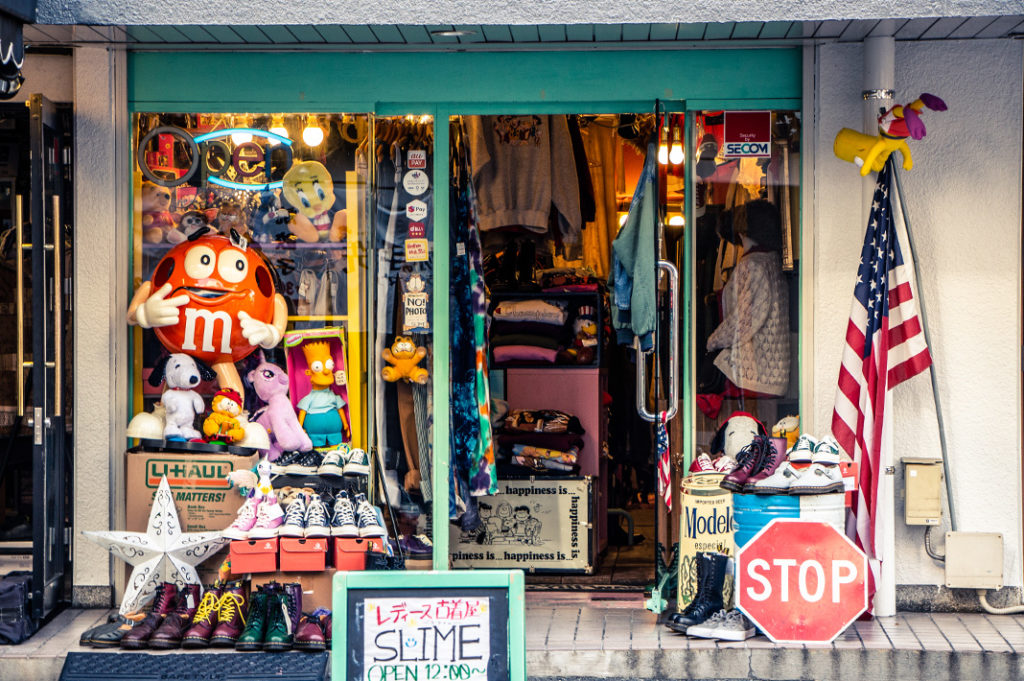 2:30pm – Daimyo, Fukuoka's coolest neighbourhood
As a one-stop-shop for craft beer, 'grammable food, vintage clothes, record stores and tattoos, Daimyo is inarguably one of Fukuoka's coolest neighbourhoods. If you're looking for food, head to the original Ippudo Ramen store or perhaps pick up a juicy chicken kebab from Guruguru Chicken. Fukuoka Craft opens at 3pm and is a lovely spot for an afternoon drink. With 11 craft beer taps from New York to next door, you're sure to find the perfect drop. Read more about what to do in Daimyo here.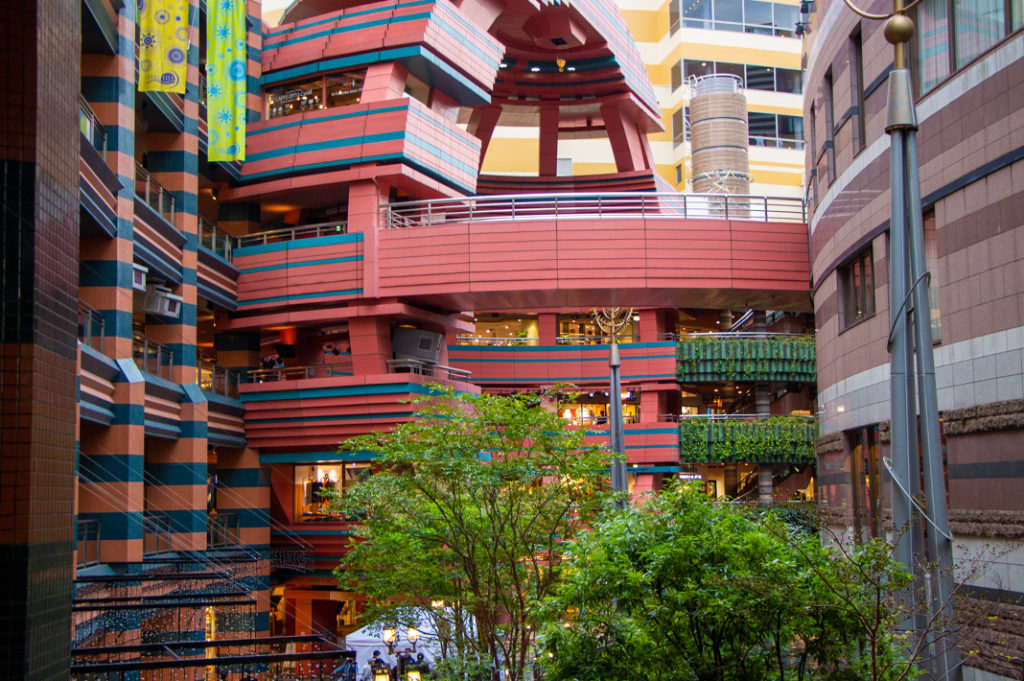 4:30 – Canal City, a shopping oasis 
Called the oasis within the city, Canal City is a massive complex housing hundreds of shops, a theatre, game centre, cinemas, two hotels and a namesake canal that winds through it all. With everything you need to shop until you drop, rest and energise, it's no wonder this is touted as one of the best places to shop in Fukuoka. We love its mid-nineties aesthetic and the 'Ramen Stadium'—a level featuring eight delicious ramen restaurants. Read all about it here. When you're ready for a seat and some food, head down to the river for the next exciting part of your Fukuoka itinerary.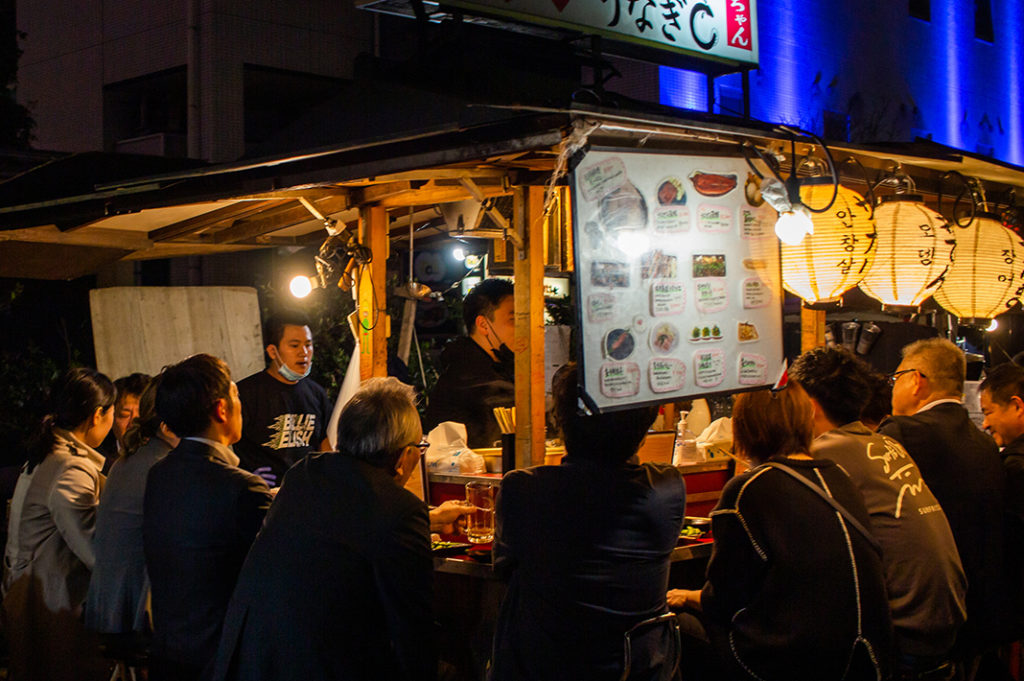 Anytime after 6pm – Dinner at the Yatai
When the sun goes down and the city lights turn up, this is the yatai's time to shine. These open-air food stalls are famously Fukuokan. You'll find them all over the city, some in clusters and some claiming their own territory, with hotspots in the Tenjin, Nagahama and Nakasu districts. Of these, the most visited has to be the twenty yatai lining the river on the southern tip of Nakasu. It's a great spot for a drink, but food is the main draw; you can enjoy things like Hakata Ramen, oden, yakitori and much more. It's definitely a must on any Fukuoka itinerary. Read more about it here.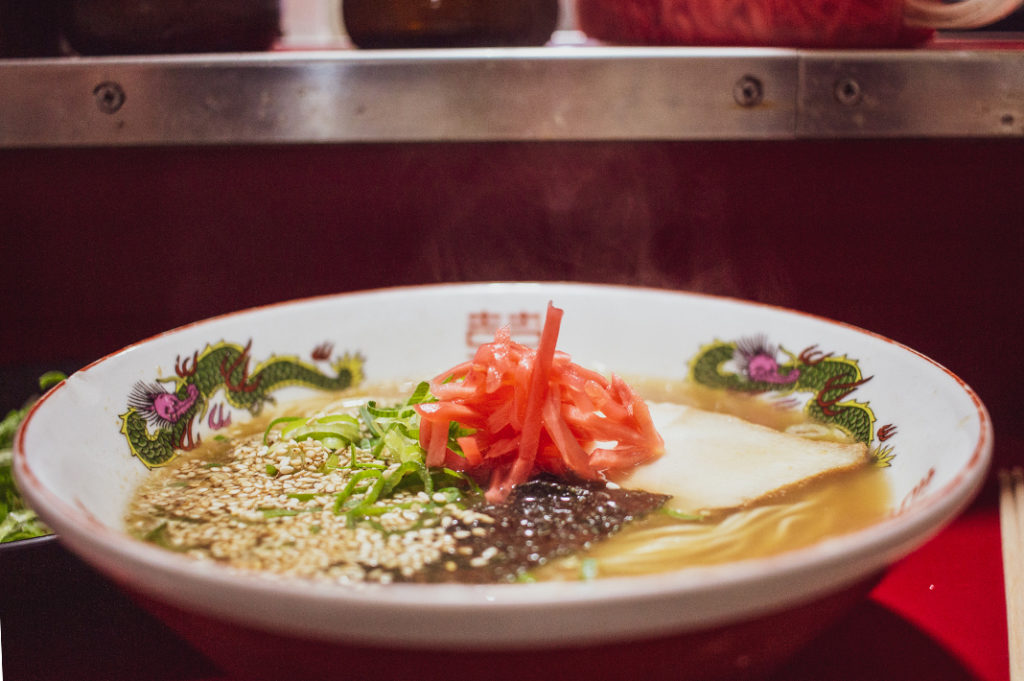 Day 2
Day 2 of the Fukuoka itinerary starts with a trip out to a nearby island which demands extra travel time, so an early start is best to make the most of your day. From Hakata Station, catch a bus for 47 minutes to the Meinohama Ferry Terminal. From there, it's a 10-minute ferry and a further 15-minute bus ride to the first attraction. Allow 1.5 hours of travel time. There is a 9:15 am or 10:15 am ferry that would both be good options.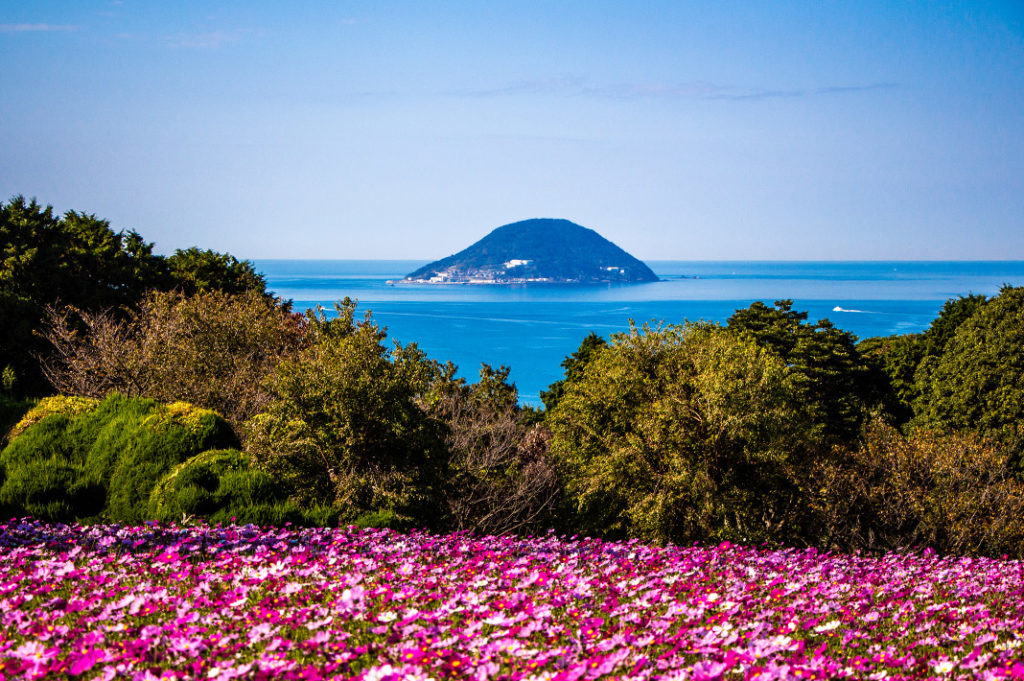 Nokonoshima Island Flower Park
The Nokonoshima Island Park is a go-to spot for flower and nature enthusiasts on Kyushu. With sweeping views and hills blanketed in seasonal flowers, it's one of the most charming day trips in Fukuoka. There are a number of cafes and restaurants within the grounds, and you can even try a locally made udon dish called Noko Udon. Read more about it here. 
Make your way back to Meinohama Ferry Terminal. From here, catch one of the regular buses bound for Hakata Station and get off at/near Fukuoka Tower.
301 – Board opposite the ferry terminal and ride 12 stops (13 minutes) and get off at Hakubutsukan Minamiguchi, then walk towards the tower—you can't miss it.

302 and 312 – Take a right out of the ferry terminal and keep following the road around to the right until you're at the bus stop opposite the school. Ride for 11 stops (13 minutes) and get off at Fukuoka Tower.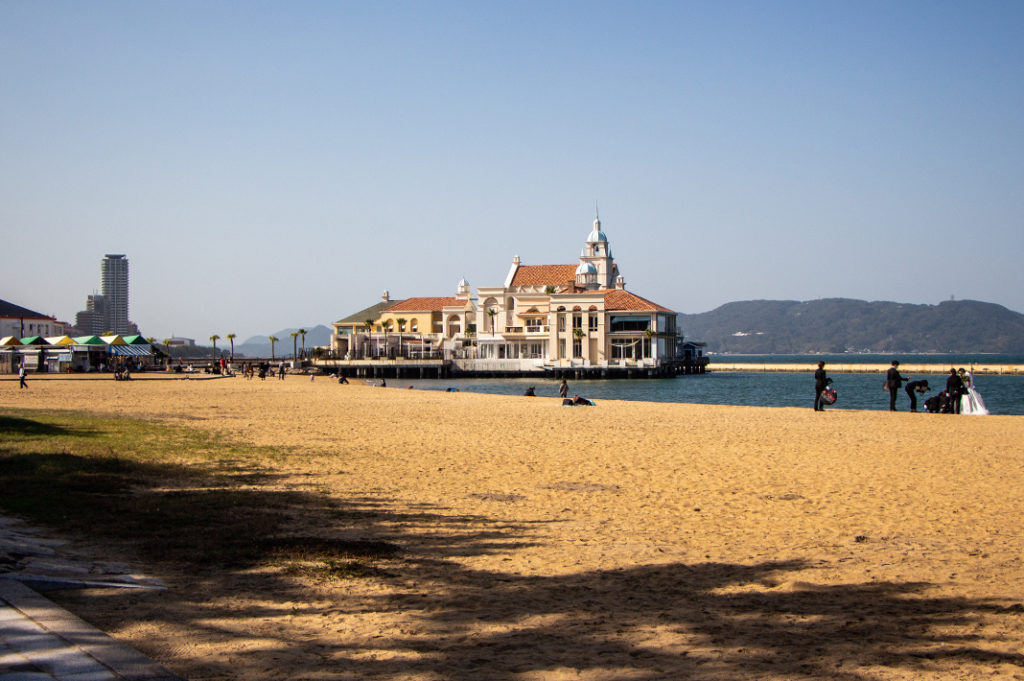 2:30pm – Momochi Seaside Park
This man-made beach stretches along the gentle coast of Hakata Bay, and can be accessed from opposite Fukuoka Tower. With a European resort feel plus bars and restaurants, it's a very classy little beach stop. In summer, you'll find the beach filled with people playing volleyball, soccer and rugby or perhaps searching for clams and splashing around in the swimming zone. But this makes for a nice relaxing stroll at any time. Read more about it here.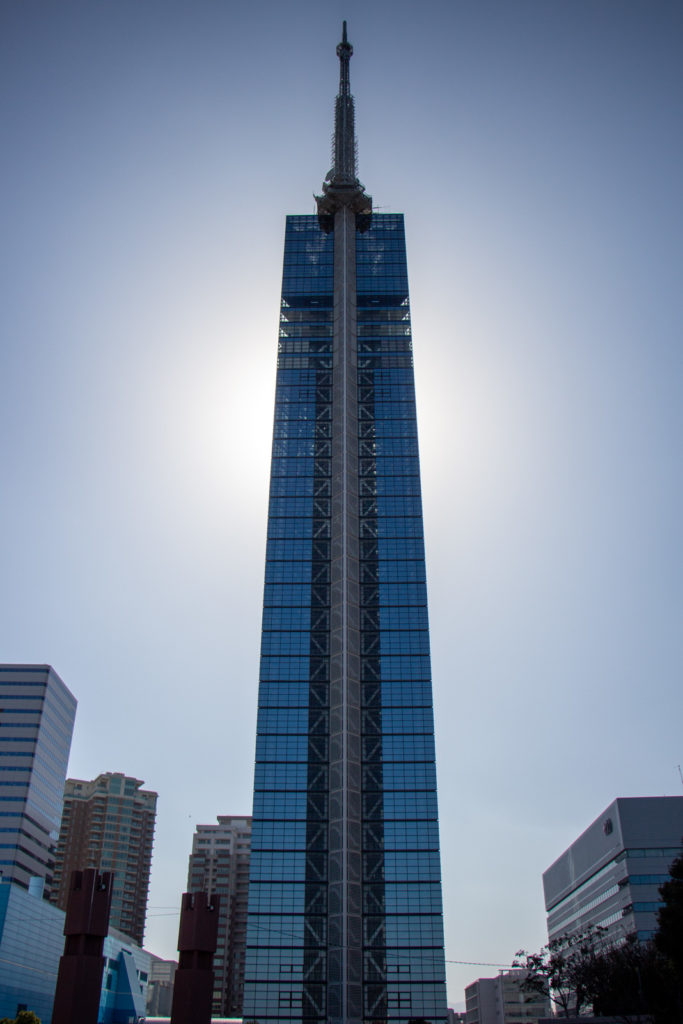 4:30pm – Fukuoka Tower
Fukuoka Tower, at 234m, is Japan's tallest seaside tower. From the three observation decks you can enjoy a full 360-degree panoramic view of the surrounding area. There's also a 'lovers sanctuary' and other fun surprises in store. This is a great spot to take in the sunset, before heading back to the city for dinner. Read more about it here.
The easiest way to get back to the city is to take a Nishitetsu bus. Head behind Fukuoka Tower and take a left on the main road until you reach the Hakubutsukan Kitaguchi bus stop in front of this building and take a bus bound for Tenjin or Hakata Station, whatever is closest to your base.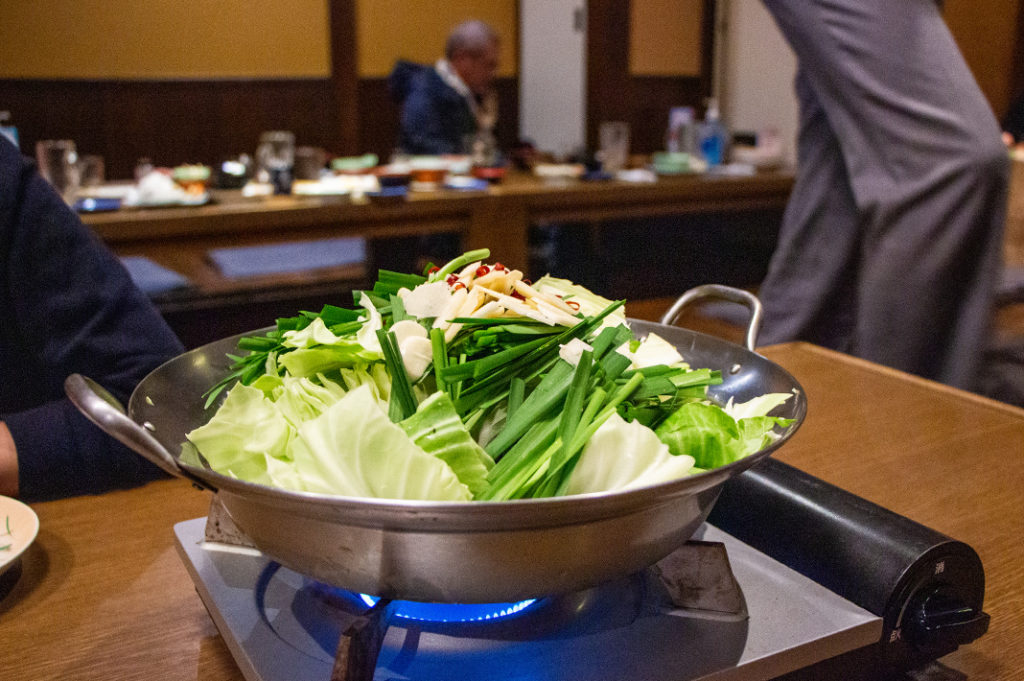 Try Motsunabe
If you're looking for something new for dinner, consider Motsunabe. When it comes to regional dishes in Fukuoka, it features on the culinary checklist right alongside Hakata ramen, mentaiko, mizutaki and eating at a yatai food stall. If you've never heard of it, we're not entirely surprised. With mounds of cabbage, chives and garlic, this offal hotpot is more appealing than its name would suggest! Read more about it here.
Day 3
Day three of the Fukuoka itinerary keeps you fairly central to the city just in case you need to depart for your next destination.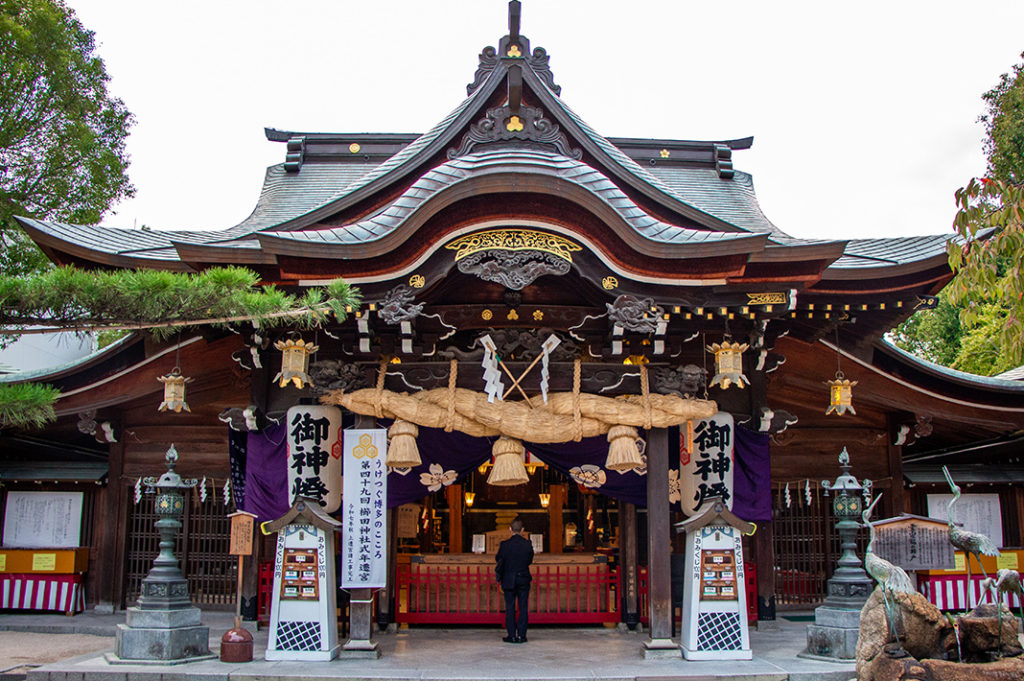 Kushida Shrine
Kushida Shrine is one of the oldest and most revered Shinto shrines in Fukuoka and considered the guardian shrine of the city. Inside is the fantastical Yamakasa parade float, a fountain of youth, chikara ishi strength testing rocks and a thousand-year-old ginkgo tree. Read more about it here.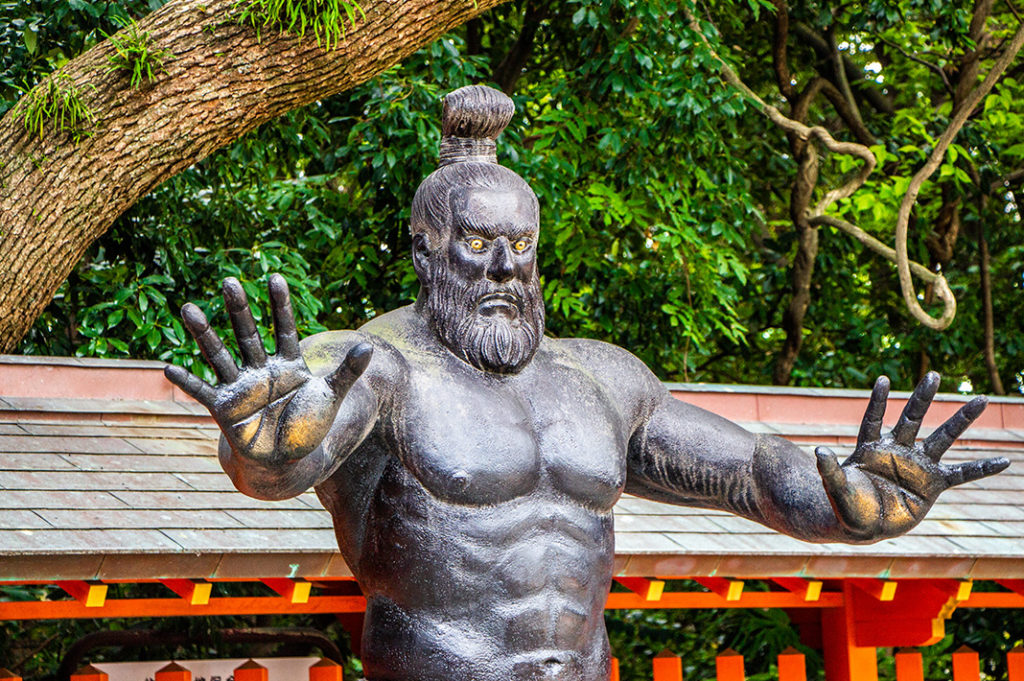 Sumiyoshi Shrine and the power-giving sumo
Sumiyoshi Shrine is located within a sprawling, leafy complex in central Fukuoka. Its history can be traced back over 1,800 years and it's believed to be one of the oldest shinto shrines in Kyushu. Here you can see examples of sumiyoshi-zukuri, one of the oldest styles of Shinto architecture or hold hands with a statue of an ancient sumo wrestler for strength. Read more about it here.
Other attractions and day trips
This Fukuoka Itinerary paints a nice picture of life in the city, however, there's even more to see.
If you're a cat person, you may want to allocate a day to exploring Ainoshima Cat Island. And, as it's just under 2 hours from Hakata Station, it makes an ideal day trip from Fukuoka City. With the warm sun in the sky, a gentle sea breeze and myriad cats circling your feet, it's hard not to feel relaxed. Find out all about it, including detailed logistics, here.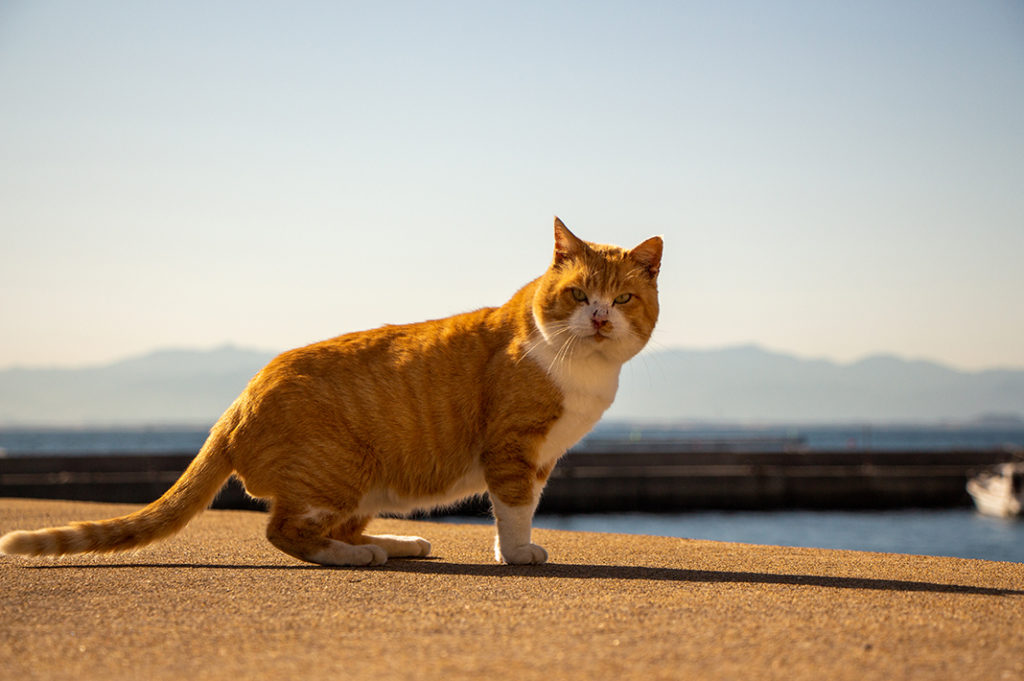 Another half to full day could be spent at Uminonakamichi Seaside Park, particularly if you have kids. This thin peninsula opposite the city has the Genkai Sea on one side and Hakata Bay on the other, with aquatic views and wide-open skies. There's also cycling, golf, playgrounds, a zoo, seasonal flowers and more.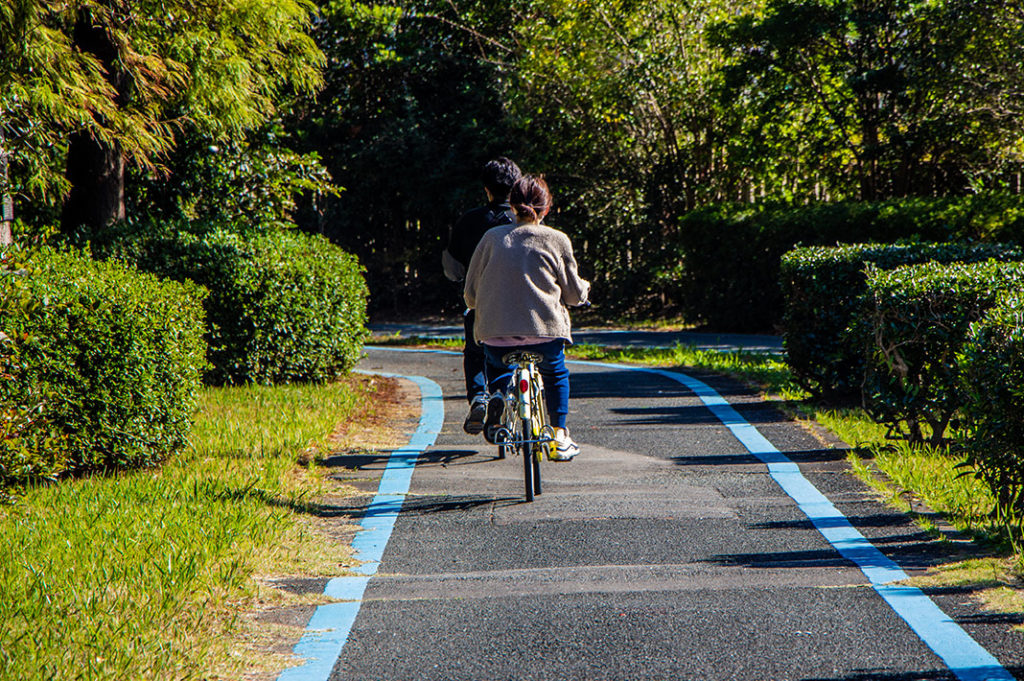 Another short day-trip is the 25-minute journey out to Nanzoin Shrine, where the reclining Buddha is said to be the same size as the Statue of Liberty.  
The Yanagawa River Cruise is another popular side-trip. Located 50 minutes from Hakata Station, the castle town surrounded by moats is a picturesque spot for a boat ride. 
Accessing Fukuoka
From Tokyo to Fukuoka, it's around 5 hours on the shinkansen or a 2-hour flight. Fukuoka Airport (FUK) is located within the city and extremely accessible; the train station inside the domestic terminal can connect you to attractions in 15 minutes. 
Travelling around Fukuoka
Many of the attractions in Fukuoka are located close to train stations, so the best way to get around is by train. We always recommend travellers pick up a travel card (like a PASMO or Suica) to make things easier; in Fukuoka this is called a Hayakaken. These cards work Nationwide so no need to buy one if you already have another. Alternatively, there are discount passes available from Information Centers at the airport, Hakata Station and other places. There are 1-Day and 2-Day Subway Passes that cover all subway lines and cost ¥620 and ¥720 for adults respectively. The Fukuoka Tourist City Pass costs ¥820, is valid for 1 day and covers unlimited train and bus travel excluding the Nishitetsu Line). Kids are half price.  
Where to Stay in Fukuoka
The city may be lively but it does sleep. And so should you. Here are a few accommodation suggestions to complement your Fukuoka itinerary perfectly.
With its fresh 'Hakata' aesthetic and convenient location, the three-star 'Hotel Vista' is a wonderful choice. Opened in December of 2019, Vista is minutes from the subway and perfectly positioned close to several major attractions. The ease of access coupled with the clean and cosy facilities make it a great base from which to explore the vibrant city of Fukuoka. Read more about it here.   
For those on a budget, WeBase Hakata is a fantastic choice. This company is doing great things in the budget accommodation scene and offer dormitory, female-only and private rooms. Everything is neat and clean with great lounge and kitchen facilities and a quirky cat statue out front. Read more about it here.
Post by Japan Journeys.